Old Fashioned cocktail is a timeless, classic whiskey cocktail that features your favorite whiskey sweetened with a sugar cube and aromatic orange flavors. There are only four ingredients in this exquisite cocktail for all bourbon and whiskey lovers.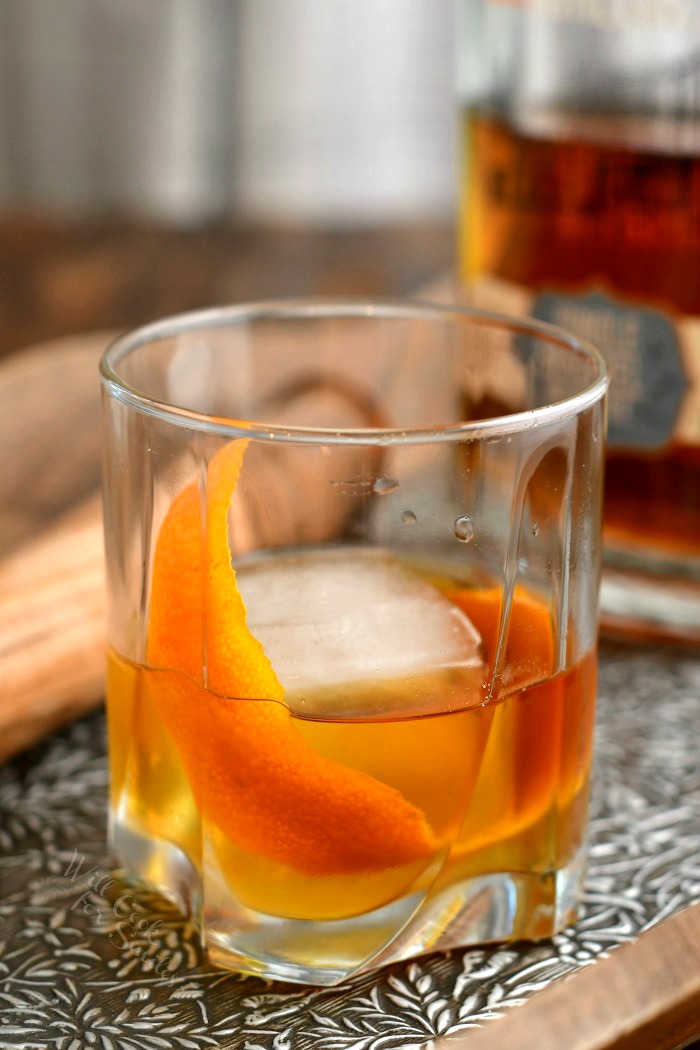 This cocktail starts with only 4 basic ingredients; bourbon, sugar, water, and bitters. It's a simple drink, but one that is full of flavor and sophistication.
The Old Fashioned
You can't get any more classic than this cocktail. It goes back to the original recipe found over 200 years ago under the name "cocktail," which called for a mix of spirit, sugar, water, and bitters.
Over time, the name was changed from a "whiskey cocktail," then an "old fashioned whiskey cocktail," and finally, we know it as an "old fashioned." Traditionally, the drink has a base of bourbon or rye whiskey.
However, if you're in Ireland, drop the "e", and ask the bartender to make you one with Jameson's Irish whisky.
If you visit that supper club bar in Wisconsin, locals may tell you that it's their state's official cocktail, but only if it's a brandy Old Fashioned.
TOOLS AND BARWARE NEEDED
Lowball glass – This is also known as a rocks glass
Flat bottomed muddler – If you don't own one, you can find them at larger liquor stores, or online at places like Amazon.
Sharp paring knife, Y peeler, or zester – you'll use this to make the garnish for your cocktail.
INGREDIENTS
Whichever spirit you choose, make sure it's good quality. This is basically a straight bourbon (or other whiskey) that is slightly sweetened and complimented with a hint of aromatic bitters.
Rye whiskey, Irish whisky- (think Jameson's), bourbon and brandy can all be used to make an Old Fashioned. Here are the ingredients you will use for the bourbon version.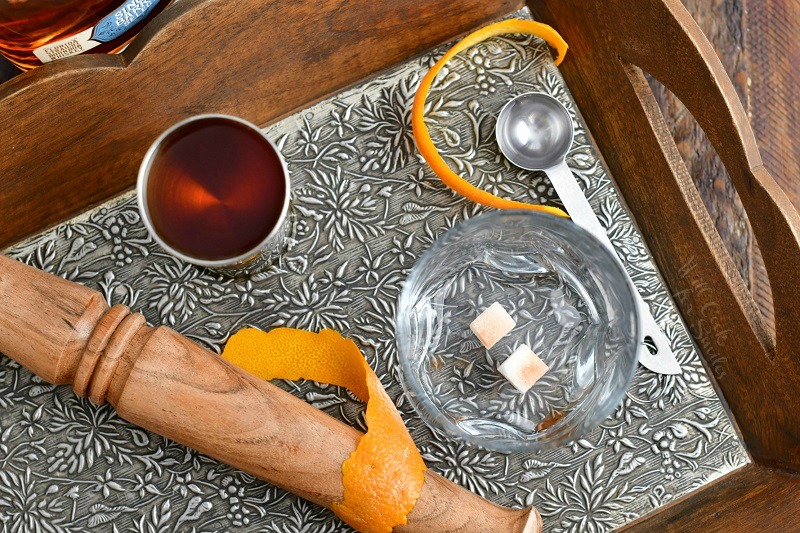 Did you know that all Bourbon is classified as whiskey, but not all whiskey is bourbon?
Difference between bourbon and whiskey
Simply put, whiskey is a fermented grain (corn, wheat, rye, barley, etc.) mash that is aged in wooden barrels.
By law, bourbon only comes from the United States, has to be made from at least 51 percent corn and be aged in only new charred-oak barrels. Additionally, it must be distilled to no more than 160 proof and bottled at no less than 80 proof, with no added flavors or colors.
In the end, bourbon is sweeter and smoother than other whiskeys. Make sure to always use a higher proof alcohol, because ice will dilute it as you drink.
Although this is a strong drink, it is also one of the sweeter classic drinks.
Classic Old Fashioned recipes all call for sugar cubes and although modern most bars and bartenders will give you simple syrup, the classic version is better. Muddling a sugar cube will give you a different texture and flavor than a splash of syrup.
Muddling sugar will result in a more rich and velvety taste and texture. So take a few minutes to muddle the sugar cube with a little water and bitters.
Standard sugar cubes are 1 teaspoon each, and that is the exact amount of sugar needed to make this cocktail.
If you plan to use sugar cubes, check the size of the cubes. As a result, you can be sure you are using the correct amount of sugar.
Muddle the sugar cubes in the bottom of the glass with a small amount of water and bitters to completely dissolve them.
If you can't find sugar cubes, or just prefer to not use them, use 1 teaspoon or 1 bar spoon of rich simple syrup to sweeten.
How to make a simple syrup
To make a rich simple syrup, boil 1 cup of sugar with ½ cup water and then allow it to cool. This syrup will add sweetness without watering down the drink.
You can use either cubes or syrup, but muddled sugar cubes add more body.
Just be sure that the sugar completely dissolves. It may take a few extra minutes, but at least you will have a couple of extra minutes to chat with your friends.
Each brand of bitters is made of different types of botanicals and will add subtle flavors to drinks.
In an Old Fashioned with bourbon, agostino bitters help round out the flavors without changing the overall character.
You only need a few drops as the flavors are concentrated, and while two or three will add some depth, too many can make the drink too bitter.
Orange (or lemon) garnish:
Cutting a perfect citrus twist is a skill you will use for many drinks, both alcoholic and non-alcoholic alike.
This tiny but fancy touch takes an alcoholic drink like this one from good to great-in both flavor and beauty.
How to make a citrus twist
To make this drink garnish, you can use a sharp paring knife, canelle knife, a Y peeler, or zester.
My personal choice is a Y peeler because it's easy to use and peels just the thin outer citrus zest.
Hold the fruit (orange, lemon, or lime) firmly, then cut into the peel, just deep enough to get the peel but not the bitter white pith.
Roll the fruit slowly in your hand while cutting a strip of peel. Stop when it is as long as you need it.
Roll the peel into a spiral, then give it a squeeze over the drink. For extra flavor, rub it on the rim of the glass if you want, then drop it into the glass! (Or don't, if you prefer. It may be too bitter for some people!)
Does ice really make a difference in a drink? The easy answer is yes. It always affects the temperature of the drink, but also, how diluted it becomes.
Smaller pieces of ice have more surface area and melt faster than one large cube will.
And while some ice in whiskey/bourbon drinks allows a brand's distinctive flavors to "bloom", too much will water down that spectacular drink you just made.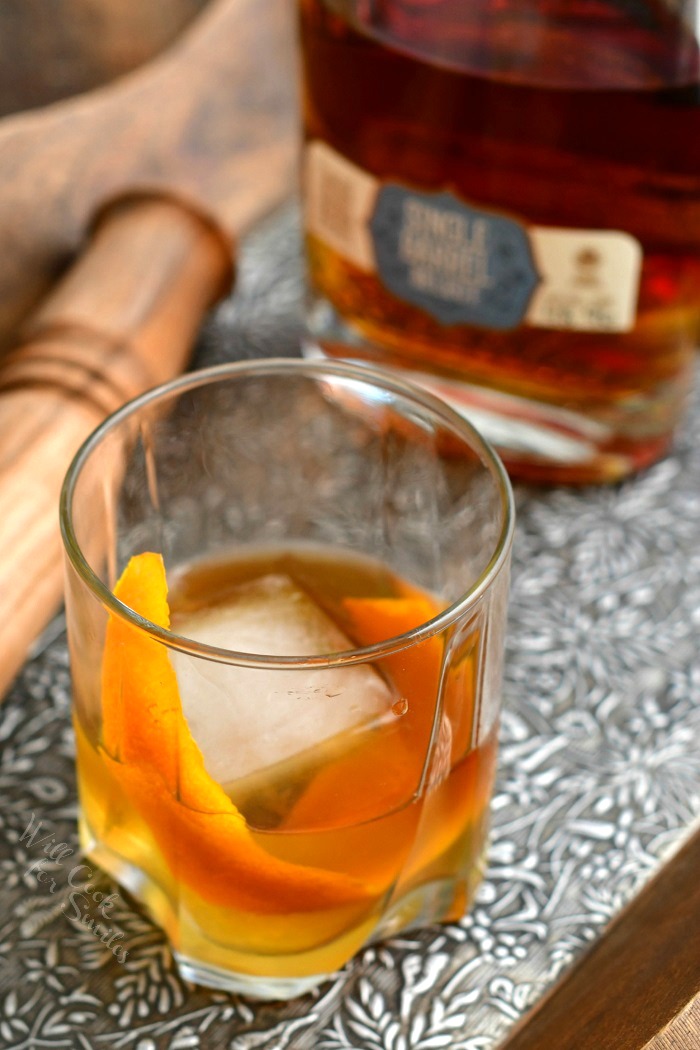 How to make an Old Fashioned
Add sugar cubes, water, and bitters to a lowball glass.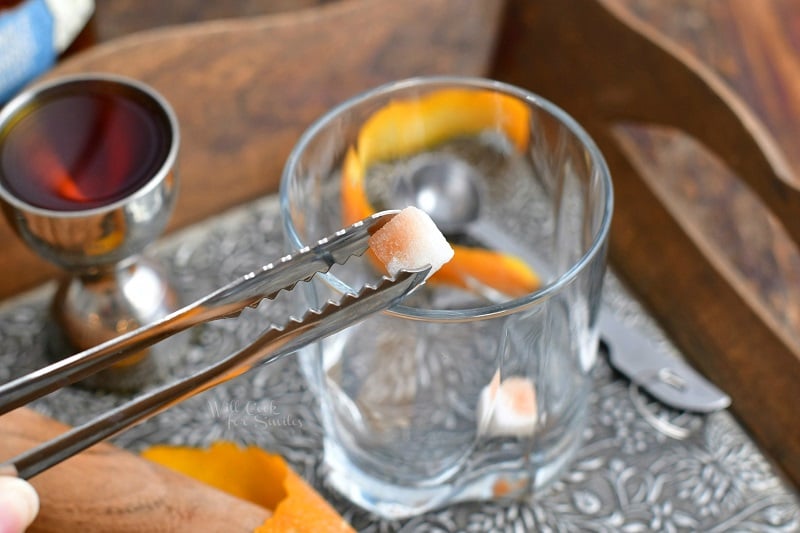 2. Muddle the ingredients in the glass
Use a flat bottom muddler to muddle together the sugar, water, and bitters until the sugar dissolves.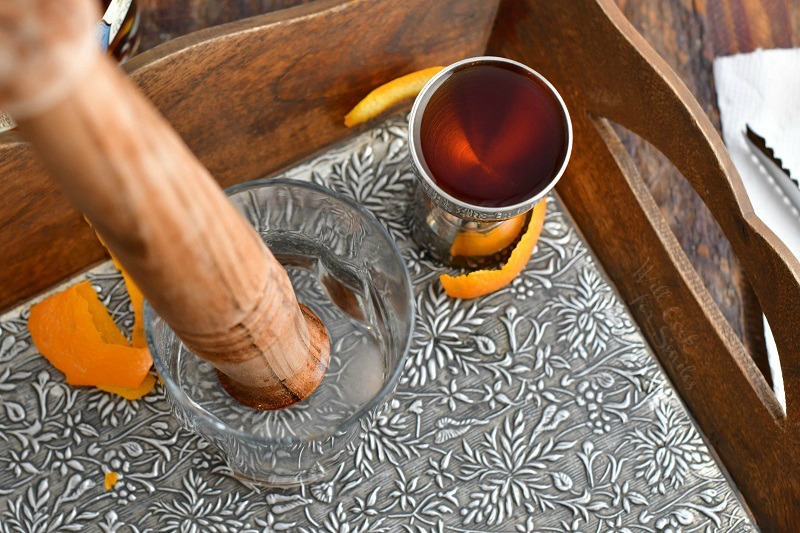 3. Add bourbon whiskey to the glass, then stir everything to combine.
4. Twist orange peel over the glass to get the oil out. Then, rub the twist over the rim of the glass.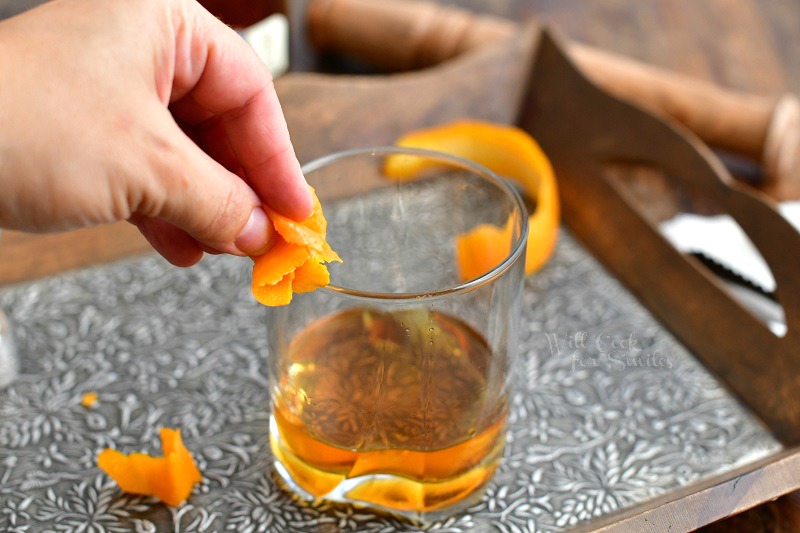 5. Add ice, stir, then serve!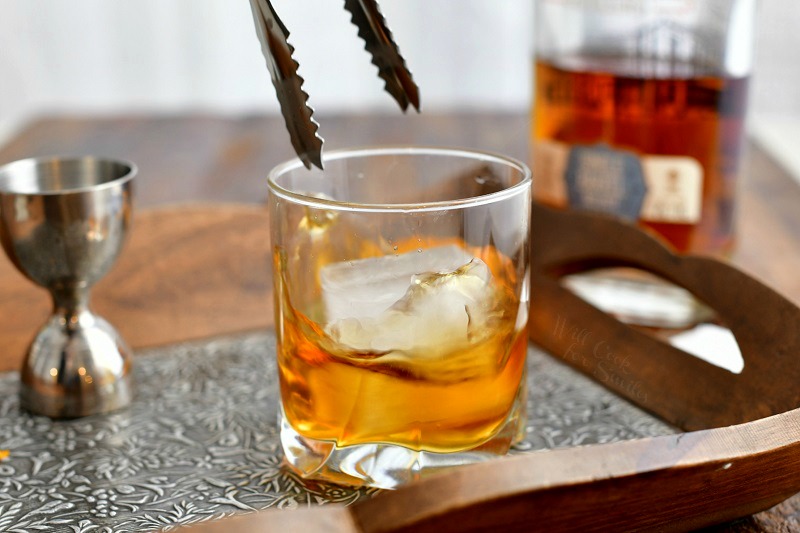 Other Classic Cocktail Recipes to Make: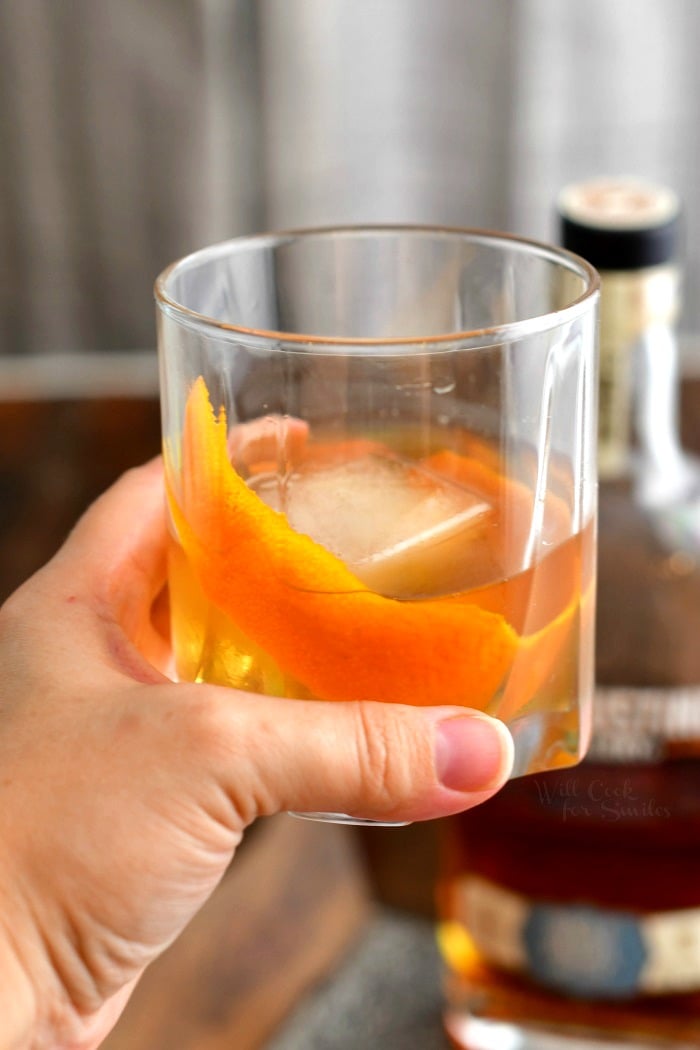 If you made any of my recipes and shared them on Instagram, make sure to tag me @willcookforsmiles and #willcookforsmiles so I can see all the things you tried!
Don't forget to sign up for email, so you won't miss any new recipes.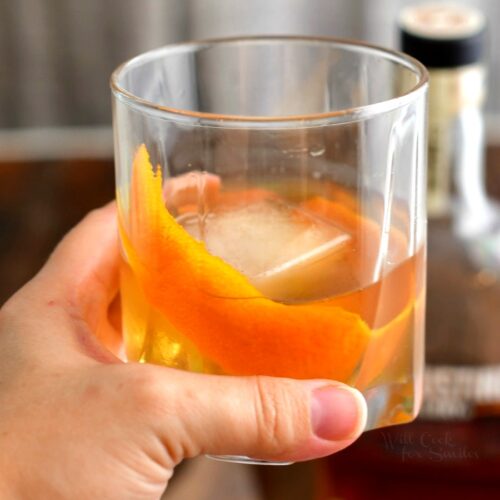 Old Fashioned
Old Fashioned cocktail is a timeless, classic whiskey cocktail that features your favorite whiskey sweetened with a sugar cube and aromatic orange flavors.
Print
Pin
Save
Saved!
Rate
Equipment
Old Fashioned Glass (aka Lowball/Rocks Glass)

Flat bottom muddler
Ingredients
2

oz

bourbon whiskey

2

sugar cubes

1

tsp

water

2-3

drops

orange angostura bitters

orange twist

ice cube
Instructions
Check the box of your sugar cubes for size. If each cube is 1/2 tsp, use 2 cubes. If you have larger cubes where each one is 1 tsp, then just use 1 sugar cube. Total sugar amount should be 1 tsp.

In an old fashioned glass (also known as lowball or rocks glass), combine sugar cubes, water, and bitters.

Use a flat bottom muddler to muddle together sugar, water, and bitters until sugar is dissolved.

Pour it bourbon whiskey and stir for a few seconds.

Twist orange over the glass to get the oil out and rub the twist over the rim of the glass.

(Note: you can discard the orange twist after that or add it to the cocktail. The taste or orange is a bit too much for some so you can discard the twist.)

Add an ice cute to the cocktail, stir a few seconds, and serve.
Nutrition
Calories:
171
kcal
|
Carbohydrates:
9
g
|
Sodium:
1
mg
|
Sugar:
8
g
Tried this recipe?
Mention @willcookforsmiles and tag #willcookforsmiles