This Olive Garden gnocchi soup is a copycat recipe and it tastes better than the real thing! You will enjoy this soup packed with chicken, vegetables, creamy broth, and soft gnocchi. There is also a secret ingredient that takes this soup to the next level!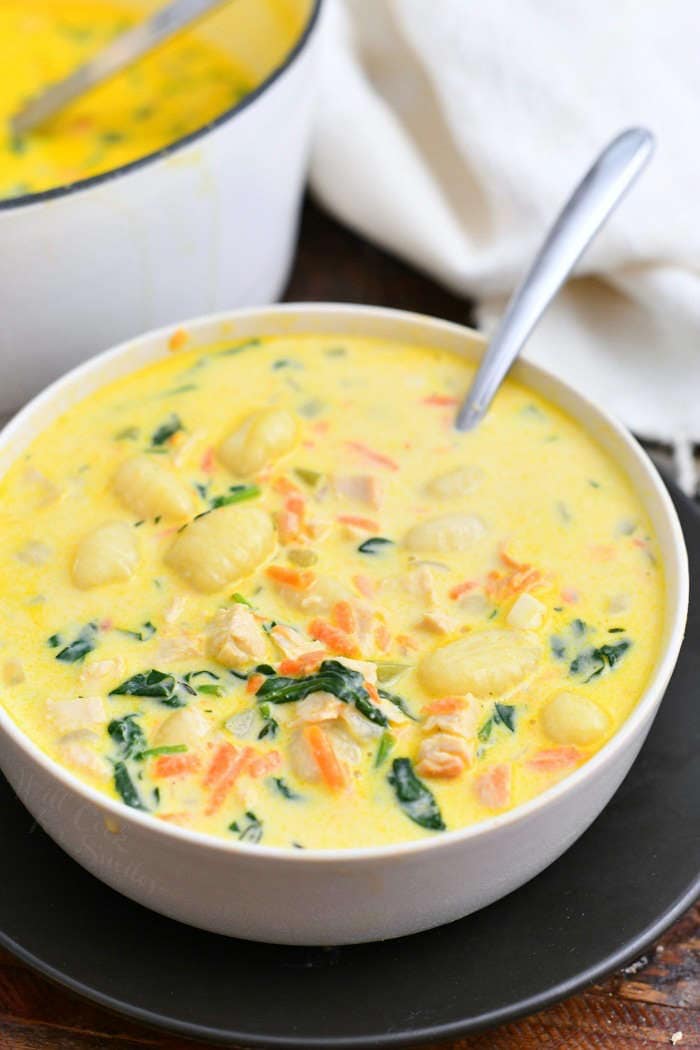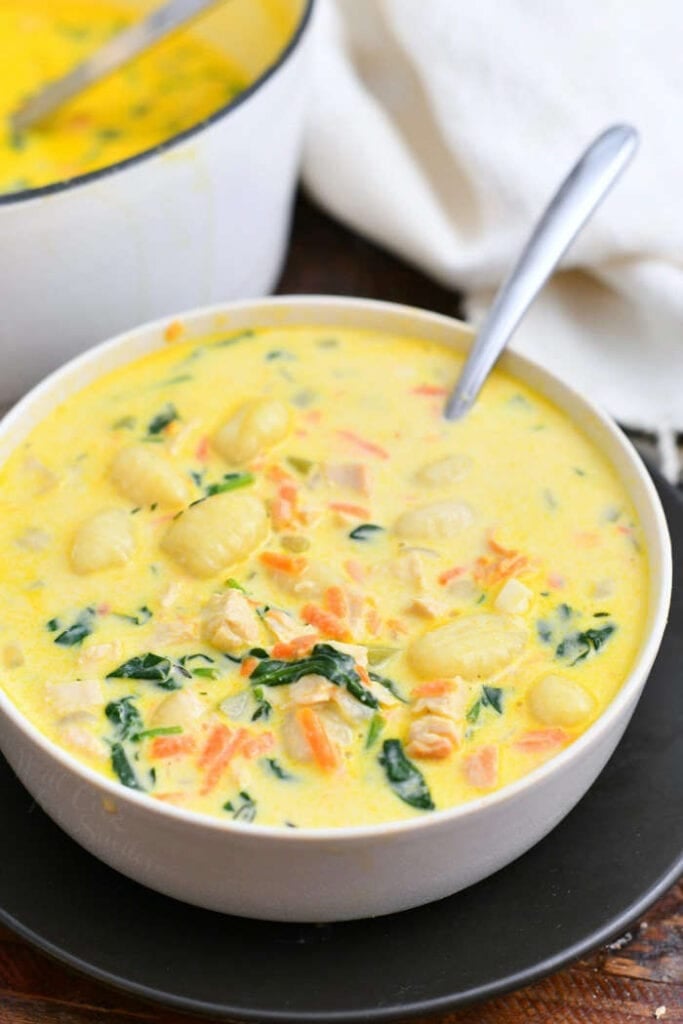 Copycat Olive Garden Gnocchi Soup
Homemade pasta seems like one of those complicated things you'll never get to do, but I promise it's not as difficult as you'd think. It's especially easy with gnocchi.
Homemade gnocchi is an easy recipe to start with because it's a larger shape to work with and there is no extra equipment needed. It also makes a large batch so you can use some in this soup, eat them sauteed in butter and Parmesan, or freeze some for easy weekly dinners.
Of course, you can always save a lot of time by getting store-bought gnocchi. It will still be good even if you don't feel adventurous to make your own.
I love using gnocchi in soups and this creamy chicken gnocchi soup is my family's favorite. I make it taste SO much better than the restaurant one because of one simple ingredient: Parmesan cheese! There are actually two parts of Parmesan cheese here, the rind and grated cheese. So I recommend that you get a wedge with the rind.
Using the rind from the Parmesan cheese wedge is a staple of Italian cooking. I use it in quite a few of my Olive Garden soup recipes such as Pasta E Fagioli and Minestrone. It's a great way to add a ton of flavor with something that is generally thrown out, but it's definitely optional if you don't have one on hand.
Several of my soup recipes have similar amounts of base vegetables of onion, carrot, and celery. This is called either "mirepoix" or "softito," or "soffritto." It a flavor base for many soups and if you make soups often, you can prepare it ahead of time.
It's a great time-saver to chop extra portions ahead of time and divide it out into labeled baggies or food containers for some of your favorite recipes.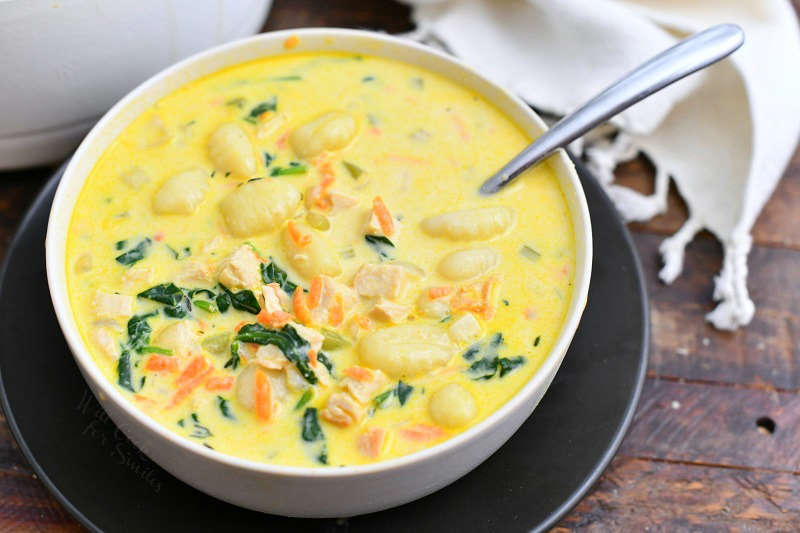 How to Make Creamy Chicken Soup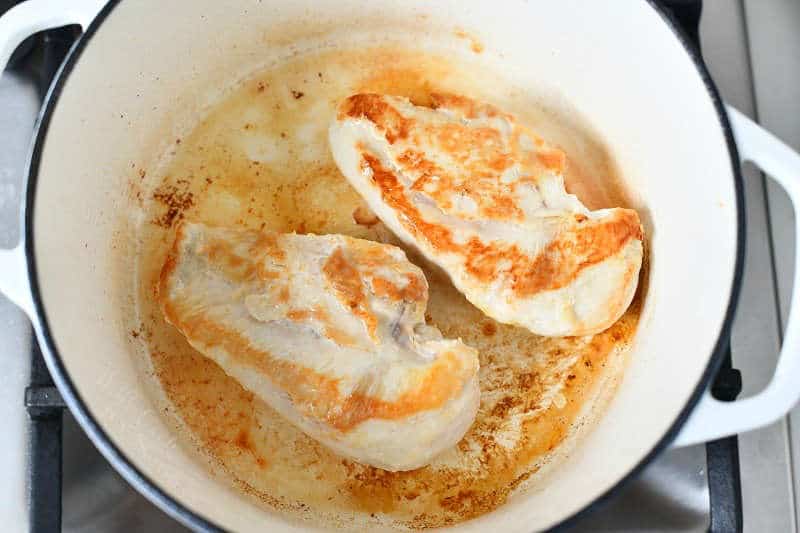 1. Cooking chicken.
Add canola oil to a large Dutch oven over medium heat to sear your chicken breasts. This is one of the best ways to add flavor to your soup. Searing locks moisture into the chicken as well as adding to the fond in the bottom of the pot.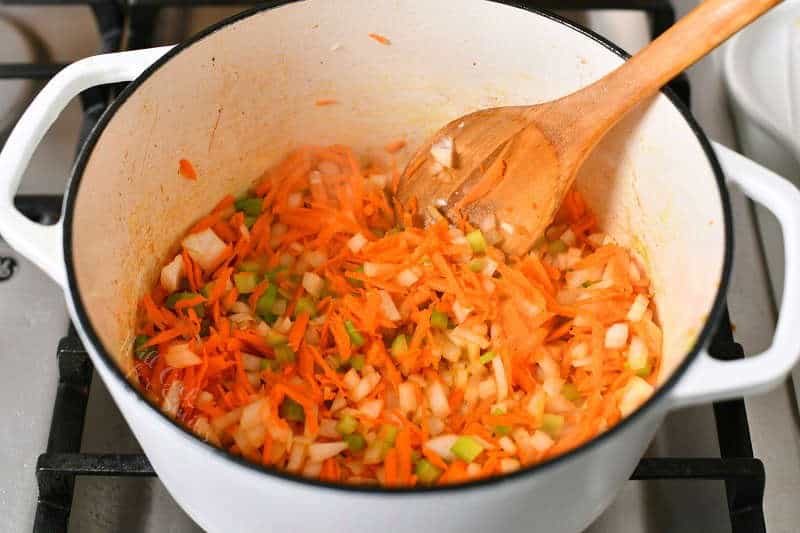 2. Saute the vegetables.
Let the chicken breasts rest a bit while you sauté the vegetables until just-softened. This also layers in the flavor to your soup base.
Dice chicken when vegetables are softened and add it to the pot as well.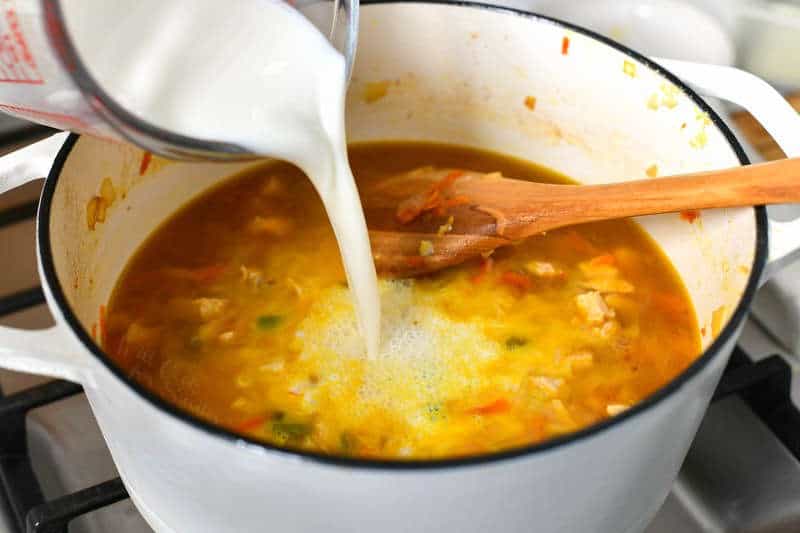 3. Add liquids.
Start pouring in stock and milk while scraping the bottom of the pan and slowly stirring.
When adding your milk and broth to the pot, make sure to scrape up all the browned goodness off the bottom of the pot and mix.
Remember, you were building up the flavor in the previous steps, and you don't want to leave any of that behind.
Add Parmesan rind to the soup.
Parmesan rind should be cooked with the soup but when the soup is done, make sure to find it and discard.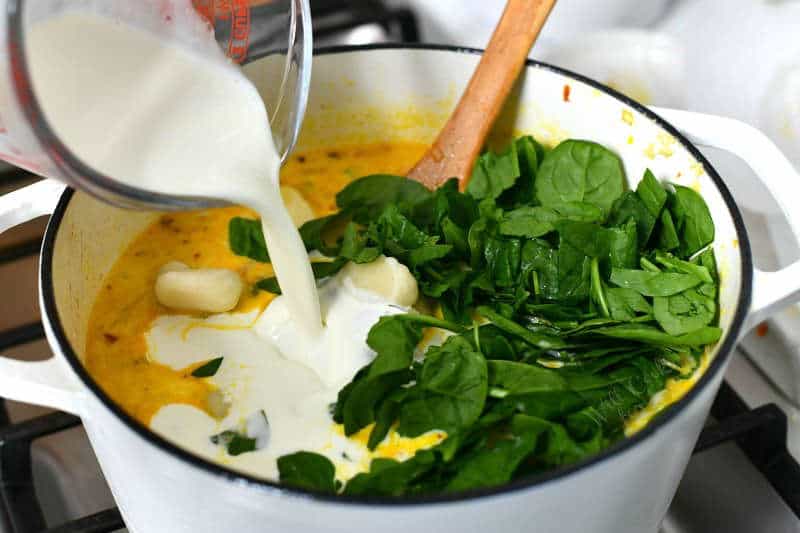 4. Add final ingredients, then serve!
If using packaged gnocchi, check gnocchi package instructions for exact cooking time, add gnocchi, heavy cream, and spinach and cook until gnocchi is done. (Best way to tell if gnocchi is done, is to wait until it floats up to the surface. This usually takes 3-5 minutes.)
Once the gnocchi is done, discard the Parmesan rind and mix in grated Parmesan cheese.
Whole milk is less likely to curdle during cooking which is why it is used for the main cooking and the cream is added at the end. Simmer until just heated through and the spinach wilts.
Don't let the soup come to a full boil at any point because there is a high chance that milk and cream will curdle. Gentle simmer is okay but don't let it boil.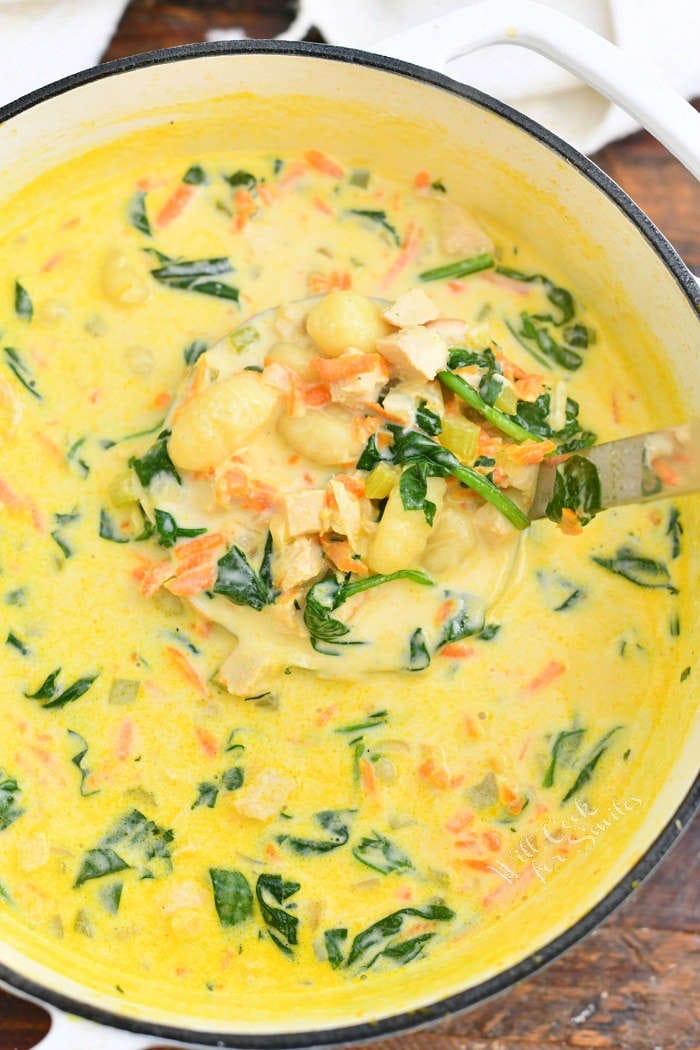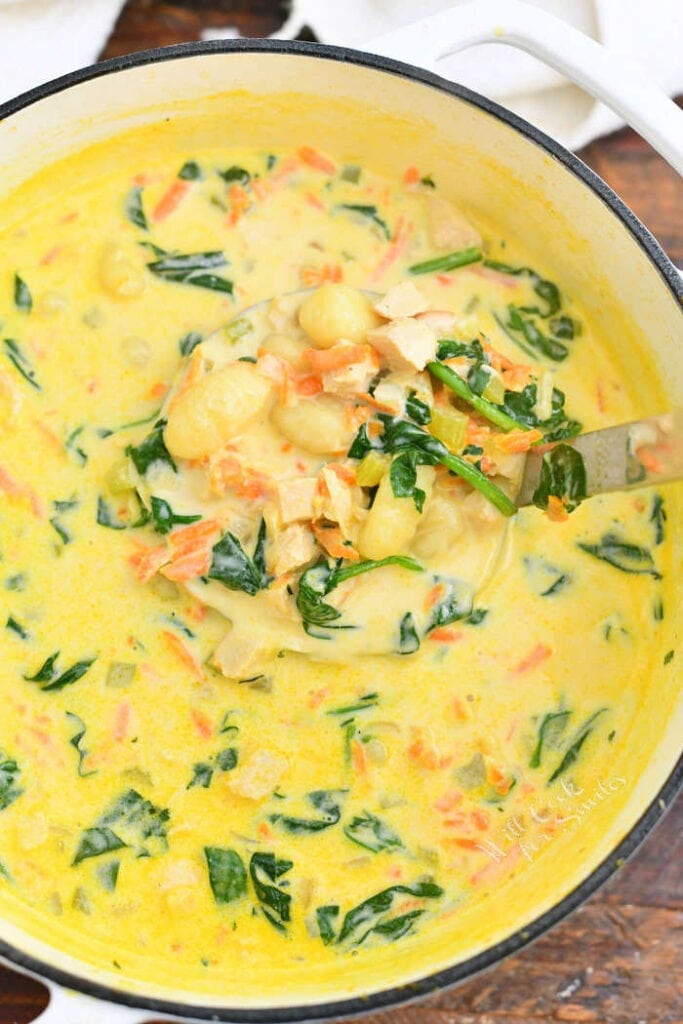 Final Recipe Tips
Try to serve this comforting, filling soup along with some crusty bread. You'll be glad you have the bread to soak up every last drop of the soup from your bowl!
Storing This Soup:
If you're making soup ahead of time or not planning on serving the whole batch, don't add all the gnocchi. Cook gnocchi separately and add to individual servings.
Store the soup (without gnocchi) in an air-tight food storage container, in the refrigerator. It should last 3-4 days in the refrigerator.
Freezing This Soup
You can freeze this soup but only partially made.
Much like my Chicken Gnocchi Soup, you would have to freeze it without gnocchi in the soup as they will change texture and not be appetizing.
You also want to freeze it without cream, milk, or spinach. So essentially, you will be making the soup half way in order to freeze it.
To finish the soup, thaw it in the refrigerator overnight and then finish cooking in a pot by adding milk, cream, gnocchi, Parmesan cheese, and spinach.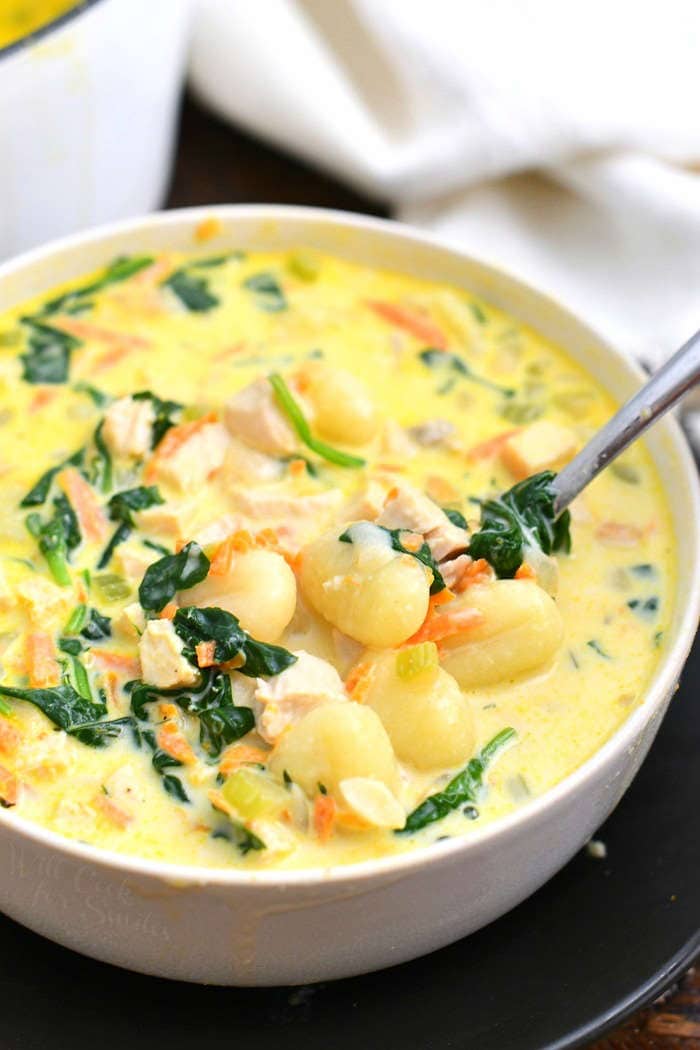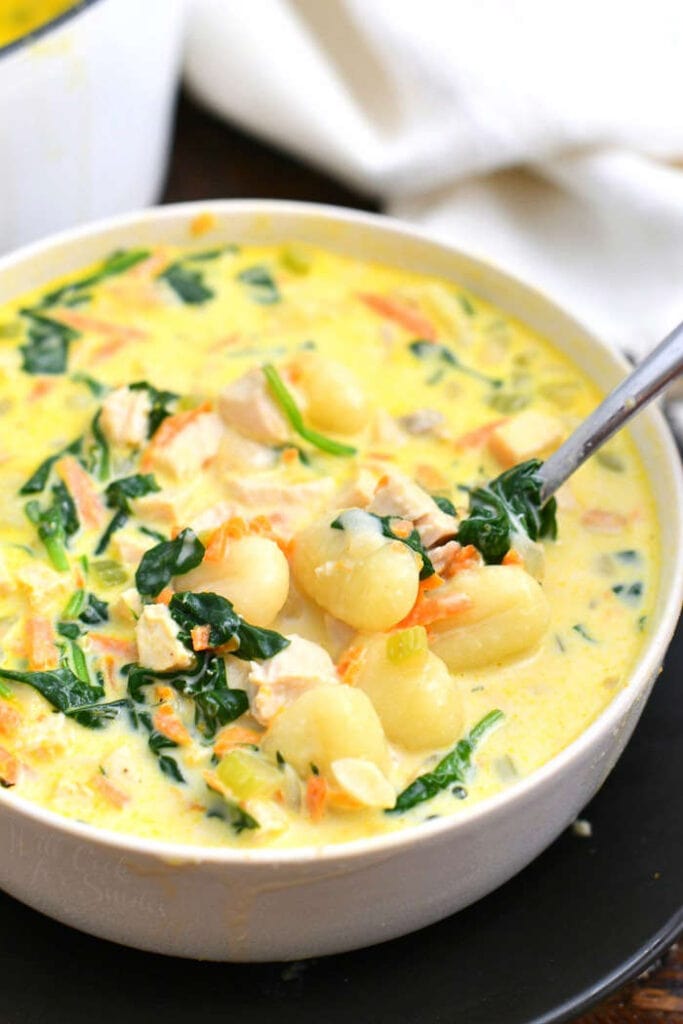 If you made any of my recipes and shared them on Instagram, make sure to tag me @willcookforsmiles and #willcookforsmiles so I can see all the things you tried!
Don't forget to sign up for email, so you won't miss any new recipes.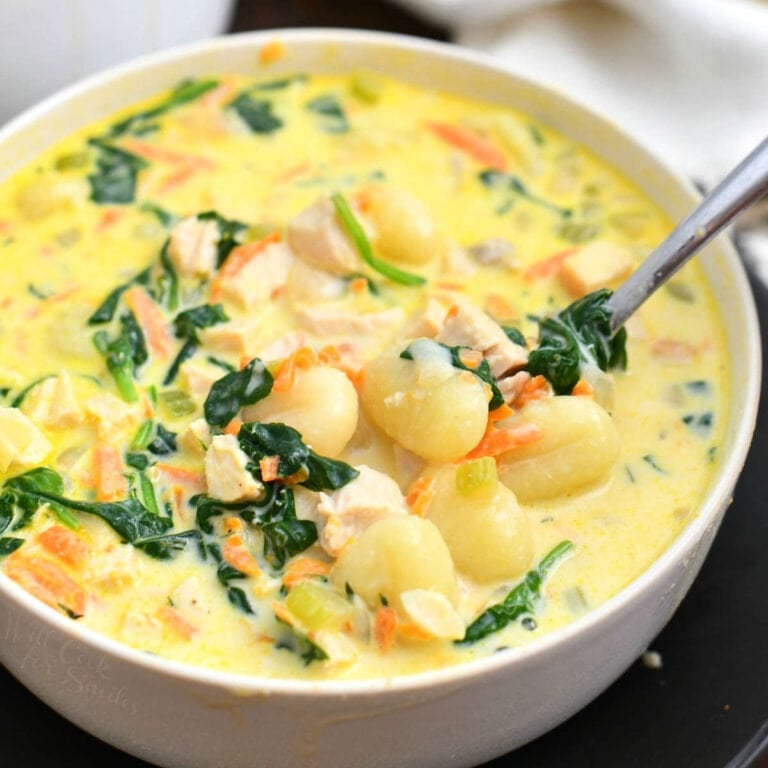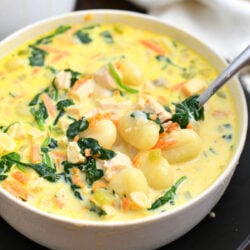 Creamy Chicken Gnocchi Soup
This Olive Garden gnocchi soup is a copycat recipe and it tastes better than the real thing!
Print
Pin
Save
Saved!
Rate
Ingredients
3

tbsp

canola oil

divided

1 1/4

lb

chicken breast of chicken thigh meat

1

small yellow onion

2

celery ribs

1

medium carrot

3

garlic cloves

2

cups

chicken stock

2

cups

whole milk

1

tsp

garlic powder

1

sprig of thyme

1/2 tsp dried

salt

1/2

tsp

red pepper flakes

1/4

tsp

fresh cracked black pepper

16

oz

gnocchi

1

cup

heavy whipping cream

3

oz

fresh spinach

1/3

cup

fresh grated Parmesan cheese

parmesan rind

optional
Instructions
Preheat a Dutch oven or another soup pot over medium heat and add about 2 tablespoons of canola oil.

Sear and cook chicken meat until just done and take it out of the pot. Set chicken aside for it to cool down enough for you to handle it.

While chicken is cooking, dice onion, celery, and shred the carrot.

Add another teaspoon of oil into the same pot and add diced onions, celery, and carrots. Cook vegetables until softened.

Dice chicken while vegetables are cooking.

Stir in minced garlic and cook until it's fragrant.

Add chicken back to the pot with vegetables, stir, and pour in chicken stock and milk. Lower the heat to medium low and stir well, scraping the bottom of the pan with a wooden spoon.

Add seasoning and a sprig of thyme.

Optional: Parmesan rind cooked in soup will add great flavor so if you have a whole wedge of parmesan cheese, cut off the rind, and add it to the soup. (You will discard it with the thyme sprig later.)

Cook the soup until it comes to a simmer and them add gnocchi.

Cook just until gnocchi floats or according to the time on package instructions.

Stir in chopped spinach, grated Parmesan cheese, and heavy whipping cream. Cook for a few minutes, until spinach is wilted.

Take off heat right away and discard the sprig of thyme and Parmesan rind.
Nutrition
Calories:
400
kcal
|
Carbohydrates:
28
g
|
Protein:
23
g
|
Fat:
22
g
|
Saturated Fat:
10
g
|
Cholesterol:
95
mg
|
Sodium:
414
mg
|
Potassium:
529
mg
|
Fiber:
2
g
|
Sugar:
4
g
|
Vitamin A:
2898
IU
|
Vitamin C:
6
mg
|
Calcium:
173
mg
|
Iron:
3
mg
Tried this recipe?
Mention @willcookforsmiles and tag #willcookforsmiles