Salsa Verde is packed with green tomatillos, onion, jalapeño peppers, cilantro, and so much more! It's a wonderful alternative to the classic red tomato salsa. This green salsa is a tangy, refreshing dip that can quickly become addictive. Serve a bowl of salsa verde at your next fiesta!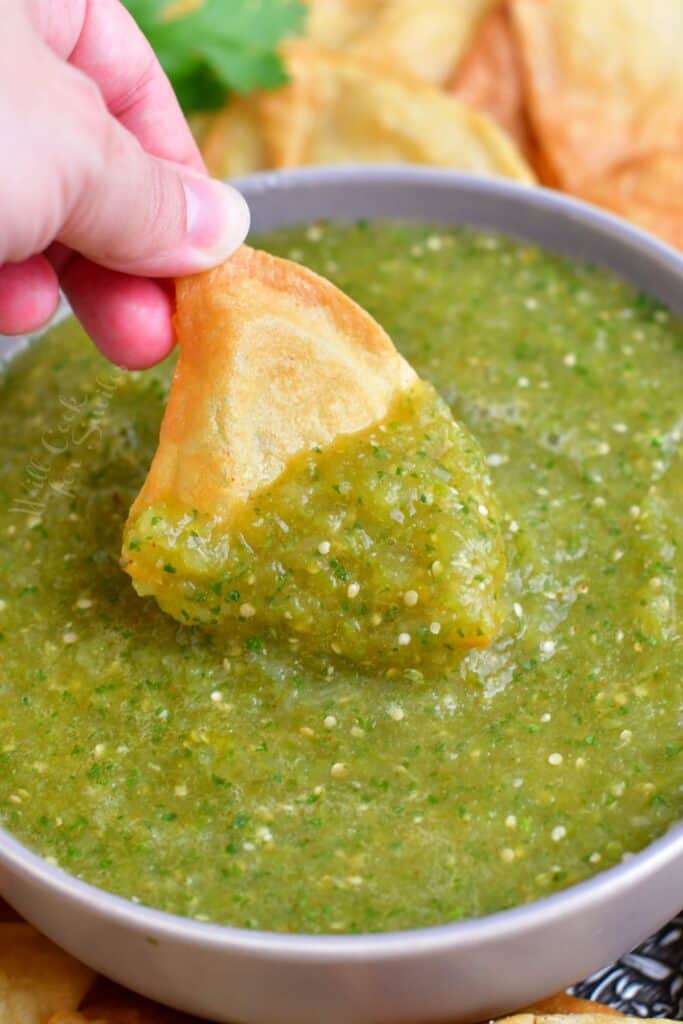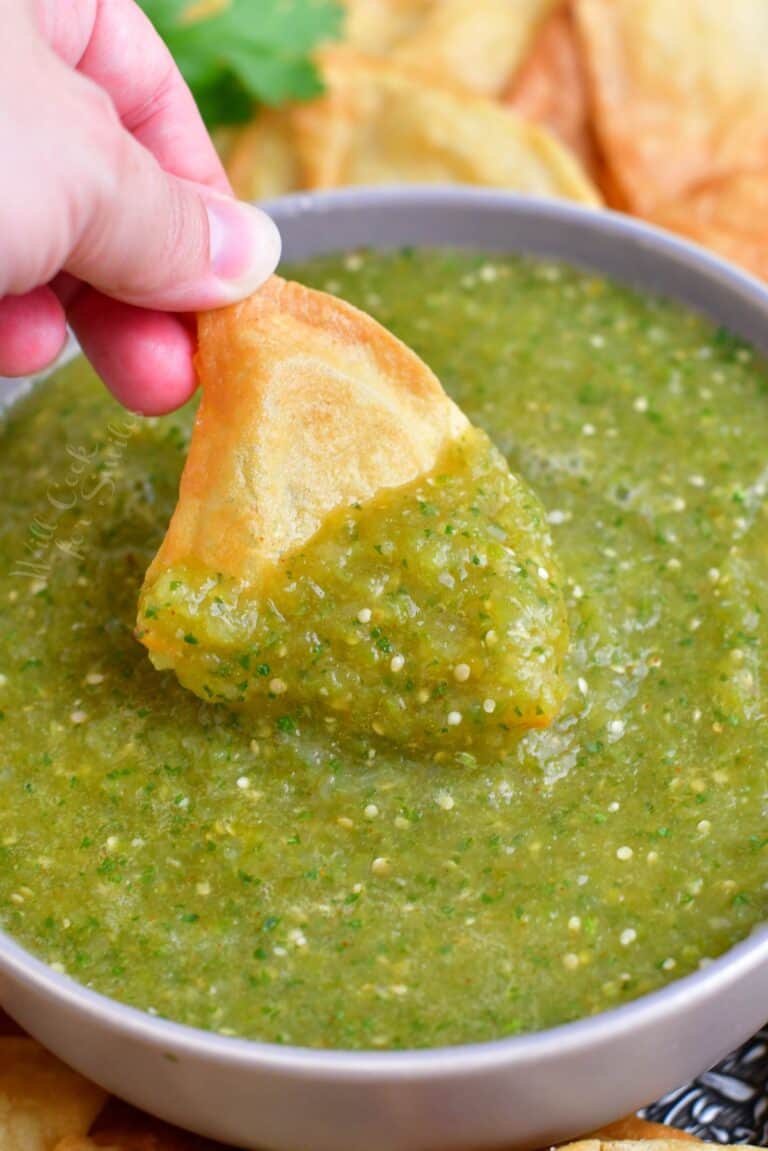 Salsa Verde
So, what exactly is salsa verde? Salsa verde is a vibrant green salsa with a tomatillo base that's boldly, yet freshly flavored with other green ingredients. It originated in Mexico, and has made a lasting impression in both Mexican restaurants and kitchens across the world!
If you've never tried this version of salsa, you've been missing out on a real treat. This is a favorite recipe of mine to serve as an appetizer at parties, because it always garners the most attention! People praise it for one of two reasons – they think it's better than any other salsa verde they've tried, or they've never had it before and are now obsessed. Either way, this salsa is a guaranteed conversation starter!
What elevates this salsa verde really comes down to the ingredients. As easy as it is to just buy a store-bought jar of salsa and pour it into a serving bowl, you need to try making your own salsa at least once! The all-natural fresh ingredients make a hugely noticeable difference.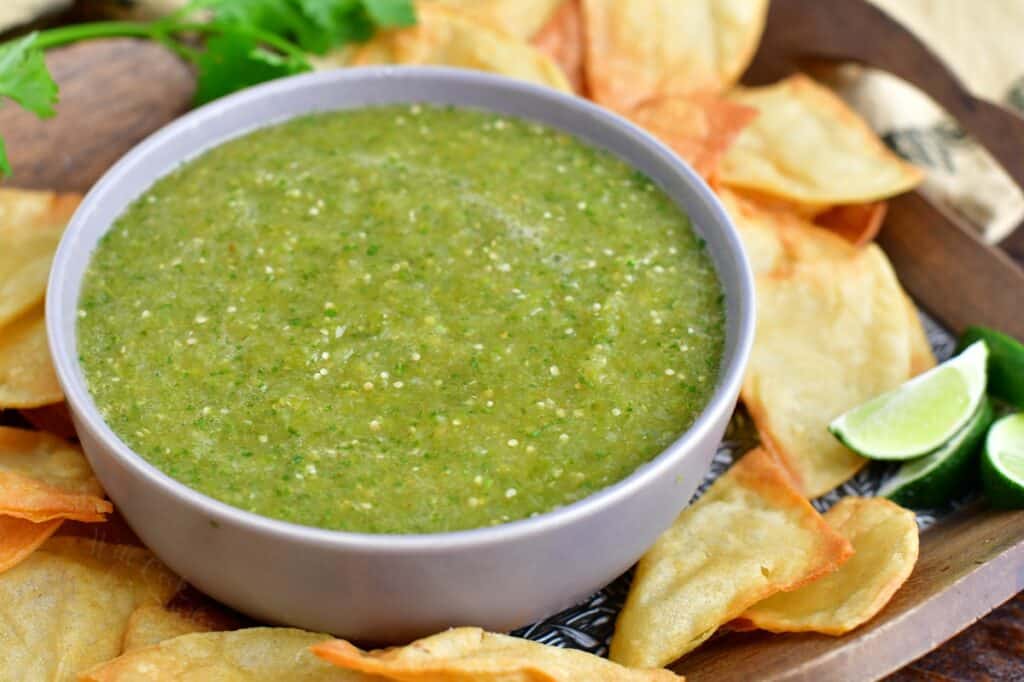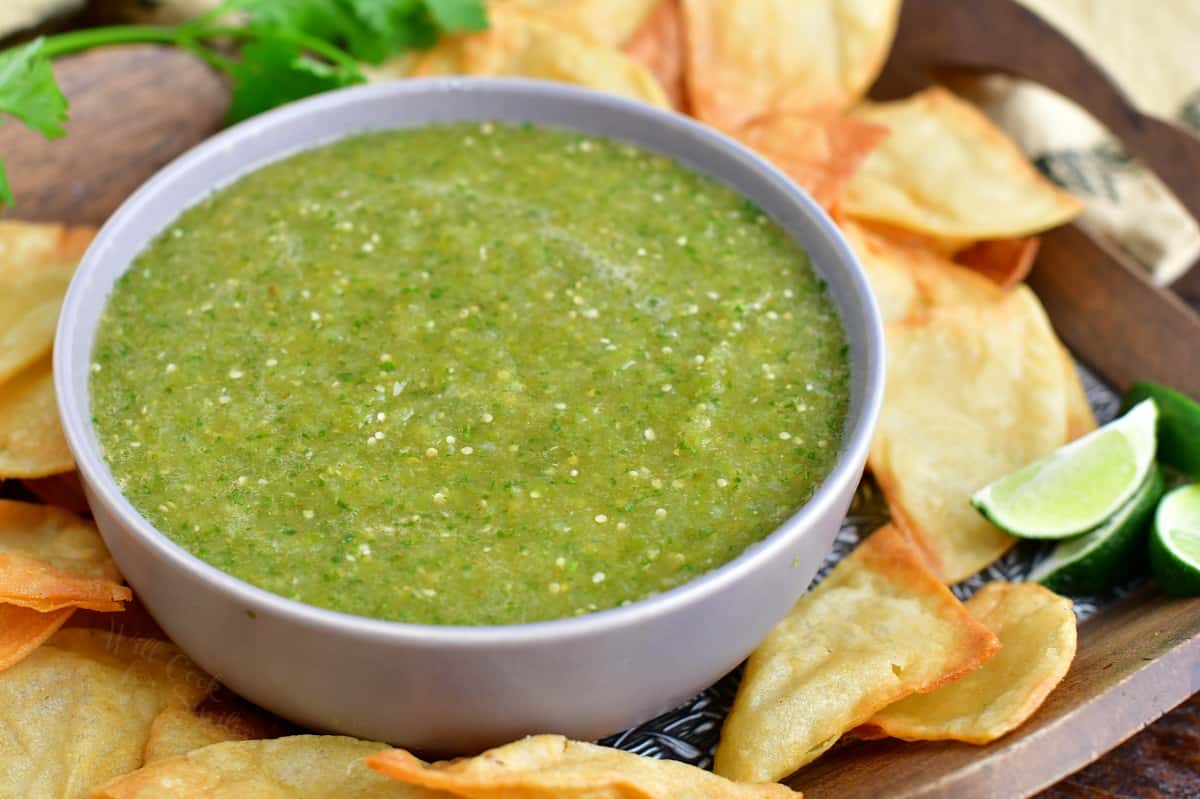 Ingredients for Salsa Verde
Tomatillos – These are the base of the salsa, where most of the color and flavor comes from. Pick the ripest tomatillos by checking out their husks – the husk of the tomatillo should be tight with little to no tears.
Jalapeños – If you're trying keep salsa mild, use young jalapenos with smooth dark green skin and discard the seeds. On the other hand, if you want to increase the spice level, then be sure keep the seeds! Jalapeño seeds are sure to heat things up in your salsa.
White Onion – White onions are always delicious in Mexican food, especially when paired with fresh ingredients like cilantro! However, in a pinch, a yellow onion can be substituted.
Garlic – The garlic adds a deeper flavor to the salsa without being overpowering. While the notes of garlic are present, they're just noticeable enough to make your mouth water.
Lime – Only the juice is needed, not the rest of the lime. Avoid using a store-bought bottle of juice if you can help it! The juice from a fresh lime isn't just more delicious, it's also free of preservatives and other additives.
Cilantro – This is the ingredient that adds a level of refreshing flavor that just can't be beat. Feel free to use the leaves and stems for best results.
Salt – Use as little or as much to your personal tastes.
Cumin – In a mix of fresh, tangy ingredients, cumin introduces just a delicate taste of warmness and depth to the salsa.
Chili Powder – To make this salsa spicier, you can use a little more. Of course, use less if you want it less spicy.
Green Tomatoes vs. Tomatillos
I've often been asked if green tomatoes and tomatillos are the same thing and they're actually not! Green tomatoes are just unripe tomatoes, but a tomatillo is not a tomato at all.
It's a fruit of a different plant and grows inside a papery husk. Tomatillos have a tart, fruity, slightly sour, and slightly herbal flavor. You can use them in salsas and sauces, although they can also be eaten raw too. Raw, tomatillos are much more acidic than tomatoes, and can have a slight aftertaste.
How to Make Salsa Verde
Prepare the tomatillos by removing their husks and washing them. Then, cut and remove the seeds from the jalapeños – skip this step if you want it extra spicy!
Chop the tomatillos, onions, jalapeños, garlic, and lime before spreading them evenly on a baking sheet.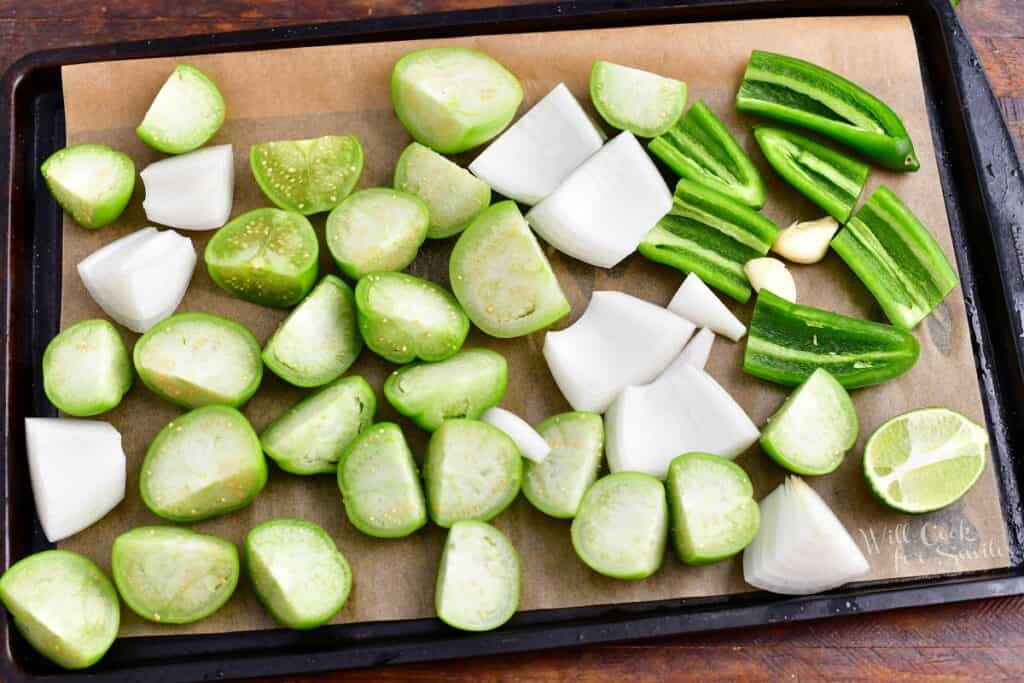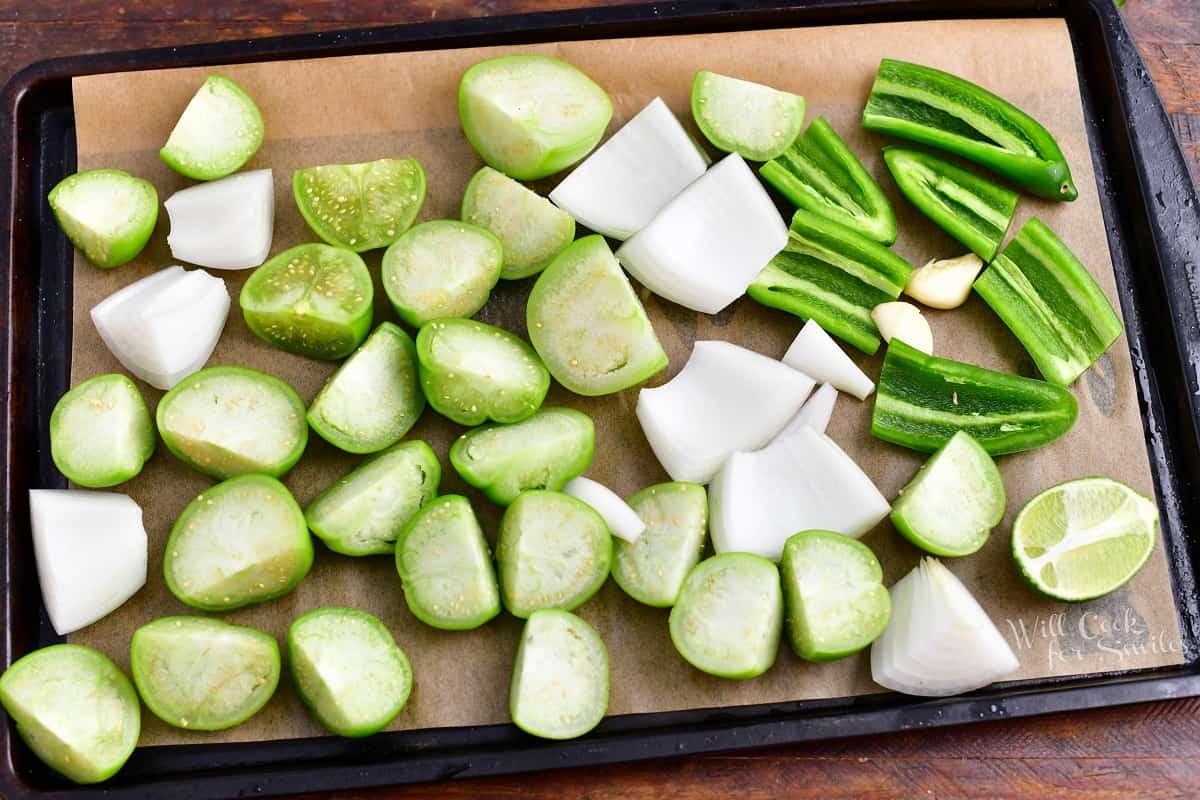 Turn on the broiler on high, move the oven rack to the center, and let it preheat for a few minutes. Cook the vegetables for approximately 5-8 minutes.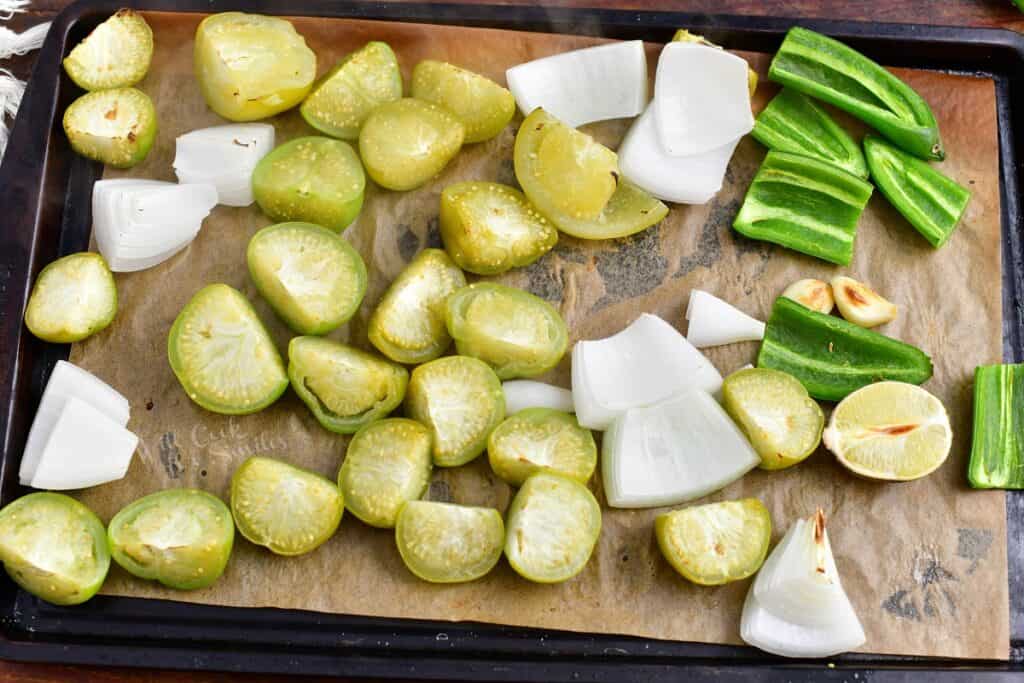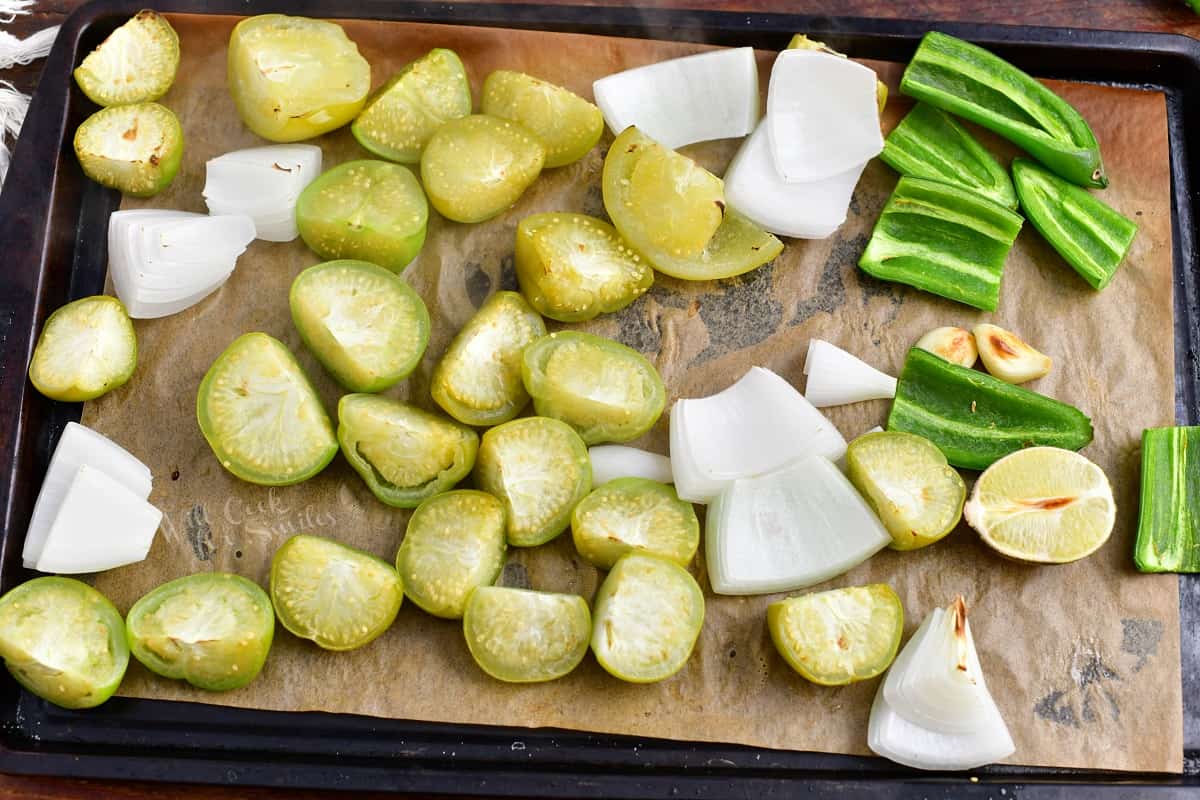 Once cooked, place the vegetables in the blender, along with the seasonings. Add the cilantro and squeeze the lime juice.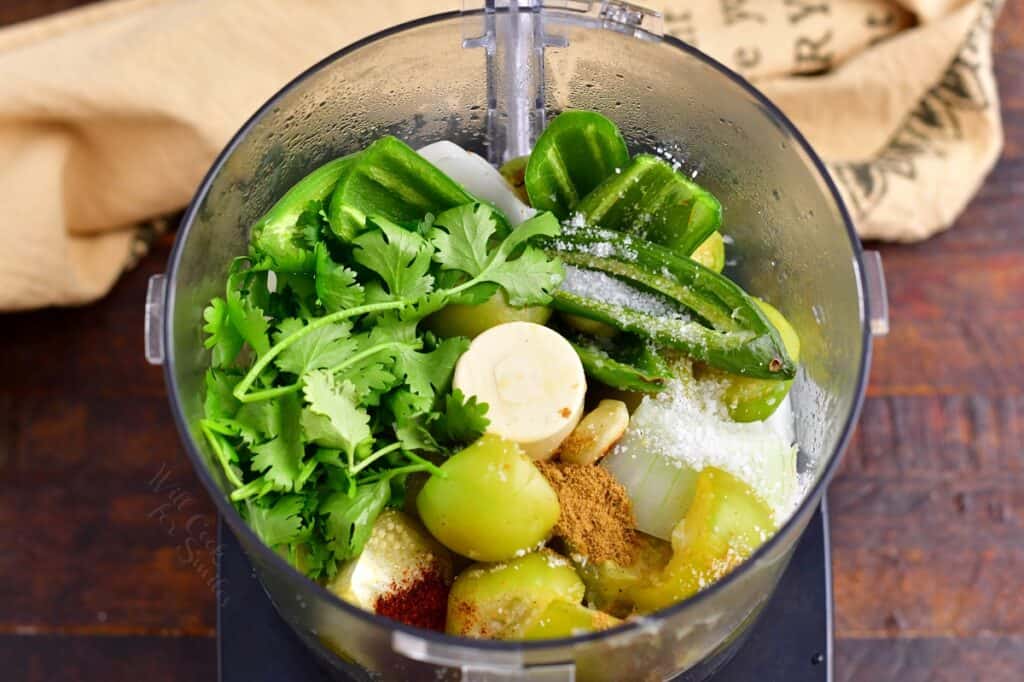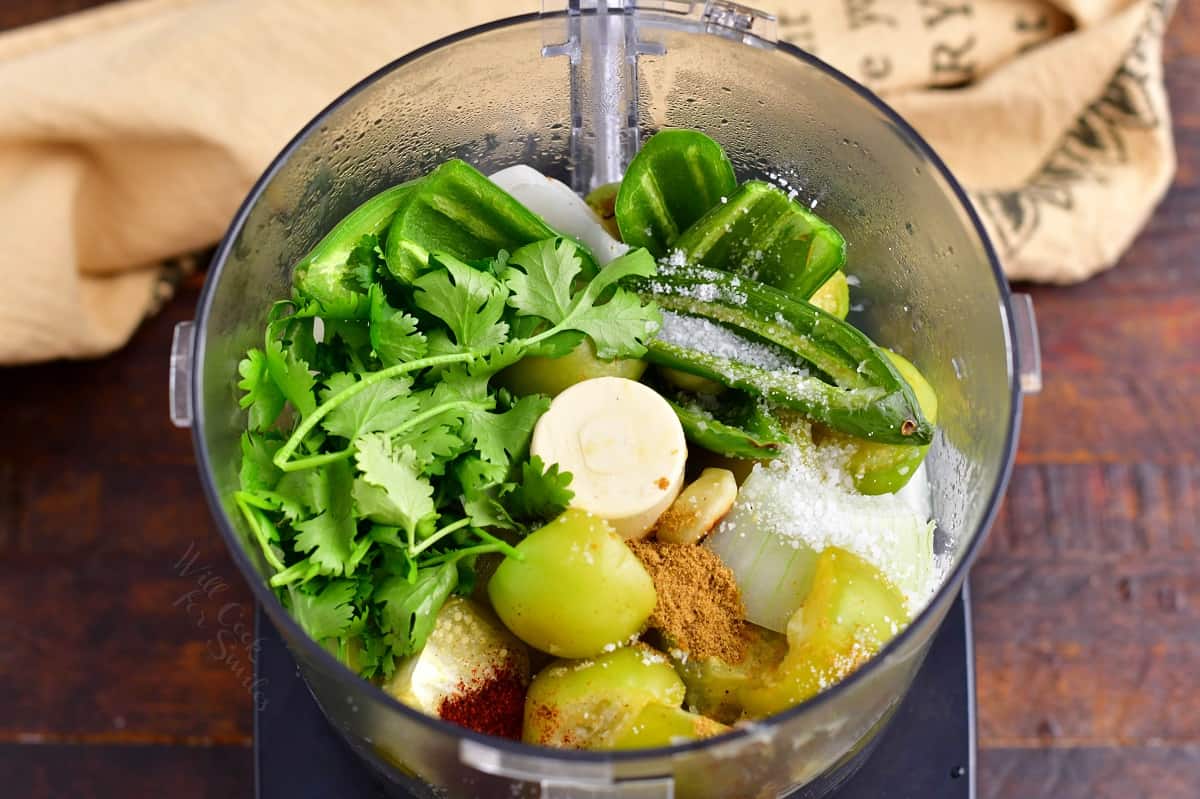 Pulse the blender until the salsa is smooth and there are no more chunky pieces.
Serve your fresh salsa verde right away, or save it for later. Enjoy!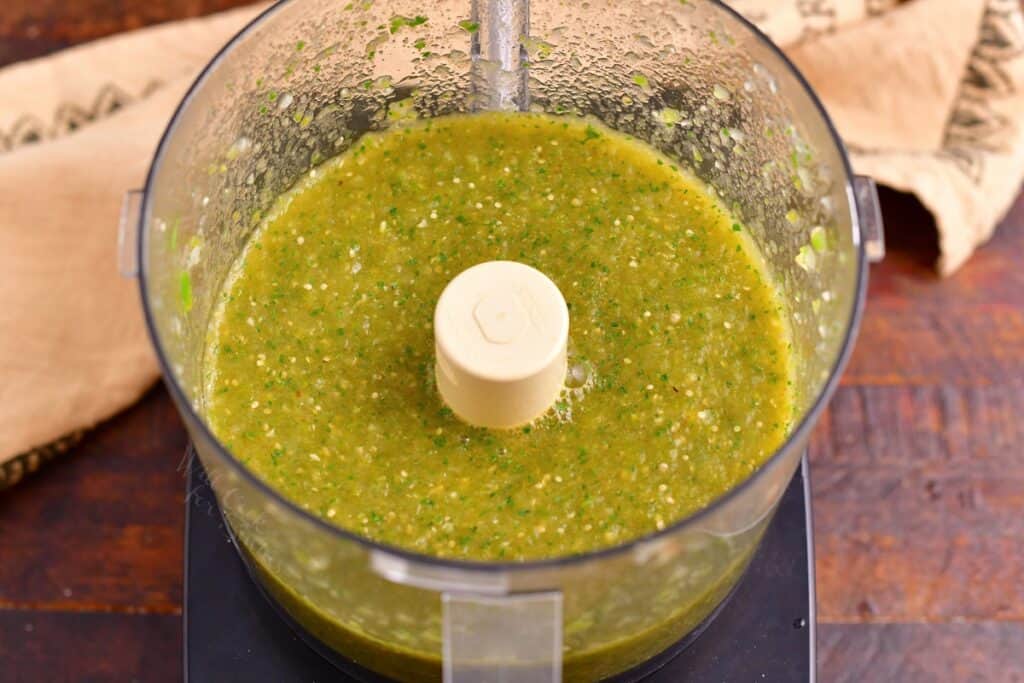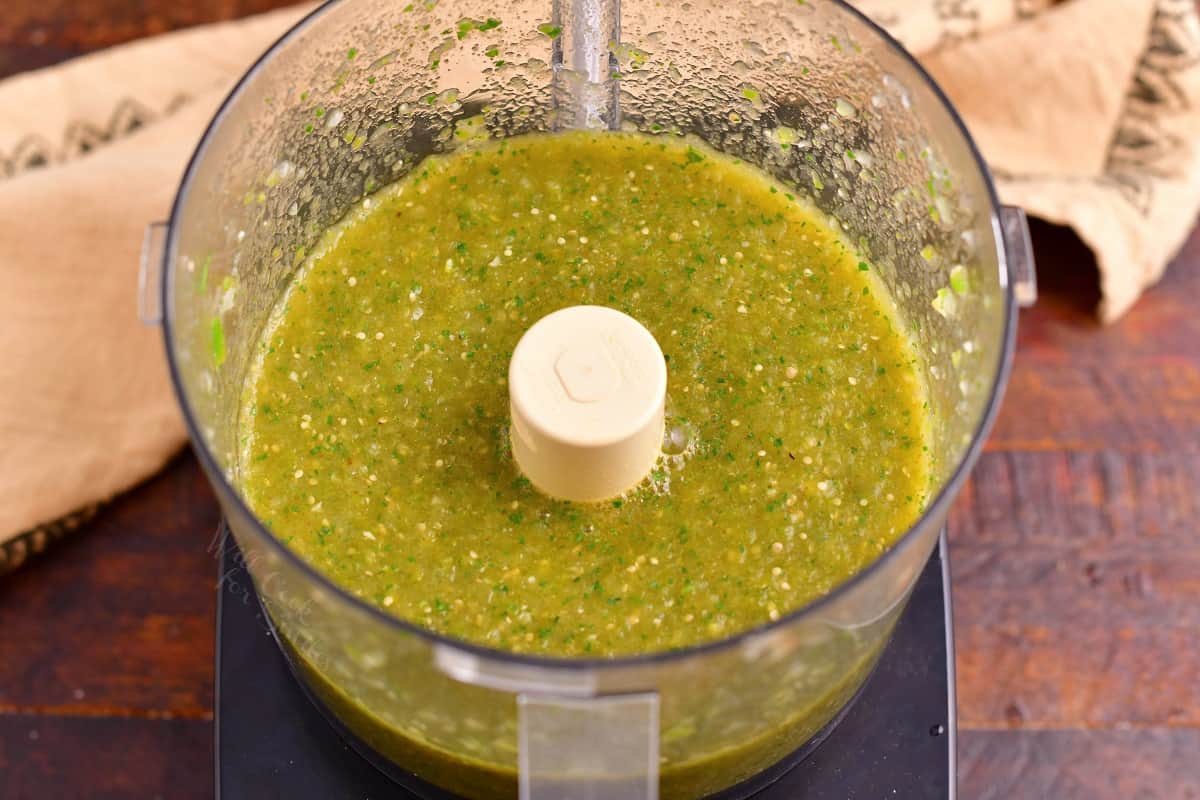 Storing Instructions
Make sure to store it in a glass jar with a lid or another airtight food storage container. Keep it refrigerated! In an airtight container in the refrigerator, this homemade salsa verde will stay fresh for up to a week. It's great to reach for when you're craving a satisfying midday snack!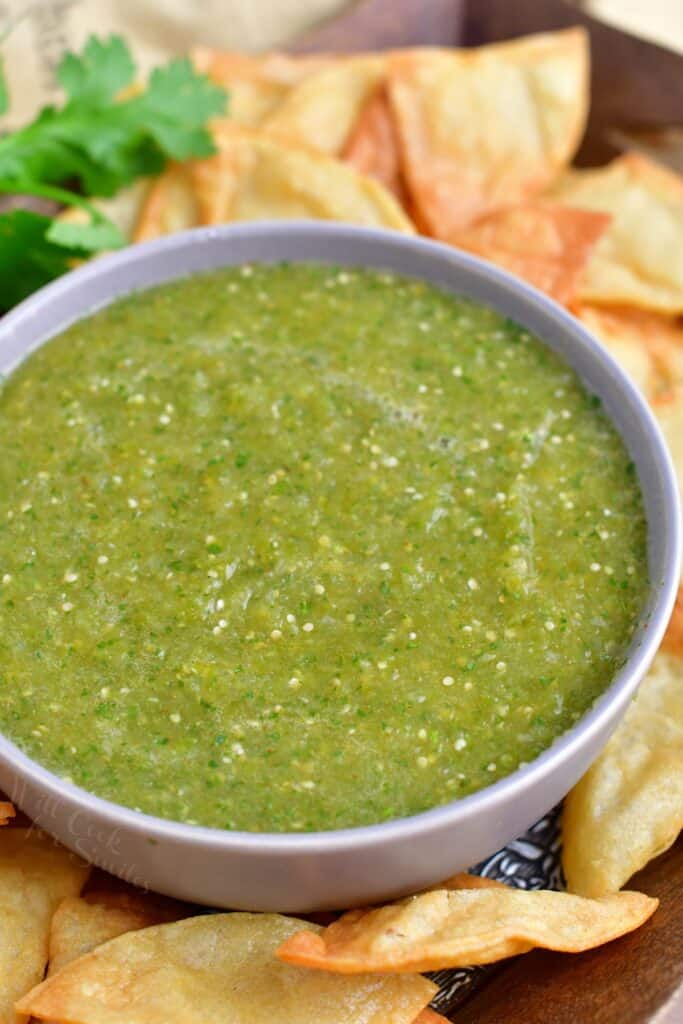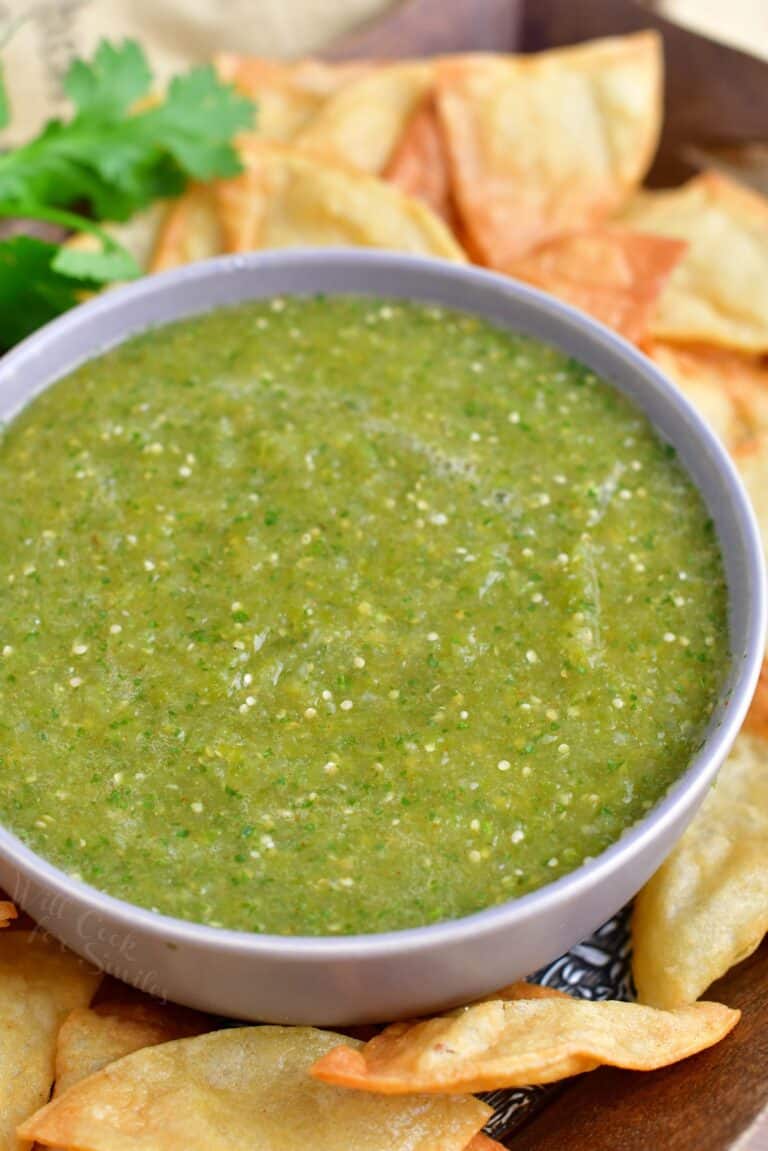 Do I have to cook tomatillos salsa verde?
Although it's not a requirement, cooking tomatillos brings out a lot more flavor and lowers the acidity. The skin will also be softer after cooking, which will give salsa a better texture. It doesn't have to be cooked a lot, just a few minutes in the oven will do!
How can I use salsa verde?
This salsa is most notably used as a dip for tortilla chips before enjoying a Mexican meal! However, it's also delicious when drizzled on top of chicken, shrimp, steak, vegetables, and inside of tacos. Of course, don't forget enchiladas verde!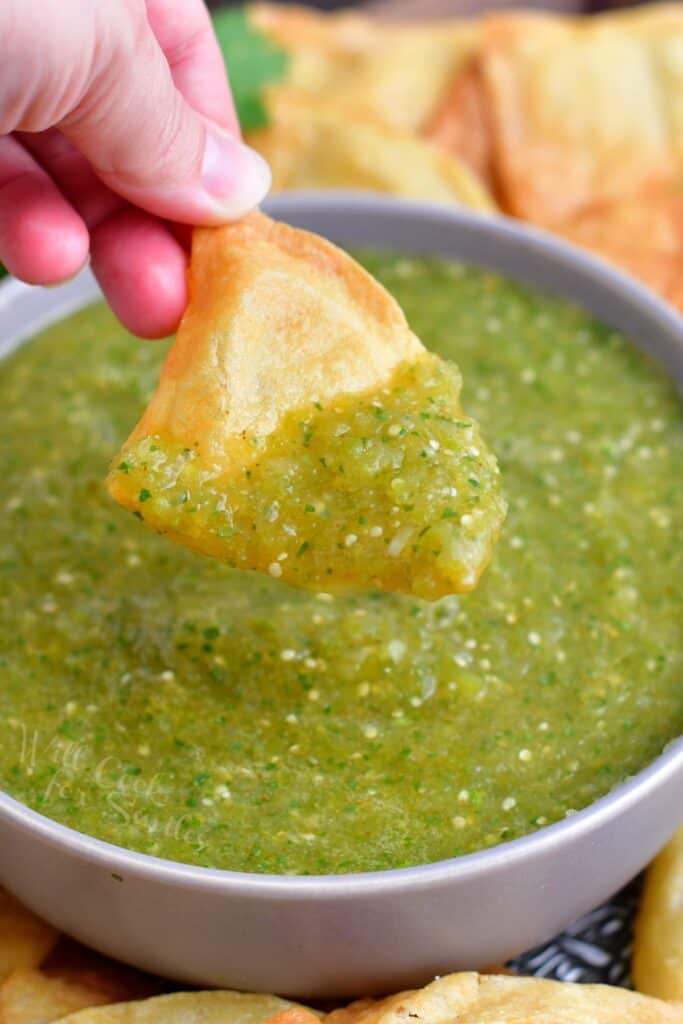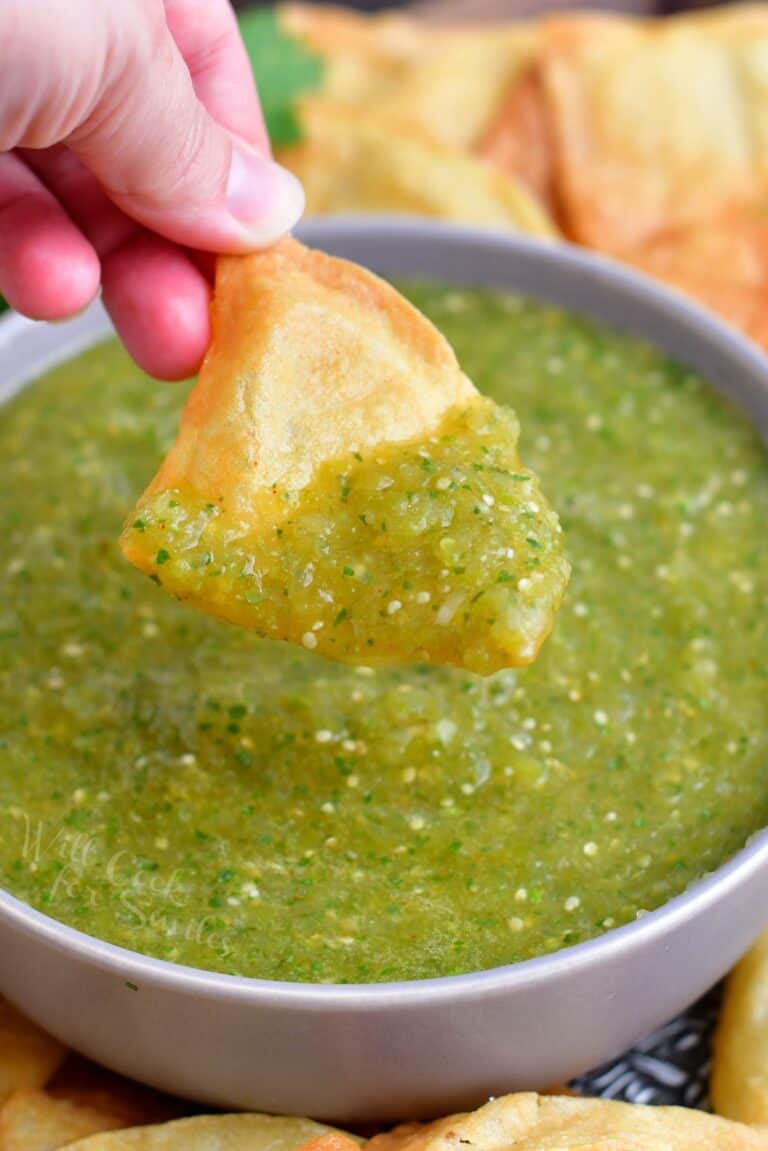 Planning a Fiesta? Enjoy these South of the Border Recipes!
Mexican Street Corn Salad – a salad that's made with grilled corn, grilled poblano peppers, queso fresco, fresh herbs, and more
Enchiladas Verdes – a Mexican dish so full of flavor made with chicken, cheese, and a delicious salsa verde sauce
Carne Asada Tacos – tacos that are filled with steak marinated in an easy, flavorful marinade and topped with homemade pico de gallo and cilantro vinaigrette
Spicy Mexican Chicken Salad – a salad packed with chicken, tomatoes, onions, jalapenos, cilantro, lime, and of course, hot sauce and spices.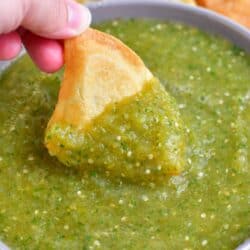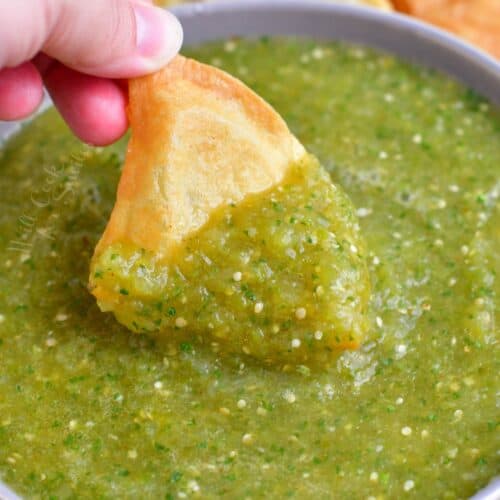 Salsa Verde
Salsa Verde is packed with green tomatillos, onion, jalapeño peppers, cilantro, and so much more! It's a wonderful alternative to the classic red tomato salsa.
Print
Pin
Save
Saved!
Rate
Servings:
6
(makes about 4 cups)
Ingredients
1.5

lbs

tomatillos

husks removed

2

jalapenos

seeds removed (if you like spice, leave the seeds in)

1/2

white onion

3

cloves of garlic

1

lime – juice only

1/3

cup

fresh cilantro

1

tsp

salt

more or less to taste

1

tsp

cumin

1/2

tsp

chili powder

more or less to taste
Instructions
Set the oven rack to the middle position, about 6 inches away from the broiler. Turn the broiler on to high.

Make sure to remove husks from tomatillos and wash them before preparing salsa. Clean the seeds and membrane out of jalapenos OR, if you want salsa verde spicy, leave the seeds in.

Cut tomatillos, onion, jalapenos, garlic, and lime in halves of quarters and spread them out on the baking sheet. (If you need to, cover the baking sheet with foil or parchment paper.)  

Place the baking sheet into the oven and let the vegetables cook for 5-8 minutes.

Once done, place the veggies into the blender, squeeze the juice out of limes, and add cilantro and seasoning. Pulse the blender until there is no more chunks.

You can serve salsa verde warm with tortilla chips of transfer it into a glass container with a lid, let it cool, and store in refrigerator.
Storing:
Store salsa verde in a glass container with a lid, in the refrigerator. Stored property, it should last up to 1 week.

When getting more salsa from the jar, it's best to pour some out rather to use a spoon to scoop.
Notes
How to make salsa verde more spicy: jalapenos can be more spicy or less spicy. Older jalapenos are more spicy than younger ones and you can tell just by looking at the skin. Older jalapenos have brownish veins running along the skin, the more veins, the older and spicier the jalapeno would be Younger jalapenos would have smooth green skin with no veins. You can also choose to leave jalapeno seeds in because the seeds hold most of the spiciness for the chili pepper. 
Nutrition
Calories:
49
kcal
|
Carbohydrates:
10
g
|
Protein:
2
g
|
Fat:
1
g
|
Saturated Fat:
1
g
|
Sodium:
393
mg
|
Potassium:
360
mg
|
Fiber:
3
g
|
Sugar:
5
g
|
Vitamin A:
299
IU
|
Vitamin C:
23
mg
|
Calcium:
21
mg
|
Iron:
1
mg
Tried this recipe?
Mention @willcookforsmiles and tag #willcookforsmiles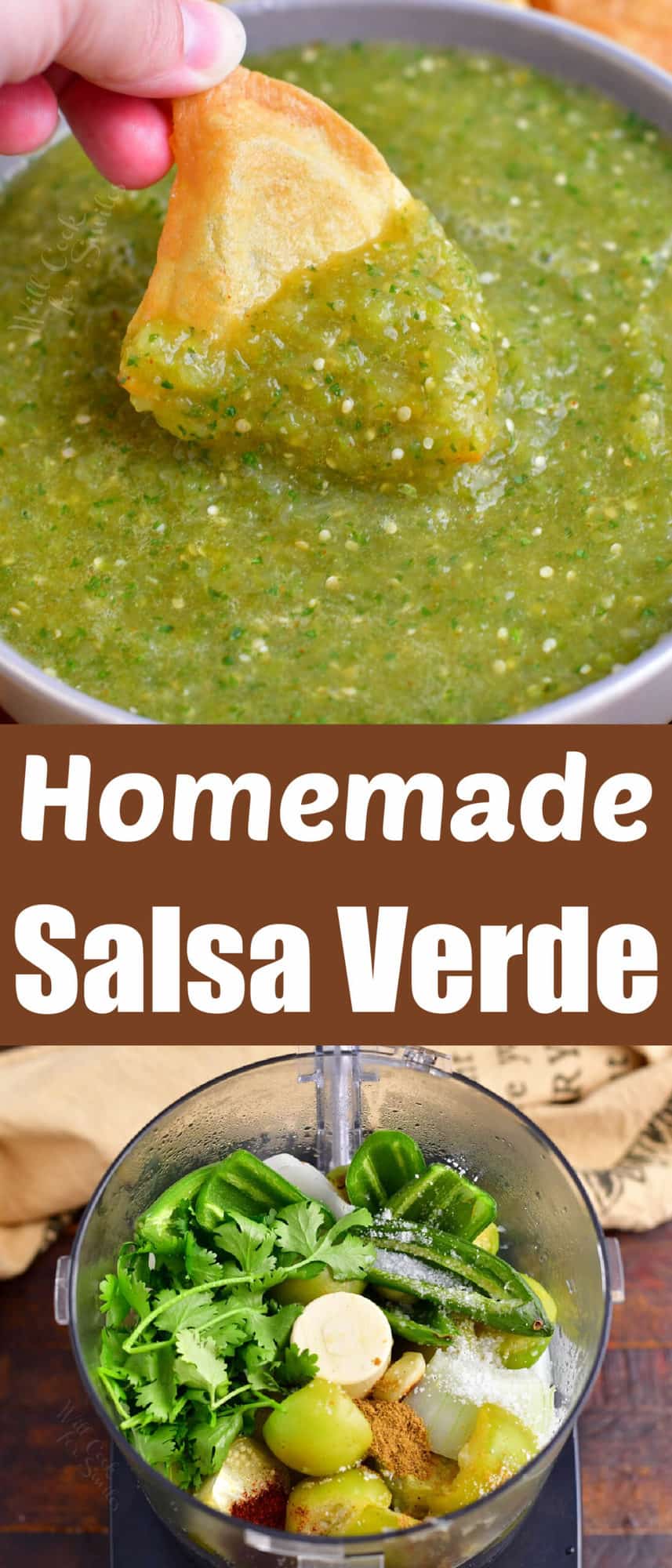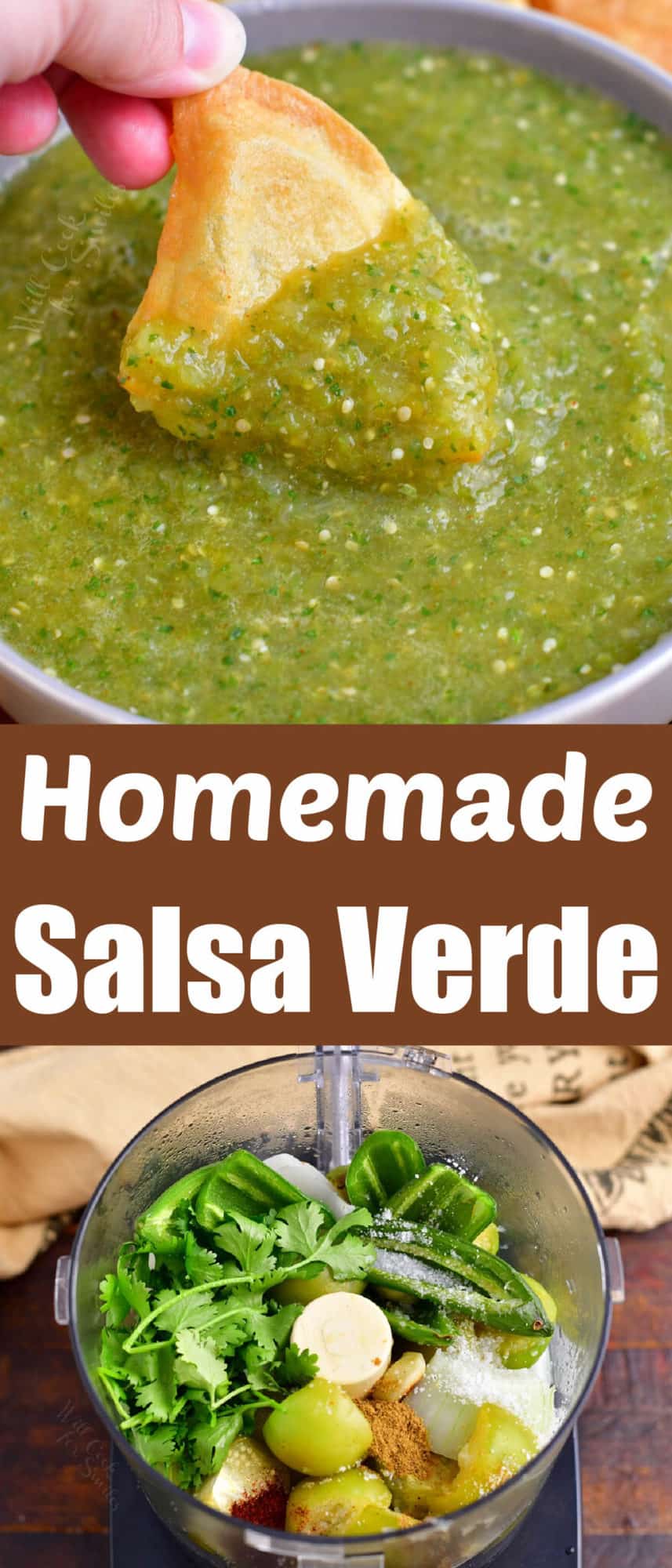 Originally published on Will Cook For Smiles on September 18, 2016. Updated April 9, 2021.