Enchiladas Verdes are so full of flavor made with chicken, cheese, and a delicious salsa verde sauce. It's a wonderful weekend dinner but you can also prepare several parts of it ahead of time and quickly put it together during the week.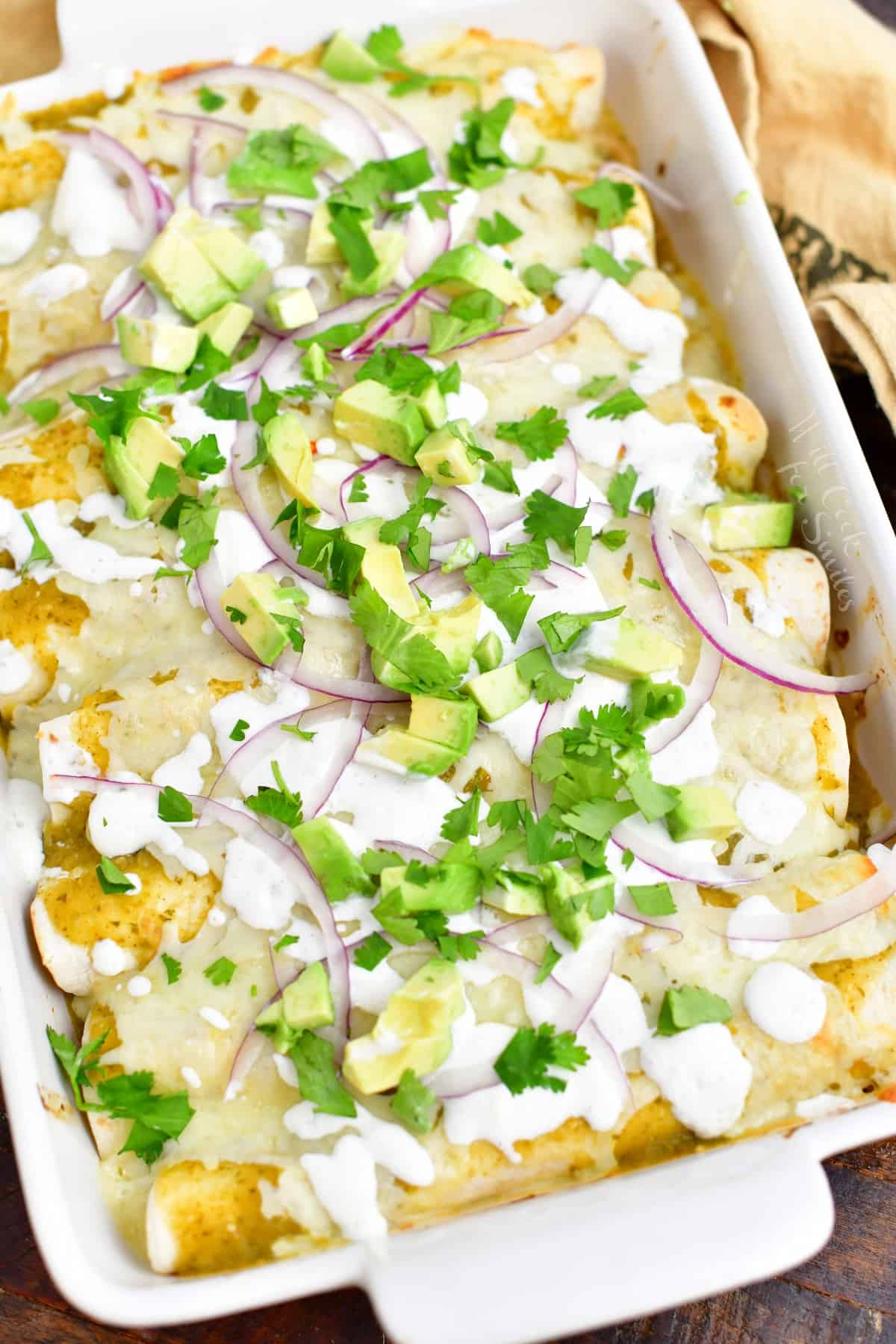 There's nothing quite like soft tortillas stuffed with a cheesy, flavorful filling and slathered in homemade sauce. I am such a sucker for enchiladas because this combination of tortillas, meat, cheese, and sauce baked to a warm perfection is always so delicious and comforting.
Chicken enchiladas are amazing when it's in the traditional red enchilada sauce, or like these chicken enchiladas in a tomatillo based salsa verde sauce.
Just like with the classic chicken enchiladas, enchiladas verdes are easy to prep ahead of time. You can always make the tomatillo sauce a day or two before and keep in in the refrigerator, in a glass jar with a lid. Take the prep a step further and make the chicken filling and the sauce ahead of time. You can still store the sauce in the glass jar and store the cooked chicken separately, in the refrigerator, in another food storage container.
Ingredient Notes
There are four simple aspects to this recipe: homemade salsa verde sauce, chicken, cheese, and tortillas!
Allow about an hour to make the tomatillo sauce and shredded chicken, or make both a day or two in advance and refrigerate until you are ready to assemble.
Chicken – Personally, I prefer dark, thigh chicken meat because it's juicier and much more flavorful than white breast meat. Feel free to use chicken breast if you prefer.

PRO TIP: Keep in mind that it typically takes a little longer to cook breast meat, especially if the pieces are extra thick. You can fillet the meat to reduce the cooking time or slice it into tenders.

Tortillas – Use corn or flour, whichever you prefer. While corn tortillas are traditional, flour tortillas are softer and hold together better. For enchiladas, you are looking for about 8-inch tortillas. Note that flour tortillas will often be larger than corn tortillas but you can always just use more of the smaller corn ones. 8-inch flour tortillas are usually labeled "soft taco."

Shredded cheese – Not only do fresh blocks of cheese have a bolder flavor, but they melt smoother as well! Since pre-bagged shreds contain a preservatives and separators to prevent clumping. For best flavor, use both, Pepper Jack cheese and Monterrey Jack cheese.

Tomatillo sauce – It's easy to make this right at home, and the flavor is so much fresher than anything from the store. Just oven-roast tomatillos, onions, and jalapenos, then blend them with herbs, spices, and a splash of lime juice.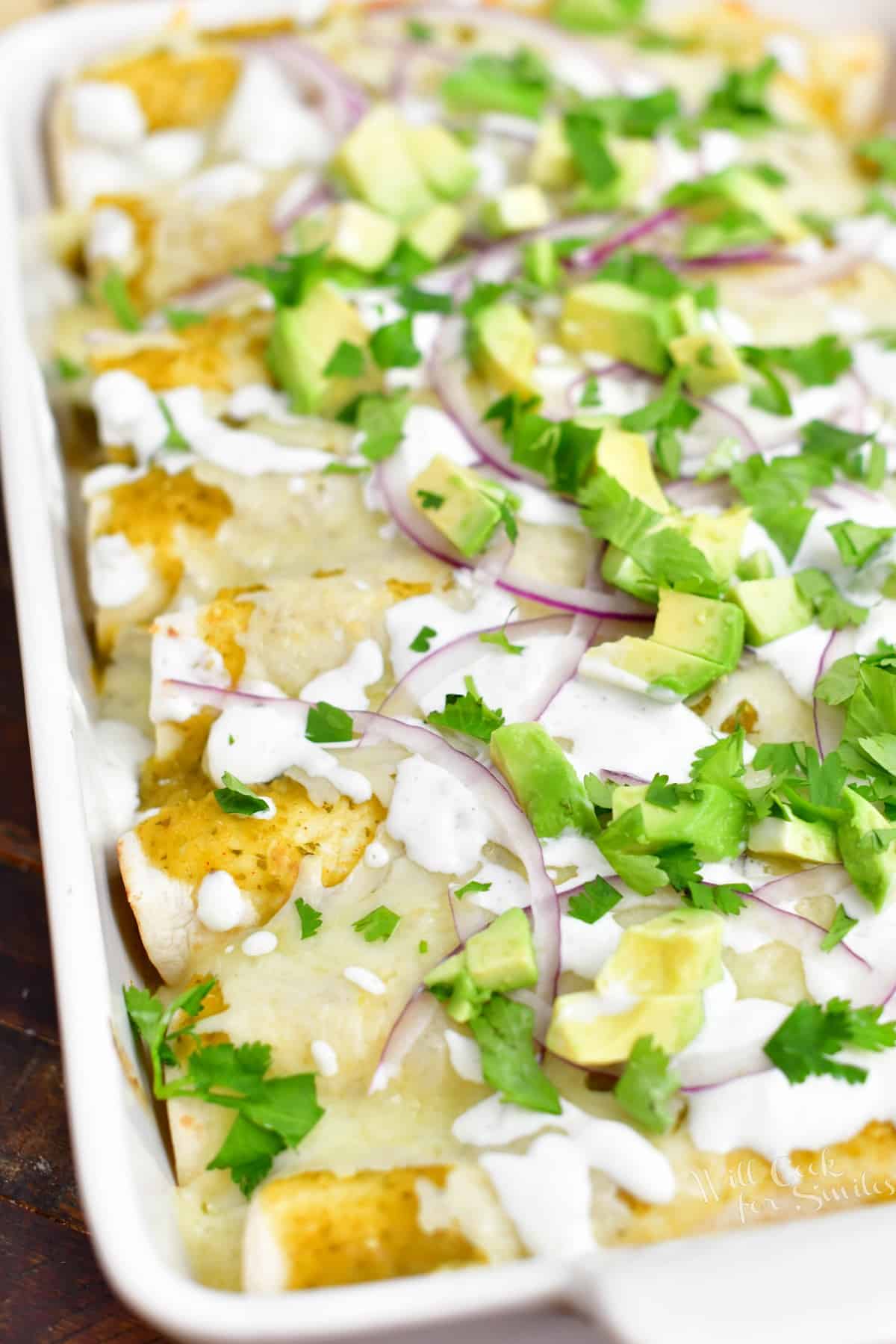 Cooking Instructions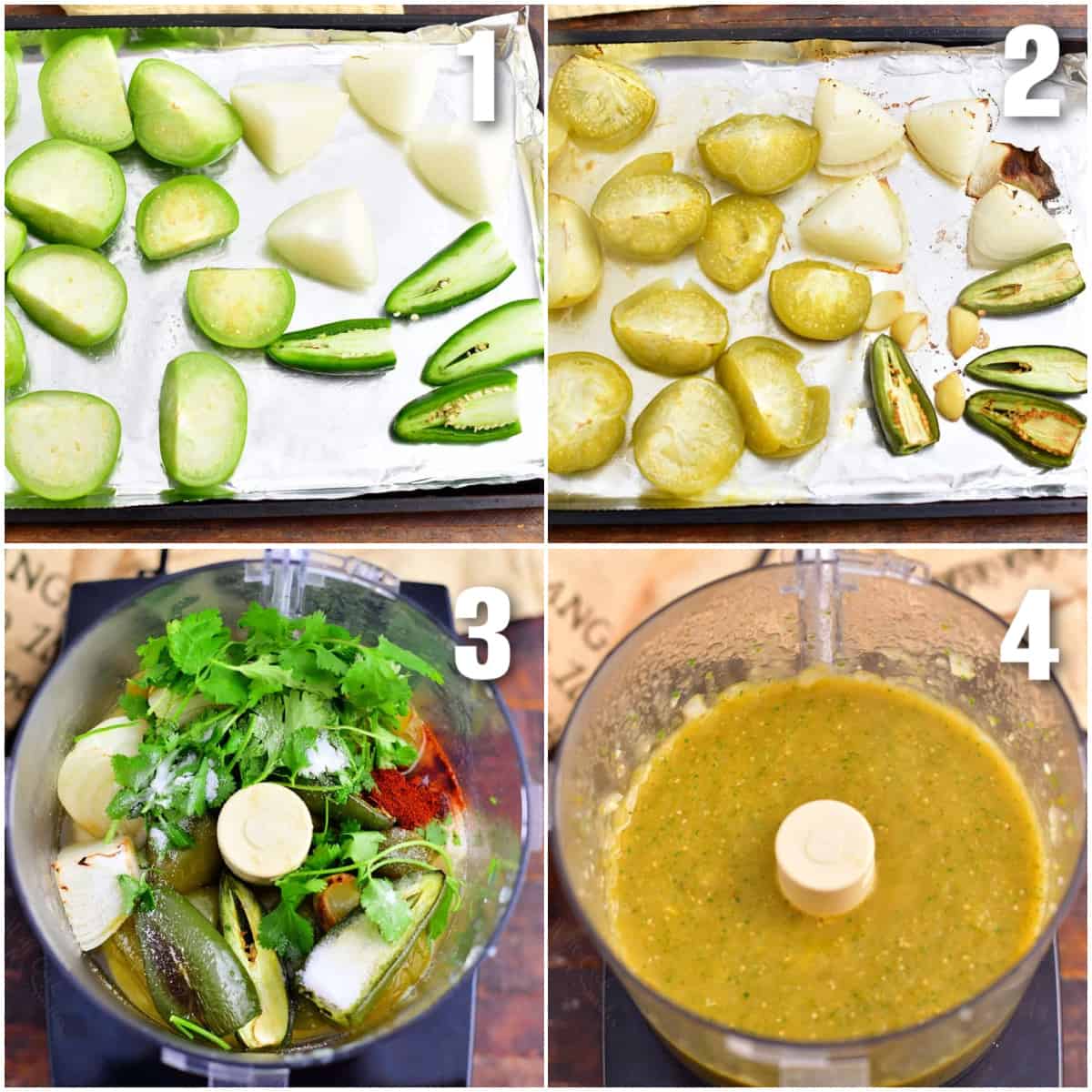 Tomatillo Sauce:
Prep the vegetables. First, remove the husks from the tomatillos and wash them thoroughly. Cut them in half with the jalapenos, and quarter the onion.
Roast. Line a baking sheet with foil and grease with cooking spray. Lay the vegetables on the tray, cut side up (1), and bake at 425° until they are tender and darkened around the edges (2). Toss the whole garlic cloves on the pan around the halfway point.
Blend with the other ingredients. Add all of the sauce ingredients to a food processor (3) or high speed blender and pulse until combined and smooth (4).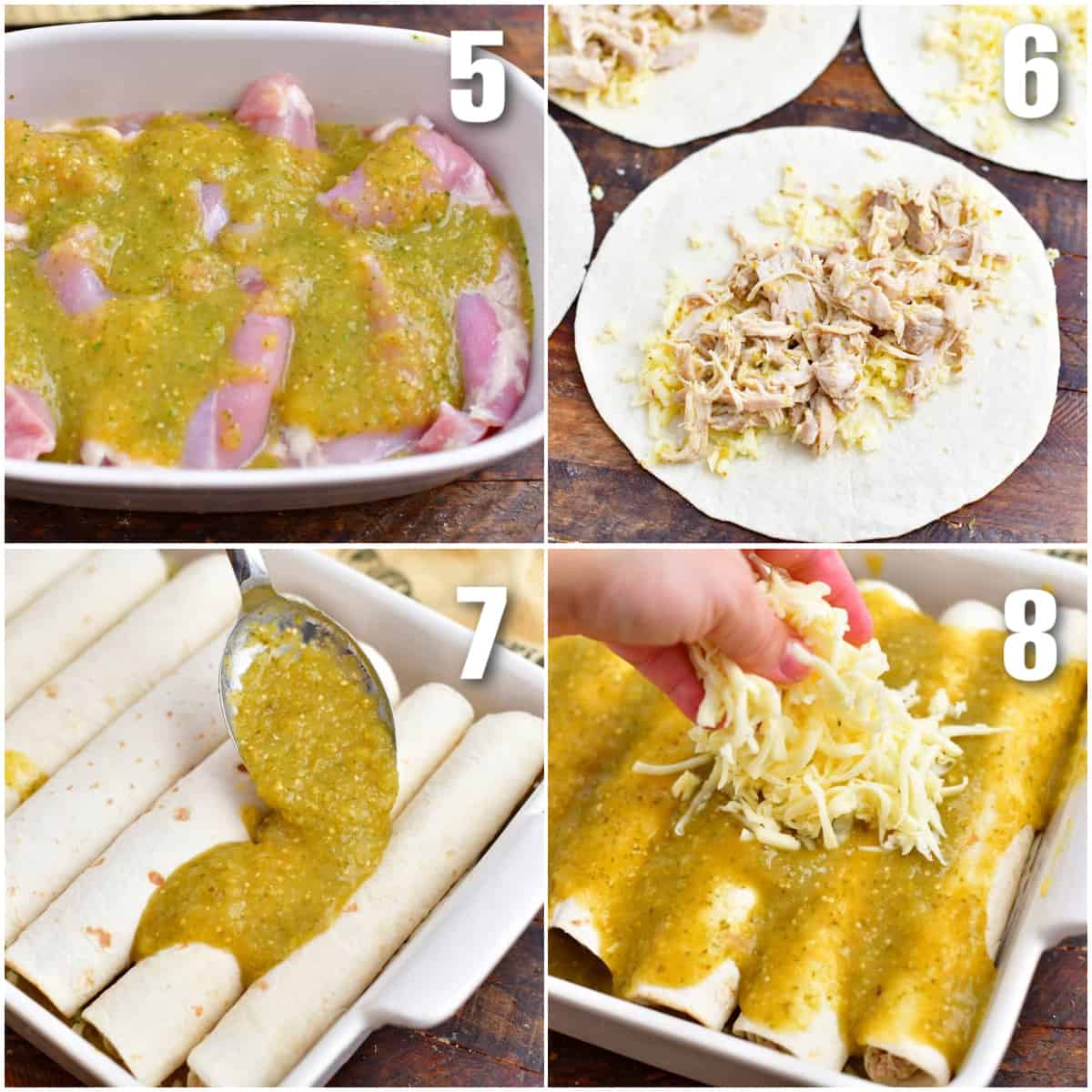 Assemble the Enchiladas:
Cook and shred the chicken: Add some of the tomatillo sauce to a greased baking dish and place the chicken thighs on top. Cover with more sauce (5), bake until cooked through, then shred.
Fill the tortillas: Line the center of each tortilla with shredded cheese, then divide the shredded chicken between each one (6).
Add to baking dish: Spread some of the tomatillo sauce in the bottom of the baking dish, then roll up each tortilla and place it seam-side down in the dish. Spoon the rest of the sauce evenly over the top (7). Sprinkle the remaining shredded cheese over the enchiladas (8).
Bake at 350° for about 20 minutes. Check to make sure the filling is hot all the way through and the cheese has completely melted. You can also turn on the broiler for the last minute or two for some extra color if you'd like.
Finish with toppings: Add your favorite toppings right over the finished dish or serve them on the side so everyone can choose what they want.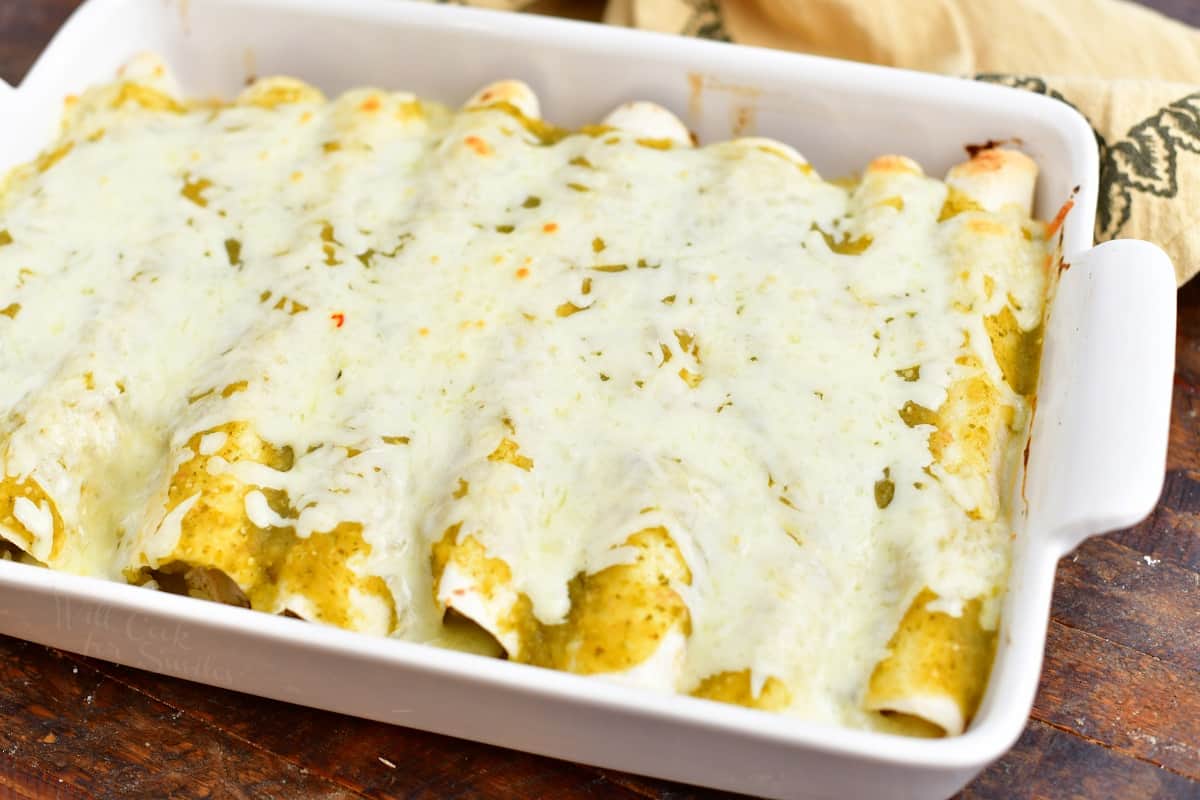 Recipe Tips and Tricks
Wear gloves when working with chili peppers! Peppers contain oils that irritate the skin and even if you wash your hands thoroughly after, it can still have irritants on it. So protect your hands when cutting the jalapenos.
Try grilling the veggies for tomatillo sauce. This will save you some time and add a nice smoky flavor to the dish as well.
Want to make it creamy enchiladas verdes? Mix about ½ cup of sour cream into the tomatillo sauce.
Use the stems. Since the cilantro is being blended into a sauce, there's no need to remove the leaves first. Just toss the whole stems in the food processor to save time and add more flavor.
Need a faster way to shred chicken? Instead of using two forks, toss the cooked chicken into a stand mixer fitted with the paddle attachment. Run it for about 30 seconds or until all of the meat has been evenly shredded.
Make it more filling. Try adding some sautéed vegetables to the chicken, like onions, bell peppers, spinach, or mushrooms. You could even mix in some black, white, or refried beans if you'd like!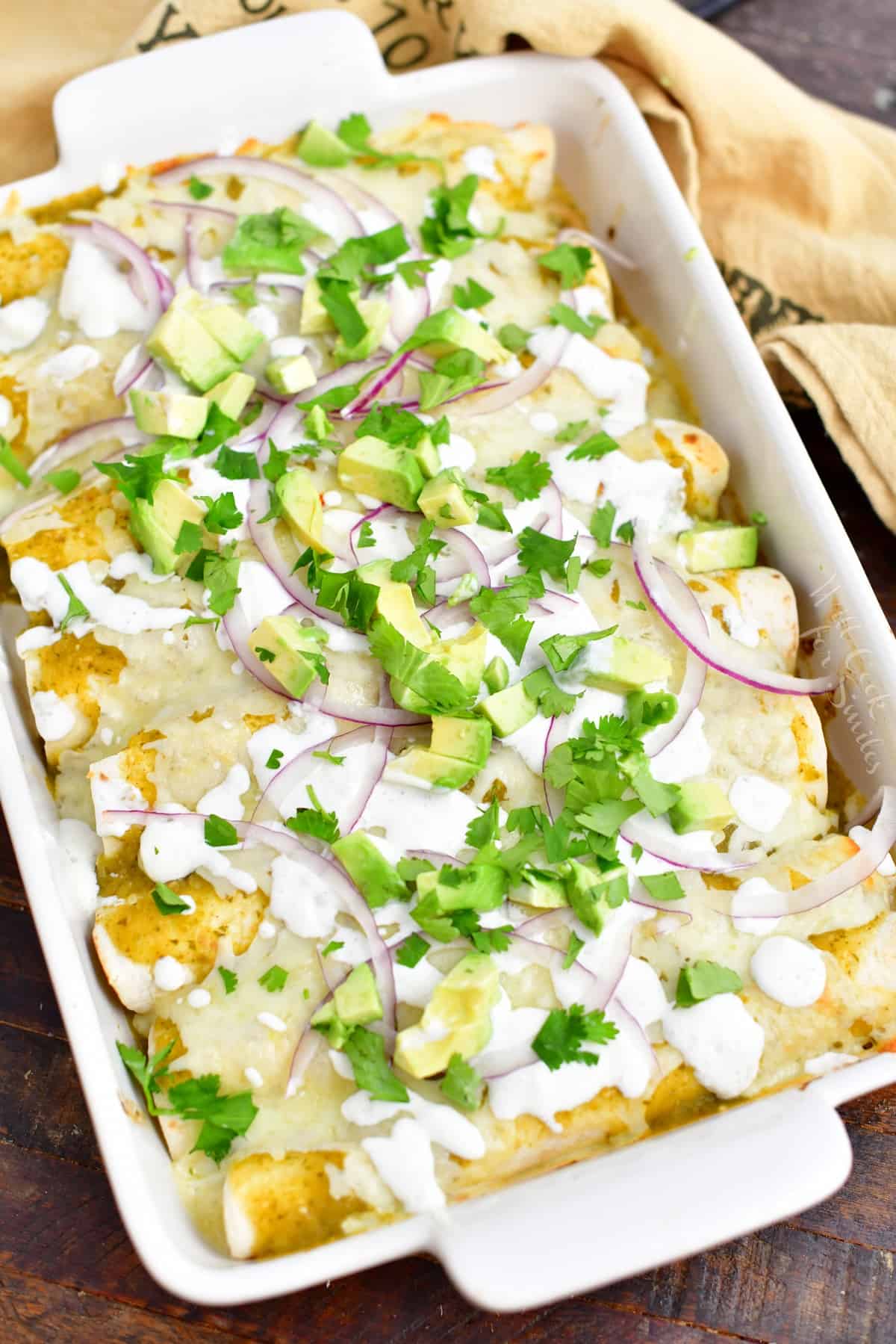 Recipe FAQs
What are good toppings for enchiladas verde?
Red onions, avocado, and cilantro add extra texture and flavor, while crumbled Cotija cheese gives it a little punch of saltiness.
Or spoon on some Mexican crema, which is similar to sour cream but not as tangy and a lot thinner. Regular sour cream will work just fine too!
What to Serve with Enchiladas Verdes?
Although enchiladas are a very filling recipes on its own, you can't go wrong with some Spanish rice, beans, or even a side salad.
My Mexican Street Corn Salad could also make a great addition since the sweet flavors and crunchy texture will contrast with the heat of the main dish.
How to store and reheat?
You can store this dish right in the same casserole pan that you used to bake it. Cover the pan air-tight with plastic wrap or foil and refrigerate. If you wish, you can transfer leftovers into a separate food storage container with a lid. Refrigerate and use within 3-5 days.
Reheat individual portions of enchiladas verdes in the microwave or warm the entire dish in the oven for about 20 minutes at 350°F.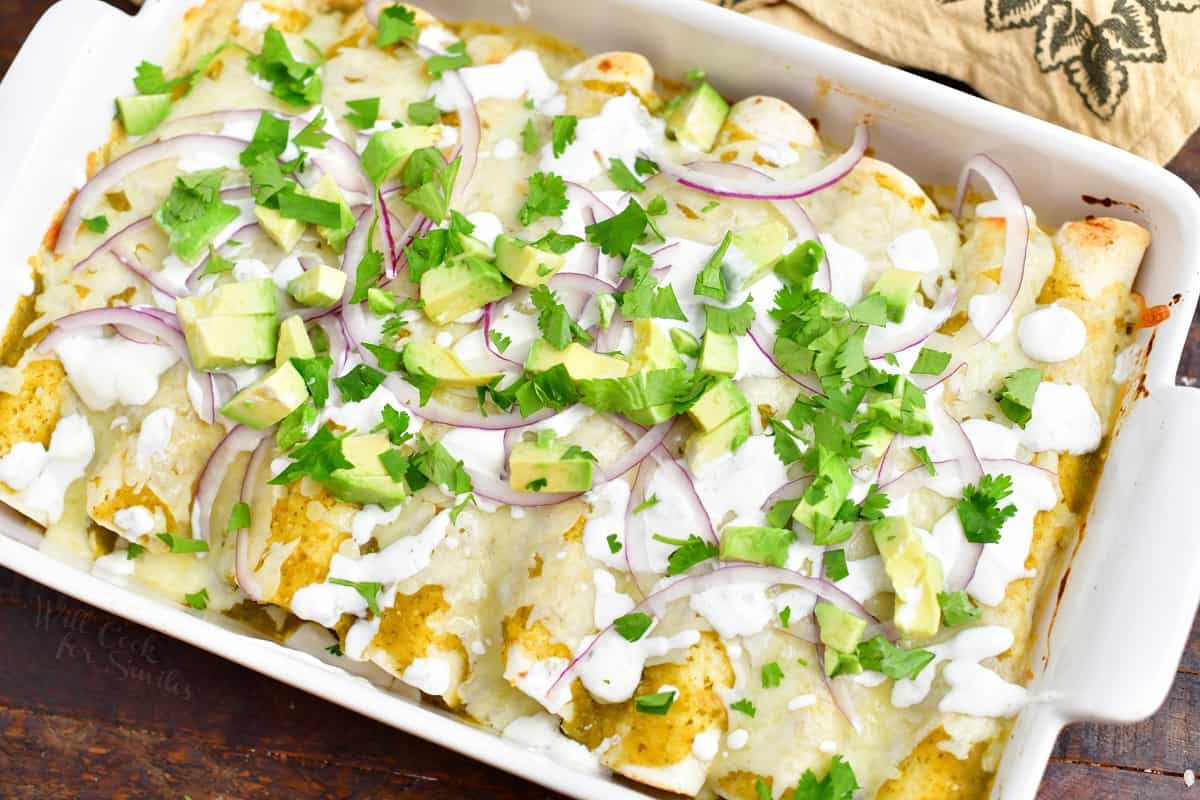 Freezing Instructions
Enchiladas Verdes freeze great, just make sure not to add any cream or sour cream before freezing. If you plan to freeze enchiladas after they are baked or want to bake them from frozen, use an aluminum baking pan.
Make sure to freeze cooled enchiladas and it's better not to add the sauce on top (it's okay to add to the bottom). The reason why I prefer to freeze enchiladas without sauce is that less exposure to sauce makes enchiladas less soggy. You can freeze the sauce separately.
If you plan on freezing all or half of the enchiladas, you can prepare the ones you plan to freeze in an aluminum pan. Follow the recipe as directed up to the part where you add the sauce and cheese.
Stack rolled enchiladas side by side in the aluminum foil pan, seam down. Place a sheet of plastic wrap right over the enchiladas, tucking it under on the sides.Wrap the whole pan with a sheet of aluminum foil as airtight as possibly. Label with the date and content and freeze for 2-3 months.
To thaw enchiladas before baking, pull it out of the freezer and into the refrigerator to let it slow-thaw for up to 18 hours.
To bake frozen enchiladas, you can bake frozen enchiladas straight from the freezer or thawed. Frozen enchiladas will take longer to bake. Before baking, make sure to take off the aluminum foil and plastic wrap first. Spread enchilada sauce over the enchiladas evenly but add the shredded cheese about half way through baking. Bake frozen enchiladas at 350° for 30-40 minutes and thawed enchiladas for 20-25 minutes.
For more freezing tips make sure to read this post.
DID YOU MAKE THIS RECIPE? PLEASE leave a 🌟 star rating! Let me know how you liked it by leaving the 📝 comment below or share and tag me on social media @willcookforsmiles. DON'T FORGET to subscribe to my newsletter!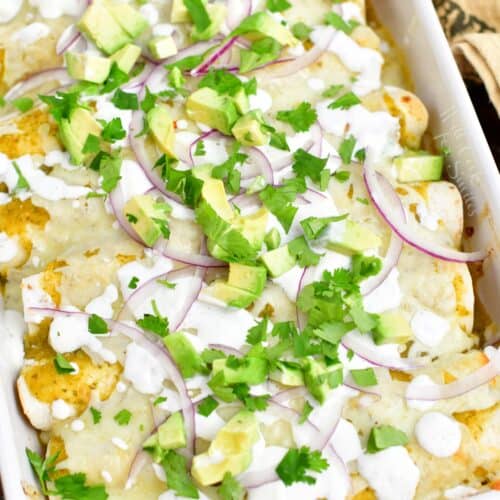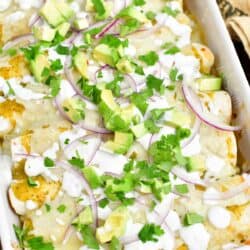 Enchiladas Verdes
Enchiladas Verdes are so full of flavor made with tender juicy chicken, two types of cheese, and delicious homemade tomatillo sauce.
Print
Pin
Save
Saved!
Rate
Ingredients
Tomatillo Sauce:
2

lbs

tomatillos

2

jalapenos

1

small yellow onion

4

garlic cloves

1/4

cup

fresh cilantro

1

lime

juice only

1

tsp

salt

1/2

tsp

chipotle chili powder
Chicken Filling:
2

lbs

boneless skinless chicken thigh meat

salt

1/2-2/3

cup

tomatillo sauce
Enchiladas:
8

corn or flour tortillas*

8

oz

Pepper Jack cheese

preferably block

8

oz

Monterrey Jack cheese

preferably block
Optional toppings:
red onions

avocado

fresh cilantro

crumbled Cotija cheese

Mexican crema or sour cream
Instructions
Note: you can make tomatillo sauce ahead of time and store in the glass jar with a lid (or another food storage container) in the refrigerator. You can make the sauce up to 2 days ahead of time.
Tomatillo Sauce:
Preheat oven to 425° and line a large baking sheet with aluminum foil. Lightly grease the foil with some cooking spray.

Remove the husks and wash the tomatillos. Cut tomatillos and jalapenos in half and cut onion in fourths. (You can discard jalapeno seeds if you want your sauce to less spicy.)

Place tomatillos, onion, and jalapenos on the baking sheet, cut side up, and bake for 20-30 minutes depending on the size. Add garlic cloves about half way through the baking.

Once roasted, add everything (including the juices) into a food processor. Add in cilantro, lime juice, salt, chili powder, as well. Pulse until everything is well blended.
Chicken filling:
Preheat the oven to 425° and lightly grease a 9×13 baking dish.

Spread some tomatillo sauce over the bottom and place chicken thighs over the sauce. Season with some salt and add a little more sauce on top.

Bake chicken for 18-23 minutes, until completely done.

Take chicken out of the baking dish and shred it using two forks.

Mix in a couple tablespoons of tomatillo sauce into the shredded chicken.
Prepare Enchiladas:
Preheat oven to 350° and lightly grease a 9×13 baking dish. Spread half of the tomatillo sauce in the bottom of the baking dish.

Grate the cheeses on a large box grater.

Divide Pepper Jack cheese among 8 tortillas and then divide shredded chicken among the 8 tortillas.

Roll them up and place them seam down in the baking dish.

Spread remaining tomatillo sauce over the rolled enchiladas and top them all off with Monterrey Jack cheese.

Bake for 15-20 minutes, until hot throughout and cheese is all melted.

Top enchiladas off with your desired toppings and serve!
Notes
Flour vs Corn Tortillas: this is a personal taste preference! Flour tortillas are softer and sturdier, white corn tortillas do have a tendency to break and crumble. There is also a noticeable flavor and texture difference between the two types of tortillas, that is mostly where personal preference comes in. You can absolutely use corn tortillas if that is what you love or use flour.
If you want to use corn tortillas for enchiladas, it is important to soften them! Trying to roll cold tortillas will be frustrating because they will be breaking.To soften corn tortillas, lightly brush or spray them with some oil and place them on a sheet tray. Bake at 325° for 3-5 minutes. After they're warmed, stack them and cover with a damp warm clean towel to keep them soft while rolling enchiladas.
Make Ahead Suggestions: enchiladas verdes are easy to prep ahead of time. You can always make the tomatillo sauce a day or two before and keep in in the refrigerator, in a glass jar with a lid. Take the prep a step further and make the chicken filling and the sauce ahead of time. You can still store the sauce in the glass jar and store the cooked chicken separately, in the refrigerator, in another food storage container.
Nutrition
Calories:
485
kcal
|
Carbohydrates:
25
g
|
Protein:
40
g
|
Fat:
25
g
|
Saturated Fat:
13
g
|
Cholesterol:
158
mg
|
Sodium:
907
mg
|
Potassium:
717
mg
|
Fiber:
4
g
|
Sugar:
7
g
|
Vitamin A:
714
IU
|
Vitamin C:
21
mg
|
Calcium:
482
mg
|
Iron:
3
mg
Tried this recipe?
Mention @willcookforsmiles and tag #willcookforsmiles