Finger-licking-delicious spicy seafood dinner that is easily made in about 30 minutes. Spicy Cajun shrimp over tasty quinoa cooked in citrus Cajun broth.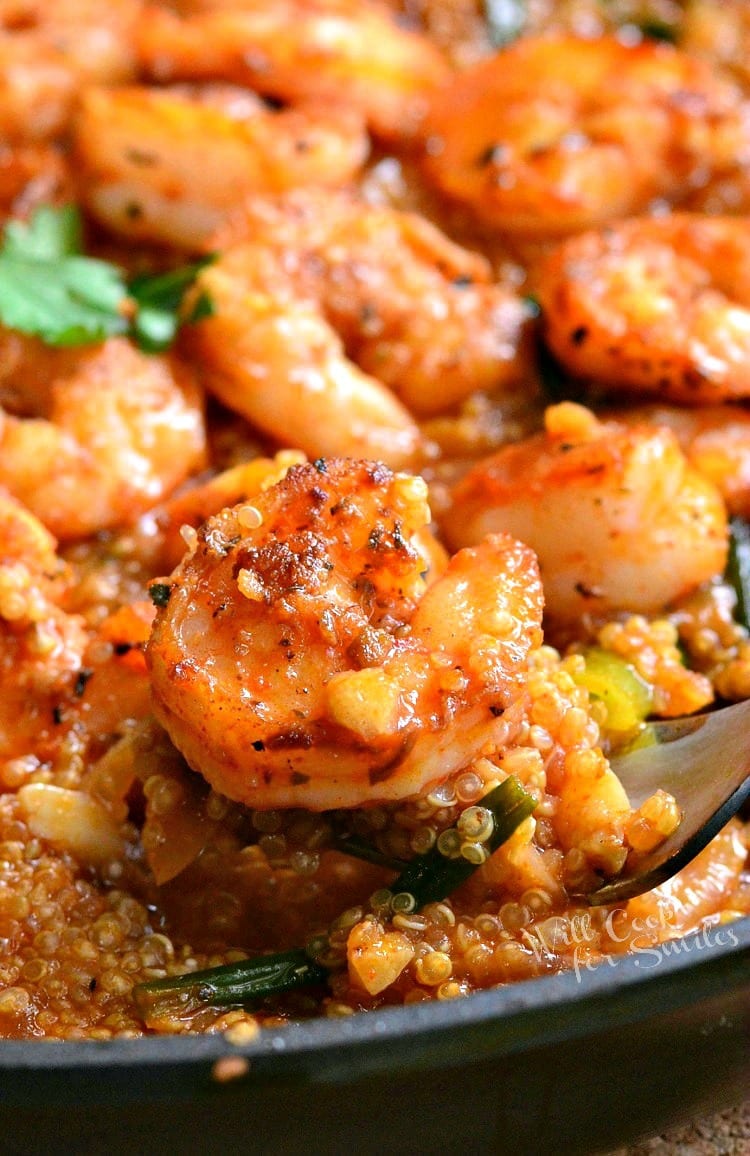 I love bread!
Odd statement to start with but nevertheless, I love bread, I love pasta, I love cookies, cakes, and pastries. Why am I talking about breads and pasta when I'm sharing a shrimp and quinoa recipe? Mostly because I won't be able to have those things again and I already miss them very much.
Did you notice the new "gluten free" category that I added to the recipe catalog?
It's a new category to my site and even though I've made some gluten free recipes in the past, they were never made with purpose but more of a happy coincidence. Now, these recipes are definitely made with a purpose.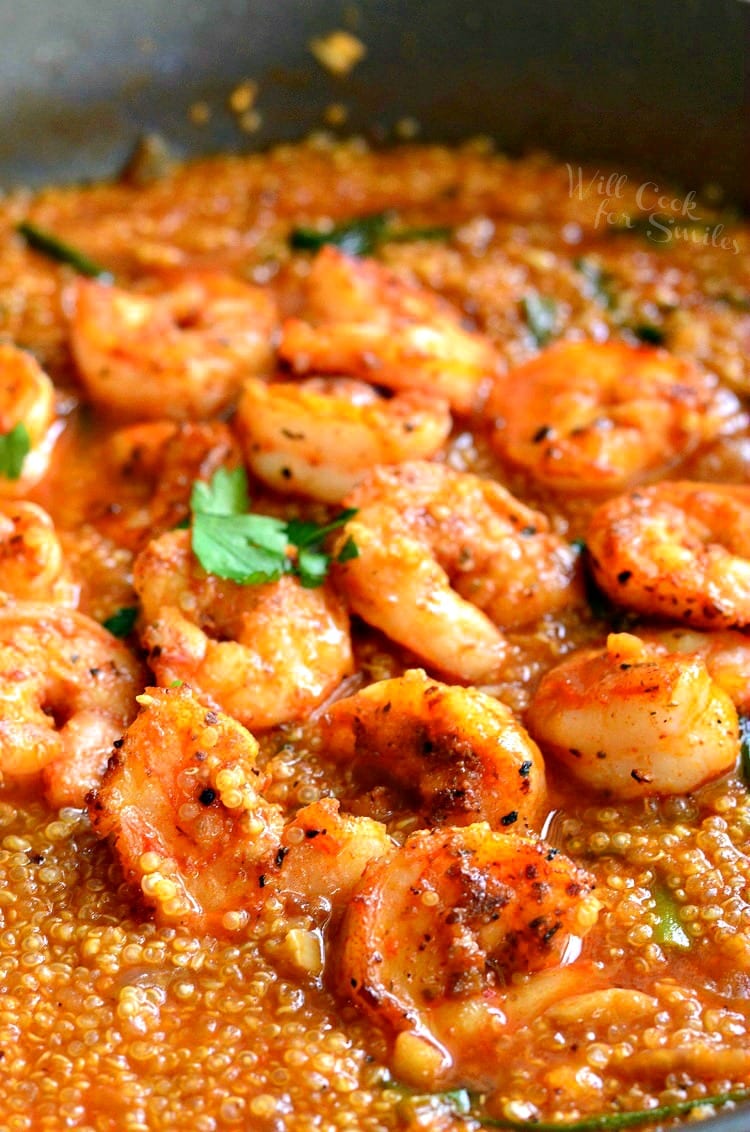 You can probably see where I'm going with this. My body is forcing me to eat gluten free from now on…
I'm not very happy about this. No, scratch that…I'm furious! No chef out there would be happy about a sudden limit on what they can eat. This week, I have not had anything that has gluten in it and I'm having very mixed emotions about it. I miss all my favorite foods like crazy but this is the first few days where I felt good in a very long, long time. I don't know exactly when my gluten sensitivity started because I've been fighting it for so long. It's gotten pretty severe in the last few months and I've always had that possibility in the back of my mind, I just DID NOT want to accept it.
Cooking is what I do, it's my art. I'm happy in the kitchen, creating a new recipe, seeing what ingredients work together, and the kind of magic they create. I don't eat to survive, I enjoy food. To me, cooking really is an art form…and now, my body was forced to give up some of my paint colors. This was not a choice I wanted to make, not at all.
It's all very new to me. I've spent about a week researching gluten and things I can and can not eat. It's depressing not having a choice at having to limit what I can eat. Yes, I said "eat" not "cook." I will still be cooking everything that comes to my mind, without limiting my family. I will just be cooking separately for myself. I will also NOT change what I post here at all, I will just ADD gluten free recipes that I made for myself. Will Cook For Smiles will stay the same delicious place, with an added benefit for those who are in the same boat as I am!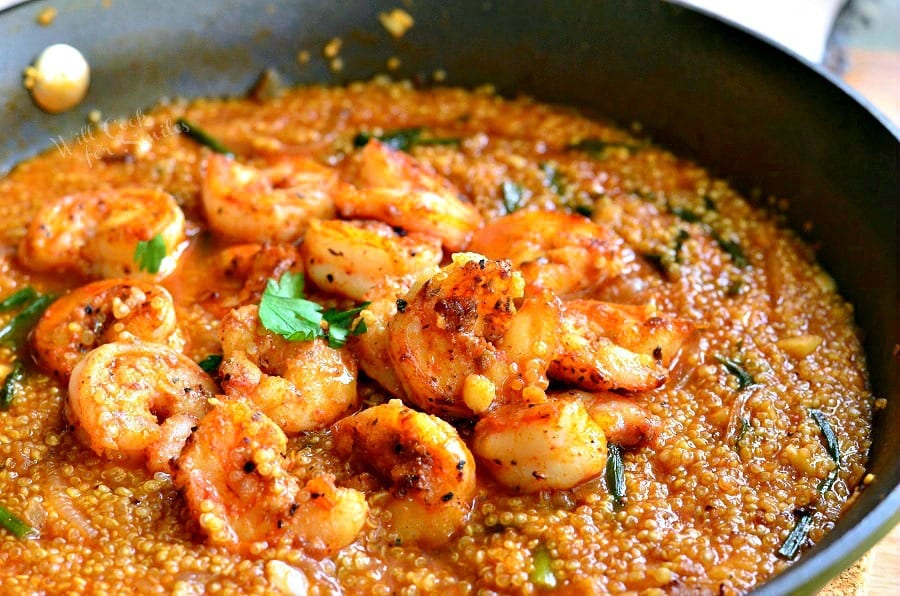 It's easy to KEEP UP with NEW recipes through my social media channels:
_______________________________________________________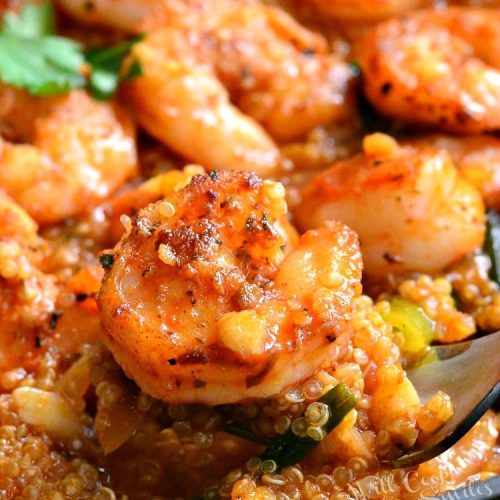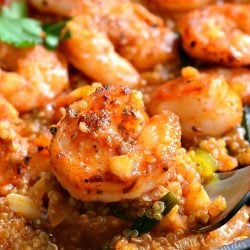 One Pot Cajun Shrimp and Quinoa
Spicy Cajun shrimp over tasty quinoa cooked in citrus Cajun broth.
Print
Save
Saved!
Rate
Ingredients
Vegetable oil for cooking

1/2

lb

large shrimp

1/2-1

tsp

Cajun seasoning

to taste

1

small yellow onion

3

large garlic cloves

2 1/4

cups

chicken

or vegetable broth

1/4

cup

tomato sauce

1

Tbsp

fresh lemon juice

1/2-1

tsp

Cajun seasoning

to taste

Salt

1

cup

quinoa

3

stalks of green onion

1

Tbsp

minced parsley
Instructions
Preheat a medium cooking pan over medium-high heat.

Peel and devein shrimp. Mix shrimp with some Cajun seasoning.

Add some oil to the heated cooking pan and add shrimp. Sear shrimp on both sides until opaque. Take out shrimp and set aside.

Add sliced yellow onion to the pan and saute until transparent. Smash garlic and add it to the pan as well. Saute onion and garlic until fragrant and slightly browned.

Add broth and bring to boil. Lower heat to low/medium-low and add tomato sauce, salt, Cajun seasoning, and lemon juice.

Add quinoa, stir, cover and cook for about 15 minutes, until quinoa is just done.

Stir in chopped green onion and minced parsley. Add shrimp back to the pot. Cook just until shrimp is heated through again.

Serve right away.
Nutrition
Calories:
376
kcal
|
Carbohydrates:
66
g
|
Protein:
16
g
|
Fat:
6
g
|
Saturated Fat:
1
g
|
Polyunsaturated Fat:
3
g
|
Monounsaturated Fat:
1
g
|
Cholesterol:
5
mg
|
Sodium:
1138
mg
|
Potassium:
807
mg
|
Fiber:
8
g
|
Sugar:
5
g
|
Vitamin A:
992
IU
|
Vitamin C:
17
mg
|
Calcium:
94
mg
|
Iron:
5
mg
Tried this recipe?
Mention @willcookforsmiles and tag #willcookforsmiles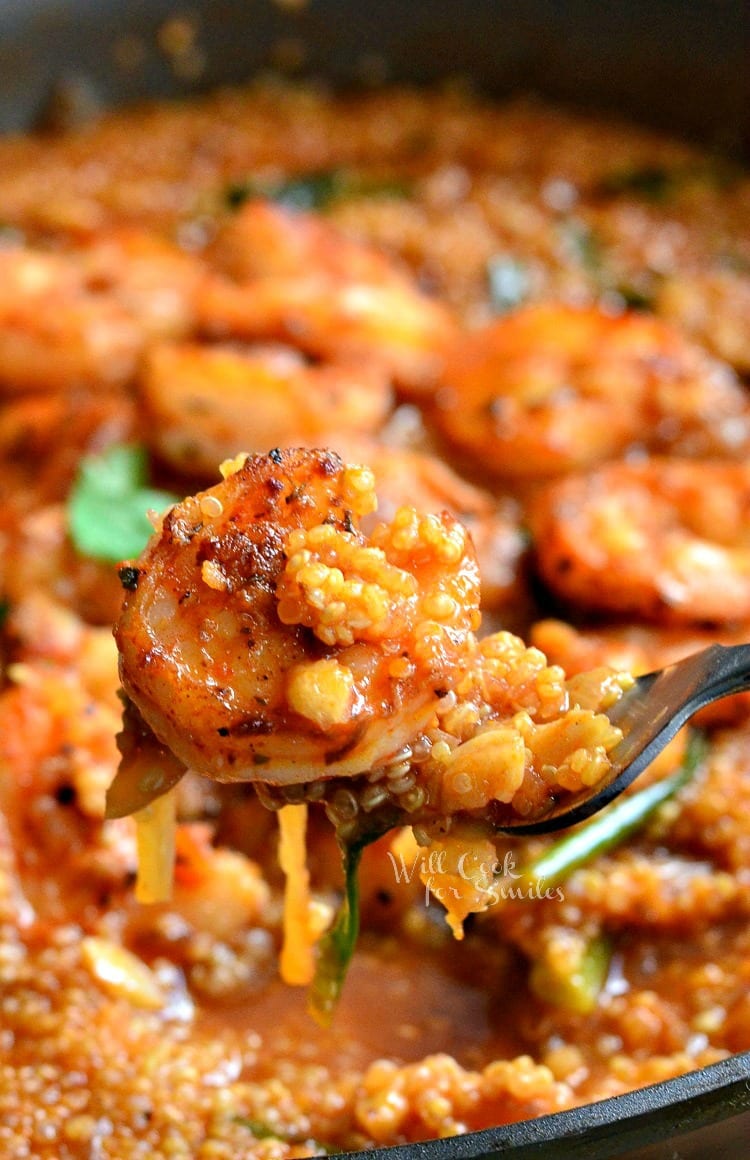 _________________________________________________________
Make sure you follow me through your favorite blog reader (bloglovin or other), subscribe to e-mail or follow me through social media of your choice to keep up with the recipes!

_______________________________________________________

More Delicious Recipes From Me: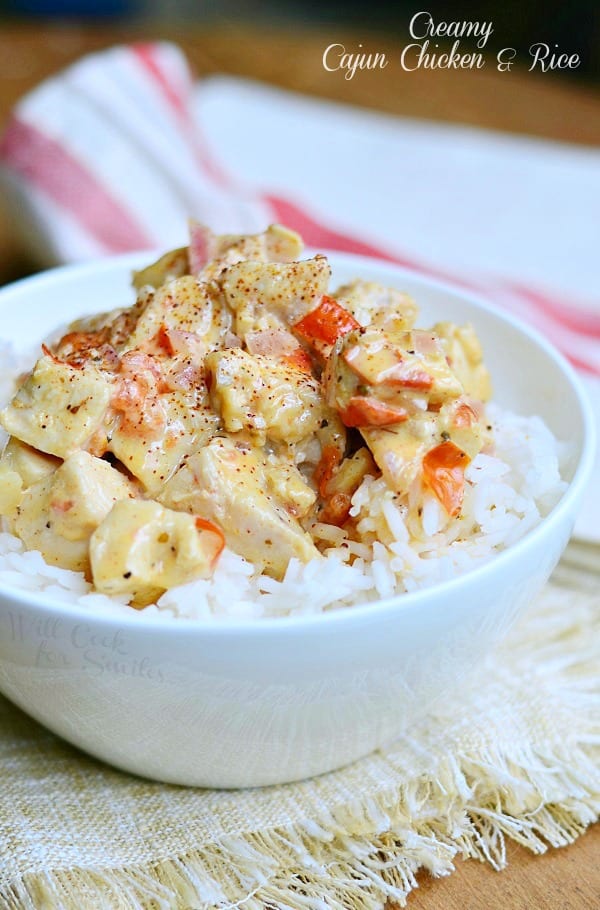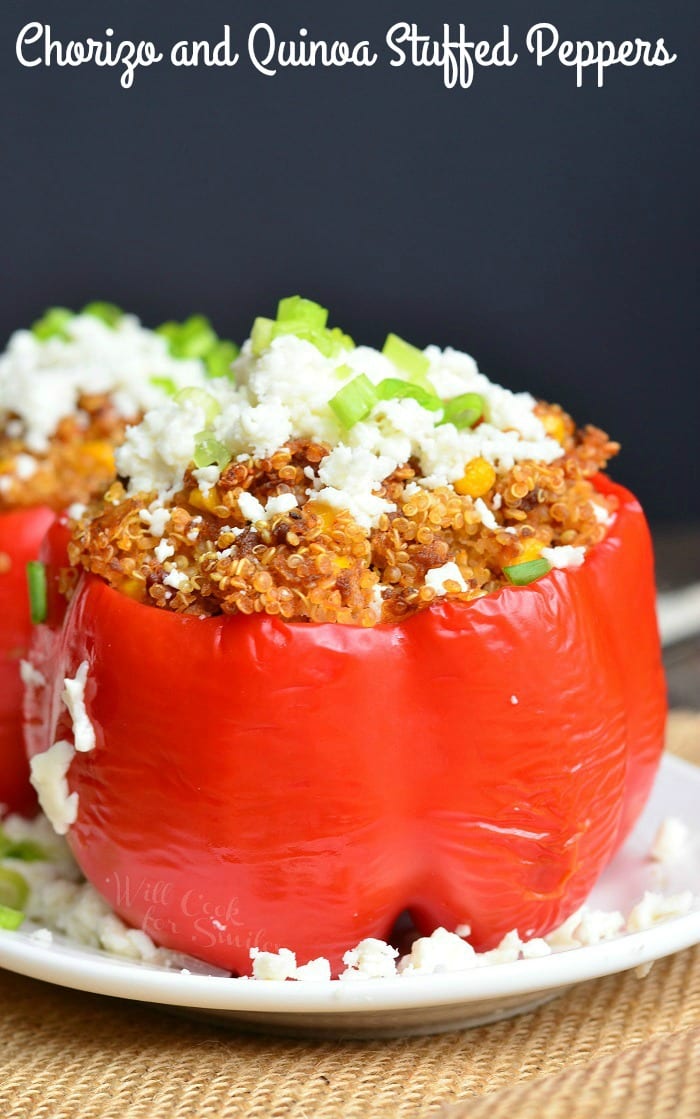 Chorizo and Quinoa Stuffed Peppers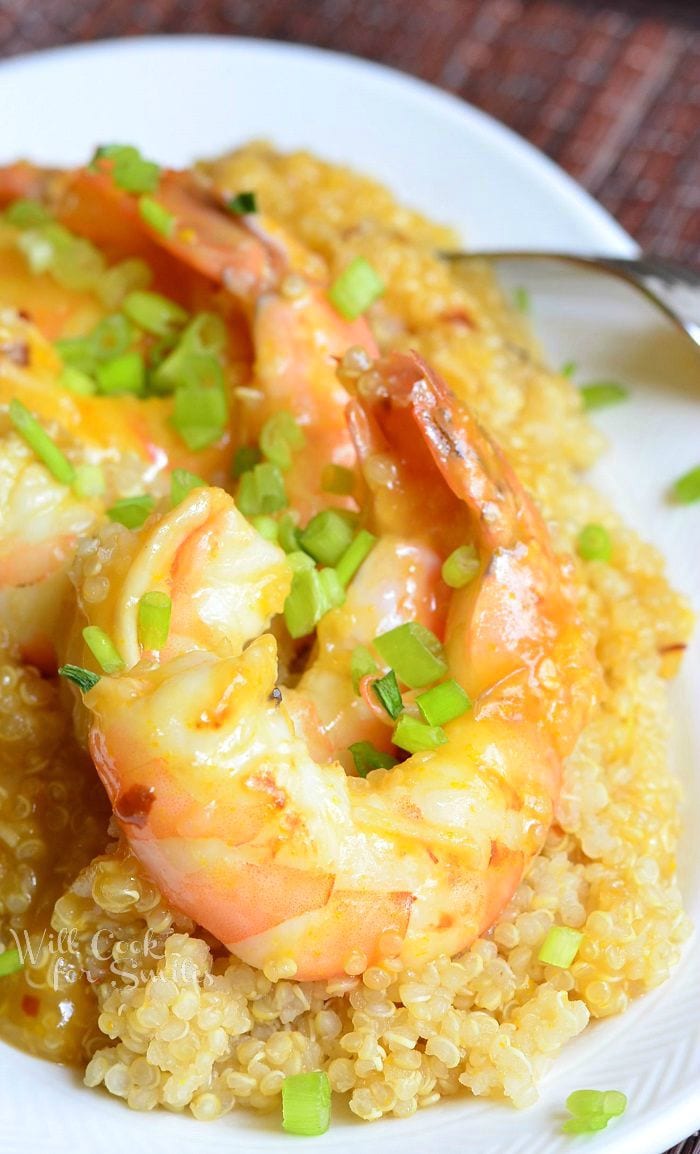 Light Orange Shrimp with Orange Quinoa