Blackberry Spritz is a beautiful, fresh blackberry cocktail that's a perfect way to greet the warm seasons! Fresh, juicy blackberries, mint leaves, simple syrup, gin, Prosecco, and club soda are mixed together and served on the rocks, making each cool, bubbly sip even better than the last.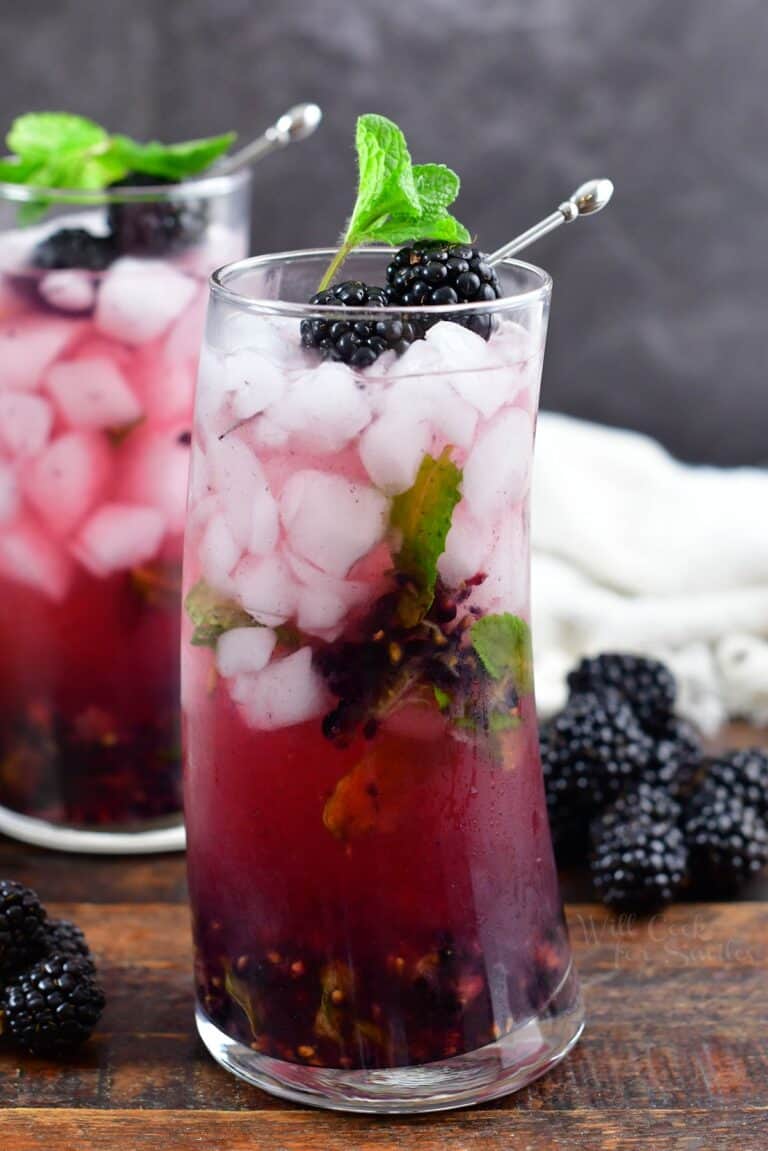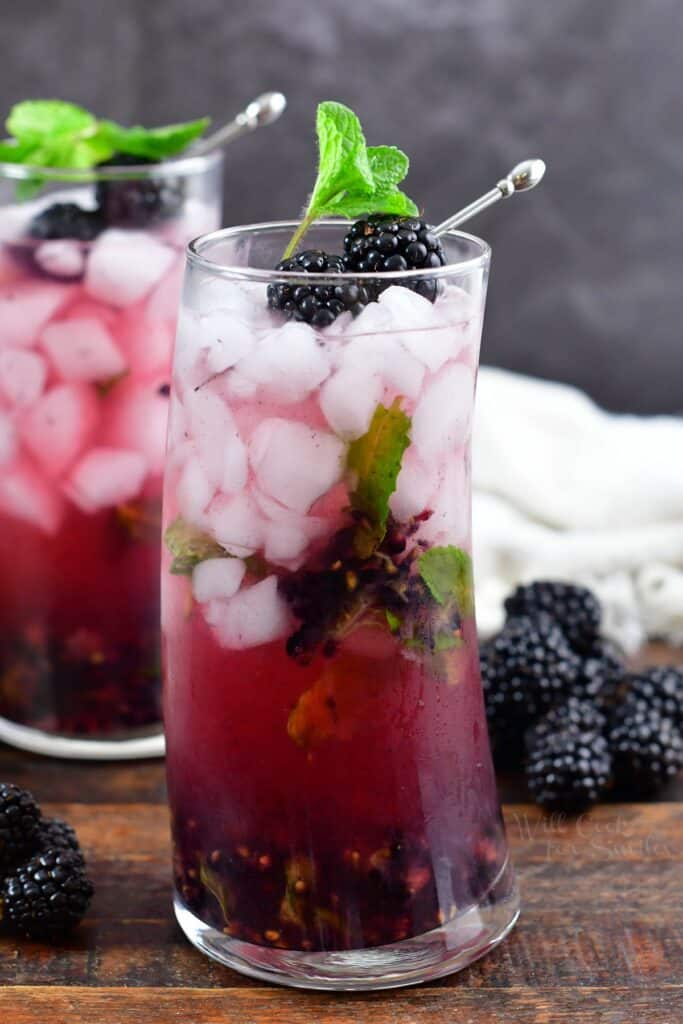 Blackberry Spritz
In the sunshine state, summer's pretty much already here, so I'm celebrating with a blackberry spritz! However, even my Northern neighbors can sip on a spritz while they watch the snow melt in anticipation of spring and summer. The cool, crisp flavor of a fresh blackberry spritz is perfect for those sunny days when you need something boozy, yet refreshing, and not too sweet.
Bright, fresh flavors of this cocktail comes primarily from the juicy blackberries and the potent mint leaves. Both flavors mix together masterfully with the bubbly Prosecco, sweet simple syrup, and splash of club soda. When the blackberries are muddled together with the mint leaves, their natural flavors are combined and infuse the other ingredients with their incredibly refreshing notes.
While I love a sweet summertime beverage like Bahama Mama and Sex On The Beach Drink, I can only enjoy them when I'm in a mood for sweet and fruity drinks. This spritz is perfect for sipping on multiple of, because the simple syrup adds a touch of sweetness that compliments the natural sweetness of the blackberries without being overwhelming. Every sip of this blackberry spritz is slightly sweet, wholly refreshing, and just the right amount of boozy and bubbly.
Spritzer vs Spritz
A spritzer (otherwise known as a wine spritzer) is one of the most simple cocktails you can make, because it really just combines wine and club soda.
A Spritz, on the other hand, is actually a bona fide cocktail. The most well known one is an Aperol Spritz, which is a lovely combination of a bitter liqueur, like Aperol or Campari, with Prosecco and club soda. There are often a few other flavorful ingredients that get mixed in based on region and, of course, the bartender's imagination.
How to Make a Blackberry Spritz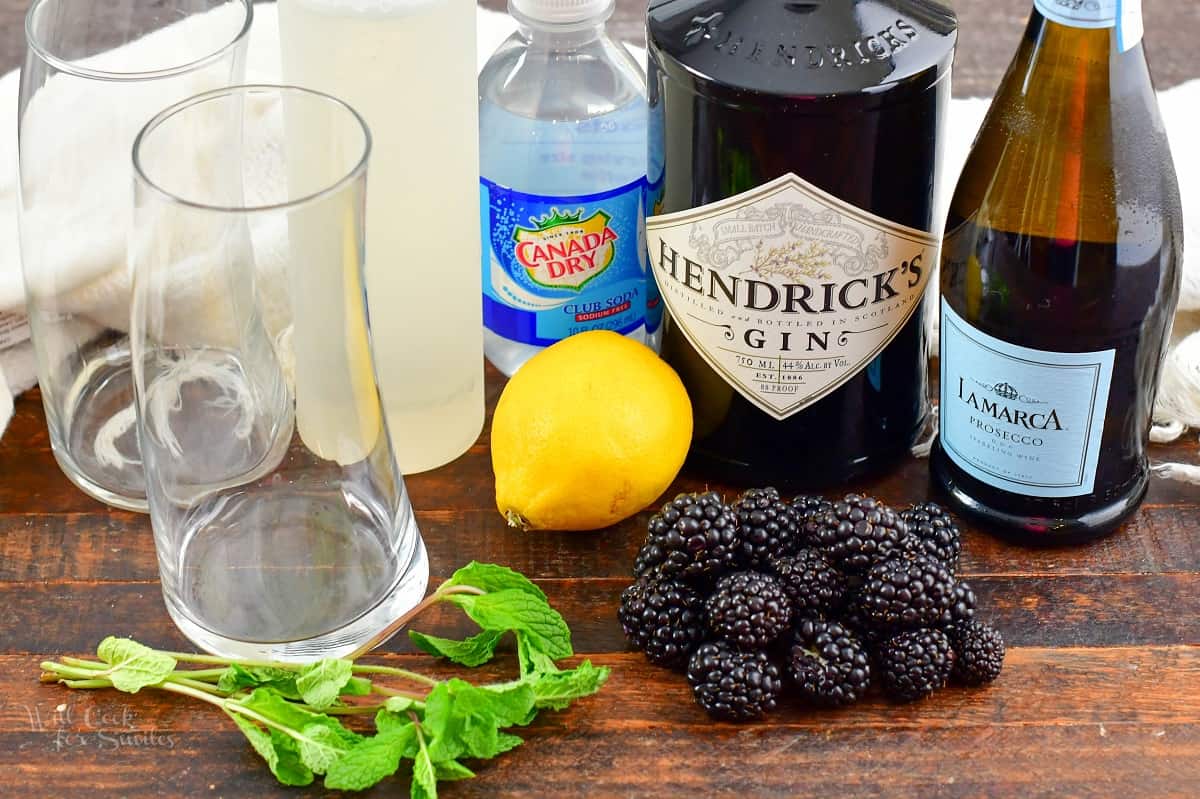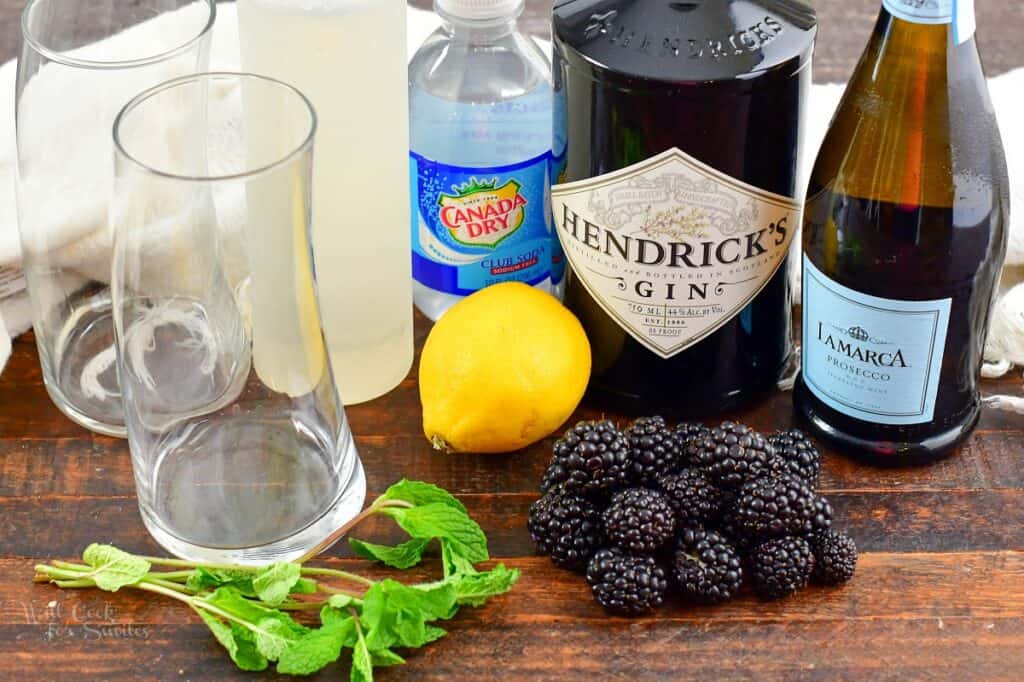 Ingredients You'll Need
Blackberries – Use fresh, not frozen blackberries for the best results! If you're lucky enough to live nearby a berry farm, I highly encourage picking your own farm fresh berries while they're in season. With that being said, the berries from the grocery store also always get the job done!
Mint Leaves – Just like the berries, you're going to want to use fresh mint leaves for the most supremely refreshing flavor. Be on the look out for wilted leaves or a lack of potent mint smell, as these are signs that the mint leaves are expired.
Simple Syrup – You can control the sweetness of the cocktail with how much simple syrup you add to it. For more sweetness, use 1 oz. of simple syrup. For a less sweet flavor, only mix in 1/2 oz. of it.
Gin – choose gin that you love since the flavor will come through pretty well here. You will definitely taste the gin and it should be one you love to taste!
Prosecco – Try to use a good quality Prosecco! As with any cocktail recipe, the overall quality of the beverage depends on the quality of alcohol you use.
Club Soda – Just a splash of club soda helps to balance out all of the flavorful ingredients at hand with a touch of neutrality.
Ice
Lemon (optional) – if you want a little balance of citrus, add a little bit of fresh lemon juice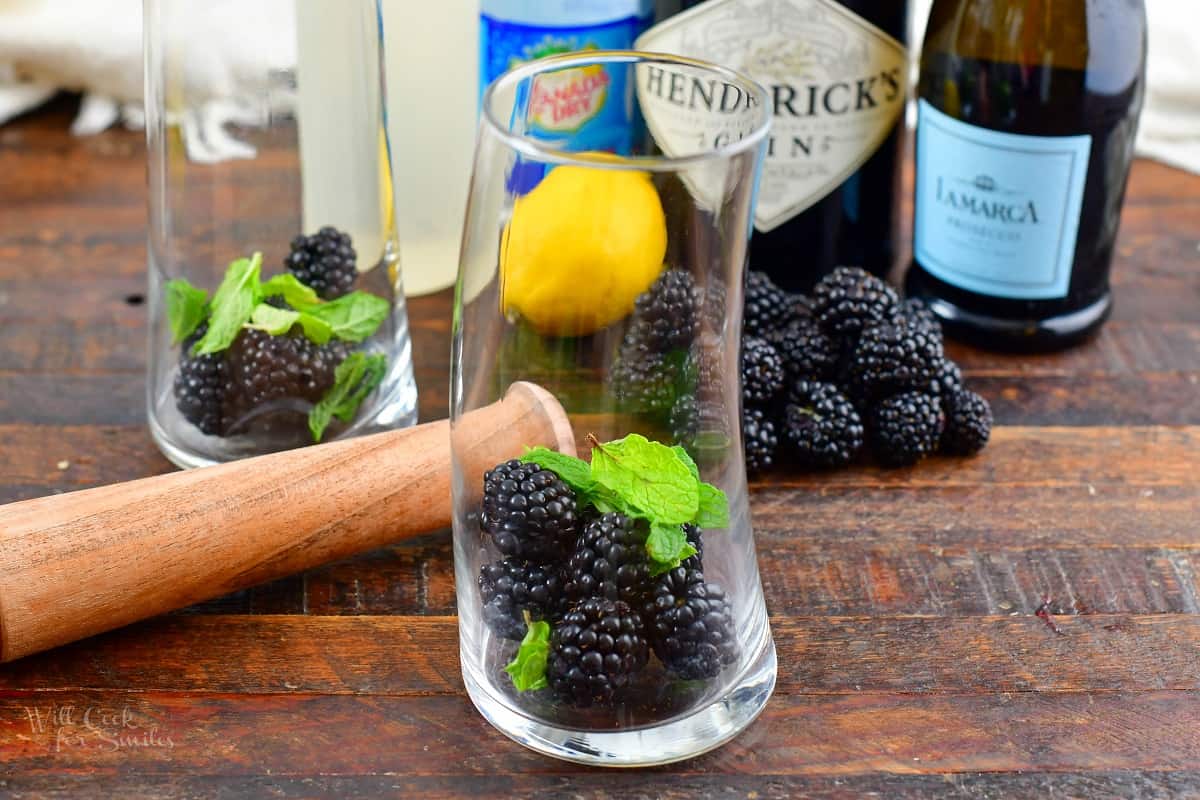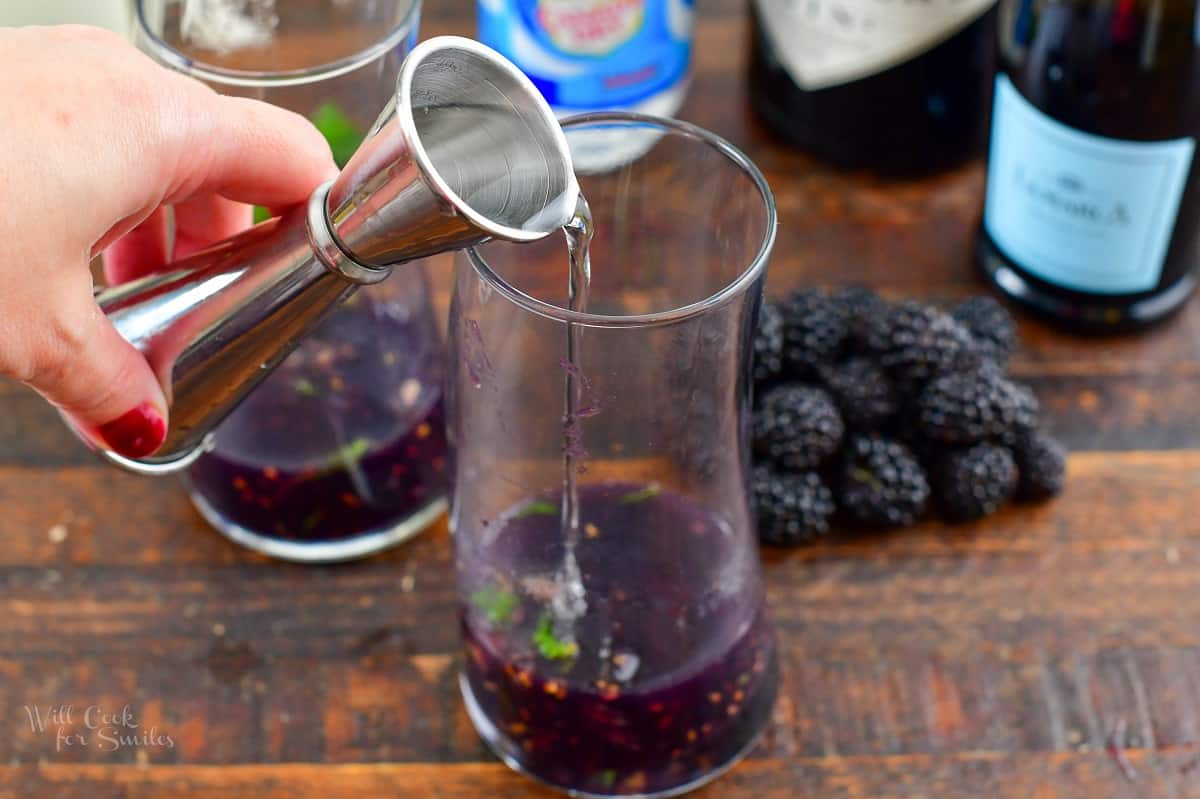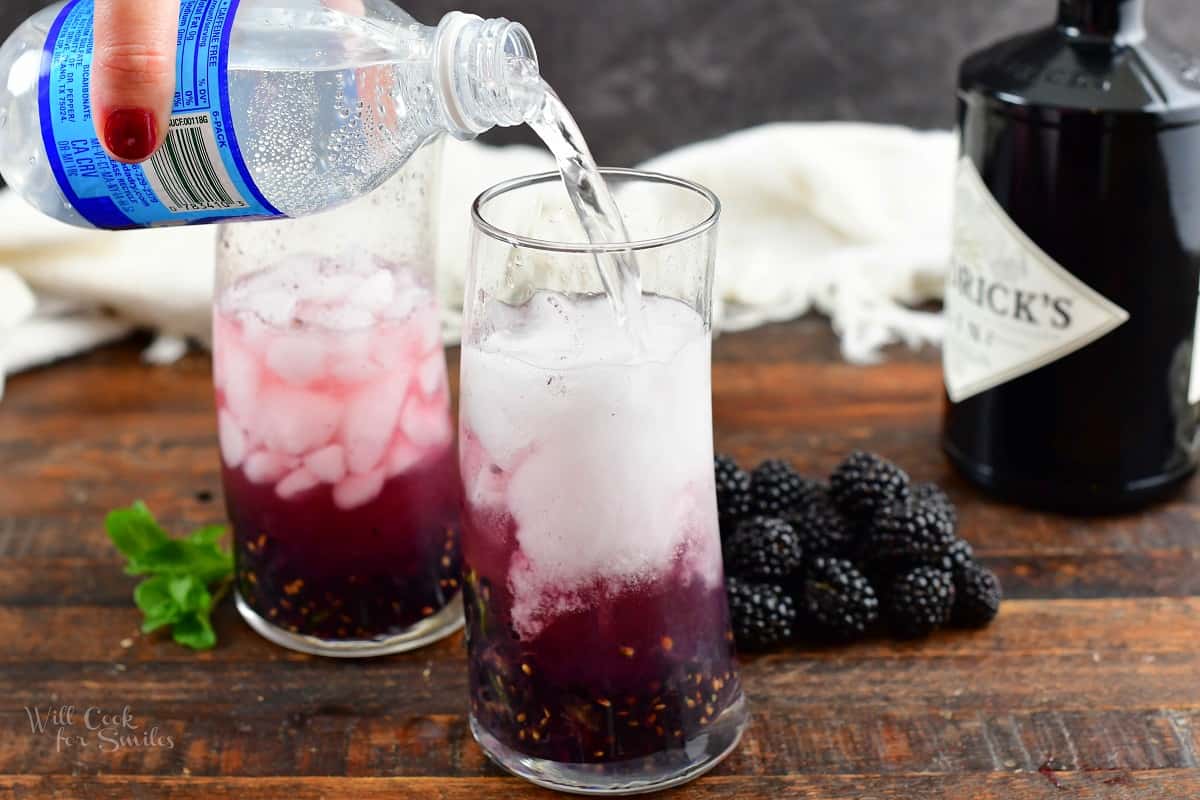 Directions:
Muddle the fresh ingredients.
Place your berries into a glass and use a muddler to mash them. Then, add the mint leaves to the glass as well and muddle them with the mashed berries.
Make it sweet.
Pour in the simple syrup, gin, (and lemon juice if using it) with the berries and mint leaves, stirring to combine.
Add the remaining ingredients.
Place some ice cubes into the glass before pouring in the Prosecco and club soda.
Give the drink a few slow stirs to combine, and enjoy!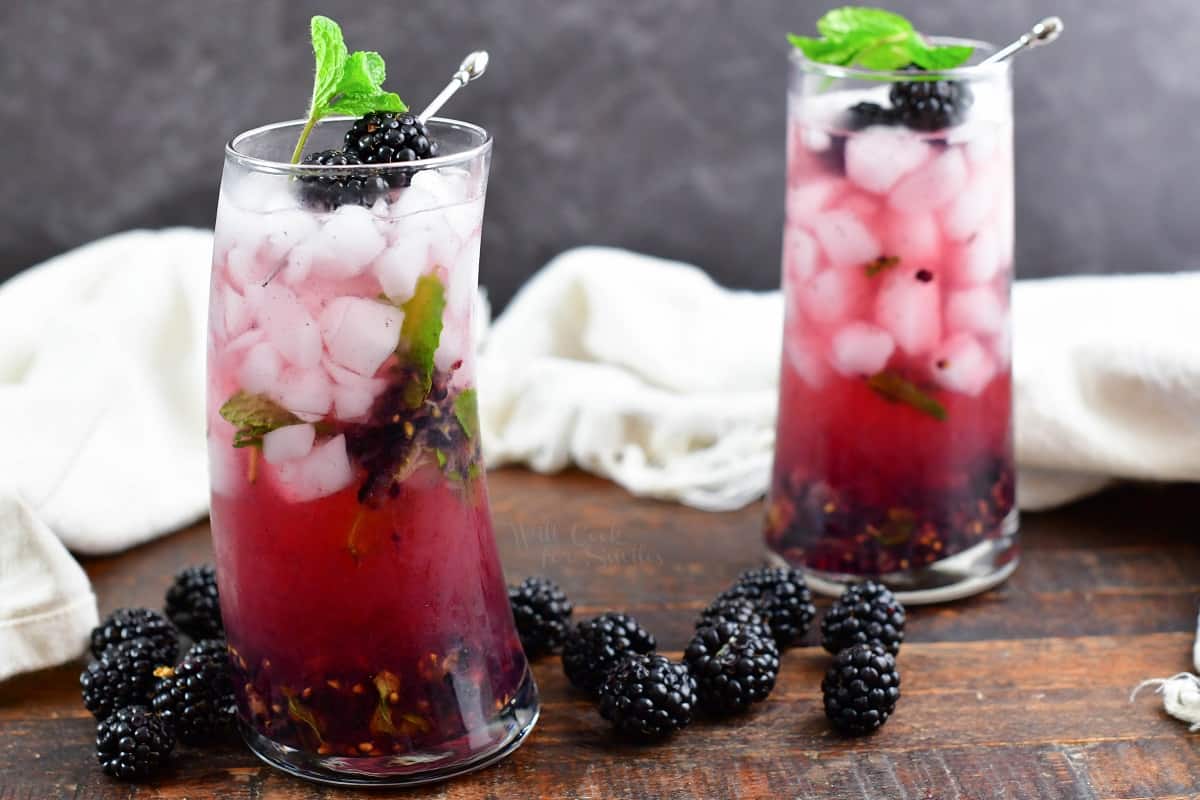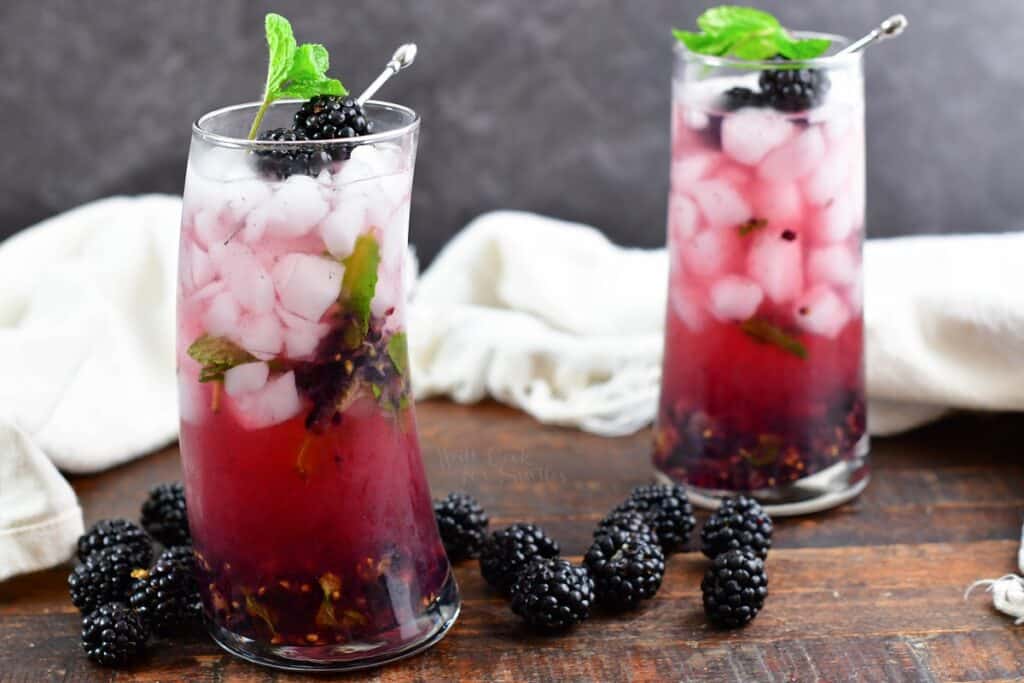 Frequently Asked Questions
Can I shake the drink instead of stirring?
Don't shake the spritz! The club soda and Prosecco both contribute to the bubbles in the drink. If shaken, the drink will go flat and lose the bubbly element that helps make it so refreshing. That's why when you do stir everything together, you should do so just one or two times and slowly.
Can I add anything else to a blackberry spritz?
You absolutely can! That's one of the fun parts about being an at-home mixologist – playing around with the flavors. Feel free to add an oz. of gin or vodka to this drink to make it boozier.
You can also add blueberries along with the blackberries for a fruitier flavor. If you can get your hands on blackberry soda, that's also a tasty addition to add in place of club soda. While mint is by far my favorite fresh herb to muddle with the blackberries, you could also experiment with fresh basil, thyme, or sage.
With all of those variations to try, I do recommend trying my traditional recipe first before making any changes! That way, you know what you personally want to add or subtract from the mixture.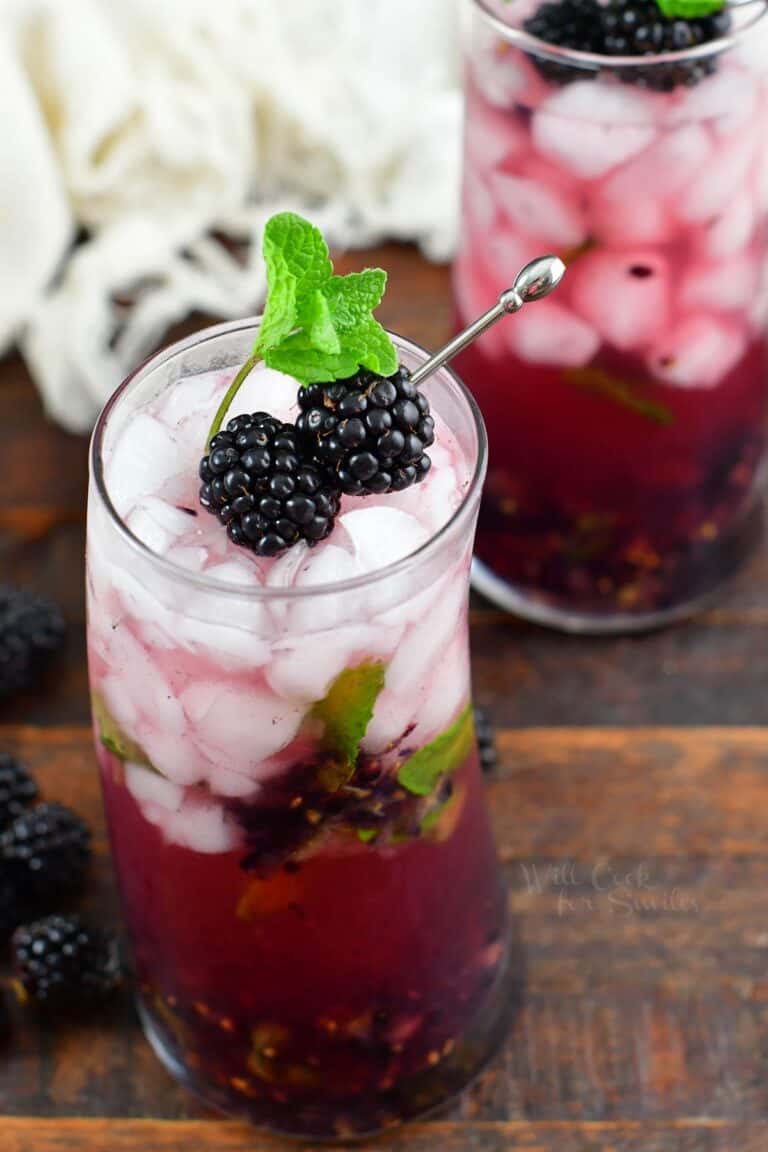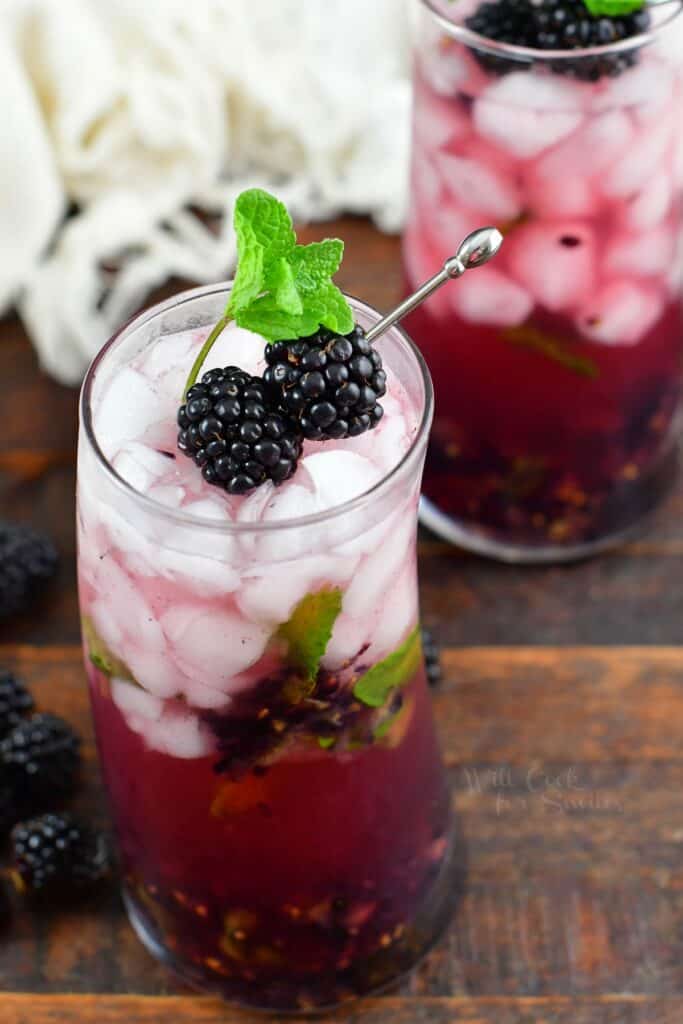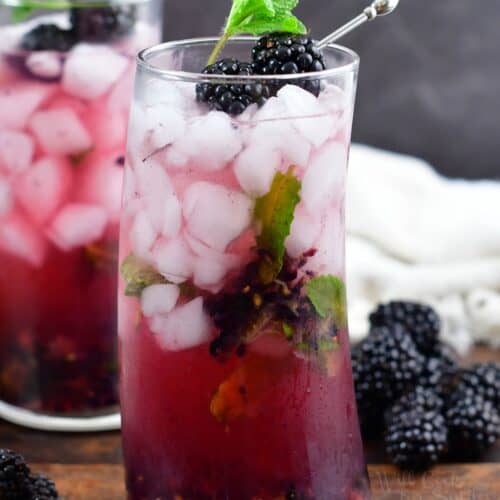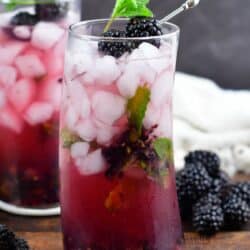 Blackberry Spritz
Fresh, juicy blackberries, mint leaves, simple syrup, Prosecco, and club soda are mixed together and served on the rocks, making each cool, bubbly sip even better than the last.
Print
Pin
Save
Saved!
Rate
Ingredients
1/4

cup

blackberries

(about 6-7 berries)

5-6

mint leaves

2

oz

gin

1/2-1

oz

simple syrup*

2

oz

Prosecco

1

oz

club soda

ice

1/4

oz

fresh lemon juice

optional
Instructions
Place blackberries into a glass and use a muddler to mash them. Add mint leaves and bruse them a few times.

Pour in simple syrup, (lemon juice, if using), gin, and stir.

Add some ice the the glass and then, carefully pour in Prosecco and club soda.

Give it one or two slow stirs to combine and enjoy!
Notes
*If you like your cocktails a little bit sweeter, use 1 oz. of simple syrup, but if you prefer your cocktails less sweet, use 1/2 oz. of simple syrup. 
Nutrition
Calories:
217
kcal
|
Carbohydrates:
16
g
|
Protein:
1
g
|
Fat:
1
g
|
Saturated Fat:
1
g
|
Polyunsaturated Fat:
1
g
|
Monounsaturated Fat:
1
g
|
Sodium:
15
mg
|
Potassium:
154
mg
|
Fiber:
2
g
|
Sugar:
13
g
|
Vitamin A:
290
IU
|
Vitamin C:
12
mg
|
Calcium:
30
mg
|
Iron:
1
mg
Tried this recipe?
Mention @willcookforsmiles and tag #willcookforsmiles