Sex on the Beach is a slightly sweet, tart, and peachy cocktail made with vodka, peach schnapps, orange juice, cranberry juice and a splash of lime. It's a very pleasant summer cocktail when you don't want to drink something too sweet and love peach flavors.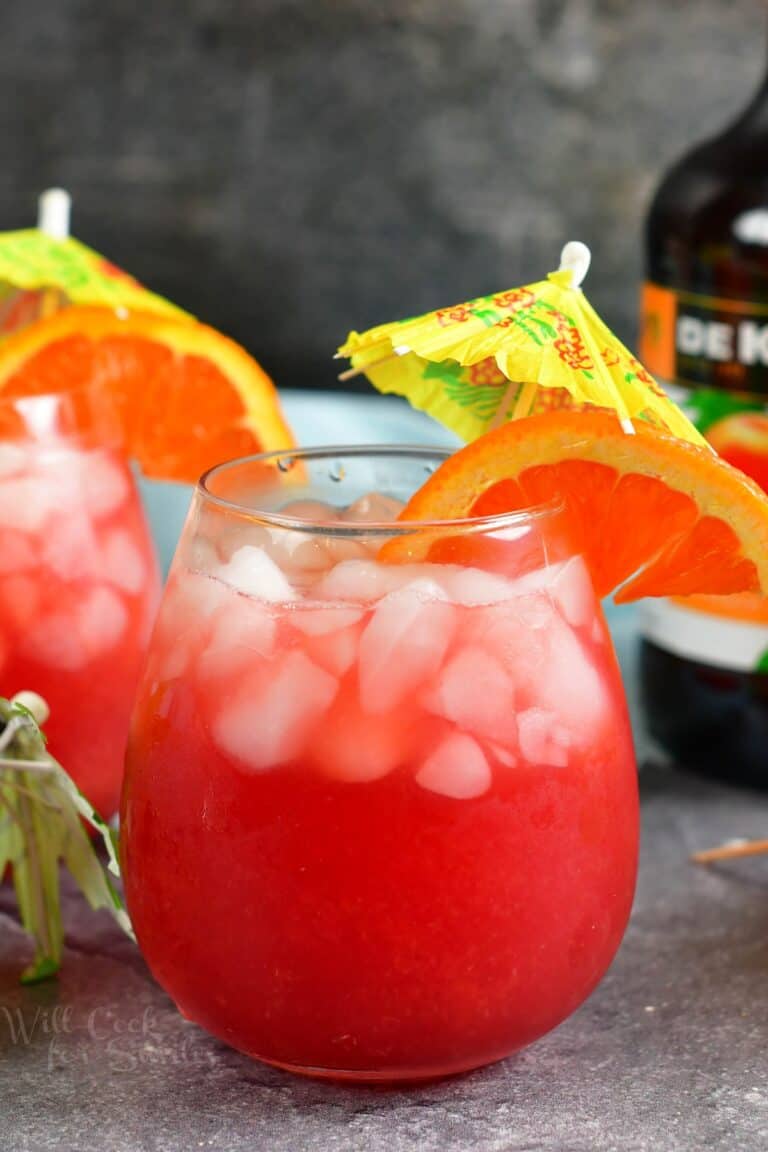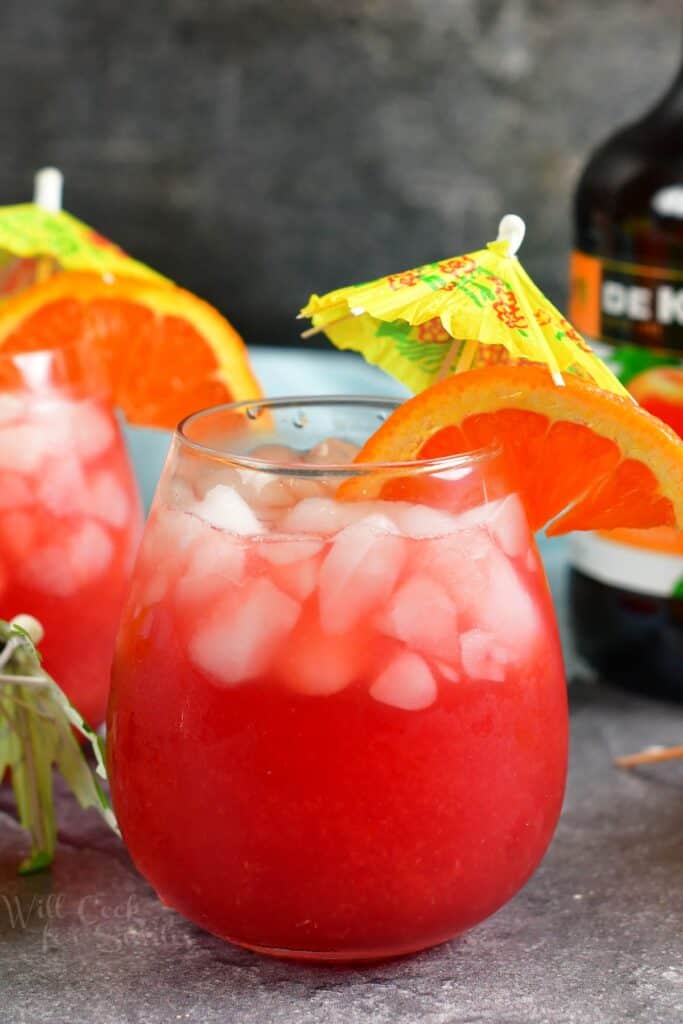 Sex on the Beach Drink
Fruity, flavorful, and a total treat with a fun name, this sex on the beach cocktail is perfect for any summery occasion! Although summer may be slowly dwindling to an end, there's still time to stir up this infamous beachy cocktail. It's a great option for when you're craving something that tastes summery and fruity, but still isn't too sweet.
The flavor profile of this drink is surprisingly complex for what's just a simple beach cocktail. The peach schnapps adds both a sweetness from the fruity flavor and a depth from the alcohol. To balance out that sweetness, flavors of lemon, cranberry, and orange juices create a perfect medley of both natural sweetness and tanginess. I find that this drink is slightly more tart than sweet!
Ordering a sex on the beach is always fun to do at pool bars and beach parties, for the name alone. (Go ahead, get all the giggles out now.) It's fun when cocktail names are a little silly, and this is one of the most notorious examples of a unique name. I don't just order this cocktail for the name, though, I really order them because that balance of sweet and tart flavors is incredibly refreshing. Plus I LOVE peach flavors!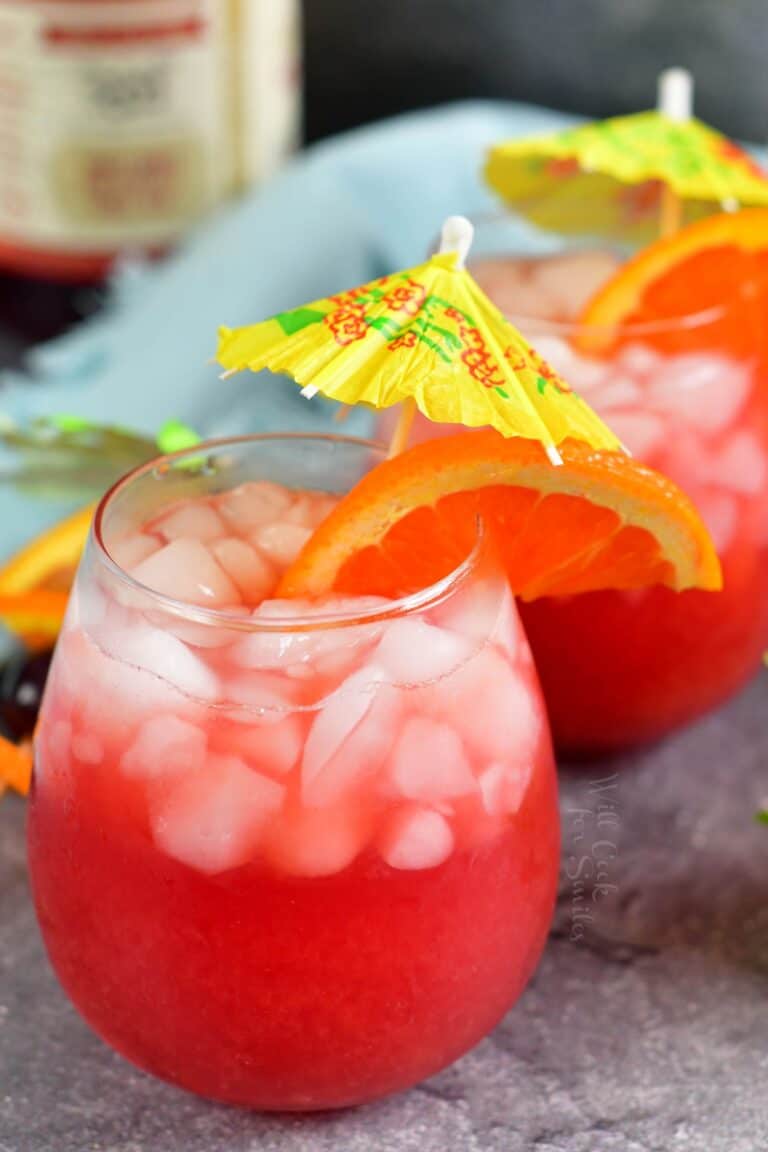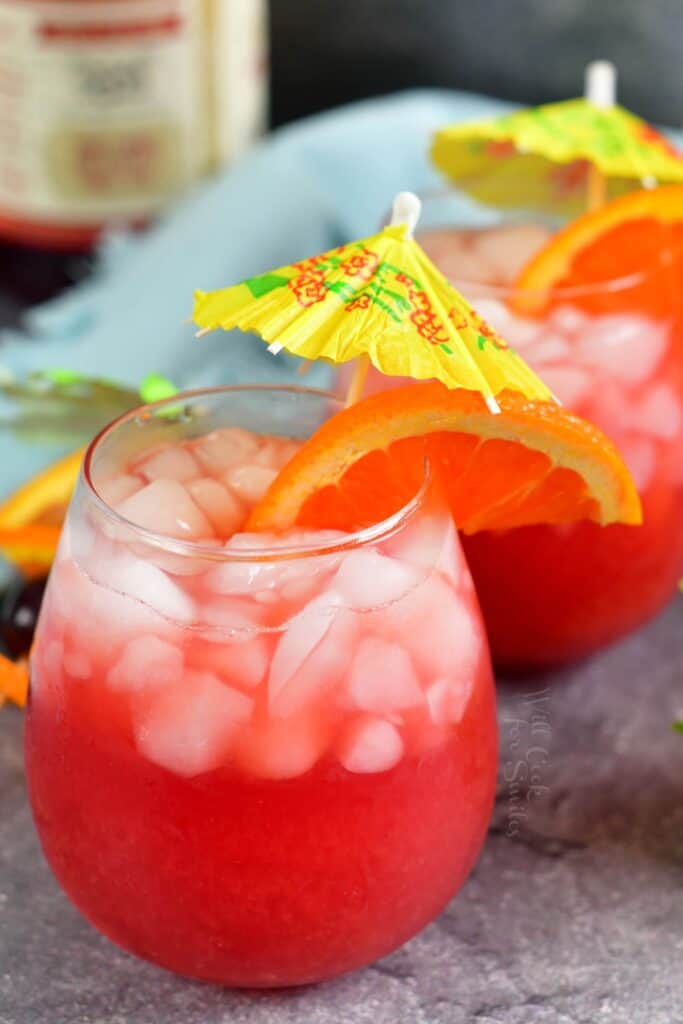 Origin of a Sex on the Beach Cocktail
I'm sure you're curious why is Sex on the Beach drink called that and who invented it? The history behind the sex on the beach drink is a bit of a tall tale, but I found what just might be the real origin with a little research!
Legend has it that at Confetti's Bar in Florida, a bartender named Ted Pizio concocted this drink at first because he needed to get rid of an excess of peach schnapps. He must have been an expert mixologist, because his mixed drink gained a lot of popularity pretty quickly at the bar!
He claimed to have come up with the name because he wanted to name this drink after what he said the tourists were most interested in. While that may be hilariously inappropriate, the name stuck, and the rest is history.
Ingredients in a Sex on the Beach
Vodka – Any brand of vodka will do, but always keep in mind the golden rule of buying alcohol! Your mixed drink will only ever be as good a the liquor you use in it, so avoid the bottom shelf if you can help it.
Peach Schnapps – This is the real key ingredient, and if you read the origin, the whole reason the drink was invented in the first place! I love the sweetness of the peach flavor, as it provides just the right amount of sugar.
Orange Juice – Try to use a pulp free orange juice to avoid any texture in your cocktail. However, pulp is fine if you don't mind the little pieces.
Cranberry Juice – Keep in mind that there's a big difference between cranberry juice and cranberry juice cocktail! Cranberry juice will give the drink a great tart flavor, whereas cranberry juice cocktail will provide nothing but sugary sweetness.
Lemon Juice – Freshly squeezed is the way to go for the absolute best flavor.
Is Sex On The Beach Frink Gluten Free?
So this is one of the questions that comes up a lot, whether it's at the bar or on my cocktail recipes. I myself always have to be careful with cocktails because I am gluten intolerant.
So the two ingredients that could cause a reaction are the two alcohols. Vodka is easy to find gluten free and many brands do openly state when their vodka is gluten free. My go-to brands are Tito's, Grey Goose, Ciroc, and Ocean, but there are many more.
When it comes to peach schnapps, Dekuyper is usually the go-to brand. This brand has not specified if this product is gluten free. Even though it may be safe for most people and would not cause a reaction, they are not labeling it gluten free. So you have to make this decision based on your personal needs.
How to Make a Sex on the Beach Drink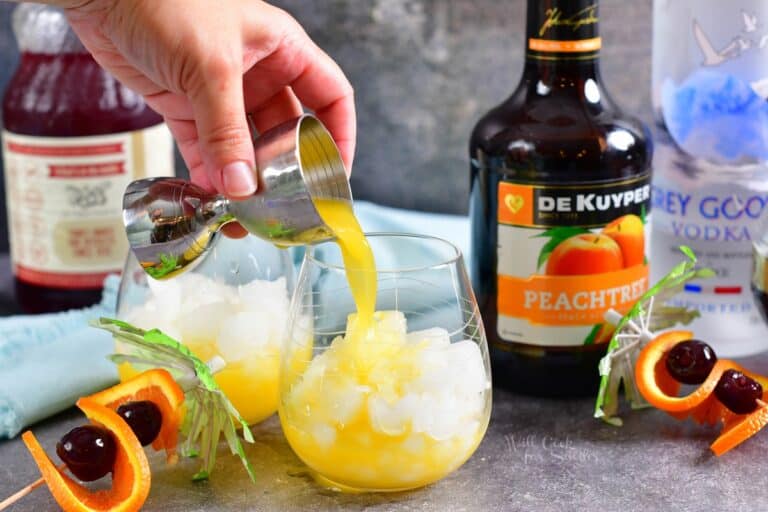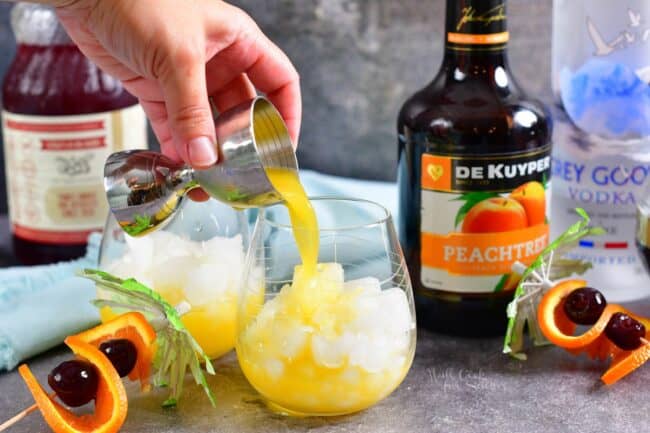 Let's make a sex on the beach cocktail! It's a quick and easy drink recipe that you can whip up with ease in the middle of a party.
First, pour in the orange juice over ice.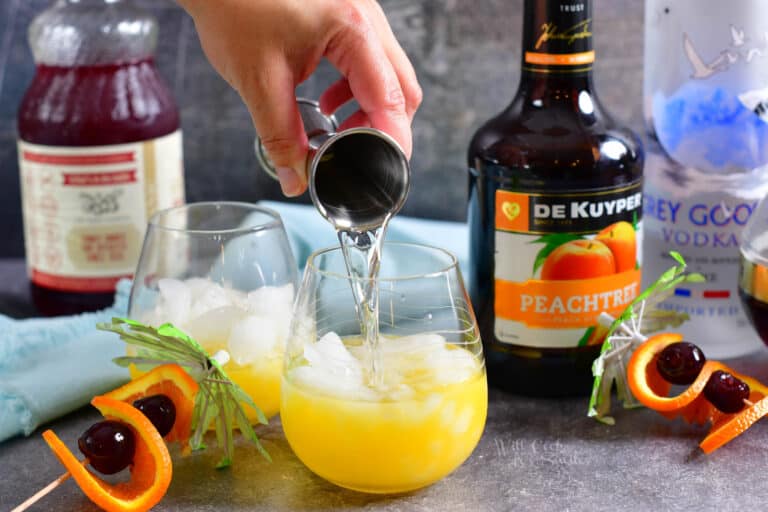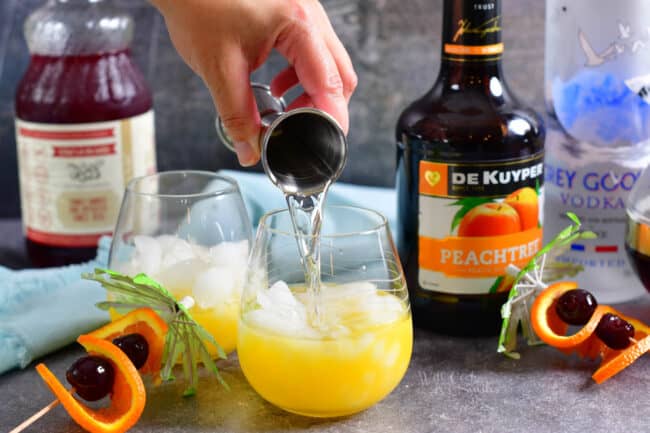 Next, add the vodka. Be careful not to be too heavy handed with your pour here, or you'll end up with a very strong drink.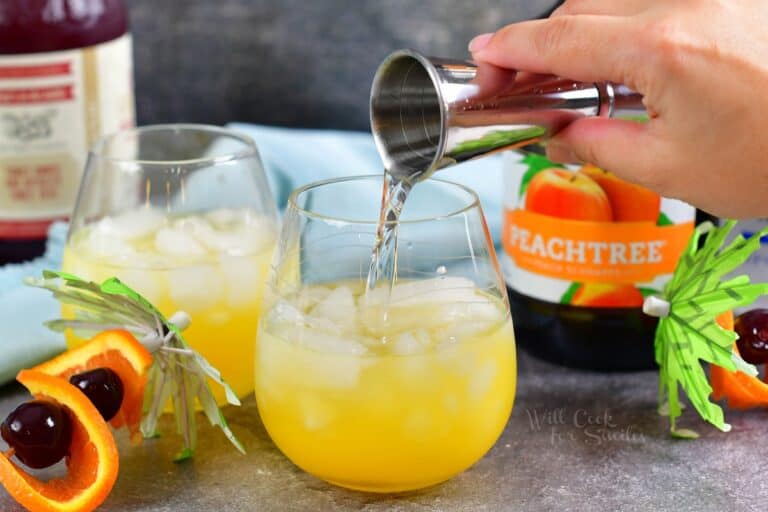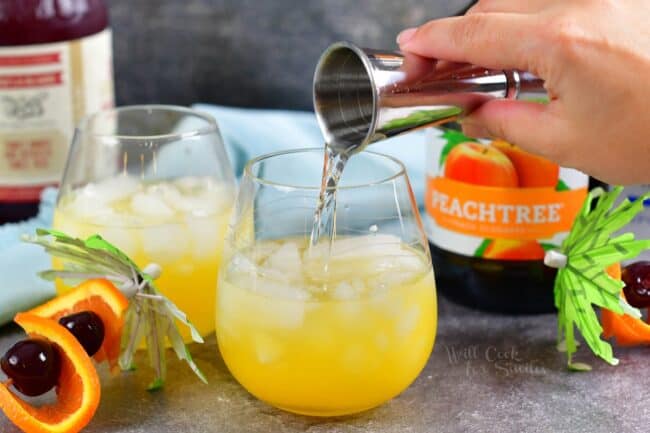 Time for the peach schnapps… Oh, the peachy goodness!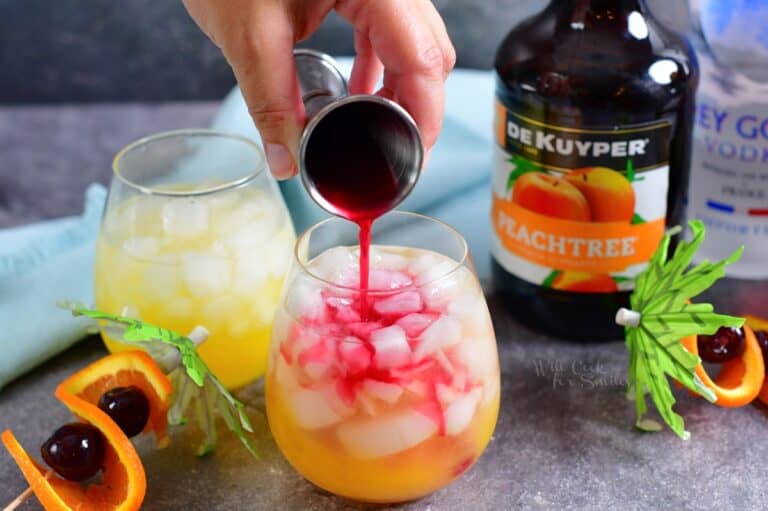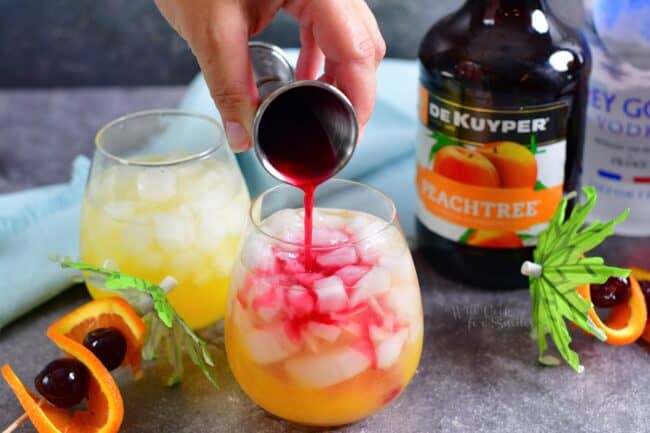 Now, let's make it colorful and tart with cranberry juice! For a layered look, you'll want to stir the schnapps, vodka, and orange juice together. Then, pour the cranberry juice on top and don't stir. It'll give you a picturesque layered look!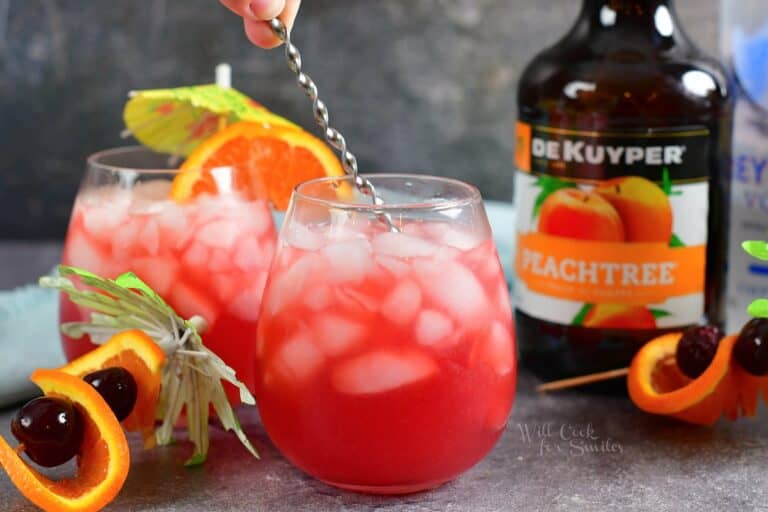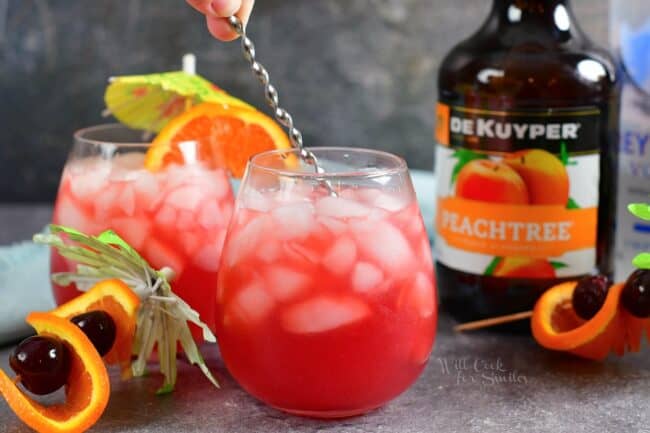 However, you can also just pour the cranberry juice on top and stir it in for a mixed cocktail. Either option is delicious.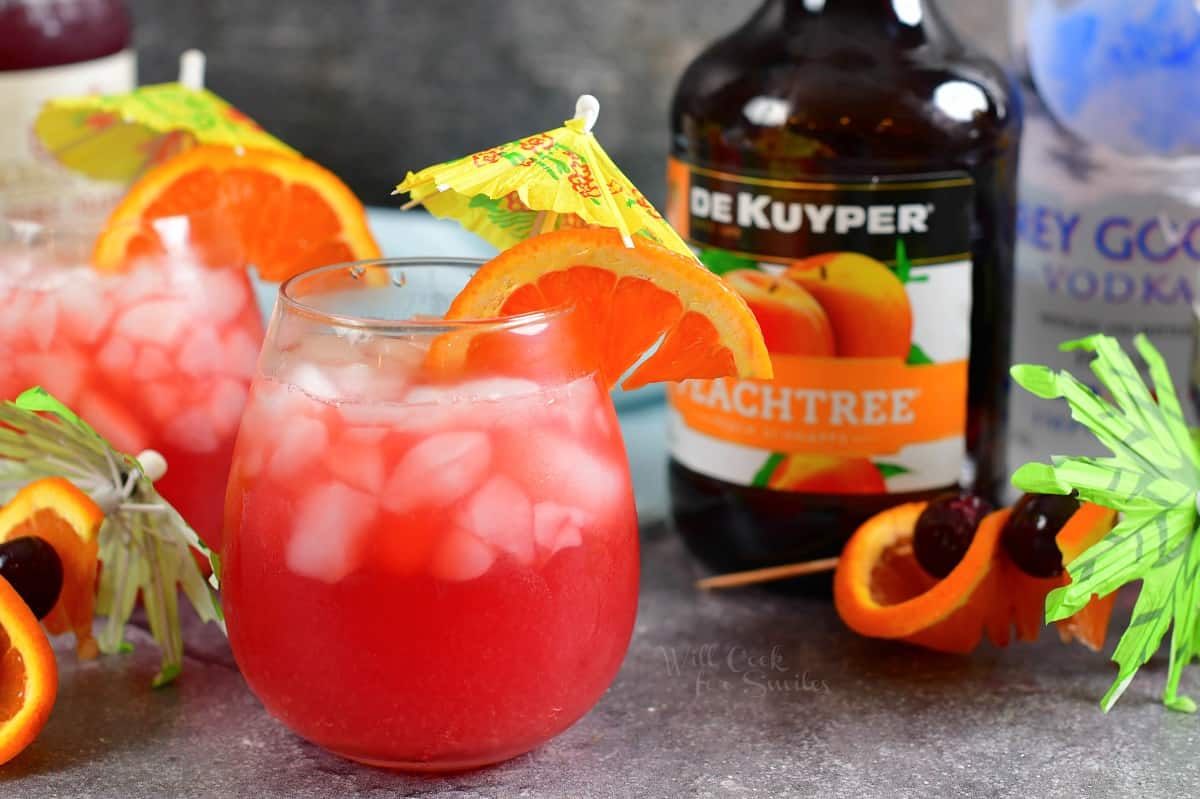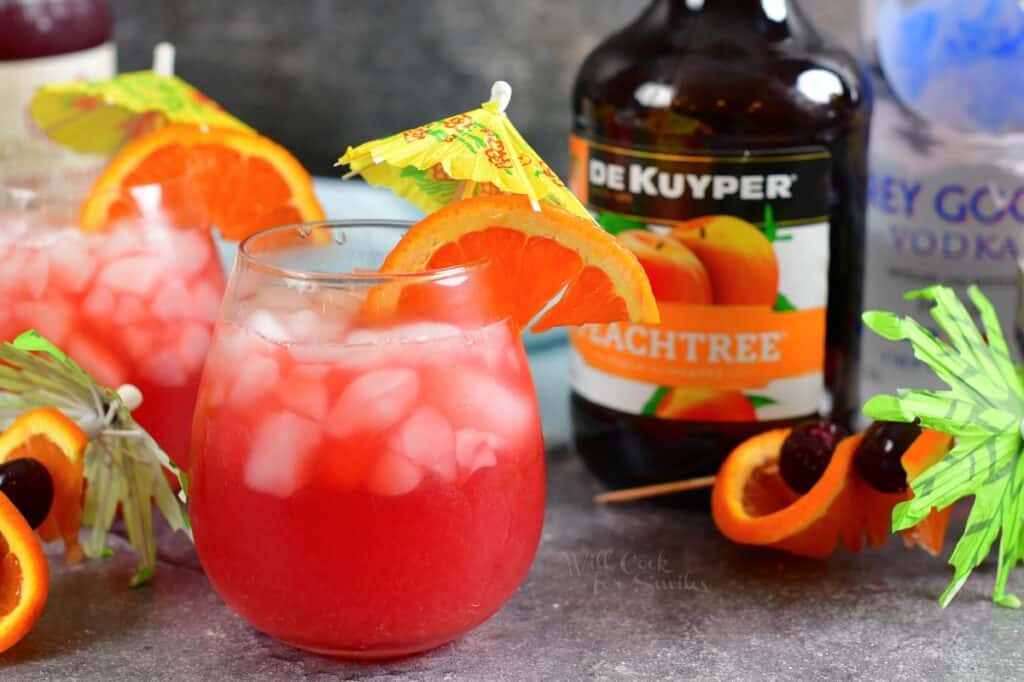 Variations to Try
Some variations include the addition of raspberry liqueur like Chambord, which I am all for! I love this sweet addition because it helps balance out the tartness of the cranberry juice.
Some people also like to use grapefruit juice instead of orange juice. If you like tart and slightly bitter flavors, go ahead and try it!
There are also some who prefer pineapple juice, but to me, that's just bordering on Bay Breeze with peach schnapps.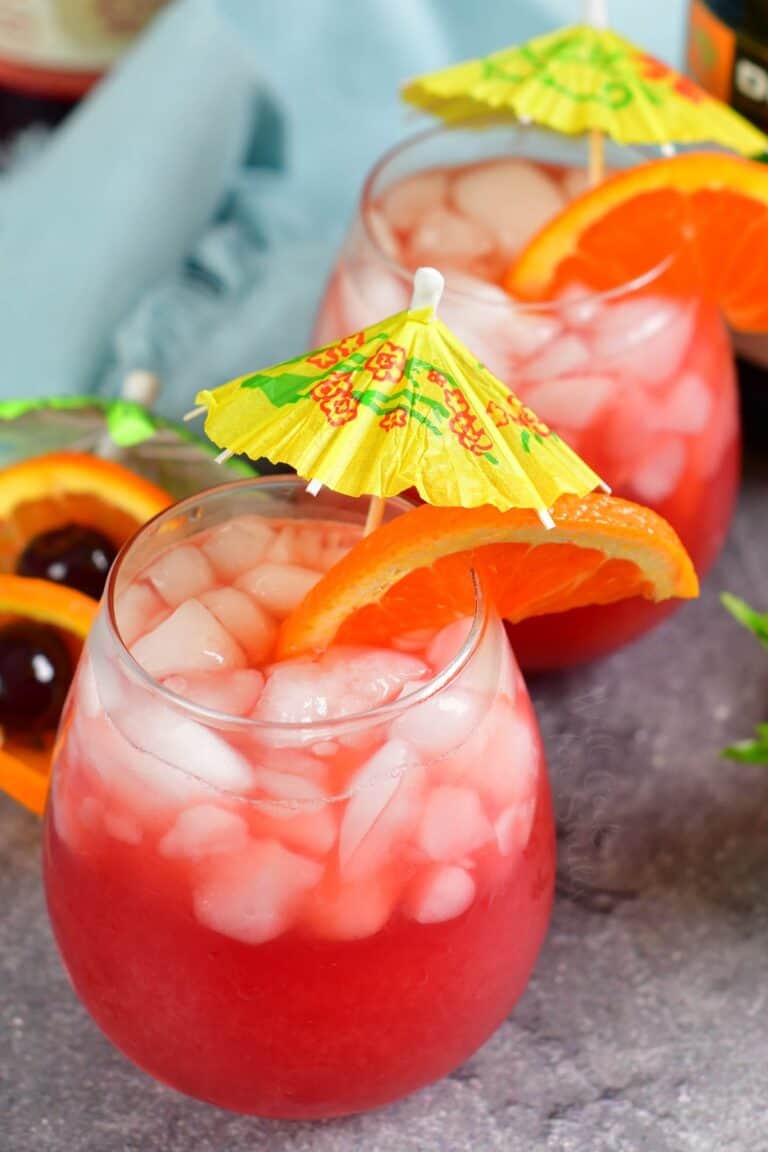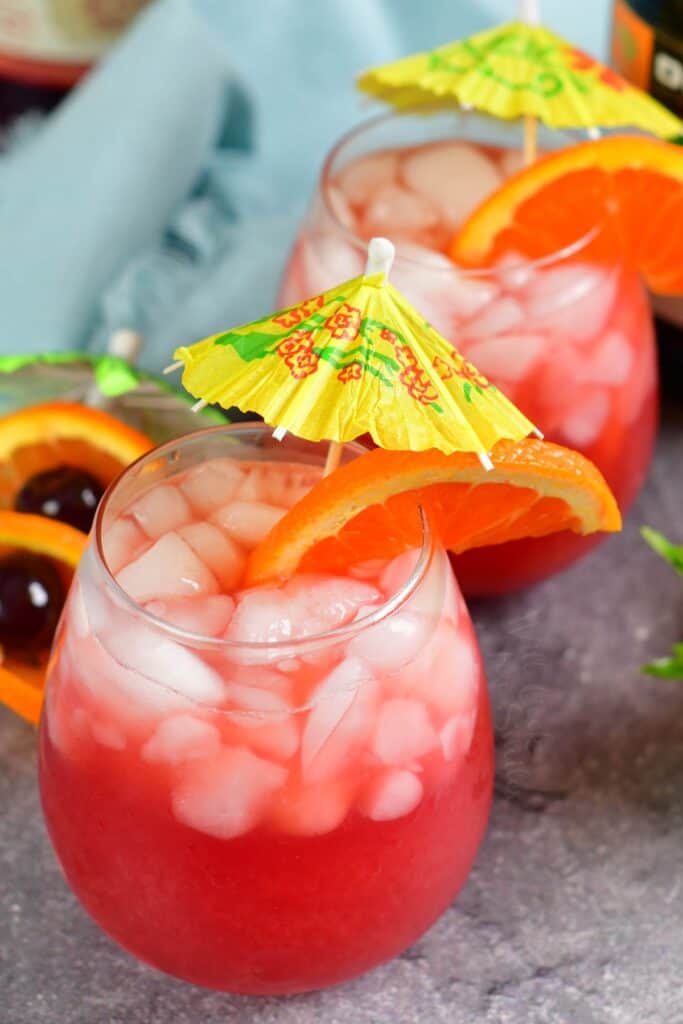 More Summer Cocktails To Try!
Blue Hawaii – this famous cocktail features rum, vodka, and blue curacao liquors mixed with sweet and sour and pineapple juice
Pina Colada – made with only four simple ingredients, this Puerto Rican cocktail features frozen pineapple and cream of coconut blended to frozen perfection with white and topped with dark rum float
White Sangria – a fruity, sweet wine cocktail that's bursting with fresh flavors of citrus, apples, strawberries, and mango
Rum Punch – this Jamaican-style cocktail has a base of orange and pineapples juices and both, light and dark rums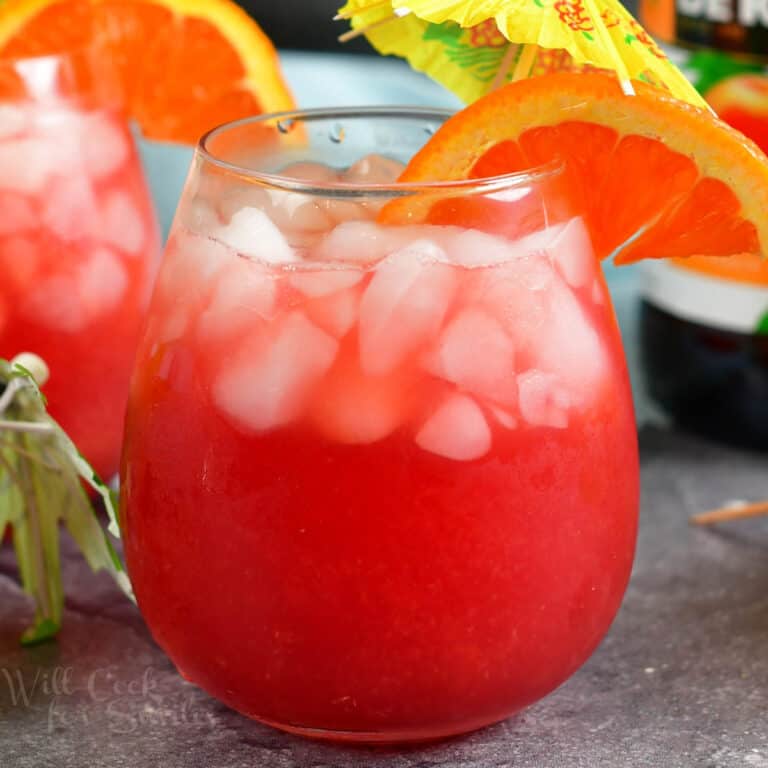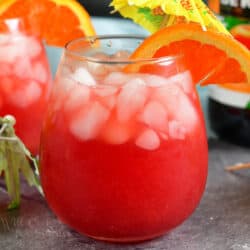 Sex On The Beach
Sex on the Beach is a slightly sweet, tart, and peachy cocktail made with vodka, peach schnapps, orange juice, cranberry juice and a splash of lime.
Print
Pin
Save
Saved!
Rate
Ingredients
2

oz

vodka

1

oz

peach schnapps

2

oz

orange juice

2

oz

cranberry juice

1/4

oz

fresh lemon juice
Instructions
Add some crushed ice into desired glass.
For layered look:
Pour in vodka, peach schnapps, orange juice, and lemon juice. Stir it for a few seconds.

Gently pour in cranberry juice evenly over the top and let it start to spread naturally. This will give you a pretty layered look.
For Mixed Cocktail:
Combine all ingredients in a glass over crushed ice.

Stir with a bar spoon for about 15 seconds to thoroughly combine and chill.

Garnish with an orange slice and cocktail cherries and serve.
Notes
*Chambord is a great addition to this cocktail. If you wish to add it, then cut vodka down to 1 1/2 oz and add 1/2 oz of Chambord. 
Nutrition
Calories:
257
kcal
|
Carbohydrates:
20
g
|
Protein:
1
g
|
Fat:
1
g
|
Saturated Fat:
1
g
|
Polyunsaturated Fat:
1
g
|
Monounsaturated Fat:
1
g
|
Sodium:
2
mg
|
Potassium:
165
mg
|
Fiber:
1
g
|
Sugar:
18
g
|
Vitamin A:
139
IU
|
Vitamin C:
36
mg
|
Calcium:
11
mg
|
Iron:
1
mg
Tried this recipe?
Mention @willcookforsmiles and tag #willcookforsmiles