This week, I had a cake and a breakfast dish for you, now it's time for an appetizer! A dip, to be more specific. This dip is very simple and incredible delicious!
We had a tough work week around here, I won't go into any specifics but we needed some time to relax a have  a little fun. Hubby invited his friend over and decided to order us pizza. Day off from cooking! I like it when he invites his friends over because they are so appreciative of my cooking. I think hubby is a little spoiled with the great meals and doesn't make as many yummy noise as his friends. How else is a cook supposed to know that she made something delicious without the yummy noise? So I decided to make something quick and easy for an appetizer.
I really didn't feel like having pizza, I wanted shrimp! You know how sometimes you go out to eat and some appetizers look so good, you just make a meal out of it? I do that all the time. I also make myself easy seafood when I don't have to worry about anyone else's dinner. Hubby doesn't like seafood, so it was all mine….well his friend helped.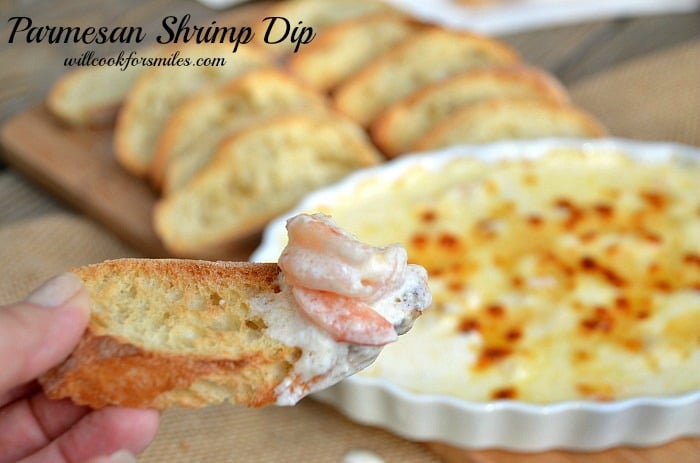 I also got to try a new product while making this dip. I usually buy butter that comes in individual wrapped sticks but I was asked by Land O Lakes to try their new product and create a recipe for them. I love creating new recipes and you know that I don't share any products with you I don't like. Land O Lakes® Butter with Canola Oil is made with only three simple ingredients: sweet cream, canola oil and salt. I love that fact, the less unknown ingredients, the better! Hubby especially liked this butter because it's easily spreadable and tasty. He is a bagel and butter man and enjoys his pancakes as well. The fact that he didn't have to wait for the butter to soften, was a plus for him.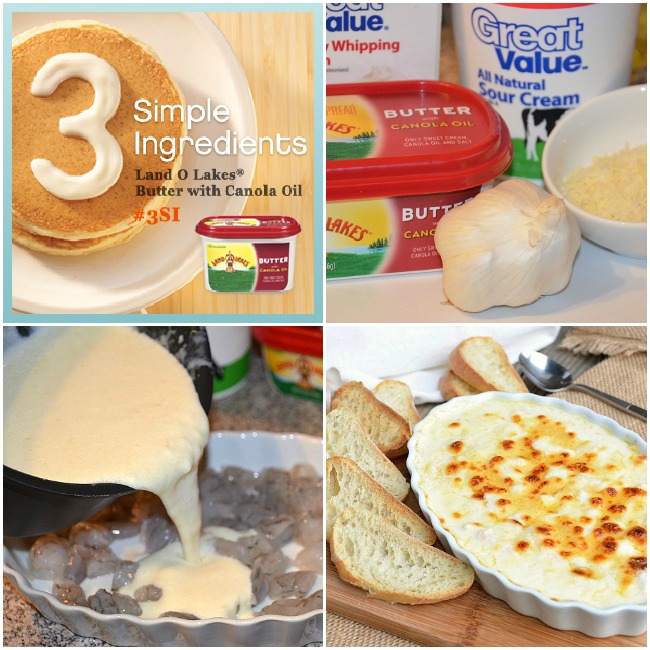 Parmesan Shrimp Dip
Ingredients
About 15 medium raw shrimp, chopped
1 cup of heavy cream
2 tbs sour cream
2 tbs Land-O-Lakes Butter with Canola
3 garlic cloves
½ cup of Parmesan cheese
salt
2 tbs Parmesan cheese (for topping)
Instructions
Preheat the oven to 350
Melt the butter in a small sauce pan over medium heat. Mince or grate the garlic and add it to the butter. Saute until the garlic starts to brown. Add the heavy cream, sour cream, Parmesan cheese and a little bit of salt. Cook, stirring frequently, until the mixture starts to boil. Take off heat.
Cut the shrimp into small pieces and spread them in the baking dish of your choice.
Pour the cream mixture over the shrimp and sprinkle with more Parmesan cheese.
Bake for 15 minutes.
I am linking this beautiful dish to all the parties in my party tab! Make sure you visit the hosts and link some of your projects!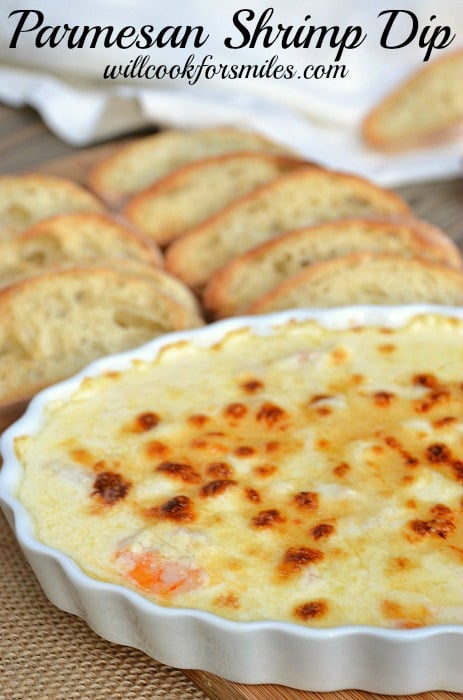 Alright guys, since you had to "listen" to me ramble, I will give you something in return! I got a great giveaway for you, it's "Kitchen Simplifiers" Kit! This kit includes multi-purpose spreaders, an over-the-sink cutting board with colander, and multi-tier oven rack. You will love everything in this kit, I especially love the cutting board!
Carol A.
Disclosure: I received product samples and a gift package from Land O'Lakes, including multi-purpose spreaders, a cutting board, and multi-tier oven rack from Land O Lakes® Butter with Canola Oil, for recipe development and review purposes. All opinions are my own.