Fantastic juicy burger fresh off the grill! This delicious beef patty topped with blue cheese crumbles, scallions and sauce will quickly become your favorite burger.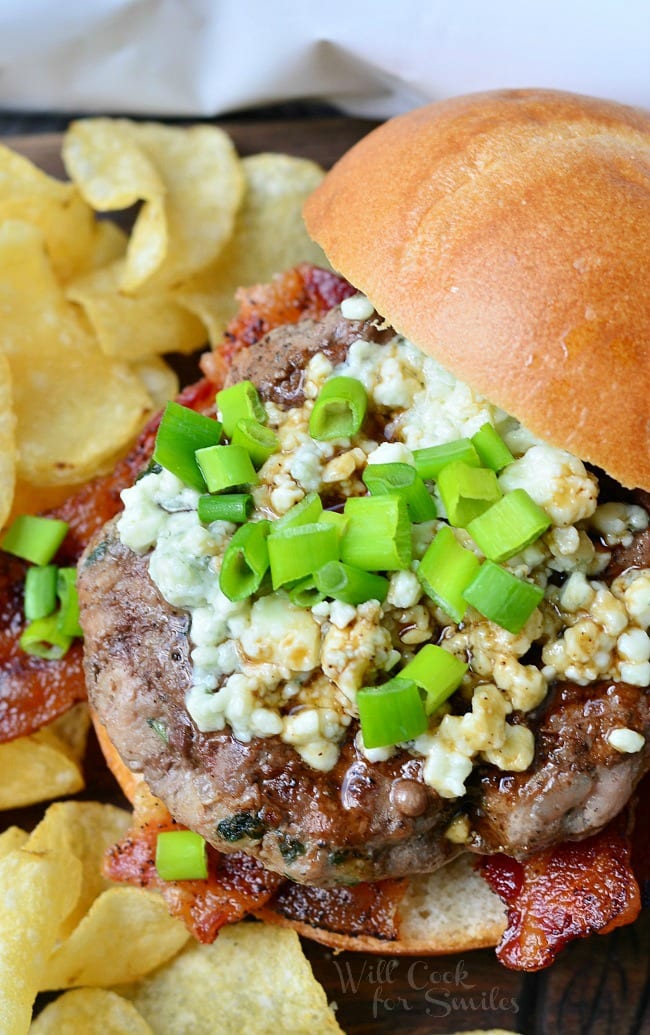 I know you must be drooling just from looking at this yumminess.
I was drooling then I was taking pictures and I am not ashamed!
We got to grill last weekend and had a very nice, relaxing Sunday. It may not sound like much to many of you, who life in a house and have a grill on your backyard and can grill pretty much any time you want, but it's a big deal for us. I've mentioned that we live in an apartment (top floor), with no way of having a grill. Our balcony is even wood so can't even have one of those little, portable grills.
Now, we actually do have a grill, a nice, big grill but can't do anything on it. We keep in in the garage, which is not even attached to the building. I know, it's a mess! So we have an awesome grill and can't even use it. That's why it feels so nice when we get to go to my mom's house, grill and relax on the porch.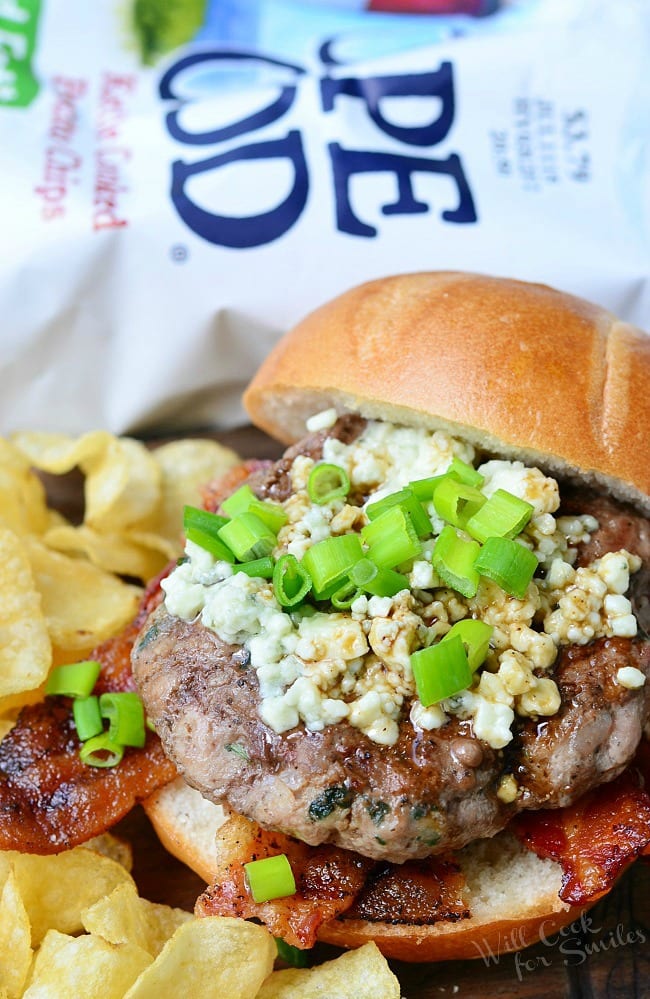 That's exactly what we did last weekend for my mom's birthday. I got this "brilliant" idea to grill and immediately called mom. The second I said "grill," she goes, "Ehhhh…I guesss…really?…I guess."
Me: "Mom, you don't have to do anything. We'll roll it out and cook. Just come out to the porch and eat!"
Her: "Oooh, why didn't you say so? Yea, do whatever you want!"
See, to her grilling is a hassle but to us it's fun! I get to make recipes that I can never make at home and for hubs…well it's a man and a grill, what do you think?
Ba
So I prepped some yummy stuff for our barbecue and off we went. I also brought (a little too much) Cape Cod® potato chips and popcorn. Chips are a "must-have" at any barbecue, didn't you know that?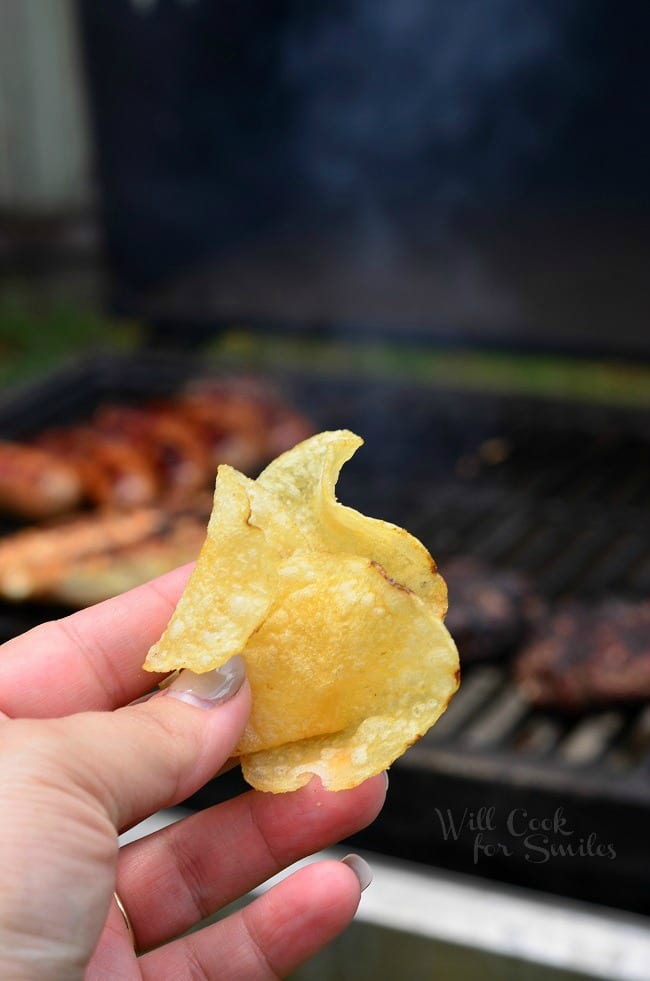 It's not just for serving with a dip or on a side of a big, juicy burger, we like to snack on some Cape Cod® Kettle Cooked chips while grilling too. These chips are so tasty, crunchy, and just plain addicting. I love the way they taste, that they are only lightly salted and not oily. I'm not a fan of many chips because they are overly salted or overly seasoned and it's a huge turn off when they leave oil reside on your hands. That's why I'm partial to Cape Cod® chips.
Cape Cod® prides itself on highest standards of production, which means quality snacks. They use simple, high-quality, all natural ingredients, hand selected potatoes, and craft in small batches. That results in some delightful, crunchy chips that are perfect for dipping, as a side or as a (slightly addicting) snack.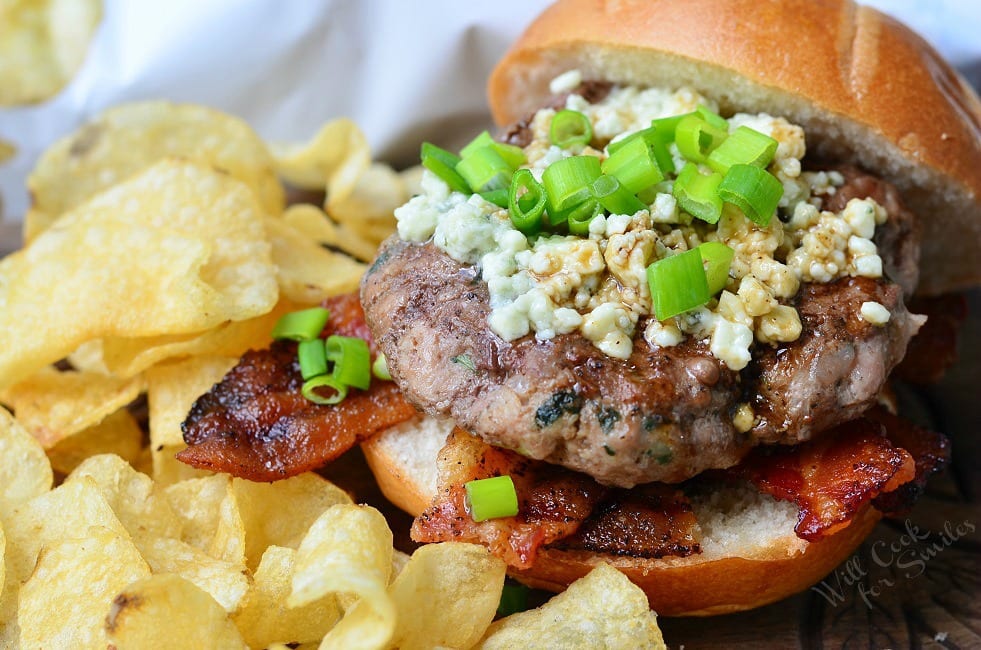 Ingredients:
(Makes 2 burgers)
Burger:
1/2 lb ground beef
1/2 lb ground pork
¼ cup finely diced medium yellow onion
2 garlic cloves, grated or pressed
2 Tbsp minced parsley
Salt, fresh cracked pepper
Toppings:
1/2 cup blue cheese crumbles
1 Tbsp Worcestershire sauce
1/3 cup diced scallions
Burger buns
6 slices of crispy bacon
(Lettuce and tomato are optional, I do not recommend other raw onion because it will take over the taste)
Directions:
1. Combine ingredients for the burger in a medium mixing bowl and mix very well, until all ingredients are incorporated throughout.
2. If grilling, you will need to judge cook time according to the placement of burger patties and how close they are to the coals. Remember to spray patties with cooking spray so they don't stick.
3. If cooking in a pan, preheat skillet over medium heat and add a little bit of vegetable oil. Form two burger patties and cook on both sides util burgers reach desired temperature.
4. When burger patties are almost done, add blue cheese crumbles to the top (after you already flipped the patties), so it starts melting.
Add 1/2 tablespoon of Worcestershire sauce to each patty, on top, and place burgers on buns. Add bacon slices to the bottom buns first.
**Notes: Demi glace would be great with this burger too, instead of Worcestershire. You can find recipe [url:1]here[/url] if desired.
To add a little more moisture to the burger as a whole, use lettuce and tomato. If you really want to use sauce, I'd recommend either little bit of blue cheese or ranch dressing.**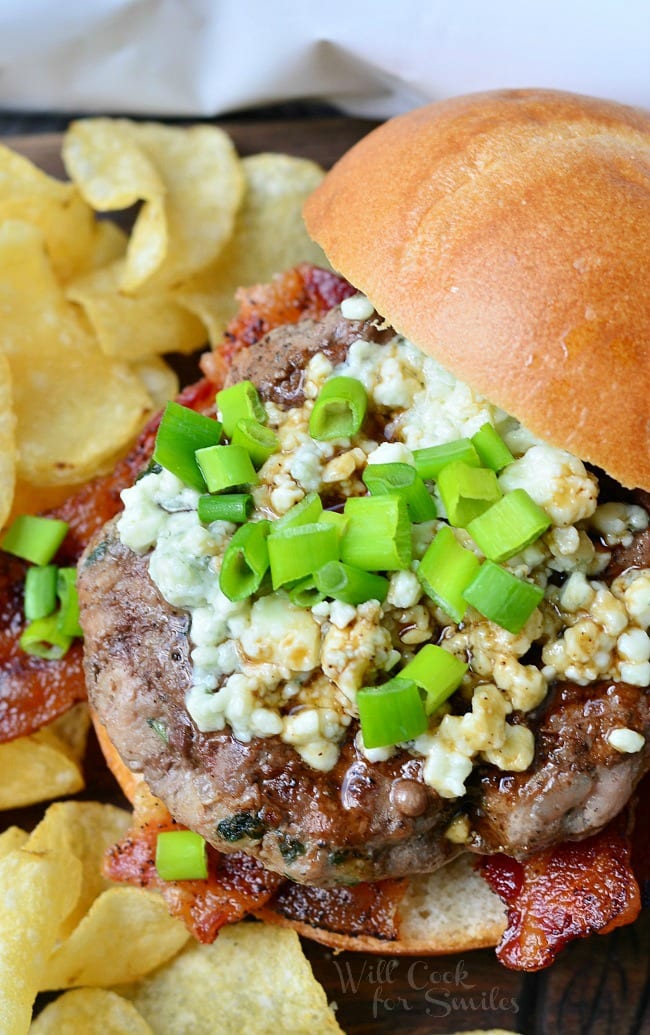 _________________________________________________________
Make sure you follow me through your favorite blog reader (bloglovin or other), subscribe to e-mail or follow me through social media of your choice to keep up with the recipes!

_______________________________________________________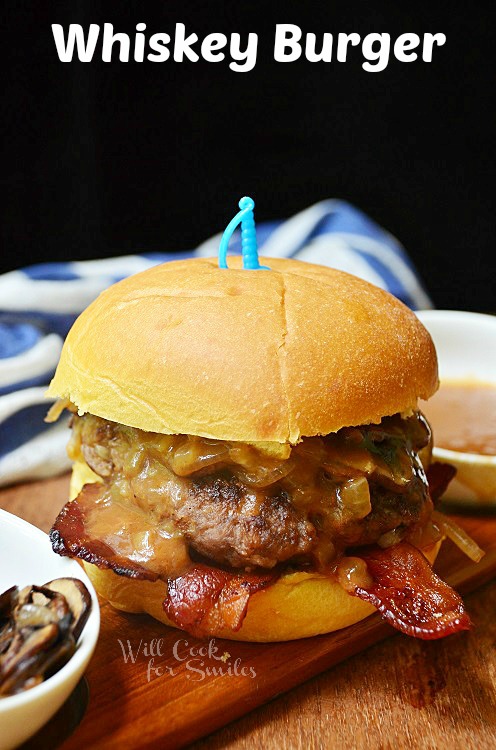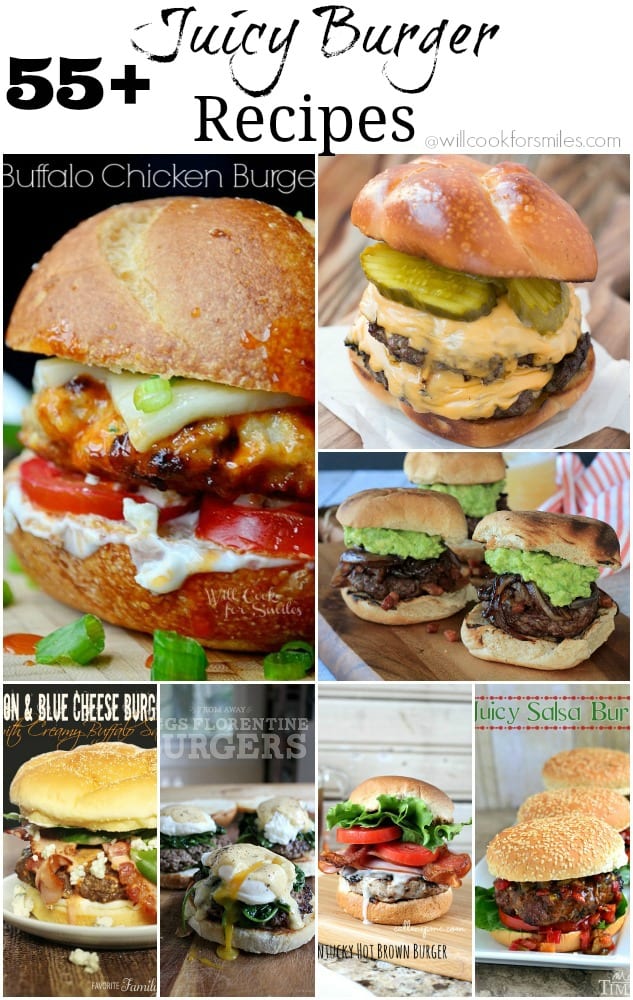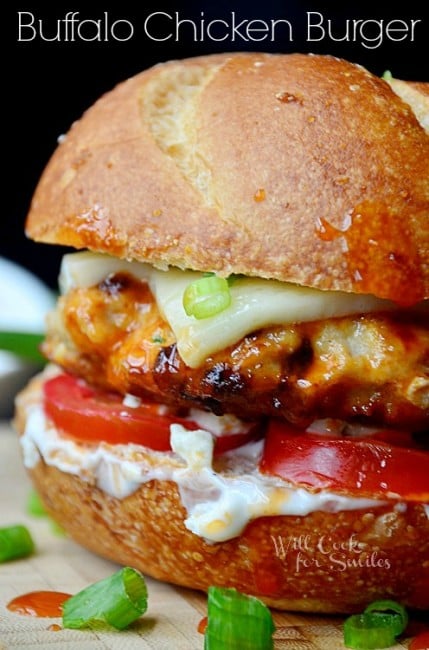 Disclosure: This is a sponsored post written by me on behalf of Cape Cod® Potato Chips.