Delicious, comforting, and easy brunch idea. Onions, ham, and potatoes sauteed to browned caramelization, flavored with honey mustard, and baked with eggs. This potato bake is a great way to use up some holiday ham and serve a delicious brunch to the family at the same time.
Don't forget to sign up for email, so you won't miss any new recipes.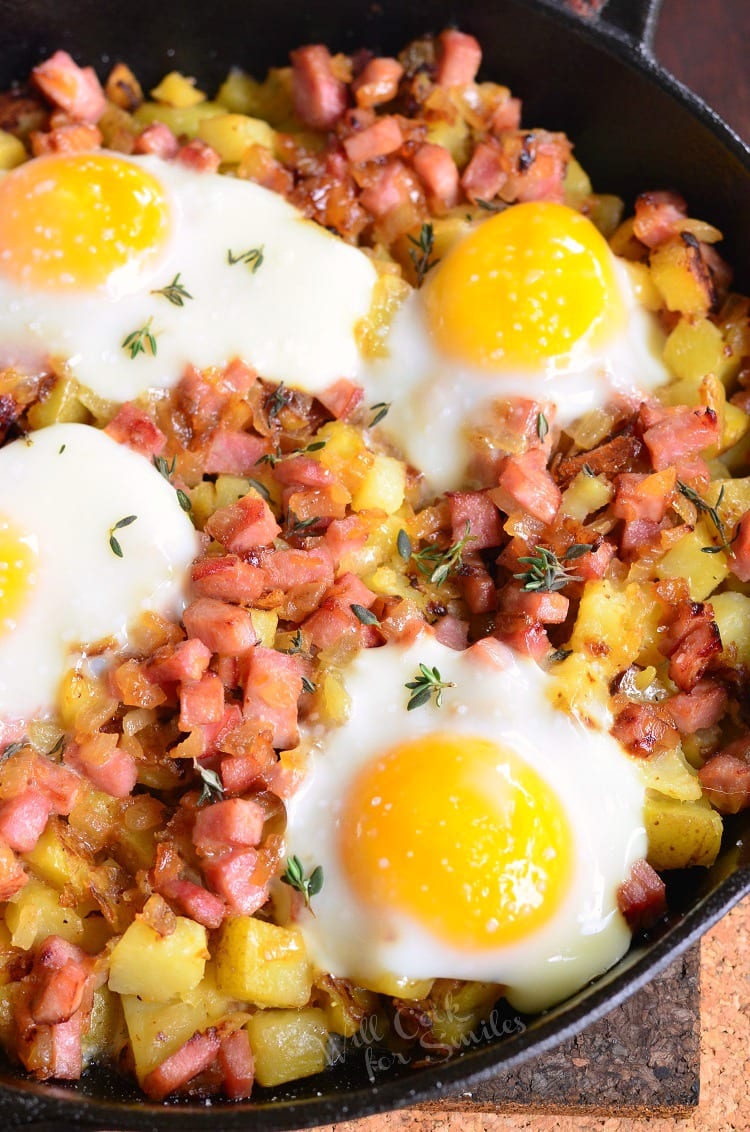 Only a few days left until my favorite holiday of the year and only a little over a week left of 2016. I just can't believe how fast time if flying by. I feel like I need to take a minute to sit down and think about what happened in 2016 because of how fast it's flown by. I need a minute to catch up to it before it's gone.
This weekend is Christmas and it's getting harder and harder to wait. I don't care how old I'm getting, I still act like a kid around the holidays. I want lot's of decorations, I want everything to feel like the Christmas wonderland, and I totally shake my presents. My husband has to triple wrap everything for me because I snoop. I can't help it, I get excited when there are gifts under the tree with my name on it!
My favorite part of the holiday is when we are sitting around the Christmas tree on Christmas morning, still in in our pajamas, with some delicious hot cocoa, opening our presents. It's so nice and quiet before the busy part of the days starts, before I have to go into the kitchen and cook for five hours straight and then entertain our dinner guests. The mornings are just to calm and comfortable, that's when it feels the most like Christmas to me.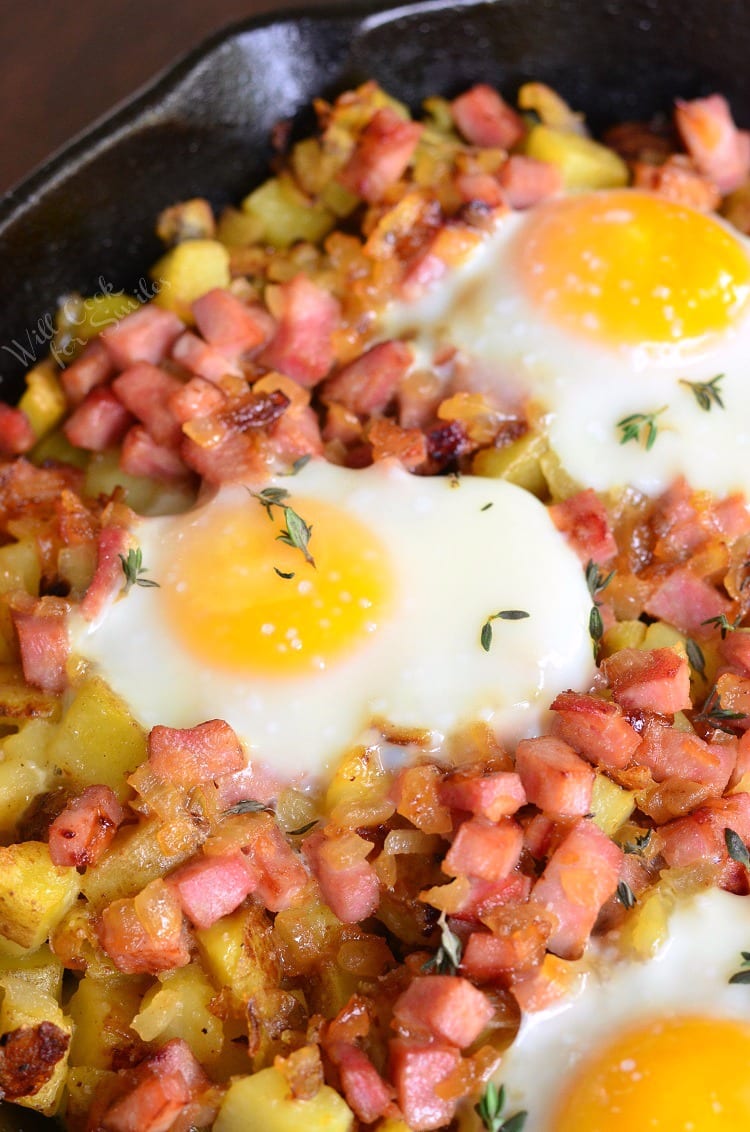 As much as I like the quiet morning, my husband's favorite part of the holiday and actually the dinner and what comes after dinner. He always comes up with different games and after-dinner entertainment for the family. It's always loud and fun. We're all usually stuffed and exhausted by that time but it's still a lot of fun.
This year, I'm actually planning of doing something different with our holiday dinner to make things a bit easier on me and minimize the "exhausted" part. I'm making HAM! I know, it's a traditional holiday meat but serving something traditional is not like me at all. I like to be creative and do something different every year. In a way, I am doing something different to me, it just happens to be traditional at the same time. I'm planning to make some delicious Maple Dijon glazed ham for our dinner and I'm getting a bigger sized ham on purpose, just so we can have some leftovers.
I love leftover ham and there are so many more tasty recipes that can be made with ham, rather than turkey. One of my favorite brunch recipes is this easy ham, egg and potato bake and it's a perfect recipe to use up some of the leftover ham.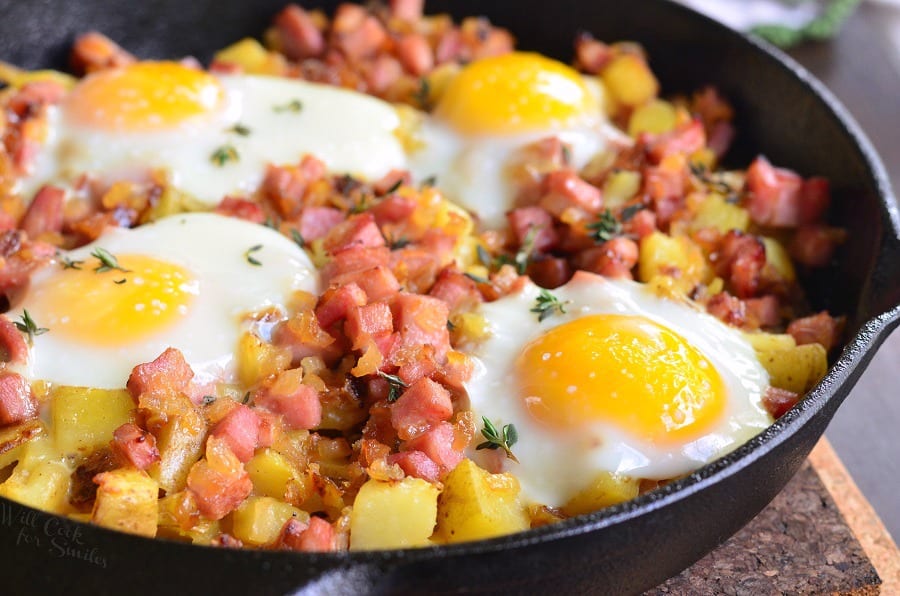 It's easy to KEEP UP with NEW recipes through my social media channels:
_______________________________________________________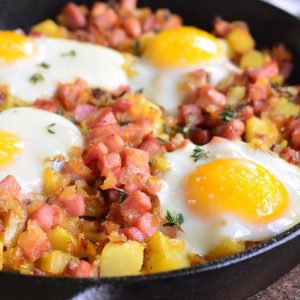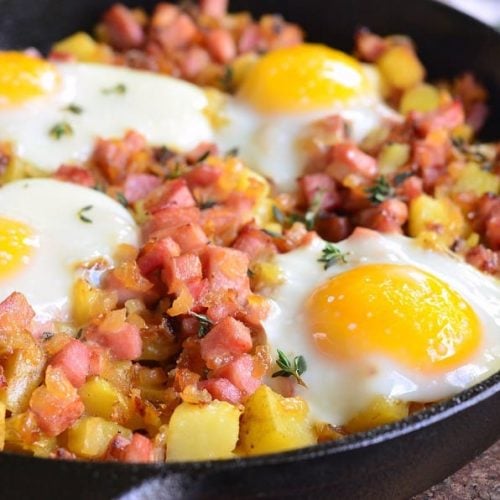 Honey Mustard Ham Egg and Potato Bake
Onions, ham, and potatoes sauteed to browned caramelization, flavored with honey mustard, and baked with eggs.
Ingredients
About 1 1/2 lbs yellow potatoes

1/2

Tbsp

honey mustard

diced

8

oz

ham

diced

1/2

yellow onion

diced

1/2

Tbsp

honey mustard

4

eggs

Salt

Fresh cracked black peppers
Instructions
To make it simple, you can use a cast iron skillet or an oven-safe cooking pan. Or, you can use two pans.

Preheat a cooking pan over medium-high heat and add some vegetable oil for cooking. Add diced yellow onion and ham and cook, stirring often, until you get some caramelization.

Stir in 1/2 Tbsp honey mustard and cook for another minute. Take ham and onions out of the pan and set aside.

Add a little more vegetable oil to the pan and diced potatoes. Add some salt and pepper. Cook potatoes over medium heat, covered, until almost cooked. Take off the lid and let the potatoes cook until just done. Stir in 1/2 Tbsp honey mustard.

Preheat oven to 400.

Add ham and onions to the potatoes. (If not using an oven-safe cooking pan, then transfer ham and potatoes into an oven safe dish.)

Crack eggs over ham and potatoes. Bake for 10-15 minutes.

Serve right away.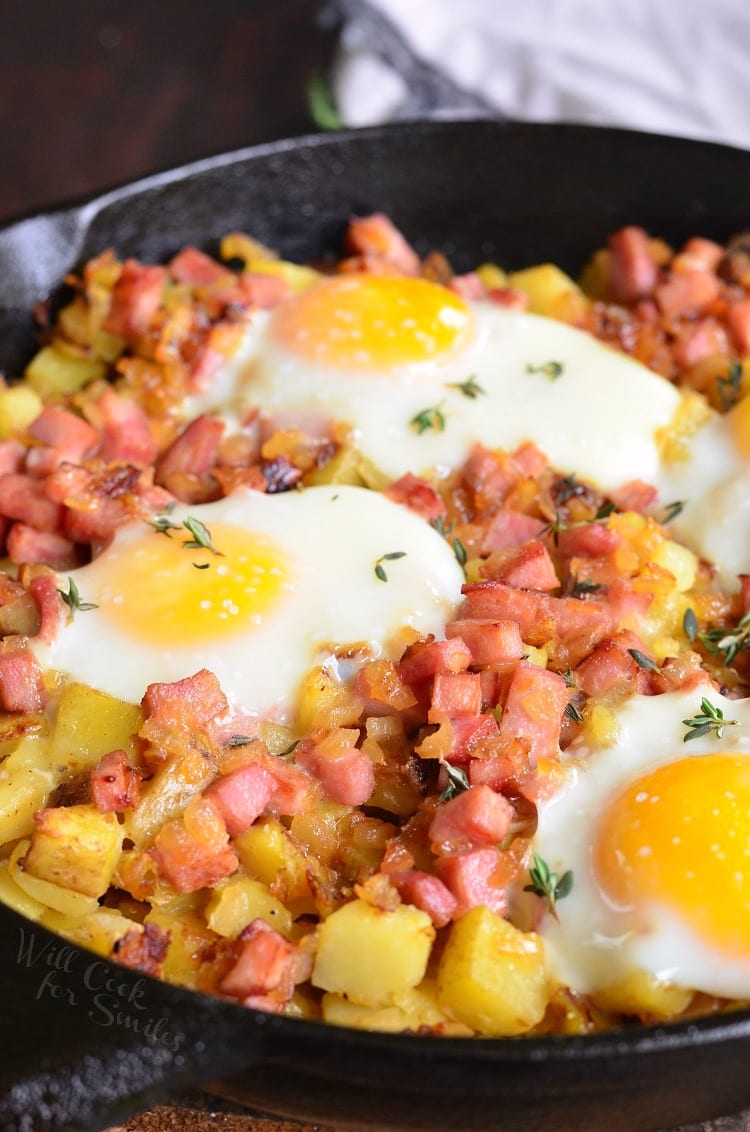 Check out these great recipes from other bloggers:
Cheesy Bacon and Egg Breakfast Bombs from Spend With Pennies
Brown Sugar Ham from Oh Sweet Basil
Ham Fettuccine Bake from The Country Cook
Crustless Spinach Sausage and Sun-dried Tomatoes Quiche from Baker by Nature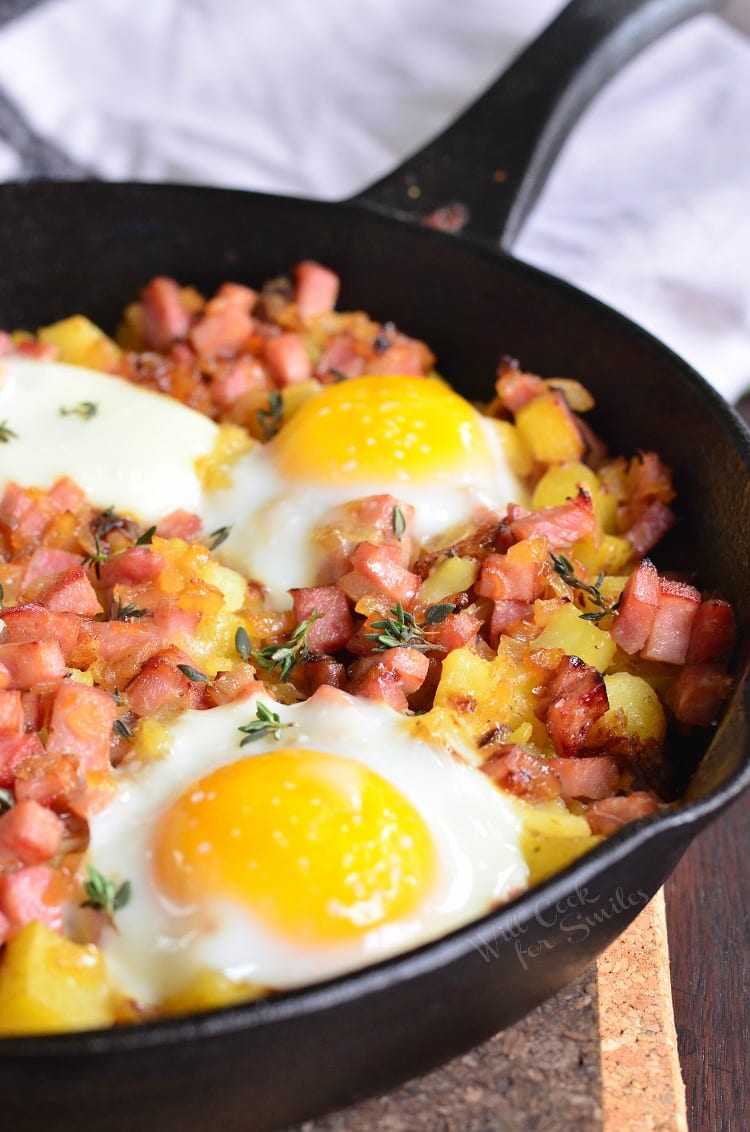 _______________________________________________________
Make sure you follow me through your favorite blog reader (bloglovin or other), subscribe to e-mail or follow me through social media of your choice to keep up with the recipes!

_______________________________________________________

Some More Recipes From Me:

Ham Leek and Cheese Bread Pudding