Whether you are planning a dinner party or a date night, wine and cheese is classy and elegant to serve! Pairing wine and cheese will mean a delicious and successful night. I have a few suggestions for best pairings of simple and affordable wines and cheeses.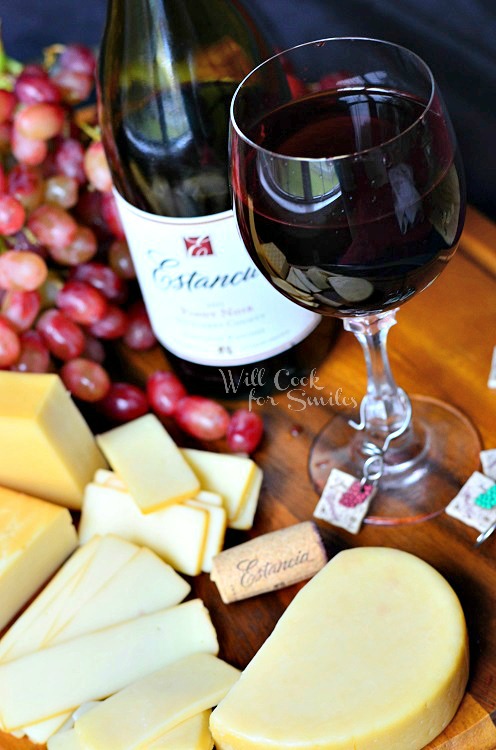 Wine and cheese spread can be the center of your date night or served before or after the meal.
We had a date night the other night to celebrate the end of my school semester. I realized we have never had a wine and cheese spread. I always wanted to have a wine and cheese night and I've been doing some research for a while.
I got a beautiful new serving trey and I wanted to show it off. This was just the perfect way to display my new trey and have a wonderful night. The night was great and so was the spread!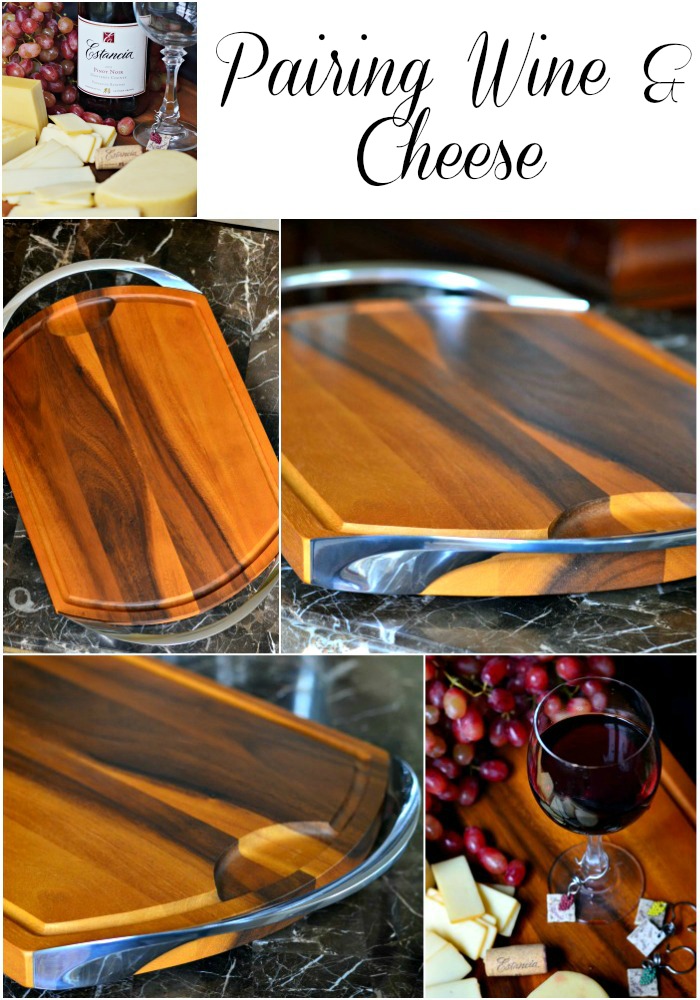 So let me introduce this new serving trey first! This is actually a beautiful Carve and Serve station from Nambé.
It's the sort of versatile classic that everyone should have around holidays. The moat design around the edge makes this ideal for carving up juicy meats of all kinds. The polished wood and Nambé alloy handle design adds elegance to any classy night. Don't confine it to dinner, though. This is a gorgeous serving trey, so load it with fresh French bread and an array of fruits and cheeses and don't forget the wine!
I'm in love with how elegant and sophisticated this Carve and Serve station is. Don't be fooled by it's elegance, this station is high quality made of a durable and thick wood and solid, beautifully crafted alloy.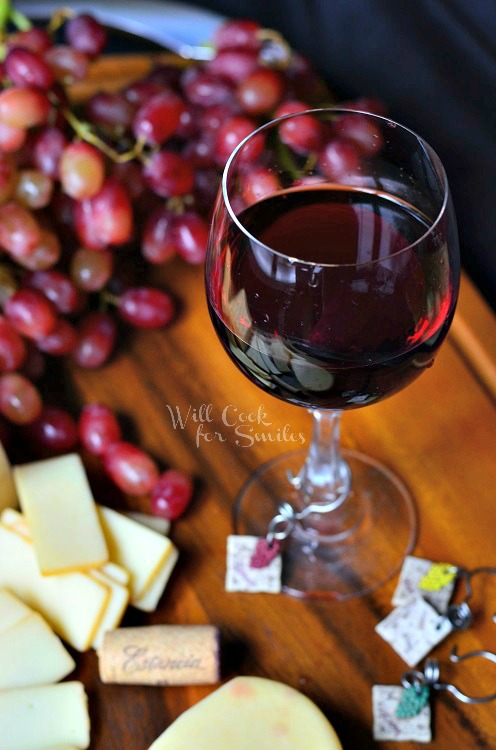 Let's talk wine…
Wine and cheese is a classic combination and there is a reason for that. It's delicious if paired right! This is why I'm putting my long research into this simple breakdown for you! I chose to show simple and affordable options. If you are a wine condenser, this would be way too simple for you…
There are a number of considerations when it comes to choosing wine and cheese, such as texture, acidity, fat, and tannin. Tannins are derived from the skins, stems, and seeds of the grapes used to produce the wine. They are usually dominant in younger wines and ease up in ages wines.
Harder types of cheese can handle more tannic wines and creamy cheeses, such as Brie, would be better with wines that have more acidity, like a Chardonnay. If you like sweet wines, blue cheese is your best bet.
To give your cheese trey a little more flavor, try experimenting with drizzling some honey over cheese.
*Note, these are suggestions, you can be rebellious and try your own pairings!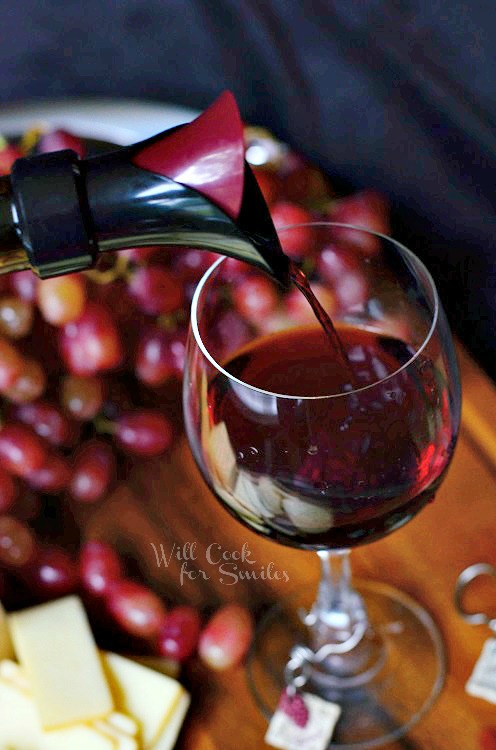 By Cheese:
Aged Chedder– Cabernet Sauvignon, Merlot, Zinfandel
Blue Cheese – Port, Cabernet Sauvignon, Riesling, Sweet Wine Blends
Brie– Chardonnay, Pinot Noir, Riesling, Sauvignon Blanc, Sparkling Wine and Champagne
Gouda – Chardonnay, Cabernet Franc, Pinot Noir, Rose
Gruyere– Beaujolais, Cabernet Sauvignon, Chardonnay, Merlot, Pinot Gris, Pinot Noir, Zinfandel, Riesling, Sauvignon Blanc, Shiraz
Parmigiano Reggiano – Cabernet Sauvignon, Chianti, Merlot, Prosecco, Red Blends
Monterey Jack – Cabernet Sauvignon, Merlot
By Wine:
Cabernet Sauvignon – Cheddar, Colby, Blue, Gorgonzola, Gouda, Parmesan, Blue cheese, Roquefort
Chardonnay – Brie, Goat cheese, Gouda, Gruyere, Parmesan, Provolone
Merlot – Brie, Cheddar, Gorgonzola, Gouda, Gruyere, Jarlsberg, Parmesan
Pinot Noir– Brie, Feta, Gruyere, Monterey Jack, Muenster, Swiss, Gouda
Port– Blue, Gorgonzola
Riesling– Brie, Blue, Colby, Edam, Gouda, Monterey Jack
Sauvignon Blanc– Asiago, Brie, Cheddar, Feta, goat cheese, Gruyere, Parmesan
Zinfandel– Asiago, Blue, Feta, goat cheese, Gouda, Gruyere, Muenster
Beaujolais– Brie, goat cheese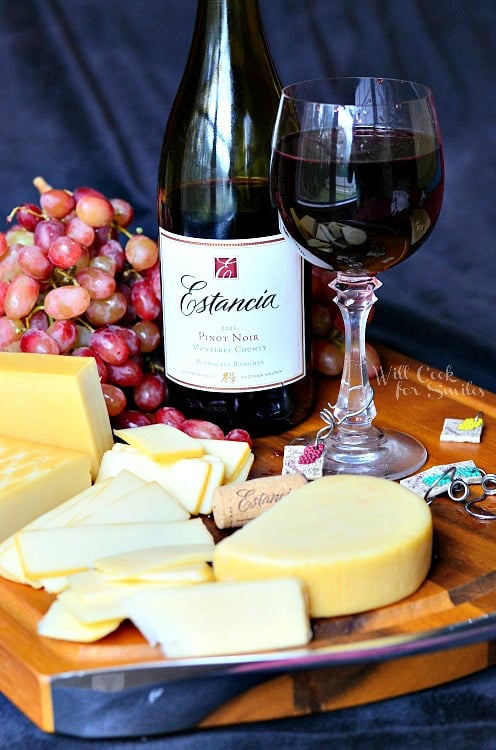 _________________________________________________________
Make sure you follow me through your favorite blog reader (bloglovin or other), subscribe to e-mail or follow me through | Facebook| Twitter| Pinterest| to keep up with the recipes!
I will be sharing this recipe at the wonderful parties in my party tab + Weekend Potluck, and Rattlebridge Farm. Swing by and link up your own projects!
_______________________________________________________
Disclosure: I've received this Carve & Serve Station from Nambe at no charge, all the opinions and photographs are my own. I was not compensated for this post!