Parmesan Baked Mac and Cheese is the ultimate comfort food. The pronounced parmesan cheese flavors are what make this dish stand out, and the decadently creamy consistency is what keeps you coming back for more. Plus, the crunchy topping is so very satisfying! If you're a fan of parmesan cheese, you're going to absolutely love this slightly elevated version of simple mac and cheese.
For all the fans of mac and cheese, please try my easy homemade mac and cheese and the delicious baked mac and cheese.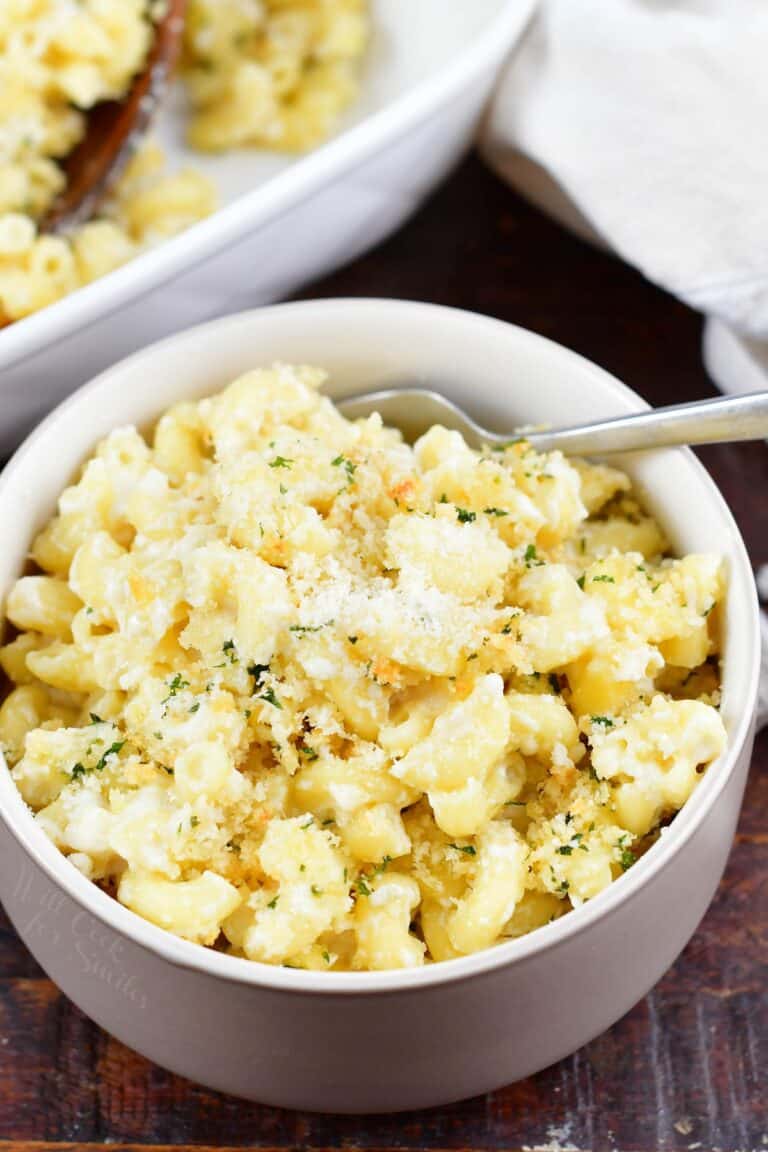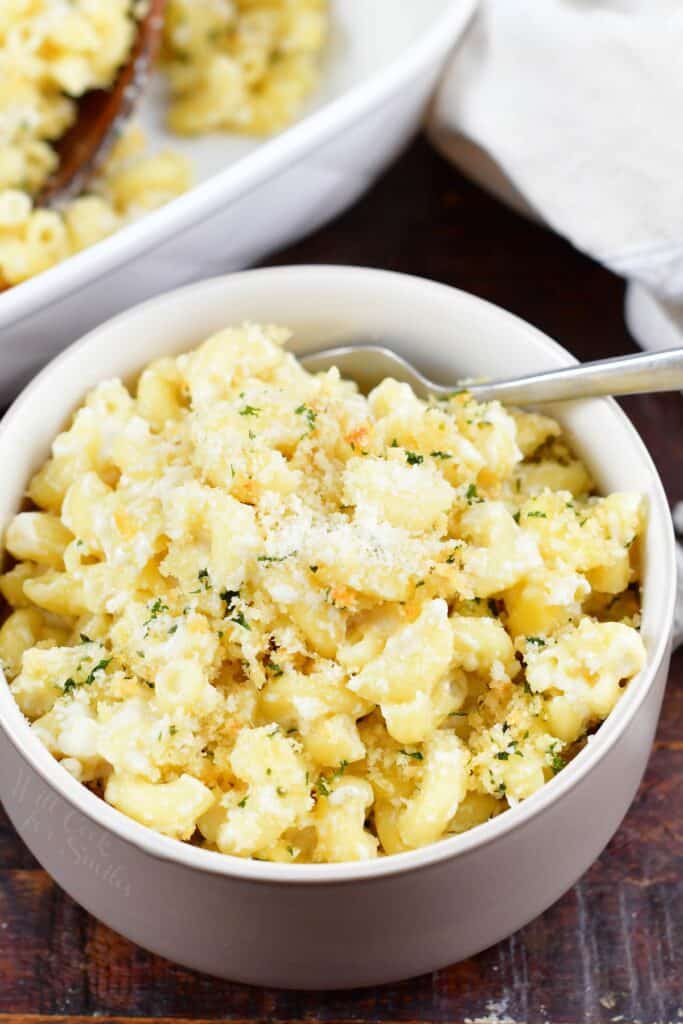 Parmesan Baked Mac and Cheese
Nothing is more comforting than Mac and Cheese. If I were to host a survey right now of my family and friend's favorite comfort foods, I'm pretty sure that mac and cheese would top the list!
After all, there's really nothing more soul warming than a big, warm heaping of tender macaroni pasta coated in thick, creamy, and flavorful cheese… Especially when that cheese happens to be parmesan.
Of all the tips and tricks I can give you about how to make this parmesan mac and cheese, one thing that's the most important is the using freshly grated parmesan cheese! It will provide your sauce with the most delicious flavor and smoothest consistency.
If you follow my recipe as it's presented exactly (with freshly grated cheese), you'll always end up with one amazing mac and cheese dish. Even your kids might love this version!
This elevated mac and cheese is ideal for dinner parties, or just for when you want to impress your family on your average Tuesday night. Although it may seem a bit "fancier," have no fear. Parmesan mac and cheese takes just under an hour to whip up, and the step by step instructions are delightfully easy to follow.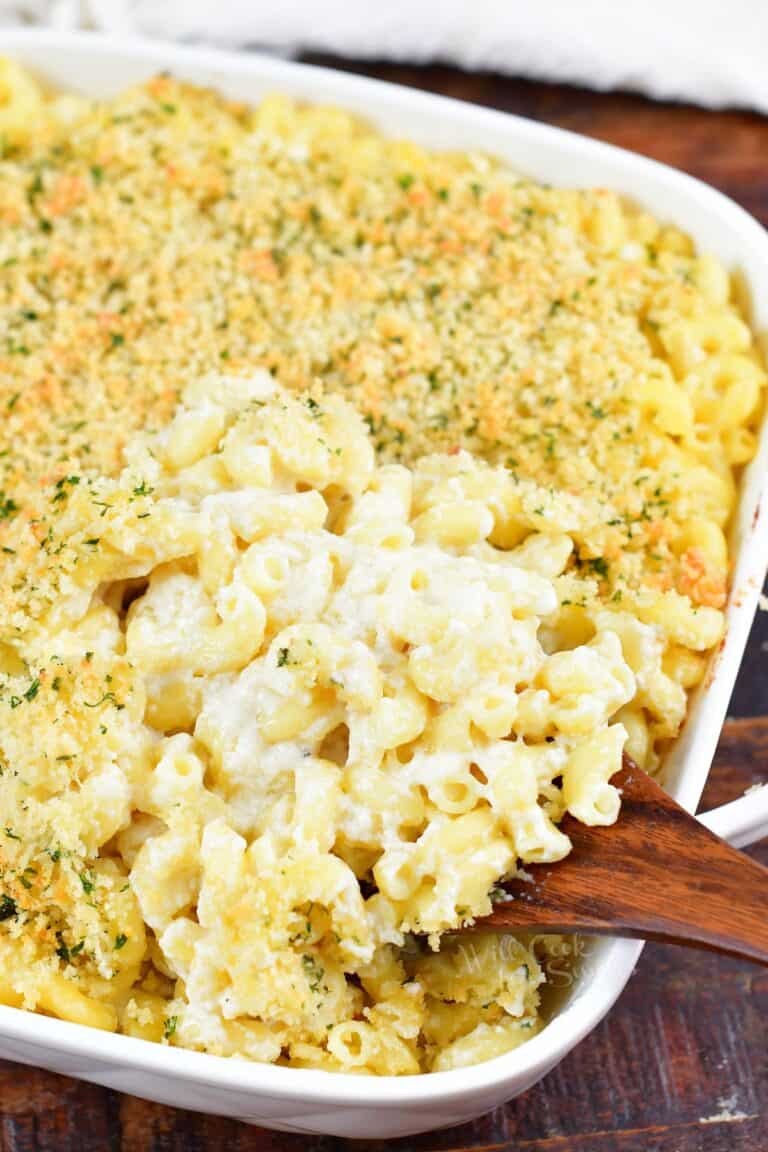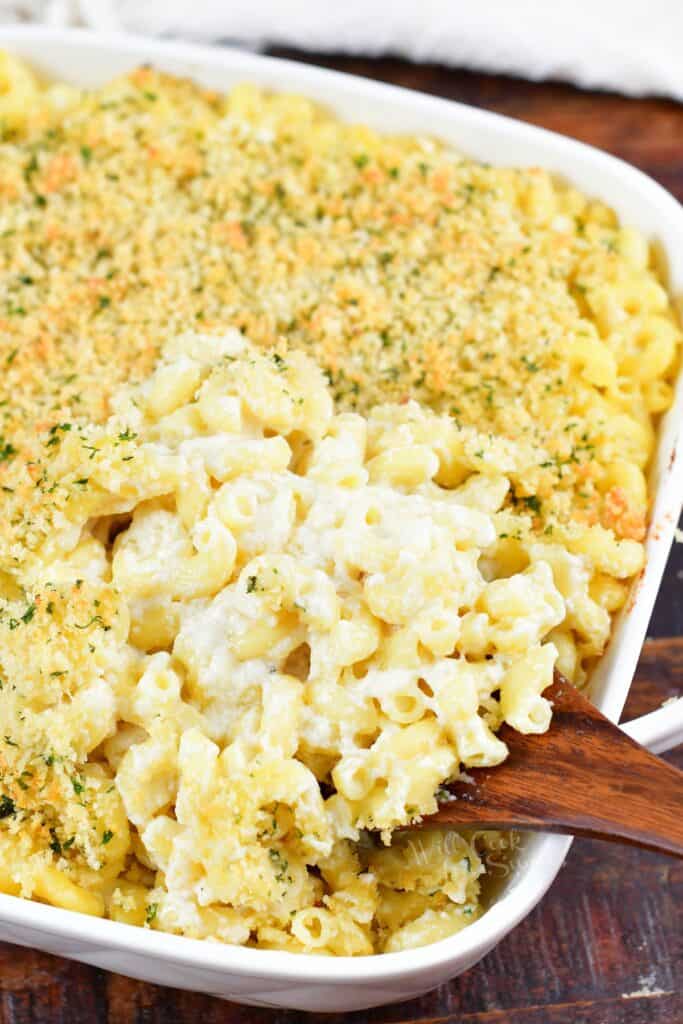 How To Make Parmesan Mac and Cheese
Don't get scared at the words "fresh grated" parmesan cheese! Although, one of the ways to get it is to grate it yourself (and that sharp little side of the cheese grated looks scary), it's not the only way. You can buy it in most grocery stores!
Check out the deli section of your grocery store and almost all of them will have freshly grated parmesan cheese all ready for you. If not, ask if they are able to grate it for you because there is a good chance that they have a commercial cheese grater that will take them seconds to use.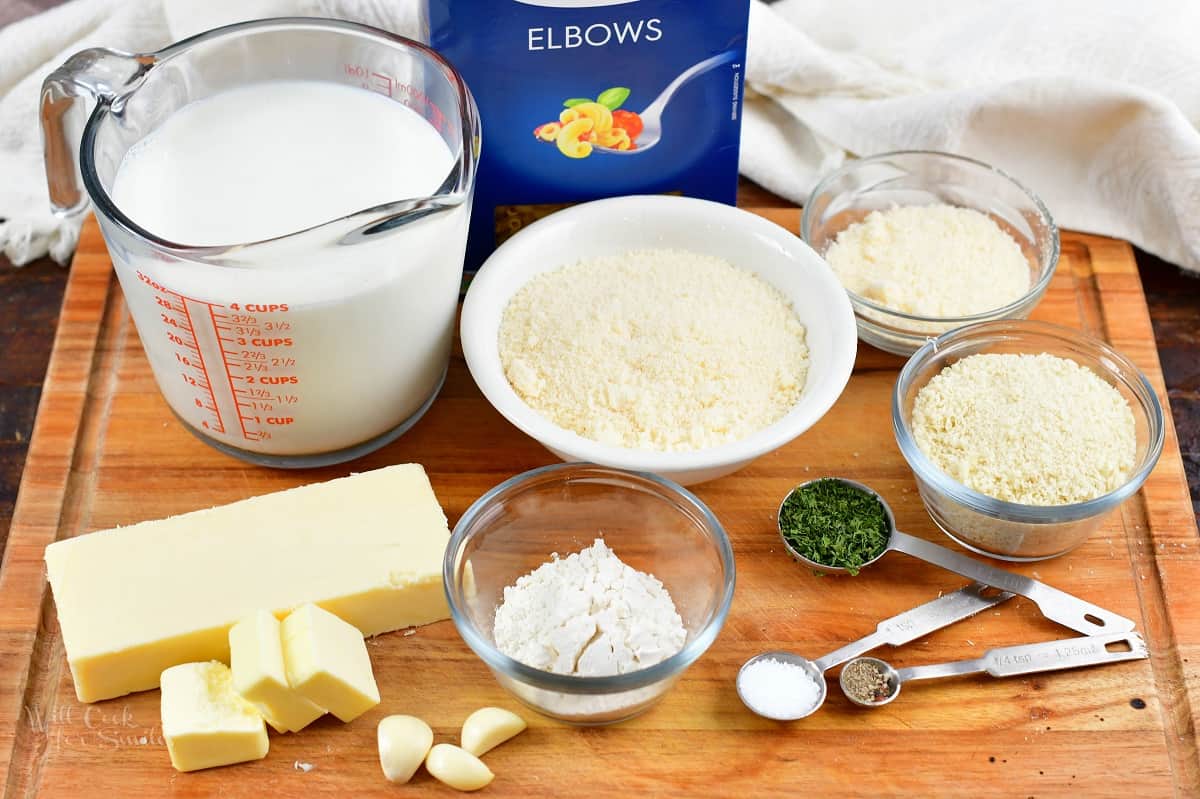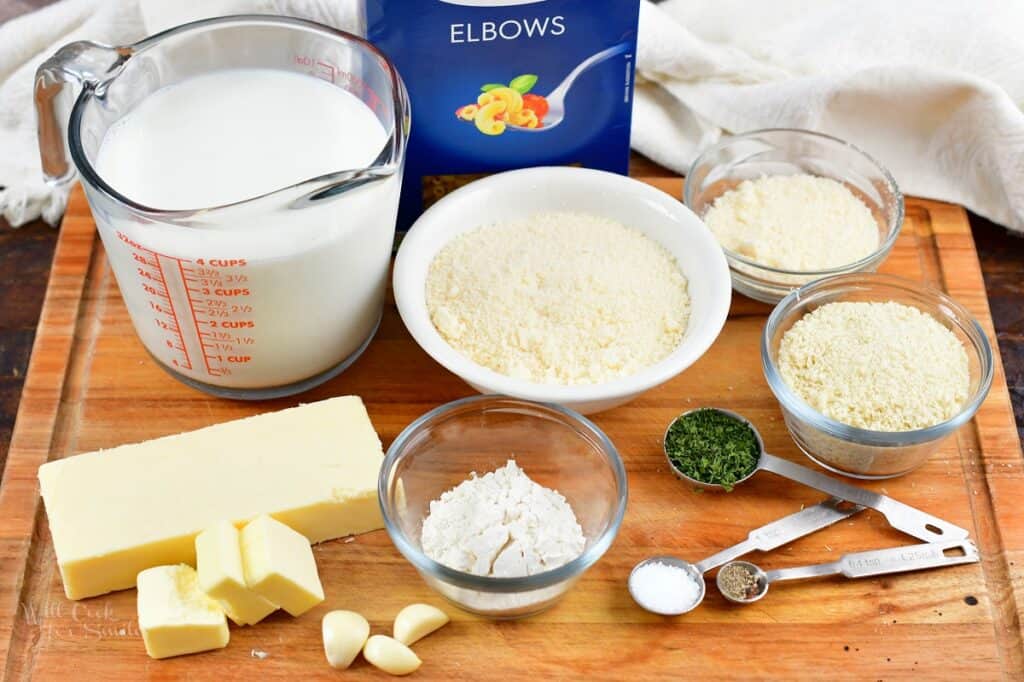 Ingredients You'll Need:
Macaroni Pasta – You could also use small pasta shells if you'd prefer. You just need small pasta that has a nice shape so it'll grip the cheese.
Water
Salt – use about 1 1/2 tablespoons of coarse salt to add to the boiling water, before adding pasta. (Don't cringe, most of that salt will go away with the drained water.)
Parmesan Cheese Sauce:
Butter – use unsalted butter.
Garlic Cloves – fresh garlic will yield much better flavor than pre-minced.
Flour – all-purpose flour is what you'll need to help thicken the consistency of the sauce.
Milk – use whole milk for the creamiest consistency.
Cream Cheese – this ingredient works in tandem with the whole milk to thicken the sauce into a creamy, decadent consistency.
Sharp White Cheddar Cheese – Did you know that white is the actual color of cheddar? It's only ever yellow because it's been dyed with food coloring. Get a block of cheese and grate it yourself!
Parmesan Cheese – Remember, you'll want to use freshly grated off the block for the BEST results! (P.S. you can buy it.)
Salt
Black Pepper
Crunchy Parmesan Topping:
Panko Bread Crumbs – These stay perfectly crispy while baking to give the top of the baked macaroni the most wonderful crunch.
Parmesan Cheese – same freshly grated parmesan cheese
Dried Parsley – this gives the topping a very light but delightful herbaceous flavor.
Butter – use unsalted butter and melt it.
Directions:
Prep Ingredients First: preheat your oven to 350°F and grease the baking dish. Grate each of your blocks of cheese and set the freshly shredded cheese aside. Measure remaining ingredients and have the ready.
Cook Pasta: Bring a pot of water to boil, add about 1 1/2 tablespoons of coarse salt to it and add pasta. Cook the macaroni al dente, strain it, and setting it aside.
Cheese Sauce: Melt butter in a pot, then stir in the garlic. Whisk in the flour to the melted butter. When it has a paste-like appearance, start slowly pouring in the milk while continuing to stir.
Stir in the cheddar cheese a handful at a time. Then, slowly stir in the parmesan cheese and season with a pinch of salt and pepper.
Mix it together: Add the cooked pasta to the smooth cheesy mixture. Remove the pot from the heat. Spread the mac and cheese into the prepared baking dish.
Crunchy topping: combine all of the ingredients in a small bowl, then sprinkle it evenly on top of the mac and cheese.
Bake it up: Bake the mac and cheese for 15-20 minutes and enjoy!
Frequently Asked Questions:
What kind of parmesan cheese should I use?
You can use parmesan or Parmigiano Reggiano (a personal favorite)! Whichever you use, try to either get freshly grated cheese from the cheese department of your grocery store, or get a block and grate it yourself. It will be a workout to grate your own parmesan, so you may want to opt for freshly grated from the store. With that in mind, it's worth it no matter what. Freshly grated parmesan cheese melts way better than the one in a plastic can from a non-refrigerated section and the flavor simply can't be beat!
Can I make it gluten free?
Yes! First things first, make sure you're using a gluten free pasta. Of all the gluten free pasta options out there, I prefer the brand Tinkayada. Their gluten free pasta isn't crumbly like the others I've tried, and it has a great flavor that's similar to normal pastas.
Additionally, you'll also need to use either gluten free flour or cornstarch to thicken the cheese sauce instead of flour. If you use gluten free flour, just mix it in with the butter like you would regular flour. If you use cornstarch though, it'll need to be mixed with cold milk first, then added to the pot to heat through. You should only need about 1 tbsp. of cornstarch here.
In the crunch topping, make sure to use gluten free panko or other larger crumble gluten free bread crumbs.
Can I make it lactose free?
You sure can! It may seem crazy to have a creamy, delicious mac and cheese with no lactose, but it's certainly not impossible. First of all, any hard cheese aged past 6 months is already lactose free.
As for the cream cheese and butter, simply substitute it with vegan or lactose free alternatives (Green Valley Creamery is our personal favorite lactose free brand of products). It will still get the job done! When it comes to the milk, just substitute the whole milk with a lactose free option of your choosing. If you want to use milk substitute, I recommend unsweetened oat milk or almond milk. Note that oat milk had a slight sweetness and almond milk can be slightly bitter when heated.
Storing Parmesan Mac and Cheese:
Keep any leftovers you have of this mac and cheese in an airtight food storage container, in the refrigerator. You can also use the same baking dish you used to cook it but cover it air-tight. Properly stored, this dish should stay good for about 3-4 days.
While you can reheat individual portions in the microwave, it's even better when reheated in the oven! Just pop it into your oven at 350°F for about 7-10 minutes or until warmed through.
Note: you may want to add a couple of tablespoons of whole milk when reheating, to invigorate the pasta again. Pasta tends to soak up moisture from the sauces as it sits, so adding a little milk will help refresh it.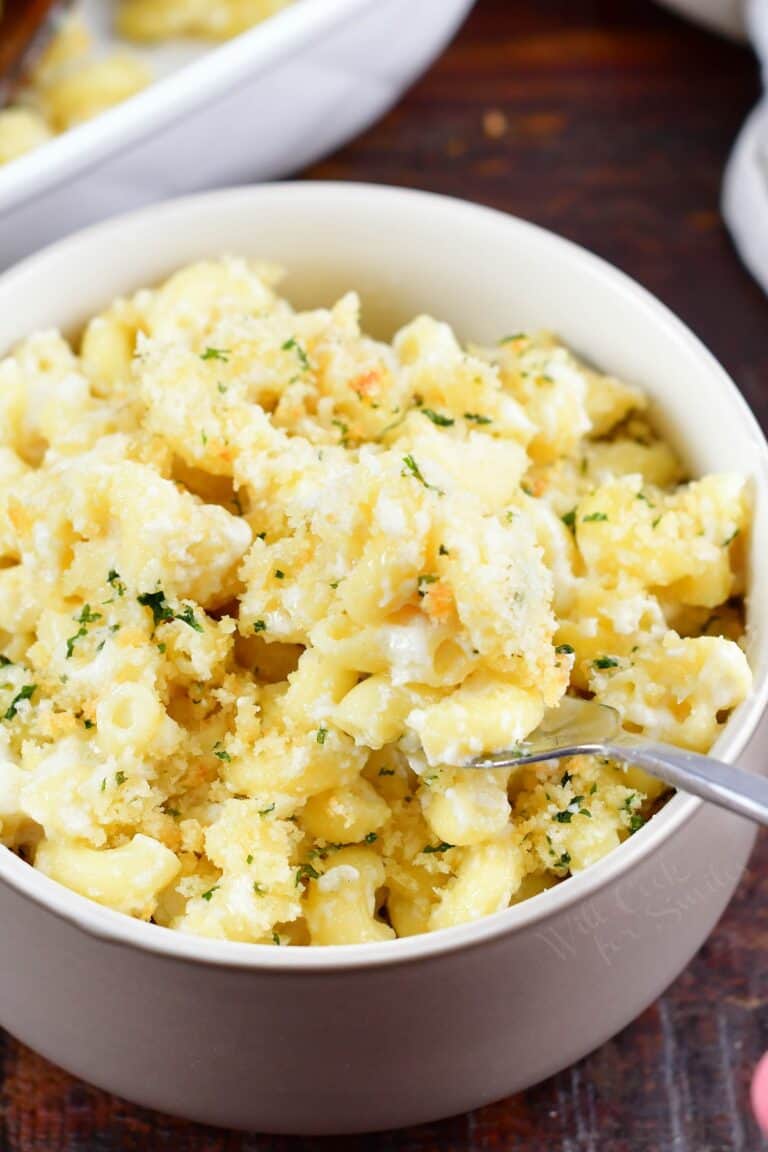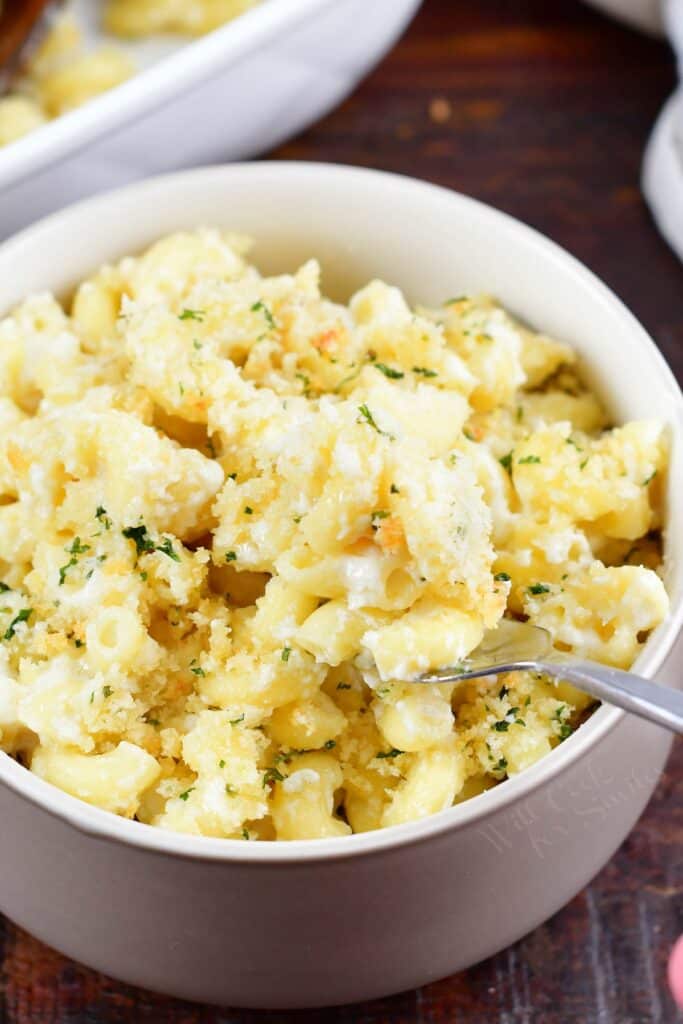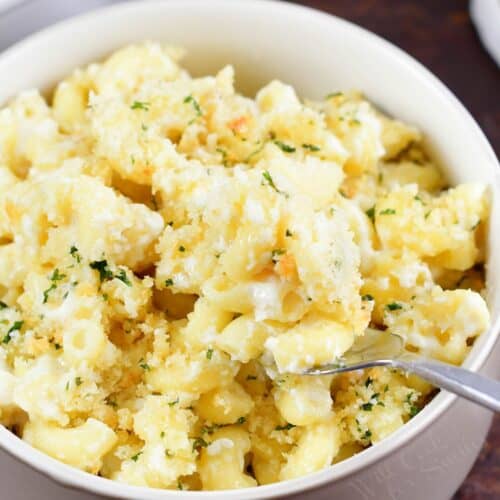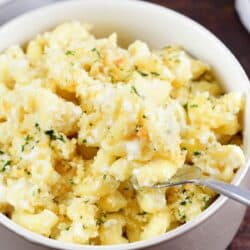 Parmesan Baked Mac and Cheese
Parmesan Baked Mac and Cheese is the ultimate comfort food, made with parmesan cheese sauce and crunchy parmesan topping.
Print
Pin
Save
Saved!
Rate
Ingredients
1

lb

macaroni pasta

water

salt
Cheese Sauce:
3

tbsp

unsalted butter

3

garlic cloves

pressed

3

tbsp

all purpose flour

4

cups

whole milk

2

oz

cream cheese

8

oz

sharp white cheddar cheese

block

1

cup

fresh grated Parmesan cheese

salt

black pepper
Crunchy Topping:
3/4

cup

Panko bread crumbs

1/2

cup

fresh grated parmesan cheese

1

tbsp

dried parsley

2

tbsp

unsalted butter

melted
Instructions
Cook macaroni al dente, strain, and set aside.

Preheat the oven to 350° and lightly grease a deep 9×9 baking dish.

Grate blocks of cheese on large block grater. Set aside.

Melt butter in a large pot over medium heat. Stir in garlic and sauté until fragrant.

Whisk in flour and stir. Once it's combined and looks like paste, start slowly pouring in milk while constantly stirring. Keep whisking until all incorporated. 

When the milk is heated through, add cheddar cheese a handful at a time while slowly stirring. 

Stir in grated parmesan cheese and season with salt and pepper. Keep slowly stirring. 

Once all cheese is melted and smooth, add pasta. Stir until all completely combined. Take off heat.

Spread mac and cheese in the prepared baking dish.

In a small bowl, combine Panko crumbs, grated parmesan cheese, and parsley. Pour in melted butter while stirring until evenly mixed.

Spread topping all over the mac and cheese in the baking pan. Bake for about 20 minutes. 
Nutrition
Calories:
594
kcal
|
Carbohydrates:
56
g
|
Protein:
27
g
|
Fat:
29
g
|
Saturated Fat:
17
g
|
Polyunsaturated Fat:
1
g
|
Monounsaturated Fat:
8
g
|
Trans Fat:
1
g
|
Cholesterol:
81
mg
|
Sodium:
599
mg
|
Potassium:
370
mg
|
Fiber:
2
g
|
Sugar:
9
g
|
Vitamin A:
947
IU
|
Vitamin C:
1
mg
|
Calcium:
601
mg
|
Iron:
2
mg
Tried this recipe?
Mention @willcookforsmiles and tag #willcookforsmiles