Crostini is a great party appetizer for any occasion and I can't wait to share this Holiday Crostini trio! Crispy, delicious slices of baguette are topped with sweet, salty, and creamy ingredients that are all complimentary of each other. When it comes to scrumptious holiday appetizers, it doesn't get much better than this.
For more ideas for New Year's Eve and other holiday appetizers, check out our whole collection of New Year's Eve Appetizers!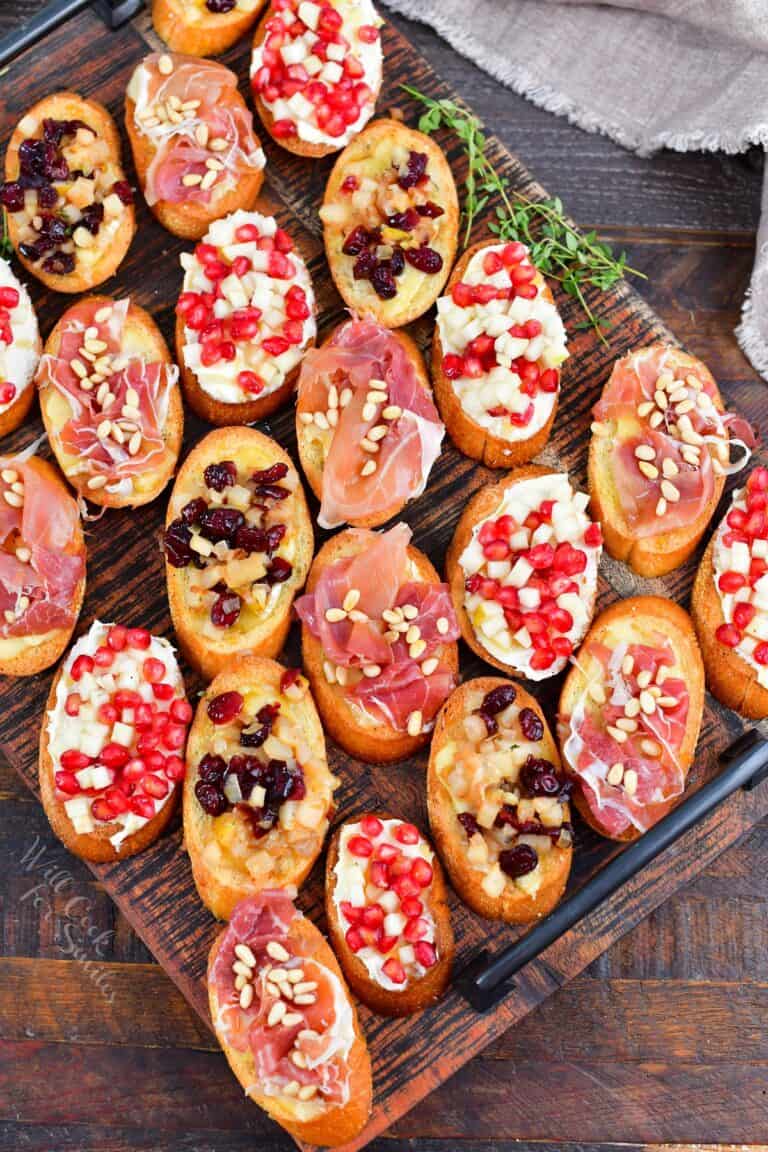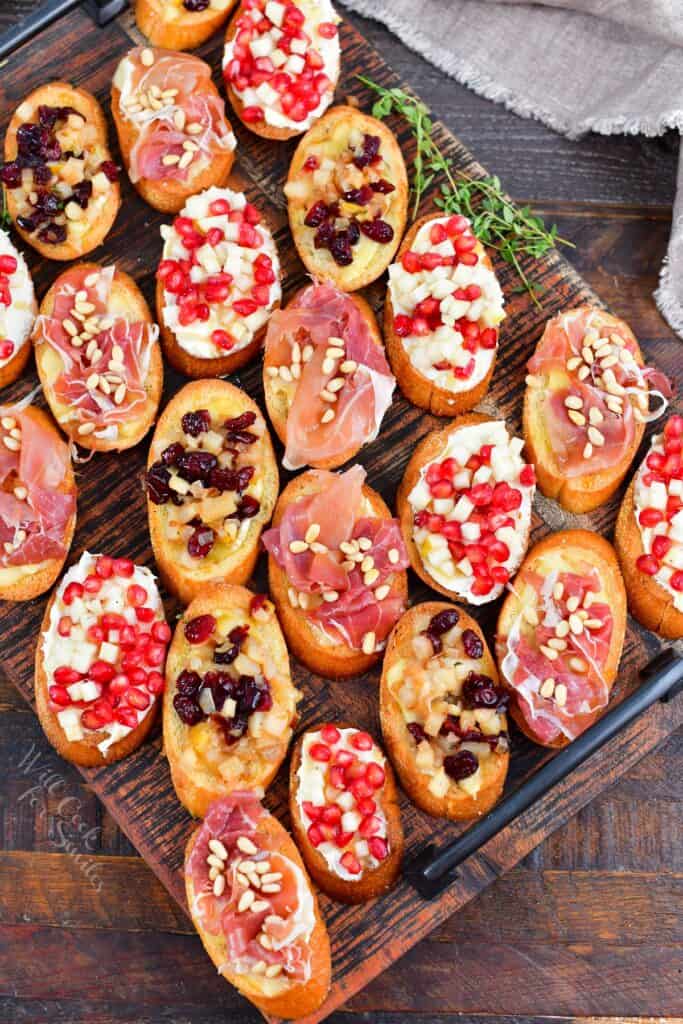 Crostini
I have a great winter holiday crostini spread for you! It features flavors like Brie cheese, pomegranate seeds, pears, prosciutto, and honey. All of these flavors work beautifully together, and some of the components are found in each type of crostini.
My favorite part is that overall, you don't need that many ingredients because each ingredient is used in more than one crostini. It's a budget-friendly way to really impress your party guests. There's something sweet, salty, and crunchy for everyone.
These crostini will be ideal for Christmas gatherings, a New Year's Eve party, and even Thanksgiving dinner. They're not specifically Christmas themed, but go well with any winter gathering. They also pair very well with champagne cocktails like French 75! No matter when you serve these sweet and savory crostini appetizers, they're sure to be a huge hit with your party guests.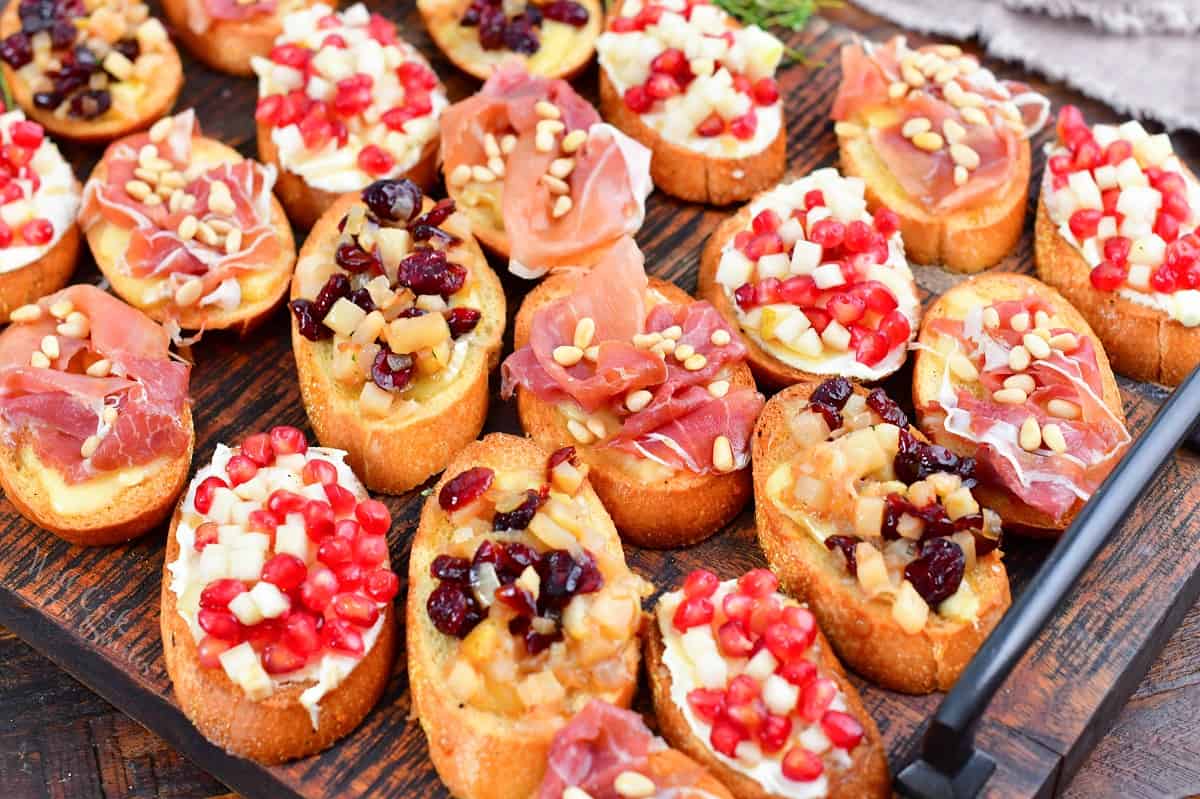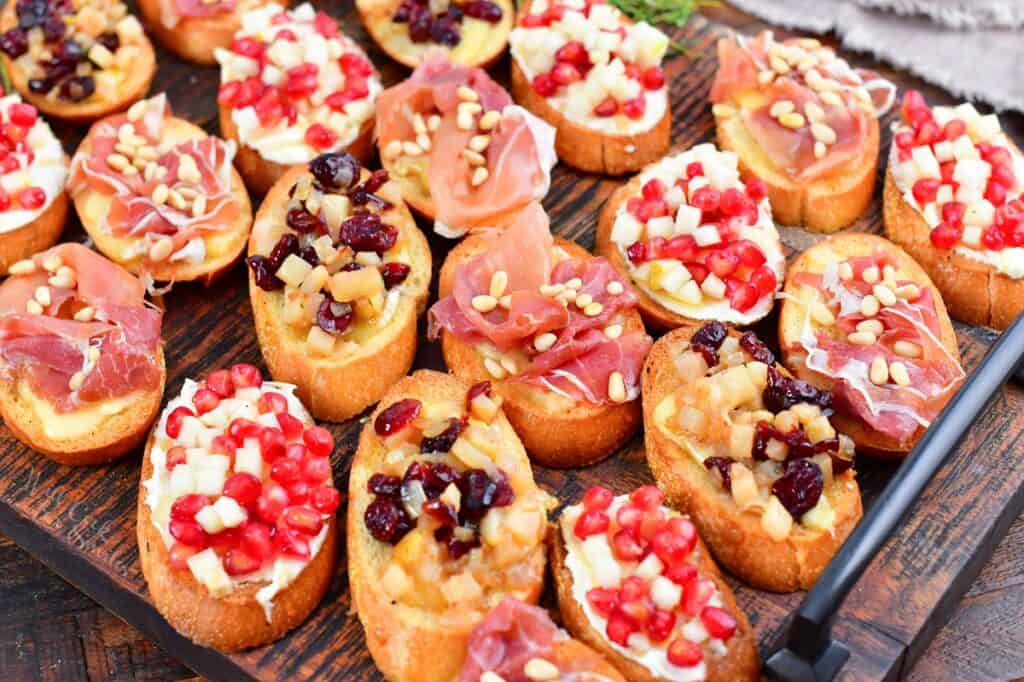 What Is Crostini
If you're asking yourself what a crostini is, no worries! You've probably had it a hundred few times and not realized what it was called. Crostini literally means "crusty pieces of bread" in Italian. It's traditionally made with thinly sliced bread that's been brushed with olive oil and simply seasoned with salt.
The bread is either toasted in the oven or grilled until crispy. Today, crostini is a general name for the crispy slices of bread topped with any toppings. The possibility for toppings are endless, and you can adjust them to any party, any holiday, for any time of the year.
Crostini vs Bruschetta
While both technically translate to "crispy bread," there is a difference between them. The main difference is the bread itself. Bruschetta is generally made with larger slices of bread, while crostini is supposed to be the size of a bite or two. Crostini is also usually simply rubbed with olive oil and seasoned with salt, while bruschetta calls for olive oil, salt, and a rubbing of garlic.
Bruschetta is known for being toasted slices of bread topped with fresh tomato mixture, while crostini usually has a very wide variety of toppings. When it comes to texture, crostini is usually much more dry and toasted with a definitive crunch, while bruschetta is toasted golden to have crispy outer layer with a little softness in the middle.
Ingredients for Holiday Crostini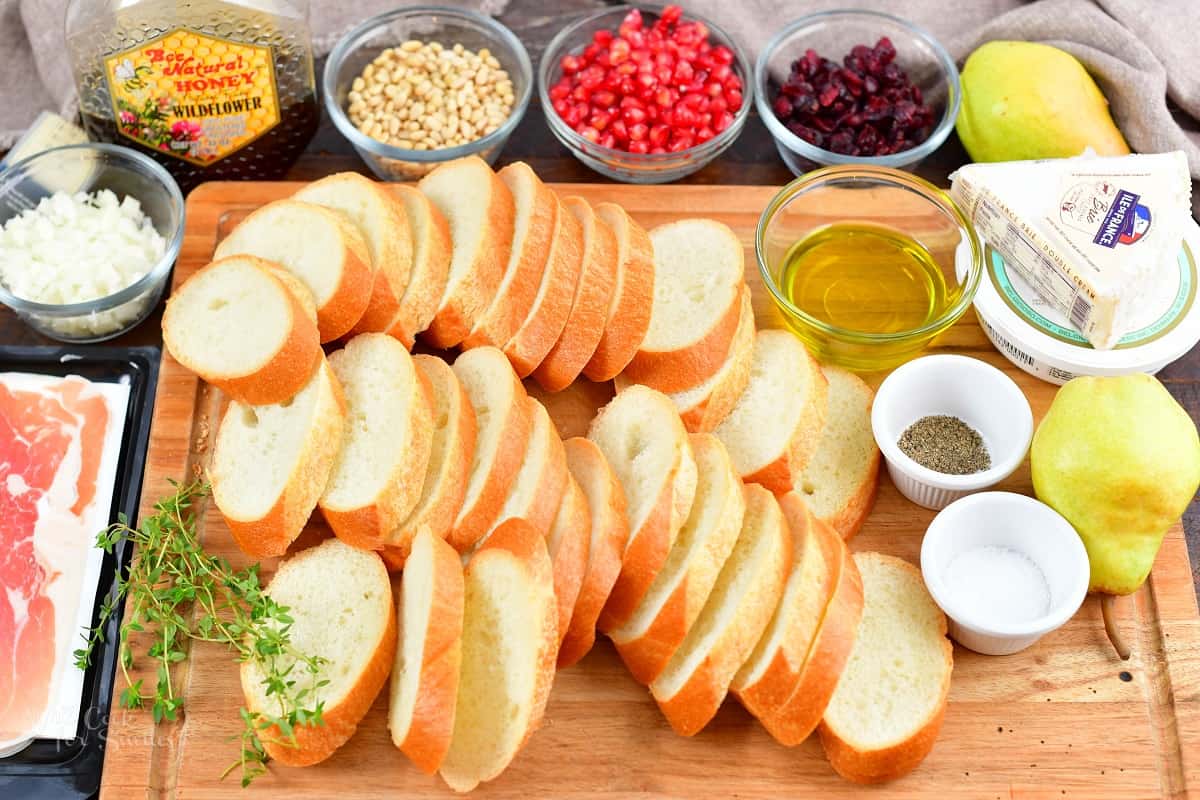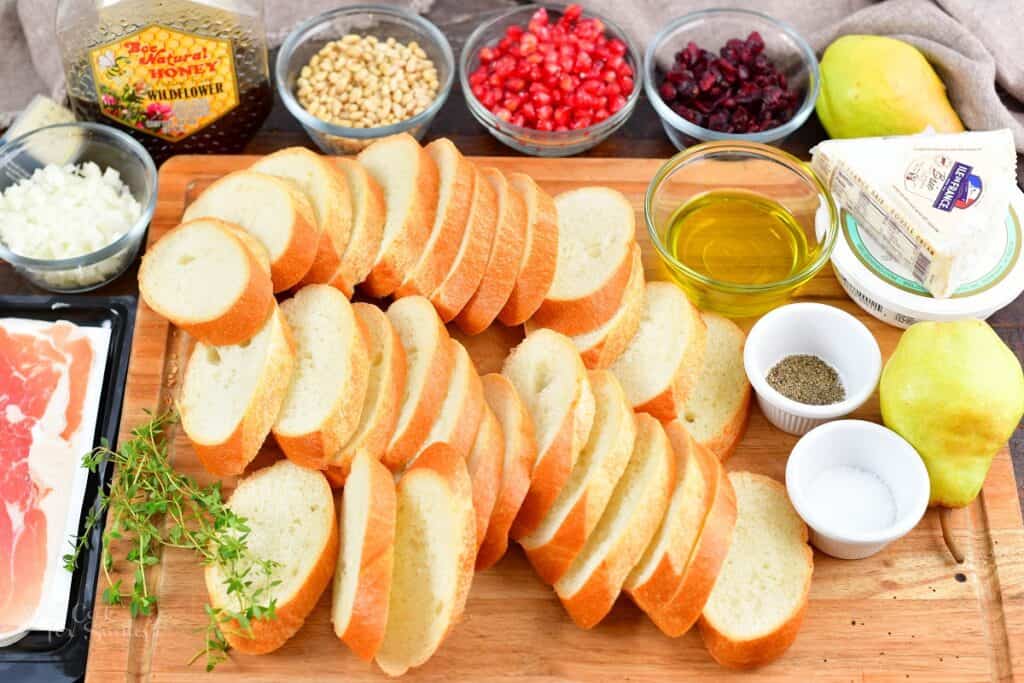 For the crostini itself, you'll need:
French Baguette -find it in your local supermarket's bakery section.
Olive Oil – For the best flavor, use extra virgin olive oil.
Salt – You can use either coarse sea salt or coarse kosher salt.
Black Pepper – Freshly cracked black pepper will always yield the best flavor.
The toppings include:
Brie Cheese – When it comes to Brie, the creamier, the better! If you can find a triple cream Brie cheese, snag it.
Pears – Pears can be a bit touchy. Make sure yours are fresh by checking for excessive bruising, brown spots, and tenderness, as those are all signs that the pear is no longer fresh.
Onion – A yellow onion is preferred, as it has a delicate amount of sweetness that compliments the other ingredients.
Cranberries – Use dried, not fresh cranberries.
Thyme – For the most wonderful aromatic experience, use fresh thyme.
Honey – for the best flavor, try to get fresh local honey!
Pomegranate Seeds – grab a cup of pomegranate seeds from the produce section, it will save you a lot of time!
Mascarpone Cheese – This cheese is light and creamy and pairs well with both sweet and savory dishes, making it perfect for this crostini recipe.
Prosciutto – thinly sliced, salty prosciutto will be perfect component to other sweet and fruity ingredients.
Pine Nuts – If you have any left over, make sure to put it to good use by making some Homemade Pesto!
How to Make Crostini
Preheat your oven to 425°F. While that's heating up, slice the baguette into thin slices.
Brush each slice of bread with olive oil on both sides.
Place the prepared slices onto the baking sheet in a single layer. You will need to use two large baking sheets or bake in two batches. Sprinkle with salt and pepper on top.
Finally, bake the crostini for approximately 6-8 minutes, until golden brown.
Prepare the Toppings For Holiday Crostini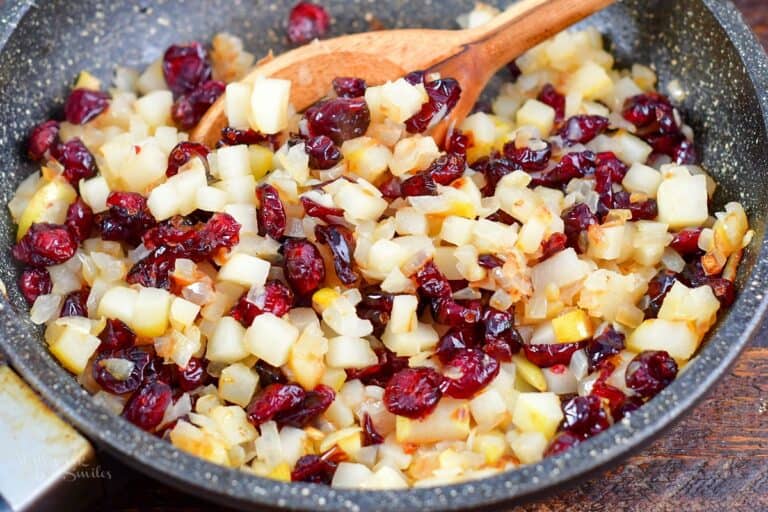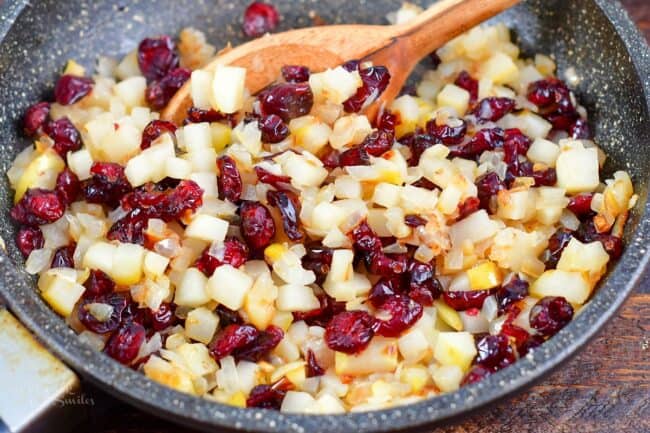 Melting Brie On Crostini: To prepare the Brie, simply cut the rind-free Brie into small, even pieces, then place them onto the crostini. Pop the crostini back into the oven for just a few moments until the Brie has melted.
Pear and Cranberry Topping: Dice the pears and divide the pieces into two even halves. Cook the diced onion in a small pan until softened. Add half of the pears, continuing to cook until the pears are golden in color. Mix in the cranberries and cook for a few more minutes before removing from the heat and stirring in the fresh thyme.
Pomegranate Topping: In another small bowl, combine the remaining pears with pomegranate seeds and stir to combine. Divide some mascarpone cheese on the remaining slices of baguette, then evenly top each one with the pear and pomegranate mixture.
Prosciutto Topping: Next, divide the prosciutto over the remaining Brie topped crostini before placing a few pine nuts over the meat.
Finally, the Honey: As a tasty final touch, drizzle some honey over the prosciutto and pomegranate crostini!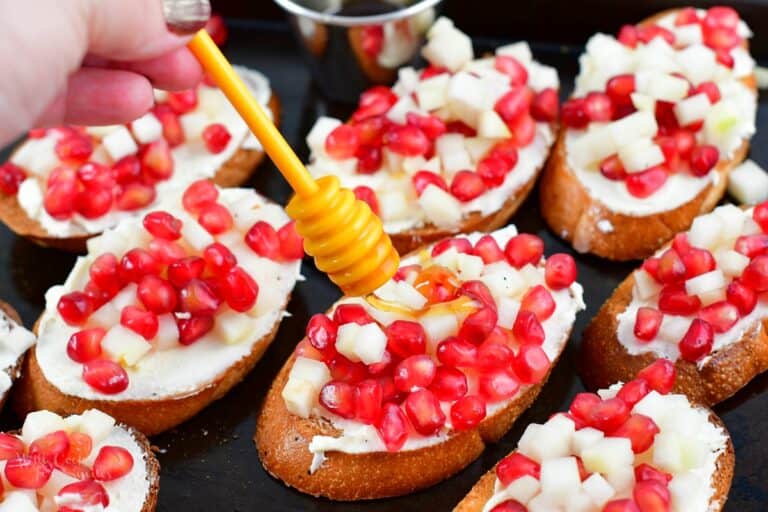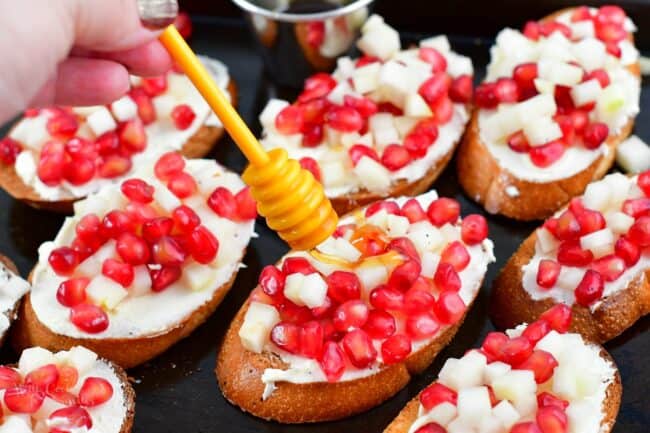 Can I make crostini ahead of time?
Absolutely! The hardest part of making crostini is making the toasted bread, and that's really not difficult at all. You can prepare the crusty bread slices ahead of time and leave it on the counter, uncovered for several hours or up to a day.
If you need to store them for longer, keep them in an air-tight container at room temperature. They should be good for up to 5 days. If you need to crisp them back up, just pop them in the oven for a couple of minutes at 425°F.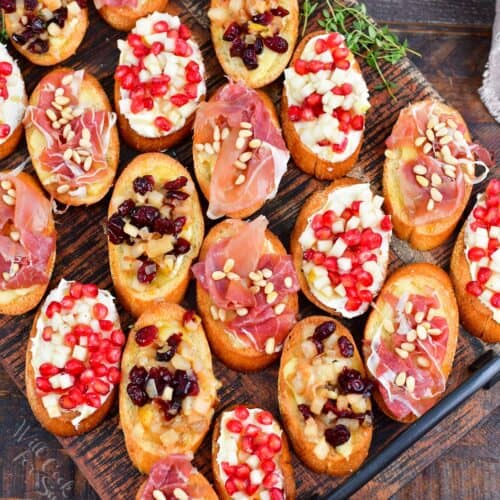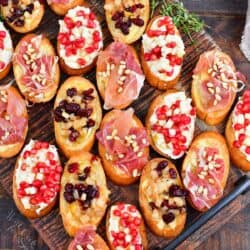 Holiday Crostini Trio
Crispy, delicious slices of baguette are topped with sweet, salty, and creamy ingredients that are all complimentary of each other. 
Print
Save
Saved!
Rate
Servings:
10
(makes about 30 crostini)
Ingredients
For Crostini:
12

oz

French baguette

1/4

cup

olive oil

coarse sea salt or coarse kosher salt

black pepper
Toppings:
8

oz

Brie cheese

2

pears

peeled and diced

1

small yellow onion

diced

1/2

cup

dried cranberries

1

tsp

fresh thyme

1/4

cup

honey

2/3

cup

pomegranate seeds

4

oz

mascarpone cheese

4

oz

prosciutto

6-8 thin slices

3-4

tbsp

pine nuts
Instructions
How To Make Crostini:
Preheat the oven to 425°. Don't line or grease a thin rimmed baking sheet.

Slice baguette into thin slices. (You will get about 30 slices, not counting the end pieces.)

Brush each slice of bread with olive oil on both sides. Place the bread slices onto the rimmed baking sheet in one layer. Sprinkle some coarse salt and black pepper over the bread and bake for 6-8 minutes, until golden brown.
Melt Brie On Some Crostini:
Slice the rind off the Brie cheese and discard it. Cut the Brie cheese into small pieces and divide them evenly among 20 crostini pieces.

Place the baking sheet with cheese topped crostini back into the oven for just a couple more minutes, until Brie is melted. Take out and set aside.
Prepare toppings:
Dice the pears and divide it in two even halves.

In a small cooking pan, cook diced onion until softens. Add half of the pears and cook until pears and onions are soft and start to golden. Mix in dried cranberries and cook everything together a few more minutes, until onions and pears are golden. Take off the heat and stir in thyme.

In a small bowl, combine remaining half of the diced pears and pomegranate seeds and mix.

Spread some mascarpone cheese on the remaining 10 slices of baguette and divide the pear/pomegranate topping evenly over each slice.

Divide the sautéed pear/cranberry topping evenly over the 10 Brie crostini.

Divide the prosciutto over remaining 10 Brie topped crostini and spread some pine nuts over the prosciutto.

Drizzle honey over the prosciutto and pomegranate crostini. (If you wish, you can drizzle honey over all of the crostini.)
Nutrition
Calories:
413
kcal
|
Carbohydrates:
38
g
|
Protein:
11
g
|
Fat:
25
g
|
Saturated Fat:
10
g
|
Polyunsaturated Fat:
3
g
|
Monounsaturated Fat:
9
g
|
Trans Fat:
1
g
|
Cholesterol:
42
mg
|
Sodium:
434
mg
|
Potassium:
204
mg
|
Fiber:
3
g
|
Sugar:
17
g
|
Vitamin A:
317
IU
|
Vitamin C:
4
mg
|
Calcium:
94
mg
|
Iron:
2
mg
Tried this recipe?
Mention @willcookforsmiles and tag #willcookforsmiles