Simple and delicious Homemade Pomegranate Syrup. It's is a wonderful addition to your pancakes and waffles in the morning or ice cream for dessert.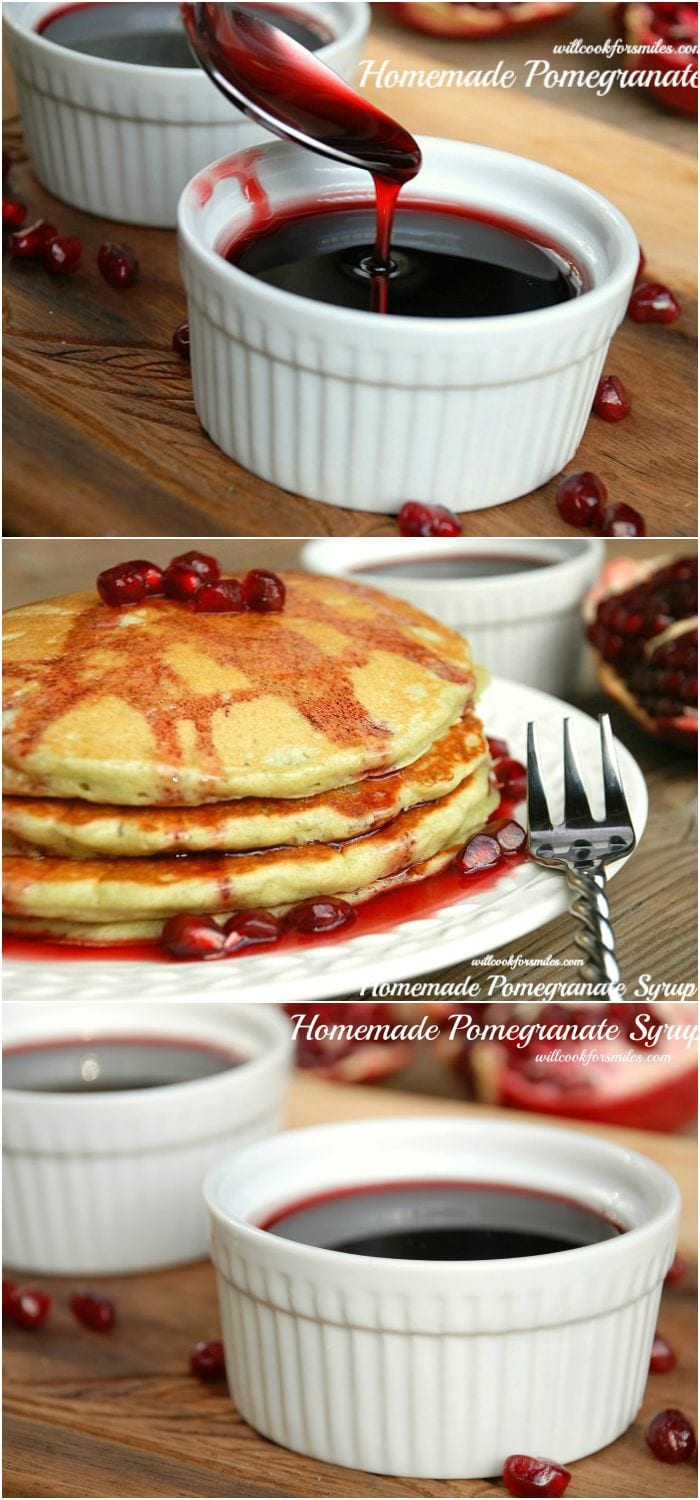 Happy Valentine's Day!! What's for breakfast? How about some pancakes with homemade pomegranate syrup?! It's so, so delicious, you will be glad you tried it!
We also made something very special for his teacher. He really has an amazing teacher, she is so sweet and patient and the kids in class love her. So when I saw this post form Uncommon Designs, I knew this is what we had to make:
My boys love pancakes, it's their favorite breakfast. So, I made them something special. I figured they were tired of the plain old maple syrup on their pancakes, so I made them some homemade pomegranate pancakes! It turned out to be the best syrup, we've ever tasted! Give it a try!
Ingredients:
Homemade Pomegranate Syrup
2/3 cup of white granulated sugar
1/2 cup of brown sugar
3 tsp cornstarch
1 cup of POM, pomegranate juice
Buttermilk Pancakes:
1 2/3 cups flour
3 tbs sugar
1 tsp baking powder
1/2 tsp baking soda
1/2 tsp salt
4 oz melted unsalted butter
2 eggs, room temperature
1 tsp vanilla extract
1 1/4 cups buttermilk
2 tbs POM, pomegranate juice or fresh pomegranate juice
Directions:
Homemade Pomegranate Syrup:
1. In a small sauce pot, whisk together sugars and cornstarch until incorporated well. Pour in the pomegranate juice, while whisking. Bring the mixture to boil on medium high and lower the heat to medium. Cook the mixture until thickens, whisk frequently. Cook for about 15-20 minutes. Cool completely before serving.
Pomegranate Pancakes:
1. Whisk you wet pancake ingredients until combined. Whisk in your dry ingredients and let the batter stand for about 10 minutes. Cook the pancakes, in a preheated pan, for about a minute or two on each side. Check the pancakes by pressing lightly in the center, if its firm the pancakes are done. Serve with syrup.