Rich chocolate fudge truffles made with addition of toasted almond and sea salt. These decadent chocolate truffles have ever so satisfying sweet and salty flavor pallet with a little crunch.
Don't forget to sign up for email, you'll be able to know soon after the new recipe is posted.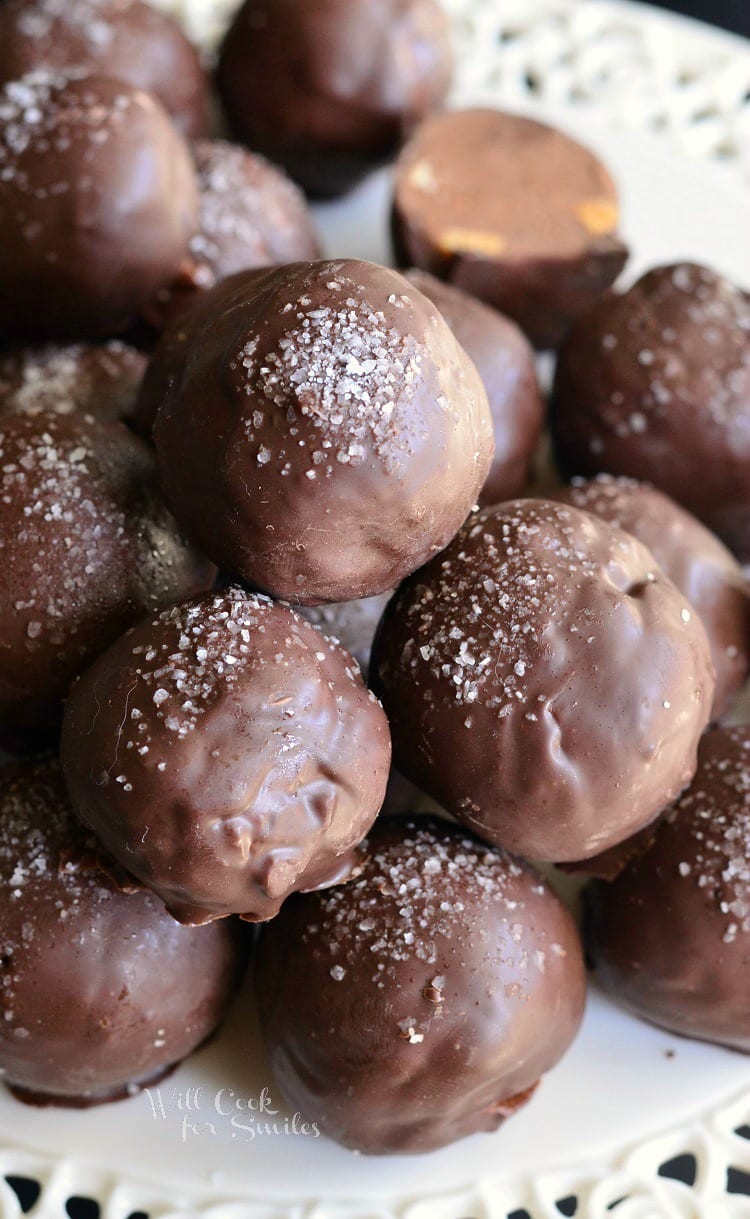 These truffles are so fantastic, you guys, I spend almost 3 full days taking pictures of them just to I could share the recipe with you. These little bites of chocolate heaven is like two wonderful desserts in one and they taste like it. It's a combination of creamy, rich, chocolate fudge and chocolate truffles. For a flavor pop, I added toasted almonds and sea salt. We all know how delicious sweet and salty flavor combination is and it's absolutely irresistible.
As I mentioned above, it took me nearly three full days to shoot these truffles. I'm still trying to find the best time of the day and the best window to use for taking pictures. Our new house is positioned completely different relatively to the sun, from the way the condo was, so I'm trying to figure out what works best for photos. I'm still having a hard time with white balance, it's like a never ending problem for me. It was especially true for these chocolate truffles. Finally, on the third morning, after trying literally every window at different times of the day, I found a sweet spot. (I'm pretty sure I figured out the best light times too.) Ah, problems and a food blogger.
Luckily, I got the pictures all finished in time for Valentine's day and I sent most of the truffles to work with my husband. These truffles were their little holiday treat to make a busy day better. Restaurant employees don't see holidays the same way as most people do. When I was a server/bartender, we hated the holidays because we had to work while everyone else celebrated and because those were usually the craziest, busiest days. So anything that could make those days sweeter, helped a lot.

I also want to introduce my new little helper. (Although, she is not so little anymore.) My younger sister was just enlisted to help me with some blogging stuff. It's good to have younger siblings because you can get them to babysit and work for you (wink, wink). So she is earning some play-around money by helping me behind the scenes. Right now, she is in charge of looking over all your wonderful comments and alerting me of all the questions and concerns. I've been really getting behind with work and it's happened a little too often where I couldn't get to a question in time. I always feel so bad when I can't answer a question right away or if I missed one completely. And now, I have a helper to make sure I'm notified of the questions right away.
So say "Hello" to my baby sister! She's appeared in several recipes in the past and helped me make a few recipes for the blog as well. Some of the recipes we made together were Peppermint Oreo Bites, Hot White Chocolate Peppermint Dip and Peppermint White Chocolate Hot Cocoa. She will have a bigger part on the blog now and hopefully, even do a few posts for you sometime.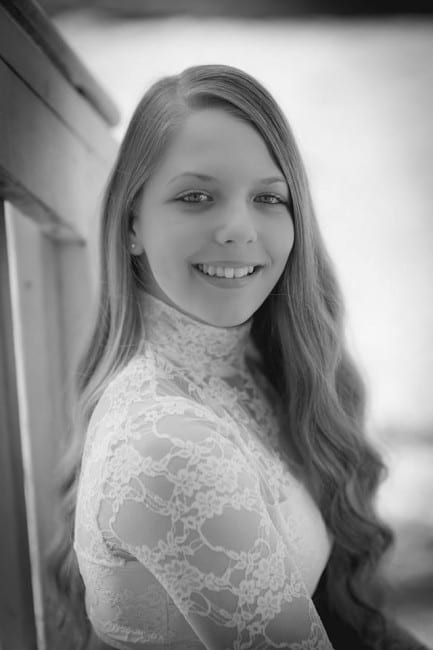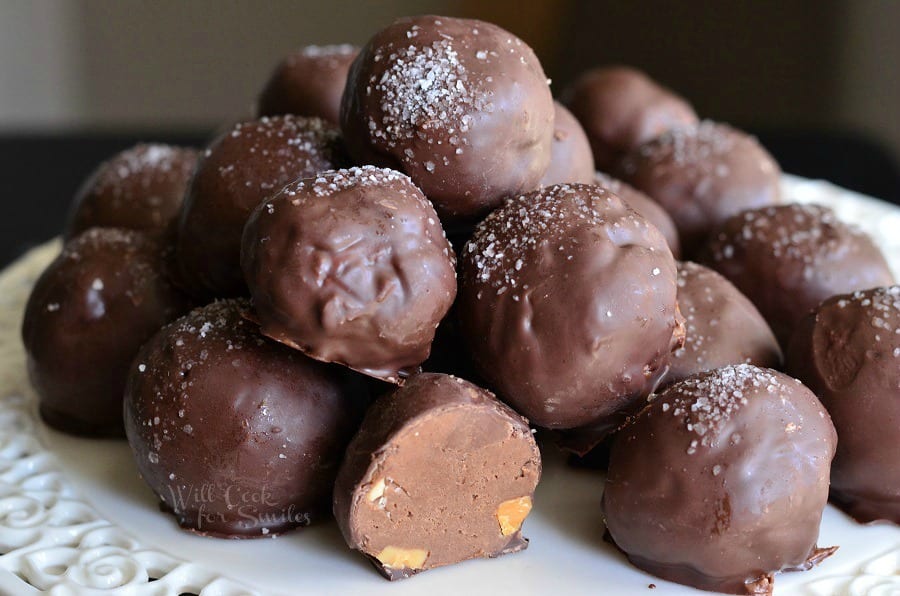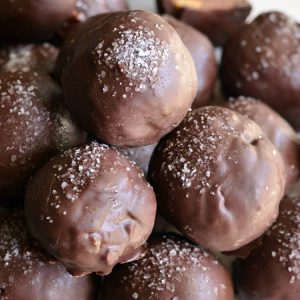 Salted Almond Fudge Truffles
Total Time
4
hours
20
minutes
Ingredients
Fudge:

4

Tbsp

butter

1

can sweetened condensed milk

3

cups

milk chocolate chips

dark or semi-sweet can be substituted if preferred

7

oz

jar of marshmallow fluff

1

cup

chopped lightly salted toasted almonds

I use Blue Diamond brand

Truffles:

10-12

oz

chocolate melting chips

About 2 Tbsp sea salt

Recommended tools:

Double boiler

Cookie scoop
Instructions
Fudge:

Fit a 9x9 baking dish with parchment paper and grease the paper all over the bottom and sides with some butter (or non-stick baking spray), so fudge doesn't stick.

Place chocolate chips, chopped almonds and marshmallow fluff in a large mixing bowl. Set aside.

In a bottom-heavy sauce pot, over medium heat, start melting butter and add sweetened condensed milk. Bring to simmer over medium heat, stirring constantly so that condensed milk doesn't burn.

Pour hot condensed milk mixture into the bowl and whisk until all smooth. (You will want to start whisking slowly, so the hot mixture doesn't splatter on you, and then increase your whisking speed to get the mixture nice and smooth. If using a metal mixing bowl, you may want to hold it with an oven mitt while whisking. If whisking starts to get a little tough, switch to a rubber spatula.)

Pour your fudge mixture into the prepared baking dish and spread it evenly. Let it stand on the counter until it cools to room temperature. Then place the pan in the refrigerator to chill and firm up for a couple of hours.

Once cooled, take the fudge with parchment paper out of the pan. Using a cookie scoop, scoop out chocolate fudge and shape them into even fudge balls. Place them on a large cutting board covered with parchment paper. (You may have to use two boards.)

Place sea salt into a small bowl close to your cutting board so that you can sprinkle salt as soon as you dip the fudge truffles in chocolate.

Melt the chocolate melts according to the package instructions. (I definitely recommend using a double boiler.)

Using a fork, dip each fudge ball into chocolate, covering it completely. Gently shake off excess chocolate by moving the fork up or down and gently tapping the fork on the side of the double boiler. Lay it back on the parchment paper (you'll need a toothpick or something small to help you slice the truffle off the fork) and sprinkle with a little sea salt. Repeat with all fudge balls.

Store in the refrigerator, covered or in a container with a lid.
Recipe Notes
Recipe from Lyuba @ willcookforsmiles.com All images and content are copyright protected. Please do not use my images without prior permission. If you want to share this recipe, please simply link back to this post for the recipe. Thank you.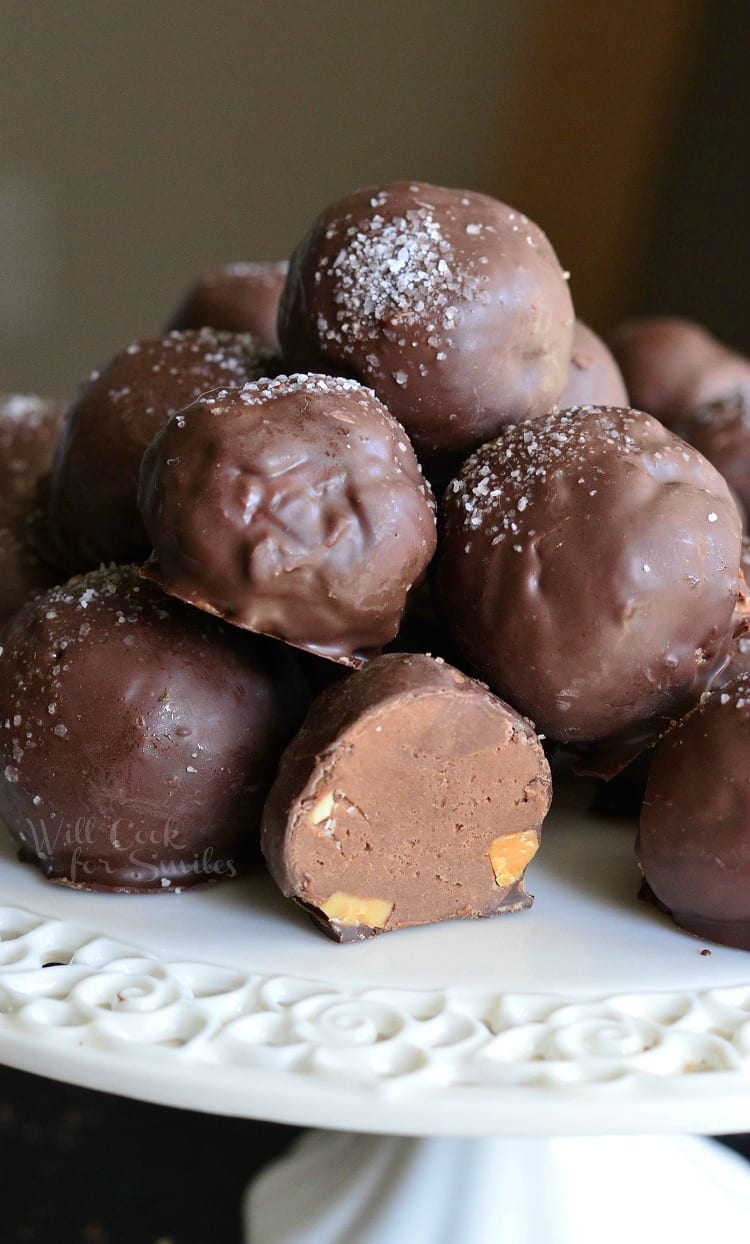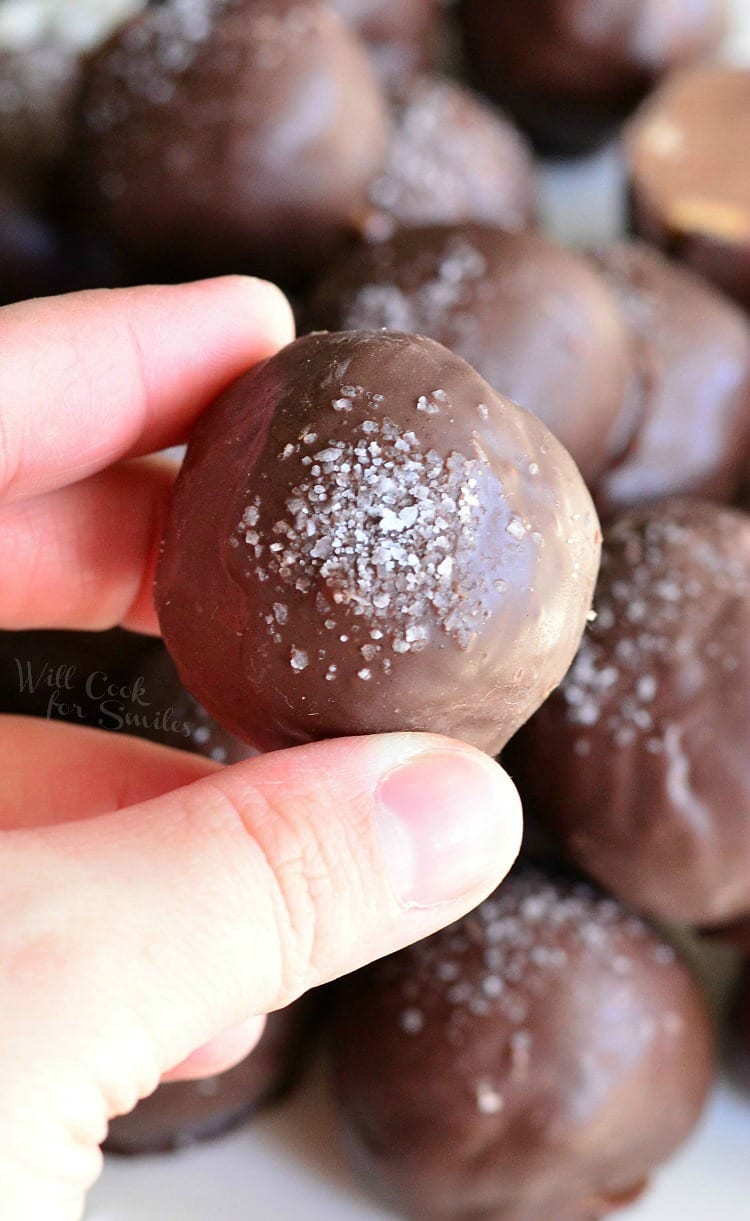 _______________________________________________________
Make sure you follow me through your favorite blog reader (bloglovin or other), subscribe to e-mail or follow me through social media of your choice to keep up with the recipes!
        
_______________________________________________________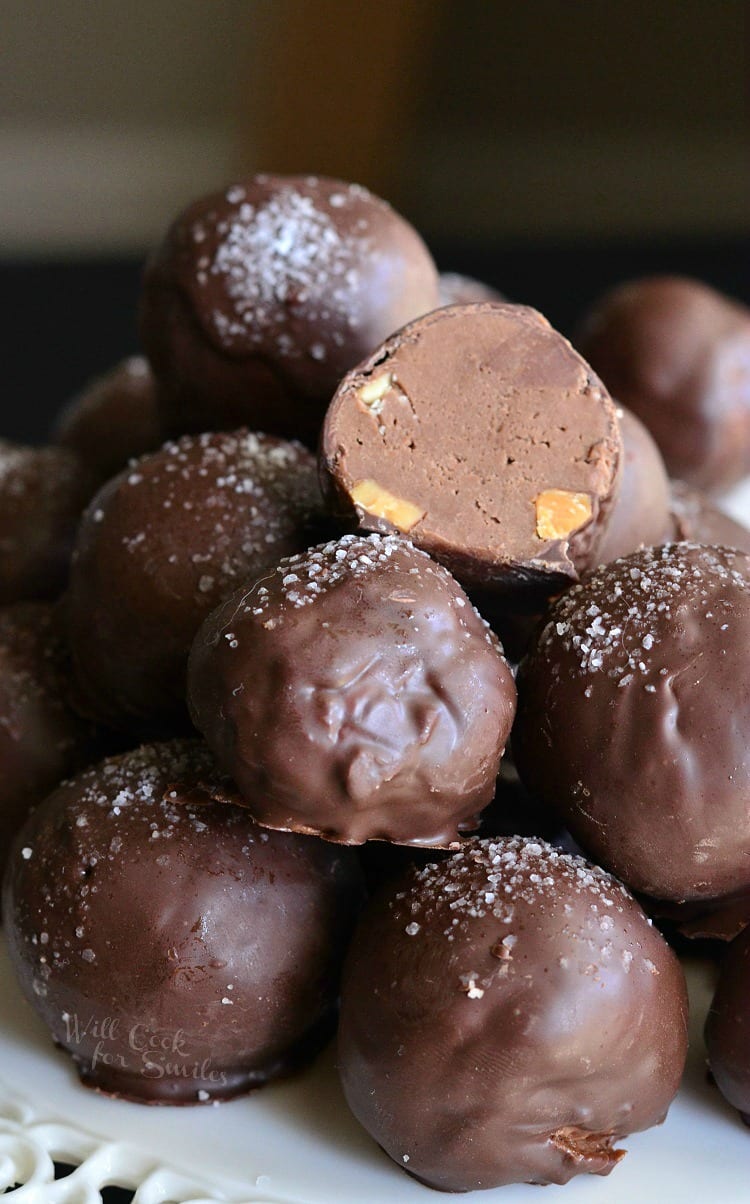 Some More Recipes From Me: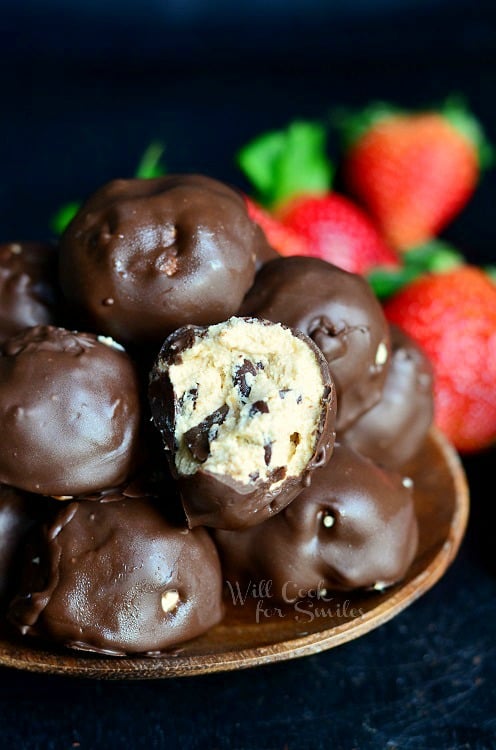 Chocolate Covered Peanut Butter Cheesecake Bites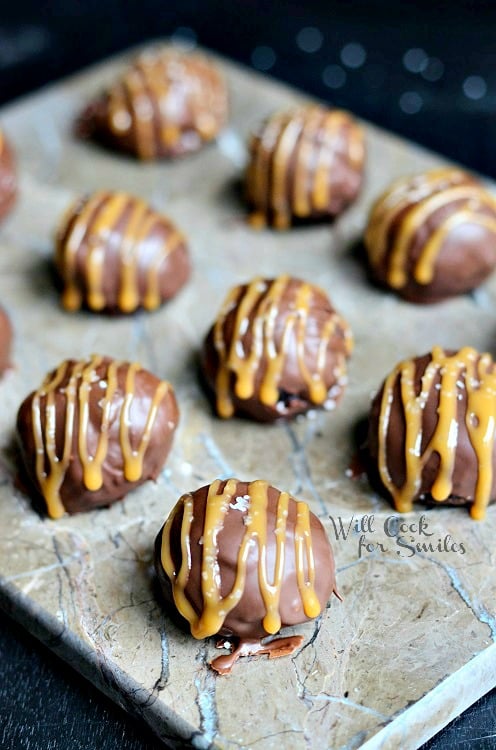 Salted Caramel Brownie Bites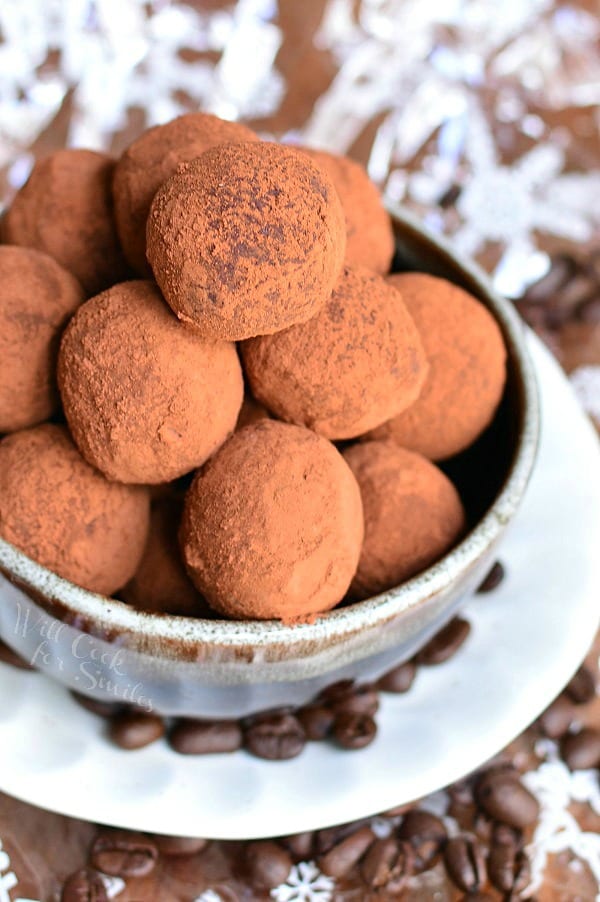 Espresso Chocolate Truffle