Baked Brie in a Skillet is perhaps one of the easiest baked Brie appetizers ever, and it's unbelievably delicious! Super creamy and warm Brie is simply cooked in a skillet until bubbly, then smothered with a delicious topping made of pecans, honey, and fresh rosemary. This quick and easy appetizer is the perfect compliment to any cracker!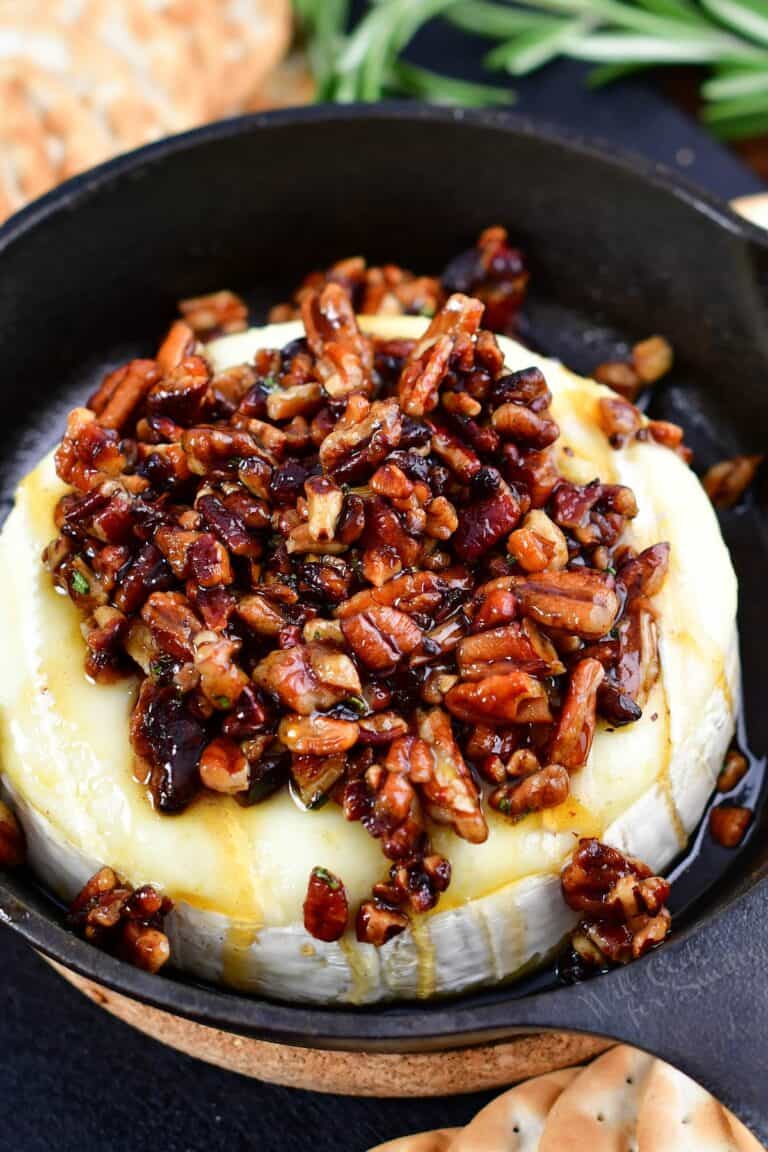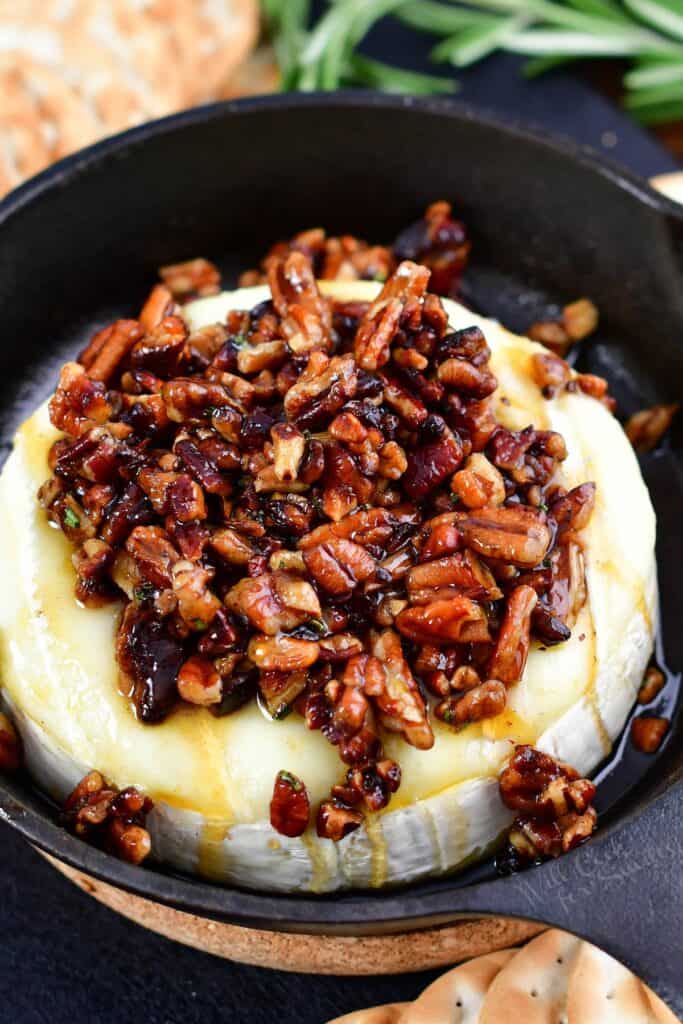 Baked Brie in a Skillet
Brie, honey, rosemary, and pecans. Those are the only ingredients at play here, and as simple as they may seem, the combination of flavors is truly perfection. When it comes to quick, easy, and oh so satisfying appetizers, they don't get much better than this Brie prepared in a skillet! Even though Baked Brie Wrapped in Pastry is delicious, this skillet-made Brie is just too easy to make to believe and still very tasty.
The center of attention here isn't even the Brie itself, to be honest. It's all about the cheese and the topping, together! The best friend for Brie is honey, especially when it's mixed with aromatic fresh rosemary and crunchy chopped pecans. The medley of flavors compliments the warm, bubbling Brie in a pretty unforgettable way. No matter what your entrée is, this appetizer is one tough act to follow!
Dinner parties aren't the only ideal setting for this baked Brie with honey topping, either. If you're having a ladies night with wine and gossip, let this Brie serve as the centerpiece of those fun times! It also plates extraordinarily well as part of a charcuterie board if you want to be the most popular guest at a potluck. No matter how you serve it up, this baked Brie in a skillet is a total crowd-pleaser.
Ingredients for This Easy Baked Brie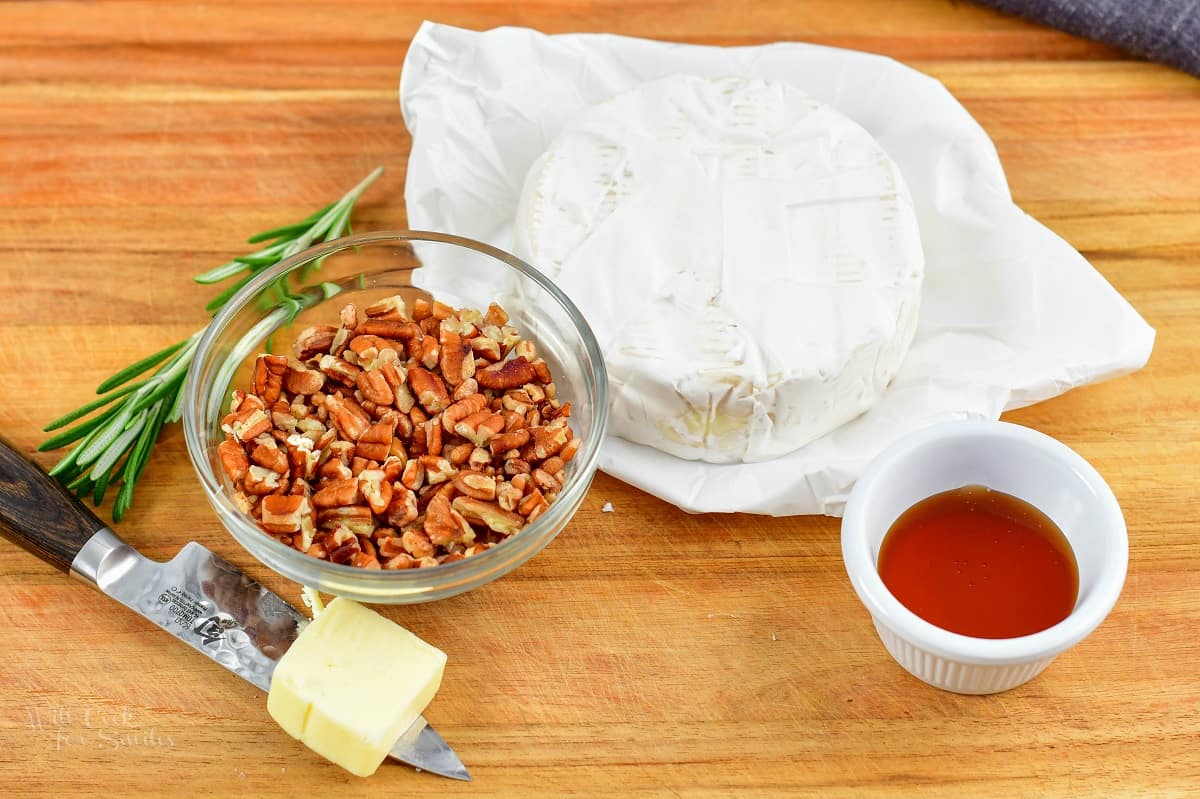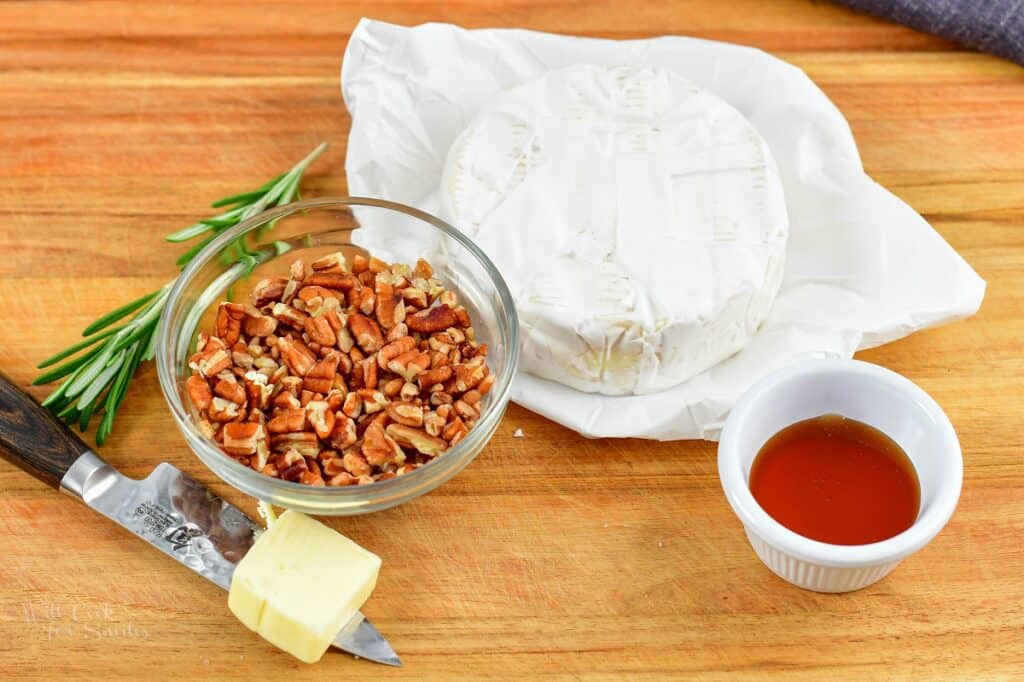 Brie – I use an 8 oz. wheel of Brie, but you can use the size of your choice and adjust the skillet size. Try to get a good quality wheel of Brie, so you know the final product will be rich and creamy.
Chopped Pecans – The crunchy consistency that chopped pecans provide this otherwise smooth appetizer is so satisfying!
Butter – You can use either salted or unsalted butter, whichever you'd prefer.
Fresh Minced Rosemary – For the most appetizing, aromatic experience, make sure you use fresh rosemary! Dried rosemary just won't give you that same enhanced flavor and aroma.
Honey – Try to get fresh, local honey for the best aroma and flavor.
What Is Brie?
Brie cheese is a soft, creamy, buttery, and decadently smooth cheese. It is a cow's milk cheese that originated in the region of Seine-et-Marne, France. The texture of Brie is very soft, runny, and smooth. It's great cold or hot. The flavor of this cheese is buttery, earthy, and a little fruity.
The consistency is notably rich and creamy. Brie ranges from very mild flavor to quite overpowering. This soft and creamy cheese is always wrapped in a somewhat bitter rind. Although the rind is edible, many people choose not to eat it because of the bitter flavor.
How to Make Baked Brie in a Skillet
Preheat: Start off by preheating your oven to 350°F. While that heats up, slice the top off the Brie wheel.
Toast Pecans: In a small skillet, melt the butter over medium heat and add the pecans. Stir and toast the pecans.
Make the Topping: Once the pecans are nice and toasty, stir in the fresh rosemary and remove the skillet from the heat. Add your honey, stir, and pour the topping into a separate bowl. Set aside.
Bake Brie: Wipe down the skillet, then place the Brie into it. Bake the Brie for approximately 20-25 minutes, until it's completely soft and starts to bubble around the edges.
Top and Serve: Remove the skillet from the oven and immediately top it off with the honey mixture. Serve it right in the skillet, and enjoy! (Just be careful of the hot skillet!)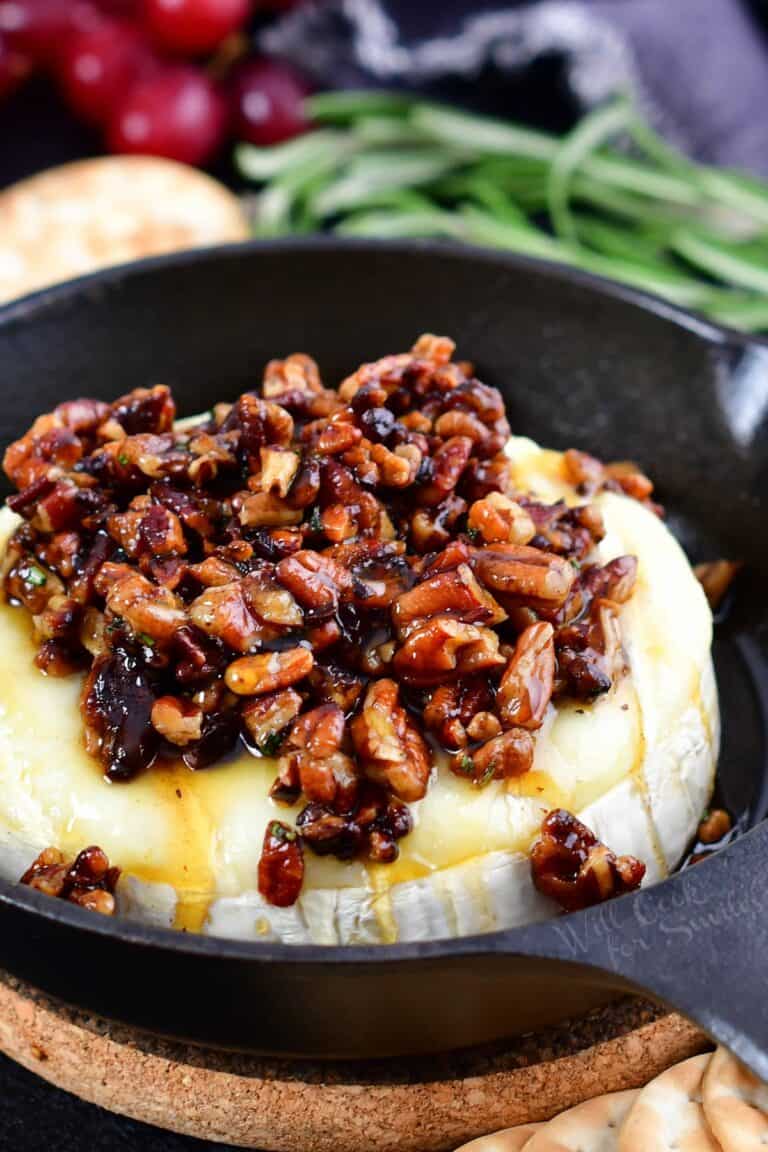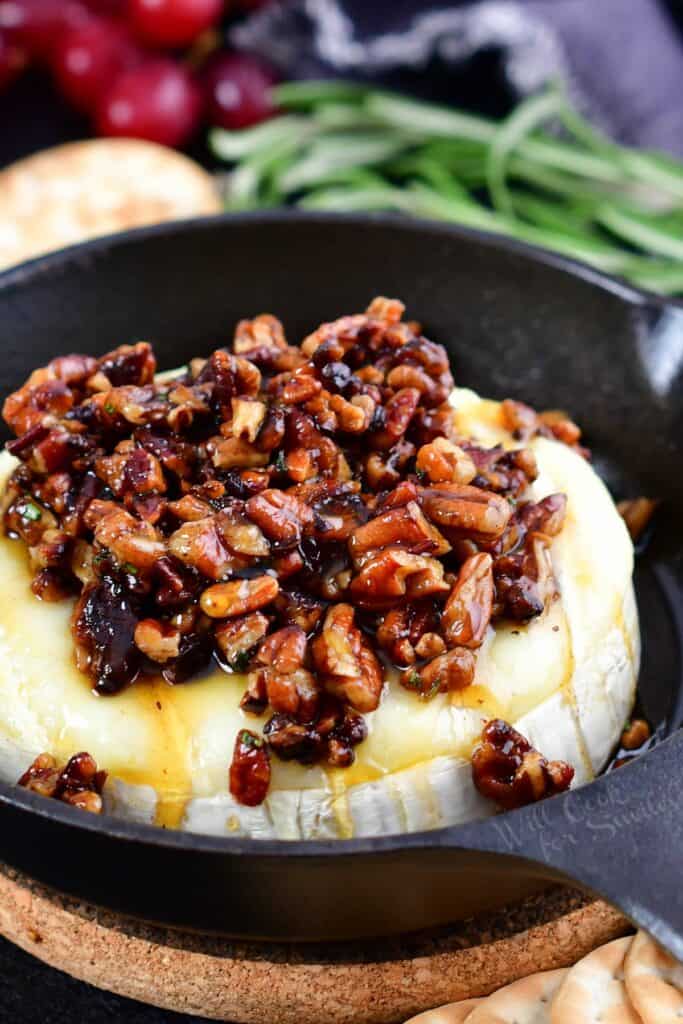 What should I serve with baked Brie?
I like to offer both salty and sweet options when serving this baked Brie!
Crackers are usually my go-to for this dish, but you can also do crispy baguette slices.
Another good salty option are pretzel chips.
For sweeter options, try fresh fruit, like slices of pears and apples. As much as I love apples, I think that pears pair especially well with Brie.
Can I make this baked Brie recipe ahead of time?
The great thing about this recipe is that it takes just a few minutes to prepare and under 30 minutes to bake. You don't actually need to do anything to the cheese, besides cutting off the rind. So there isn't much you can do ahead.
How long does the cheese stay warm?
Depending on the temperature of the room, baked Brie will stay gooey for up to 15 minutes. Luckily, you will be making it in the skillet and the skillet will keep it warm for an additional few minutes. Just be careful around the skillet since it will be very hot! If you need to reheat it, just pop it back into the oven for a few minutes.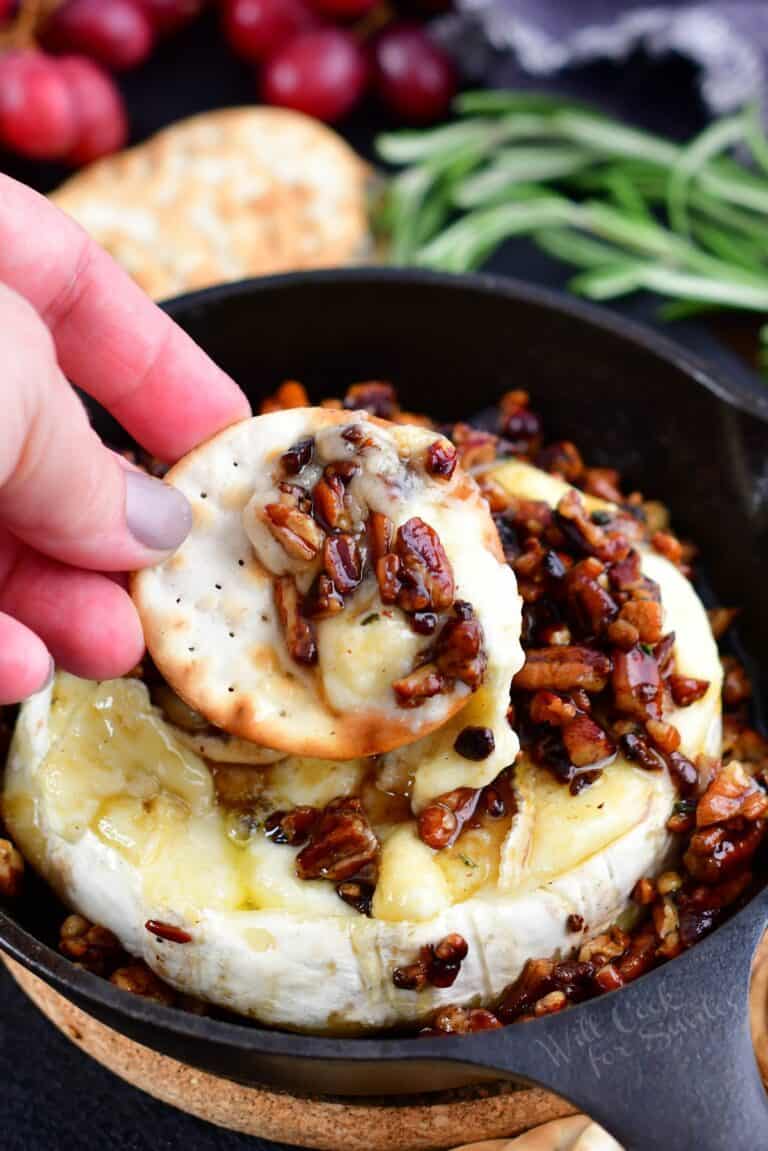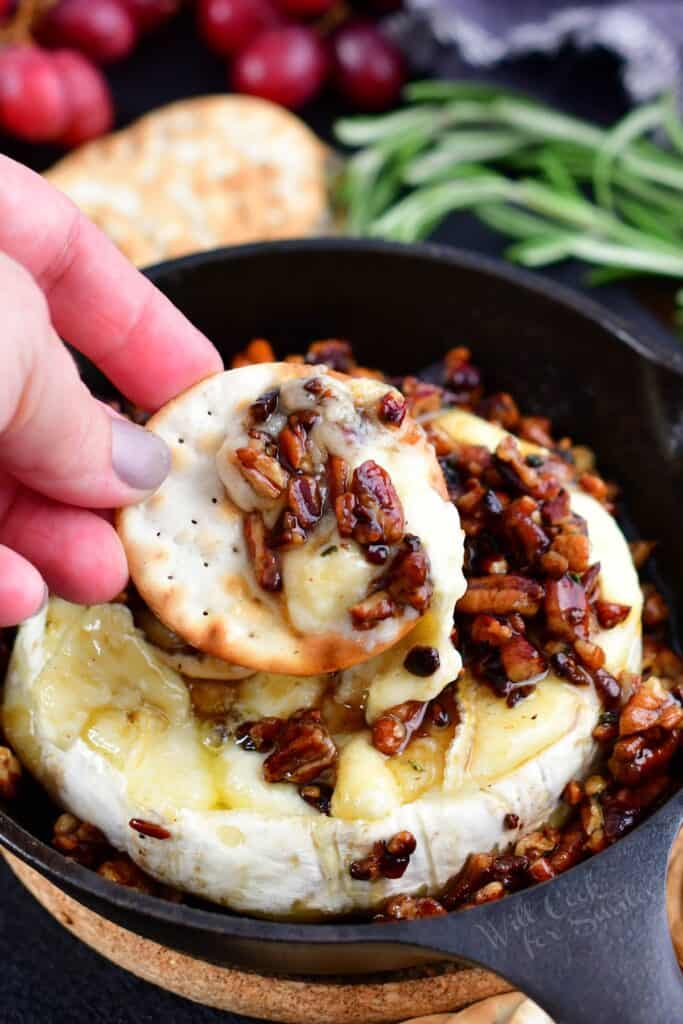 Some More Recipes For Brie:
Cranberry Maple Baked Brie – soft, smooth Brie cheese pairs very well with sweet maple syrup, pecan, and dried cranberries, and it's all wrapped in flaky, buttery puff pastry and baked until the cheese is melted.
Pumpkin Pear & Brie Crostini – warm Brie, pumpkin, and pear are placed atop a crunchy piece of crostini.
Ham and Brie Grilled Cheese Sandwich – fantastic grilled cheese sandwich made with ham, Brie cheese, sautéed onions, and maple mustard glaze.
Apple Cranberry Brie Puff Pastry – these cranberry Brie puffs are made with fresh cranberries, apple, and nutmeg filling, gooey brie cheese, and all stuffed inside a flaky puff pastry.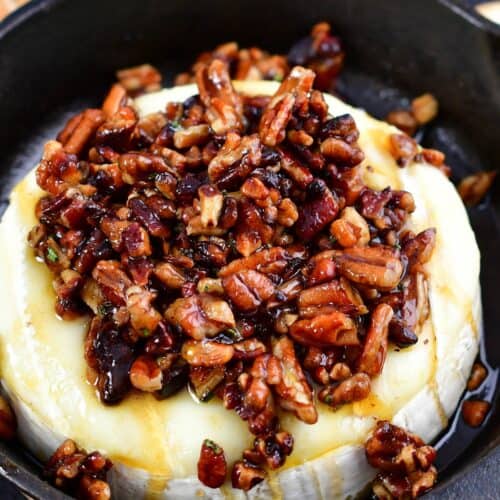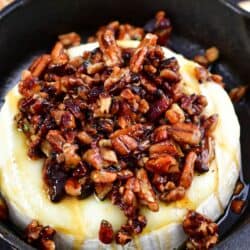 Baked Brie in a Skillet
Super creamy and warm Brie is simply cooked in a skillet until bubbly, then smothered with a delicious topping made of pecans, honey, and fresh rosemary. 
Print
Pin
Save
Saved!
Rate
Ingredients
1

Brie wheel

about 8 oz. but can use size of choice

1/2

cup

chopped pecans

1

tbsp

butter

1

tsp

fresh minced rosemary

3-4

tbsp

honey
Instructions
Preheat the oven to 350°. Place the Brie in it's side and carefully, slice the top rind off. Don't slice too deep so you just take off the rind. Only take off the top, not the rest of the rind.

In a small skillet, 5-6 inches, melt butter over medium heat and add pecans. Stir and let pecans toast for a few minutes.

Stir in rosemary and take off heat. Add honey, stir, and take the topping out of the skillet.

Wipe the skillet (or honey residue will burn) and place the Brie into the skillet.

Bake Brie in the skillet for 20-25 minutes, until completely soft and starting to bubble.

Take the skillet out of the oven and immediately top the Brie off with the pecan and honey mixture.

Serve the warm Brie in the skillet. (Be careful while the skillet is hot.)
Nutrition
Calories:
356
kcal
|
Carbohydrates:
15
g
|
Protein:
13
g
|
Fat:
28
g
|
Saturated Fat:
12
g
|
Polyunsaturated Fat:
4
g
|
Monounsaturated Fat:
11
g
|
Trans Fat:
1
g
|
Cholesterol:
64
mg
|
Sodium:
381
mg
|
Potassium:
151
mg
|
Fiber:
1
g
|
Sugar:
14
g
|
Vitamin A:
430
IU
|
Vitamin C:
1
mg
|
Calcium:
115
mg
|
Iron:
1
mg
Tried this recipe?
Mention @willcookforsmiles and tag #willcookforsmiles