This baked brie recipe is amazing! It's creamy and decadent, complimented so well with caramelized onions and pecans. You can easily make caramelized onions ahead of time and put this brie together in minutes.
If you like the sweet pairing with warm Brie cheese, try my Cranberry Maple Baked Brie.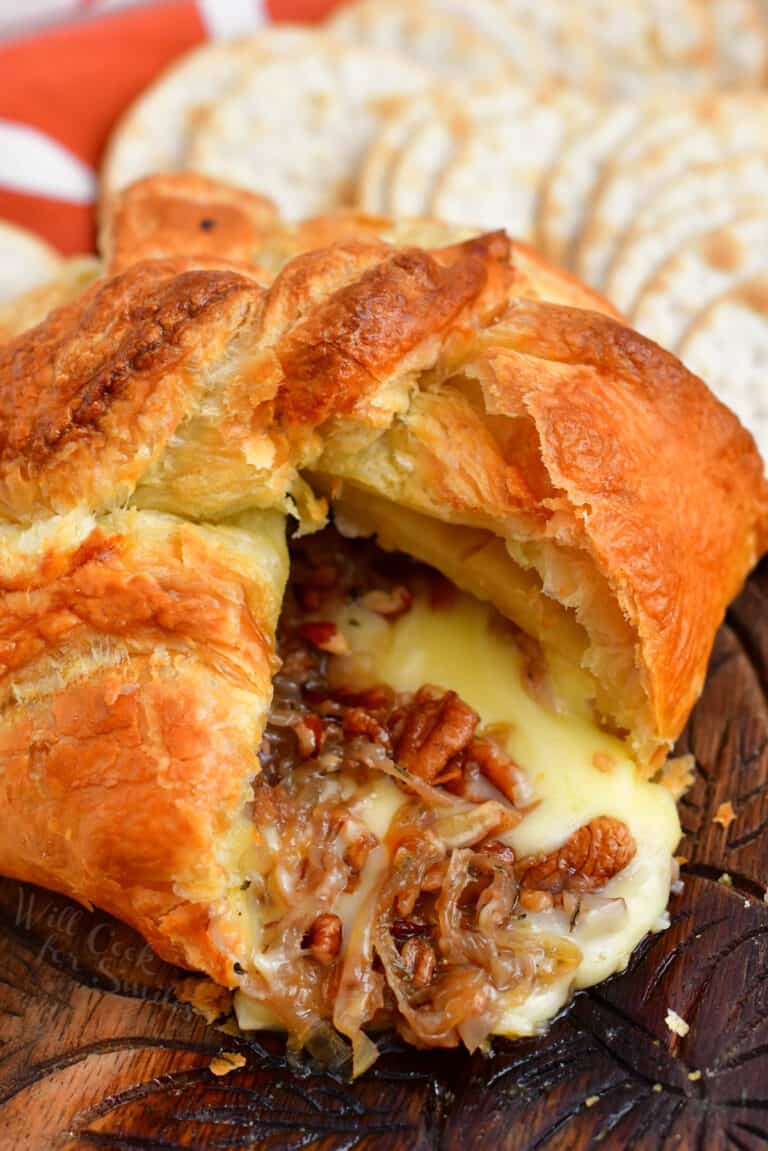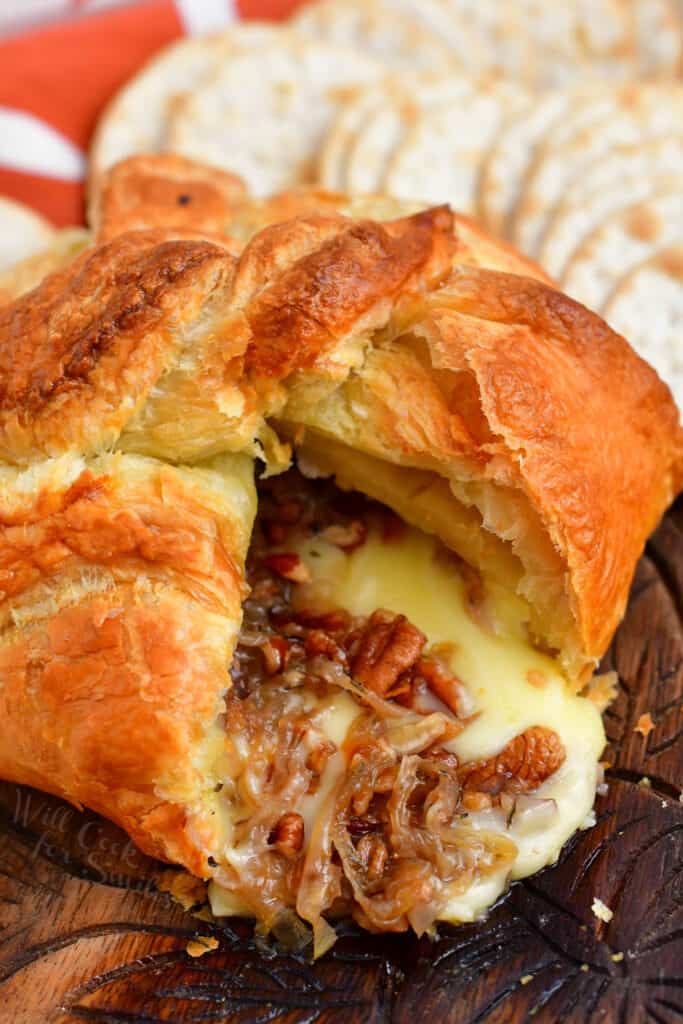 Appetizers are supposed to be serve as the opening act for the main entrée. However, warm brie hors d'oeuvres always seems to steal the show! It almost like the guests don't even care what the main course will be when they see gooey, warm baked brie on the table.
Gooey, warm cheese in flaky puff pastry is a dish almost too mouthwatering for words. Brie is one of my all time favorite cheeses, and I use it in a lot of different ways, especially around the holidays!
You can even enjoy brie with some Thanksgiving turkey leftovers in turkey cranberry brie grilled cheese.
Baked Brie Recipe
Ingredients and Notes
Brie Wheel – Make sure to buy a solid wheel rather than one cut into slices. It should weigh about 8.5 oz. to 10 oz.
Puff Pastry – You only need one sheet of delicious, flaky dough to make this appetizer.
Yellow Onion – Yellow onion works best for this recipe because it's equal parts sweet and savory. If you want something a little sweeter, try using a Vidalia onion.
Canola Oil – If you need a replacement, vegetable oil works best for this recipe.
Unsalted Butter – To avoid over-salting food, use unsalted butter.
White Granulated Sugar – Add a pinch to help bring out the natural sweetness of onions to help caramelization process.
Crushed Pecans – Pecans are great compliment to brie but you can substitute walnuts or almonds.
Dried Thyme – You can also use fresh thyme, just double the amount because dried herbs tend to be stronger.
Egg White – this will give the outside of puff pastry a nice gloss and help it stick together as well..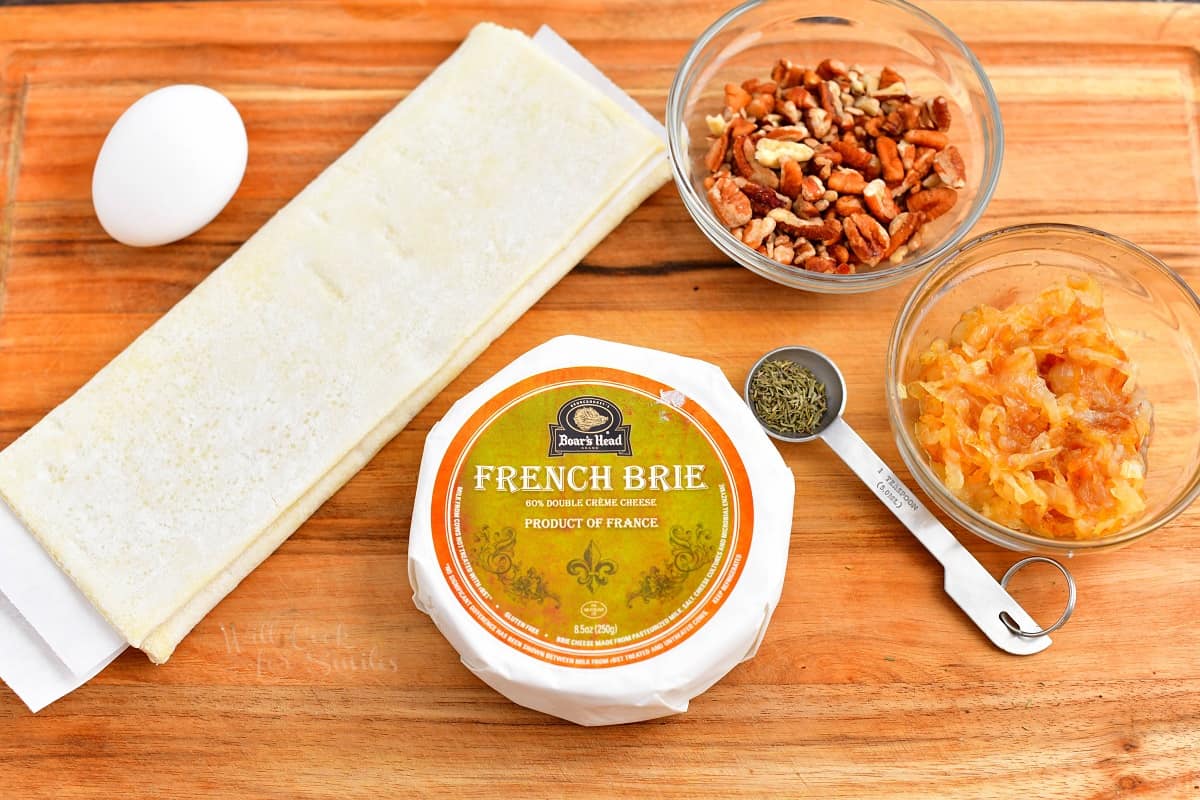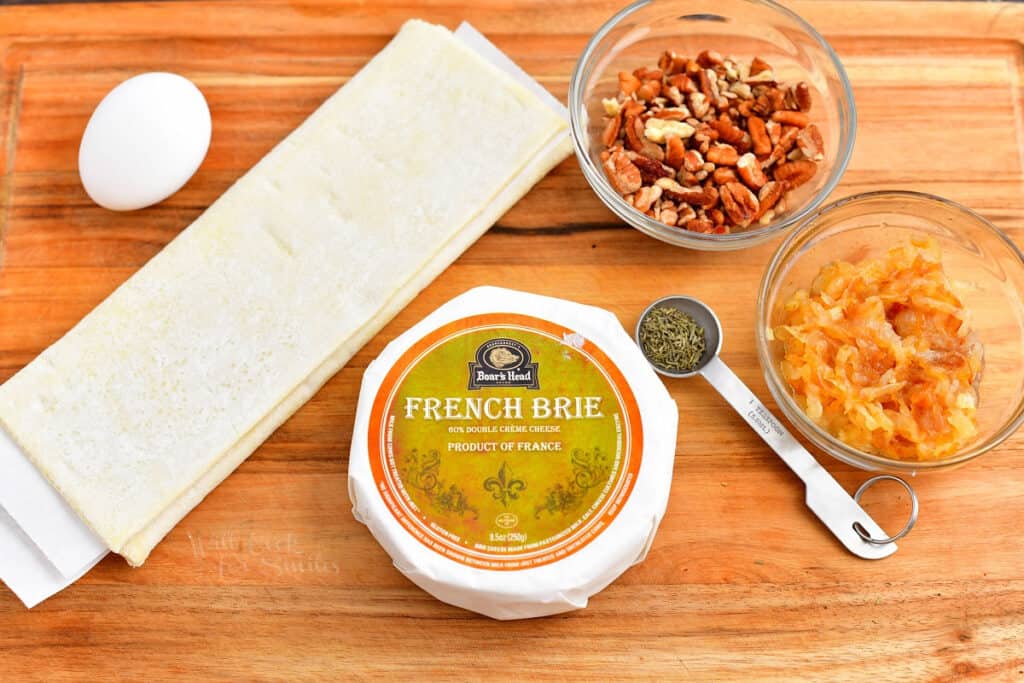 How To Make Baked Brie
This heavenly appetizer isn't just delicious, it's also quite easy to make!
First, you'll want to make the caramelized onions (remember you can make them ahead of time and store in the refrigerator):
Slice the onions.
The best way to cut onions is to start by halving them. Then, cut off the tip and peel off the tough outer skin. Now your onion is ready for slicing!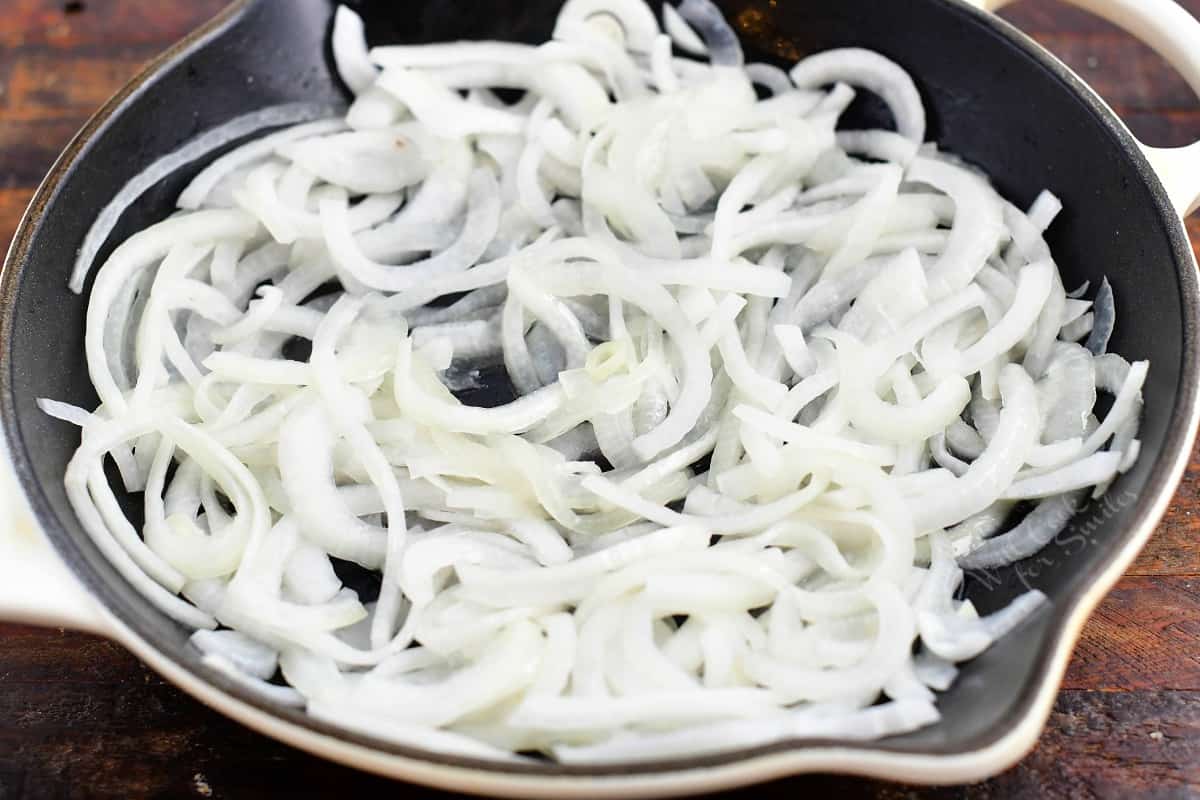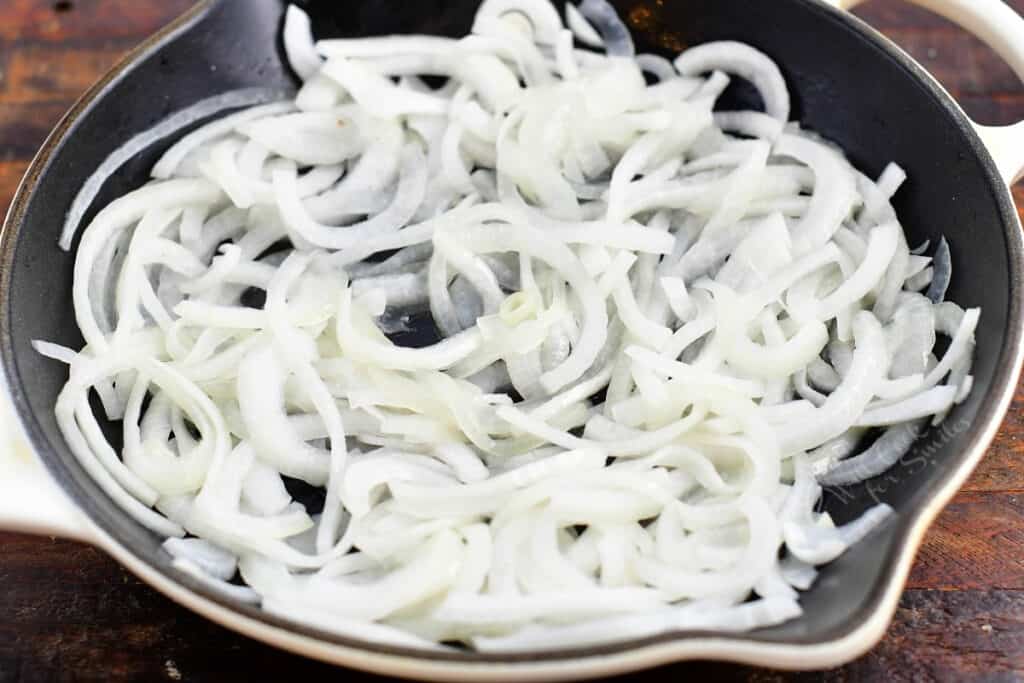 Cook and caramelize the onions.
Start on medium high heat, cook the onion slices in oil and season lightly with salt and sugar. Once everything is nicely mixed together, turn the heat down to medium-low or low and continue cooking, stirring every 5 minutes. Add butter as needed.
Patience is key when caramelizing onions! After about an hour, you should have deliciously golden-brown onions.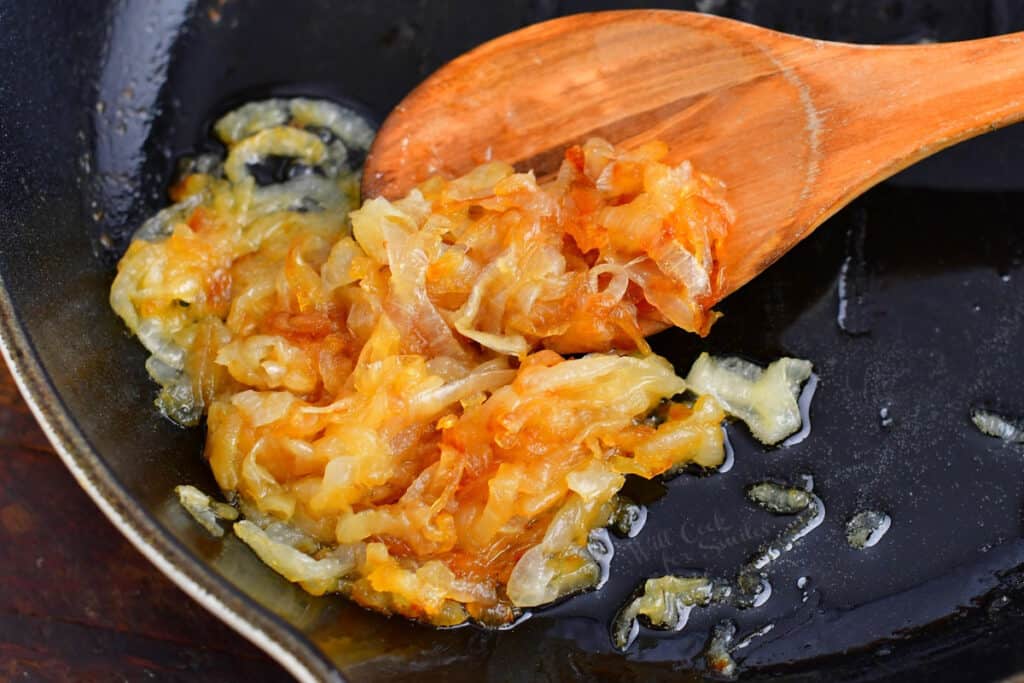 Create the filling.
Once the onions are caramelized, mix them with your pecans and thyme to create the filling.
Place the brie wheel on the pastry dough.
Roll out the thawed puff pastry sheet. After you've sliced the rind off of the top of the wheel, place it cut side up on the middle of the puff pastry sheet.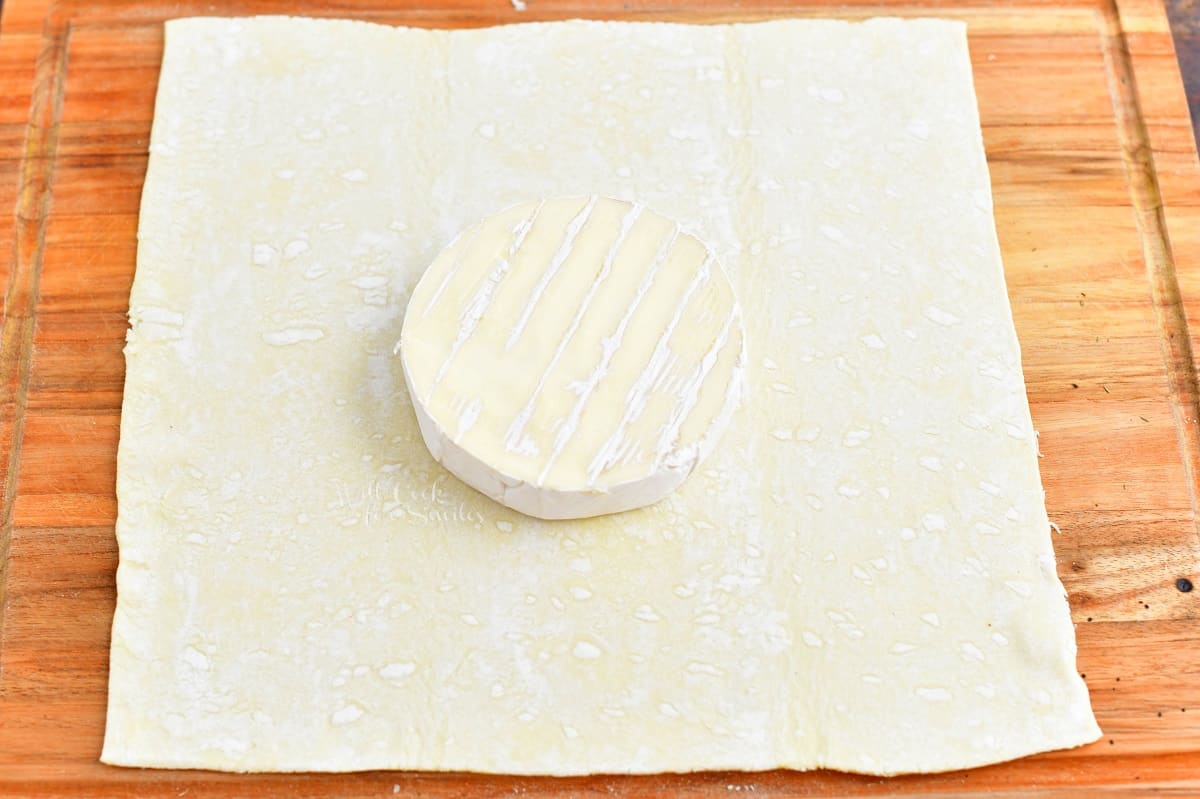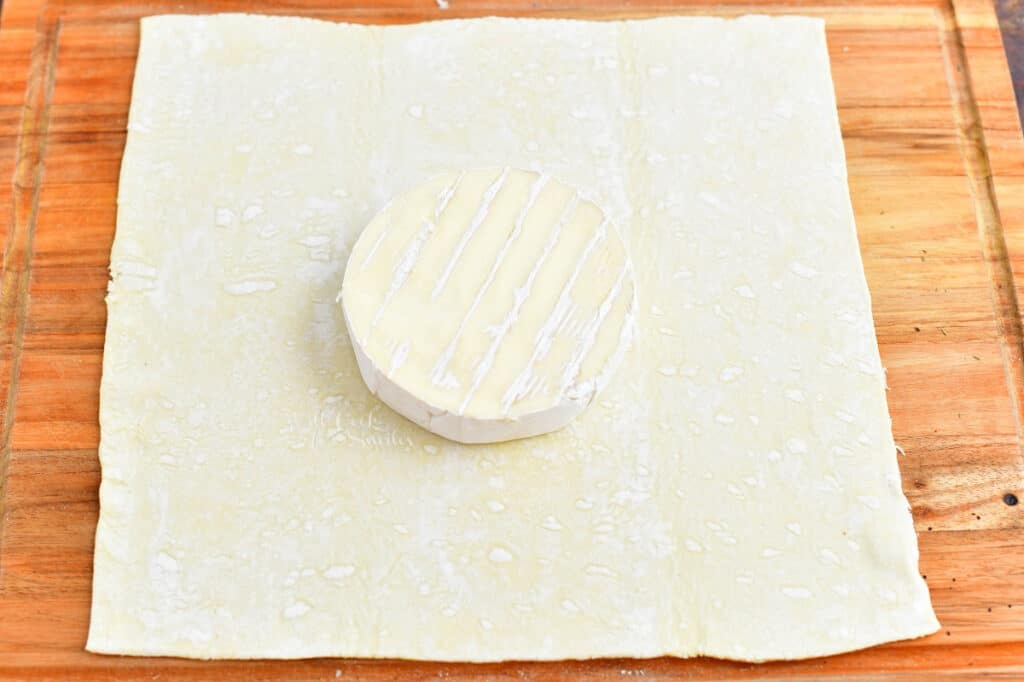 Add the filling.
Next, add the caramelized onion filling to the top of the brie cheese. Try to make sure it all fits on top of the brie, so folding the puff pastry dough doesn't get messy.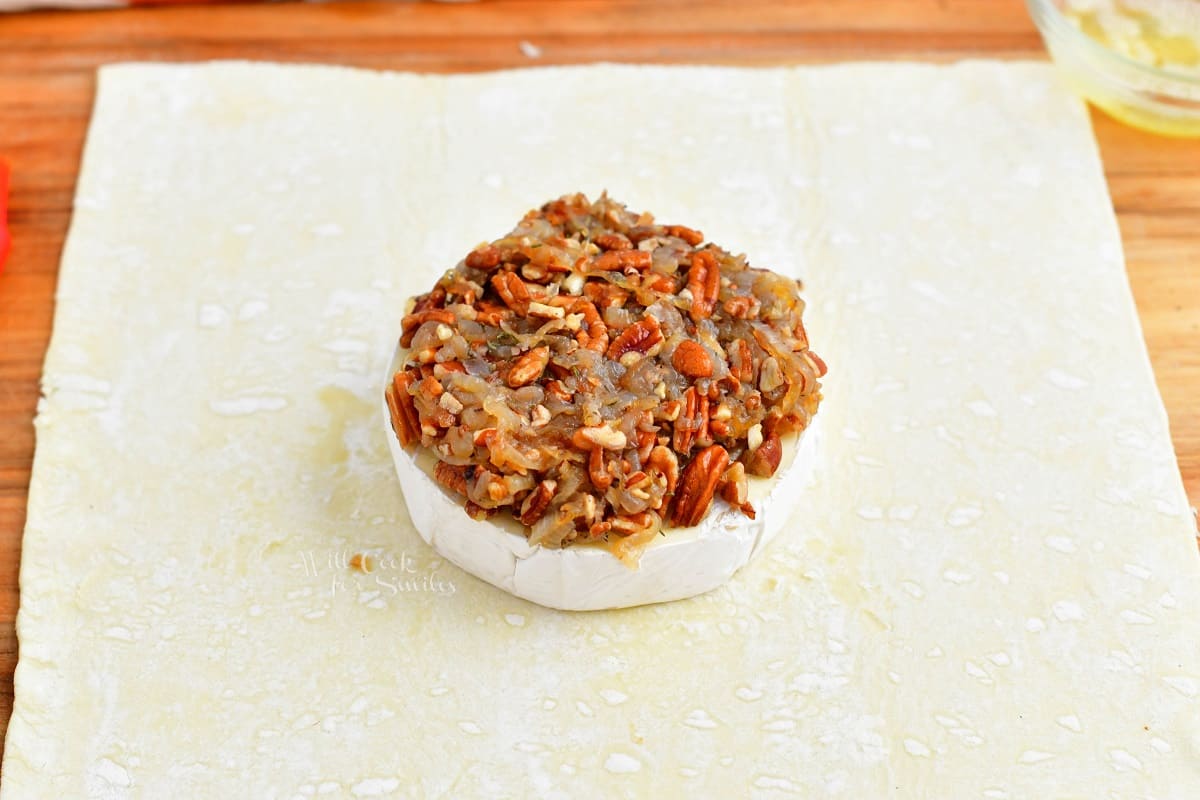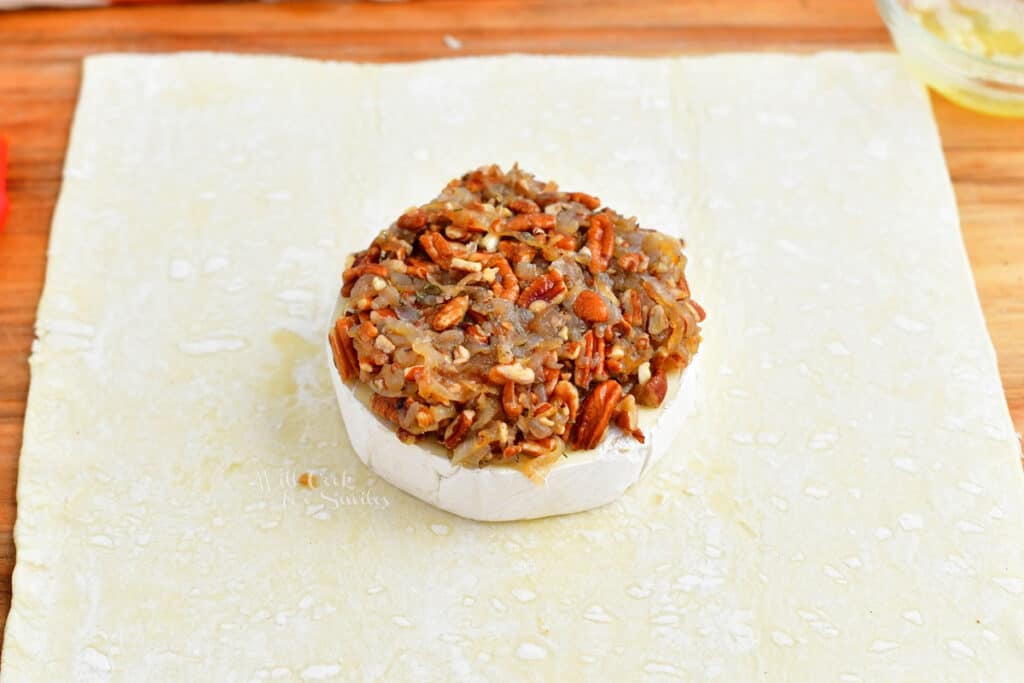 Fold the pastry dough.
When bringing all four corners of the dough to meet in the middle, make sure there are no openings at all! Your dough should be completely sealed. This way, nothing will leak out.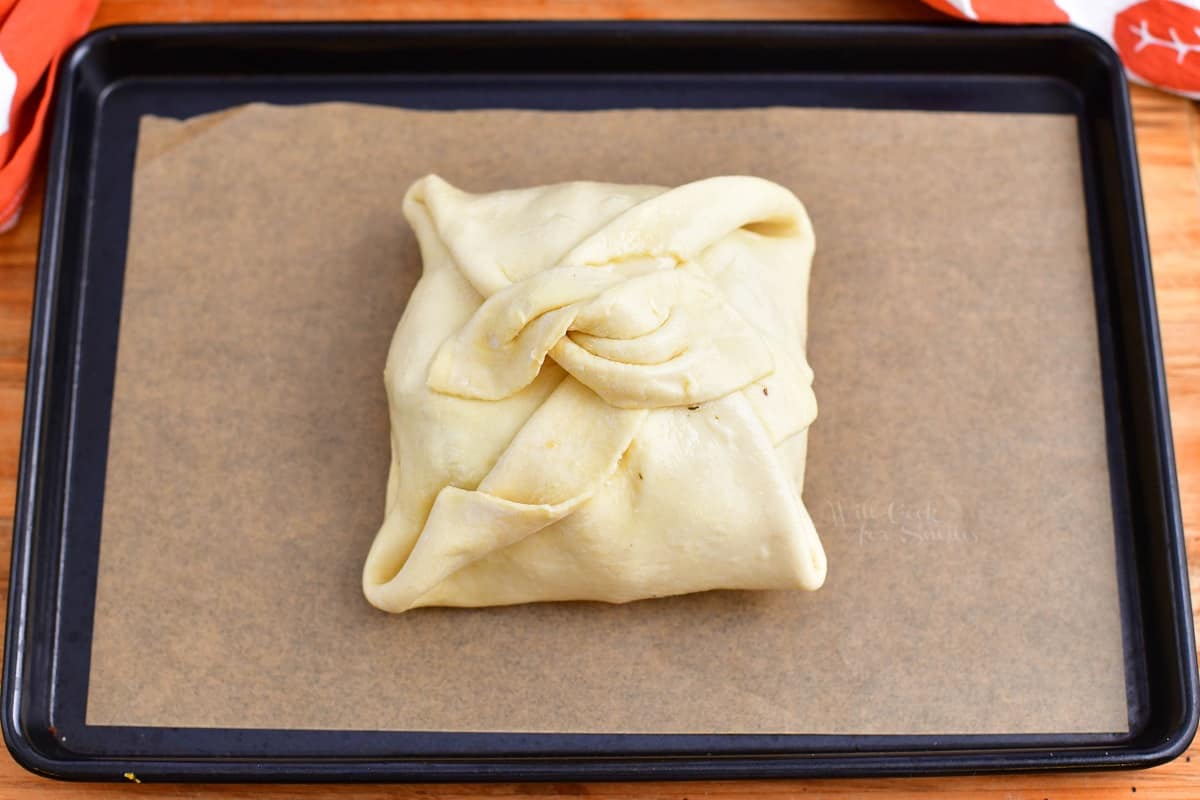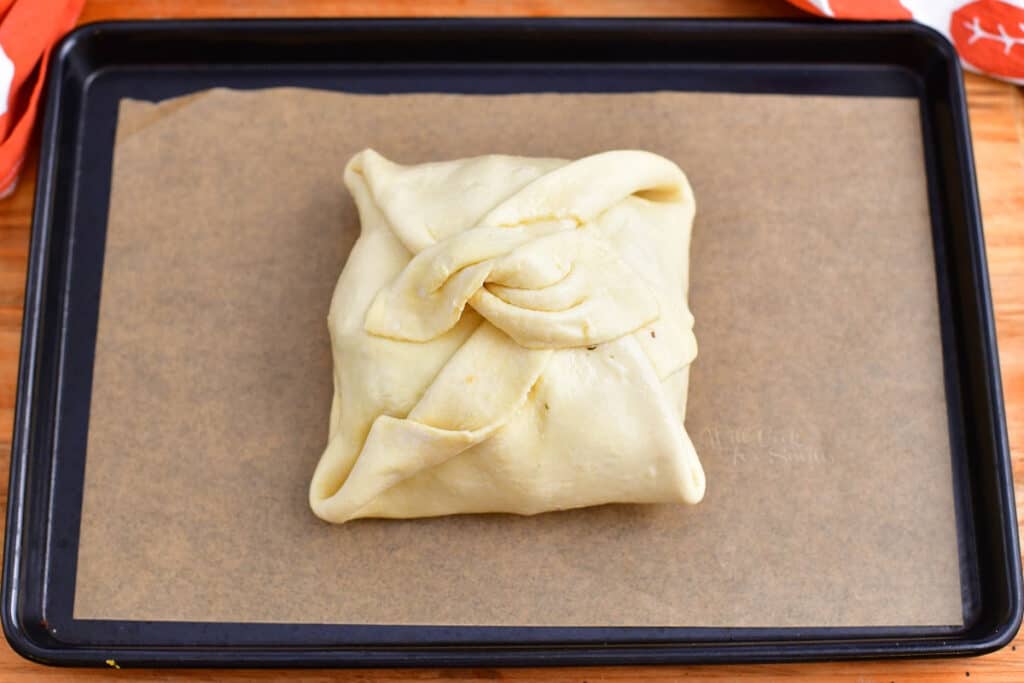 After sealing it, brush the pastry with the egg white. This will give it shine, and more importantly, it helps seal the edges. Brush the egg white all over to make sure the pastry is evenly coated.
Bake the brie.
Baking should only take about 30 minutes, or until the dough is a golden brown color.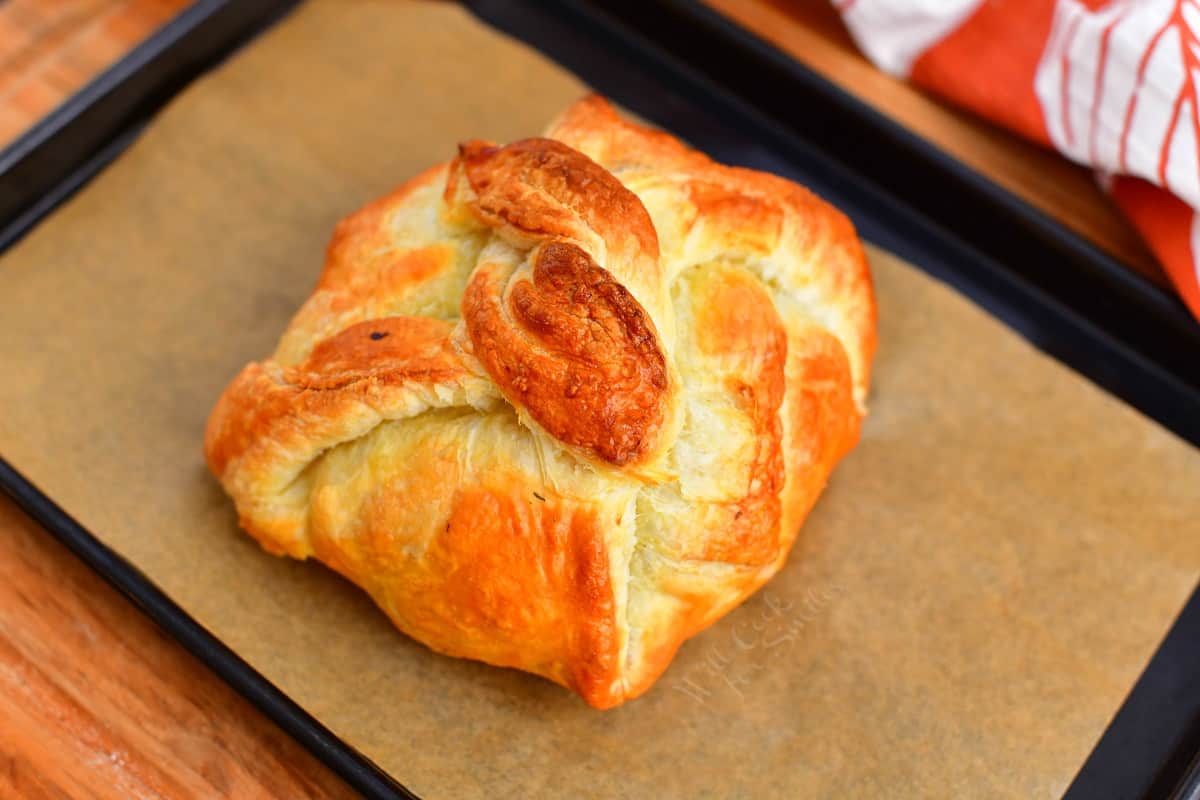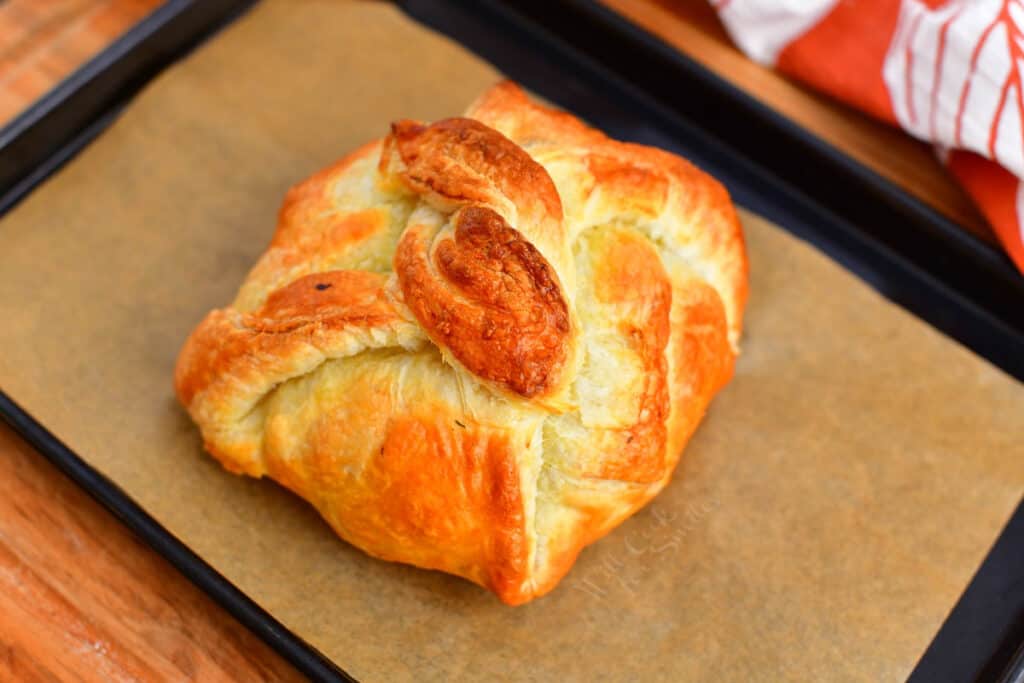 Let it rest. It's important to allow the appetizer rest for at least 10 minutes after baking. This way, the cheese won't burn anyone's mouth.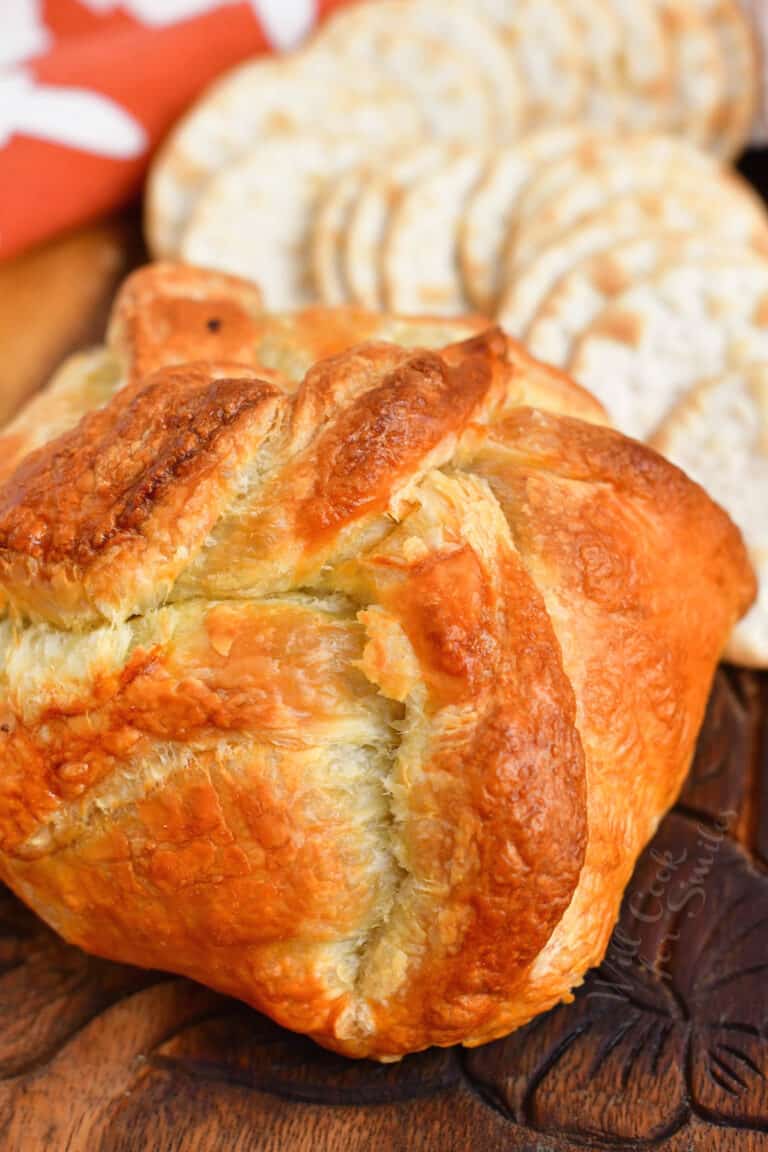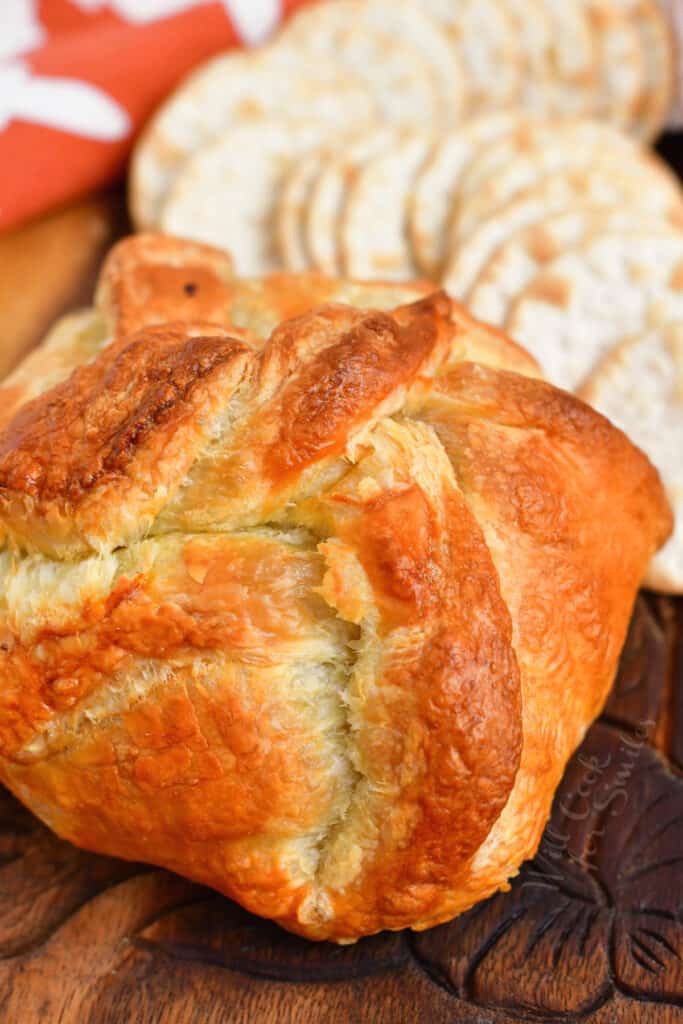 Frequently Asked Questions
What should I serve with baked brie?
Offering both salty and sweet options is a great way to please a crowd.
Crackers are usually my go-to for this dish, mainly because there are so many varieties to choose from!

Another good option is fresh fruit, like slices of pears and apples. Pretzels are also delicious with the cheese!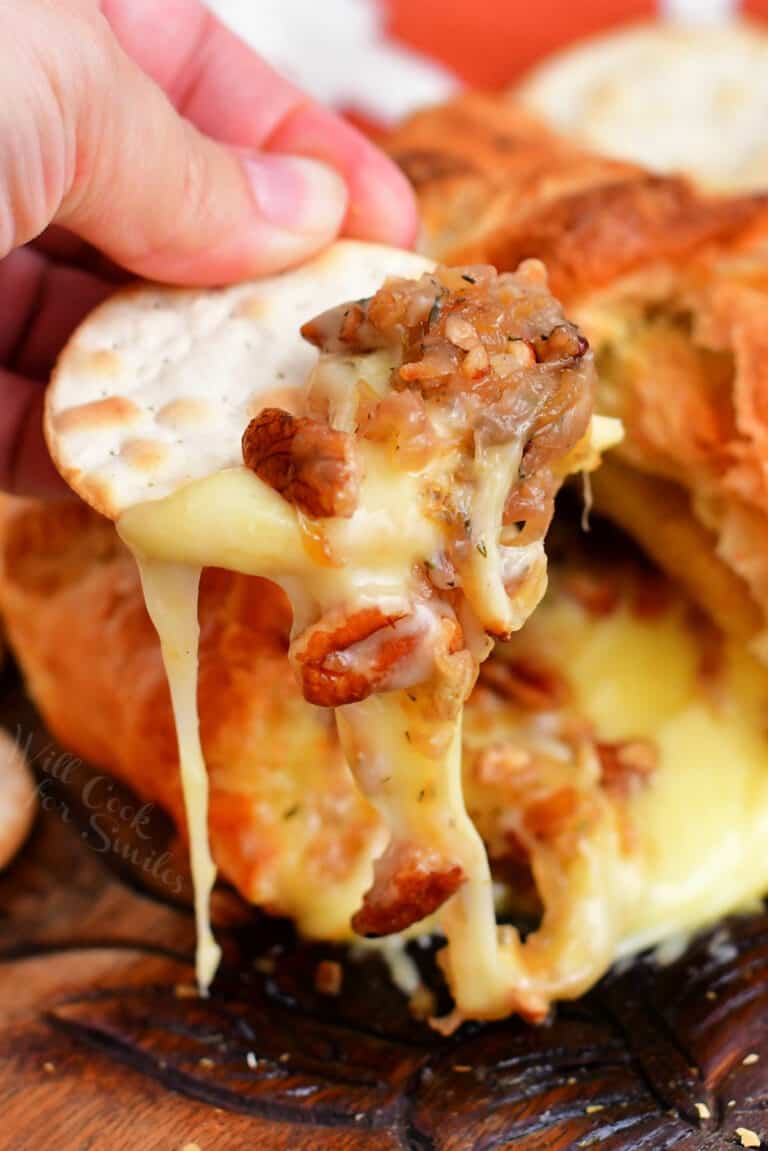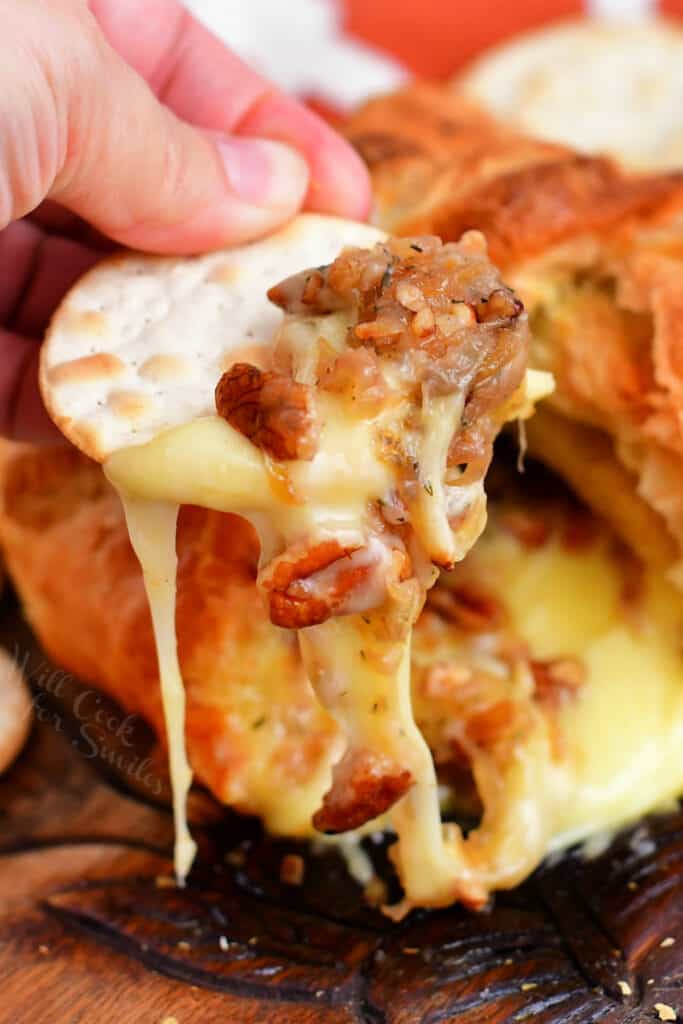 Can I make this recipe ahead of time?
Preparing for a party can be stressful, but you can alleviate some of that stress by preparing this recipe ahead of time.
You can make just the caramelized onions ahead of time or make the whole filling. Place it in the food storage container with a lid and refrigerate for a day or two. Warm it up slightly before adding to the brie wheel.
Take it a step further and assemble the cheese but not the pastry according to the recipe instructions, then wrap it air-tight in plastic wrap, and refrigerate for up to a day. When you're ready, wrap it in puff pastry, brush the dough with egg wash, and then bake.
How long does the cheese stay warm?
Depending on the temperature of the room, baked brie will stay gooey for up to 15 minutes. If you need to reheat it, you can pop it in the microwave. Somewhere between 30 seconds and 1 minute should do the trick.
MORE BRIE RECIPES TO TRY:
Brie appetizer recipes you should try this holiday season are my apple cranberry brie puff pastry, and this festive Brie Crostini!
Next time you have some leftover ham, whip up this ham and brie grilled cheese!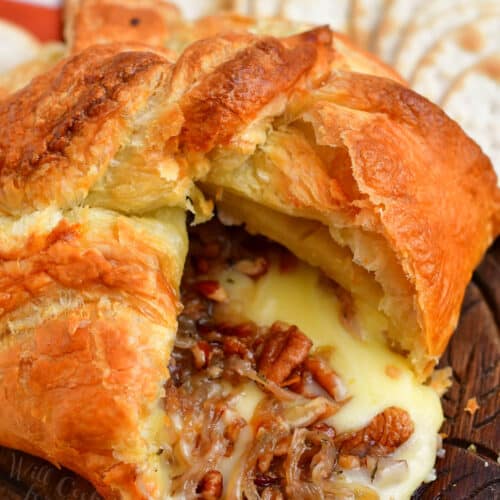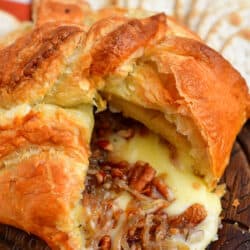 Baked Brie with Caramelized Onions and Pecans
This baked brie in puff pastry is creamy and decadent, oozing with caramelized onions and pecans.
Print
Pin
Save
Saved!
Rate
Ingredients
8.5

oz

round brie cheese

1

sheet

puff pastry

thawed

1

large yellow onion

1

tbsp

canola oil

2

tbsp

unsalted butter

1/2

tsp

white granulated sugar

salt

1/3

cup

crushed pecans

1/2

tsp

dried thyme
Instructions
Note: you can make the topping ahead of time and store it in the refrigerator, in an air-tight container. Warm it up slightly before adding to the brie and baking.
Caramelized Onions:
Half the onions, cut off the tip, peel the outer skin, and slice onion thinly to the root. Discard the tip and the root.

Heat up a cooking pan over medium heat and add oil. Add sliced onions and season with salt and a little sugar. Mix onions to evenly coat them with oil and seasoning. Lower the heat a little and cook onions over medium-low heat.

Stir onions every 5-10 minutes. When onions seem a little dry, add the butter and stir it in.

The total time will take 45-60 minutes. Make sure to scrape the pan as onions are caramelizing. Don't try to rush it or raise the heat because the onions will sear instead of caramelizing. Wait for them to naturally caramelize and brown.
Filling:
Mix caramelized onion with crushed pecans and thyme. Set it aside.
Baked Brie:
Preheat the oven to 400°.

Make sure puff pastry is completely thawed. Roll it out a little.

Slice the rind off the top of the brie circle and place it cut side up in the middle of the puff pastry sheet.

Spread caramelized onions topping evenly over the brie.

Bring the edges of puff pastry together, fold them over in a nice shape and make sure that all openings are sealed well so the cheese doesn't leak out.

Whisk egg white and brush the outside of the pastry all over.

Place covered brie onto a lightly greased baking sheet and bake for about 30 minutes, until pastry is golden-brown.

Take it out of the oven and let it rest for about 10 minutes before cutting
Nutrition
Calories:
464
kcal
|
Carbohydrates:
22
g
|
Protein:
12
g
|
Fat:
37
g
|
Saturated Fat:
14
g
|
Cholesterol:
50
mg
|
Sodium:
356
mg
|
Potassium:
138
mg
|
Fiber:
2
g
|
Sugar:
2
g
|
Vitamin A:
356
IU
|
Vitamin C:
1
mg
|
Calcium:
86
mg
|
Iron:
2
mg
Tried this recipe?
Mention @willcookforsmiles and tag #willcookforsmiles