A classic favorite Boston Cream Cake made into a cake roll. Soft, fluffy cake is rolled with creamy homemade custard and topped with a layer of rich chocolate ganache.
Don't forget to sign up for email, so you won't miss any new recipes.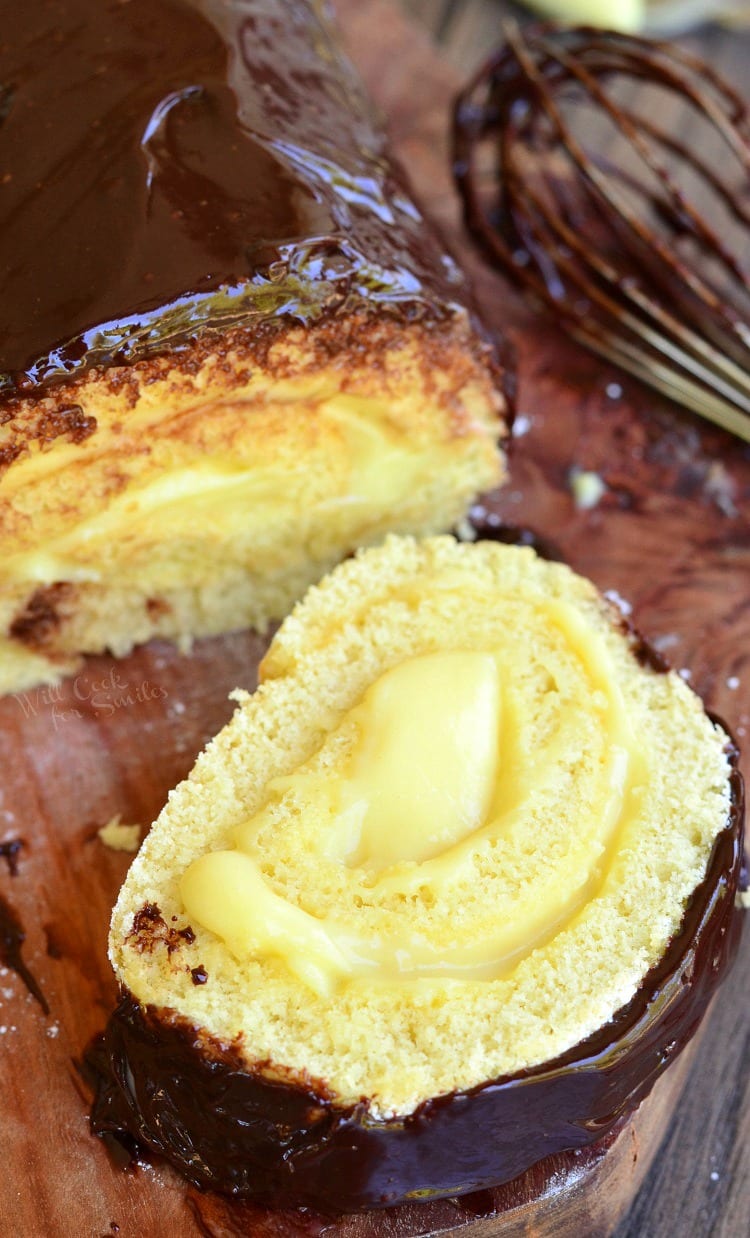 Let's talk about self control for a minute…
Let's imagine this cake. This luscious, soft cake with creamy homemade custard and rich chocolate ganache on top. It's pretty, it smells amazing and it's one of your favorites.
Now imagine you are gluten free and you can't have it. Yeah, tears! That was me, making this divine cake for my husband's birthday. One of my favorite cakes and his all times favorite cake, made into a cake roll, and I can not have any. I surprised hubby with it spring training tickers for his birthday and while he was away, I made him this version of his favorite cake. The whole time I was making it, I just wanted to dive into the custard and I really wanted to devour the cut off ends of the cake…but nooooo, it's not gluten free. So I had to wait, somewhat impatiently, for my guys to come home and taste the cake.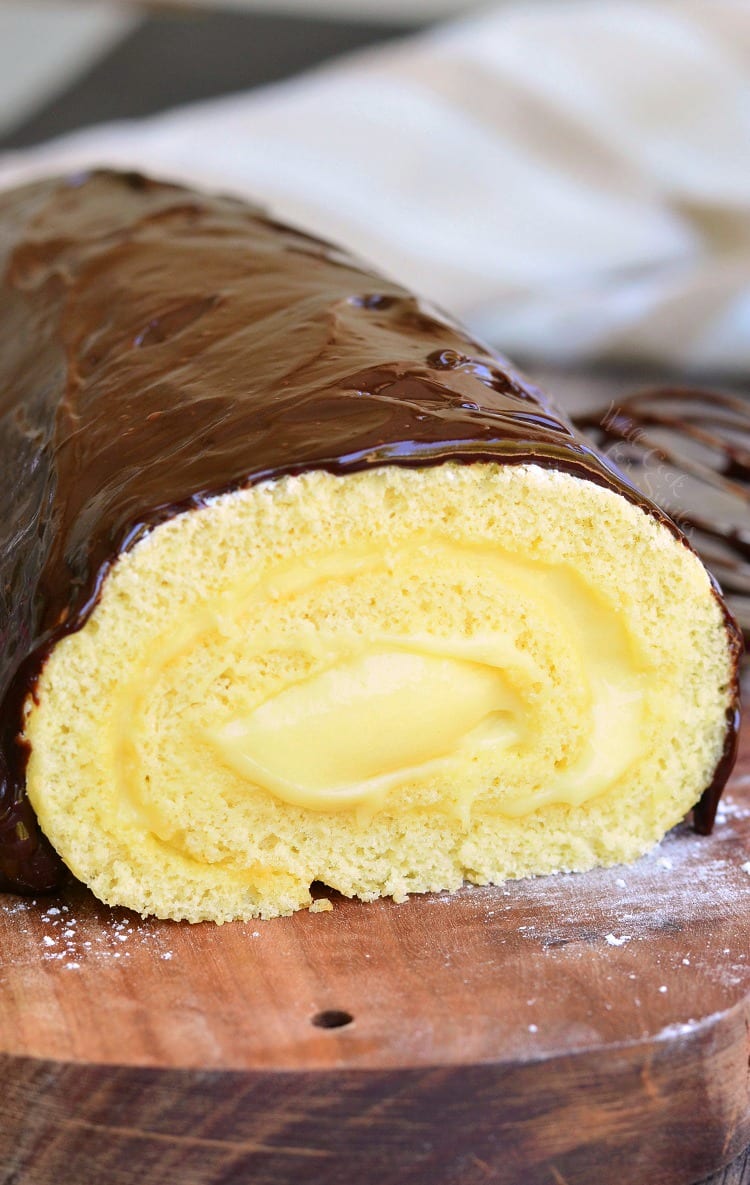 They whole time they were enjoying the cake, I was like a hungry dog, sitting there, watching them eat this cake. Have you ever seen a dog, wanting a bite of your food so badly that it follows your fork from the plate to your mouth…from the plate to your mouth…from the plate to your mouth? That was me, watching my boys devour this cake. (And, even get up and get a second slice.) I'm pretty sure that I had the same pitiful look on my face too, and the sad puppy eyes.
And even though I could not enjoy this birthday cake with them, I very much enjoyed watching their face like they were eating something straight out of heaven. That's almost as satisfying as eating the cake…almost.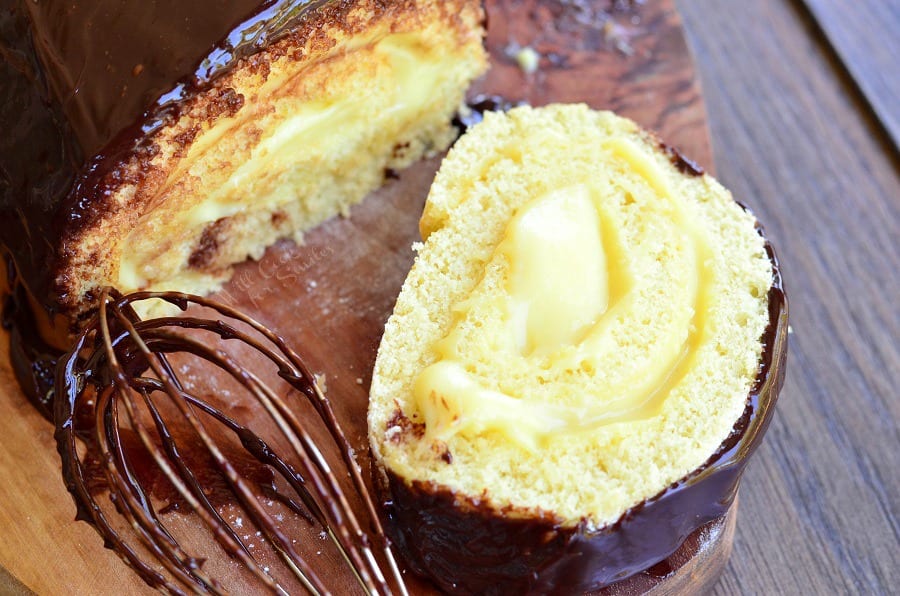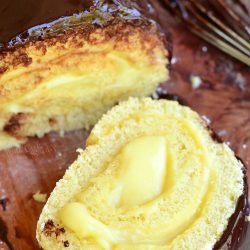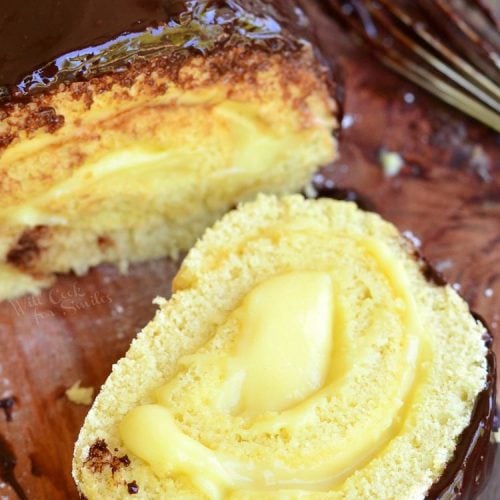 Boston Cream Cake Roll
Soft, fluffy cake is rolled with creamy homemade custard and topped with a layer of rich chocolate ganache.
Print
Save
Saved!
Rate
Ingredients
Custard:

1

cup

of whole milk

⅔

cup

of heavy cream

4

tablespoons

unsalted butter

⅔

cup

granulated sugar

Pinch

of salt

4

large egg yolks

3

tablespoons

flour

2

tsp

corn starch

1½

teaspoons

vanilla extract

Cake:

3

eggs

¾

cup

white granulated sugar

⅓

cup

water

1

tsp

vanilla extract

1

cup

flour

1

tsp

baking powder

Pinch

of salt

Ganache:

4

ounces

semisweet chocolate

finely chopped

1/3

cup

heavy cream

boiling
Instructions
Custard can be prepared a couple of hours ahead of time or a day before. I like to make it the day before because I can split the work in two days and custard gets a good amount of time to cool and set in the fridge.

Custard:

Vigorously whisk together the egg yolks and sugar until completely combined and lightened. Add flour and corn starch, whisk very well and set aside while heating the milk.

Heat milk, heavy cream, butter and salt until simmering.

Slowly add heated milk mixture into the egg yolk mixture stirring constantly. Whisk well, slowly. Return the mixture into the pot and bring to simmer stirring constantly. The mixture will thicken within a few minutes. (Keep whisking the custard while it's cooking, do not walk away or it will be nothing but lumps.) Take off heat! Whisk in the vanilla, set aside to cool to room temperature.

Transfer custard into a container, cover it with saran wrap or a lid and refrigerate for at least two hours.

Cake:

Preheat oven to 375 and line 17x11x1 pan with parchment paper and spray with cooking oil spray (make sure to get the sides too).

Beat eggs with electric mixer on high speed for 5 minutes until thick and light yellow.

Slowly beat in granulated sugar.

Lower speed to low and add water and vanilla extract.

Still on low, slowly add flour, baking powder and salt. Beat just until batter is smooth. Scrape sides and bottom of the bowl and mix just until combined.

Pour batter into prepared pan and spread evenly.

Bake for 8 minutes and touch the center of the cake to make sure it's done.

Run a spatula around the edges of the pan to loosen the cake. Let it rest for a couple of minutes.

Generously sprinkle a clean kitchen towel with powder sugar. Carefully, turn the cake pan upside down onto the towel. Gently remove parchment paper. Trim off crusty edges if necessary.

While the cake is still hot, gently roll cake with the towel from narrow end (don't make it too tight and don't press).

Cool on a wire rack for at least 30 minutes.

Gently unroll the cake. Spread cold custard all over the cake, leaving about an inch and a half one of the short ends(not the one you start rolling on). You might have a little bit custard left over.

Carefully roll the cake back up (starting with the side that has filling to the edge) and place cake on the serving dish, seam down.

Ganache:

Bring heavy cream to boil, be careful not to let it actually boil or it will raise.

Pour boiling cream over the chopped chocolate and stir until melted. Let it cool for a few minutes.

Pour ganache over the top of the cake roll and gently spread it around.
Tried this recipe?
Mention @willcookforsmiles and tag #willcookforsmiles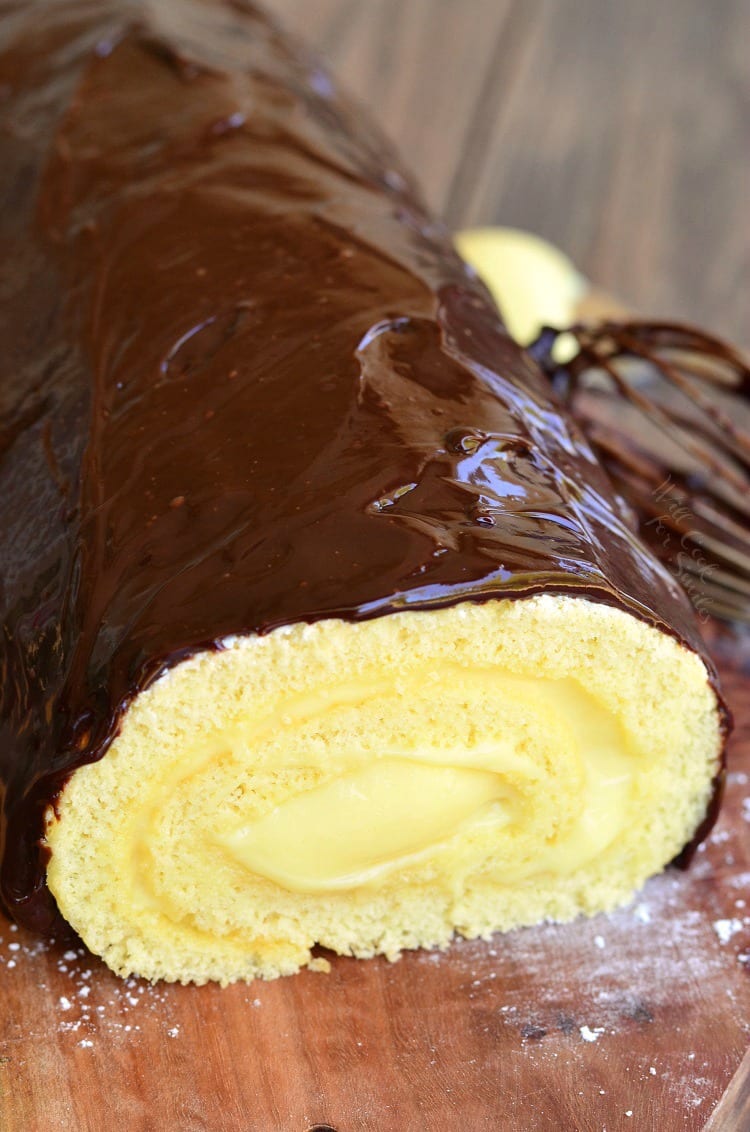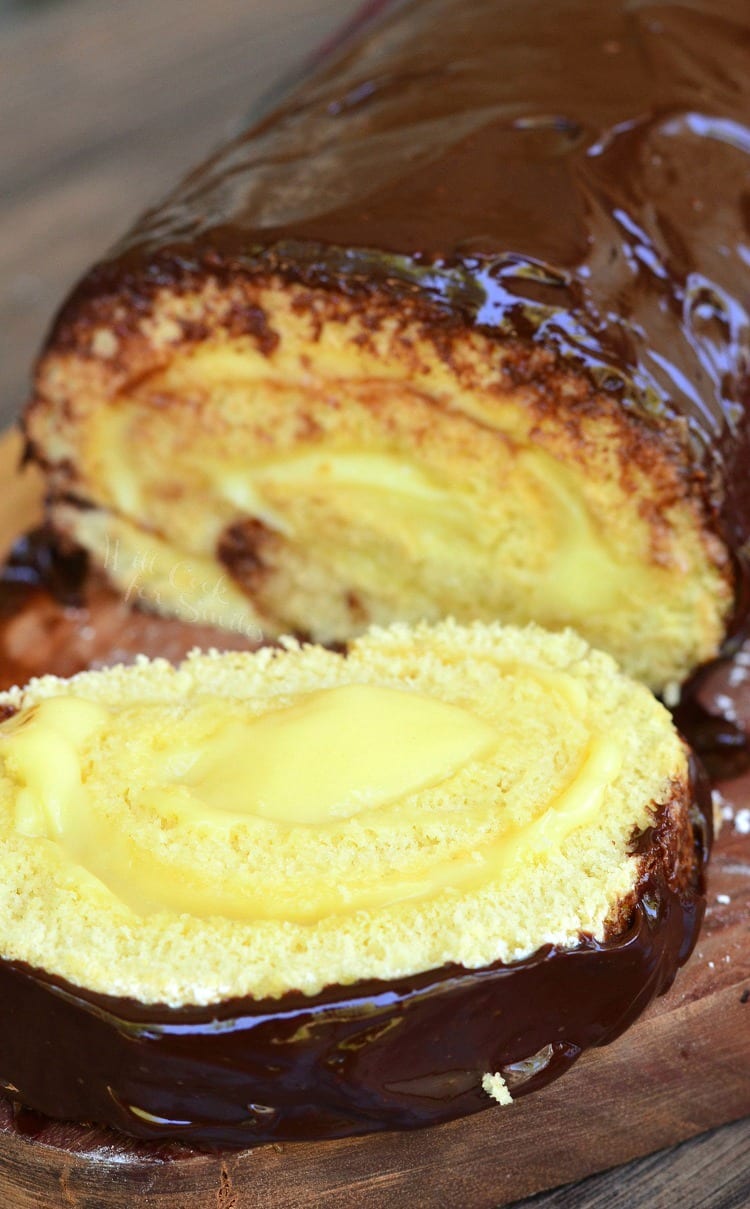 _________________________________________________________
Make sure you follow me through your favorite blog reader (bloglovin or other), subscribe to e-mail or follow me through social media of your choice to keep up with the recipes!

_______________________________________________________

Some More Cake Recipes From Me: