Lamb Chops may seem like a fancy dish that you just order at an upscale restaurant, but that's not true! It's quite easy to cook delicious lamb chops right at home and in no time at all. These flavorful lamb chops are simply seasoned and seared with butter, garlic, and aromatic fresh thyme. Use my easy to follow steps to learn how to cook lamb chops with the best results!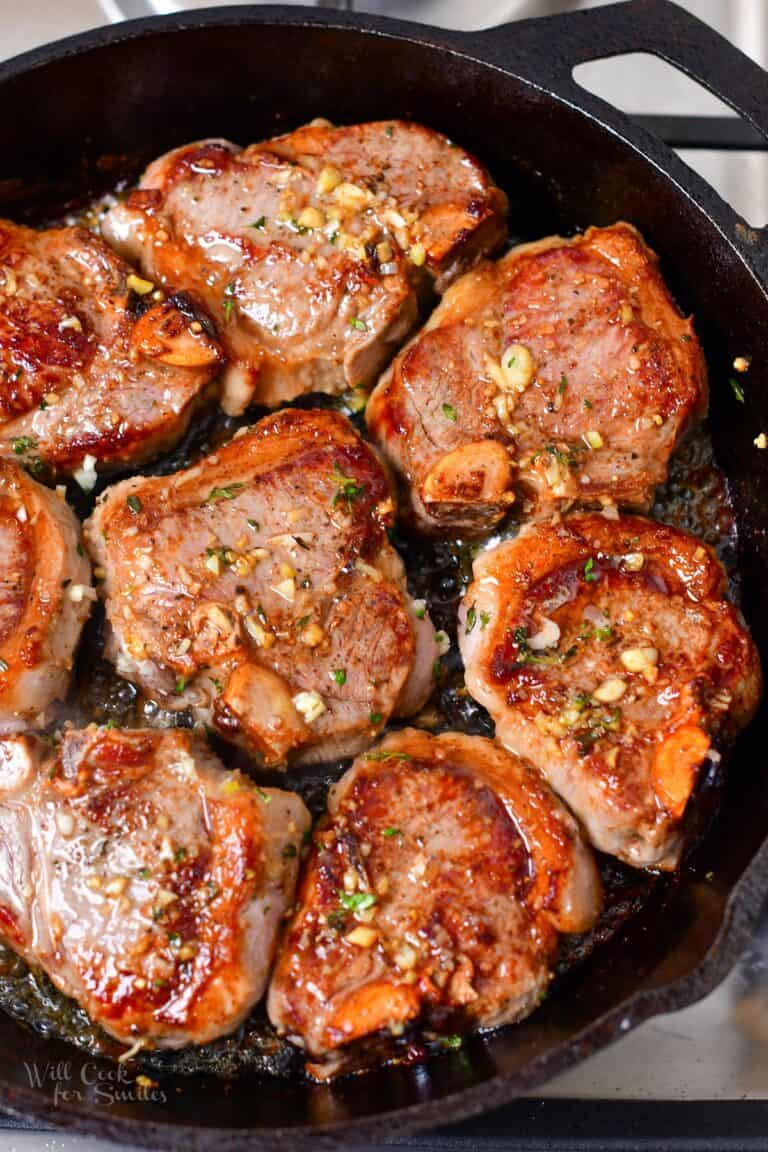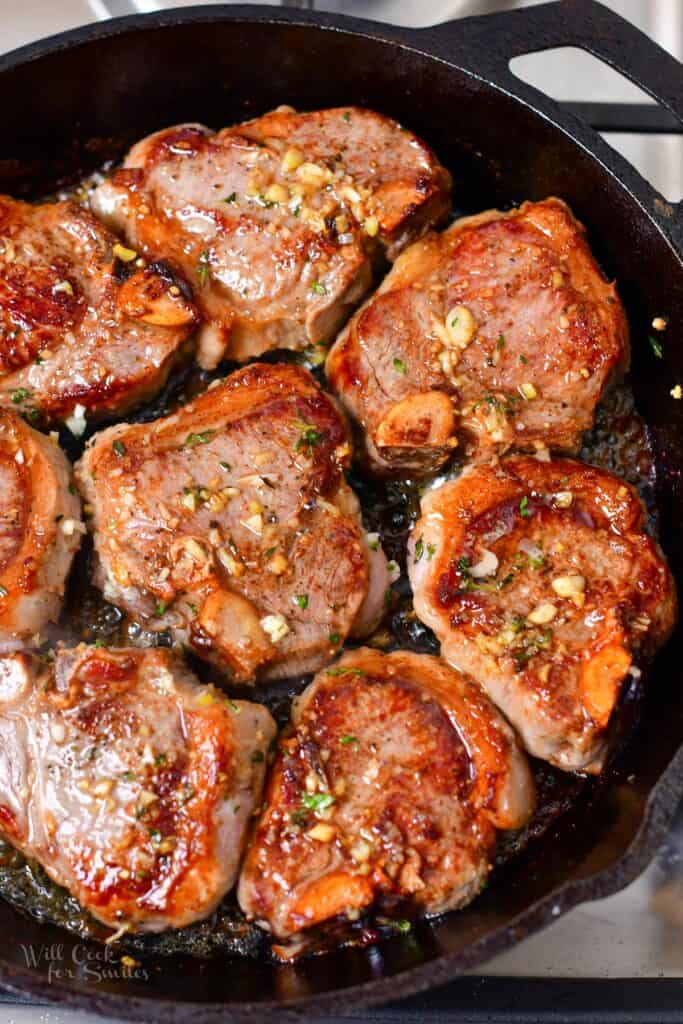 Lamb Chops
I completely understand why most people view lamb as a strictly restaurant-worthy entrée. When made correctly, they taste like something that could only come from the upscale kitchen. But really, it's very easy to cook lamb at home and so fast too!
And trust me on this – just because these lamb chops are homemade doesn't mean they're not better than your favorite restaurants. As long as you follow a few easy steps and tips, you'll have the most tender, juicy, and mouthwatering lamb chops every time.
While there certainly is room for personalizing, I do recommend keeping the ingredients simple. That way you compliment the lamb chops, not overpower them with a bunch of other bold flavors. The ingredients I usually use on lamb chops enhance the natural, rich, delicious flavors of the meat without taking over. Oh, and I should mention again that the BEST part of this recipe is just how quickly all of this comes together. It will take a little over half an hour! Talk about a quick and easy dinner.
Ingredients You'll Need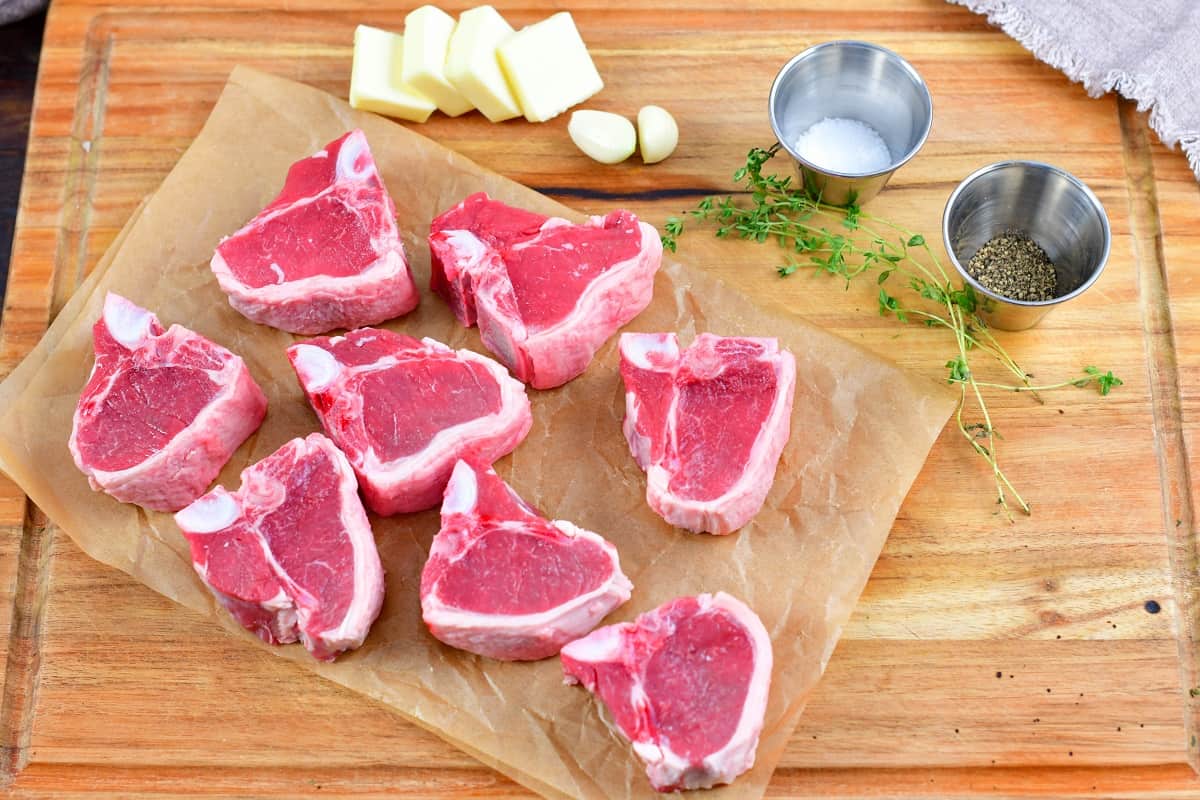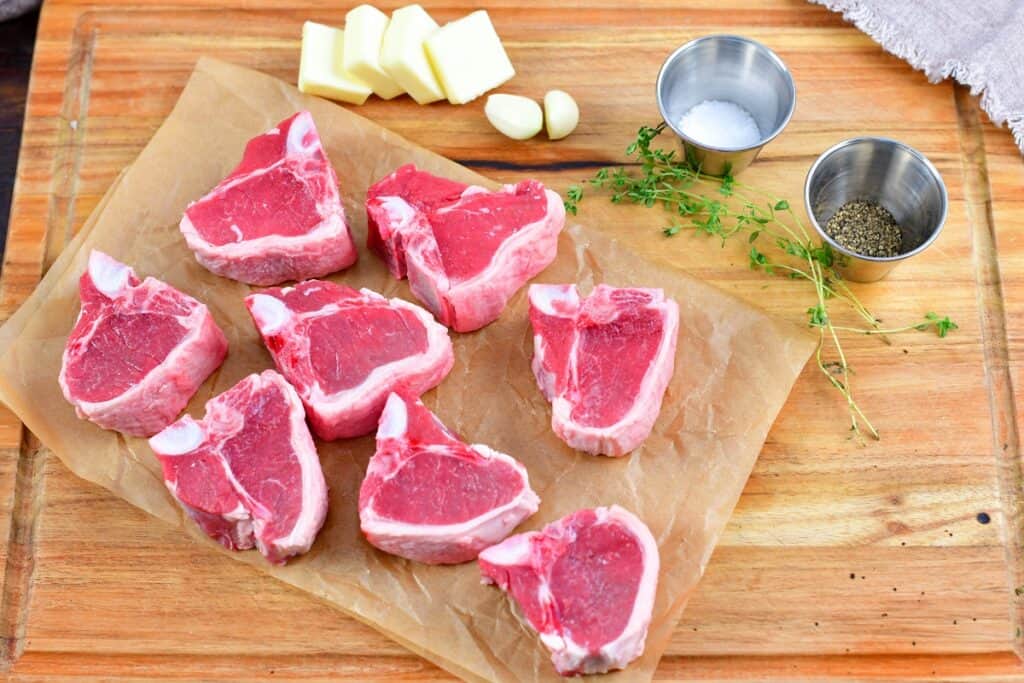 Lamb Chops – You can use either lamb loin or lamb rib chop, so long as they're about 1-1.25 inches in length. (Note the temperature difference for each below.)
Olive Oil – I like to use extra virgin olive oil for the best flavor.
Butter – Use unsalted butter to control the amount of salt.
Garlic – For the most aromatic and flavorful results, use fresh garlic cloves.
Thyme – use fresh thyme for the best results.
Salt
Black Pepper
What are lamb chops?
Lamb chops are small cuts of bone-in meat that come from different parts of lamb, like shoulder, loin, or blade. Lamb is the meat that comes from a domesticated sheep that is less than one year old.
An interesting fact is that all lamb chops are not alike – the term "lamb chop" is actually a reference to several cuts of meat. Most common types you will find are rib chops and loin chops. Other, and slightly less popular ones, are shoulder blade, sirloin, and leg chops. The texture of lamb chops will be different and there is a slight difference in flavor as well.
What does lamb taste like?
Lamb is a very tender meat that has a distinctive rich and gamey flavor. The fat in lamb is evenly distributed through the meat, which helps with the tenderness and rich flavor.
Types of Lamb Chops
The two most common types of lamb chops that you will find are lamb loin chops and lamb rib chops.
The rib chops are cut from the rib rack and are also called "lamb lollipops" because of the long rib bone attached. Lamb rib chop meat is reminiscent of a ribeye. It's very tender, and therefore, tends to be a bit more expensive. Lamb rib chops though do tend to have less meat on them than lamb loin chops.
The loin chop will look like a miniature T-bone steaks. Loin chops are also very tender and rich but they are meatier than lamb rib chops.
How many lamb chops per person?
Lamb chops are pretty small, so you want to aim at 2 or 3 chops per person. If you serve hearty, filling sides along with it, you can keep the amount of chops pretty low. If you serve light sides like vegetables, you may have to go up to 4 chops per person.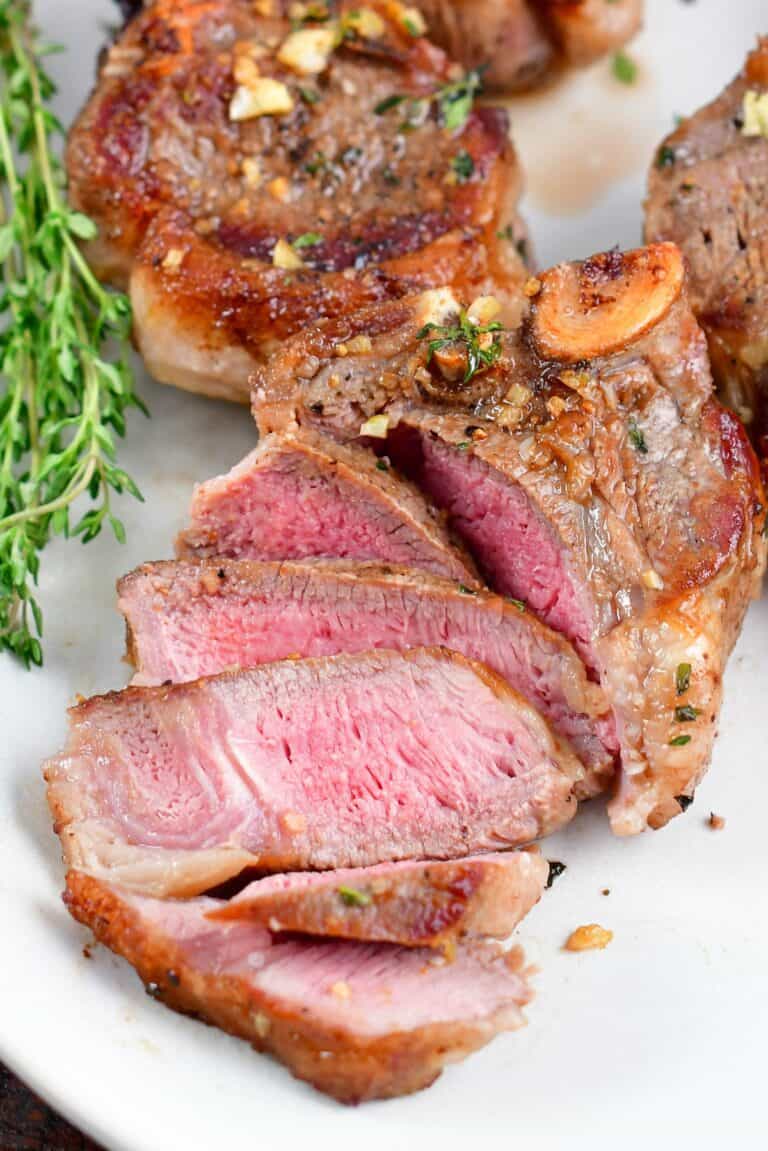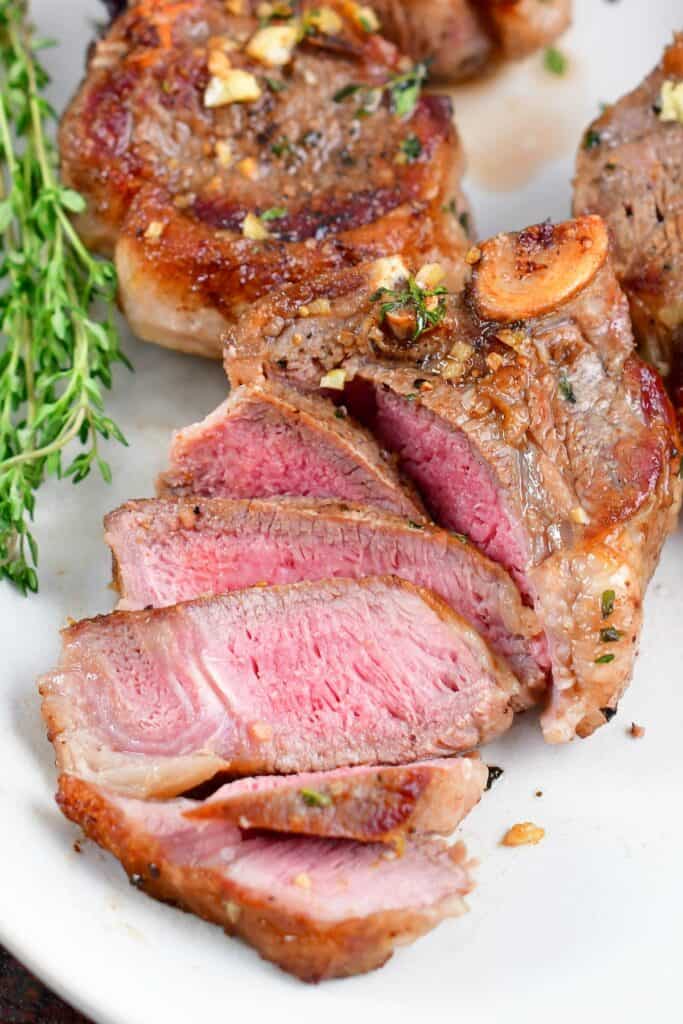 How to Make Lamb Chops
Before starting to cook, take the meat out of the refrigerator and the wrapping and leave them to warm up for about 30-45 minutes.
Once warmed up a bit, pat them dry with a paper towel and season them with salt and pepper.
Preheat the skillet first and add olive oil. Sear the chops on a skillet for about 3-5 minutes and flip.
After flipping, add the butter, minced garlic, and thyme to the skillet. Let it melt and gently swish the pan to combine. Use a spoon to drizzle the meat with the flavorful butter. Cook another 3-5 minutes.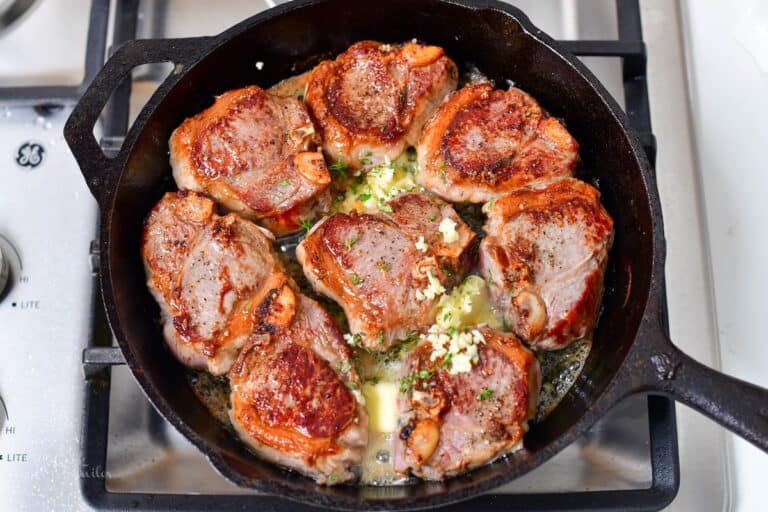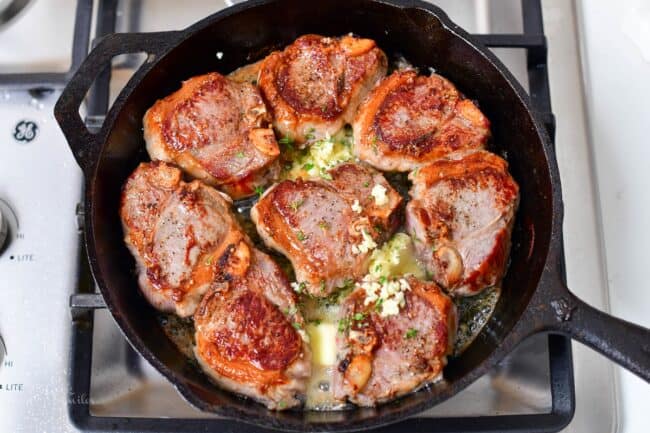 Once the thickest lamb chop has reached the ideal internal temperature, remove them from the skillet and loosely tent them with foil. Let them rest for about 10 minutes.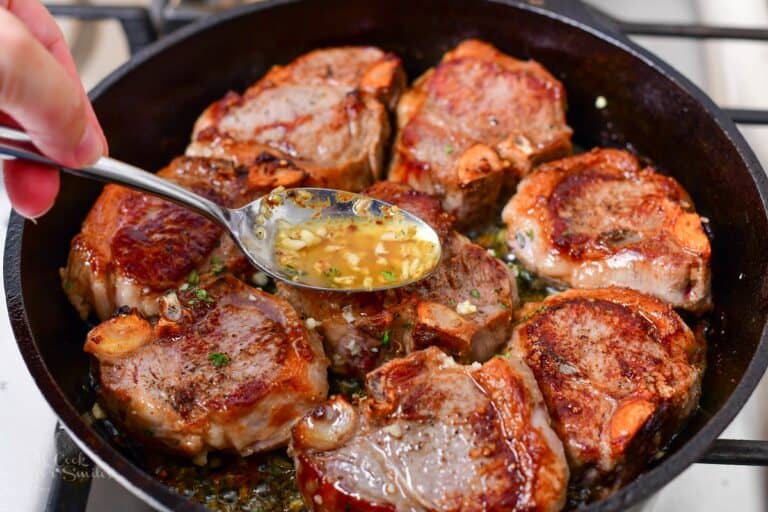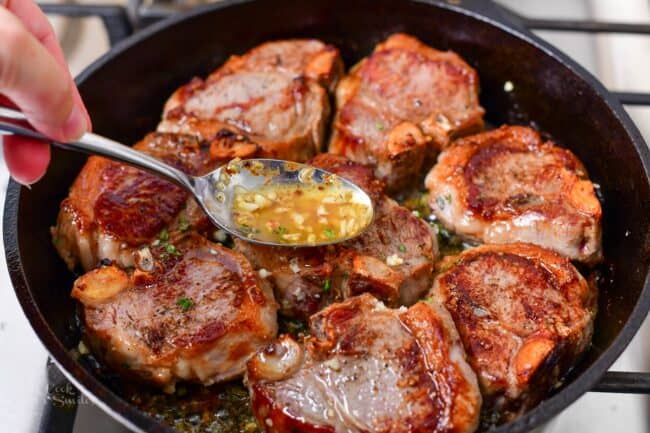 For the best flavor, combine the juices that drained off the meat as it rested with the flavorful butter in the pan, and pour that over the lamb chops while serving.
What temperature should I cook lamb chops to?
Lamb is a very tender cut of meat, so you want to be careful with the temperature. When it's overdone, it will be tough, dried-out, and will taste much more gamey. With that being said, under-cooking the lamb will make the meat unpleasantly chewy.
One of the most important notes you should remember when preparing lamb chops is that lamb rip chops and loin chops are better cooked to different temperatures!
Lamb rib chops (the ones that look like lollipops) are best when cooked to about 130°F. Loin chops (the ones that look like T-bones) are better when cooked to a higher temperature, about 140°F.
Note that USDA recommends that lamb is cooked to 145°F, which in lamb chops is about medium-well.
Here's a good scale to measure the done-ness of your meat:
Rare – 125°F
Medium-rare – 130°F
Medium – 135°F-140°F
Medium-well – 145°F
To measure the internal temperature, use an instant read thermometer and measure the center of the thickest part. Measure close to the bone but NOT touching the bone!
More Restaurant-Style Recipes To Cook At Home!
Surf and Turf – a perfect combination of the juicy, pan-seared steak with sautéed shrimp and scallops in a buttery garlic sauce
Lobster Tails – step-by-step instructions how to prepare the best broiled lobster tails starting with how to butterfly a lobster tail and how to cook them
Steak Diane – a classic filet mignon recipe that is first pan-seared to your perfect temperature and then, topped with an amazing cream sauce
Seared Scallops – made with simple ingredients and easy to follow steps, these seared scallops are better than what most restaurants offer.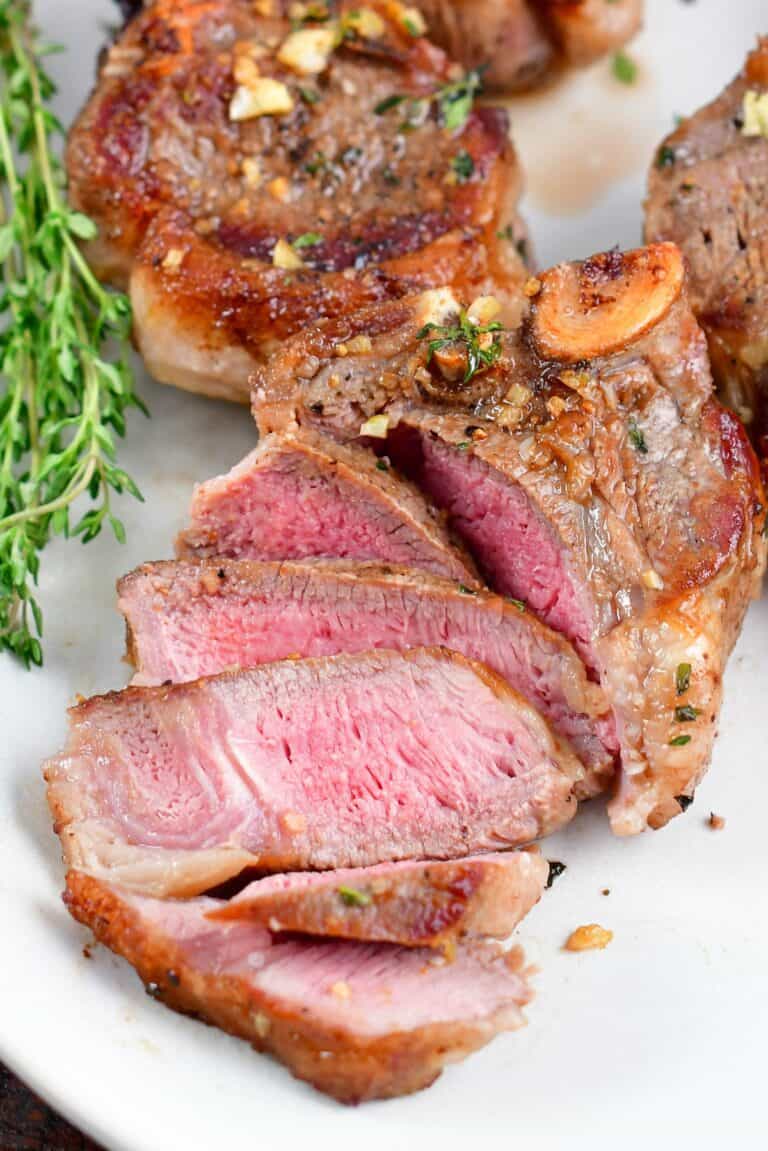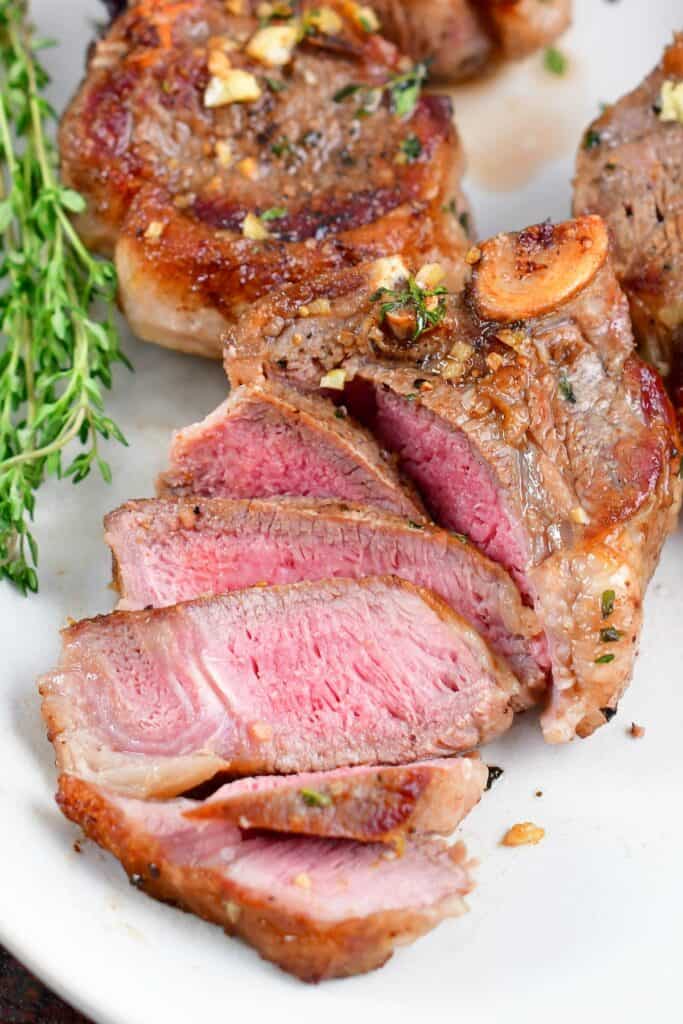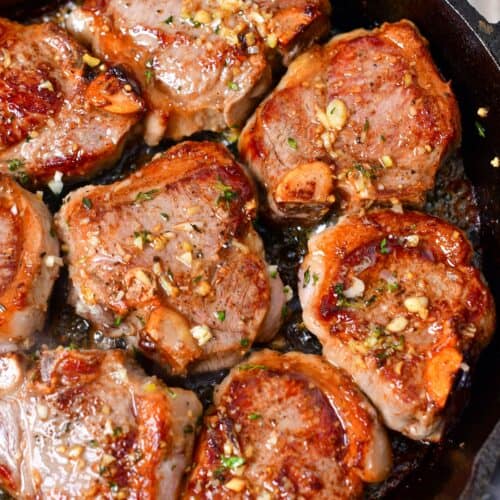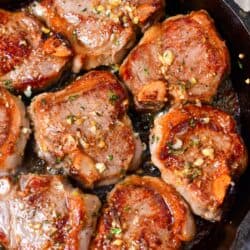 Lamb Chops with Butter, Garlic and Herbs
These flavorful lamb chops are simply seasoned and seared with butter, garlic, and aromatic fresh thyme. 
Print
Save
Saved!
Rate
Ingredients
2

lb

lamb chops that are 1-1.25 inches in thickness

1

tbsp

olive oil

3

tbsp

unsalted butter

2-3

large garlic cloves

1

tsp

fresh thyme

coarse salt

fresh cracked black pepper
Instructions
Prepare lamb chops:
Take the chops out of the refrigerator about 30-45 minutes before cooking to let them warm up.

Prepare the other ingredients so it's ready to go.

Preheat the cast iron skillet over medium to medium-high heat and add olive oil.

Pat each lamb chop with a paper towel and season with salt and pepper on both sides.
Cookie lamb chops:
Place lamb chops into the preheated skillet and let them sear for 3-5 minutes.

Flip each chop over and cook another 3-5 minutes. While lamb chops are cooking add butter, garlic, and thyme. Once butter is melted, carefully shimmy the skillet to spread it all around.

Use a spoon to baste each lamb chop with hot garlic butter.

Take the internal temperature of the largest lamb chop and if it's reached your desired temperature, take them out of the skillet. Take the skillet off heat as well.

Place lamb chops into a serving dish and loosely tent them with a sheet of foil. Let them rest for about 10 minutes.

Combine juices that drained off while the lamb was resting with the flavorful butter in the pan and spoon this buttery mixture over the lamb chops when serving.
Internal Temperature:
Note that USDA recommend that lamb is cooked to 145°, that will be about medium-well temperature in lamb chops.

Lamb rib chops (ones that look like lollipops) are better cooked to 130°. Loin chops (ones that look like T-bone) are better cooked a little more, about 135-140°.

If you prefer other temperature: rare would be around 125°, medium-rare is around 130°, medium around 135-140°, and medium well is around 145°.
Nutrition
Calories:
812
kcal
|
Carbohydrates:
1
g
|
Protein:
37
g
|
Fat:
72
g
|
Saturated Fat:
33
g
|
Polyunsaturated Fat:
5
g
|
Monounsaturated Fat:
30
g
|
Trans Fat:
1
g
|
Cholesterol:
190
mg
|
Sodium:
129
mg
|
Potassium:
497
mg
|
Fiber:
1
g
|
Sugar:
1
g
|
Vitamin A:
286
IU
|
Vitamin C:
1
mg
|
Calcium:
41
mg
|
Iron:
4
mg
Tried this recipe?
Mention @willcookforsmiles and tag #willcookforsmiles