I'm sharing a great new recipe for bead today. It's a no-yeast, savory bread made with fresh basil, fresh mozzarella cheese and sun-dried tomatoes!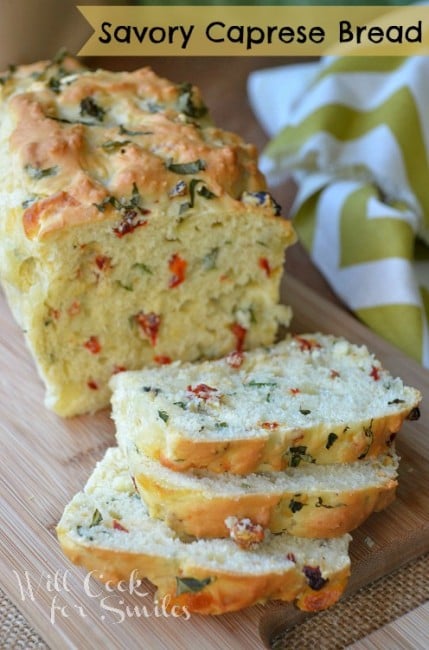 I've been wanting to make a savory bread for so long now and finally got around to it. Specifically, I wanted to make a bread with no yeast. Not that there is anything wrong with it but sometimes, I don't feel like having the taste of yeast. Plus, bread with no yeast is so much softer and more moist.
I feel like spring is the time to cook with fresh herbs. Caprese always becomes a regular salad for me in the spring and summer. I like to bring that flavor combination into other dishes as well. Caprese pizza is one of my favorites and now so as this bread.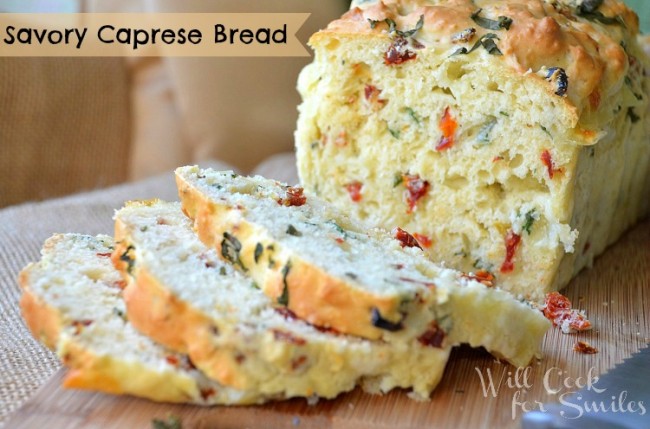 The best part about this is the versatility. It makes a nice snack or a side with your dinner. The best use for it is with sandwiches. Last night, I made a BLT for hubby with this bread and it was amazing! Hope you give it a try!
I'm going to visit my mom this weekend since I haven't seen her much in the last four months. We are planning on having a little cook out so I will be bringing this bread with me. Every time I plan on taking food somewhere, I use my trustee Handi-foil pans. I was happy to find out that they have just about any size or shape of baking pans possible. Best part is that they all come with lids for easy storage and taking it to go!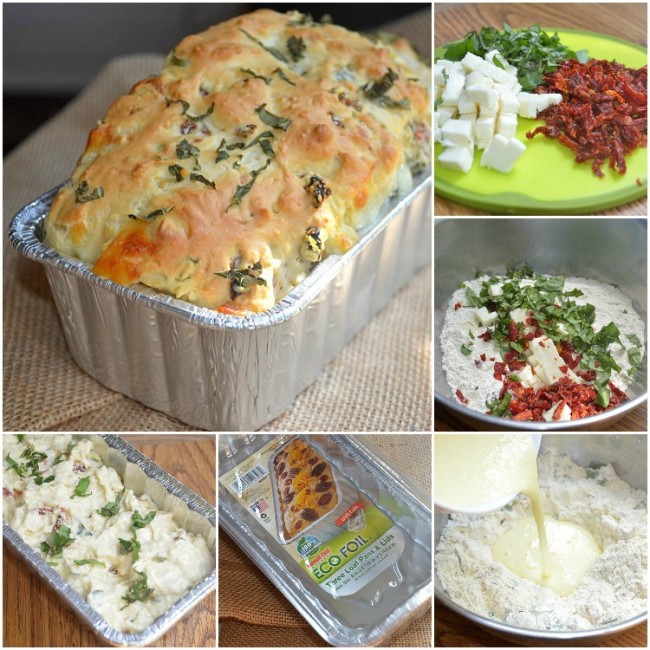 Savory Caprese Bread
Ingredients
(Inspired by Sugar & Everything Nice )
1¼ cup of all purpose flour
1 cup of bread flour
2 tsp baking powder
½ tsp baking soda
1¼ tsp of salt
3½ to 4 oz of cubed, fresh mozzarella cheese
2 tbs of chopped fresh basil
⅓ cup of chopped sun-dried-tomatoes (not packed)
2 eggs
2½ tbs grape-seed oil (can use extra virgin olive oil)
1¼ cups buttermilk
Instructions
Preheat the oven to 350 and grease an 8x4 inch bread pan.
In a large mixing bowl, combine flour, baking powder, baking soda and salt. Mix well.
Add the basil, mozzarella and sun-dried tomatoes to the four and mix until all incorporated.
In a separate bowl, whisk together the eggs, oil and buttermilk.
Pour the liquids into the flour mixture. Mix with a wooden spoon until all the ingredients are well combined. (The dough will be sticky.)
Transfer the dough into the bread pan and spread it evenly.
Bake for 40-45 minutes (until the toothpick inserted in the center comes out clean.)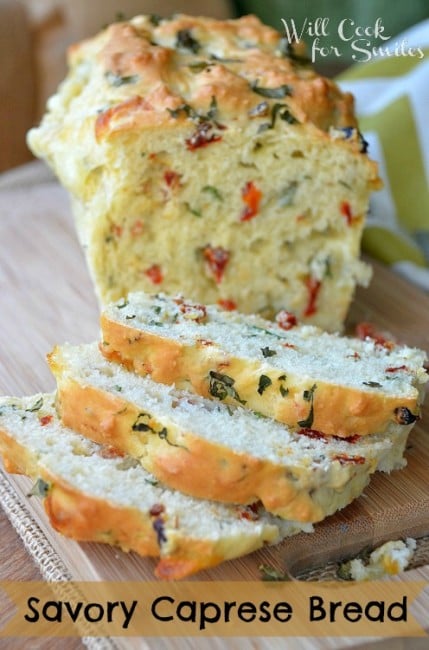 Make sure you follow me through your favorite blog reader (bloglovin or other), subscribe to emails of follow me through | Facebook| Twitter| Pinterest| so you don't miss any more recipes!
PLEASE NOTE: I switched the email delivery system! The switch happened in the middle of March. If you subscribed before then, PLEASE re-subscribe in the side bar! HUGS!
I will be sharing this recipe at the wonderful parties in my party tab + Weekend Potluck and Rattlebridge Farm.  Swing by and link up your own projects!
Remember to come back and link up to my party on Saturday night!!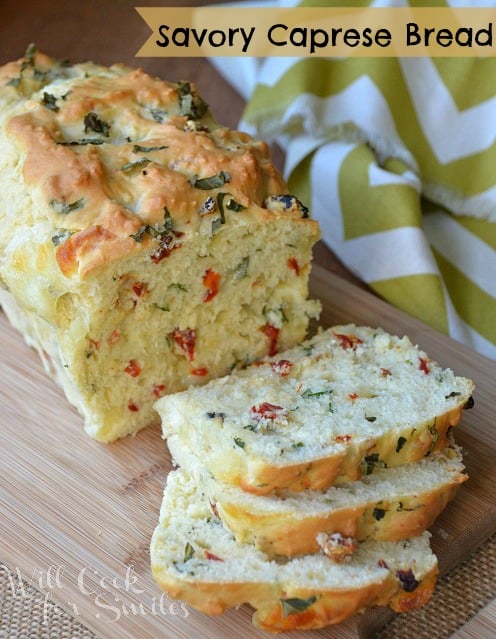 ***Disclosure: I received compensation and product from Handi-foil for the purpose of the development of this recipe. All the opinions and photographs are my own!