Continuing with the basic sauces and today I'm sharing Hollandaise Sauce. This smooth, delicious sauce and only has a few ingredients. I found a way that makes this sauce fairly easy to make.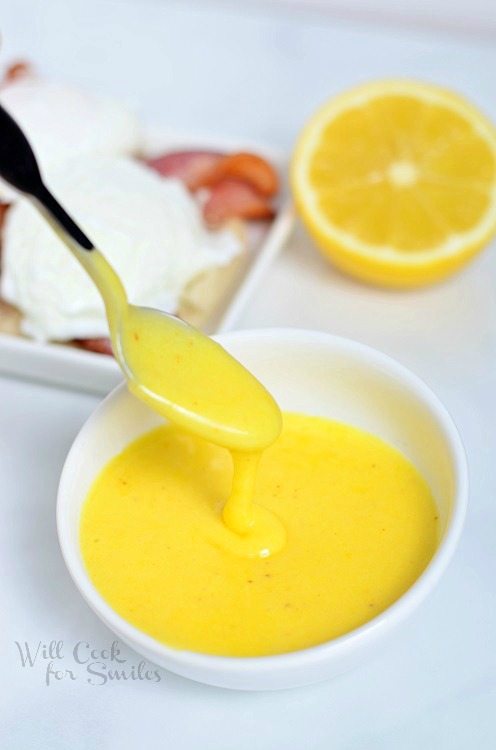 When I was planning my basic sauces series, I asked my Facebook fans about the sauce they really wanted to see. Many said that they wanted to see Alfredo and Marinara, of course, but there were a couple of people who suggested Hollandaise sauce because it's tough. I hear it all the time that people are scared of this sauce. It's completely understandable. And guess what? I've been scared of this sauce for years! I mean common,  it's a sauce that is made by beating the heck out of egg yolks while slowly adding warm butter … you can't stop vigorously whisking either!  I can't tell you how many times I've turned over the bowl while doing it and had it all spill. I love Eggs Benedict but it didn't used to seem to be worth it.
I am not scared of it anymore and neither should you! Technology makes things easier for us for a reason!! My mom will definitely agree with this statement. She always tells me stories when they had to make the puff pastry by hand or vigorously whisk things to make them thicken my hand. Our experienced chefs will be the first to say "thank you" for kitchen gadgets that make life easier.
I found a great way to make this sauce easier to make. I use my handheld immersion blender BUT with the whisk attachment. This takes out all the pain of vigorous whisking. I love it!!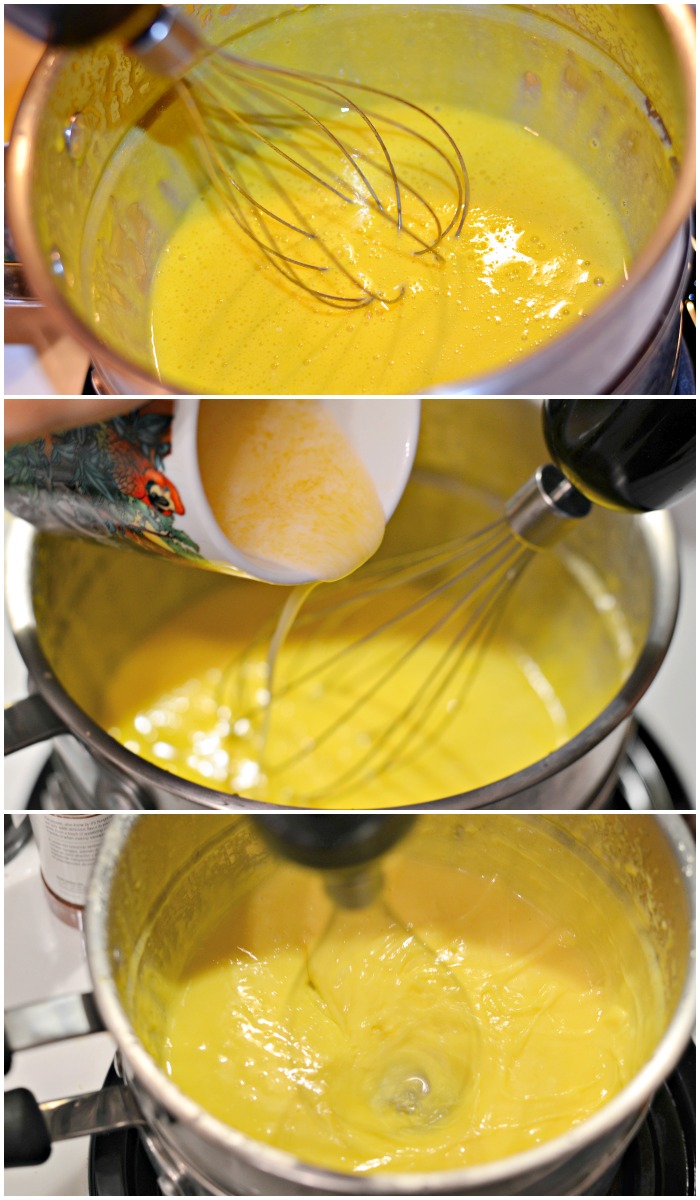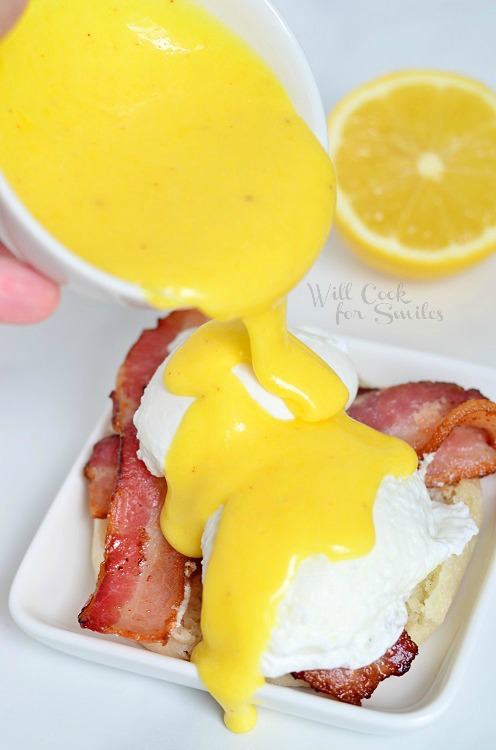 Eggs Benedict is the most popular way to use Hollandaise sauce. I absolutely love Eggs Benedict and I love to make it with different meats. I've used Canadian bacon, ham, sausage and even smokes salmon (mmmm, smoked salmon…)!
Let me give you another great idea for using this sauce. Savory waffles!! This sauce would be perfect on top of some Smoked Cheese and Green Onion Waffles.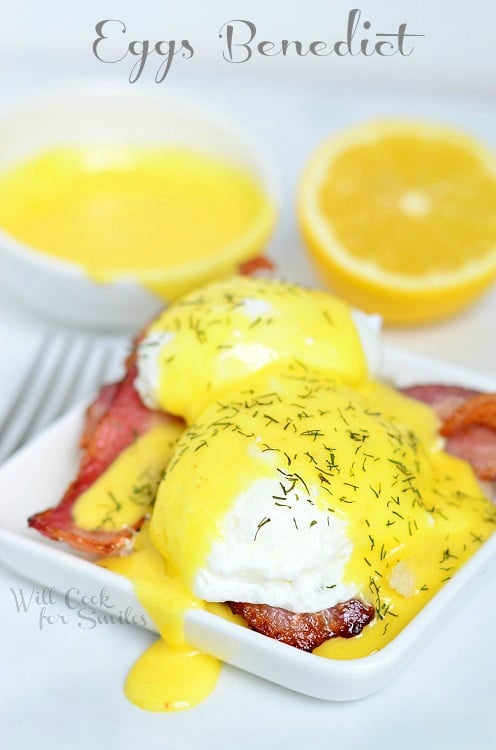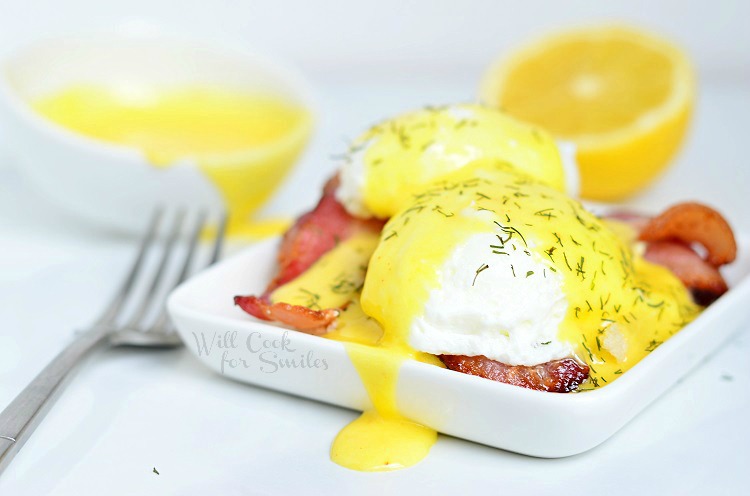 _________________________________________________________
Make sure you follow me through your favorite blog reader (bloglovin or other), subscribe to e-mail or follow me through social media of your choice to keep up with the recipes!
        
I will be sharing this recipe at the wonderful blog parties in my party tab , Weekend Potluck, Tip Junkie and Rattlebridge Farm.  Swing by and link up your own projects!
_______________________________________________________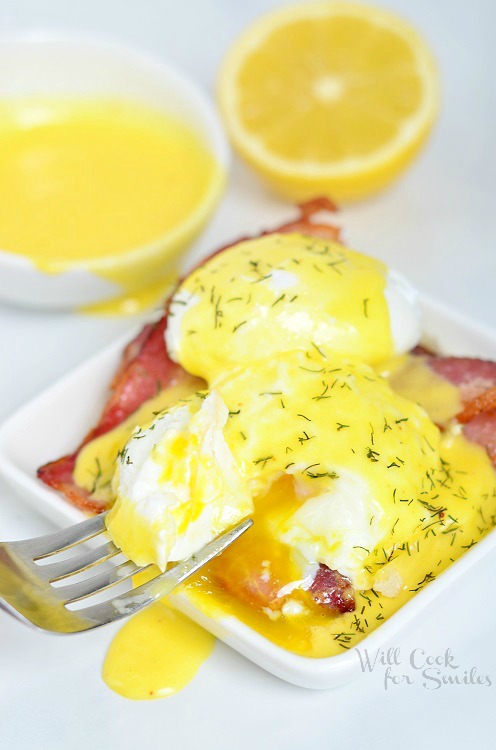 More Sauces: