Luscious Oreo cheesecake that is guaranteed to blow you away. Smooth, silky Oreo cheesecake sits inside a crust made with Oreo cookies and topped with a delicate mascarpone frosting.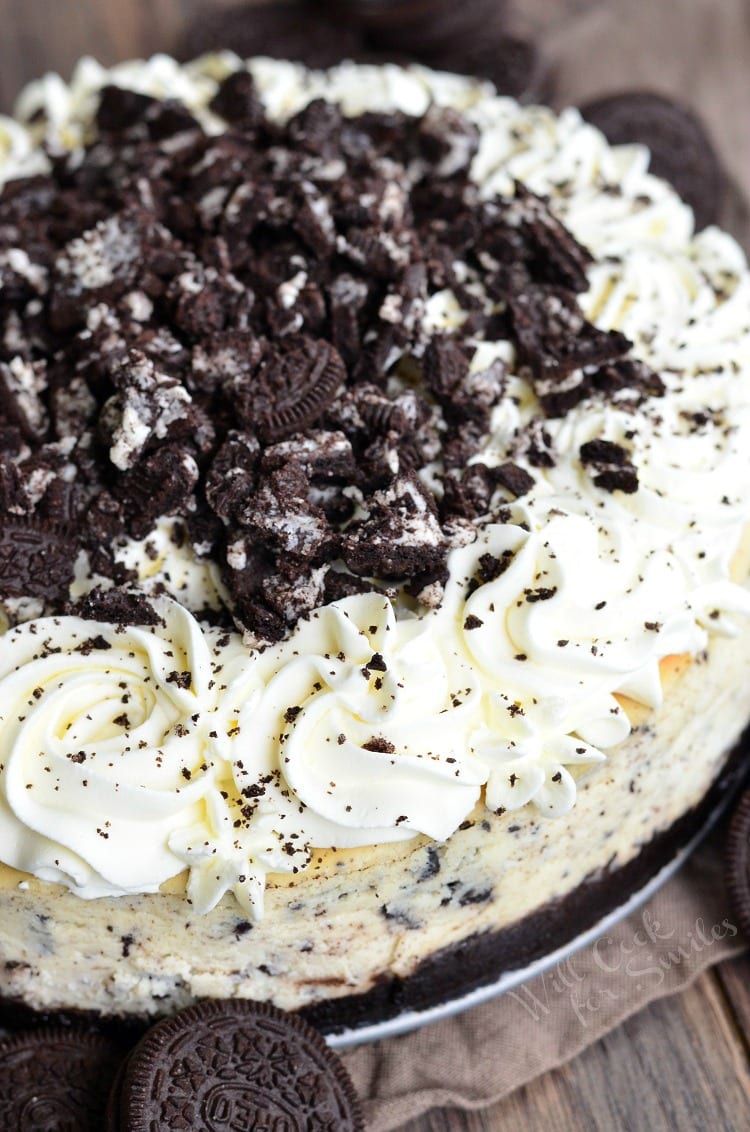 Phew, what a week! Hosting my first Thanksgiving and having my sister's sweet 16 birthday bash all in a three day span definitely wore me out. I need some sleep and time away from the kitchen. I don't think that I've ever spent more consecutive hours in the kitchen, even when I worked in the restaurants. Two straight days of cooking for Thanksgiving dinner and then two days of cooking for the party. Now, my stove and I need some time apart. It doesn't want to see me any more that I want to see it. You think I'm joking but I'm not! The light bulb in my oven gave up sometime on Wednesday night and the fan is now making some strange grinding noise. The poor thing is as exhausted and I am.
But, I'm happy to report that everything was worth the effort because the dinner and the party were a great success.
I hope everyone had a wonderful Thanksgiving week and enjoyed every bite and every minute with the family too. Our Thanksgiving was very nice. You should have see that pretty, pretty turkey. It was beautiful and delicious. I gotta say that I was quite proud of my first turkey.
Everything was good though, the sides, the bird, and dessert. Oh boy, the dessert…I'm still hearing about the dessert.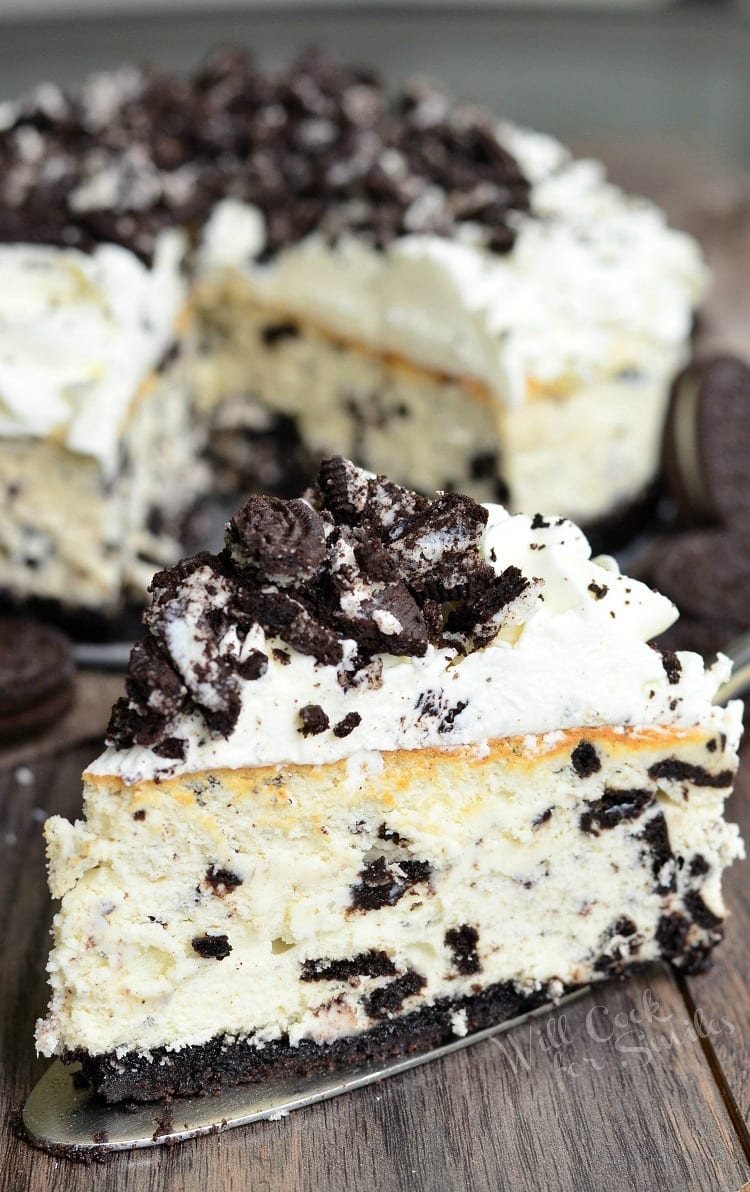 My sister's birthday falls within a day or two of Thanksgiving so every year, on Thanksgiving, we celebrate her birthday as a family. Since our whole family is already gathered for dinner, we set time aside for her birthday before she runs off to celebrate with her friends. I always make a special birthday cake for her separately from any other Thanksgiving desserts, and she usually requests a cheesecake.
This year was a little different though, this year was the big 1-6 birthday! We were throwing a HUGE sweet 16 party for her and her friends and of course, mom and I were in charge of the food. I was making (what seemed like) a million cupcakes for the party so she didn't even mention that she wanted her birthday cheesecake. Birthday party or not, I couldn't let our family dinner go by without celebrating her birthday with the family, so I made her a little surprise cake.
She is a sucker for any treat that has the words "Oreo" or "KitKat" in it so I didn't have to think twice about the kind of cheesecake to make for her. It had to be Oreo and it had to blow away every other cheesecake I've made for her. I know it's hard to beat a S'Mores Cheesecake or a KitKat cheesecake (which I made last year) but I definitely succeeded. This cheesecake is not just LOADED with Oreo cookies, it's also topped with a dreamy mascarpone frosting that brings a delicate, creamy goodness to every bite.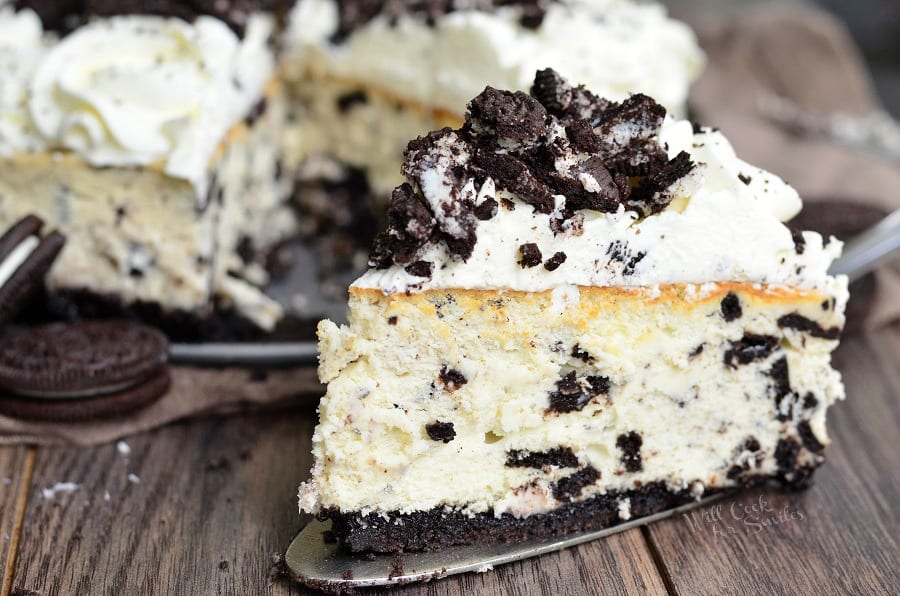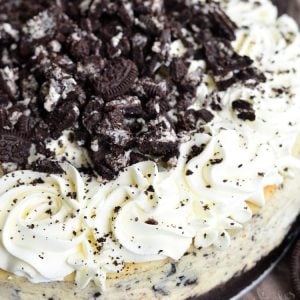 The Ultimate Oreo Cheesecake
Cook Time
1
hour
25
minutes
Total Time
7
hours
25
minutes
Servings
1
9-inch cheesecake
Ingredients
Oreo crust:

26

Oreo cookies

pulsed to crumbs

5

Tbsp

butter

melted

Cheesecake:

3 1/2 8

oz

packs of cream cheese

softened (28 oz total)

1/3

cup

sour cream

2

eggs

2/3

cup

heavy cream

¾

cup

white granulated sugar

2

Tbsp

corn starch

2

tsp

vanilla extract

12-14

Oreo cookies

crushed

Frosting:

8

oz

Mascarpone cheese

1

cup

of heavy whipping cream

1

tsp

vanilla extract

½

cup

of powder sugar

Topping:

10-12

Oreo Cookies

crushed
Instructions
Preheat the oven to 325 degrees and grease a 9 inch springform pan. You will need a large roasting pan that's bigger and longer than the springform pan. (I use the aluminum foil disposable ones). If you are not sure about your springform holding up in water, you can wrap the outside of the springform pan in heavy duty aluminum foil from bottom up to the sides. I recommend wrapping the outside of the springform in foil before adding the crust and cheesecake batter.)

Crust:

Pulse Oreo cookies for crust in a blender until it's just crumbs. Mix Oreo cookie crumbs and melted butter in a mixing bowl until thoroughly incorporated.

Spread crumb mixture in the bottom of the springform pan, evenly, pressing it over the bottom and a little up the sides.

Cheesecake:

In a bowl of an electric mixer, beat cream cheese on medium-high speed until smooth and fluffy, 2-3 minutes. Scrape sides and bottom of the bowl and beat for another minute.

Add corn starch and sugar and mix until combined.

Beat in eggs, one at a time, until well incorporated.

Add sour cream, vanilla extract, and heavy cream and beat until all mixed very well.

Add crushed Oreo cookies and beat until incorporated throughout the batter. Scrape sides and bottom of the bowl and mix the batter with the spatula.

Transfer the batter into the spring form and spread it evenly.

Place roasting pan into the oven and place cheesecake springform pan inside the roasting pan. Carefully add water to the roasting pan, about half way up the side of the springform.

Bake for 85-90 minutes. Turn off the oven and open the oven door half way. Let cheesecake rest for about 10 minutes and take it out of the oven (out of the roasting pan and carefully take off the foil).

Let it rest for 10 minutes on the counter and then gently run a greased butter knife between sides of the cheesecakes and the springform to carefully separate it. (You don't actually have to take the cheesecake out of the pan until ready to frost.)

Cool cheesecake for an hour and then place it in the refrigerator. Refrigerate for at least 4 hours before adding the frosting.

Frosting:

(Use whisk attachment for frosting.) In a bowl of an electric mixer, add mascarpone cheese, heavy whipping cream, and vanilla extract. Start on low speed to mix the ingredients and gradually increase the speed over a few seconds to medium-high. Slowly pour in the sugar as the mixture thickens while mixing.

Do no walk away, this will be ready fast!

Beat on medium-high speed until stiff peaks form and gradually lower the speed, over a couple of seconds.

Add frosting to the piping bag and generously frost/decorate the cold cheesecake.

Add some crushed Oreo cookies on top.
Recipe Notes
Recipe from Lyuba @ willcookforsmiles.com All images and content are copyright protected. Please do not use my images without prior permission. If you want to share this recipe, please simply link back to this post for the recipe. Thank you.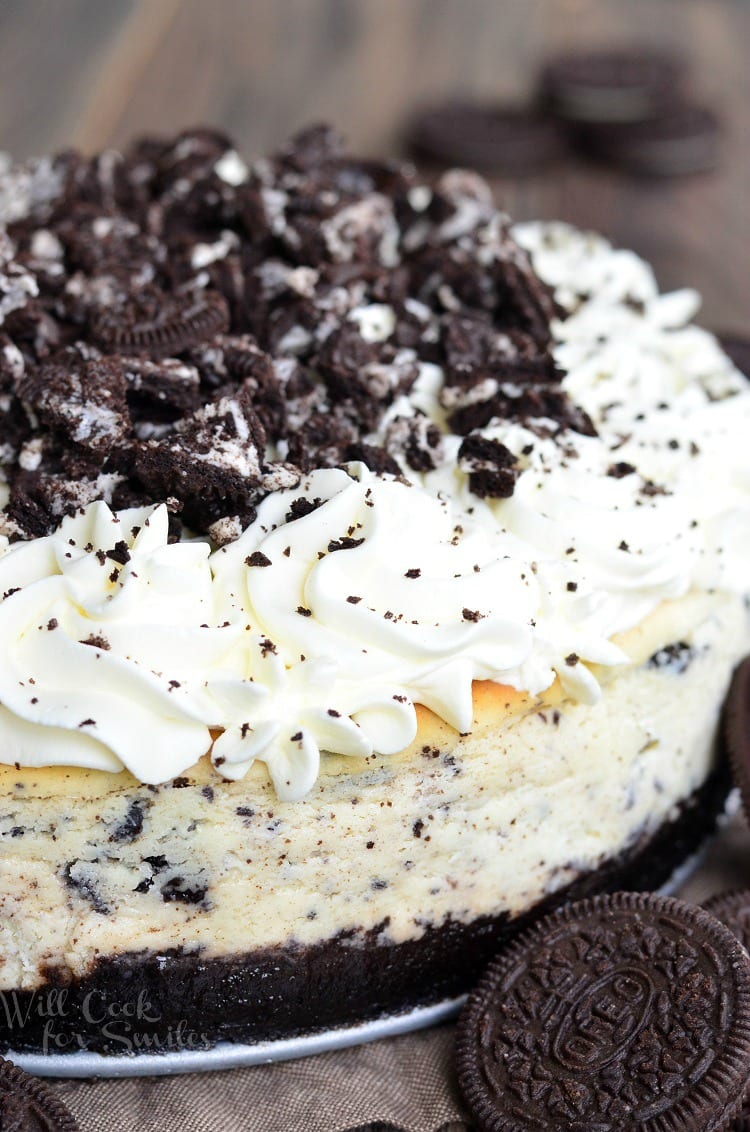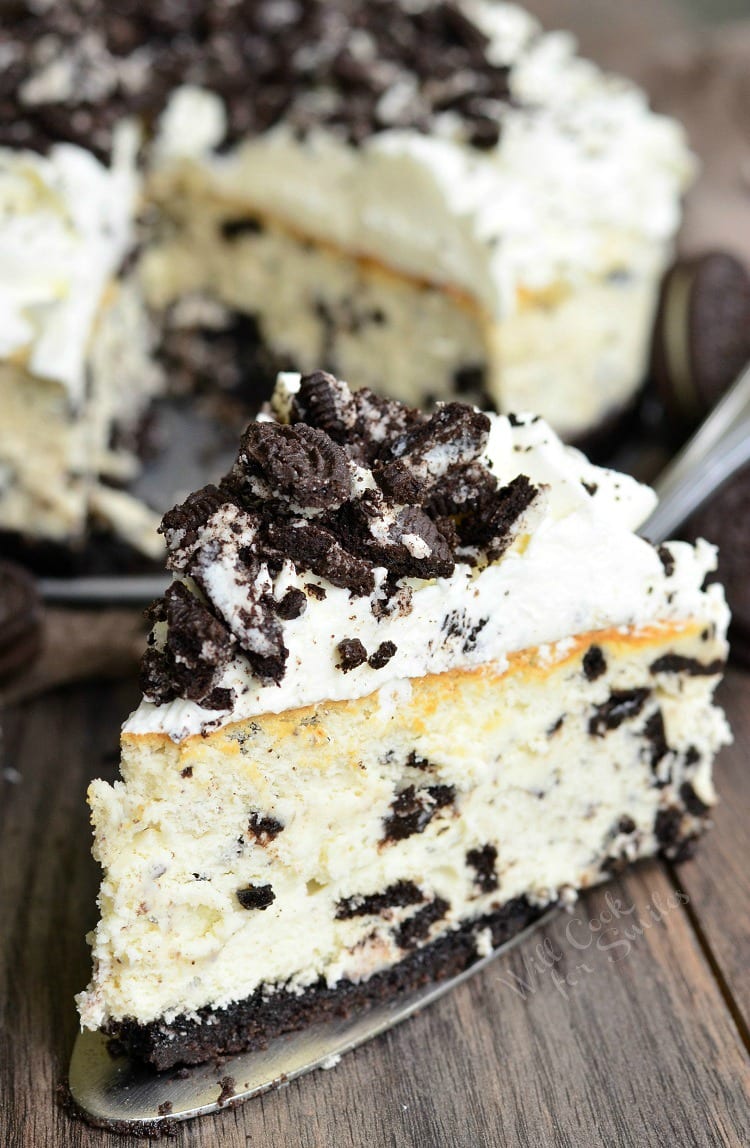 _________________________________________________________
Make sure you follow me through your favorite blog reader (bloglovin or other), subscribe to e-mail or follow me through social media of your choice to keep up with the recipes!
        
_______________________________________________________

Some More Recipes From Me: