Bacon Wrapped Chicken tenders is a delicious and easy family dinner. Juicy chicken tenders glazed with a combination of maple syrup and Dijon mustard and wrapped in a thick Applewood bacon.
If you enjoy the bacon theme, try our other bacon wrapped dishes like Bacon Wrapped Mozzarella Chicken and Bacon wrapped Pork Tenderloin.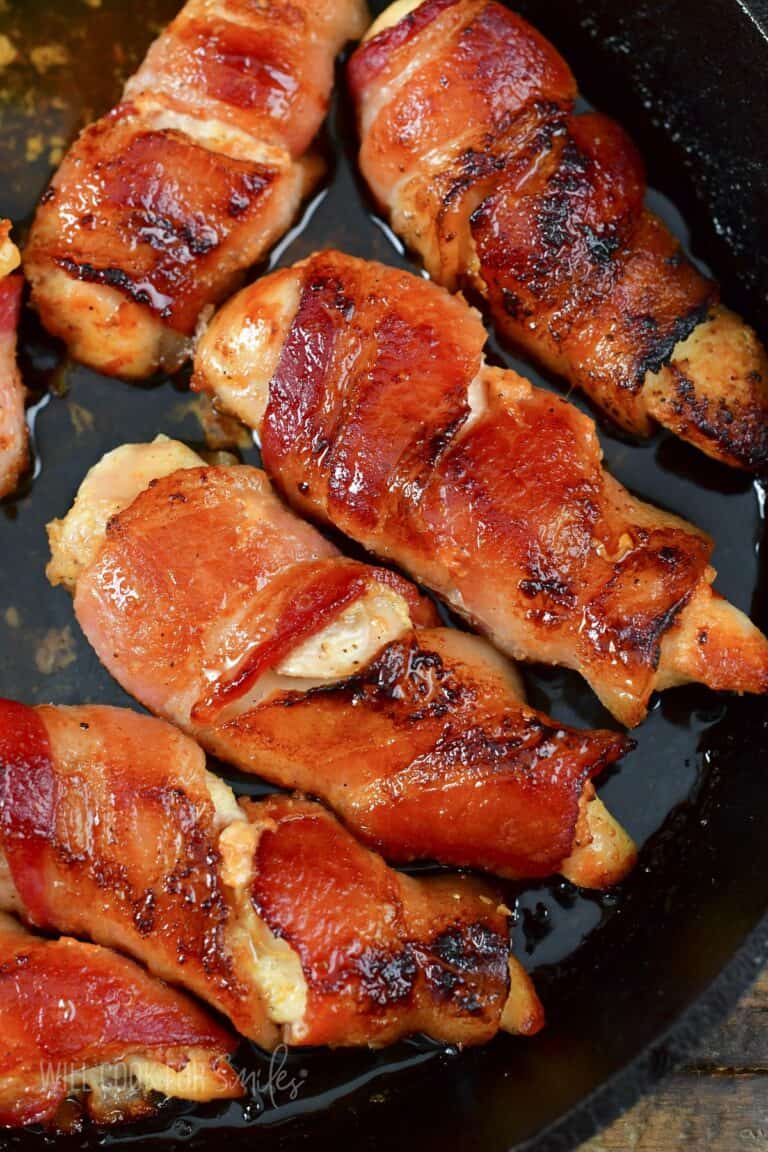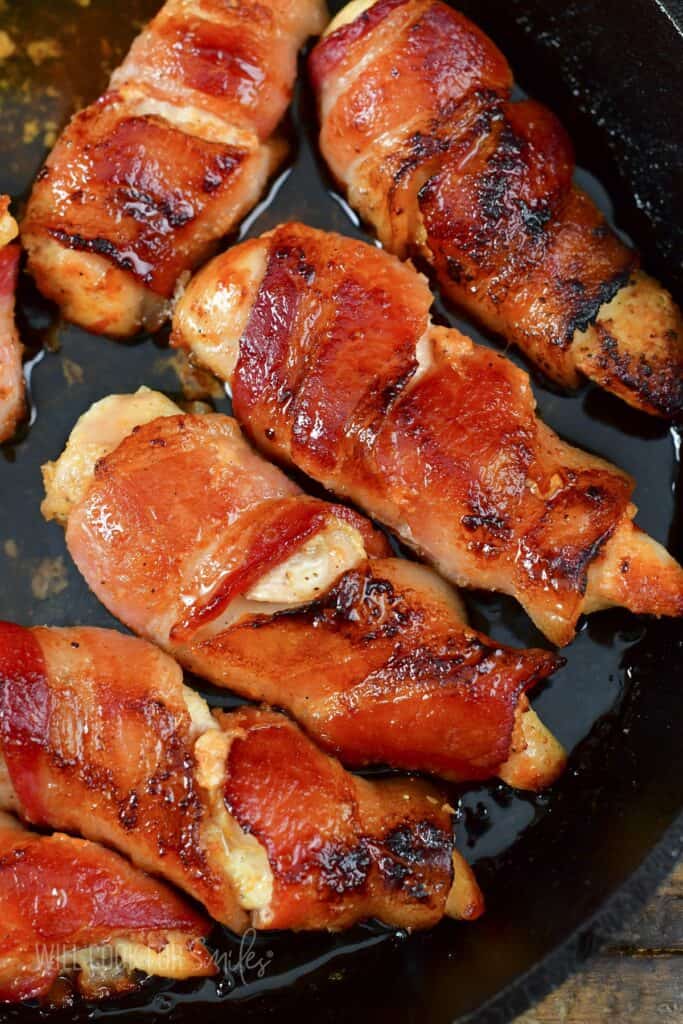 Bacon Wrapped Chicken
Need a chicken dinner recipe that's a step above all the others? I've got you covered! This is a quick and easy chicken dinner recipe that certainly doesn't lack in the flavor department.
Dijon mustard and sweet maple syrup lend the chicken plenty of flavor, but it's the bacon wrapped exterior that really steals the show. I've always been a big believer that bacon can make just about everything more delicious, and that includes chicken tenders!
As much as my family absolutely loves devouring a big serving of these chicken strips for dinner, they might just be an even bigger hit at parties. Whether it's Super Bowl Sunday or a birthday party, consider serving a platter full of Bacon Wrapped Chicken Strips!
Making these Bacon Wrapped Chicken Strips is incredibly easy. Essentially, you just have to smother the chicken itself in the maple Dijon mixture, wrap it in bacon, sear it, then bake until finished. It's such a great hassle-free recipe to use on either a busy weeknight or just before your guests arrive to the party!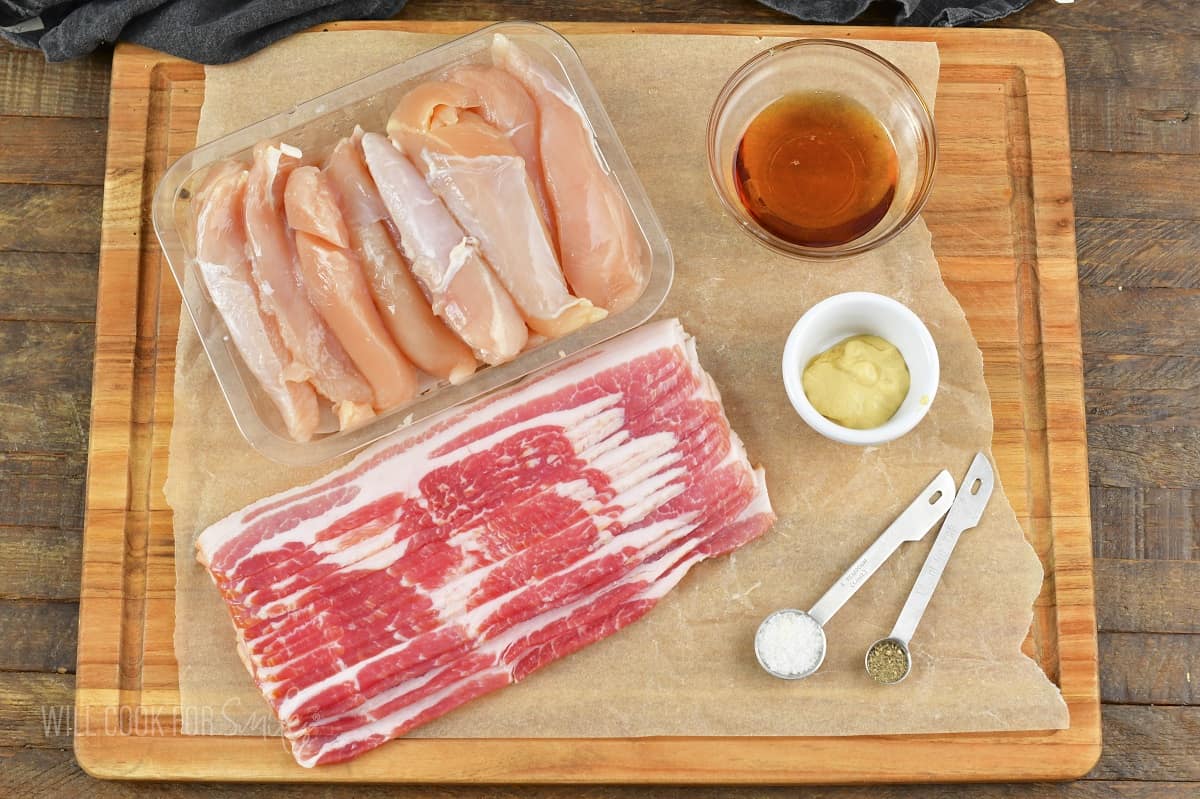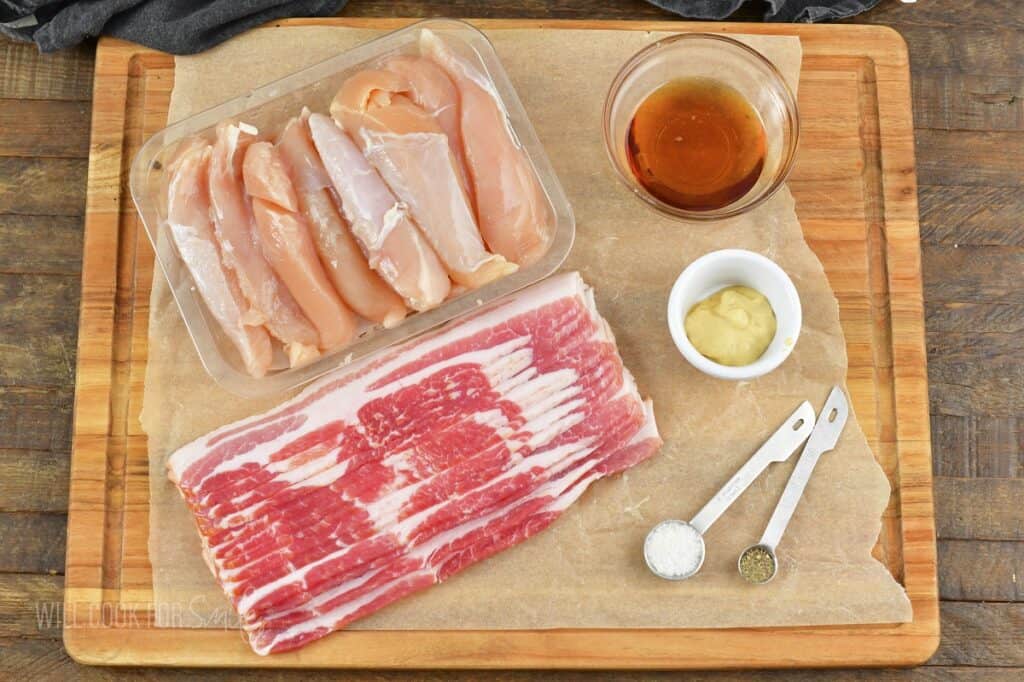 Ingredients Notes:
Chicken – You can definitely use frozen chicken strips if you need to. Just make sure they're fully thawed and patted dry with a paper towel prior to starting this recipe.
Bacon – I prefer to use thick bacon for this recipe. There's just something about the bacon to chicken tender ratio is so much tastier than thin bacon.
Vegetable Oil
Maple Syrup – For the absolute best flavor, try to use a good quality pure maple syrup.
Dijon Mustard – Do NOT substitute this with plain yellow mustard.
Seasonings – You just need a simple combination of kosher salt and freshly cracked black pepper.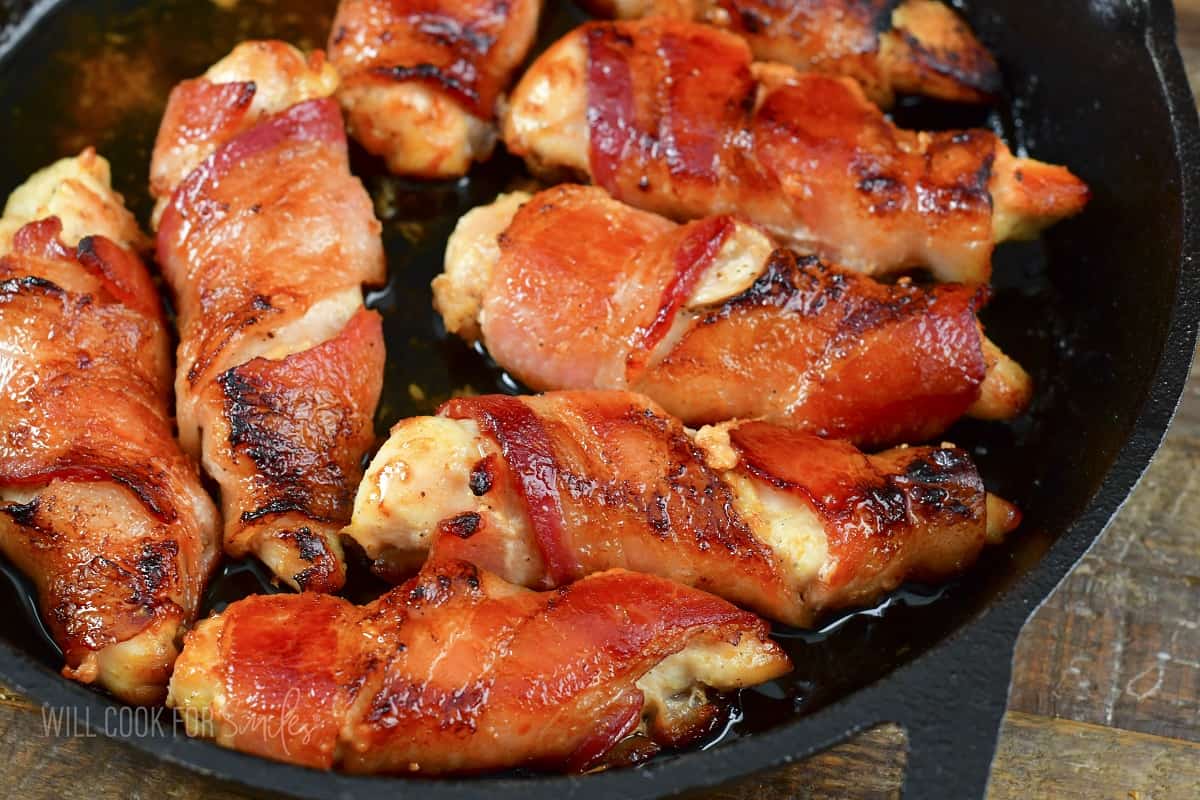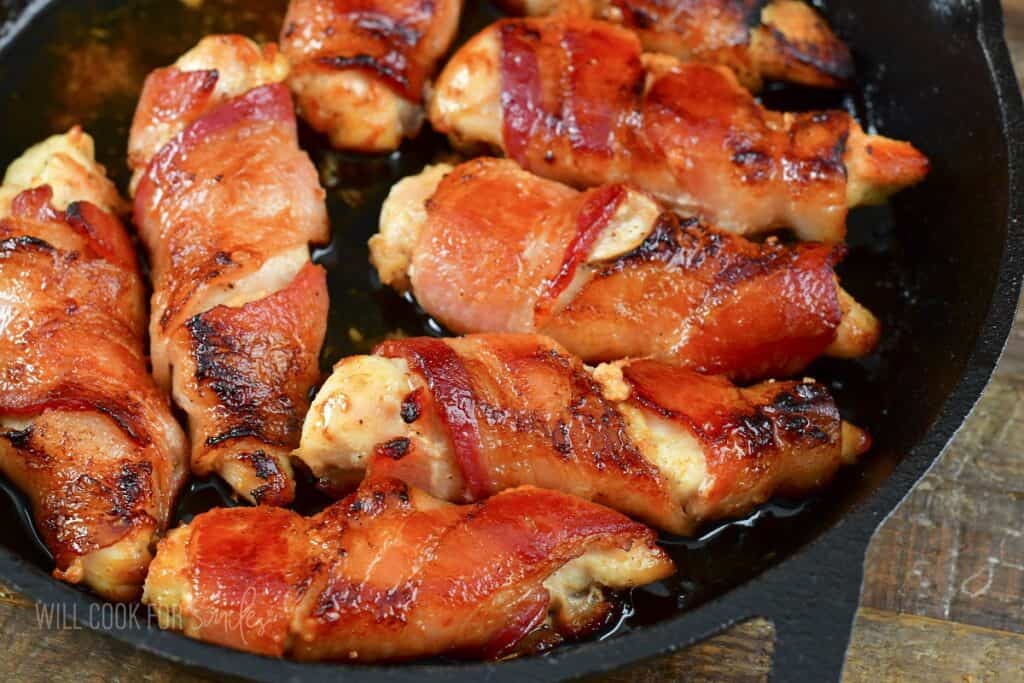 Step-by-Step Instructions
Prepare.
Preheat your oven to 400°F.
Next, preheat a seasoned cast iron skillet on your stove top over medium heat. Rub a little extra oil on it.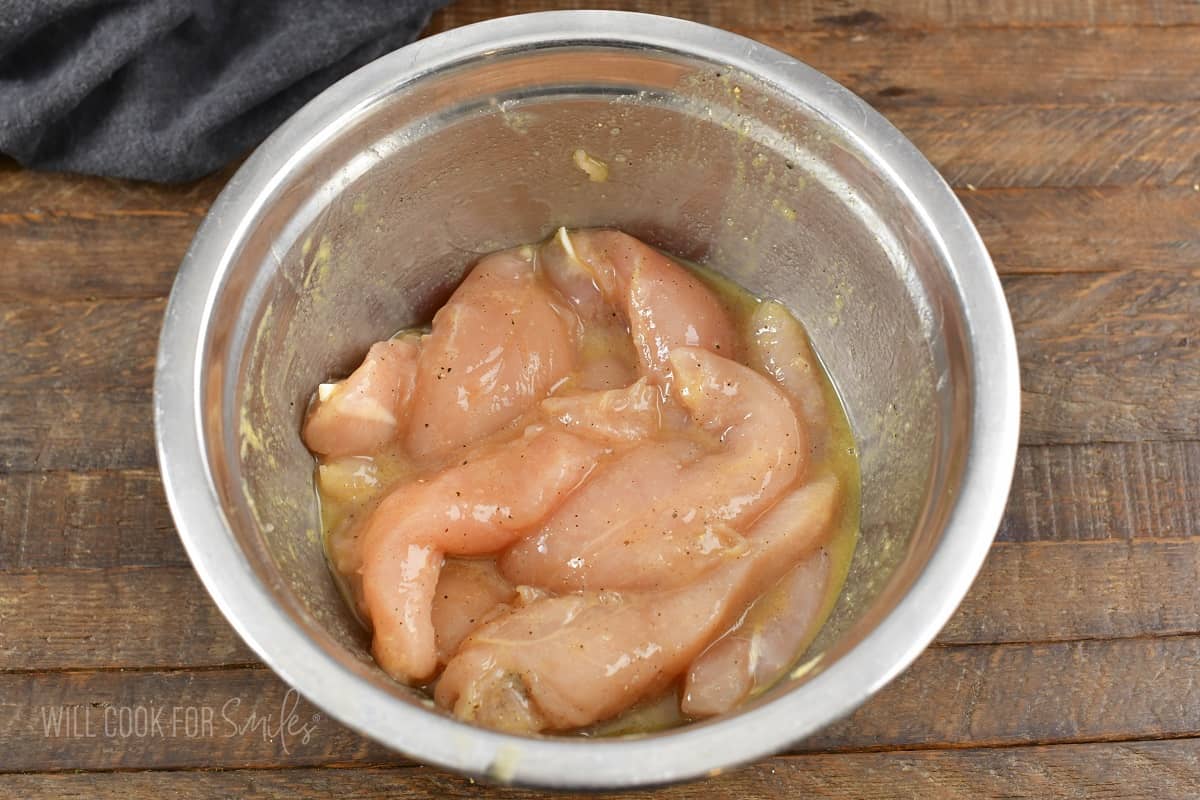 Coat and wrap the chicken.
In a small bowl, combine the maple syrup, Dijon mustard, salt, and pepper.
Add the chicken strips to the bowl and make sure each one is evenly coated in the mixture.
Wrap each chicken strip with a slice of bacon.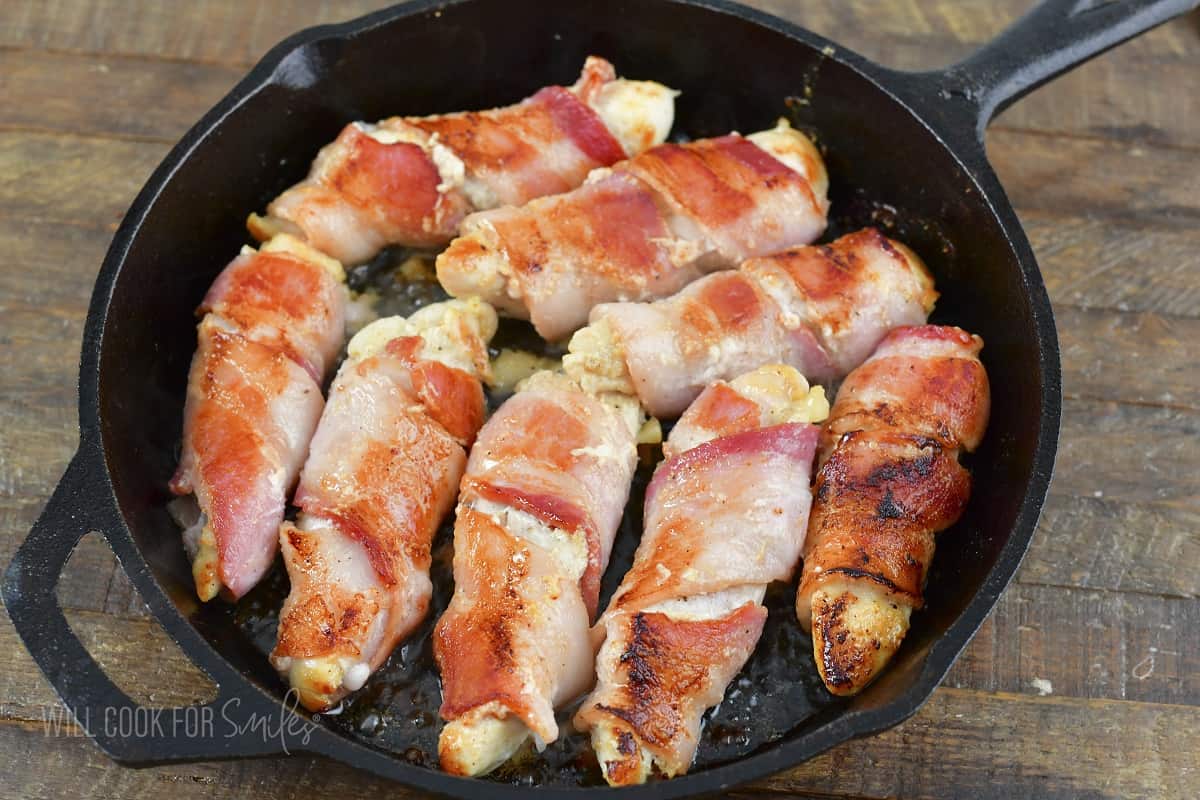 Sauté the chicken.
Place each bacon wrapped chicken strip in the skillet. Sear for a few minutes on each side.
Bake.
Bake the chicken strips for about 15-17 minutes.
Frequently Asked Questions
What if I don't have cast iron skillet?
No worries! Another oven-safe pan will work too. Just make sure that the pan can go from the stove top to the oven. This means it can't have any plastic or wood handles and it can stand high temperatures.
Another alternative could be searing the chicken on the stove top first, then you can transfer it into a baking dish (metal, glass, or ceramic) and finish baking in the oven.
Can't I just cook it on stove top all the way?
The reason why we split time between the oven and the stove is because each of the cooking methods are great at different things. Stove top is good for getting that beautiful sear on the outside, which not something an oven can do well.
In the oven though, the chicken comes out moist and juicy because it cooks evenly since it's surrounded by heat. Stove top is not great for providing even heat all around the food. So, for the best texture of the chicken, it's best to combine those two and get the sear first and then finish cooking evenly in the oven. If you just use your stove top, you run into the high possibility of unevenly cooked chicken and bacon.
Make Ahead Suggestions
Yes, but not far ahead of time. If you do want to prep them ahead of time, only do so 1 day in advance. You can mix the chicken tenders with maple Dijon mixture and keep them in an airtight glass storage container or a mixing bowl covered airtight with plastic wrap in the refrigerator. Wrap them in bacon the next day and cook according to the instructions.
You can also prep them all the way ahead of time. Make sure to place them into an airtight food storage container – glass is best when you are dealing with raw meats. (It's best not to use plastic for storing raw meats). Keep the chicken refrigerated and be sure to cook it within 24 hours!
When you're ready to cook, take the prepped chicken out of the refrigerator and let it sit on the counter for about 30 minutes to warm up a bit before cooking. Then sear and bake according to the recipe.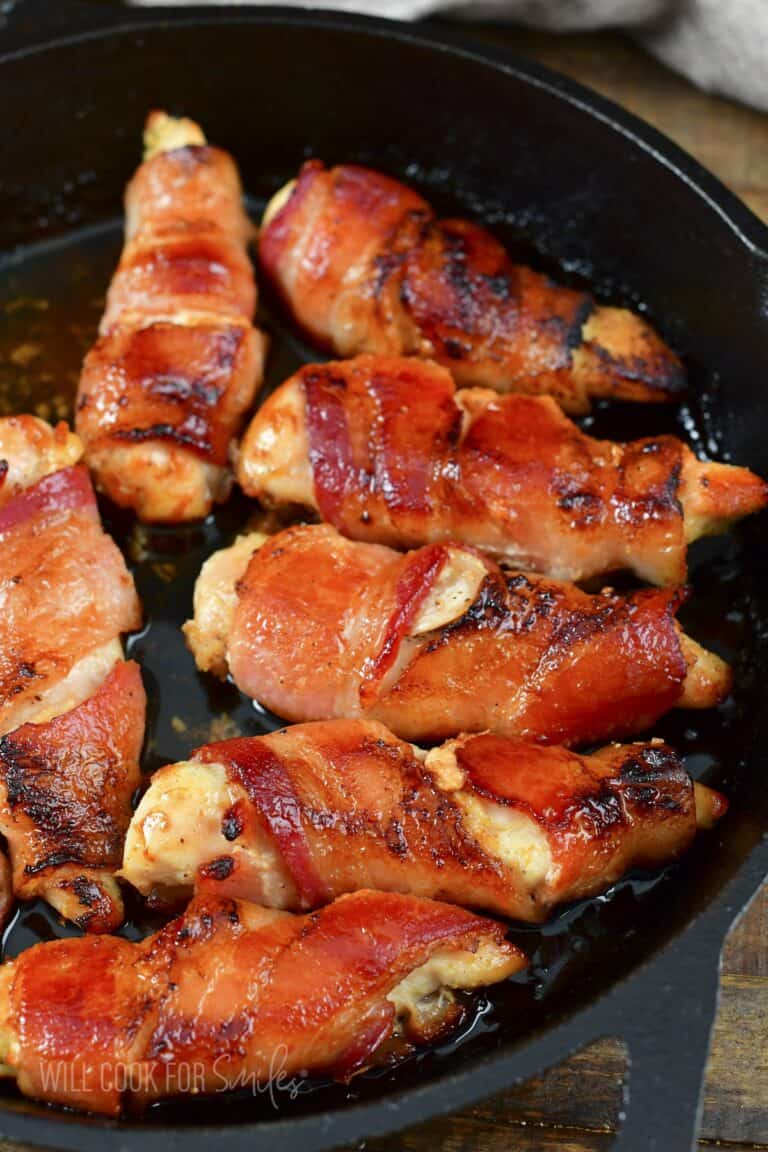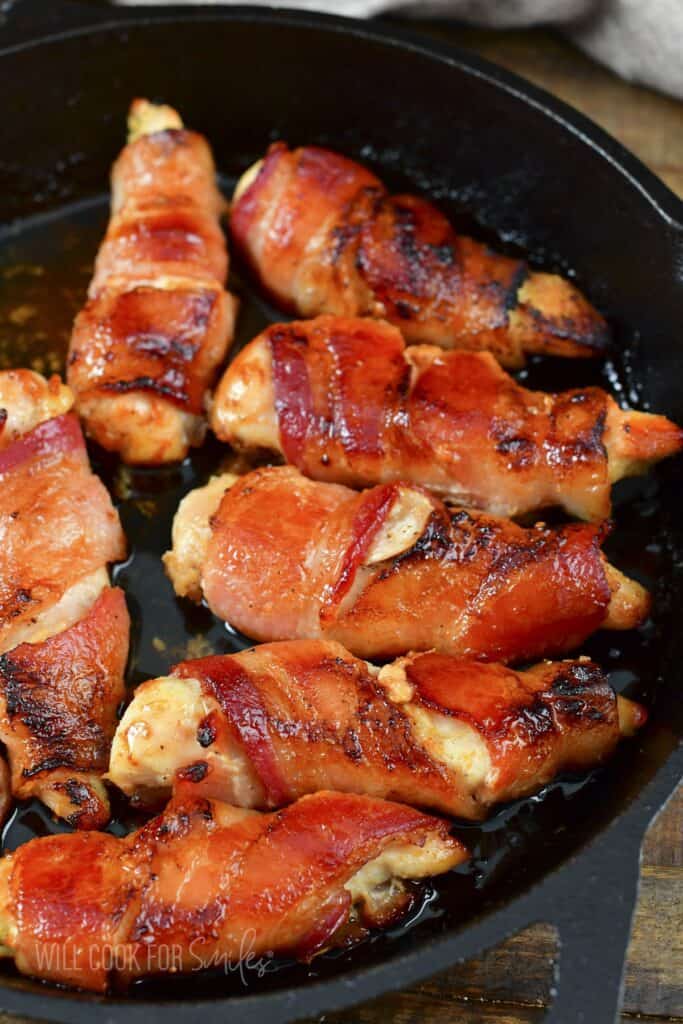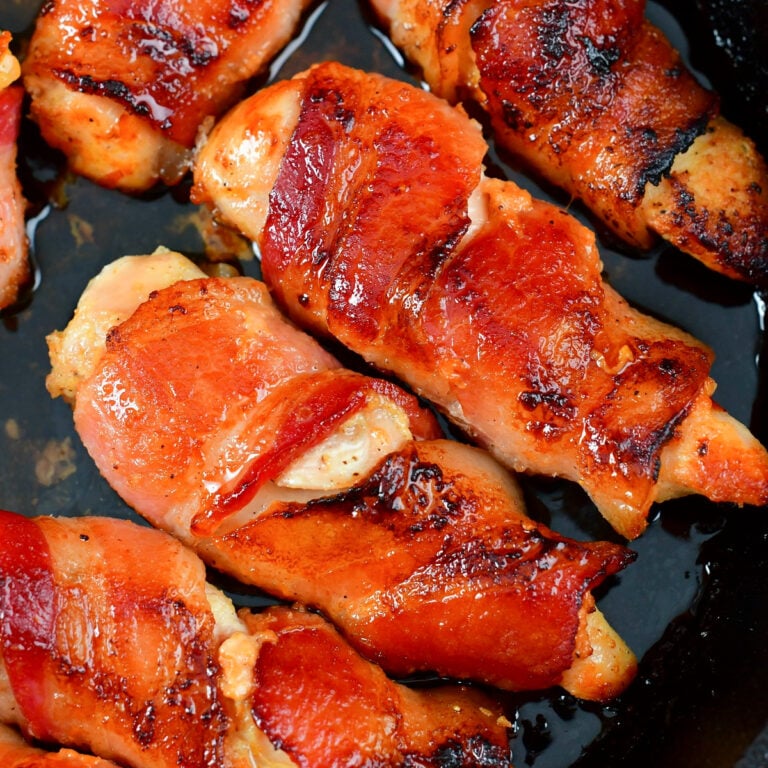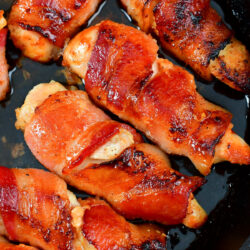 Bacon Wrapped Chicken Tenders
Juicy chicken tenders glazed with a combination of maple syrup and Dijon mustard and wrapped in thick applewood bacon.
Print
Pin
Save
Saved!
Rate
Servings:
4
8 chicken strips
Ingredients
1.15

lb

package of chicken tenders

usually 8 strips

8

slices

thick Applewood bacon

1

Tbsp

vegetable oil

2

Tbsp

pure maple syrup

1

tbsp

Dijon mustard

Salt

Fresh cracked pepper
Instructions
Preheat the oven to 400°.

Preheat a seasoned iron cast skillet on stove top, over medium heat, and rub a little more oil over it.

In a small mixing bowl, whisk maple syrup, Dijon mustard, salt, and pepper together. Add chicken strips and mix until each chicken strip is coated in the mixture.

Wrap a bacon slice around each chicken strip and place them in the skillet, tucking in loose end. Sprinkle with a little more salt if you wish.

Sear chicken strips for a few minutes on each side, until it starts to golden and transfer the skillet into the oven.

Bake for 15-17 minutes, until bacon is nicely golden brown.
Notes
**Don't have a cast iron skillet? Don't worry, this dish can be made in another oven-safe pan or transfer the chicken strips into a baking dish after searing.
Nutrition
Calories:
507
kcal
|
Carbohydrates:
7
g
|
Protein:
36
g
|
Fat:
35
g
|
Saturated Fat:
13
g
|
Cholesterol:
130
mg
|
Sodium:
671
mg
|
Potassium:
647
mg
|
Sugar:
6
g
|
Vitamin A:
65
IU
|
Vitamin C:
1.6
mg
|
Calcium:
21
mg
|
Iron:
0.8
mg
Tried this recipe?
Mention @willcookforsmiles and tag #willcookforsmiles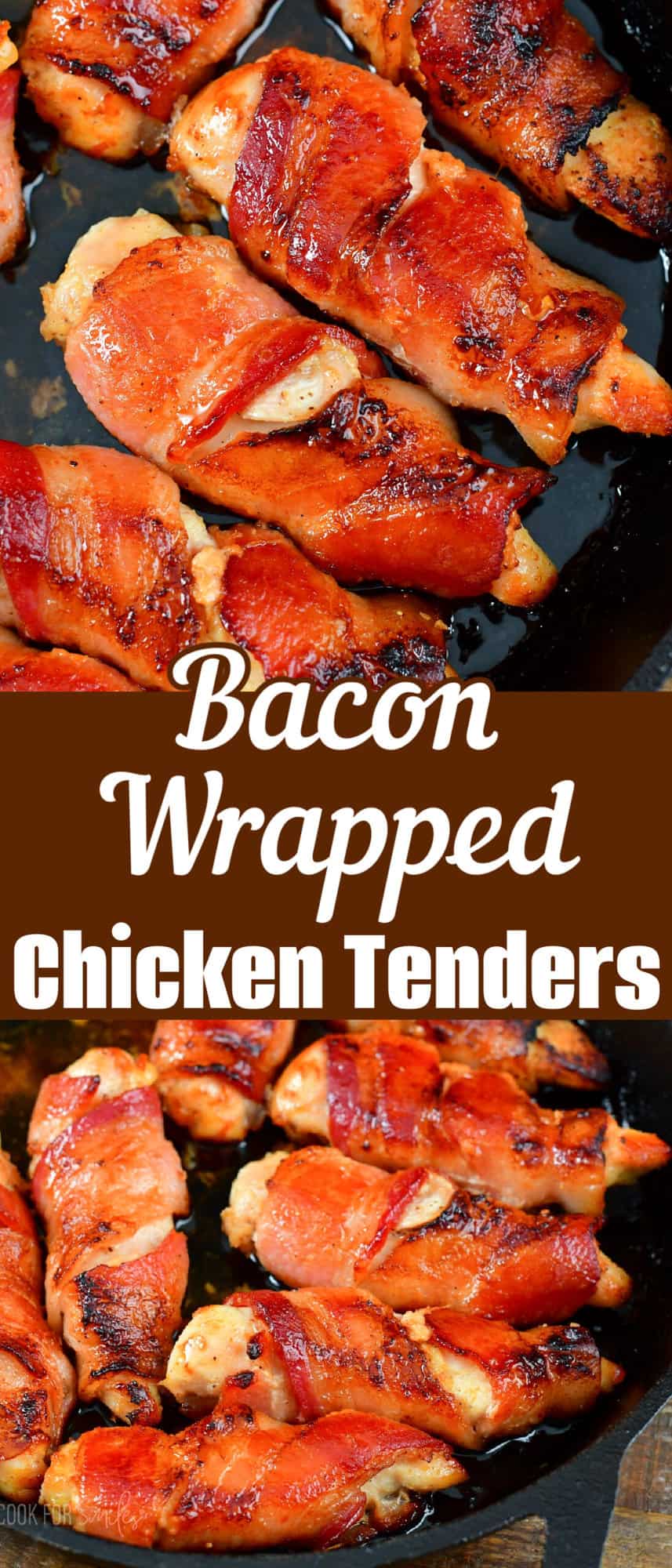 Originally published on Will Cook For Smiles on May 14, 2014.