Homemade Nacho Cheese is incredibly easy to make with just a few simple ingredients! In just about 15 minutes with easy to follow steps, you'll have your own completely customizable cheese dip for your tortilla chips. No store-bought jar of artificially tasting cheese can compare with the real deal!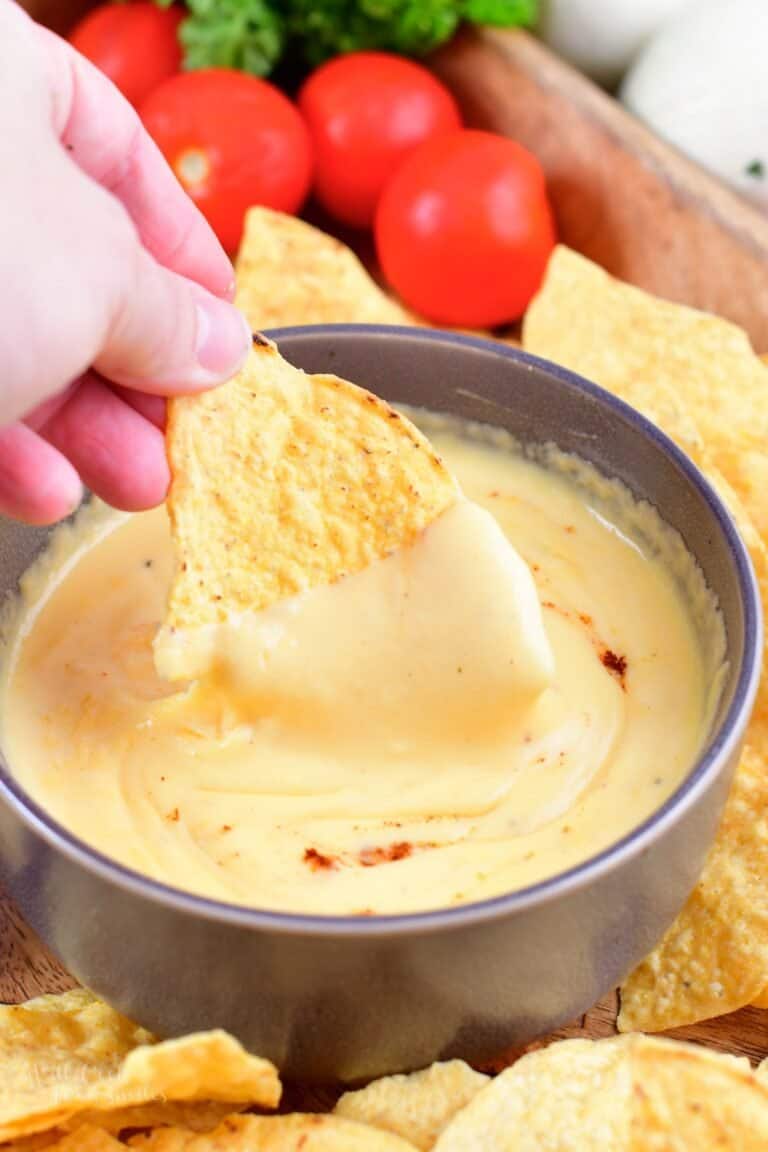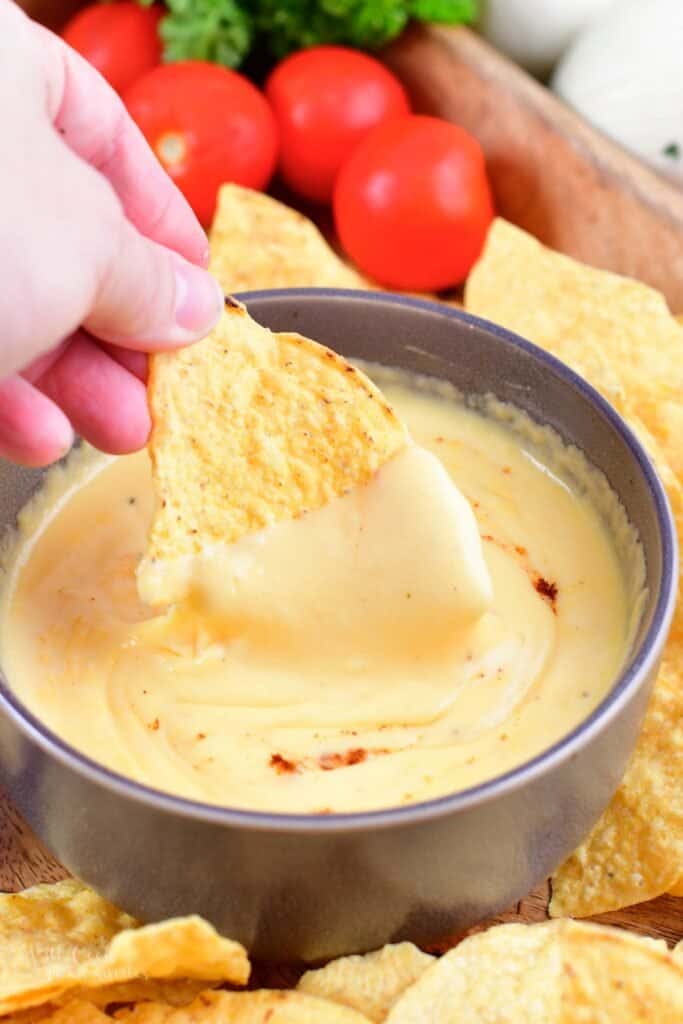 Nacho Cheese
Nacho cheese is one of those things that everyone loves. Truly, I don't know if I've ever met a person who doesn't love that signature yellow cheese that pairs oh so perfectly with tortilla chips. We all usually begin that love with a plastic container of stale chips and artificial nacho cheese at a sporting event in our youth, and that love of nacho cheese continues into our adulthood!
While the fake stuff is a guilty pleasure still for so many of us, real homemade nacho cheese is on another level of delicious. The consistency is thick, smooth, and creamy, while the flavor comes from real cheese. If you ever look at the list of ingredients on a container of store-bought nacho cheese (like the kind they serve at football games), you'll be quick to read a lot of words you're unfamiliar with.
You'll find none of those artificial flavors and preservatives here, of course. This list of ingredients is short, sweet, and to the point! The best part is that you likely already have everything you need to whip up some nacho cheese in your kitchen right now. While the list of ingredients may indeed be minimal, have no fear – this nacho cheese is still crazy flavorful and always hits the spot!
How to Make Nacho Cheese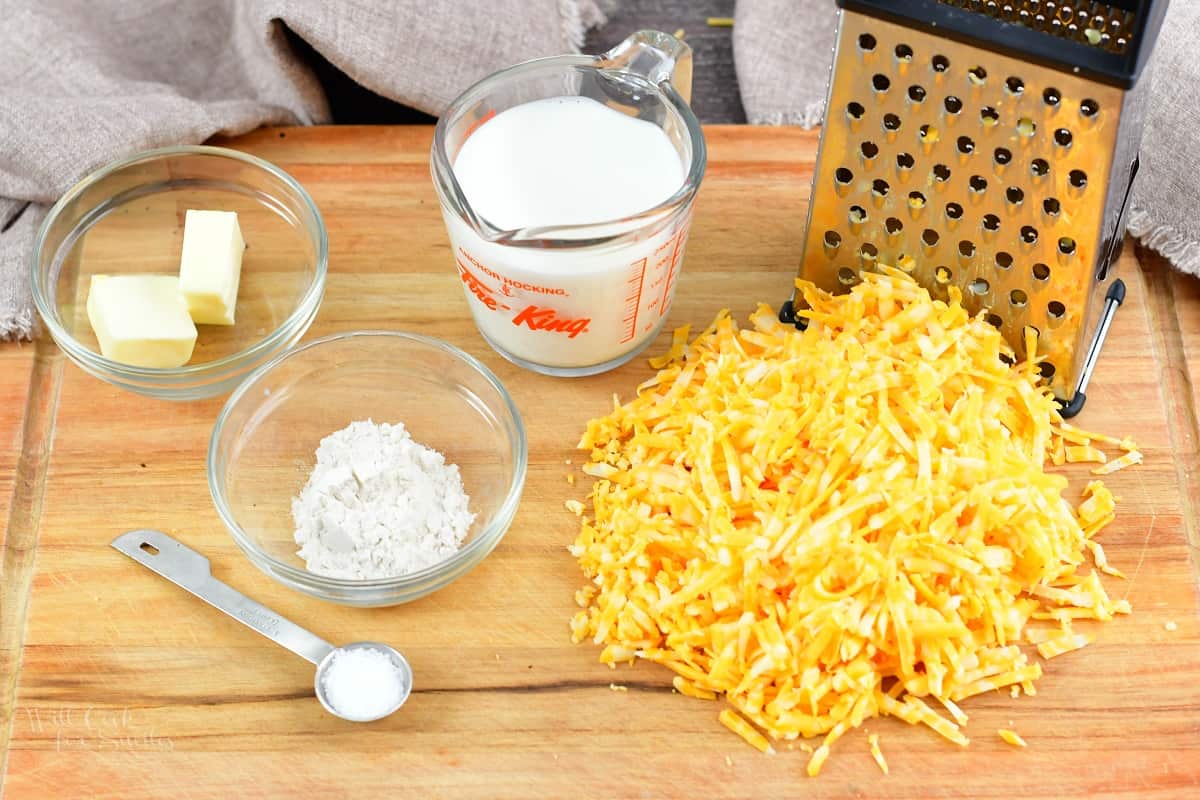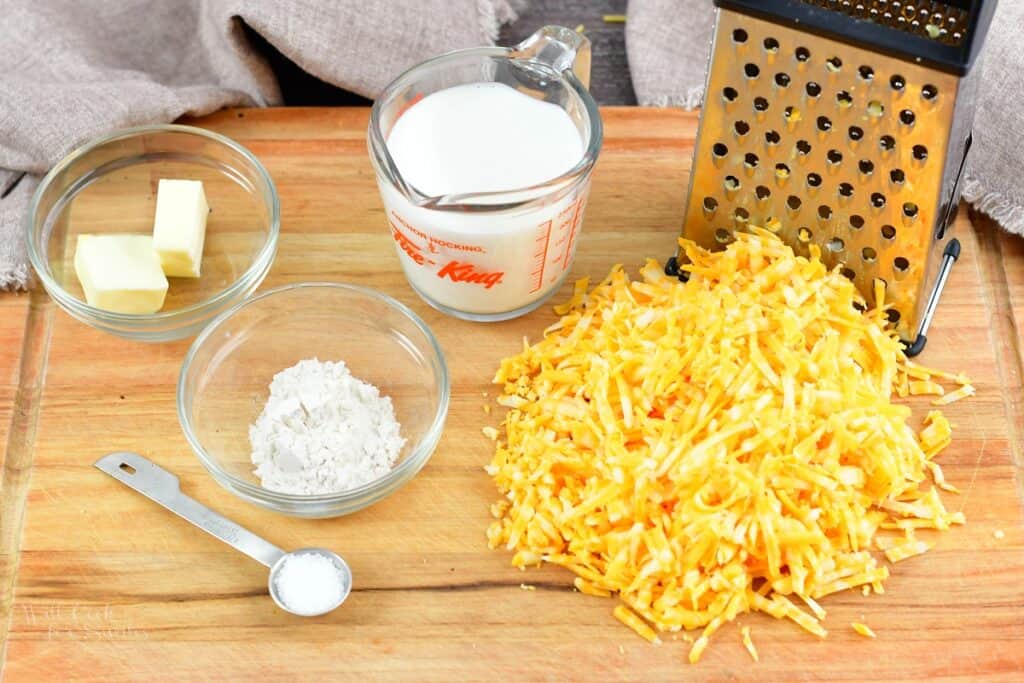 Ingredients You Need:
Butter -to control the amount of salt, use unsalted butter.
Flour – all-purpose flour is what you'll need to help create a thick consistency. (Use gluten free all-purpose flour if needed!)
Whole Milk – whole milk will give you the rich and creamy consistency. (Lactose free milk may be used if desired. As far as milk alternatives, note that they will alter the flavor.)
Cheese – Always use block and grate it yourself! The star of the show! You can use either use Colby Jack or Monterrey Jack cheese for this easy recipe. Both melt easy and smooth!
Salt
Black Pepper
Recipe Notes:
It is important to use a block of cheese to make any kind of cheese sauce and grate it yourself.
Do not use pre-shredded cheeses because they contain separators and other preservatives that will alter the texture and, with some cheeses, change the way it melts.
Cooking Directions:
Prepare the ingredients.
Before you start cooking, make sure you prepare all of your ingredients as needed. This is a fast moving recipe!
Melt butter and whisk in flour and milk.
In a small sauce pot over medium heat (to medium-low), melt butter and whisk in the flour until smooth.
Slowly, pour in the milk, while whisking continuously.
Continue to whisk the mixture together until it's smooth, heated through, and starts to thicken.
Make it cheesy!
Add the grated cheese a handful at a time, still whisking as you go. Continue this process until all of the cheese has been whisked into the pot. Take off heat as soon as it's smooth!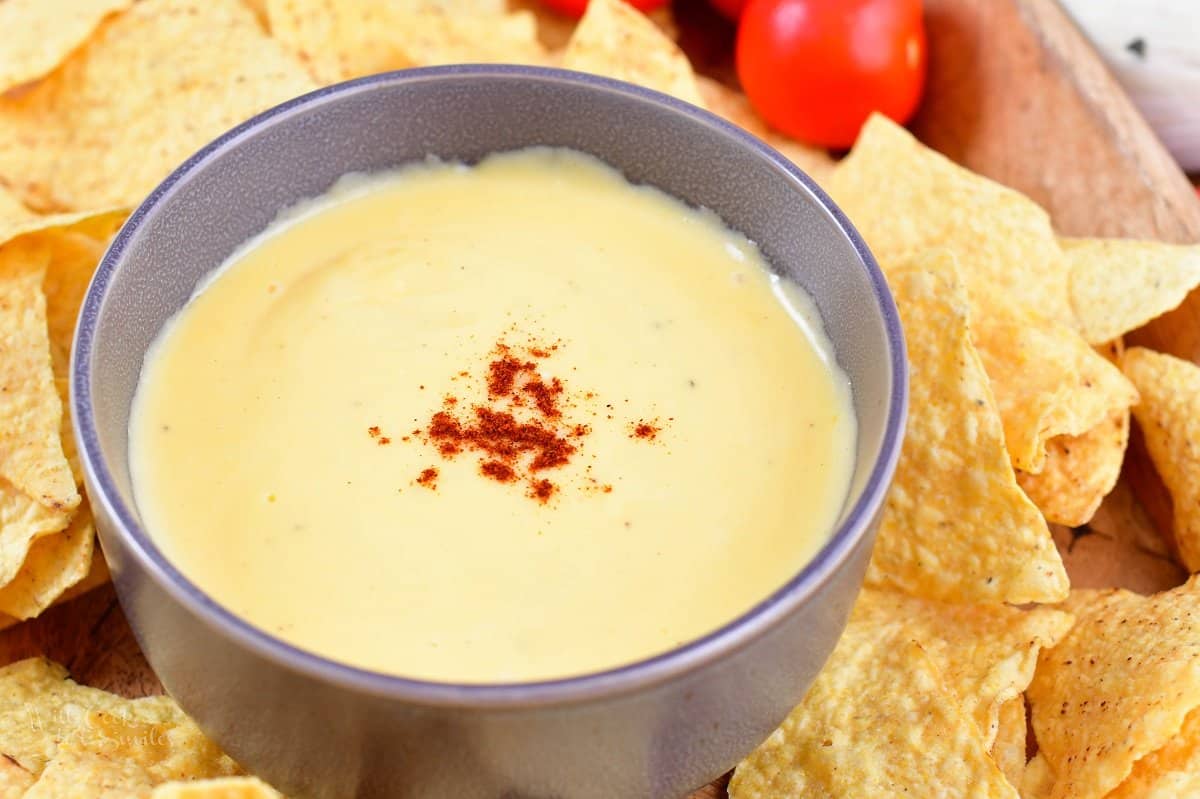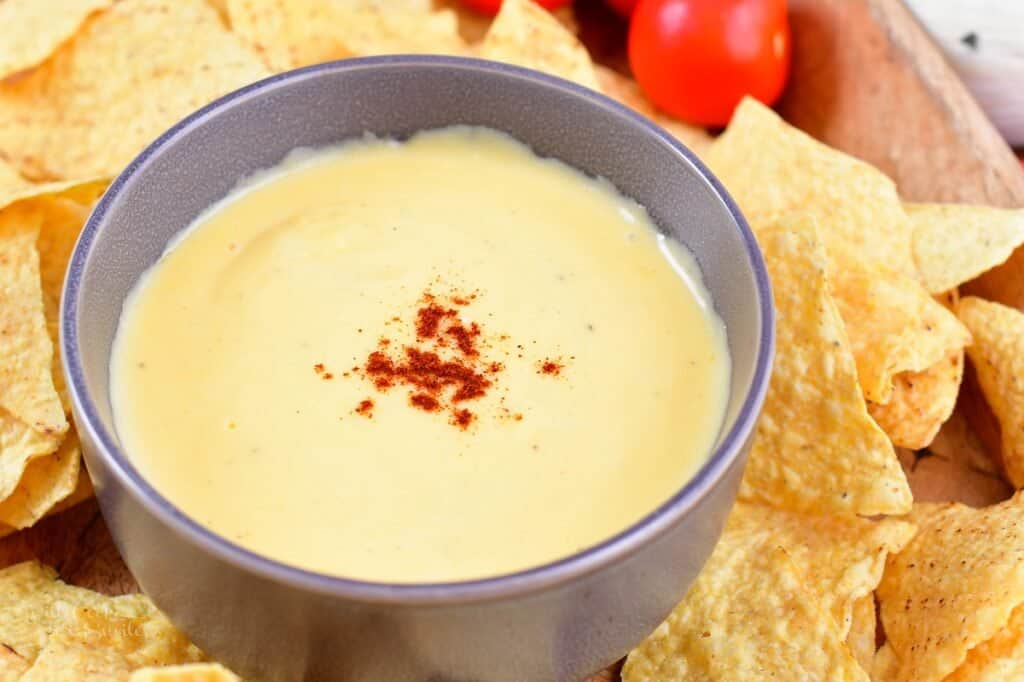 Frequently Asked Questions
Nacho Cheese Vs. Queso:
Nacho cheese and Queso are both names for a very similar concept. Like with many other recipes, the name varies based on a region. Similarly, both are the names for a simple cheese based sauce that is used as a dip or a topping.
Nacho cheese consists of a smooth, melted cheese sauce in its most basic and simple version. Queso is also a melted cheese sauce, but usually has additional spices and veggies. Those veggies often include onions, tomatoes, and jalapeños.
What Cheese to Use?
In my nacho cheese recipe, I like to use cheeses that melt nice and smooth like Monterrey Jack, Colby Jack, and even Pepper Jack if we're craving a little kick of spice! If I want a little sharper flavor, I just mix half sharp cheddar cheese and half Monterrey Jack cheese.
No matter which cheese you choose, make sure to get a block and grate the cheese yourself! Pre-shredded cheese mixes contain separators and preservatives in the coating which will affect the texture and consistency of the cheese sauce.
Need to make it gluten free?
Making this nacho cheese gluten free is so easy to do! All you have to do is substitute the all purpose flour for gluten free all purpose flour.
Note that some people report having a slightly grainier texture when using all-purpose gluten free flour. To me personally, it doesn't bother me at all, and I make my nacho cheese gluten free most of the time. You can try it and decide if you notice the difference yourself.
Can nacho cheese be lactose free?
Yes! Just note that I'm talking about lactose free, not dairy free! For a good lactose free option, make sure to use lactose free whole milk like Fair Life or Horizon Organic. I don't recommend recommend Lactaid, because that milk is quite sweet.
As far as butter, you can use plant based unsalted butter. I prefer the Green Valley Creamery brand for butter (as well as sour cream and cream cheese). You can use the plant based butter you like.
When it comes to cheese, most aged cheeses are naturally lactose free! If you look at the nutritional information on the cheese packaging, it will likely state "lactose free" right on the package or will show "0" next to sugar content. So, check the nutritional information of the cheese block you choose if you're on a lactose free diet.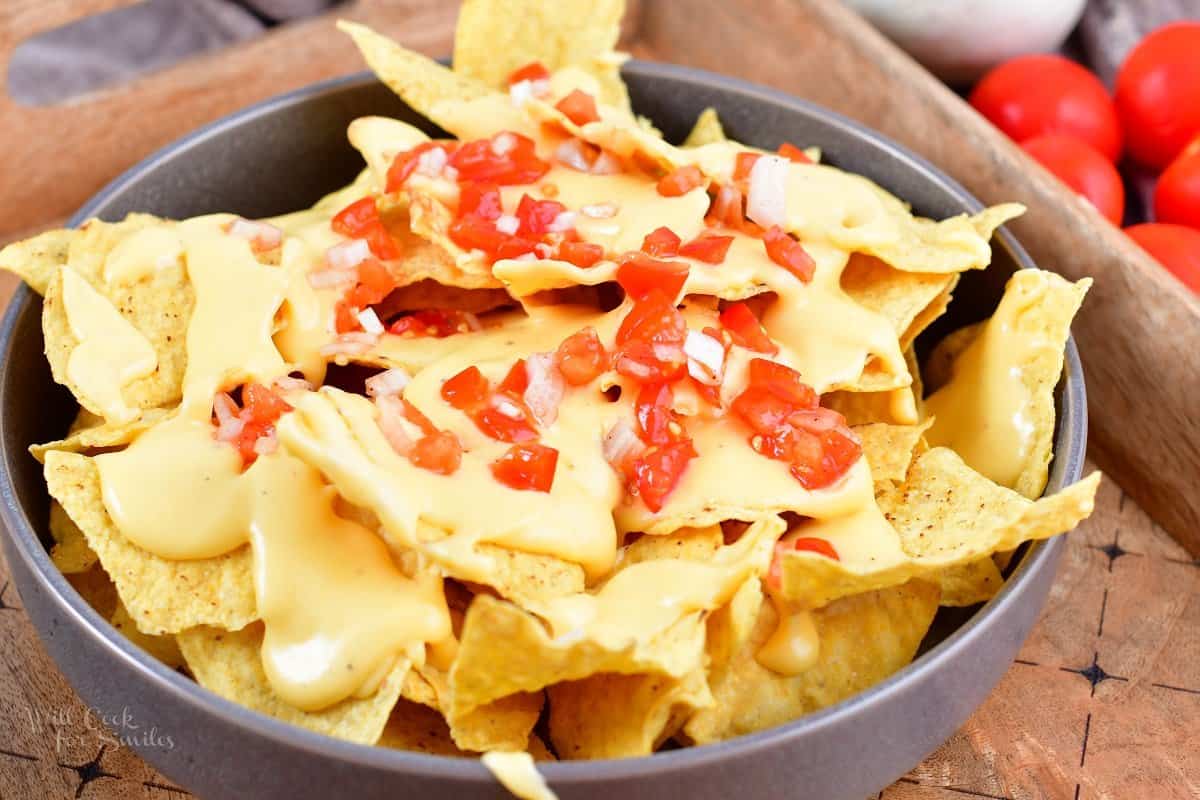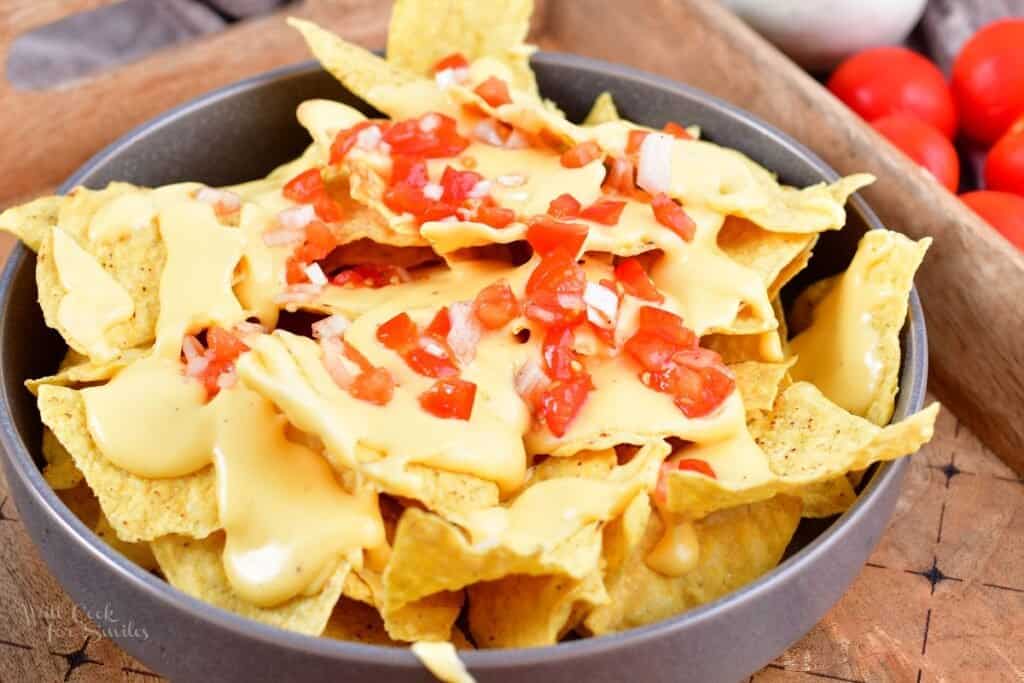 Uses for Nacho Cheese:
Nacho cheese is SO very versatile! You can use it as a dip as is, or mix in some pico de gallo into it.
It goes great with all kinds of different meats, so feel free to use it all of your favorite nacho recipes. Use it on sandwiches, tacos, burritos, and other wraps.
You can even top off your beef enchiladas or chicken enchiladas with it – talk about ultimate comfort food!
I mean really, isn't everything a little better with nacho cheese?!
Storing and Reheating:
You can easily store leftover (or extra) nacho cheese in the refrigerator. Just make sure to store it in an airtight food storage container. When properly stored, it should stay fresh for about 3-4 days.
To reheat nacho cheese, do so in a small sauce pot over medium-low heat. If you need to, add a splash of whole milk while whisking the cheese and heating it through. Reheat the cheese just until it's hot, but don't let it simmer or boil.
I do not recommend reheating this in the microwave, because it's hard to regulate the heat distribution, which leads the cheese sauce to overheat and separate.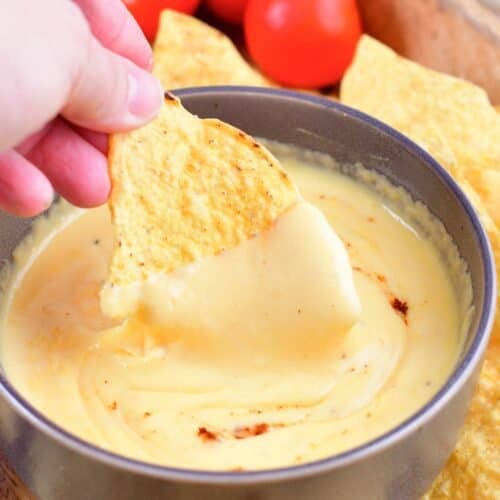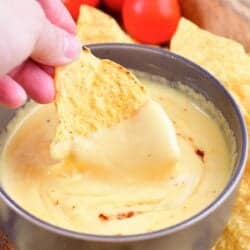 Nacho Cheese
Homemade Nacho Cheese is incredibly easy to make in just about 15 minutes and so much better than any jar!
Print
Pin
Save
Saved!
Rate
Servings:
4
(Makes about 2 cups)
Ingredients
2

tbsp

unsalted butter

2

tbsp

all purpose flour

1 1/4

cups

whole milk

8

oz

Colby jack or Monterrey Jack cheese

block

salt

fresh cracked black pepper
Instructions
Prepare your ingredients ahead of time. Measure everything and grate the cheese.

In a small sauce pot, over medium heat, melt butter and whisk in flour until smooth.

Start pouring in milk while whisking continuously. Keep whisking until smooth.

Lower the heat slightly if needed and continue to slowly whisk and the mixture heats through and starts to thicken.

Start adding grated cheese one handful at a time, as you continue to slowly whisk.

Keep whisking as the cheese melts into the smooth sauce. Take off heat once the nacho cheese is smooth.

Serve as a dip or use as a topping!
Nutrition
Calories:
334
kcal
|
Carbohydrates:
8
g
|
Protein:
16
g
|
Fat:
26
g
|
Saturated Fat:
16
g
|
Polyunsaturated Fat:
1
g
|
Monounsaturated Fat:
7
g
|
Trans Fat:
1
g
|
Cholesterol:
77
mg
|
Sodium:
376
mg
|
Potassium:
178
mg
|
Fiber:
1
g
|
Sugar:
4
g
|
Vitamin A:
862
IU
|
Calcium:
477
mg
|
Iron:
1
mg
Tried this recipe?
Mention @willcookforsmiles and tag #willcookforsmiles