Sweet and sour mix is an essential ingredient for so many cocktails. It's sweet, tart, has a refreshing citrus flavor, and tastes so much better homemade! There is no need to buy a bottle of premade sweet and sour mix at the store because it can't compare to homemade.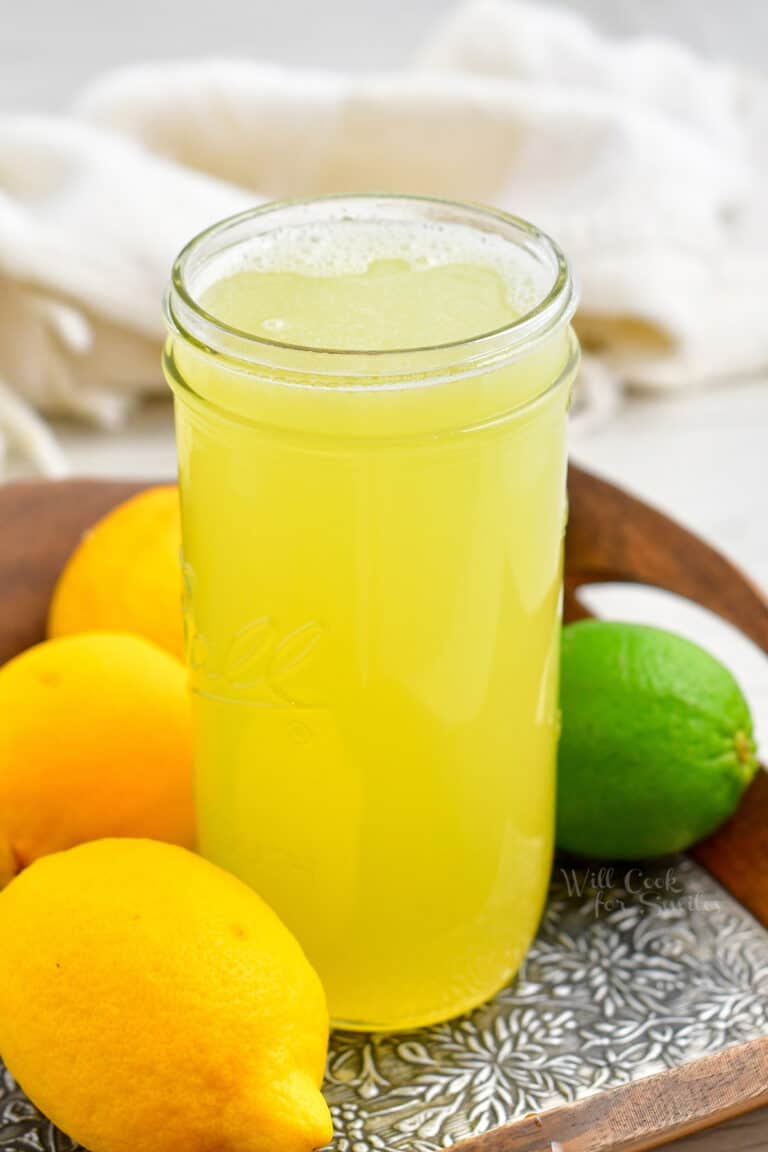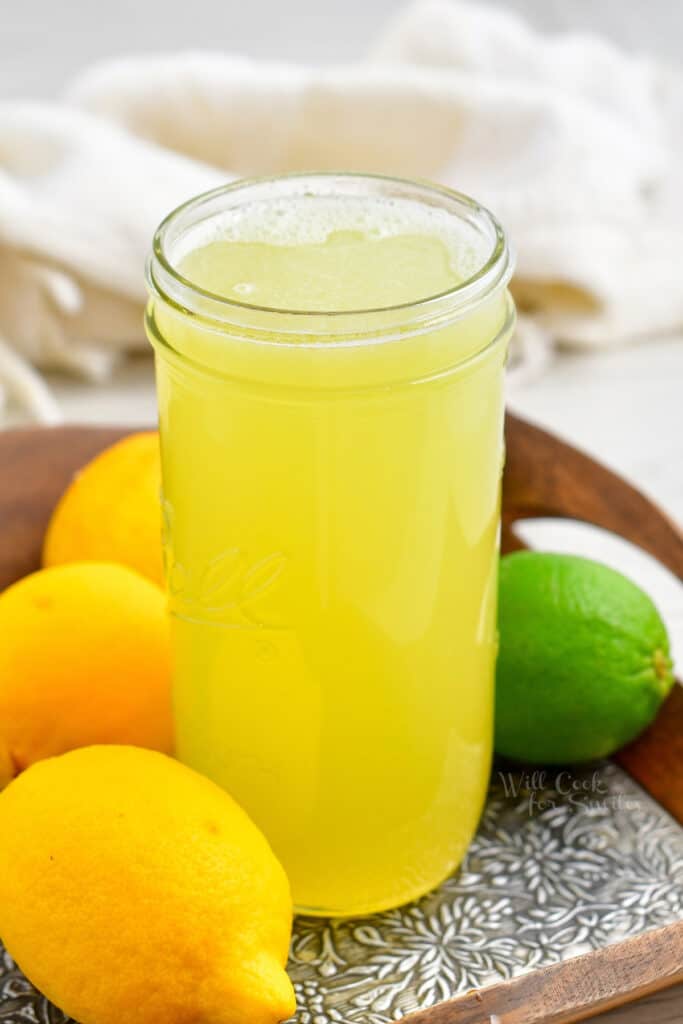 If you have a bottle of sweet and sour mix from the store right now, I have a challenge for you. I challenge you to make this homemade sweet and sour mix instead and taste them both.
I am confident that you will notice a great difference between the homemade and store-bought. Not only do homemade cocktail mixers taste SO much better, they are better in quality, and this one, only has 4 ingredients!
So make sure to grab extra lemons and limes at the store next time you have a craving for a whiskey or an amaretto Sour.
What Is Sweet and Sour Mix?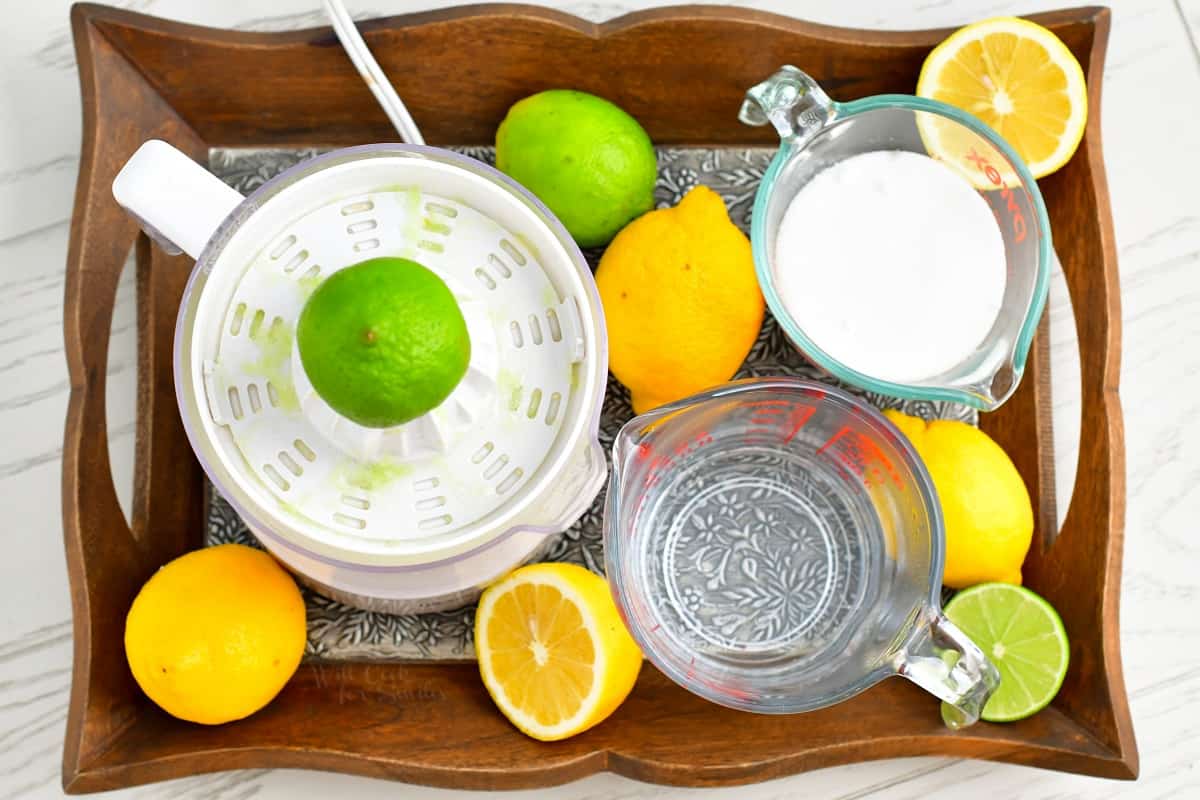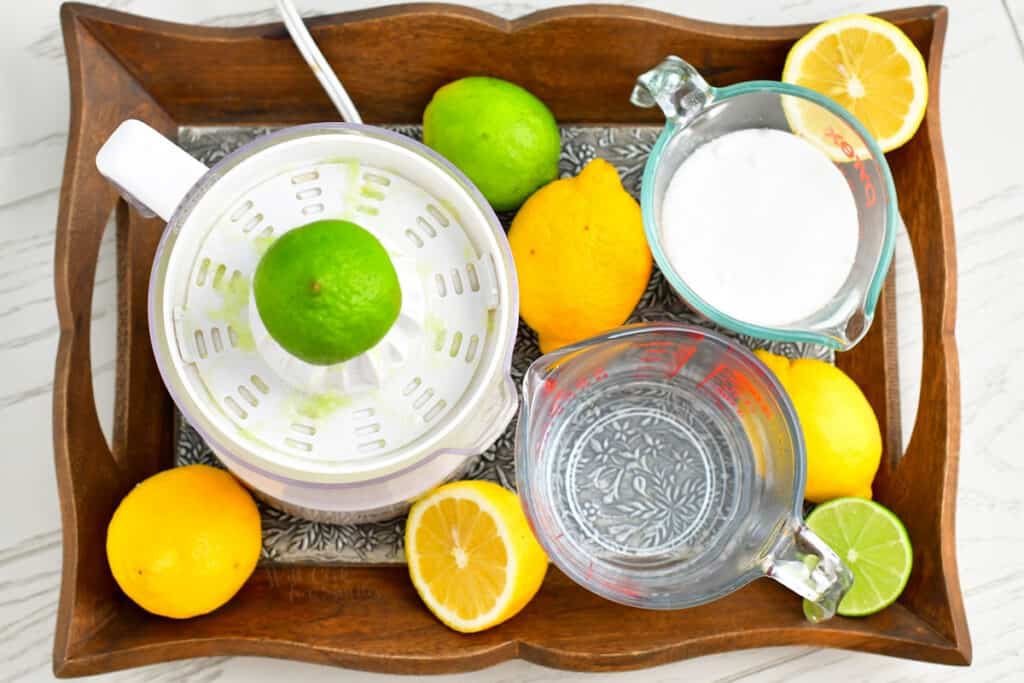 It's an incredibly versatile cocktail mixer made with citrus juices and simple syrup. You can use it in SO many cocktails, mixed drinks, and punches. All you need are four simple ingredients:
While it may be tempting to use bottled juice from the store, I strongly recommend that you fresh citrus. The flavor is so much better when you use fresh squeezed juice.
You can even use this same recipe to create a delicious base for margaritas! Just double the citrus amounts listed and add some freshly squeezed orange juice.
How to Make Sweet and Sour Mix
Juice the citrus and make simple syrup.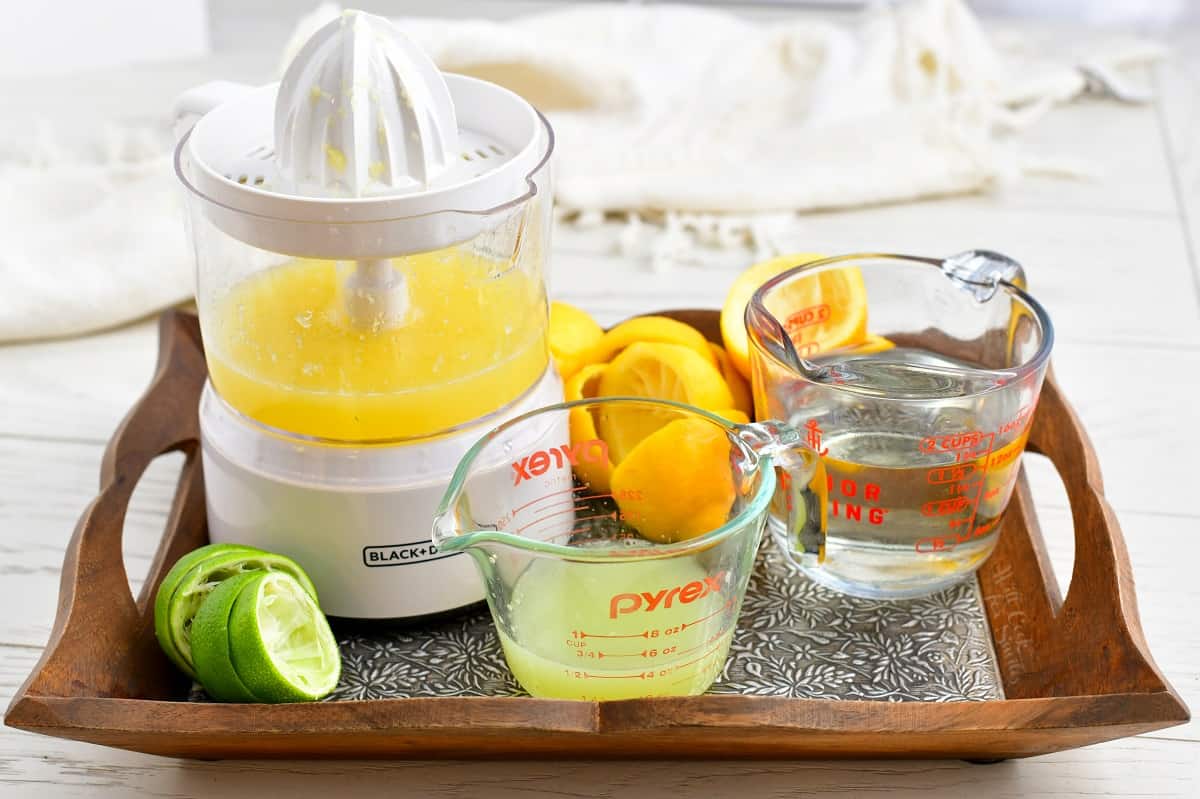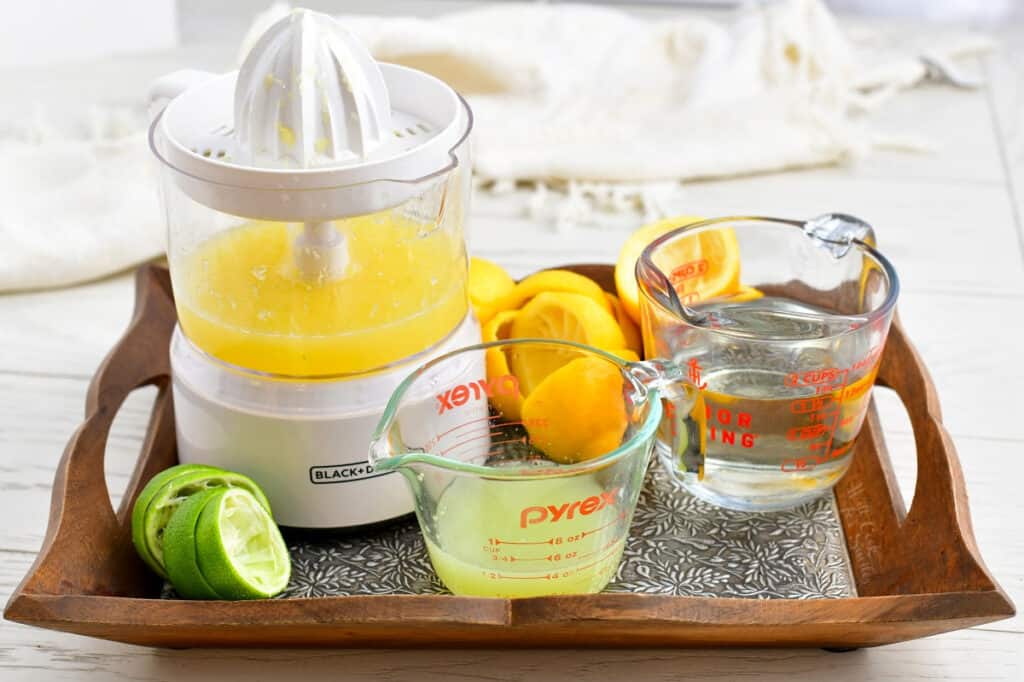 Using a juicer will yield more liquid from the lemons and limes, but there's a trick if you need to squeeze them by hand.
Use room temperature fruit! Press and roll each lemon and lime across the counter with the palm of your hand like you would a rolling pin. This loosens the membranes, making it easier to get out every drop.
Making simple syrup is all about combining boiling water with sugar and stirring it until it's dissolved. You can boil water on the stove or in a microwave. Stir in sugar until completely dissolved and water is no longer cloudy.
Combine and strain into a jar.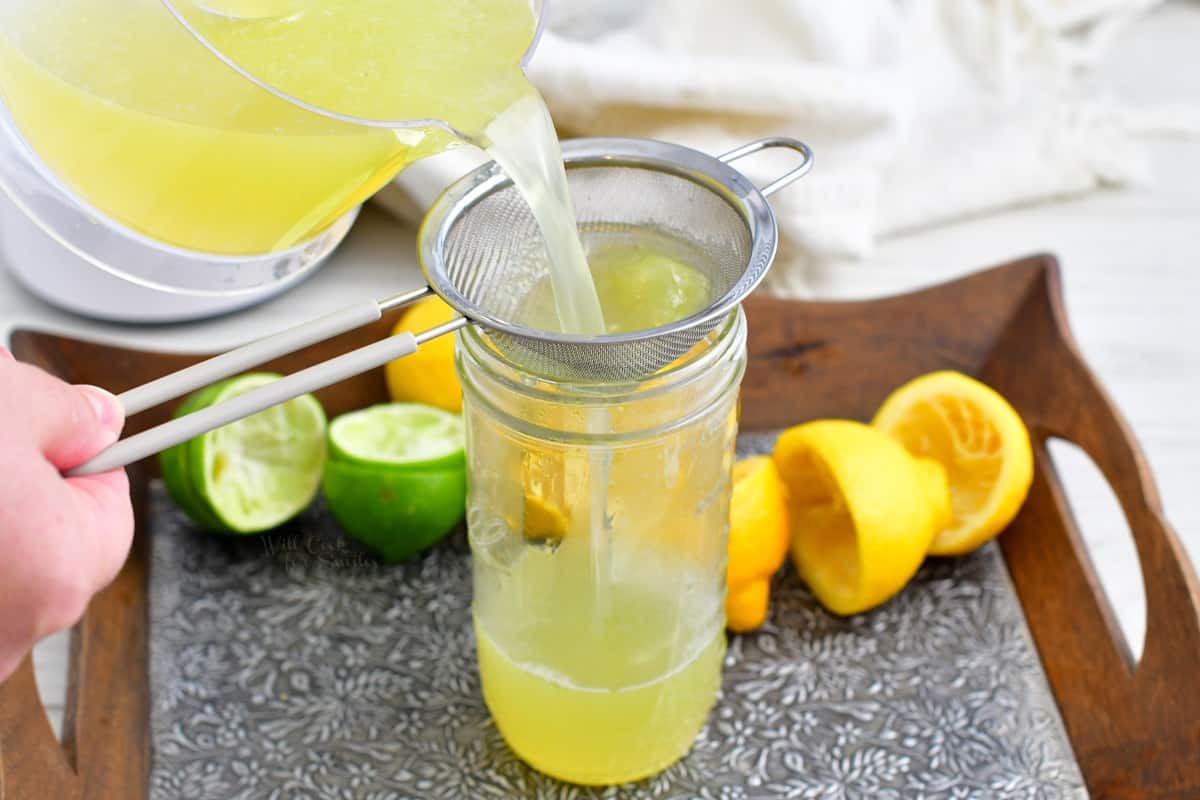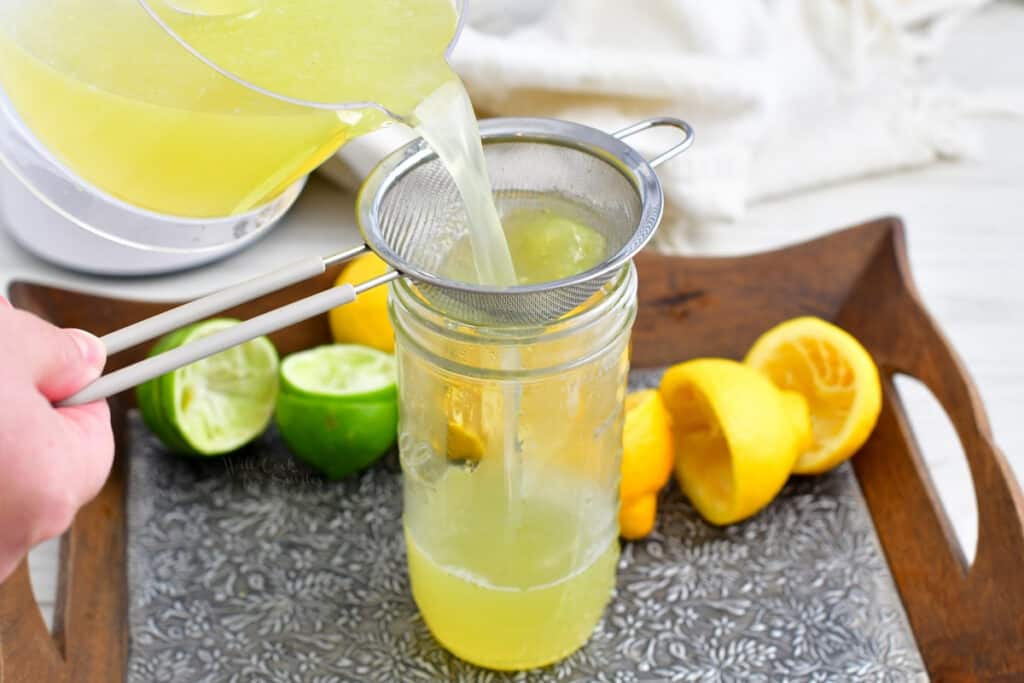 If you used a juicer, pour the sugar water right into the container before running the liquid through a fine mesh sieve. This will remove any pulp and give everything another chance to blend together in the process.
If you don't mind the pulp, you can skip the straining step. Simply add the simple syrup to the jar, pour the citrus over the top, and give it a good stir.
Use immediately or store for future use.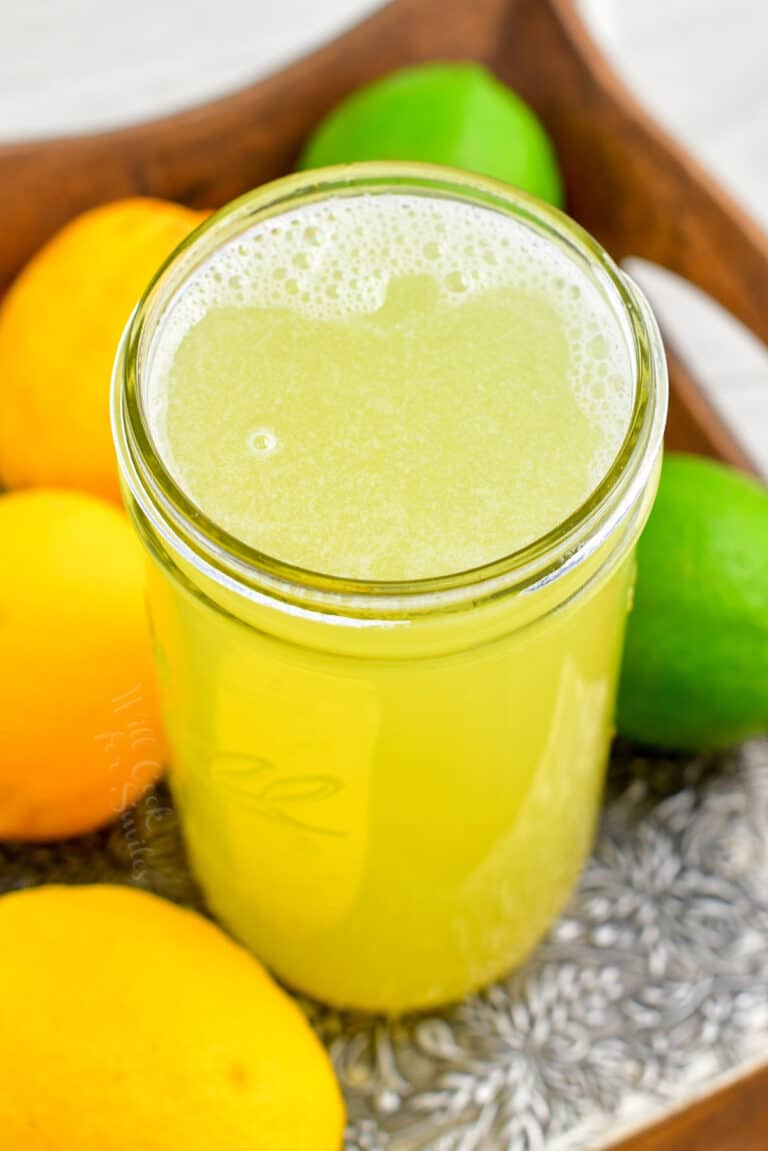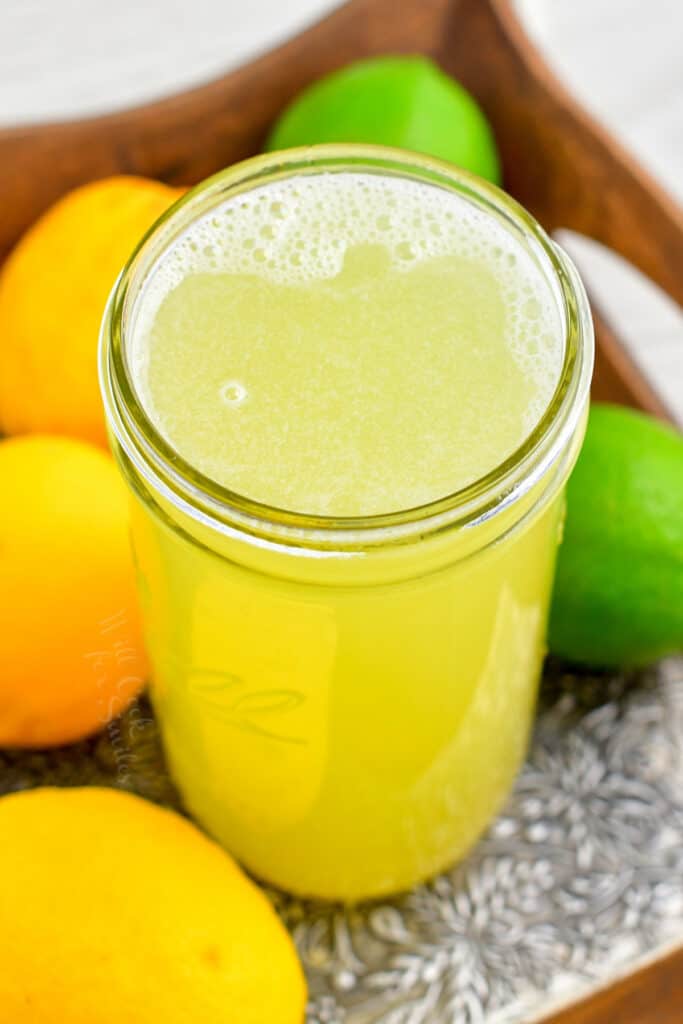 You'll want to wait until the mix is cooled to room temperature or refrigerate it to use at a later time.
If you won't be using all of the sweet and sour mix right away, simply store it in a jar with an airtight lid. Keep it in the refrigerator and use it within 2 weeks.
Popular Drinks That Use Sweet and Sour Mix
The best part of making cocktail mixers yourself is that you can adjust them based on the flavors you're looking for.
For most margaritas, you'll be fine with a combination of lemon and lime. With classic sour drinks, you may want to only use lemons or at least have it be more lemon forward.
You can also replace simple syrup and lemon juice in many cocktails with a single shot of this mix! So feel free to use your sweet and sour mix in:
Amaretto Sour
Long Island Iced Tea
Tom Collins
Gin Fizz
and so much more!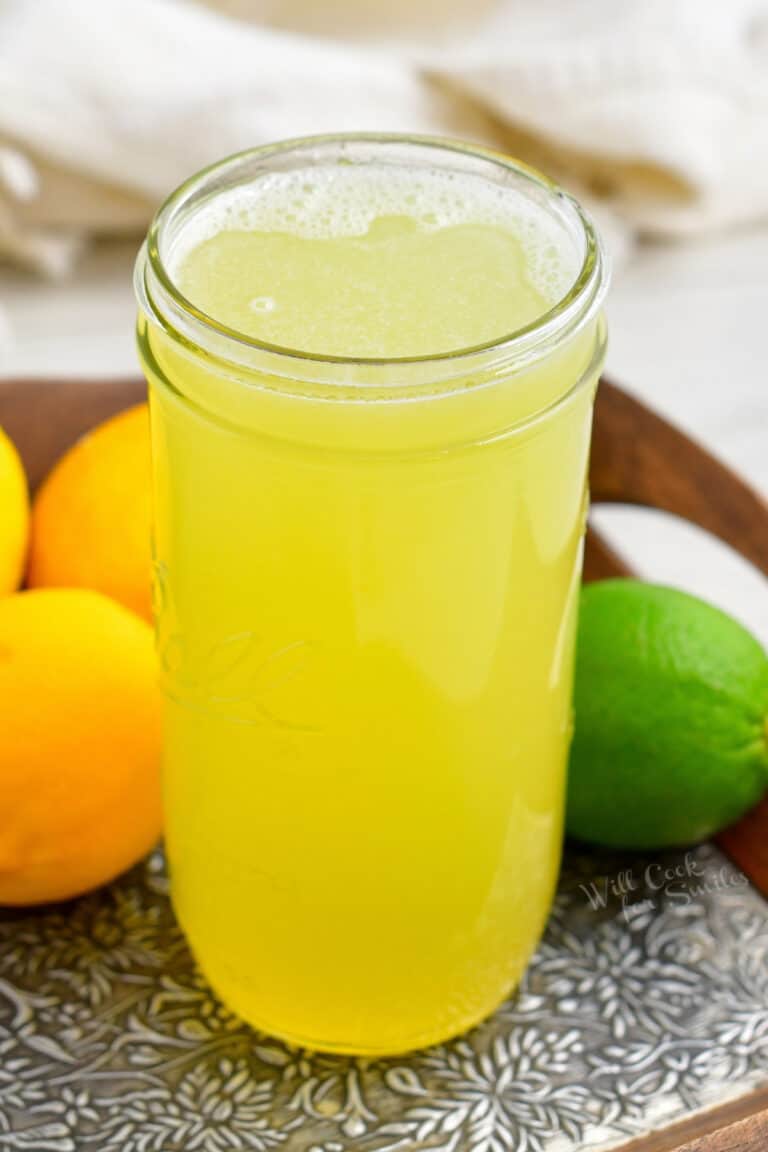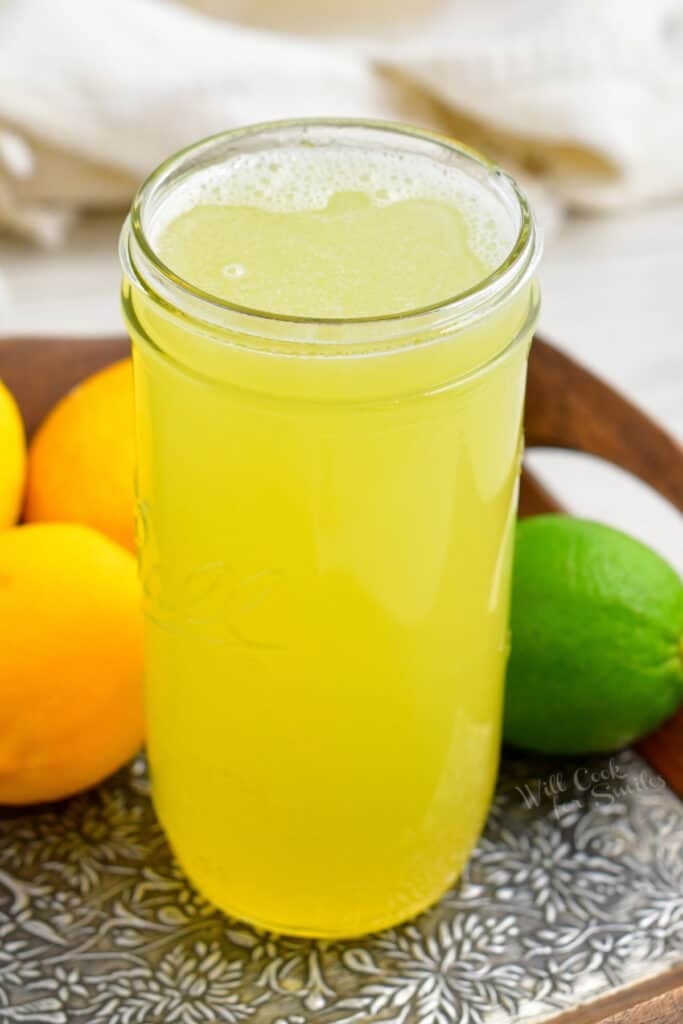 Frequently Asked Questions
Does sweet and sour mix contain alcohol?
Not at all! In fact, the reason it's called a "mixer" is specifically because it is meant to be combined with liquor prior to consumption.
Can I substitute artificial sweetener for granulated sugar?
Making sugar free simple syrup is possible, but you may need to adjust the amount of sweetener based on the type you use. Refer to the conversions listed on the package of sweetener. You can find a helpful guide on different sugar free simple syrup alternatives here.
Is it gluten free?
Yes, this homemade version is definitely allergen-friendly! In fact, any store bought version should be as well because of the simple ingredients.
Although, make sure that you check any liquor that you will use with the mix because it may not be gluten free. Most brands either label it clearly on the bottles or you can find that information on their website.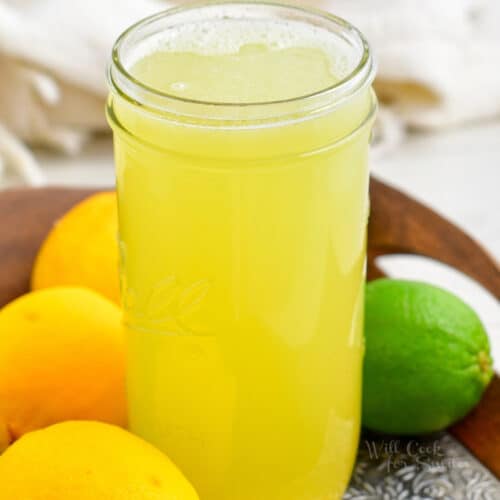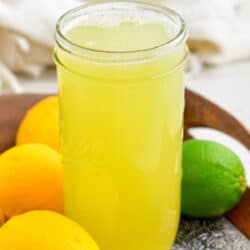 Sweet and Sour Mix
Sweet and sour mix is an essential ingredient for so many cocktails. It's sweet, tart, has a refreshing citrus flavor, and tastes so much better homemade! 
Print
Pin
Save
Saved!
Rate
Servings:
10
makes about 20 oz
Ingredients
1

cup

white granulates sugar

1

cup

hot water

1

cup

lemon juice

4-5 lemons

1/2

cup

lime juice

2-3 limes
Instructions
TIP: make sure to choose ripe fruit that are soft (but not too soft). If fruit is not ripe enough, it will not yield much juice. Also remember that room temperature fruit is best to juice.

Squeeze juice from lemons and limes. (If you use a juicer, you will get more juice out of each fruit.)

Heat up a cup of water until boiling and stir in sugar until dissolved to get simple syrup.

Combine citrus juices and simple syrup and stir to mix.

Optional: run freshly squeezed juices through a fine mesh strainer to get excess pulp out.

Make sure to pour the mix into a glass gar with an air-tight lid. Close the jar with a lid and refrigerate until ready to use.
Storing Instructions:
Make sure to store the sweet and sour mix in the refrigerator and use a a glass jar with an air-tight lid.

Properly stored, it should last up to 2 weeks. 
Nutrition
Calories:
84
kcal
|
Carbohydrates:
22
g
|
Protein:
1
g
|
Fat:
1
g
|
Saturated Fat:
1
g
|
Sodium:
2
mg
|
Potassium:
30
mg
|
Fiber:
1
g
|
Sugar:
21
g
|
Vitamin A:
4
IU
|
Vitamin C:
11
mg
|
Calcium:
4
mg
|
Iron:
1
mg
Tried this recipe?
Mention @willcookforsmiles and tag #willcookforsmiles