St. Paddy's Day is coming up soon, I hope you are cooking up some great Irish themed dished with week! If you are looking for some ideas, this Cheddar Ale Soup is delicious and perfect for St. Patrick's Day!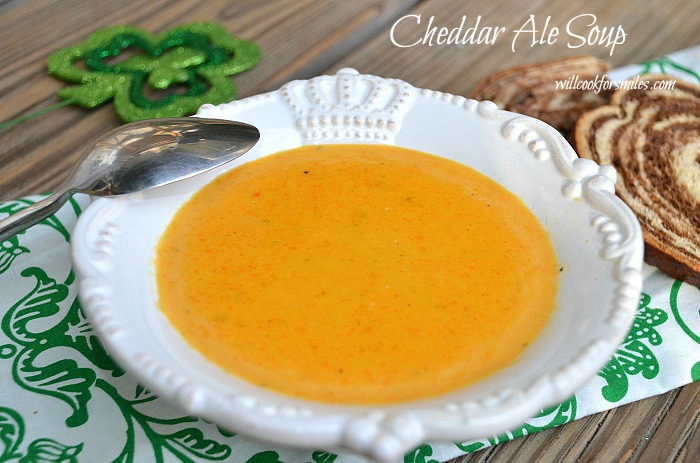 This is another tribute to St. Paddy's Day. This soup was so good that even my husband loved it and he does not eat soup! For this soup, you can use either a nice dark lager or a pale ale, its up to you. I used Killian's Irish Red Lager, and you only need one cup for the recipe, so guess what….the rest of it is for you to enjoy while cooking!
Wonderful to combine with some beer for St. Paddy's Day!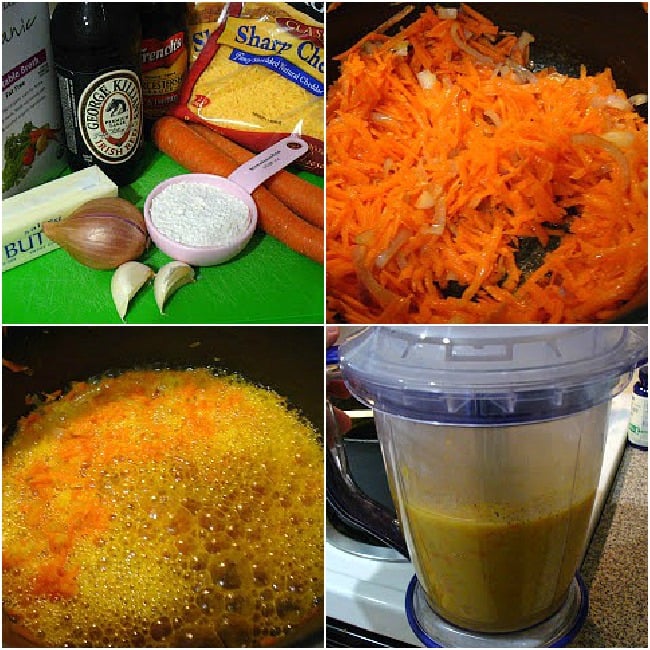 Cheddar Ale Soup!!

Ingredients
3 Tbs. unsalted butter
1 large shallot or 1 medium yellow onion
2 large carrots (peeled and shredded)
2-3 garlic cloves
1/3 cup of flour
1 cup of Ale
1 Tbs Worcestershire sauce
2 cups of milk
1 cups of vegetable broth
1 lb (4 cups) sharp cheddar cheese (preferably block)
Instructions
Melt the butter in the pot on medium heat.
Add the chopped onion and shredded carrots, cook for about 7-10 minutes, stirring occasionally.
Add the minced garlic and stir well.
Sprinkle the flour, stir until combined and cook for 3 to 4 minutes, stirring occasionally.
Add the ale, while stirring, and cook for a couple of minutes, stirring constantly.
Add the Worcestershire, milk, broth, salt and pepper. Increase the heat to medium-high and bring to a simmer.
Reduce the heat to medium-low and cook for 10 to 13 minutes. Remove the pot from the heat and puree the soup in a blender or food processor.
Pour back into the pot, set the heat to medium-low.
Add the cheese by the handful, stirring constantly (do not boil). Keep stirring until all cheese is melted.
http://www.willcookforsmiles.com/2011/03/cheddar-ale-soup.html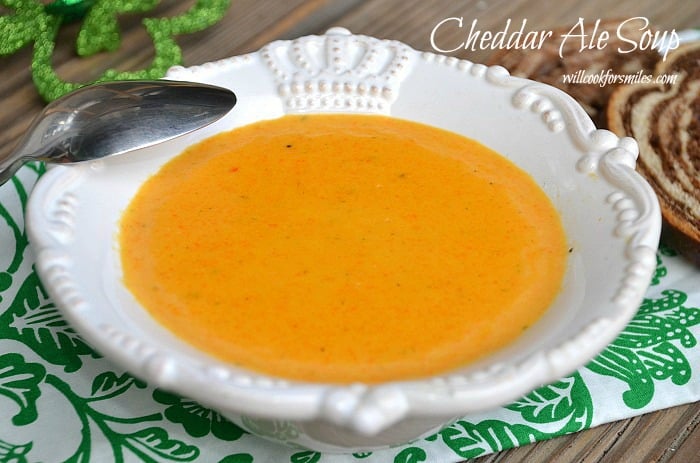 Happy St. Paddy's week! Check out a couple more ideas I have: