Lovely summer cheesecake made with fresh berries and fresh mixed berry puree. There is mixed berry puree on the top of the cheesecake and inside of the cheesecake. Beautiful fresh strawberries, blueberries, and raspberries on top add a light, juicy fruit taste to this summer dessert.
Don't forget to sign up for email, so you won't miss any new recipes.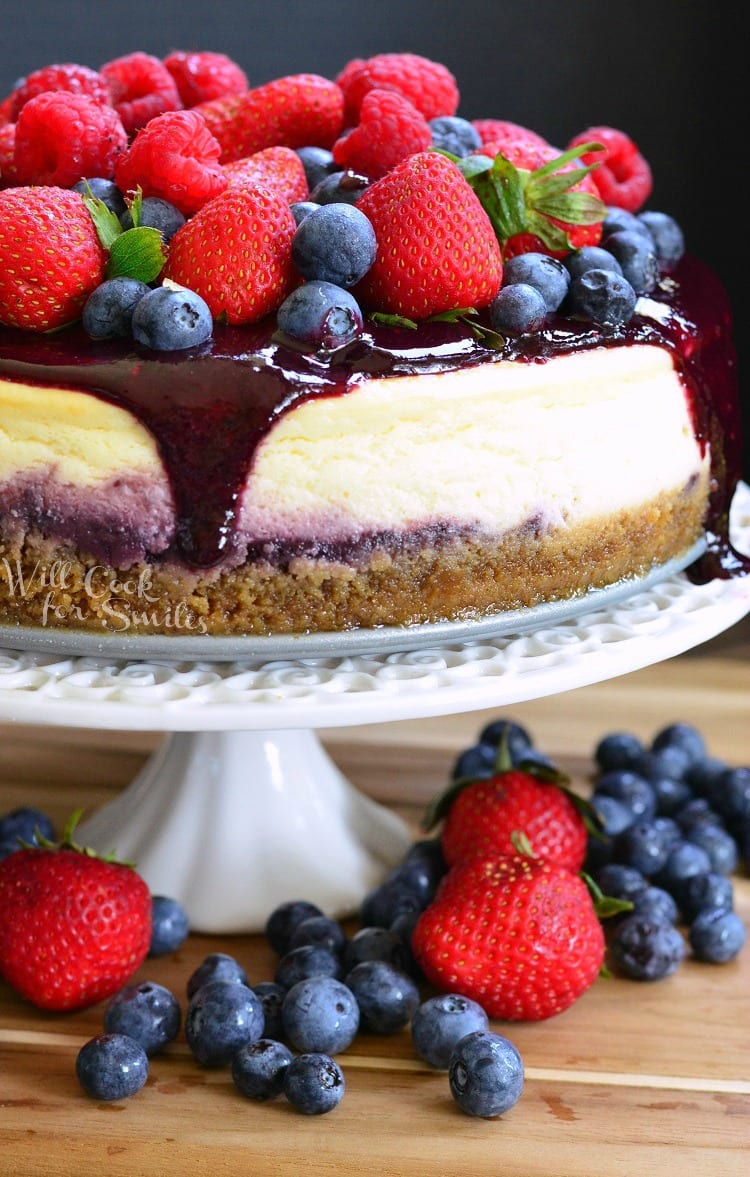 On these nice summer days, we need a nice summer dessert. And, just in time for the biggest summer holiday, I made this beautiful summer berry cheesecake that showcases the patriotic "red, white, and blue" colors. It's a perfect dessert to serve on July 4th, and really any other day that you have access to some beautiful berries.
This cheesecake is made with not only fresh berries, it's made with a sweet, flavorful mixed berry puree. There is some puree added right to the crust for another layer of flavor, and more puree slathered on top. You will most likely have a little bit of puree leftover from this recipe and I made it to have a little extra on purpose. You can either slather extra puree right on top of the cheesecake, or you can serve extra with each slice. Or, you can even save some in a jar for your morning bagel.
I'm actually quite addicted to berries and especially, to berry sauce. Even though we love berries, we don't seem to eat them fast enough. So when they start to get less than plump and perfect, I make this quick berry puree or a sauce and use it on everything.
There are many recipes here, on the blog, where I use blueberry, strawberry, and raspberry puree and/or sauce. It's a great way to use up the older berries that are not good enough to eat anymore.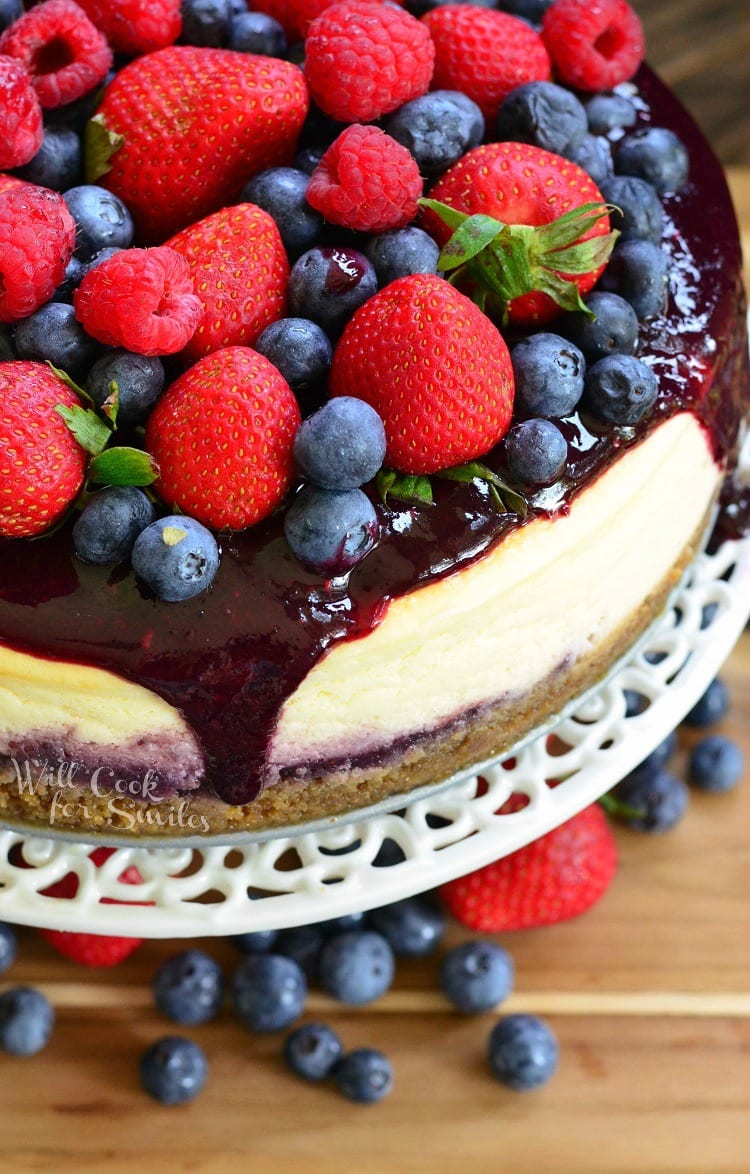 Some of the previous comments about cheesecakes inquired about taking it out of the springform. The easiness option is always to just take off the side of the springform and leave the bottom. I usually serve it on a nice cake stand but I leave the bottom of the springform on. The main reason is that it's nearly impossible to take the cheesecake from the bottom without breaking it. At least, I haven't had any luck with it.
Downside to keeping the springform bottom on is that it can be quite slippery on top of a plate, serving dish, or a cake stand. I've nearly lost a couple of cheesecakes that way, just walking them to the table. So, here is little tip for serving or displaying the cheesecake with the bottom part of the sprinform still on:
~ Get a paper towel and wet it. Squeeze access water out and fold it into a square. Place the wet paper towel square between the cake stand and cheesecake. This will help create friction and prevent the bottom of the cheesecake from sliding around the dish. (You can also use a rubber circle that's used for helping take lids off jars.)
These is also an option to fit a piece of parchment paper on the inside bottom of the springform, if you absolutely have to take the whole cheesecake out of the springform. I haven't tried it with a cheesecake but it's definitely on my list to try. You would have to fit it to the bottom of the form and cut it out as perfectly as possible. Once you are ready to take the cheesecake out, take off the side of the springform. Loosen the bottom of the cheesecake (keeping the parchment paper on the crust) all around by gently pulling the cheesecake up with a spatula. (Make sure the parchment paper stays on the cheesecake.) Get your serving dish ready and use as big of a spatula as you have. Slide spatula under the cheesecake and gently pull and slide the cheesecake off the bottom of the springform right onto the serving dish.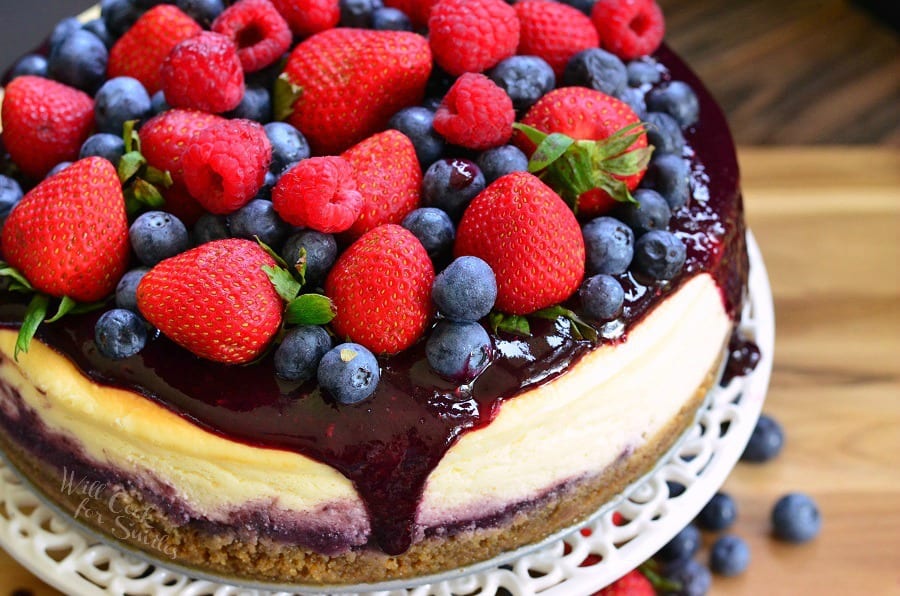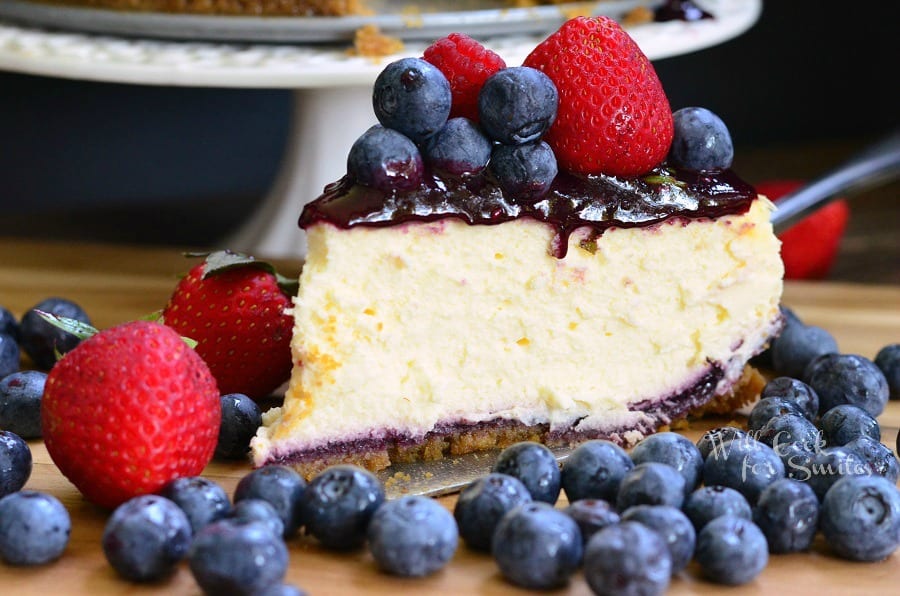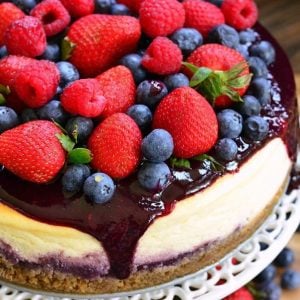 Mixed Berry Cheesecake aka Red, White, and Blue Cheesecake
Lovely summer cheesecake made with fresh berries and fresh mixed berry puree. There is mixed berry puree on the top of the cheesecake and inside of the cheesecake.
Cook Time
1
hour
35
minutes
Total Time
13
hours
35
minutes
Servings
1
9-inch cheesecake
Ingredients
Berry puree:

4

oz

raspberries

6

oz

strawberries

6

oz

blueberries

2/3

cup

white granulated sugar

1

tsp

lemon juice

Crust:

1 ½

cups

graham cracker crumbs

½

cup

brown sugar

1

tsp

vanilla extract

5

Tbsp

melted unsalted butter

1/3

cup

of berry puree

Cheesecake:

4 8

oz

packs of cream cheese

softened

½

cup

sour cream

2

eggs

¾

cup

heavy cream

¾

cup

white granulated sugar

2

Tbsp

corn starch

2

tsp

vanilla extract

Topping:

About 4 oz fresh raspberries

About 6 oz fresh strawberries

About 6 oz fresh blueberries

About 1/2 cup of berry puree

add more on top if you wish or save some for individual servings
Instructions
In a sauce pot, over medium heat, combine all berries, sugar, and lemon juice. Stir and let it cook, uncovered. Make sure to stir every few minutes. Let the berries simmer for about 20 minutes, some of the liquid will cook down.

Take the sauce pot off heat and puree the mixture either with an immersion blender or in a separate blender. Set aside.

Preheat the oven to 325 and grease a 9 inch spring form. You will need a large roasting pan (one that's bigger and longer than the spring form. I use the aluminum foil disposable roasting pan.)

In a small bowl, combine graham cracker crumbs, melted butter, vanilla extract and brown sugar. Mix very well.

Spread crumb mixture in the bottom on the spring form, evenly, pressing it over the bottom and about half way up the sides.

Spread 1/3 cup of berry puree evenly over the crust.

In a bowl of an electric mixer, beat cream cheese on medium-high speed until smooth and fluffy. Scrape sides and bottom on the bowl and beat for another minute.

Add corn starch and sugar and mix until combined.

Beat in eggs, one at a time, until well incorporated.

Add sour cream, vanilla extract, and heavy cream, and beat until all mixed very well.

Drop scoops of cheesecake batter all over the crust, covering it completely and then even it out. (If you just pour in the batter, it will start mixing with berry puree.)

(If you are not sure about your springform holding up in water, you can wrap the springform in heavy duty aluminum foil from bottom up to the sides, pressing it tight to the outside of the springform.)

Place roasting pan into the oven and place cheesecake springform inside the roasting pan. Carefully add water to the roasting pan, about half way up the side of the spring form.

Bake for 85-90 minutes. Turn off the oven and open the oven door half way. Let cheesecake rest for 10 minutes and take it out of the oven (out of the water bath).

Let it rest for 10-15 minutes on the counter and then gently run a greased butter knife between sides of the cheesecakes and the springform to carefully separate it. (You don't actually have to take the cheesecake out of the pan until ready to add toppings.) Let it cool to the room temperature before covering and putting it in the fridge.

Refrigerate the cheesecake for at least 6 hours or overnight. (You can transfer the berry puree into a glass jar until ready to use.)

When ready to serve the cheesecake, take the side rim of the springform off. Pour 1/2 cup of berry puree on top of the cheesecake, in the center. Gently spread it with a spatula over the top. Then, add berries. It's easier to place strawberries first and then add blueberries and raspberries.

If you will have leftover, just put the side rim of the springform back on and cover it with a saran wrap over the top.
Recipe Notes
Recipe from Lyuba @ willcookforsmiles.com All images and content are copyright protected. Please do not use my images without prior permission. If you want to share this recipe, please simply link back to this post for the recipe. Thank you.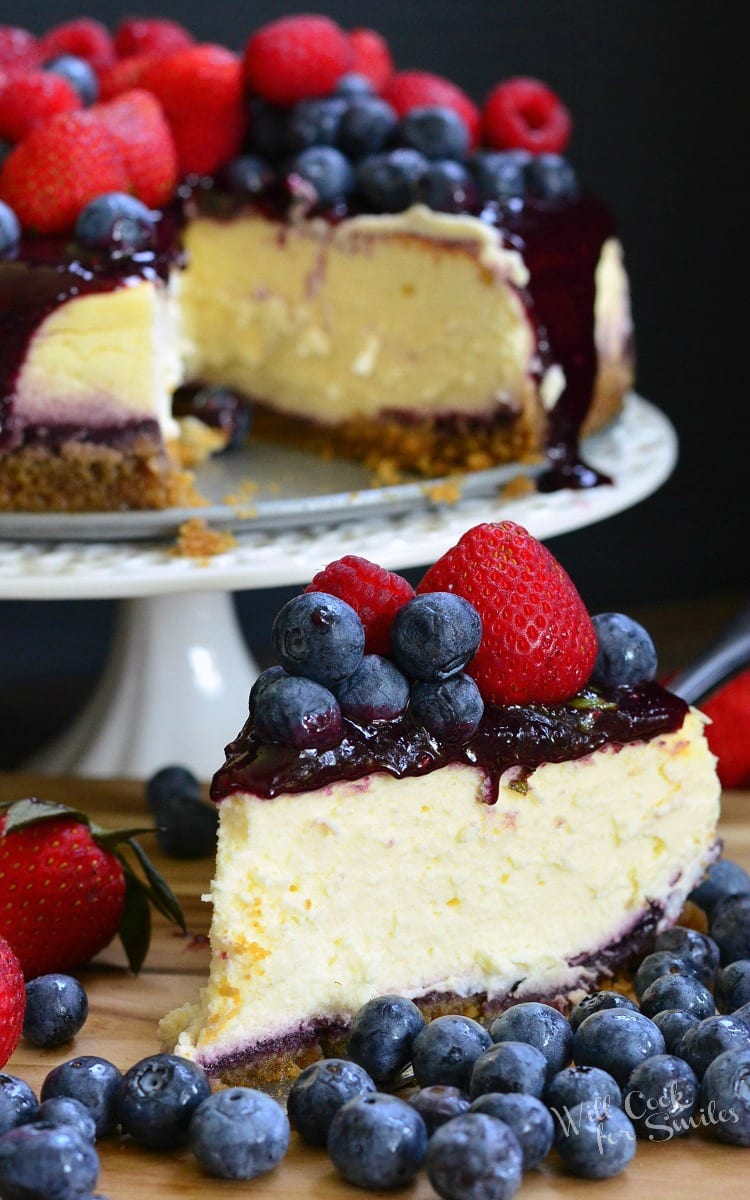 Check out these great recipes from other bloggers:
Mini Summer Berry Galettes from Home Cooking Memories
Summer Berry Cheesecake Salad from Slow Roasted Italian
Black and Blue Berry Cobbler from Tidy Mom
Mixed Berry Cream Cheese Crepes from Whole and Heavenly Oven

_________________________________________________________
Make sure you follow me through your favorite blog reader (bloglovin or other), subscribe to e-mail or follow me through social media of your choice to keep up with the recipes!

_______________________________________________________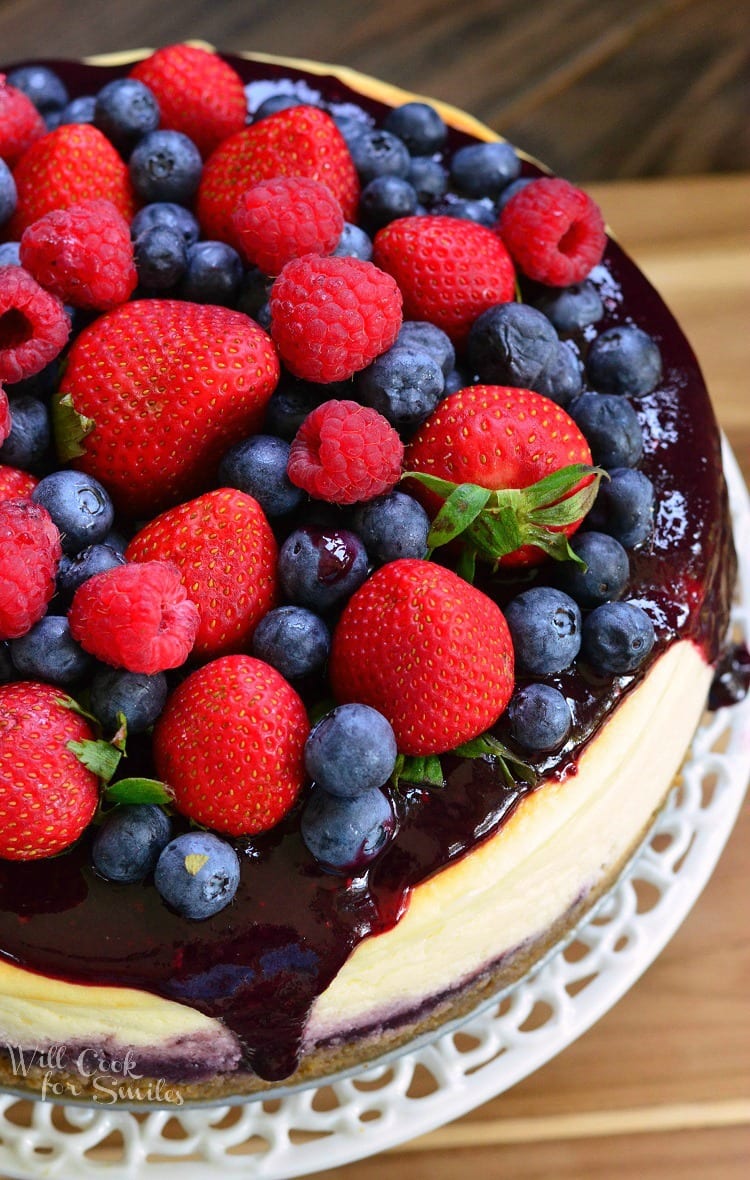 Some More Recipes From Me: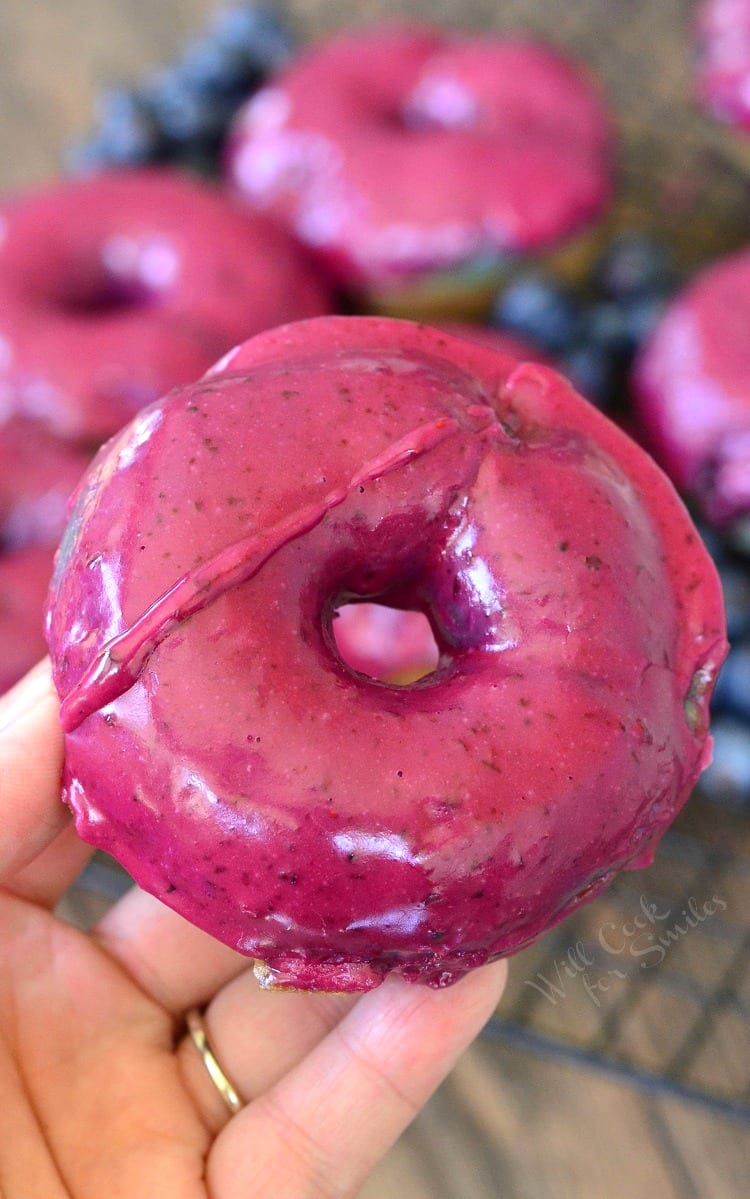 Blueberry Doughnuts with Blueberry Cream Whiskey Glaze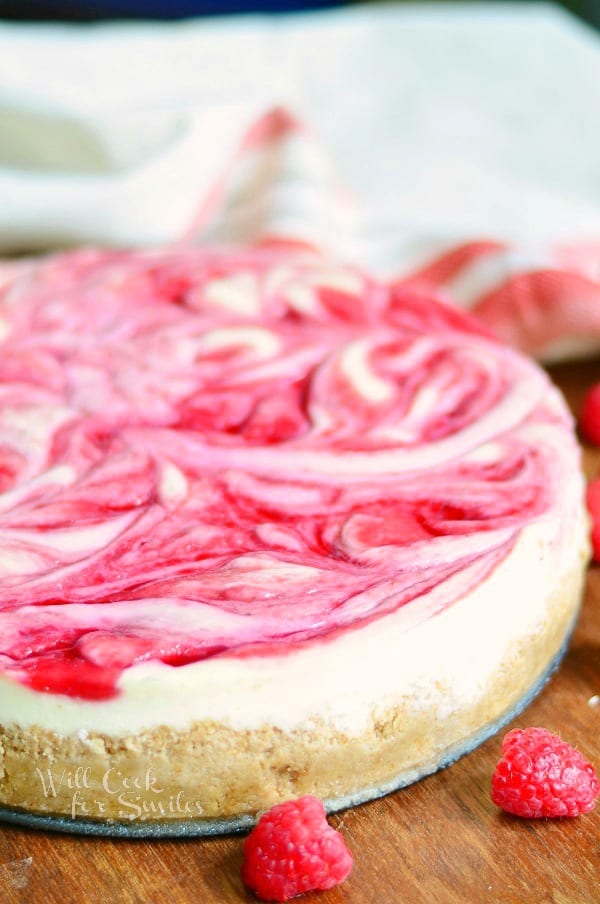 White Chocolate Raspberry Swirl Cheesecake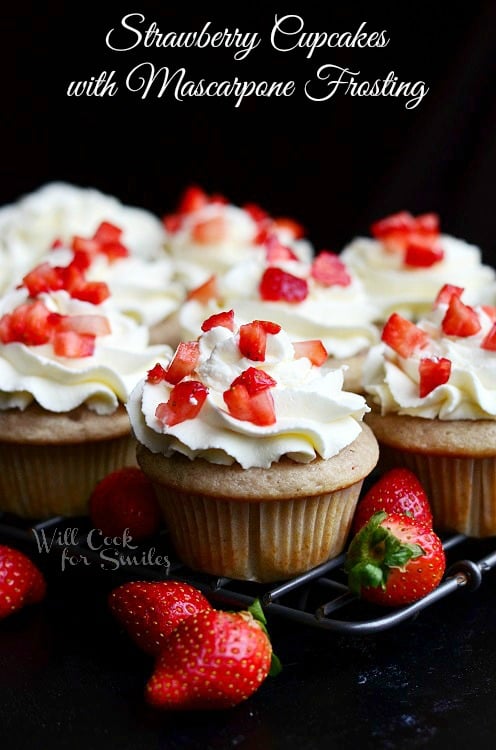 Strawberry Cupcakes with Mascarpone Frosting