These pan roasted Brussels sprouts is not just fast and easy but also is the most delicious way to cook this vegetable! It's a slightly sweet and salty flavor combination on crispy roasted Brussels sprouts and bacon.
Love Brussels Sprouts? Try our creamy parmesan brussels sprouts and garlic butter roasted brussels sprouts.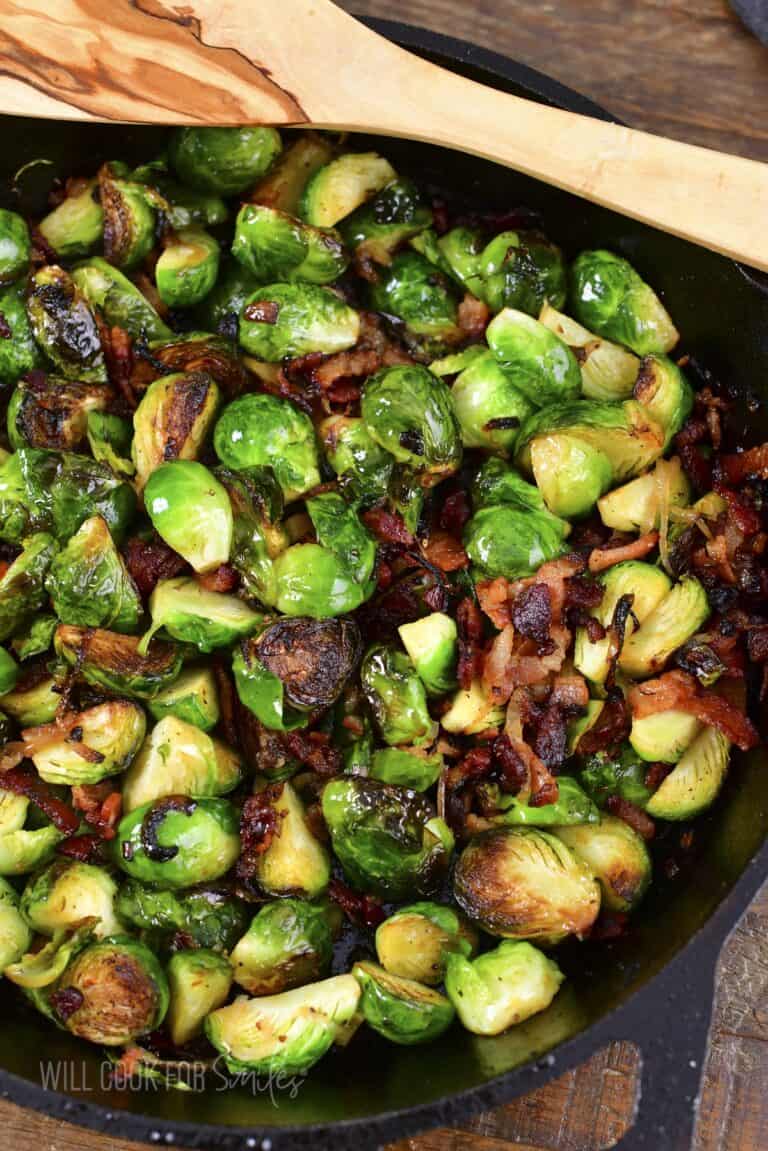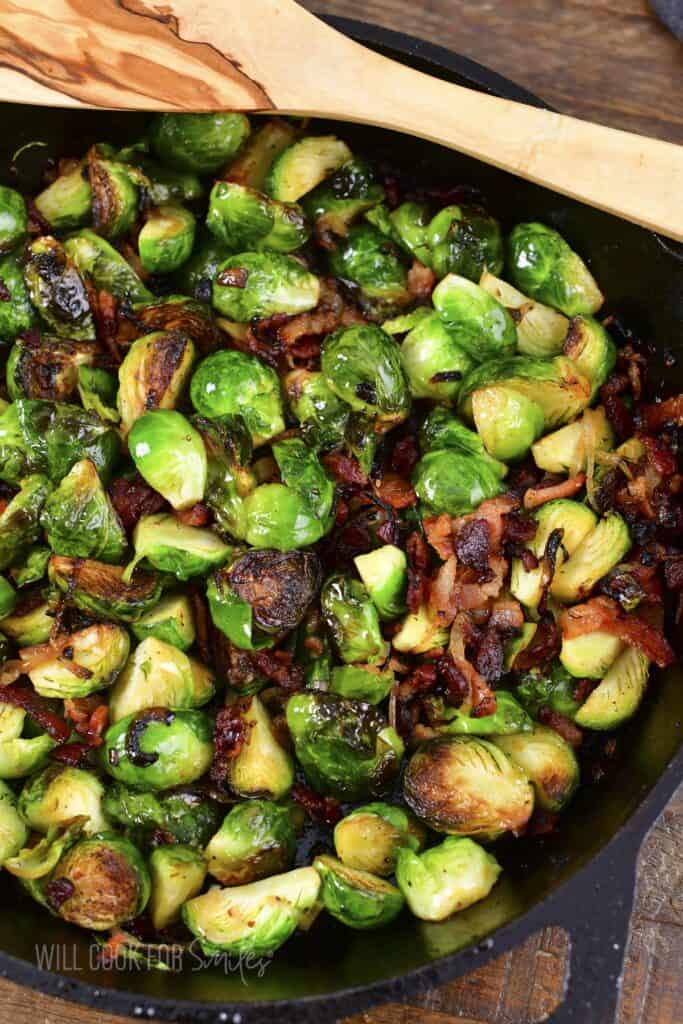 Do you strive to serve green vegetables with dinner as often as you can? I know I do and I'm sure that like you, it's often met with an eye roll. Give them mashed potatoes, they are happy, but give the Brussels sprouts and I hear whining.
That's why I try to make the green vegetables as tasty as possible! Sometimes it's a little cheese on top and sometimes it's bacon.
When it comes to healthier side dishes, I love to add something special so it is both, healthy and delicious. The best part is, this side is so scrumptious, even kids gobble agree to eat it! (Well, some kids. You know your kids best!) After all, who doesn't love crispy, tasty bacon? It really makes everything taste better!
Ingredient Notes:
This recipe is incredibly easy to make. In just a few easy steps, you'll have some of the best sautéed Brussels sprouts ever!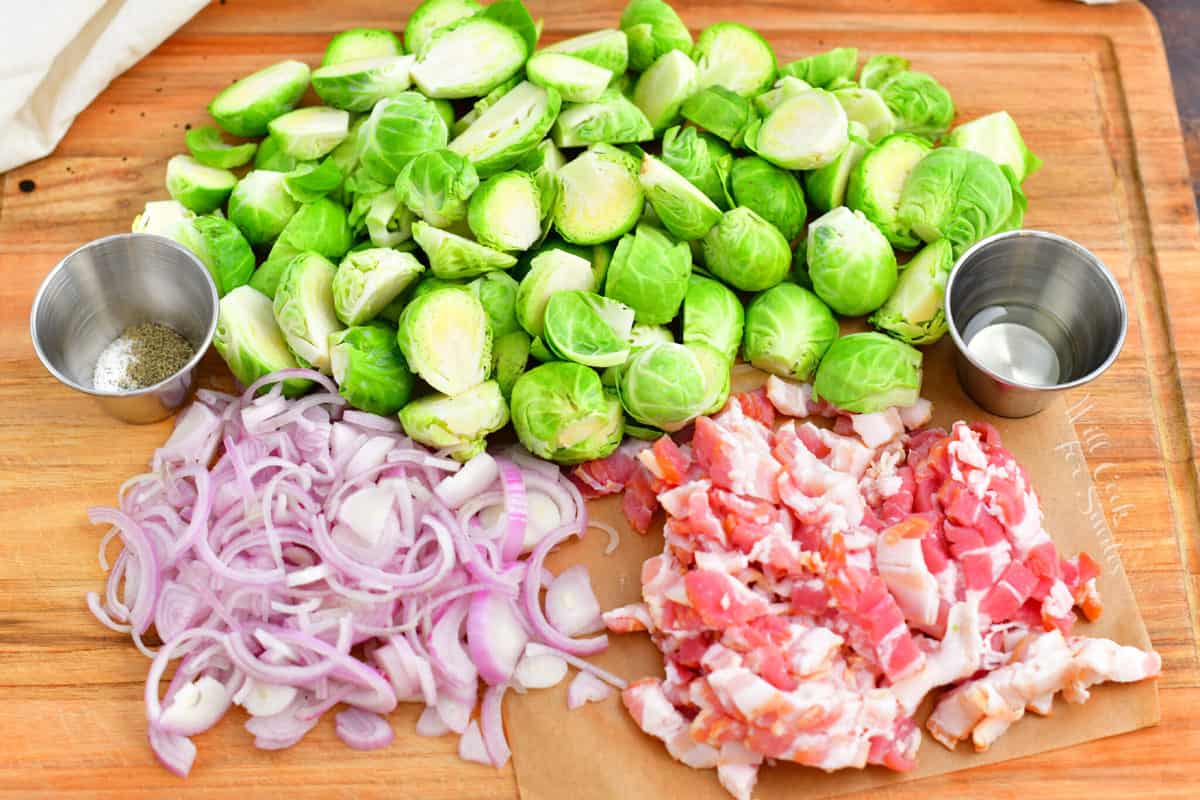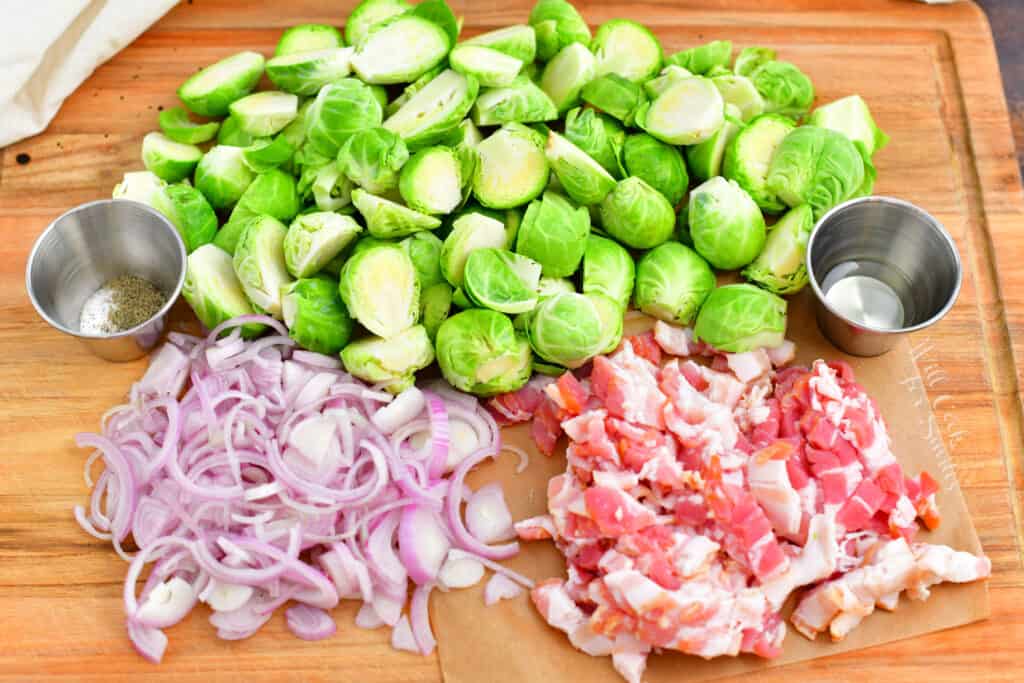 Canola Oil – Any oil should work fine, but canola is my personal favorite. It's rich with vitamins E and K, and it has several healthy omega fatty acids. You can also substitute it for olive oil.
Shallots – Shallots have a more delicate and sweet flavor than onions do, which perfectly compliments the salty, savory bacon. Shallots are actually in a garlic family and they do have a hint of garlic.
Bacon – because it makes everything better!
Brussels Sprouts – They can be any size. Larger sprouts tend to be more bitter, while smaller sizes are a little bit sweeter. If your sprouts are large, they might need more time to cook too.
Salt – Be careful not to go overboard with the salt because the bacon will most likely already be salted.
Cracked Black Pepper – freshly cracked black pepper will give you the best flavor but it's fine if it's already crushed.
Cooking Instructions: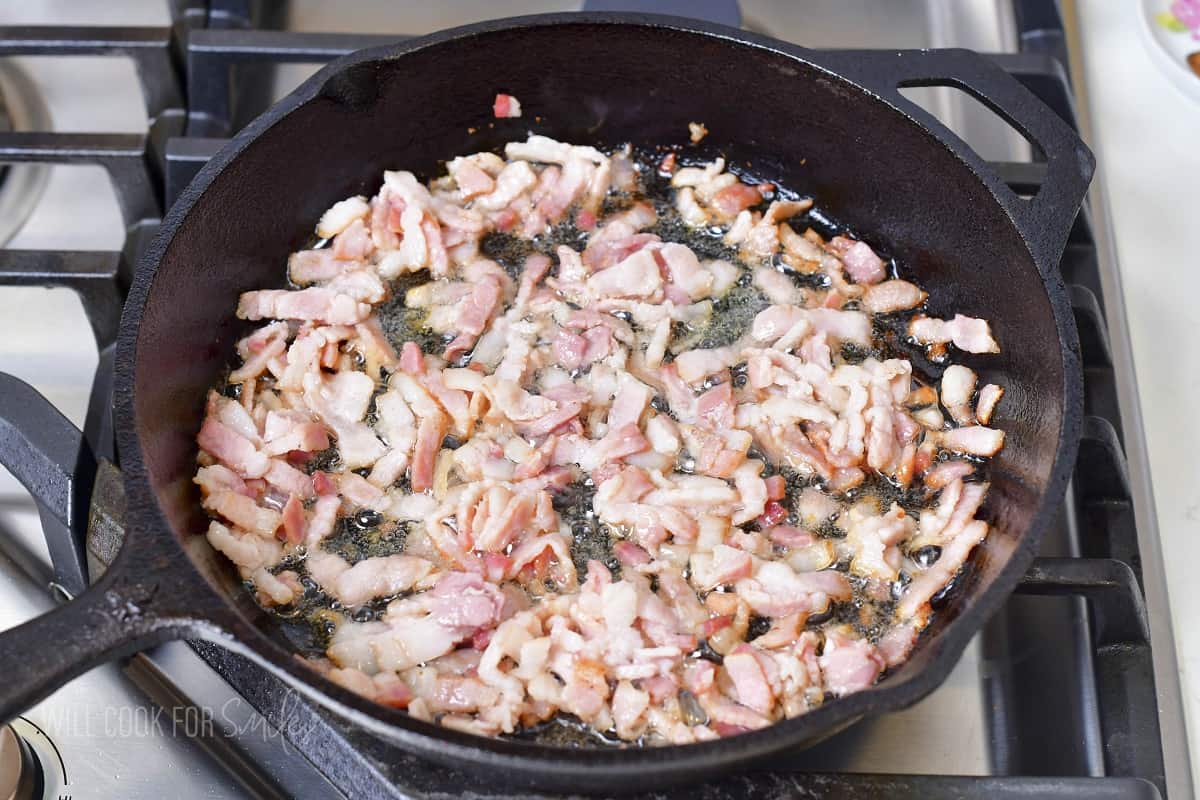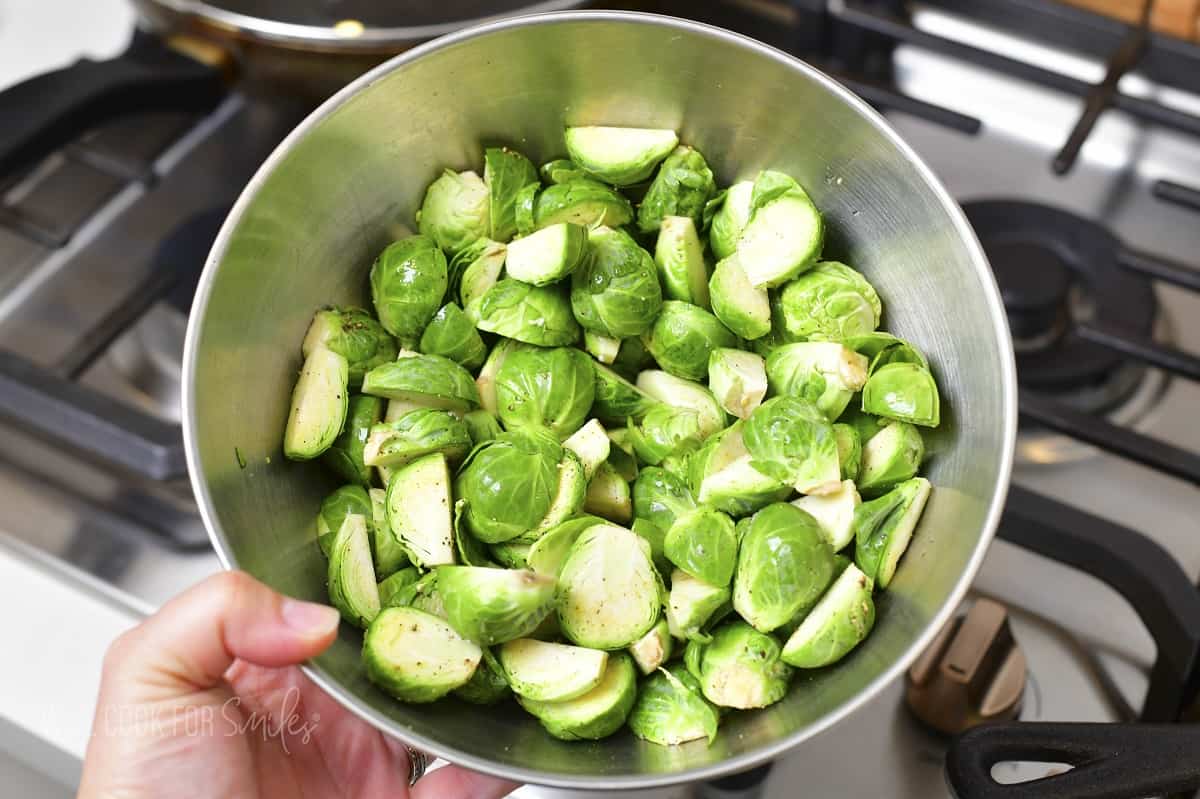 One of my favorite things about this recipe is how fast and easy it is to make!
Cut each of the sprouts in half. Make sure your halves are equal, that way they all cook evenly. Slice your shallots and dice the bacon as well.

Note: it's easiest to cut cold bacon, so dice it as soon as you take it out of the refrigerator.


Cook bacon and shallots. Preheat the pan first and then add oil and bacon to the oil first. Cook it for a few minutes before adding the shallots.
Cook them together until the shallots are soft and your kitchen smells like heaven!
Add the Brussels sprouts to the skillet and mix all ingredients together. Sprinkle salt and pepper all over and stir to mix!
Cook undisturbed until the bottoms get a nice sear!
Stir and cook for a few more minutes, again undisturbed. You want to give them time to sear and get golden brown before stirring.
During the last few seconds of the cooking, drizzle some honey over the brussels and mix to coat everything evenly.
TIP: Don't overcook your veggies! When they are cooked too long, they become mushy. Also, if you add too much to the pan, they will start to steam vs. sear. Use a large pan and make sure the sprouts are in one layer not stacked in two or thee.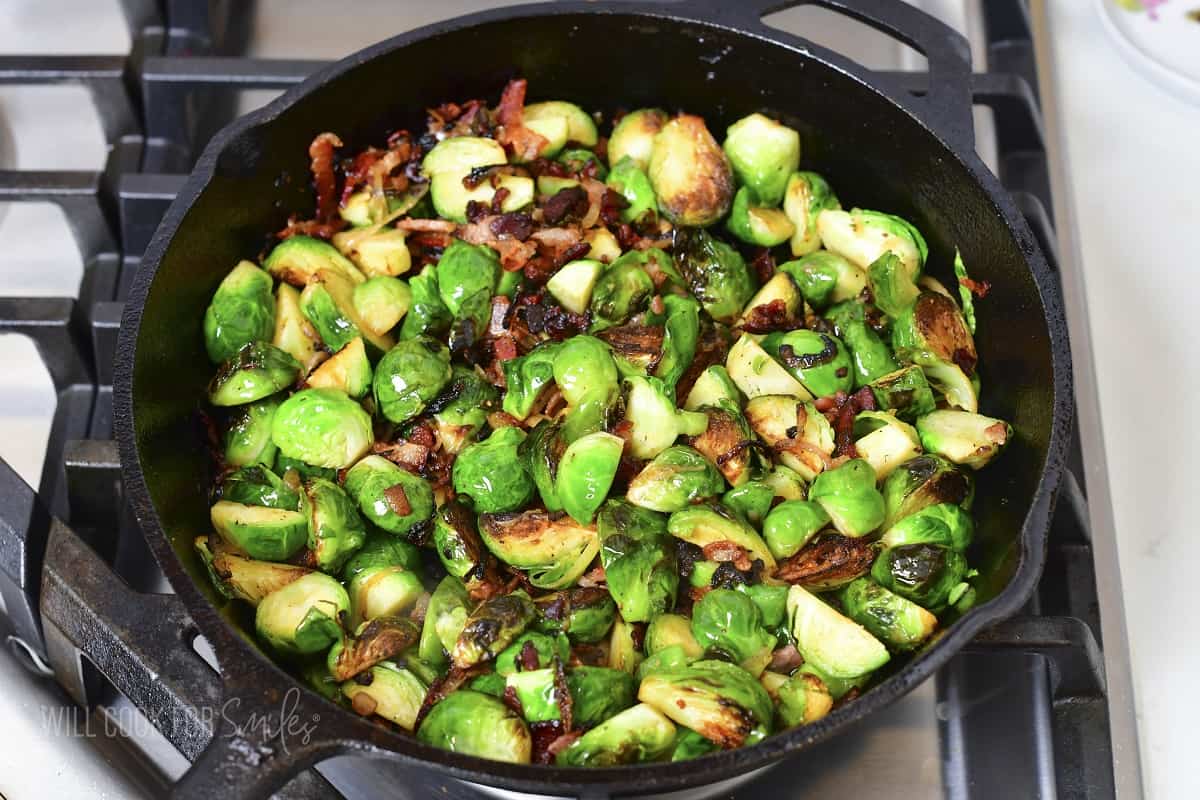 Serving Suggestion
Pan fried Brussels sprouts with bacon are a delicious pairing with so many different main meats! Whether it's grilled chicken, pork, or steaks, a healthy veggie like this will compliment almost any main dish.
Mix it in with some buttery pasta to give it a lot of extra flavor.
I also like to make this recipe for an easy side for Thanksgiving and Christmas!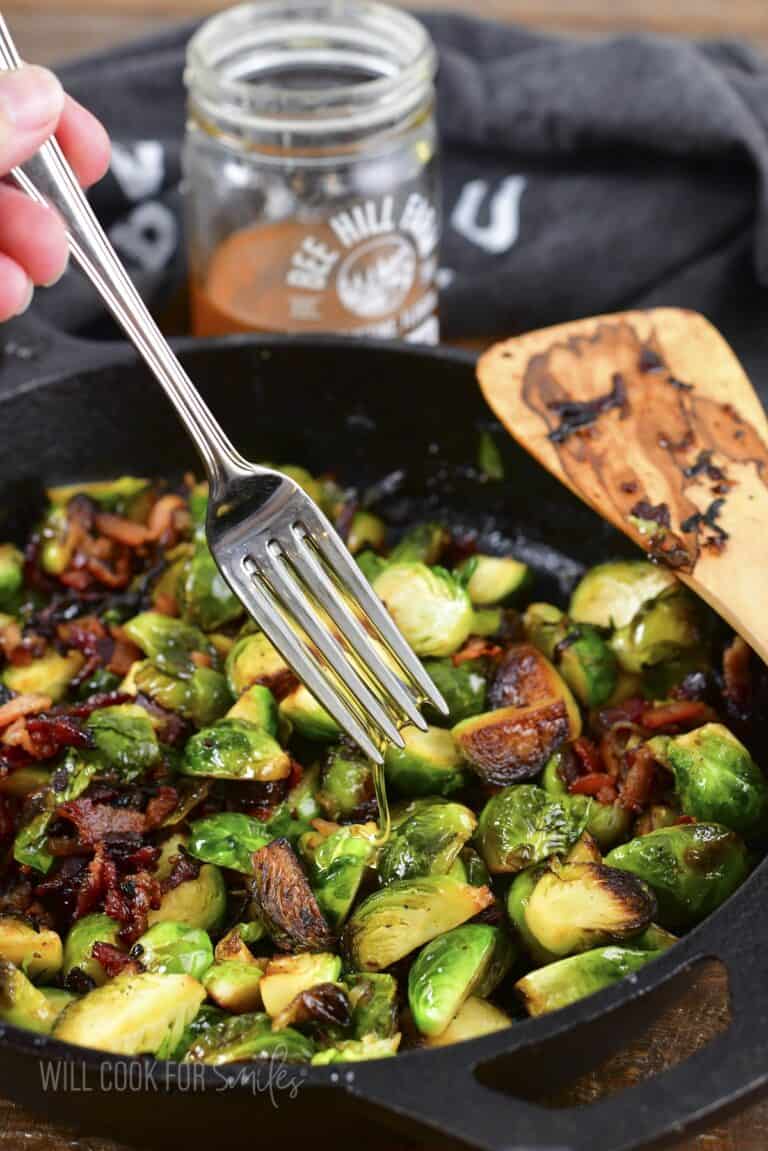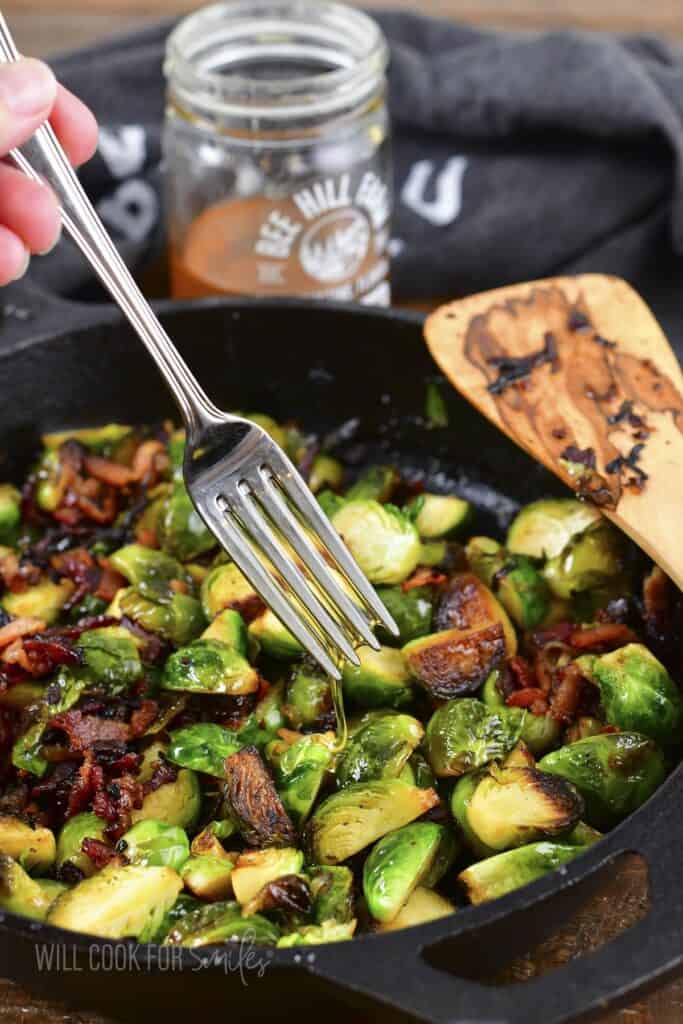 Frequently Asked Questions:
How do I pick out the best brussels sprouts at the grocery store?
Choose the ones with tightly packed leaves because if the leaves are loose, the sprouts will probably fall apart in your pan. Pick out ones that are firm and not soft and wilting. Also, skip over the ones with yellow leaves or black spots! Those are the two most obvious indicators of fungus. 
How can I make this recipe healthier? 
If you're looking for a more heart healthy option, try you can use turkey bacon instead of pork bacon. 
Turkey bacon has less cholesterol and calories than pork bacon, and it's just as tasty. However, it is a bit higher in sodium. Be mindful of that if you're watching your salt intake.
Is there anything else I can add?
Of course! Try a sprinkle adding a handful of crunchy almonds, some dried cranberries, or other dried fruit and nuts. You can also mix in some other vegetables like asparagus, broccoli, and/or cauliflower.  
More Side Dish Recipes To Try
If you love bacon like we do, you should also try out this fantastic bacon and blue brussels salad!
If you want to try roasted version of this vegetable, try Brussels sprouts roasted with garlic butter, or some cheesy parmesan roasted brussels sprouts.
That's one of the best things about Brussels sprouts – they're so versatile! I even know of a Brussels sprout salad recipe that will seriously change your salad game!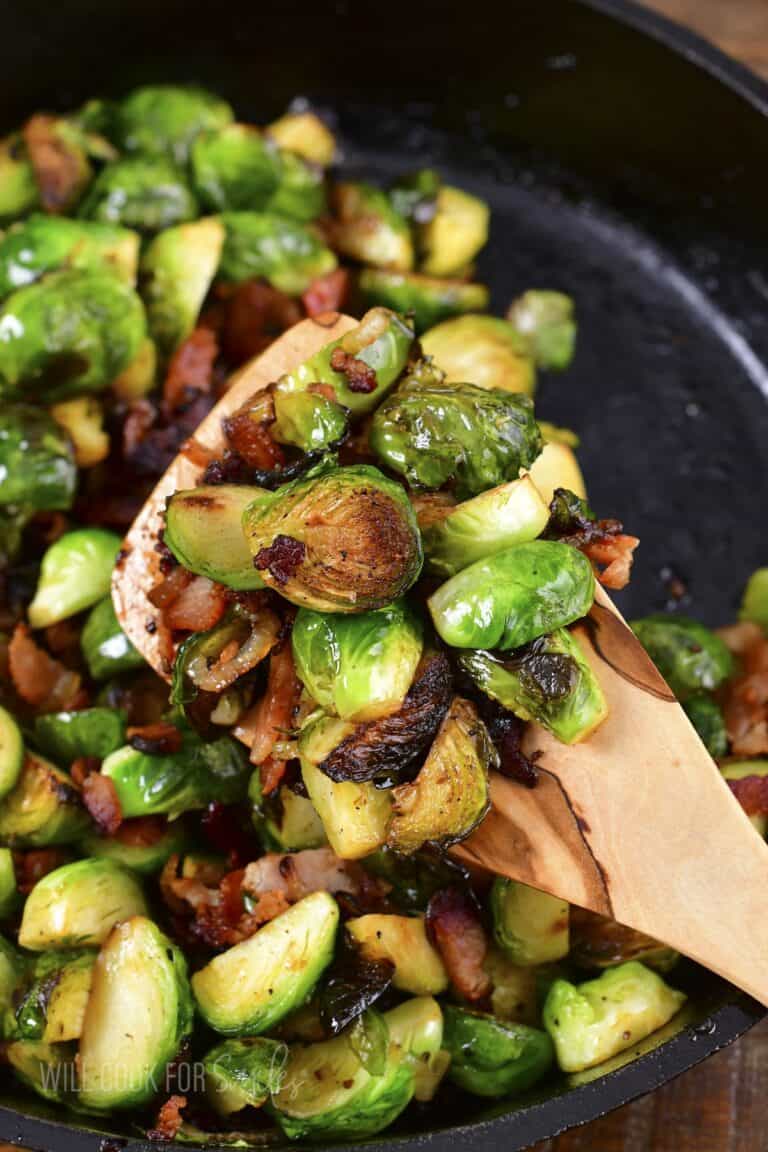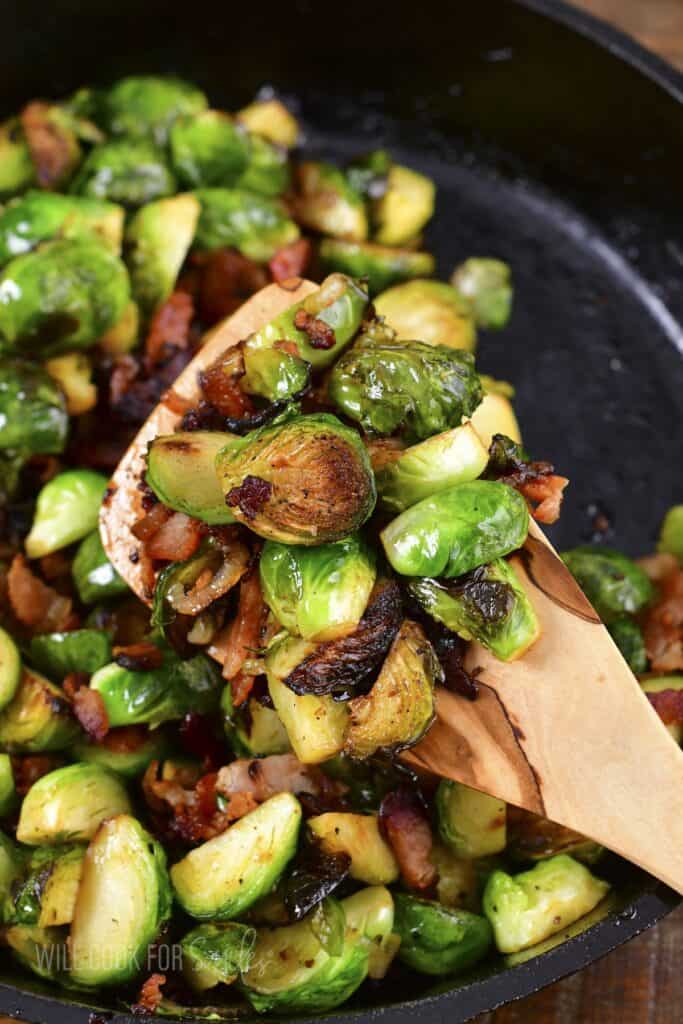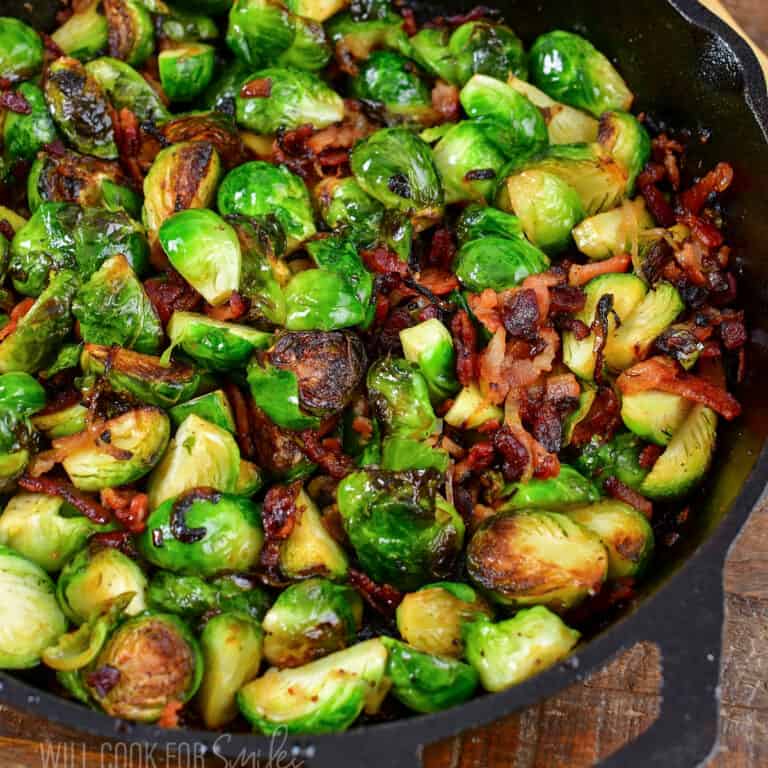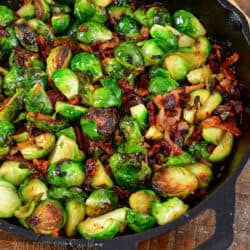 Sautéed Brussel Sprouts
Brussels sprouts with bacon is a fast and easy way to prepare this savory and nutritious vegetable! There are a two simple ingredients that compliment this vegetable and that is shallots and bacon.
Print
Pin
Save
Saved!
Rate
Ingredients
1

tbsp

olive oil

2-3

shallots

1/2

lb

raw bacon

2

lbs

Brussels sprouts

salt

cracked black pepper

1

tbsp

honey

while cooking

1-1 1/2

tbsp

honey

to drizzle at the end
Instructions
Prepare the Ingredients:
Discard dark green outer leaves and cut Brussels sprouts in half. Set the aside. Thinly slice shallots and set the aside as well. Cut cold bacon, right from the refrigerator, into small pieces and set it aside.
Cooking:
Preheat a large skillet, no smaller than 12-inch, over medium to medium-high heat for a few minutes and add oil.

Swirl oil around and add diced bacon. Spread it around evenly and let it cook until the fat is rendered about half way and add sliced shallots.

Mix bacon and shallots together and cook for a few minutes, until shallots are softened.

Add brussels sprouts and season everything with salt and pepper.

Mix everything together and let it cook, undisturbed, for a 5-7 minutes. This will give that side a nice sear.

Mix well and try to get most of the brussels turned over to cook the other side. Cook another 5-7 minutes undisturbed.

Mix and see if you'd like to cook it a little more. If you like your vegetables a little crunchy, you can take them off the heat at this point.

Or, you can cook it more so the brussels sprouts are softer and browned more but don't disturb them after mixing. If you keep stirring, you will disturb the searing process, so mix and let them be for a few minutes.

During the last minute of the cook, drizzle a tablespoon of honey and mix everything to coat evenly.

Take off heat and drizzle a little more honey over the top when serving.
Nutrition
Calories:
414
kcal
|
Carbohydrates:
34
g
|
Protein:
15
g
|
Fat:
27
g
|
Saturated Fat:
8
g
|
Polyunsaturated Fat:
4
g
|
Monounsaturated Fat:
12
g
|
Trans Fat:
0.1
g
|
Cholesterol:
37
mg
|
Sodium:
434
mg
|
Potassium:
1043
mg
|
Fiber:
9
g
|
Sugar:
17
g
|
Vitamin A:
1732
IU
|
Vitamin C:
194
mg
|
Calcium:
104
mg
|
Iron:
4
mg
Tried this recipe?
Mention @willcookforsmiles and tag #willcookforsmiles