Get everyone drooling with the look and the smell of a perfect steak and leave them wanting more afterwards. I have several tips here for making your steaks extra special, from choosing a good piece of meat to seasoning and grilling the steak.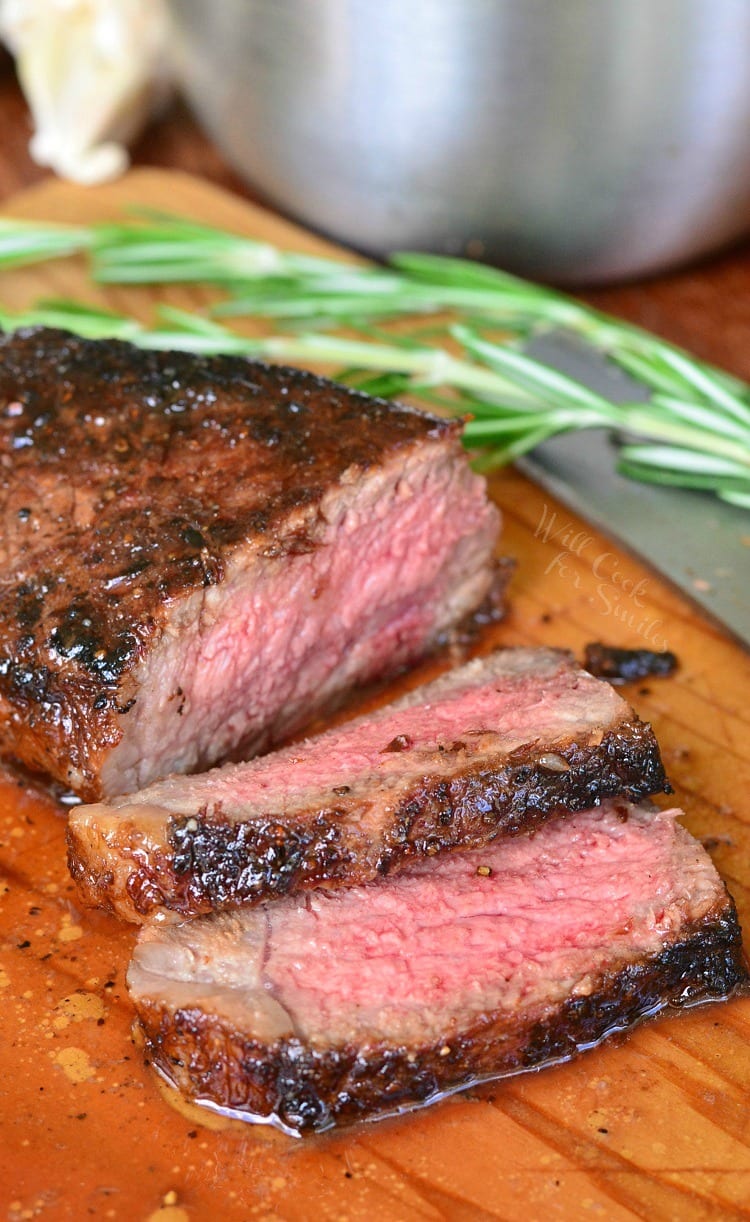 GRILLED STEAK
"Honey, this was the best steak I've ever had!"
Isn't it our goal to hear those words after slaving away on a grill? I know that it's ALWAYS my goal, whether I was cooking in my kitchen, grilling, or baking. I'm all about the pat on the back and hearing non-stop yummy noises while everyone is chowing down what I created.
Yeap, I'm quite needy when it comes to my cooking. If I didn't hear "oh wow" or "this is so good" when people are tasting my food, I consider it a mission failure. But the toughest critic always is and always will be me. We're tougher on ourselves than others are on us and it's because we know best what we're capable of.
So to keep all of your family and friends (and you) satisfied, I want to talk about some tips for making your grilled steak the most memorable steak they've every had.
I really want to stay clear of the word "perfect." Perfection is a subjective matter. For example, temperature of the steak will be something that is up for debate for everyone. A medium-rare steak is perfect for my husband, I prefer a medium, and my mom prefers a medium-well steak.
I've known people who don't want to see anything pink in their steak and I've known people who would drop the steak on a hot grill, cook it for 10 seconds on each side and call it "perfect." So temperature, and cuts, are left up to individual preference. Today, I'm not here to debate the perfect temperature and cut of the steak. I'm here to offer tips for grilling a steak to make it steak better and incredibly delicious.
HOW TO CHOOSE A STEAK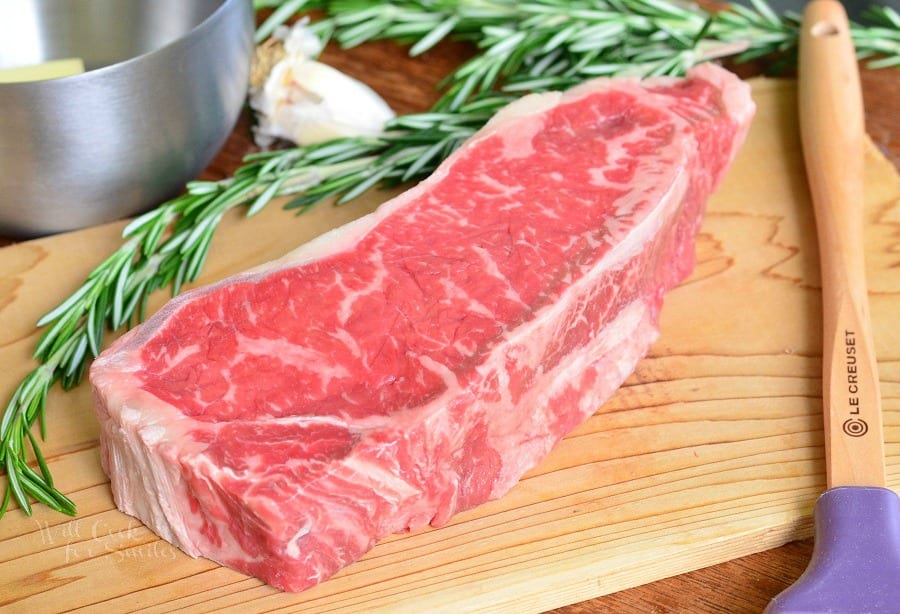 Before any grilling can begin, we need to choose our meat. First of all, you can throw pretty much anything on a grill but whether it will taste the best, that's not exactly true. There are some cuts that just perform better on the grill. When choosing a cut, go for your loins, serloins, and ribeyes. The beauty that you see in the picture above is a piece of strip from a T-bone steak of a Wagyu beef.
The one thing that I look for to make my steak extra special is lots of beautiful, fine marbling. Marbling is an intramuscular fat that you see throughout the meat, not on the outside of it. You want to look for those fine lines of fat within the meat. The finer the fat, the better. Fine marbling is what will give your steak juiciness, tenderness and lot's of flavor. You don't want to have lot's of thick fat in the middle of your meat.
SEASONING STEAK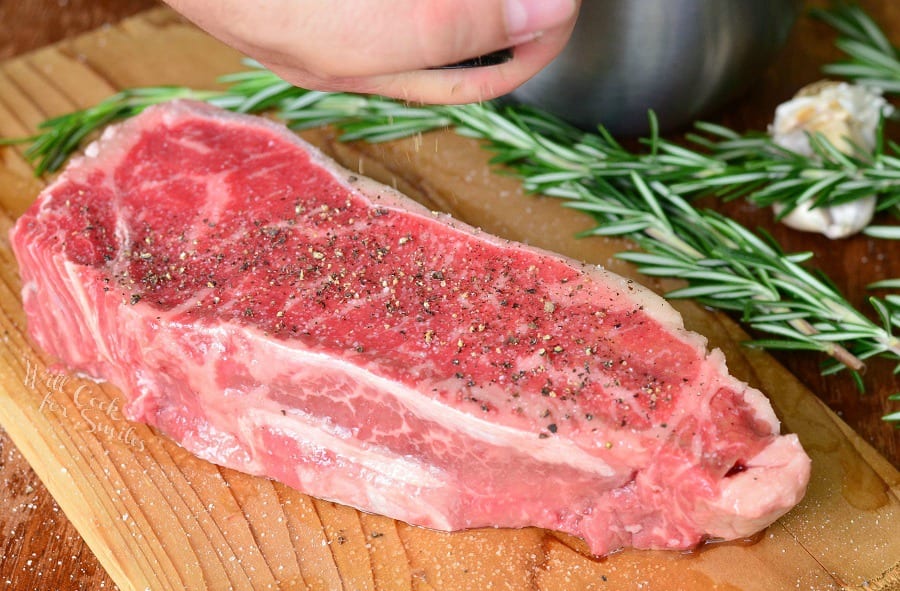 Put that seasoning mix down right now! What you need on a good piece of steak is salt and pepper. If you're looking for simply enjoying a nice cut of steak, the flavor will be all there, no need add anything but salt and pepper to bring out those flavors. Don't even look at the sauces, I will find you and I will smack if out of your hand.
If you are spending a good amount of money on a good cut of beef and then putting the effort into the preparation, trust me, you don't want to mask the great, natural flavor with sauces and spice mixes.
Before putting it on the grill, rub the steak with some oil and season it well with salt and pepper on both sides. Remember, you always want to put oil on the actual meat, not on the grill.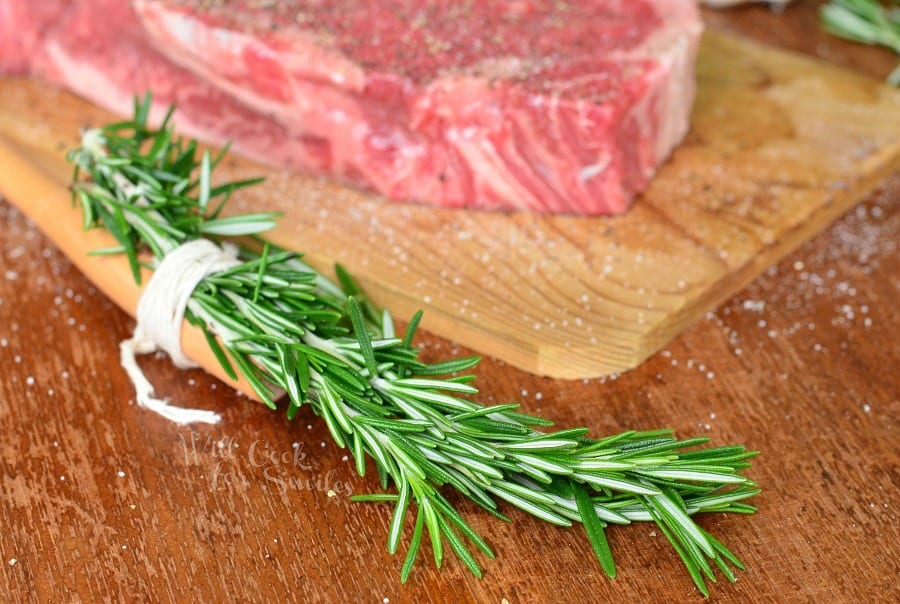 Another little flavor tip is a rosemary "brush." I mentioned earlier, in another post, that I took a quick grilling class last month. I picked up a few great tricks from the class and this was one of my favorites. A rosemary brush is simply a few rosemary branches tied onto a wooden handle or a brush or a spatula.
This rosemary brush sits in a small metal bowl with melted butter and crushed garlic right next to a grill. It gently infuses the butter with some rosemary flavors, but it doesn't overpower. Side note: crushing garlic cloves is my favorite method of adding garlic to my dishes. Crushing it with a knife brings out so much more natural garlic flavors and aroma.
To make a rosemary brush, tie a rosemary bunch onto a wooden end of a spatula, or a spoon. Melt 3-4 tablespoons of butter and add it to a small metal bowl. Crush 3 garlic cloves and add them to the melted butter. Place rosemary brush into the butter and let it sit there while you are cooking the steaks. (Next to the grill, not on the grill.)
HOW TO GRILL STEAK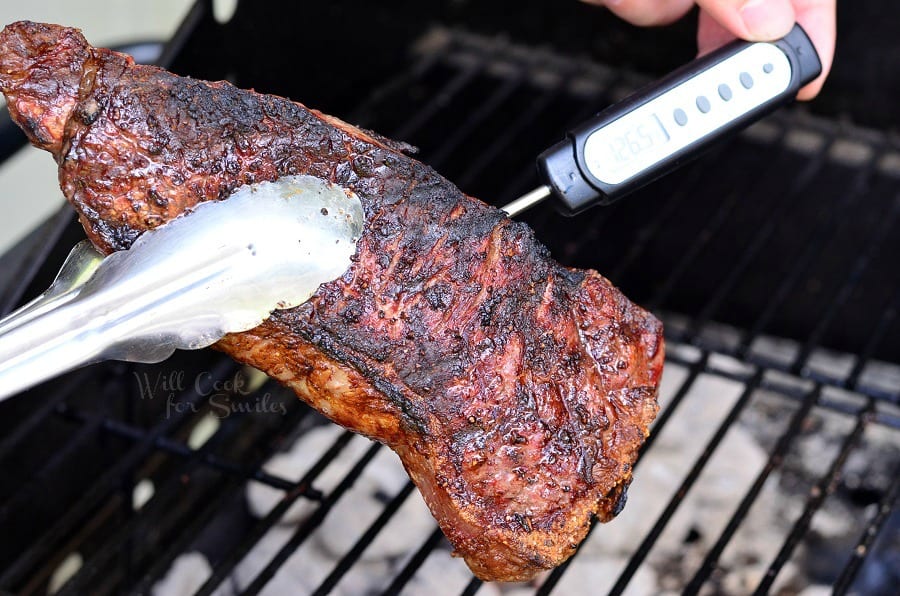 If you are using charcoal grill, I recommend placing your lit and ashed over charcoals on half of your grill. This will create a hotter and a cooler side of the grill so that you don't burn your steaks while getting them to temperature you desire. If you are using a gas grill, you should have a higher cooking shelf to place steaks away from direct heat while cooking.
So now, you've already brushed the meat with oil and seasoned it well, place them on the hot side of the grill to give them a nice sear. After a couple of minutes, turn the meat to the other side and move it over to the cooler side of the grill (or the higher shelf away from the direct heat).
To check your steaks for doneness, use a thermometer, it will give you the most accurate reading. If you're a seasoned chef or cook steaks all the time, I'm sure you can trust yourself to know when your steak is ready by touching it or even looking at it. Then again, you probably wouldn't be ready my little tips.
Once the steak is getting close to your desired temperature (about 15-20 degrees away), you will want to move it back to the hot side to finish the sear on the lighter side. Once you've moved the steak back to the hot side, check the temperature every couple of minutes.
To check the temperature: hold the steak with tongues and insert the thermometer through the side of the steak, towards the middle. You want to hit the reading on the thickest part and in the middle.
125-130 degrees = Rare
135-140 degrees = Medium-rare
145-150 degrees = Medium
155-160 degrees = Well
(*First number is when to take off the grill.)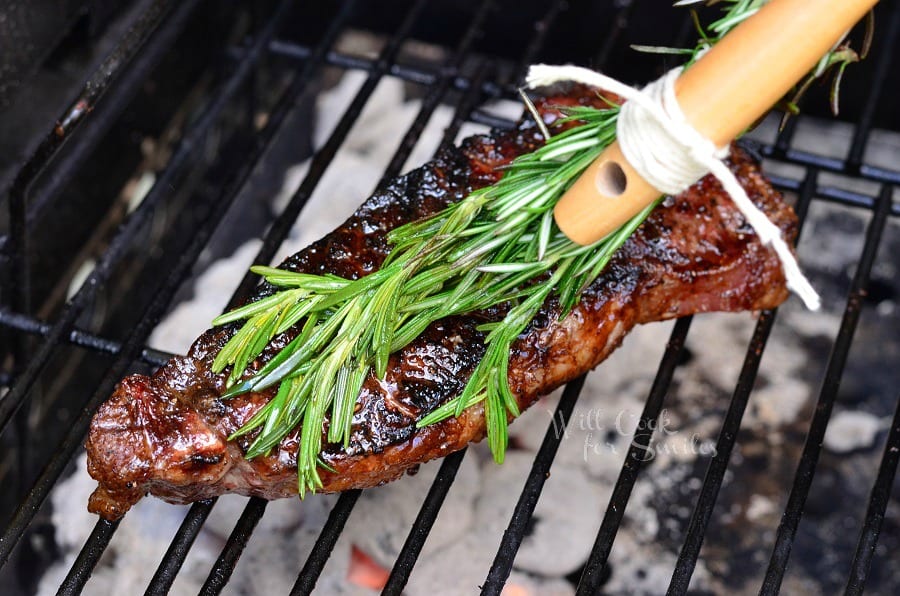 Once the steak is just a couple of minutes away from being done, brush it with rosemary garlic butter generously, on both sides.
Once you take your steak off the grill, let it rest for about 5 minutes. Then go to town!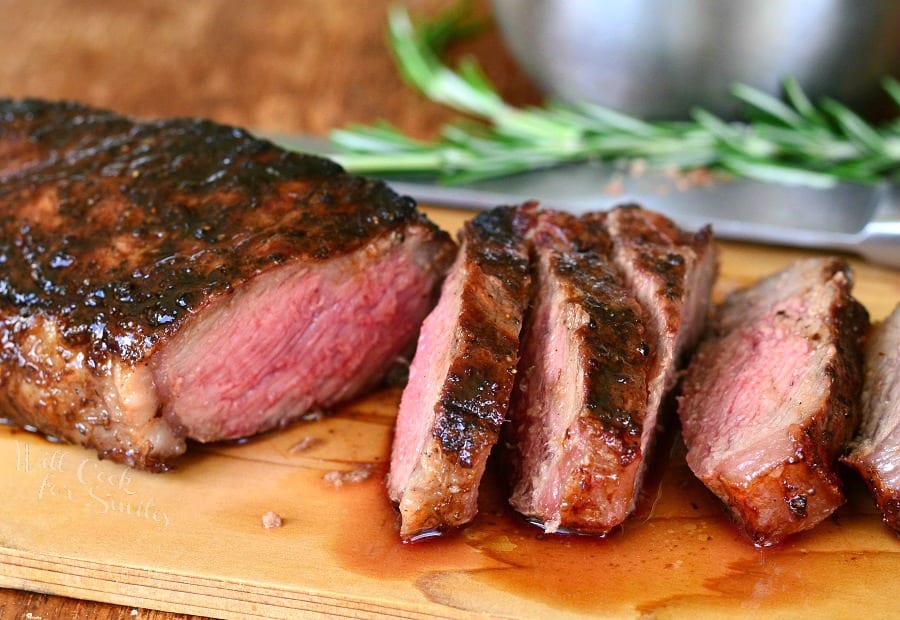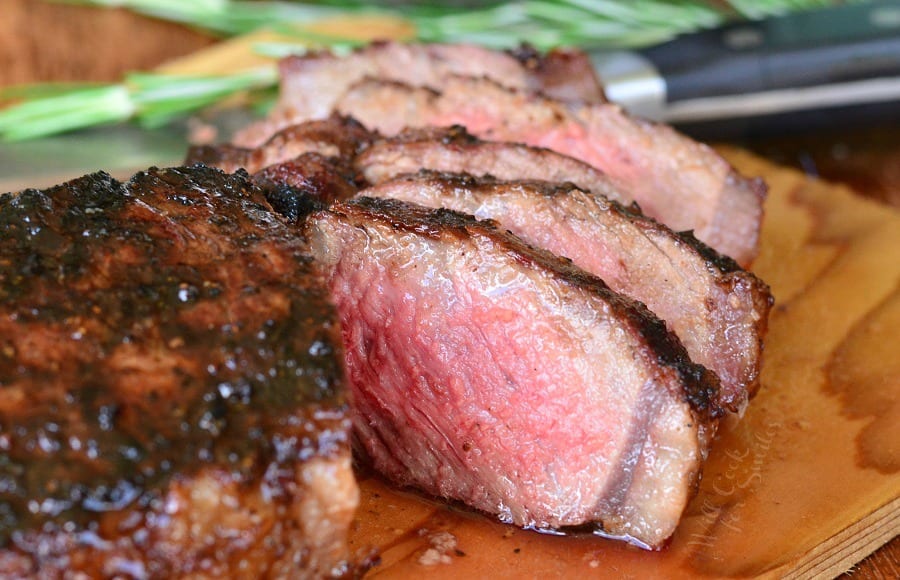 If you have any additional tips, anecdotes, experiences, then PLEASE do leave me a COMMENT below. I am all ears. After all, we never stop learning!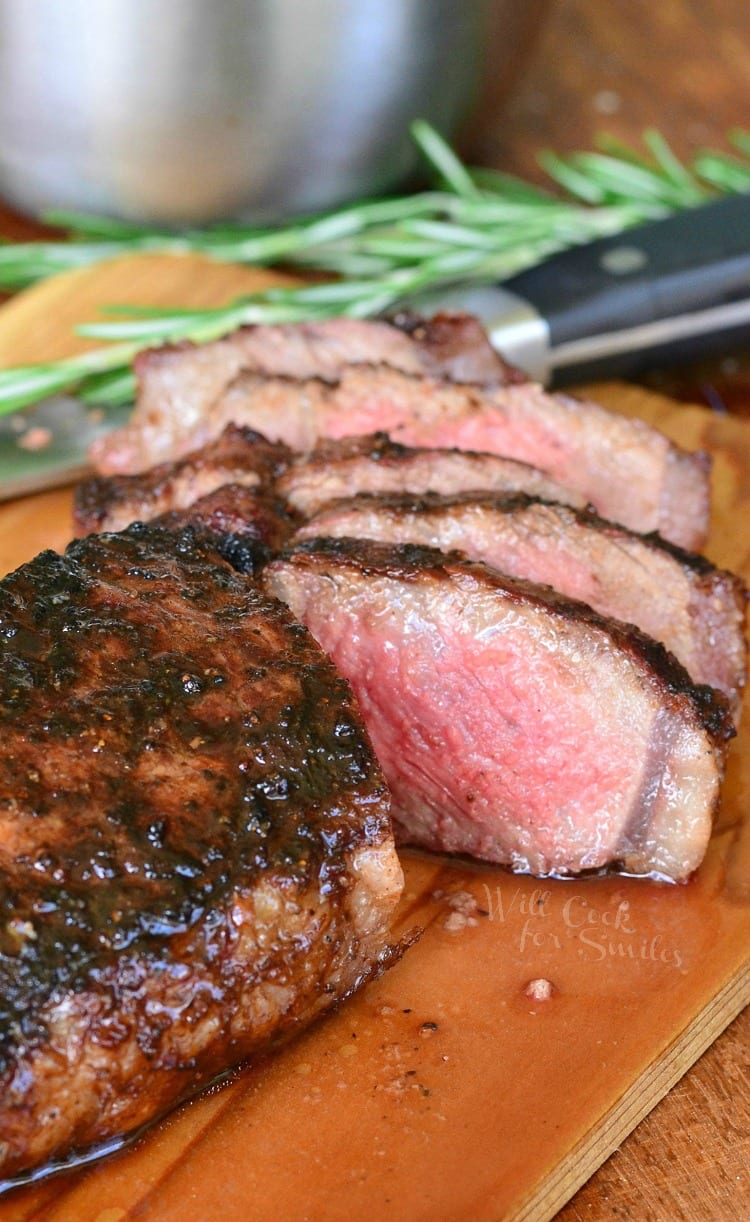 If you made any of my recipes and shared them on Instagram, make sure to tag me @willcookforsmiles and #willcookforsmiles so I can see all the things you tried!
Connect with Will Cook For Smiles!
Be sure to click below and follow me on my social media, so you never miss a recipe.
Don't forget to sign up for email, so you won't miss any new recipes.