Beef tenderloin is most tender piece of meat you will ever have the pleasure of biting into. It is soft, juicy, and flavorful without needing anything more than a simple salt and pepper seasoning. This cut of beef is also quite versatile from roasting it as a whole or breaking it down into steaks. Learn how to break down a whole tenderloin right here.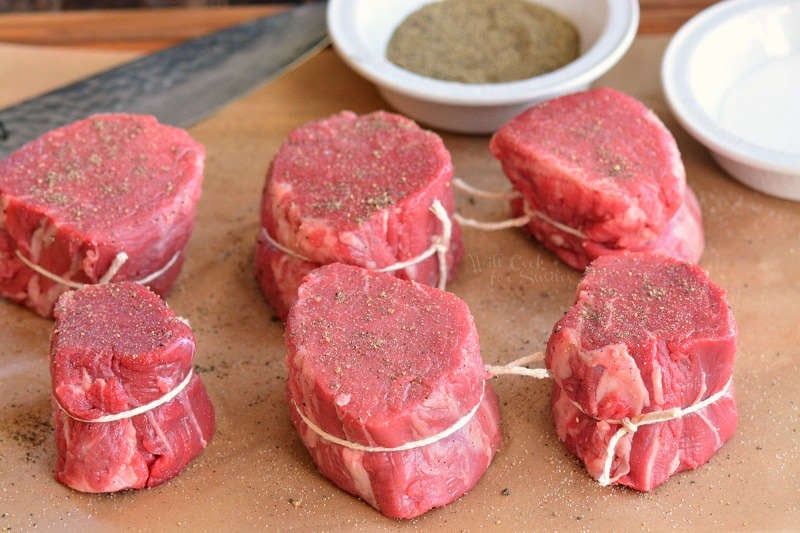 BEEF TENDERLOIN
I like to ask people about their favorite cut of beef, whether it's a steak or whole roasted. I'm never surprised to hear that prime cuts like ribeye, prime rib, beef tenderloin, or filet mignon are among the most loved. Tenderloin and tenderloin steaks are my personal favorite and that's is because of the tenderness.
Tenderloin is a long, thin muscle that runs deep inside, along the back, right under the spine. This muscle is not weight bearing, doesn't get worked out much, and doesn't have much connective tissue, which is what makes it so tender.
This cut if very tender and soft, so it's best to cook it at high temperature. It's perfect to cook in the oven, on stove-top, or on the grill.
This cut of beef is also very lean so it's very important not to overcook it whether it's a whole roast or in steaks. The best temperatures to cook it to is medium-rare or medium. For medium-rare, cook it to 130°-135°. For medium, cook to 135°-140° and for rare, cook it to 120°-125°.
Remember to let the steaks rest on the cutting board for about 5 minutes before cutting. Let the whole roast rest for about 15 minutes before cutting. Loosely tent the meat with foil while it's resting too.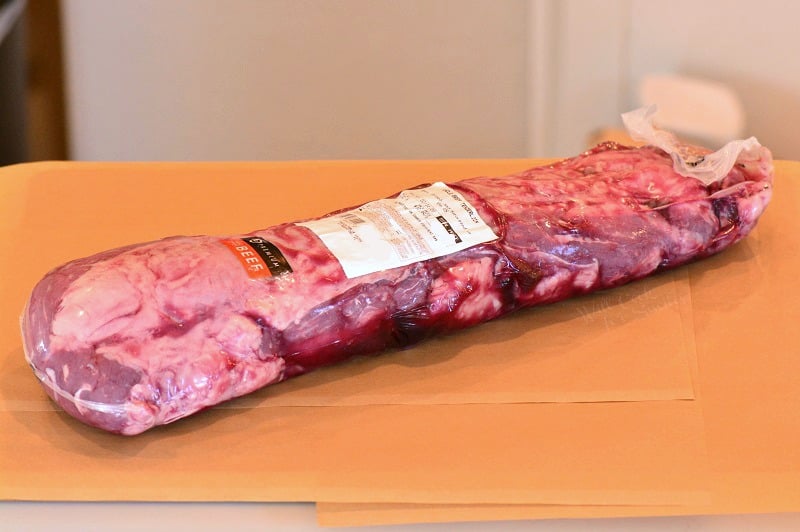 WHY BUY A WHOLE TENDERLOIN
Wondering why bother trimming your own? Well, one reason for breaking down my own beef tenderloin is because I like to be in control on the cut of meat. Whether I want to roast a whole beef tenderloin or break it down to steaks, I will decide how it's cleaned and how it's cut.
Another (very appealing) reason is the price. When you buy a whole tenderloin, it will always be cheaper. Breaking it down into steaks yourself, you will average $10-$13 per steak. You will never pay that little for a filet mignon at a steakhouse. Buying chateaubriand will be almost twice as expensive as buying a whole tenderloin and doing it yourself.
PLUS, you can end up with 2-4 lbs of scrap meat to cook a whole other meal.
CHOOSING YOUR TENDERLOIN:
When making this choice, I look at how many people I want to feed.
If roasting a whole tenderloin: normally, when choosing large pieces of meat for roasting, you should estimate 1/2 lb (or 8 oz.) per person but, beef tenderloin is a very expensive cut of meat. It's okay to estimate a little smaller portions, so you can go down to 4-6 oz of trimmed beef tenderloin per person.
If making steaks: a whole tenderloin that weighs about 5 lbs, will easily give you 6 2-inch steaks. So if you need more steaks, go for a larger tenderloin. (Do note that larger one will give you larger/wider steaks as well as a couple more.)
Most grocery stores will give you either a whole untrimmed tenderloin sealed in a cryovac or already trimmed and cut into steaks. Many stores with a butcher on site will also be able to trim the whole tenderloin for you and give it to you trimmed and cleaned with scraps on the side. You can always go with this option and simply cut the steaks yourself at home or tie the whole roast and cook it.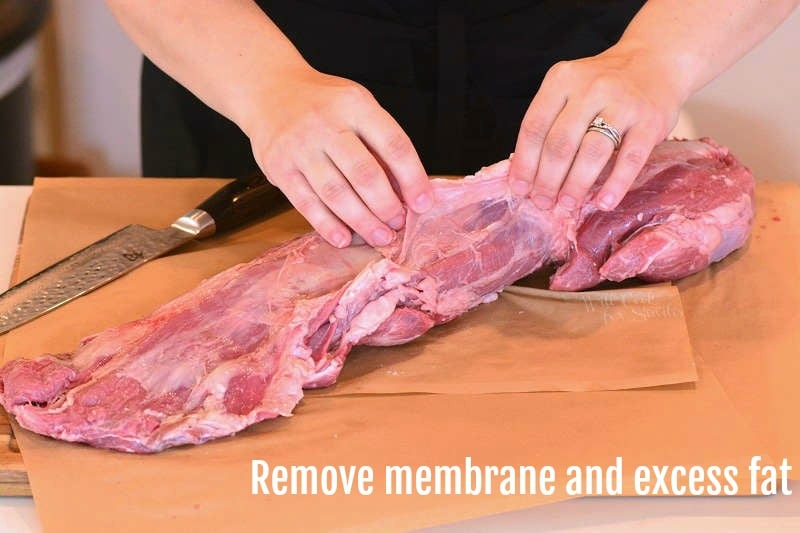 ANATOMY OF THE WHOLE TENDERLOIN
If you have to clean the tenderloin yourself, don't be scared. All you need is a sharp boning knife (I also like to use a sharp short knife) and a large cutting board.
Take the tenderloin out of the package and take a look: the butt end is the thickest end of the tenderloin and it also has a "wing" piece attached to it.
The center cut is the middle part of the tenderloin. It is the most uniform is size and where filet mignon, tenderloin steaks, and chateaubriand comes from.
The tip end, is the small, thin end of the tenderloin that is also the piece that can be used for tournedos steaks.
A whole tenderloin will also still have the chain attached to it that will need to be removed. It looks like a thin, fatty piece of meat running down the length of the entire tenderloin.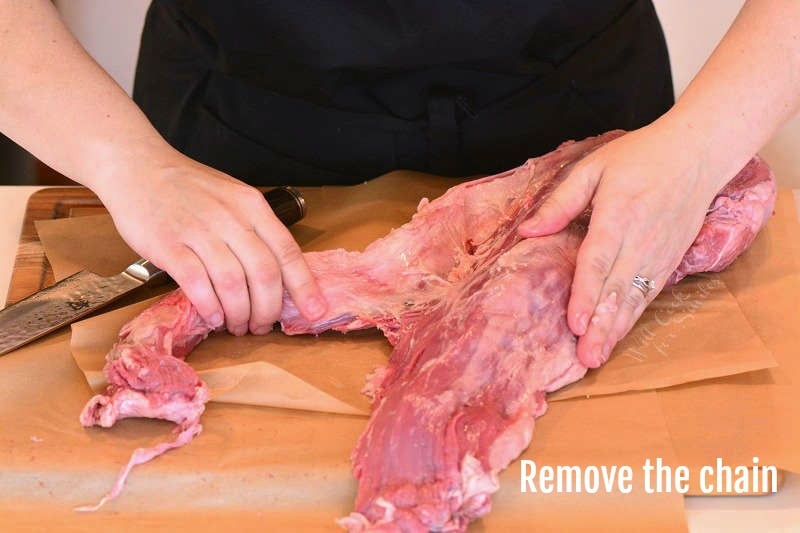 CLEANING AND TRIMMING BEEF TENDERLOIN:
Remove the chain.
It will be quite easy to spot and very easy to remove. You can actually remove it with your hands and may need just a few assist cuts along the way. Just follow it along, separating it from the tenderloin.
DO NOT discard the chain. It is not a part of tenderloin but it is still good meat and will be great used in a soup or stew.
Remove excess fat.
You may find that there are thick, hard pieces of fat along the whole tenderloin still attached. Those are very easy to remove and you can do it with your hands. You will also want to pull off the thin, soft membrane that covers silverskin on top of the tenderloin.
Remove the silverskin.
Silverskin is a tough layer of white, shimmery connective tissue that runs along the tenderloin. It MUST be removed. To remove it, pull up some of the silver skin at the narrow end of the tenderloin and then use a thin knife to cut along the silver skin to separate it from the meat.
On many occasions, once you get a grip on a strain of silverskin, you can pull it off with your hands in the direction of the butt end (where the wing is). Use a knife to remove remaining pieces of silverskin but try not to remove any of the actual meat. You can even try lightly scraping the smaller pieces that are left behind, also in the direction of the butt.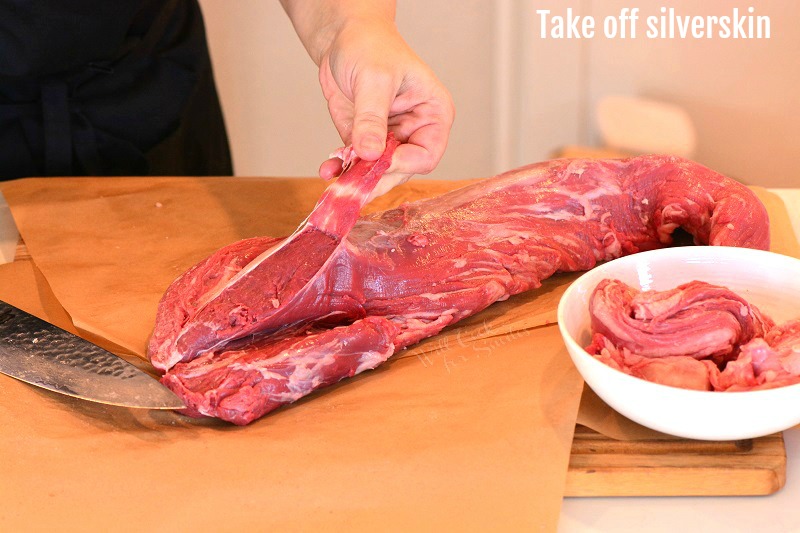 When roasting the whole tenderloin, it's very important to tie it along the whole piece. This will create a more uniform thickness throughout the whole tenderloin and help it cook more evenly.
To make the tenderloin more even at the narrow end, cut the tip where it starts to get narrow almost all the way off but not completely off. Tuck the narrow, thin tip under the tenderloin.
Use cooking twine to tie the tenderloin all along the whole length in 1-inch intervals. Make sure not to tie too tight where it starts cutting into meat.
After it is tied, it's all ready to be seasoned and go into the oven.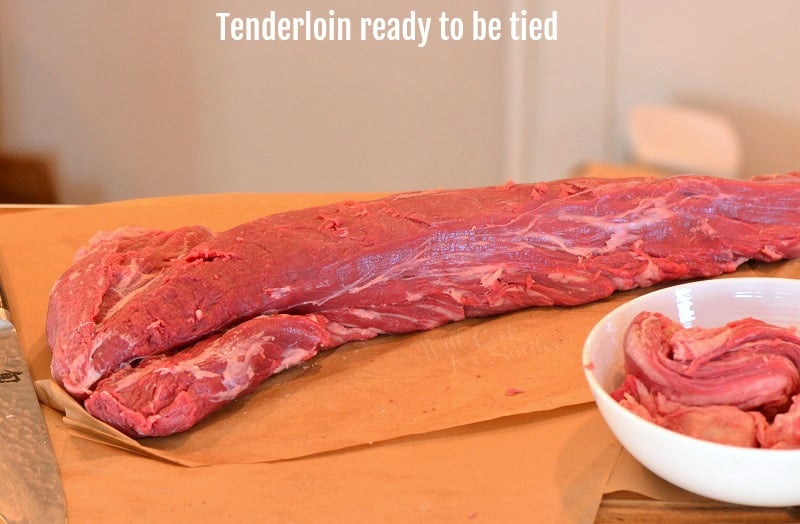 Final step (for breaking it down into steaks):
Trim off the wing and protruding pieces of meat at the butt end of the tenderloin. Follow the natural curve of meat and simply separate the center muscle from the wing. (SAVE these pieces for other recipes!)
Cut off the thin and narrow ends of the tenderloin that are too small to be made into steak. (SAVE the narrow ends as well and use them with the other scrap meat.)
What you are now left with is the beautiful center that is ready to be cut into filet mignon and tenderloin steaks.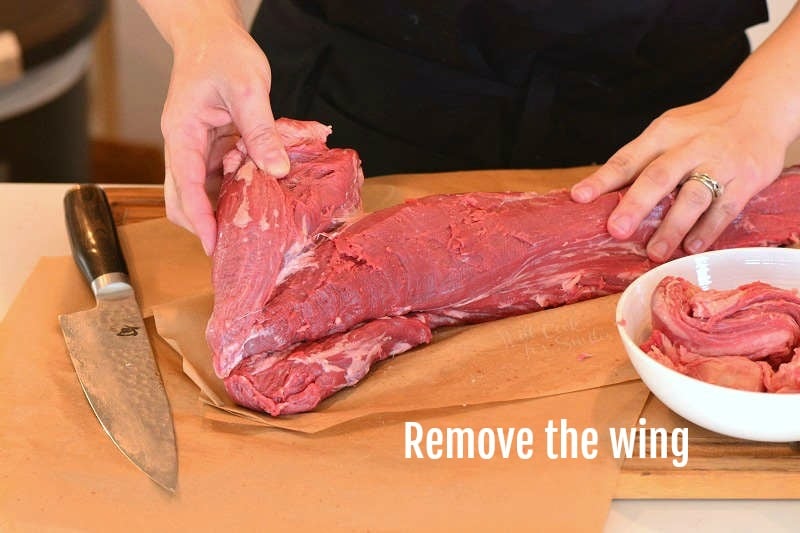 Cut Into Steaks:
TIP: measure the perfect intervals of either 1 1/2 or 2 inches with a ruler and mark it on a piece of paper. Place the paper next to the tenderloin before cutting it into steaks. This will help you cut exact thickness of steaks.
DON'T cut steaks that are less than 1 1/2 inches or it will cook too fast and you are very likely to over-cook it. The best thickness for a filet mignon is 1 1/2 or 2 inches.
Use a sharp knife to cut the tenderloin center into steaks. You now have the steaks that are ready to be cooked.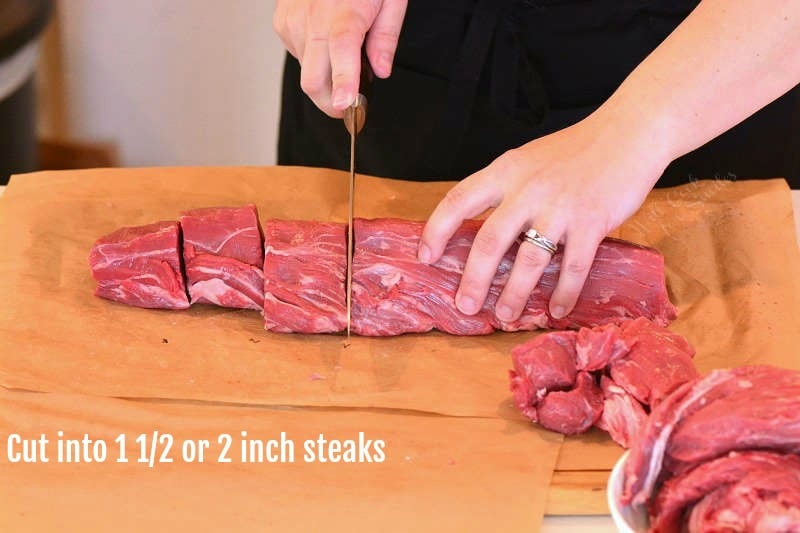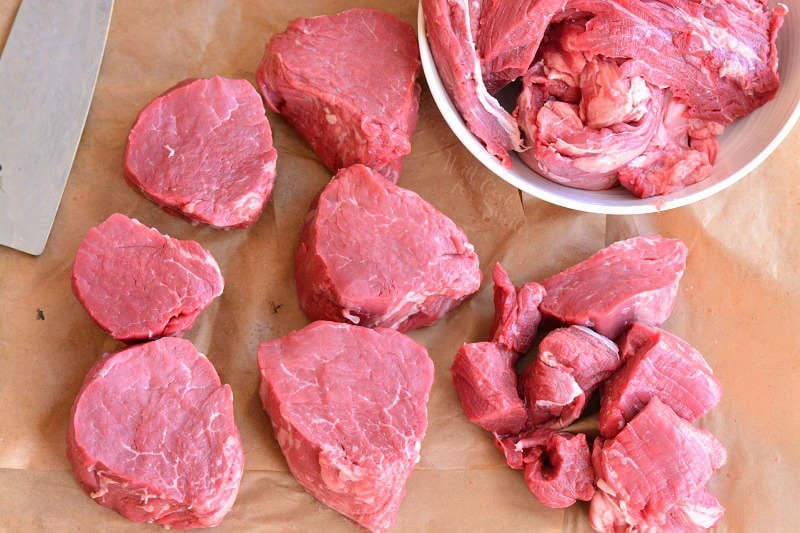 WHAT TO DO WITH BEEF TENDERLOIN SCRAPS:
When preparing the whole tenderloin, the only thing you will have leftover is the chain. It is quite a fatty piece but there is still a lot of meat on it. Use this piece when preparing homemade beef stock, in soups, or mix it with some stew meat and use it in beef stew.
Leftover scraps from breaking down the tenderloin into steaks are a lot more versatile. You also will end up with at least 2 lbs of meat and up to 4 lbs from a large tenderloin.
These scraps will make a beautiful beef stew but you can also make quick meals:
-Saute it with some onions and mushrooms or make steak stir fry.
-Slice it thinly and make cheese steak sandwiches.
-Cut it into cubes and make beef kebabs.
-Use it to make beef tips with gravy.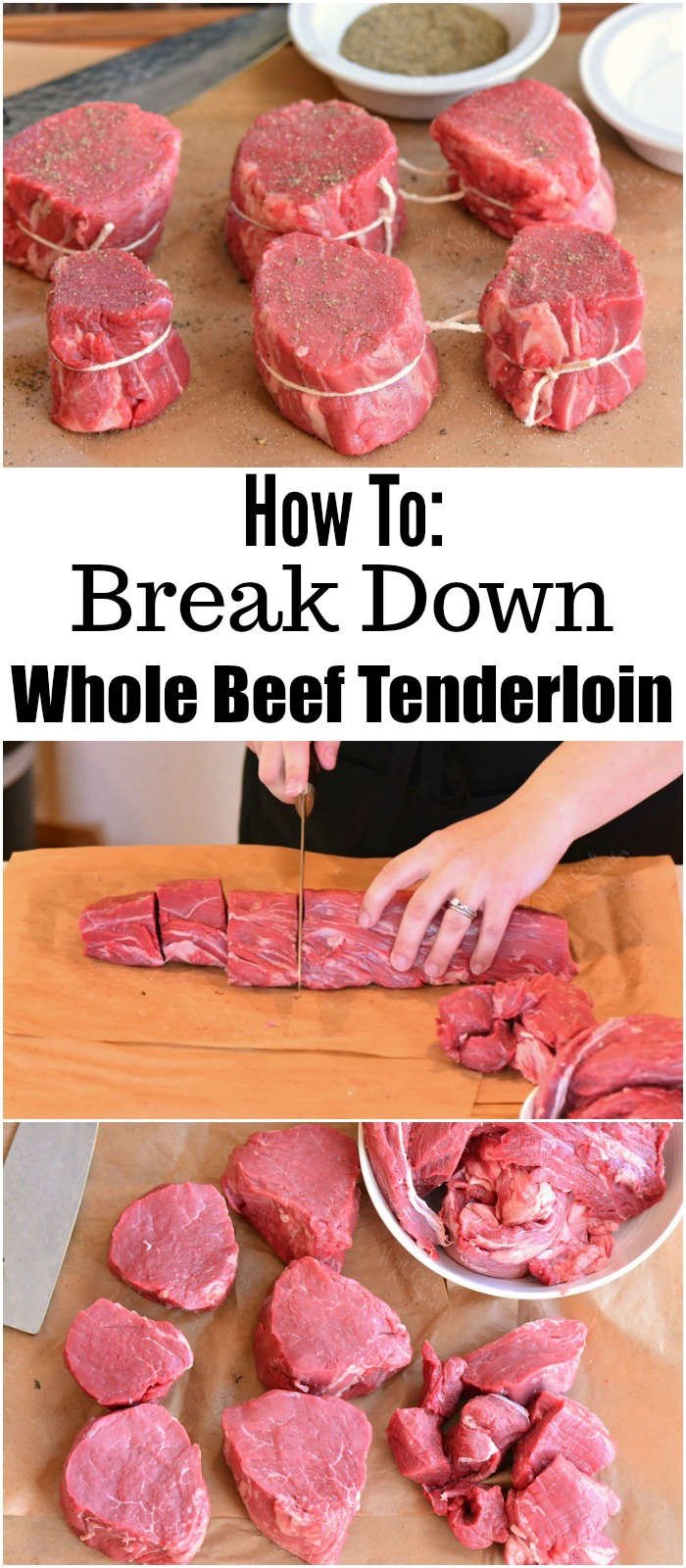 RECIPES USING BEEF TENDERLOIN
Pepper Crusted Beef Tenderloin