This recipe for the BEST Chicken Burgers cannot be beat! Juicy, flavorful chicken patties are absolutely delicious and you can use them in so many different dishes. I paired these delicious chicken burger a few simple veggies, delicate brioche buns, and addictive creamy sauce. You can grill them for more smoky flavor or easily prepare them in the pan – I have easy to follow instructions for both!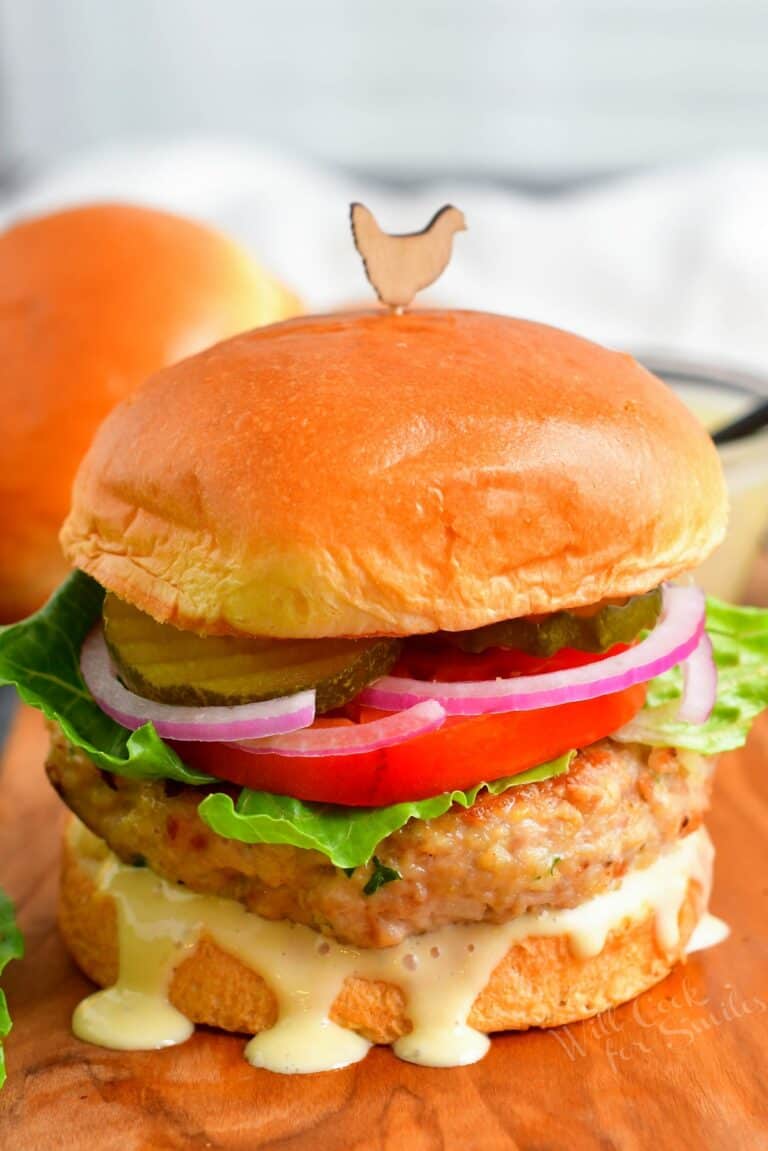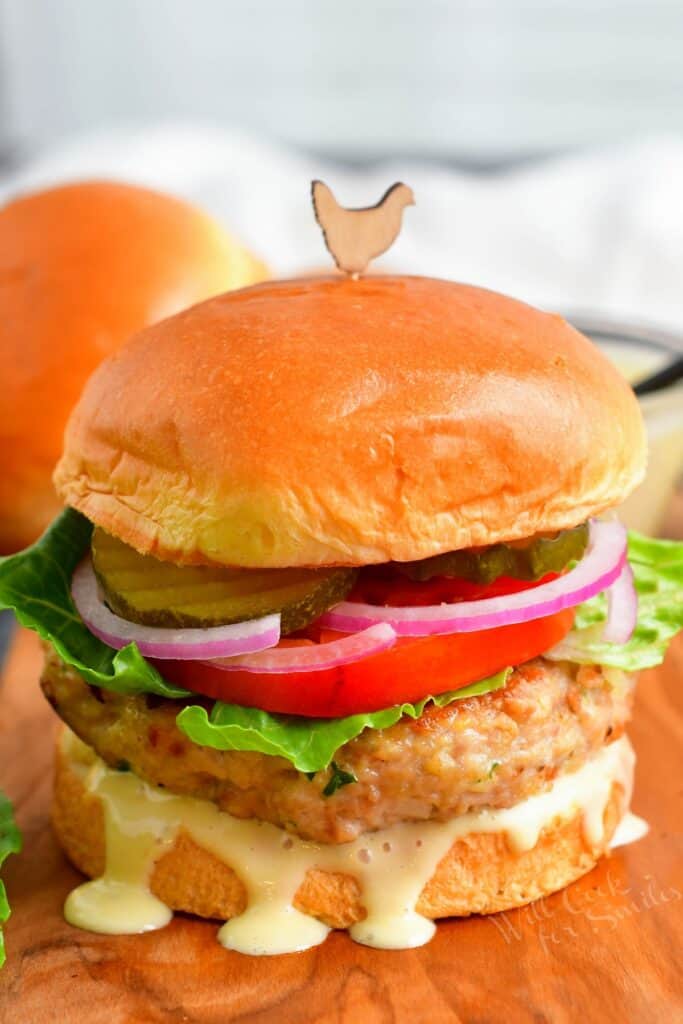 The Best Chicken Burgers
To be honest, I can never decide which I like better – chicken burgers or Classic Beef Burgers. Oh… but I can't forget Salmon Burgers and Turkey Burgers, too! There are so many delicious ways to grill up protein, it can be hard to choose which recipe to go with. Luckily, we still have plenty of summer left to try everything, so keep that grill hot and fired up!
And if you don't have a grill ready to make burgers in your backyard, don't worry. These delicious chicken patties can also be cooked to perfection on a stovetop, too. They're deliciously flexible when it comes to cooking methods.
They're also very flexible when it comes time to enjoy them as well! You can enjoy these patties in a burger as they're intended to be eaten, but there are also plenty of other options.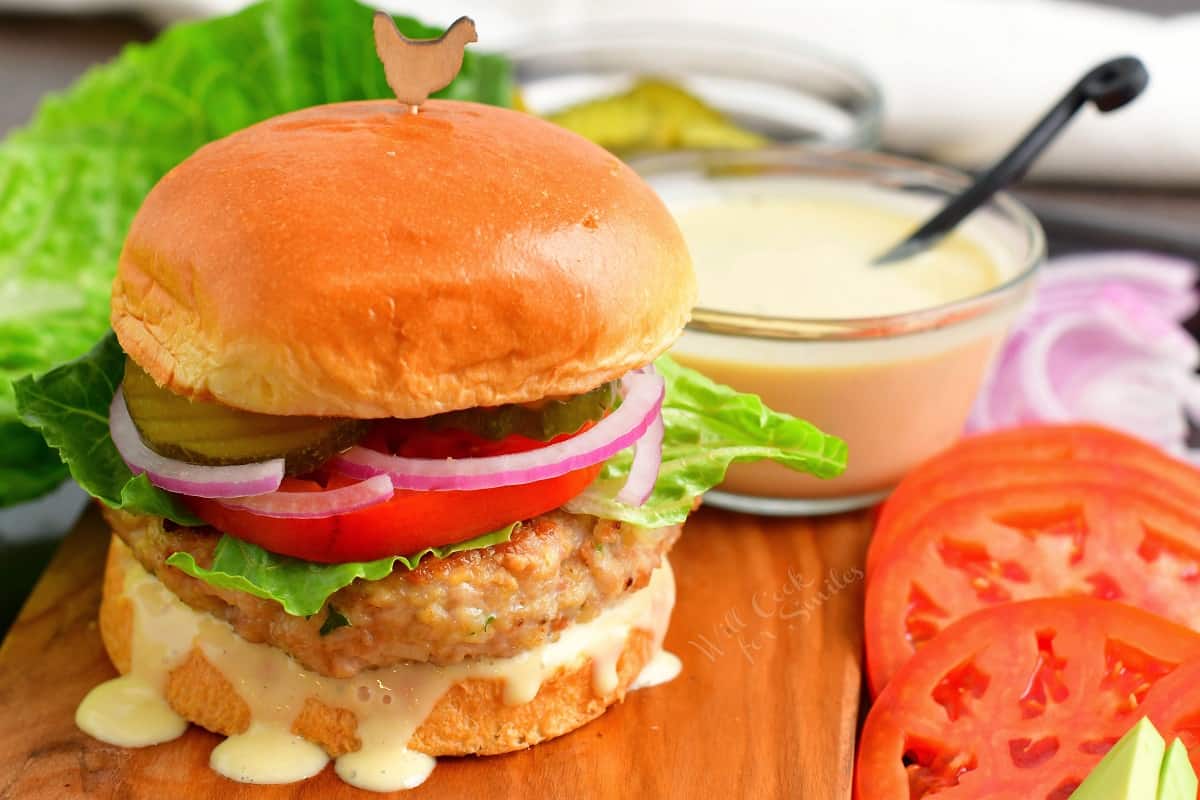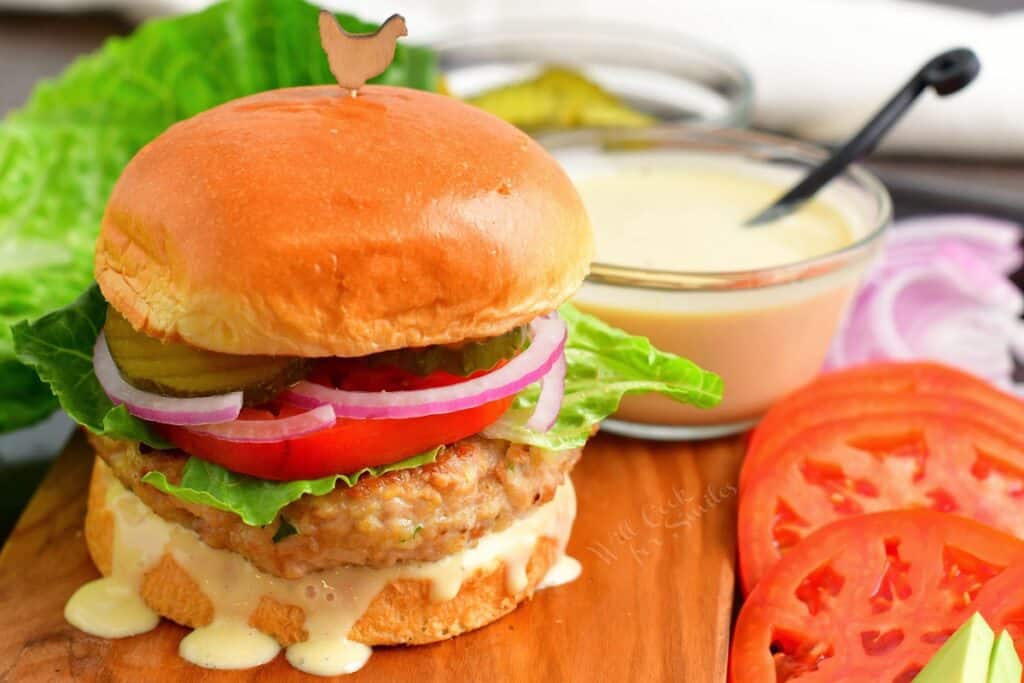 Ingredients for Chicken Patties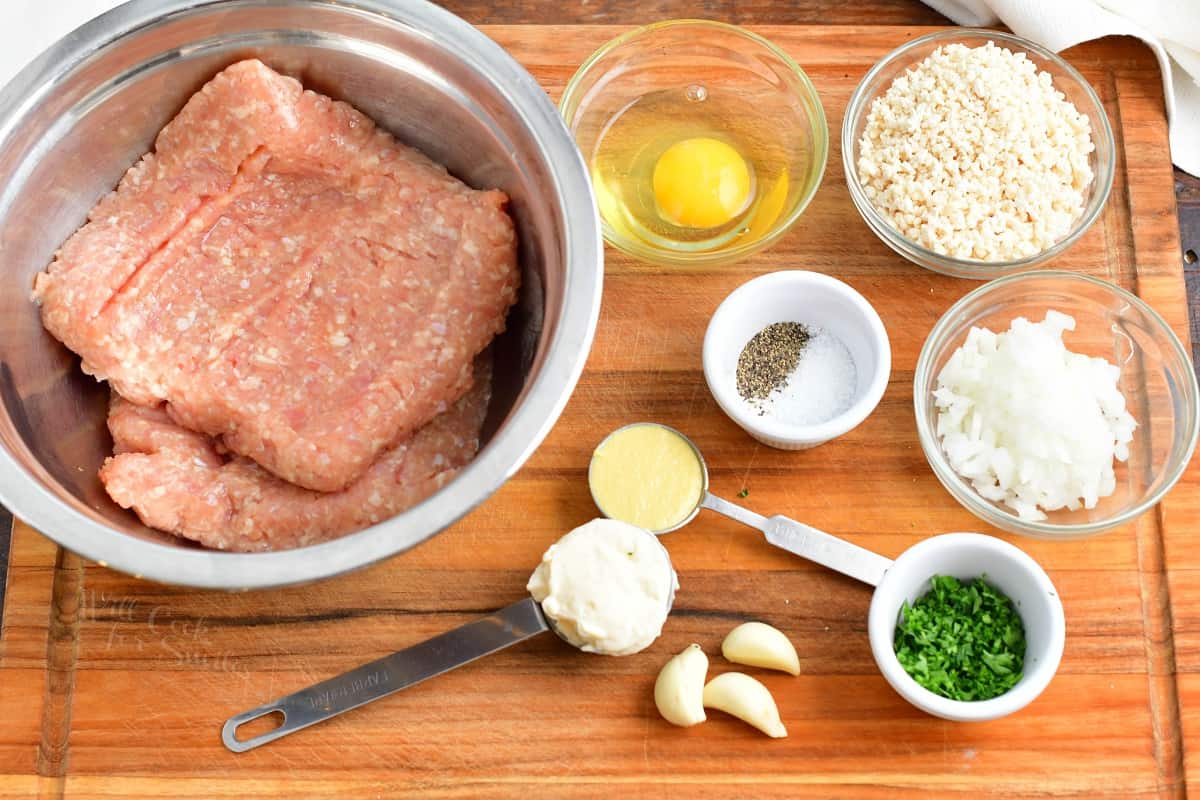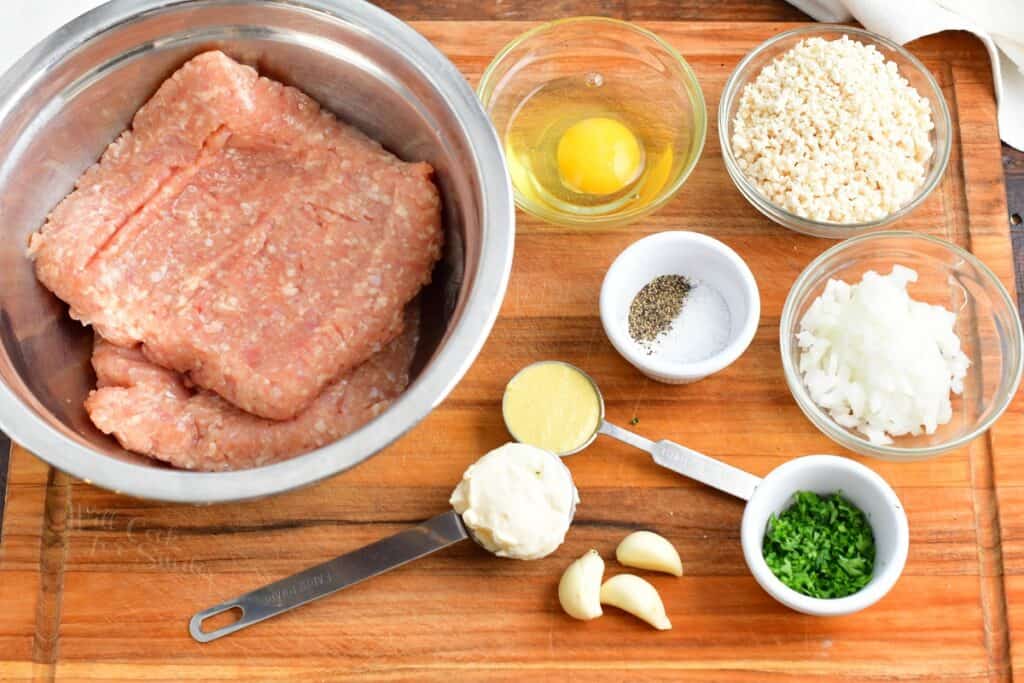 Ground Chicken – You can tell if ground chicken has gone bad by its appearance. If the chicken appears dull in color or slimy in texture, do not use it for these burgers!
Egg – For best results, use a free range organic egg.
Bread Crumbs – Traditional bread crumbs are best to use in this recipe, but panko can be substituted in a pinch.
Garlic – A touch of garlic in these patties gives them more depth in their flavor. Be sure to finely mince the garlic so there aren't any large chunks.
Yellow Onion – Yellow onions tend to be sweeter than red or white ones, making them perfect for these chicken patties.
Dijon Mustard – This ingredient provides both sweetness and tanginess to the burgers that's truly mouthwatering.
Mayonnaise – You can use a full fat or low fat mayonnaise. Either one will work!
Parsley – Use finely minced fresh parsley, not dried parsley for the best flavor.
Salt – Just a dash of coarse sea salt is needed to help enhance the other ingredients.
Black Pepper – Use freshly ground black pepper for the most noticeable flavor.
For Creamy Sauce: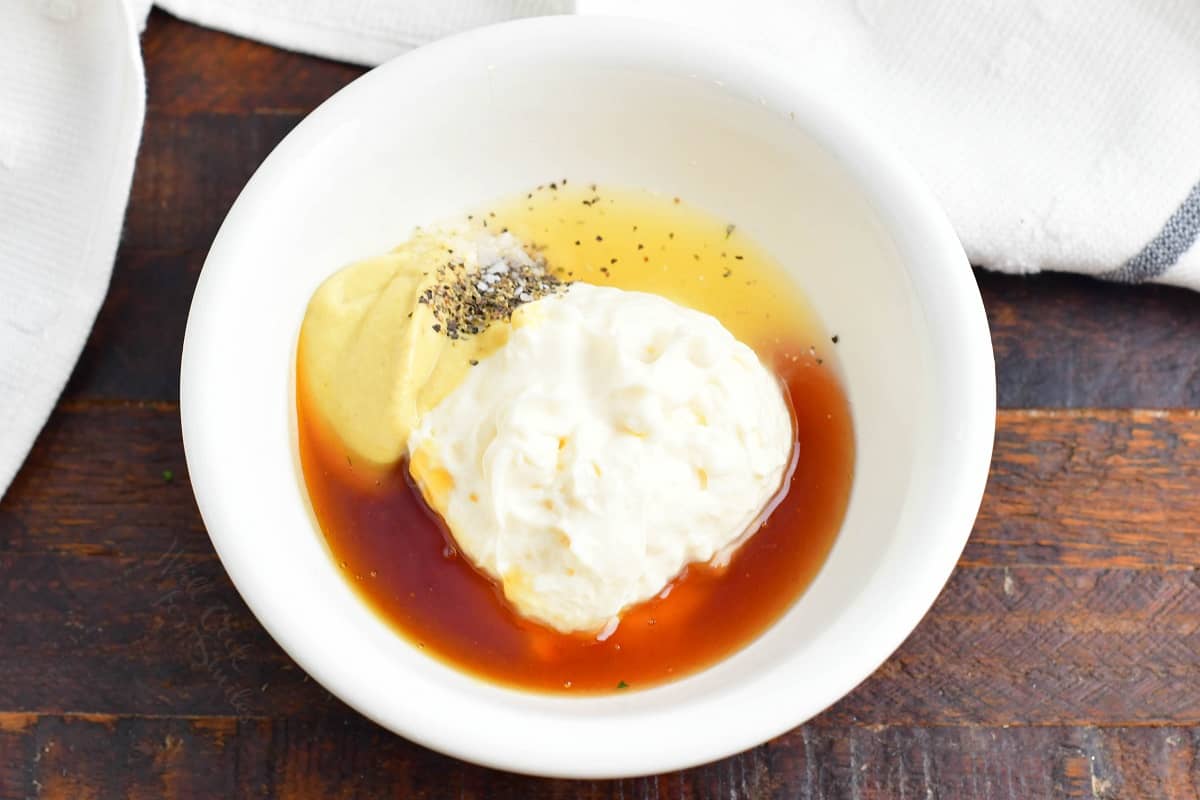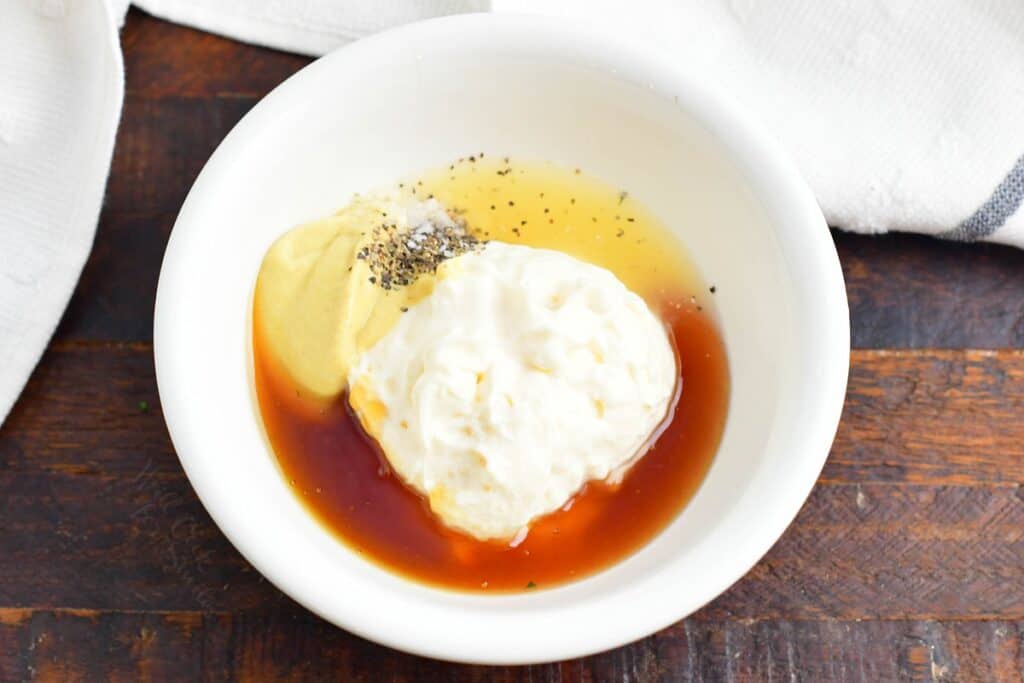 Mayonnaise – Make sure the mayonnaise you're using doesn't have any other added flavors like olive oil.
Dijon Mustard – This sweet and tangy complex condiment cannot be substituted with yellow mustard.
Honey – For a honey flavor that really has depth, use a dark organic honey, not the light yellow honey that comes in the plastic bear!
Lemon Juice – Freshly squeezed lemon juice will yield much fresher results than the bottled juice that's full of preservatives and artificial flavors.
Salt and Pepper
How to Make the Best Chicken Burgers
To prepare the patties prior to cooking, simply combine all of the ingredients in a large bowl. Then, shape the patties on a prepared surface.
If you're cooking the patties on a stovetop, start by heating a pan over medium heat with a little olive oil. Cook the patties for approximately 6-8 minutes per side.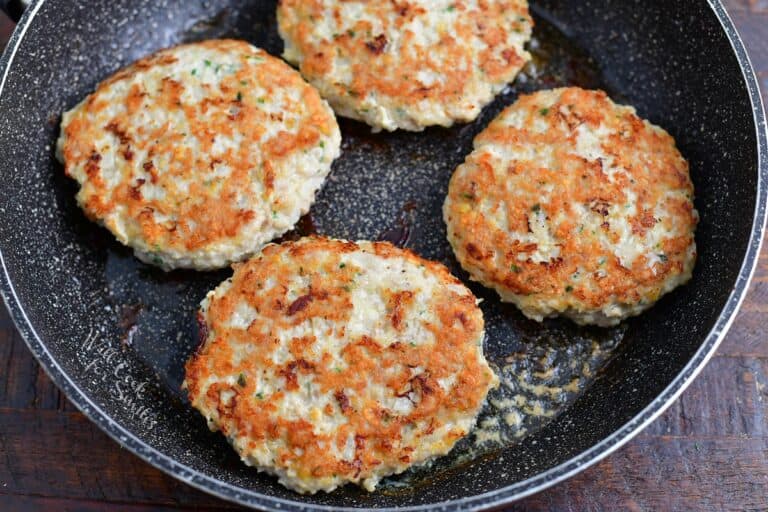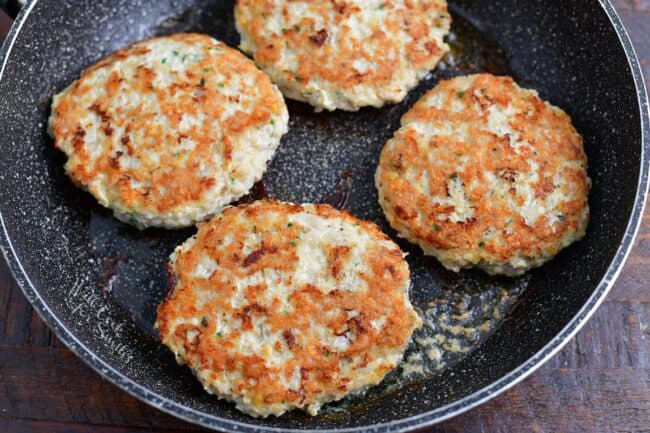 If you're cooking the patties on a stovetop, start by heating a pan over medium heat with a little olive oil. Cook the patties for approximately 6-8 minutes per side.
To make the delicious sauce, simply combine all of the ingredients together thoroughly in a mixing bowl until smooth.
Generously spread the sauce on the bottom brioche bun and finish the chicken burgers off with your favorite toppings.
How to Grill Chicken Patties:
Prepare the patties on the grill requires a bit more effort, but yields delicious results! To start, grease the grill basket.
Spray the patties with cooking oil on both sides. Then, place the patties in the grill basket and put the basket on the grill. Close the lid and cook the patties for approximately 5-6 minutes on each side.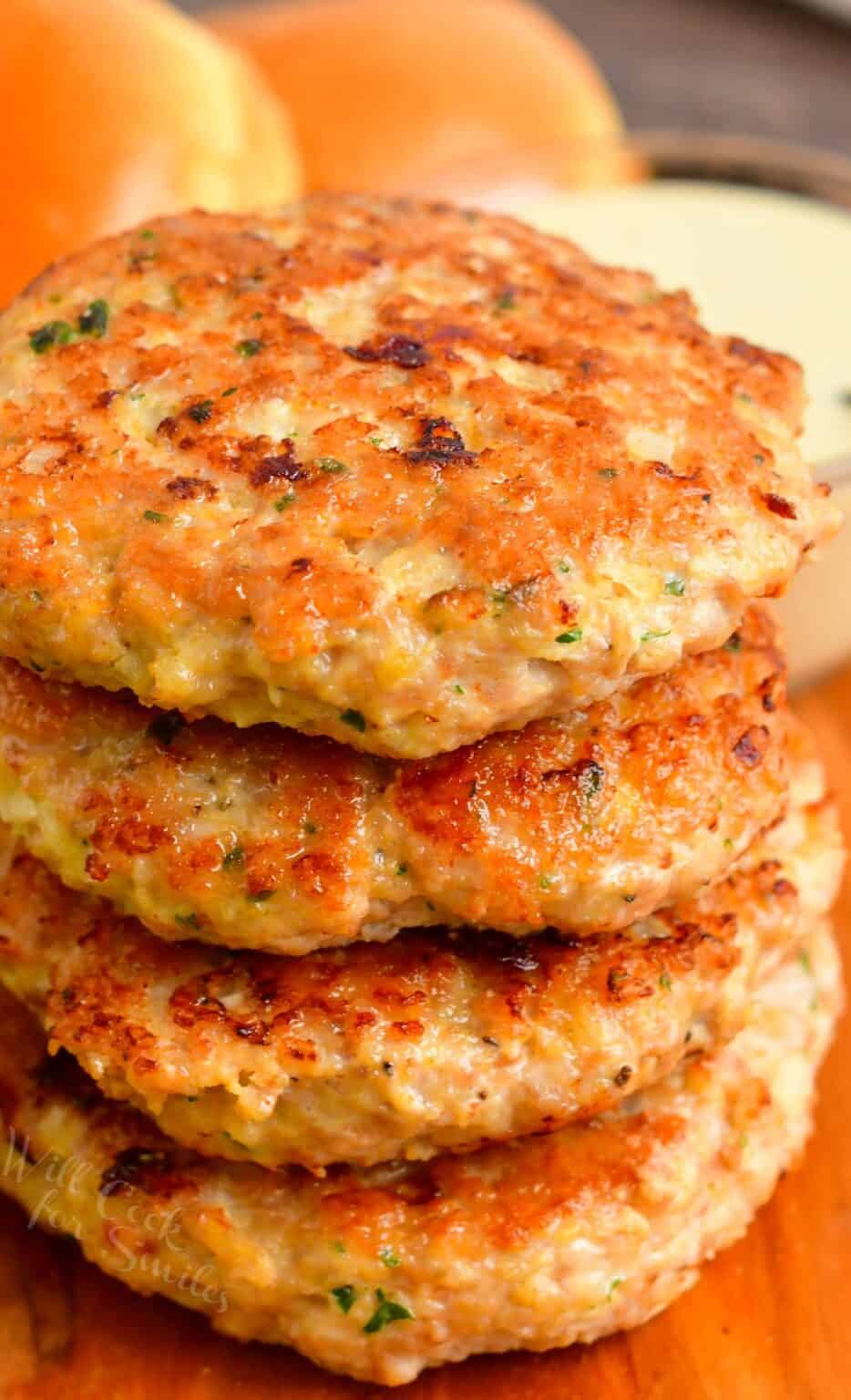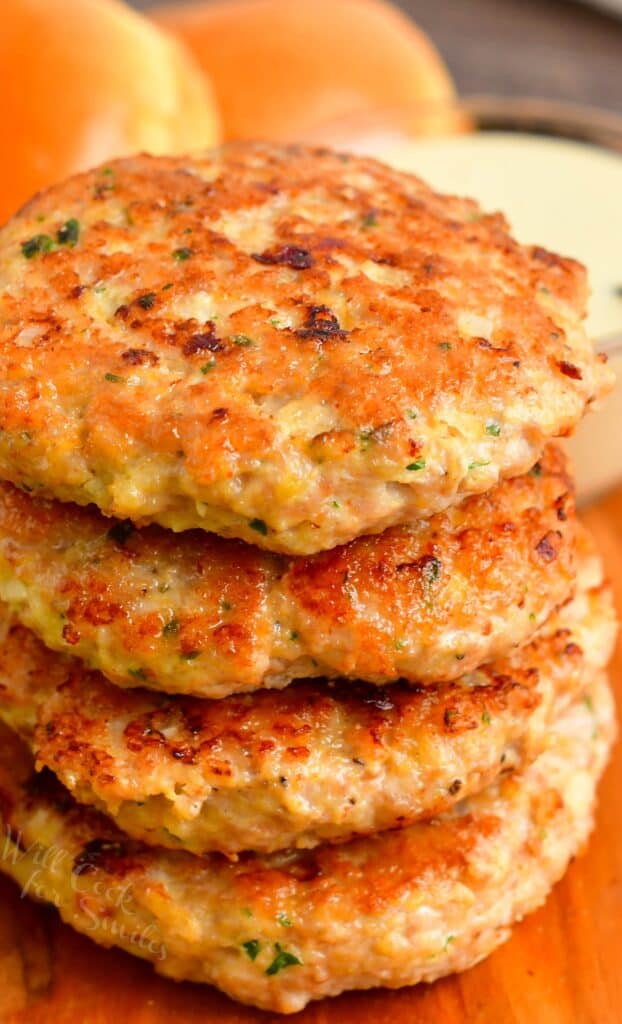 How To Serve Chicken Patties:
Sandwiches and burgers are out go-to way to serve these juicy chicken patties. Although, it's also perfect as a protein for dinner, along with your favorite sides. Try it with mashed potatoes and vegetables for dinner!
If you're on a low carb diet and can't dig into a brioche bun, wrap them in lettuce wraps or low carb tortillas! Serve them with a side salad too.
If you're not afraid of carbs but you're not necessarily craving a burger, you can also place a cooked chicken patty in a pita with some cucumbers, lettuce, and tzatziki sauce. We love versatile protein options, and these mouthwatering chicken patties couldn't be more ready to go in a variety of different dinners!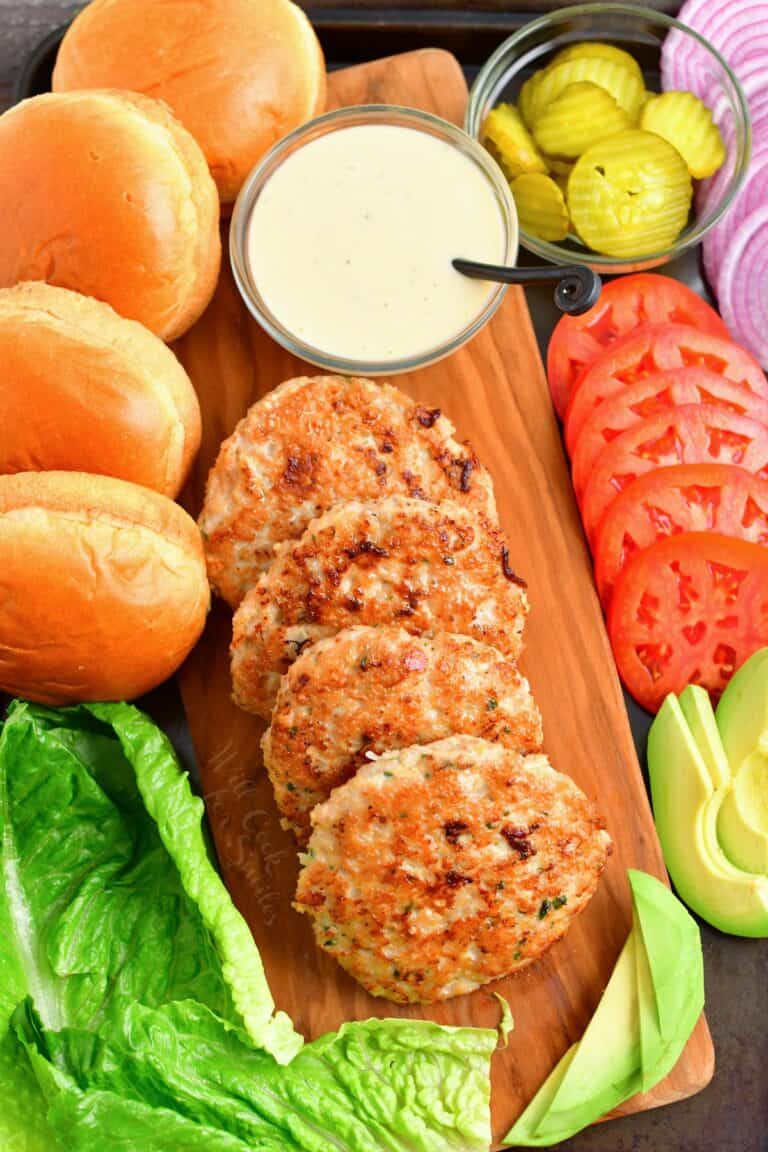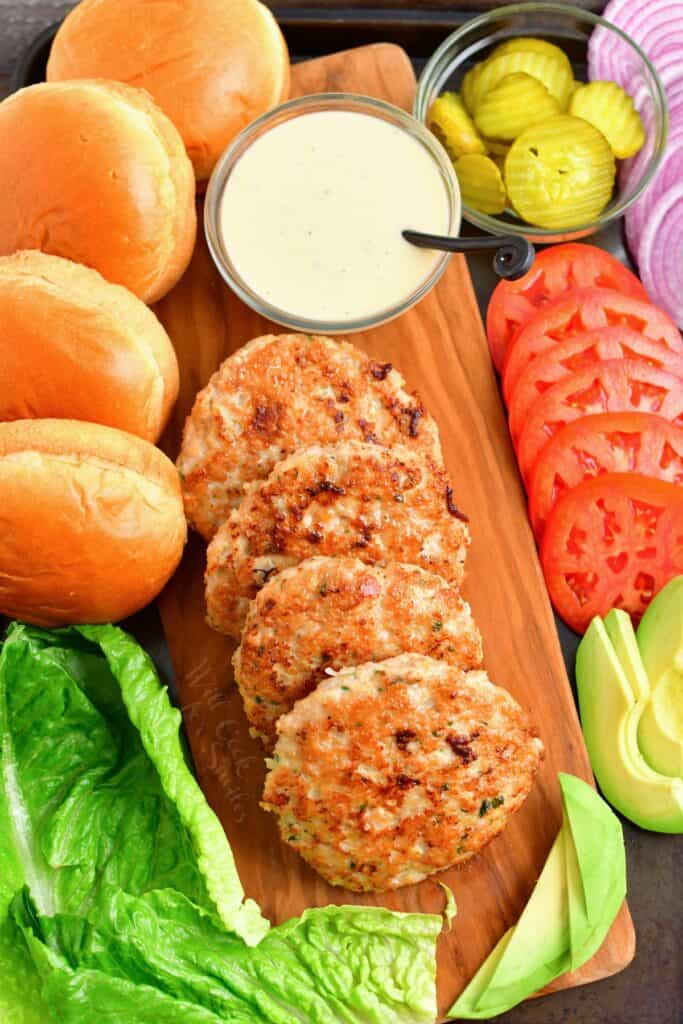 What toppings should I use on my chicken burger?
There are so many delicious options out there! Here are just a few toppings I've experimented with and thoroughly enjoyed:
Lettuce
Red Onions
Tomatoes
Pickles
Cheese (Just pick a slice of your favorite! These chicken burgers are versatile and taste good with pretty much any cheese).
Avocado Slices
Storing and Reheating
Store the cooked chicken patties in an airtight container in the refrigerator. You can reheat individual portions in a microwave, just until heated through. You can also use the stove to reheat several at the same time. Reheat them over medium heat until just heated through for best results.
Don't Miss More Burger Recipes:
Cheddar Ranch Chicken Burgers – juicy chicken burgers made with ground chicken and flavored with Ranch seasoning mix and cheddar cheese right in the burger
Stuffed Taco Burgers – these burgers are not just stuffed with cheese, they are also packed with taco spices, served with creamy chili sauce and crispy taco tortilla strips
Irish Beer Burgers – delicious, juicy beer burgers made with Guinness caramelized onions, Swiss cheese, and crispy bacon, all on a potato roll
Spicy Chipotle Chicken Burger – juicy, spicy, flavorful chicken burgers made with chipotle peppers in adobe sauce inside and served with melted cheese, lettuce, and chipotle mayo.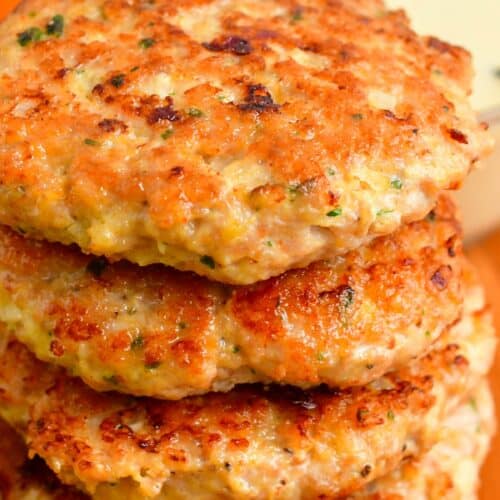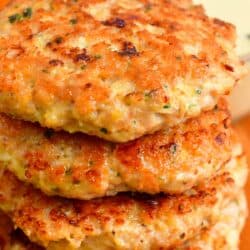 The Best Chicken Burgers
The BEST Chicken Burgers recipe with juicy, flavorful chicken patties, brioche buns, your favorite toppings, and addictive creamy sauce.
Print
Pin
Save
Saved!
Rate
Ingredients
Burgers:
2

lbs

ground chicken

1

egg

1/2 or 3/4

cup

bread crumbs

3

garlic cloves

1/2

cup

minced yellow onion

1

tbsp

Dijon mustard

2

tbsp

mayonnaise

2

tbsp

minced parsley

1

tsp

coarse sea salt

to taste

1/2

tsp

black pepper
Sauce:
1/2

cup

mayonnaise

2

tbsp

Dijon mustard

2

tbsp

honey

1

tbsp

fresh lemon juice

salt

black pepper
Possible Toppings:
Brioche buns

lettuce

red onion

tomatoes

pickles

cheese

avocado
Instructions
Chicken Burgers:
Combine all ingredients in a large mixing bowl and mix it all together until thoroughly combined.

Cover a baking sheet or a large cutting board with parchment paper and shape the chicken patties.
Cooking chicken patties on stove top:
Preheat a large cooking pan over medium heat and add oil. Cook chicken patties for 6-8 minutes on each side, depending on the size and thickness. 
Cooking chicken patties on the grill:
For any burgers other than beef, I prefer to use a grill basket, grill wok (with holes), or another grill topper for holding the patties. Make sure to grease a grill basket first, before adding the patties onto it.

Make sure to also spray the chicken burger patties with some cooking oil on booth sides.

Prepare the grill to have two temperature zones and make sure to clean the grill grate. (Even though you will be cooking mostly over the hot zone, you may need to move the burgers over to the cooler side if they start to burn before being cooked through.)

Place the grill basket with patties onto the grill, close the lid and cook for 5-6 minutes. Carefully flip each patty over and add cook another 5-6 minutes. (Exact cooking time will depend on the size of the patties.)
Sauce:
For the sauce, combine all the ingredients in a small bowl and whisk until smooth and completely combined.

Build the chicken burgers with the topping you love!
Nutrition
Calories:
510
kcal
|
Carbohydrates:
25
g
|
Protein:
31
g
|
Fat:
32
g
|
Saturated Fat:
7
g
|
Polyunsaturated Fat:
13
g
|
Monounsaturated Fat:
10
g
|
Trans Fat:
1
g
|
Cholesterol:
167
mg
|
Sodium:
889
mg
|
Potassium:
900
mg
|
Fiber:
2
g
|
Sugar:
8
g
|
Vitamin A:
174
IU
|
Vitamin C:
4
mg
|
Calcium:
70
mg
|
Iron:
3
mg
Tried this recipe?
Mention @willcookforsmiles and tag #willcookforsmiles