Sharing another recipe that will make dads happy this Father's Day! Root Beer Cupcakes with Cream Soda Frosting! (Yes, you heard that right!)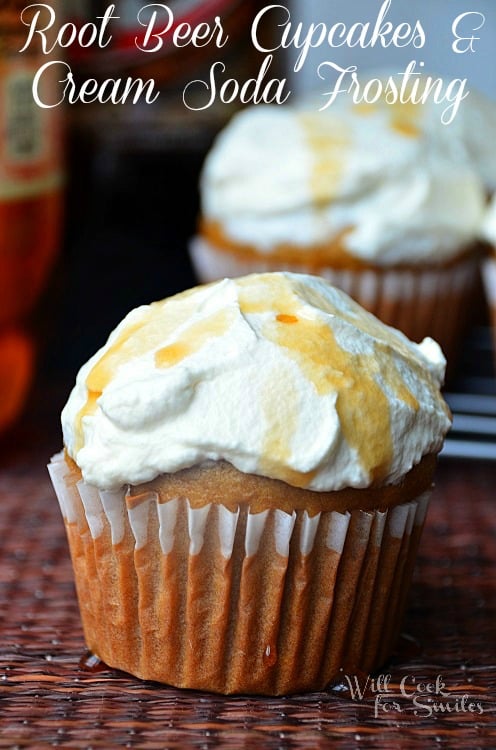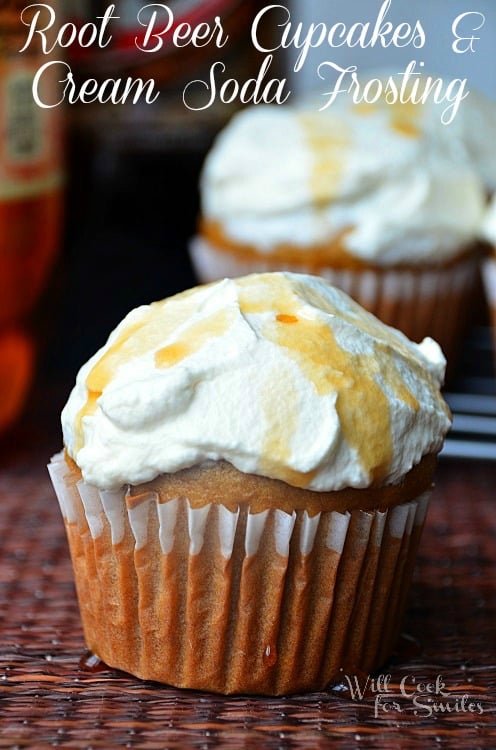 If you are following me on Facebook, you will remember our discussion about these cupcakes. Last week, I asked my husband what are some dishes that men would like to have on Father's Day. Once we got passed all the bacon, we talked about dessert ideas. He is not a huge fan of bacon in desserts, I am a little scared of those too, so we went another way.
Since he loves root beer and cream soda, he proposed this cupcake idea. At first, I was a little unsure about the combination of flavors. So I took it to Facebook to see what my fans thought. The response was amazing, most of the readers loved the idea!
Soooo, by popular demand, here are the Root Beer Cupcakes with Cream Soda Frosting!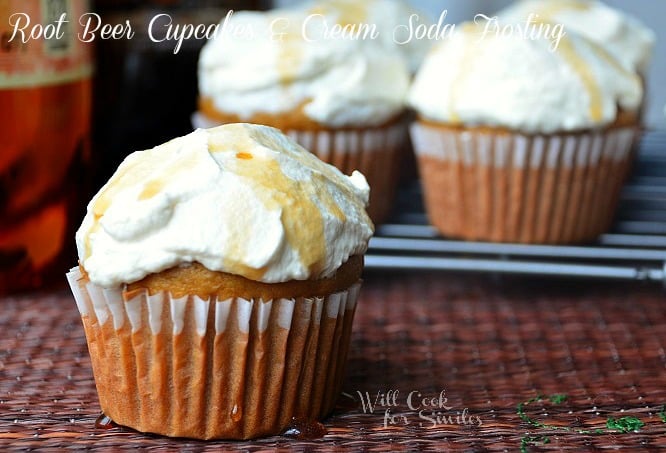 After checking three stores, I didn't find root beer extract. Although, I can't say I was too upset because I don't bake much with it and it would be a waste. I decided to go another way. Something I learned a while ago, making my Cherry Cake Roll, is to use reduced soda syrup and enhance to flavor with some almond extract. I didn't know if it will come out good but it totally worked!
I also made whipped cream frosting because it's light and doesn't require much sugar. Also, it would not take away from the cream soda flavor.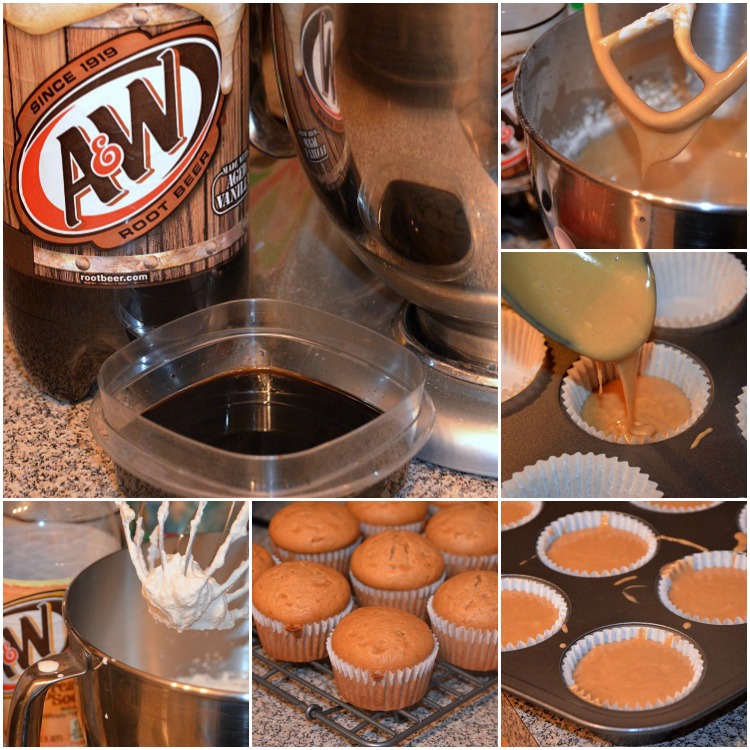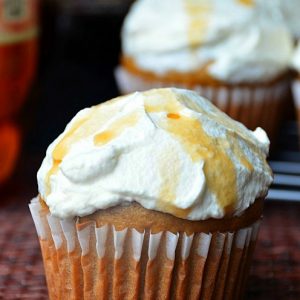 Root Beer Cupcakes With Cream Soda Frosting
Ingredients
Cupcakes:

1

cup

root beer

1/2

cup

root beer syrup

2 cups of root beer simmered down to 1/2 cup

1/4

cup

vegetable oil

2

eggs

room temperature

1 1/2

tsp

almond extract

1

tsp

vanilla extract

1/2

cup

of brown sugar

2

cups

of flour

2

tsp

baking powder

1/2

tsp

baking soda

1/4

tsp

salt

Whipped Cream Cream Soda Frosting:

1

cup

of cold heavy whipping cream

2

tsp

vanilla extract

1

tbs

white granulated sugar

2

tbs

cream soda syrup

2 cups of cream soda simmered down to 1/2 cup

+more cream soda syrup for drizzling
Instructions
Simmer 2 cups of root beer soda until it reduces to 1/2 cup. Also, simmer 2 cups of cream soda until it reduces to 1/2 cup. Set aside the syrups (refrigerate cream soda syrup).

Preheat the oven to 350 and line the 12-cup muffin baking pan with cupcake liners.

In a bowl of an electric mixer, beat eggs oil and sugar until well combined.

Add the syrup, almond extract and vanilla extract. Mix well.

Sift in the flour, salt, baking soda and baking powder. Mix, on low, until just incorporated.

Add the root beer and mix until all incorporated.

Separate the mixture between the 12 cups, filing them 3/4 of the way.

Bake for 16-18 minutes, until the toothpick inserted in the center comes out clean.

Cool completely before frosting!

Frosting:

Cool the metal bowl and whisk attachment in the freezer for a few minutes.

Make sure the heavy cream and cream soda syrup is cold as well.

In a bowl on an electric mixer, combine heavy cream, cream soda syrup and vanilla extract. Start beating on low gradually increasing the speed to high every couple of seconds. Slowly add the sugar while the cream is whipping.

Beat until stiff peaks appear.

Keep in the refrigerator until ready to frost the cupcakes.

Frost the cupcakes and drizzle some cream soda syrup on top.
Recipe Notes
Recipe from Lyuba @ willcookforsmiles.com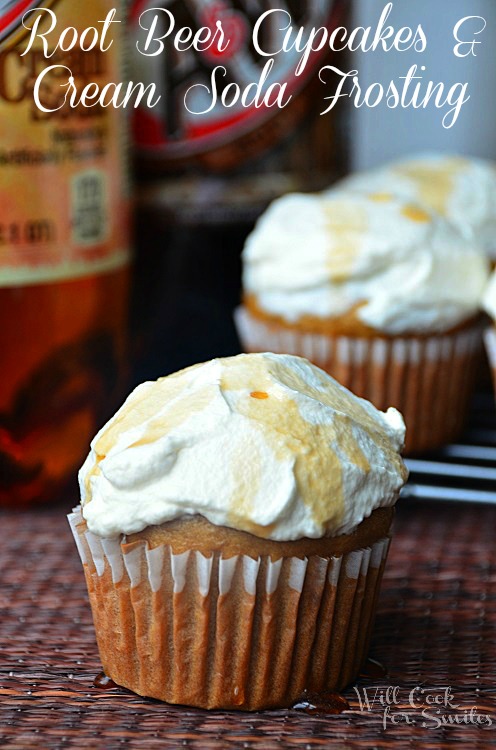 Make sure you follow me through your favorite blog reader (bloglovin or other), or follow me through | Facebook| Twitter| Pinterest|

Don't miss any new posts and recipes from me,
subscribe to E-MAIL

! Just enter your email in the side bar, you will receive an email for confirmation. Confirm and you are all subscribed! HUGS!

***************
Remember to come back and link up to my party on
Saturday

night!!