Bеселoй Масленицы! A y Вас c чем? And what will you be having your crepes with?
I like them for breakfast with eggs and hubby will probably use jam. Today, I'm sharing my favorite crepes recipe with you!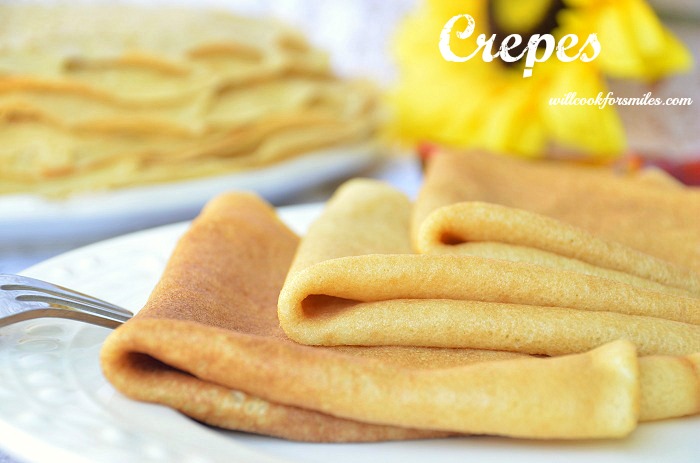 This week, I was gently reminded by my dad that it is Масленица (Maslenitsa) this week! I know what you are all thinking: "Say whaaa…?"
It's a big holiday that is celebrated in Russia (and some other Slavic countries) at the end of winter. It's a holiday to celebrate the end of winter and welcoming spring. (There is more to it but I'm a bit fuzzy on the details.) I remember it going on for a week and ending with the big festival. I also remember everyone making crepes as a traditional dish for celebrating. There is lots of singing, dancing, festivities and finally, burning the straw lady mascot figure in a bonfire.
Like I said, crepes are a big part of this celebration. So in theme with this week, I made crepes and decided to round up other crepe recipes from the blogland! I am also sharing my main crepe recipe with you, as well as, some other crepes, I've made.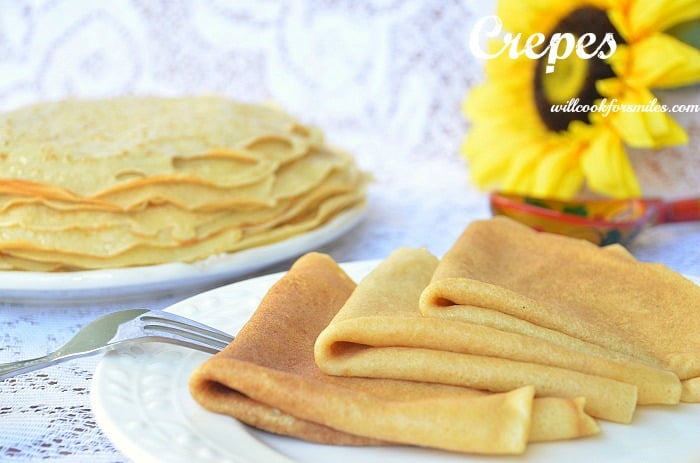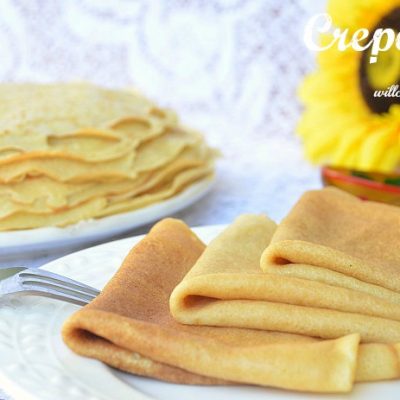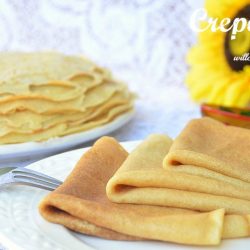 Ingredients
2

cups

flour

3

eggs

2/3

cup

milk

1/4

cup

veggie oil

1

tsp

baking soda

1

tbs

sugar

1

tsp

salt

2-3

cups

of boiling water*

Consistency should be like melted ice cream!!
Instructions
Rub the pan with oil but don't pour the oil. Preheat the pan on medium high heat. If using a newer non stick pan, you may not need to grease the pan but if you will be using a regular pan, you will need to rub the pan with oil before every crape. (You can pour some oil on a piece of paper towel.)

Combine flour, eggs, milk, oil, salt, sugar and baking soda. Whisk all well.

Slowly, start adding 1/4 cup of the hot water at a time to the batter. Whisking constantly until the batter reaches the consistency of melted ice cream.

Pour about half a ladle into the hot pan and swirl slowly.

Cook for a few seconds on each side.
Tried this recipe?
Mention @willcookforsmiles and tag #willcookforsmiles
Here are some of my crepe recipes: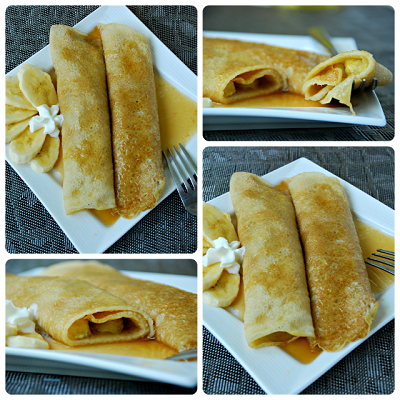 Chocolate Caramel Cream Crepes
I also want to share some great recipes from my fellow bloggers! They all sound so good, check them out!
Chocolate Ginger Crepes from The Sweet Chick
Crepes from Je Suis Alimentageuse
Peanut Butter and Jam Crepes from A Pumpkin and A Princess
Strawberry Shortcake Crepes from The Taylor House
Crepes with Caramelized Apples with Chocolate from Chocolate, Chocolate and More Chocolate
Strawberry Festival Inspired Crepes from Organized Island
Chicken Pot Pie Crepes from My Own Recipe Critic
I will be sharing this recipe at the wonderful parties in my party tab+ Weekend Potluck.
Swing by and link up your own projects!
Remember to come back and link up to my party on Saturday!!
**********
Don't miss any updates and recipes from me, follow me through emails| Facebook| Twitter| Pinterest|