Beautiful DIY Disney Christmas ornaments featuring everyone's favorite Mickey. They are very easy to make and look so pretty on the tree.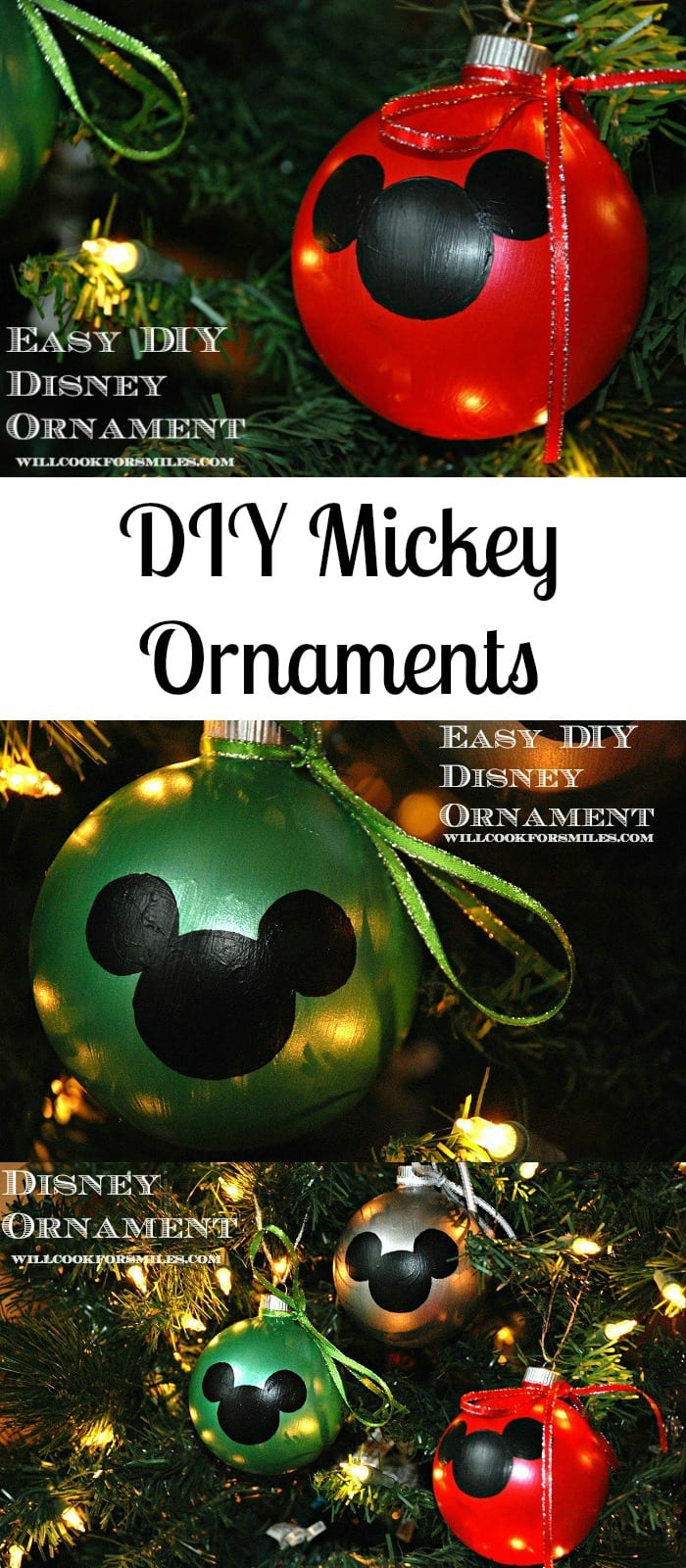 I've always wanted to make my own Christmas ornaments but somehow never got around to it. You might remember my Christmas Cookie Jar project (click if you don't, wink, wink). Well, I had a lot of Martha Stewart supplies left to play with and I decided that I need to start making some ornaments.
As always, I started with a whole different idea in mind. I was going to make colorful faces of little man's favorite Disney characters. The idea was great but it turned out to be a little more complicated and time consuming that I originally thought. So I put on another coat of paint and made these adorable Mickey silhouette ornaments.
These ornaments are so easy to make! I probably won't take you as long as it took me to finish them. I actually started about 3 weeks ago! Then I had to finish my school papers and exams and the unfinished ornaments were hanging on my shelf for 3 weeks. Finally, a couple of days ago, I finished my school work and I could work on my new toys. It only took me 2 days, considering time for drying in between coats.
What you need:
Clear grass or plastic ball ornaments
Martha Stewart glass paint (or all purpose if using plastic ball)
Soft brushes, large and small
Large Dauber
Silver Gilding
Ribbon
Directions:
~First make sure to prepare your surface. Clean and dry the clear ornament balls.
~Apply 3 coats of paint, let dry for a few hours in between the coats. (I noticed that some colors need more coats than other. Red only needed 2 coats, as the green color needed 3 coats.
~ One of the balls I painted with silver gilding. It actually started out white but white was not going on very well on glass. (When using gilding, make sure to have paint brush cleaner on hand as it will not come off with soap and water.)
~I also used silver gilding to paint the ornament tops. While painting the glass, I got some on the tops so gilding is perfect to cover it up.
~ To make Mickey silhouettes, I used black paint and a large dauber. I just made the circle with a dauber, then I used a small brush to expand the circle. Make sure to have a steady hand when doing that. Don't do the Mickey heads if you just had coffee, hehe.
~ Tie the ribbons and you are done!!
These ornaments are so cute that they attract toddlers in an instant! Make sure to put them up high on the tree!