French onion dip is a classic party appetizer that is creamy, cheesy, and slightly sweet from the abundance of caramelized onions. Never buy another pre-made dip from the store again because this homemade dip will truly give you the best flavor!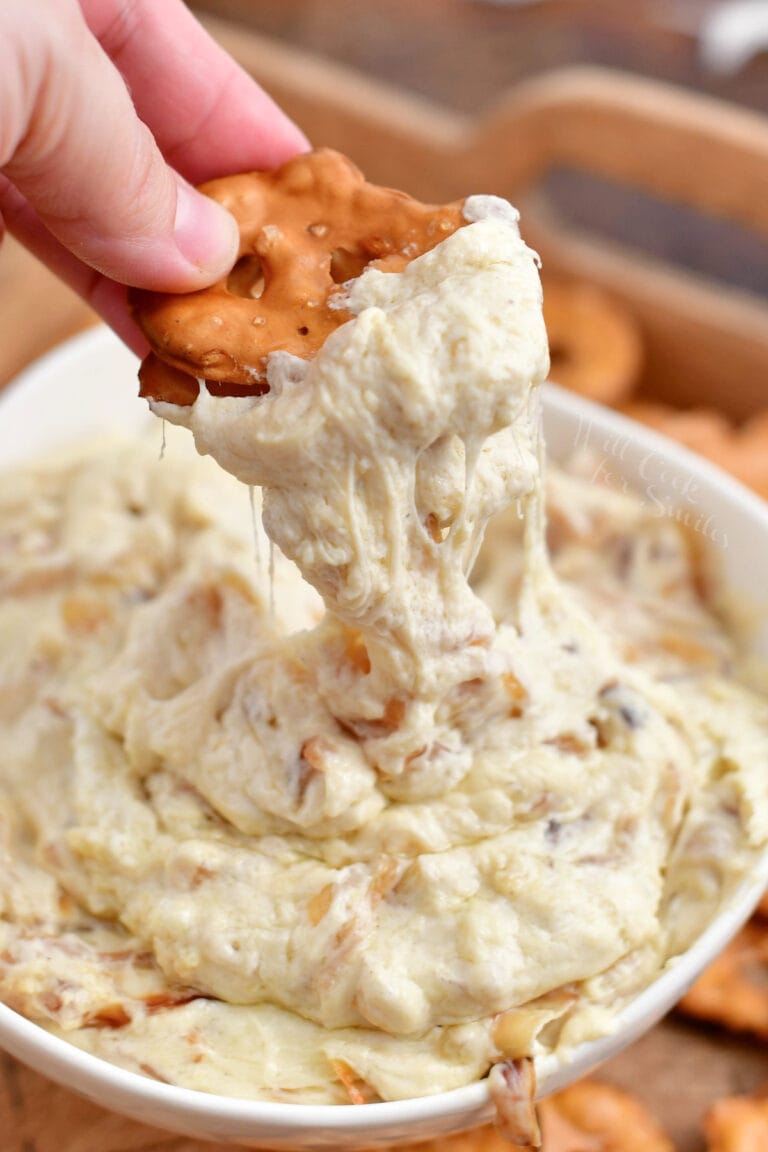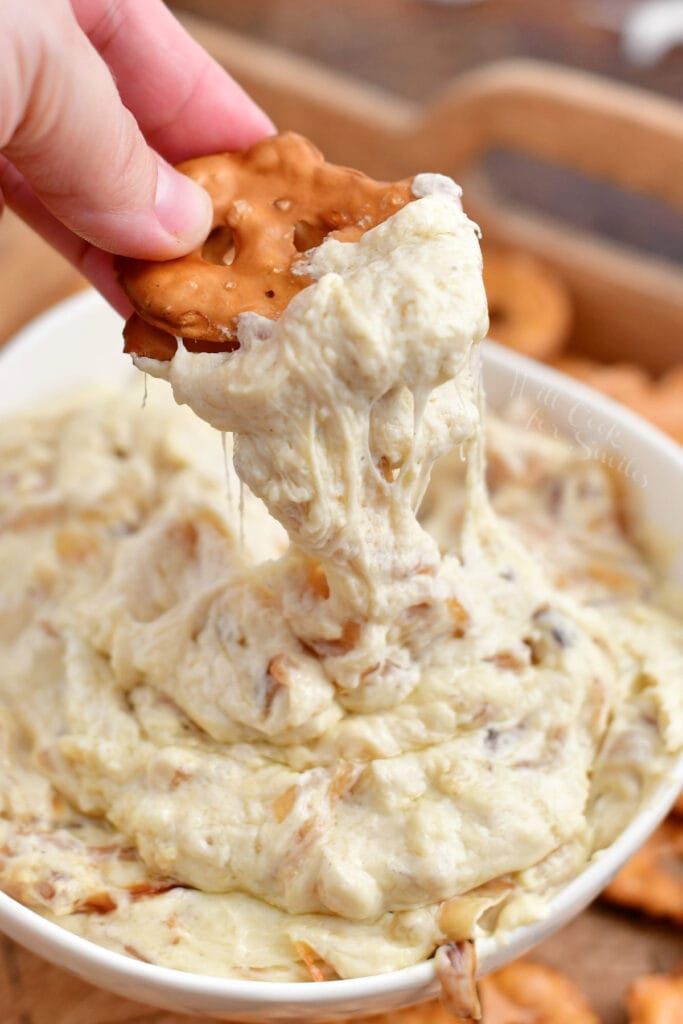 When it comes to party dips, French onion is definitely a true classic. Nothing beats a rich and creamy addition to your favorite bag of chips.
Most of the time, French Onion Dip would be serve warm after adding the onion but I like to take an extra step to top it off with more cheese and bake it for a few minutes. While this is optional, I highly recommend it because it's great when it's hot and extra cheesy!
Whether you serve it warm or hot, you definitely want to make your own caramelized onions. It's a game-changer in terms of flavor. Homemade caramelized onions with elevate your dip to a whole new level and you can easily make them ahead of time.
Why is it called French onion dip?
No one knows for sure, but it seems that a French cook from Los Angeles created the recipe in the 1950s.
It was later popularized by Lipton when they added the recipe to the back of their powdered French Onion Soup Mix.
Since caramelized onions are a key ingredient in both, this dip and the classic French onion soup, it could be that people made a comparison to those flavors.
French Onion Dip Ingredients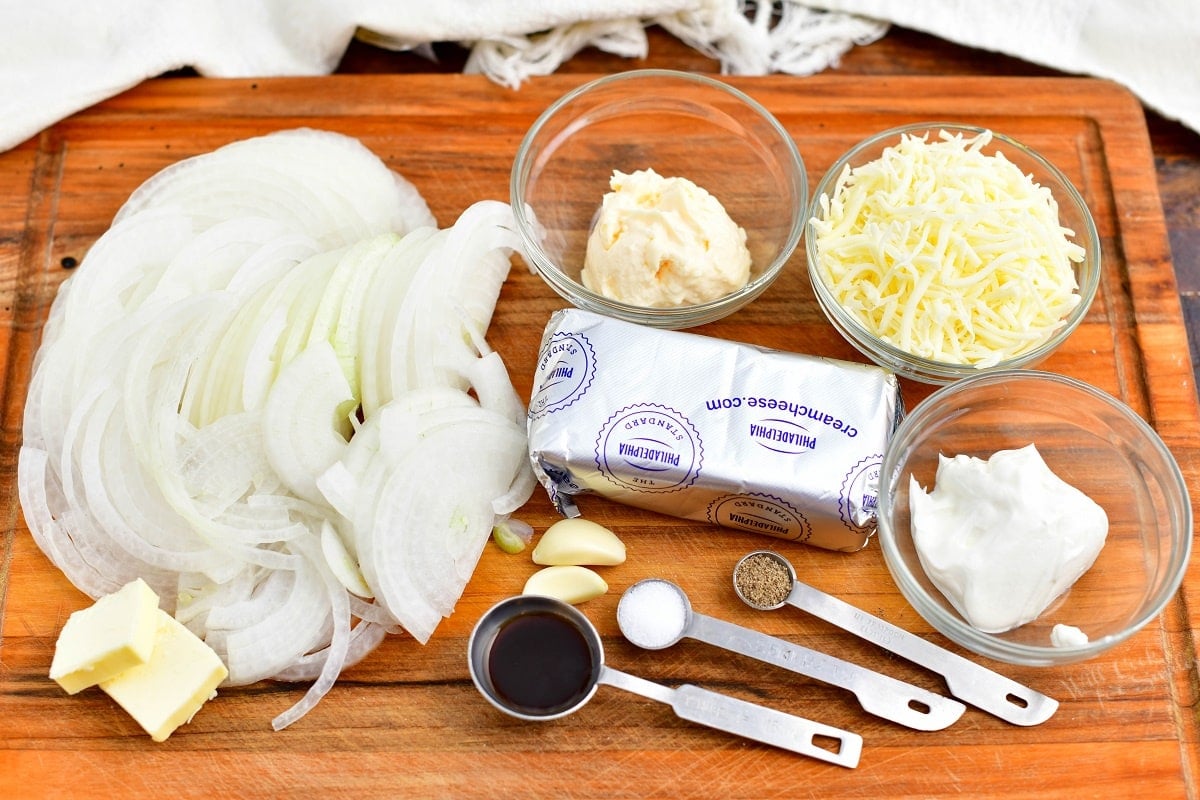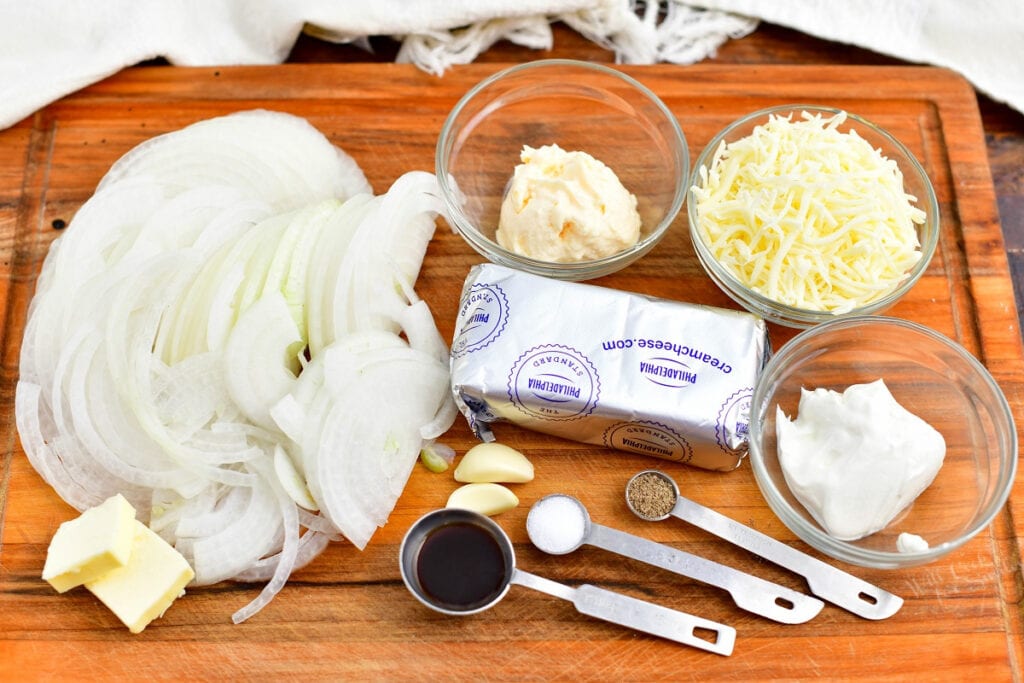 Sweet onion – Also labeled Vidalia, this is just a sweeter variety of yellow onion. Be sure to use sweet onions or the flavor in this onion dip recipe won't be the same.

Cream cheese – Pull this out of the refrigerator when you start cooking the onions so it has time to soften.

Mayonnaise – Use real mayonnaise, not Miracle Whip, because the latter has a completely different flavor from the added sugar and spices.

Sour cream – While it won't have the same tang, you could replace this with plain Greek yogurt if you prefer.

Mozzarella cheese – Use low moisture, whole milk Mozzarella for this recipe so the dip doesn't become runny and cheese melts well. Be sure to save some to sprinkle on top when it's baked.

Worcestershire sauce – This ingredient is almost as important for flavor as the caramelized onions, so don't leave it out!

Garlic – Mince or press the cloves before adding them to the mixture.

Butter and oil – Feel free to use any neutral cooking oil with a high smoke point if you don't have canola on hand. You will need butter to make caramelized onions though.

Salt and pepper
How To Make French Onion Dip
Slice the onion.
Cut these as thin as you can, since you don't want to bite into a huge chunk when eating the dip. Then, add them to a warm skillet with butter, oil, and salt.
Caramelize the onion slices.
Stir well so all the pieces are coated in oil and butter, then saute until they are softened and starting to brown. Reduce the heat and continue cooking until darkened and fragrant, stirring occasionally so they don't stick to the pan.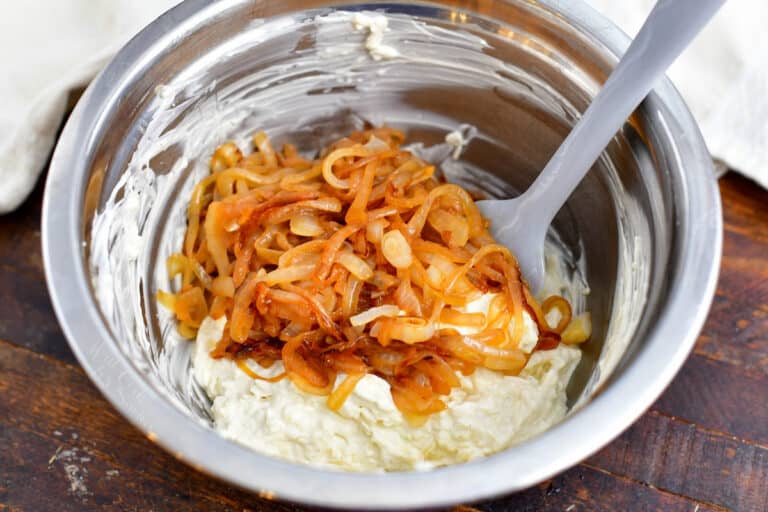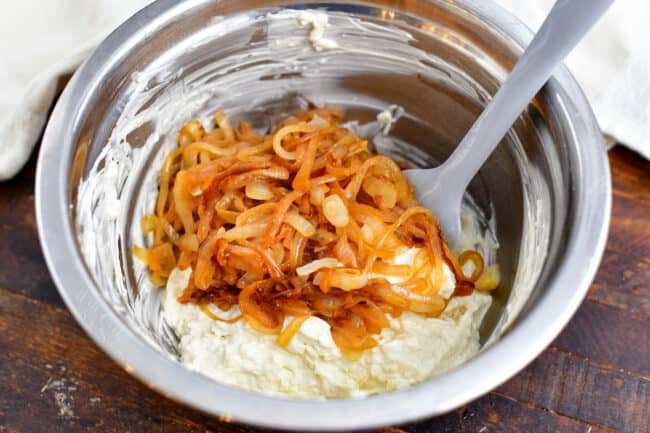 Mix together dip ingredients.
First, combine everything but the onions until smooth. Then, fold in the caramelized onions until evenly distributed throughout the mixture.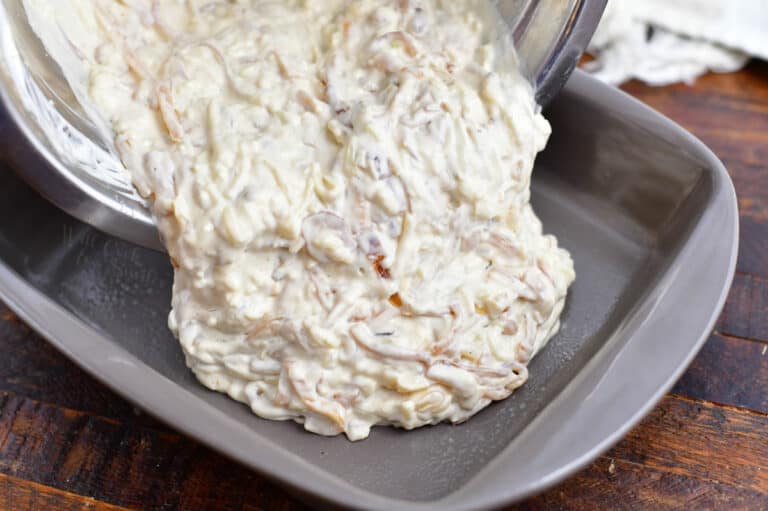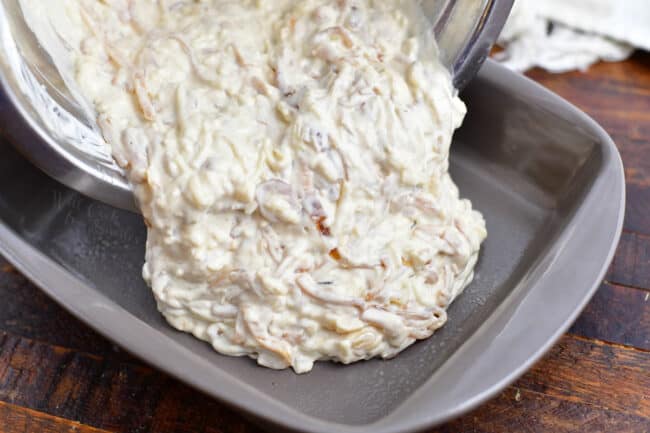 Pour into a pan.
Transfer the mixture to a greased baking dish and smooth it out to all of the edges.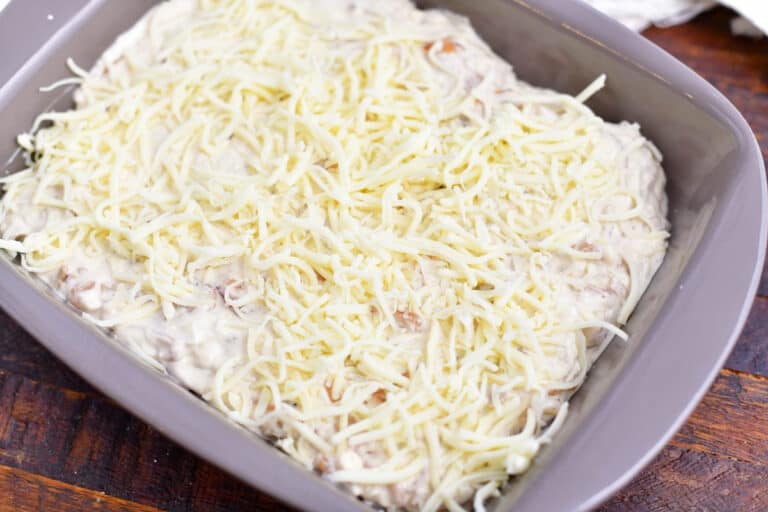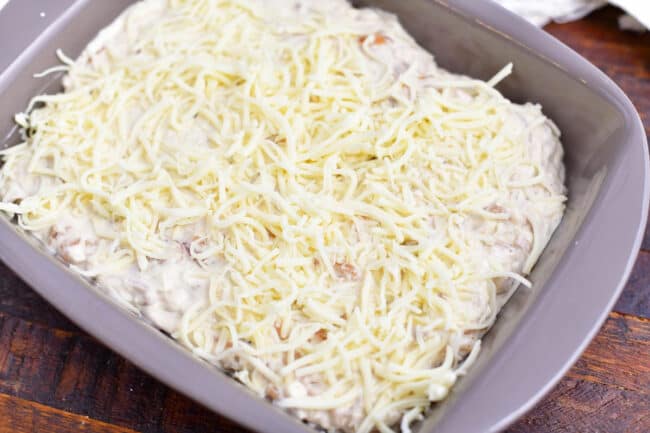 Top with cheese.
Sprinkle shredded cheese evenly over the onion dip, then bake until the cheese has melted and the edges just start to bubble.
Serve.
Once it's finished, transfer the onion dip to a serving bowl and enjoy!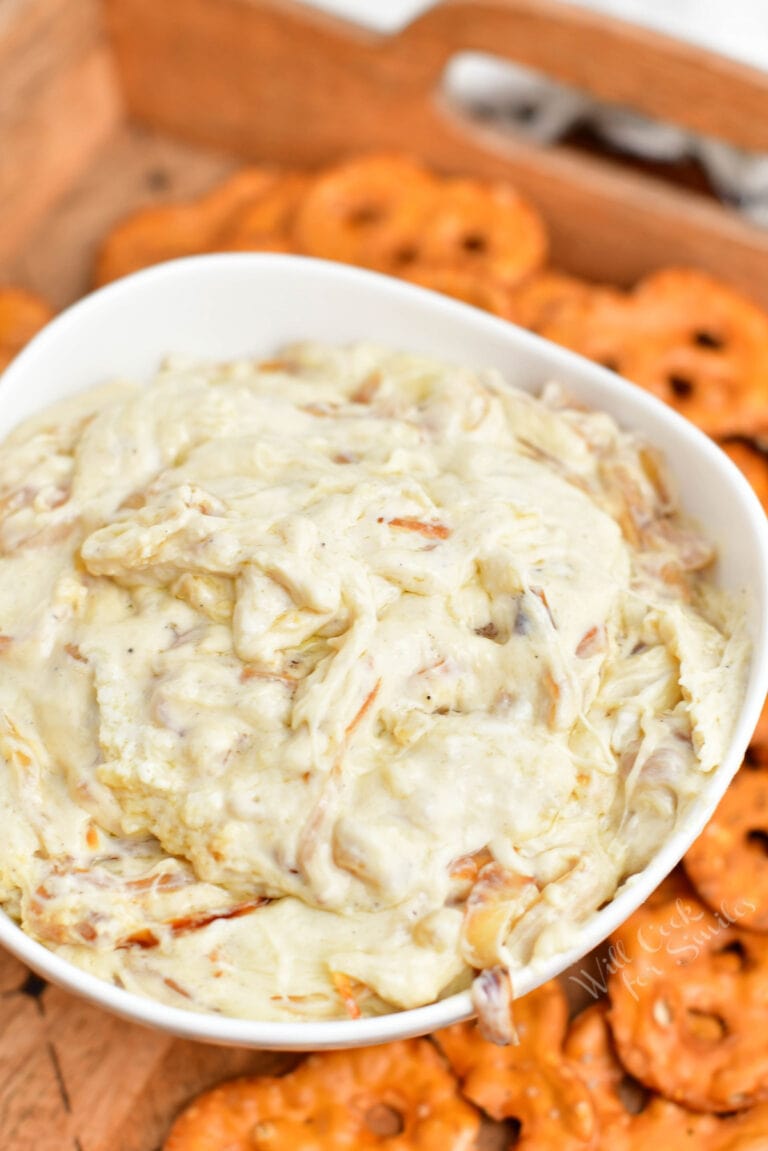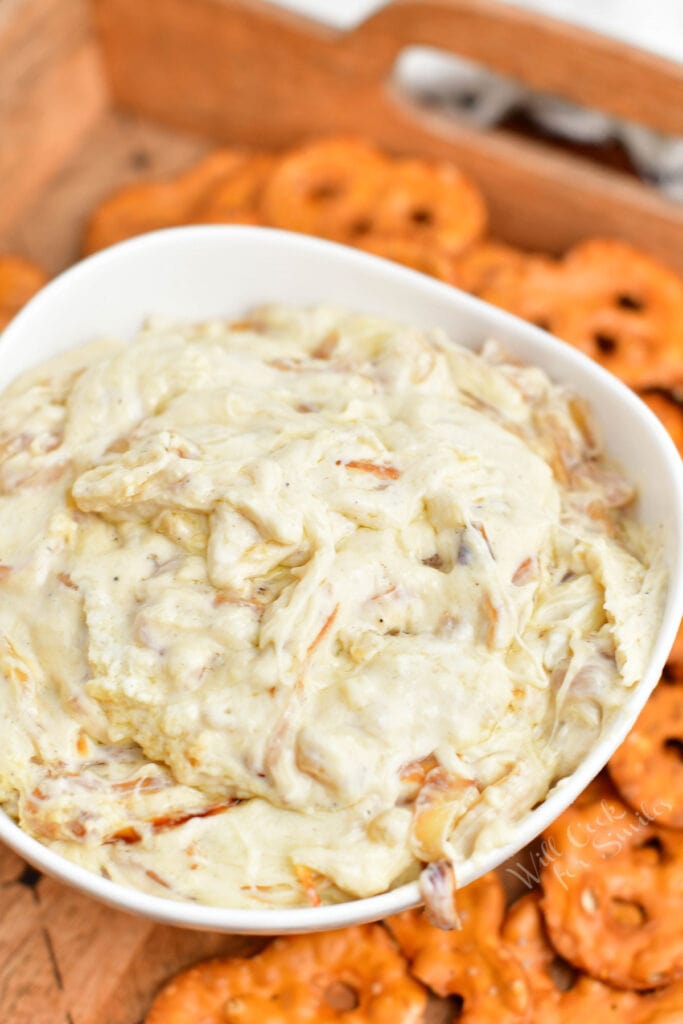 Storing Instructions
Make sure to store this dip in an air-tight food storage container and keep it refrigerated. Stored properly, the French onion dip will keep for up to 5 days.
Make It Ahead:
You can prep the dip ahead of time in the baking dish, cover it, and store in the refrigerator to bake at a later time.
When ready to bake, take it out of the refrigerator while the oven is preheating, discard the plastic wrap, and let it warm up a little. Bake it as instructed in the the recipe. You may need to bake it for a couple more minutes.
You can also prep just the caramelized onions a day or two in advance and store them in the refrigerator in an airtight container. Warm them up slightly before adding to the dip mixture.
Tips and Recipe Notes
Skip the pre-bagged shreds. These contain an additive to keep the cheese from clumping, which results in a waxy texture and prevents the cheese from melting properly. Get some fresh cheese and shred it by hand for better flavor and a smoother consistency.

Want a smoother dip? Run the mixture through a food processor or high-speed blender before baking.
You can skip the baking. If you don't want to take the extra baking step, that is totally fine. You can skip it and serve the dip warm right after mixing in the caramelized onions into the cream cheese mixture.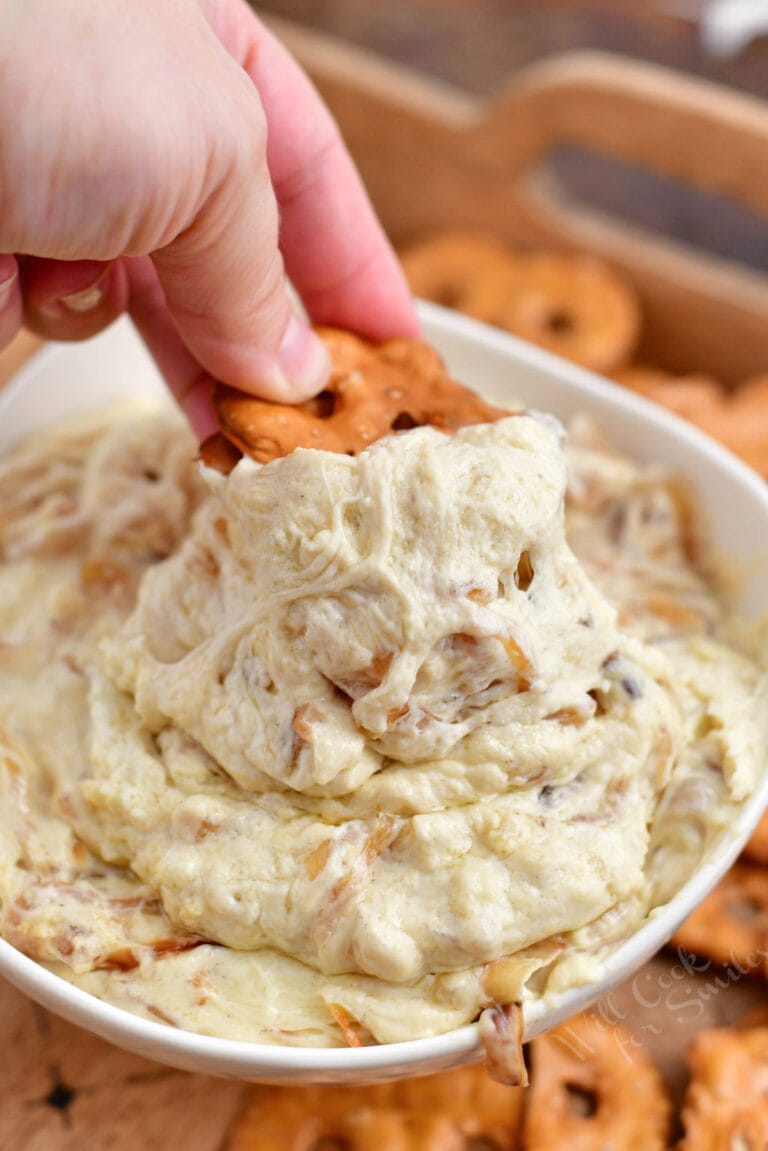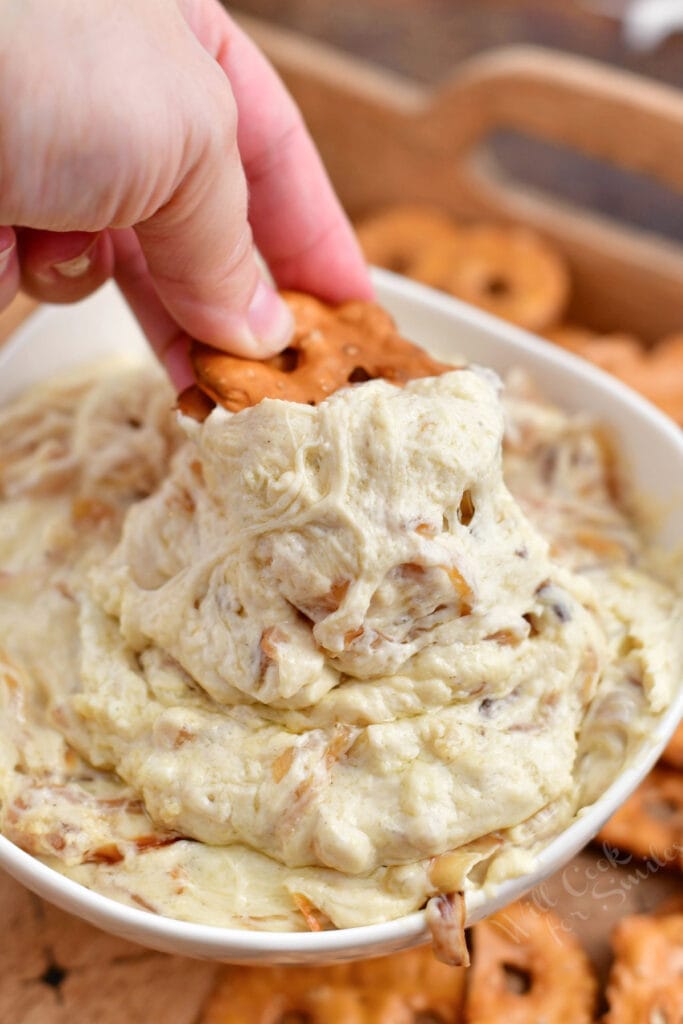 What To Serve With French Onion Dip
While potato chips and crackers are a popular choice, this onion dip recipe also tastes delicious with pretzels!
You can often find pretzel crisps in the chip aisle or deli section of the store. The larger flat shape provides more surface area and makes dipping easier.
This dip tastes great with sliced veggies too. Choose crunchy varieties like cucumbers, bell peppers, carrots, and celery.
Make a trio of dips for your next party by pairing this with spinach artichoke dip and my ultimate hot bean dip. Both can be made in a slow cooker so you aren't stuck in the kitchen doing party prep all morning.
If you love the sweet flavor of caramelized onions, you can use them for baked meatballs, green beans, or even cheesy pinwheels.
French Onion Dip Recipe: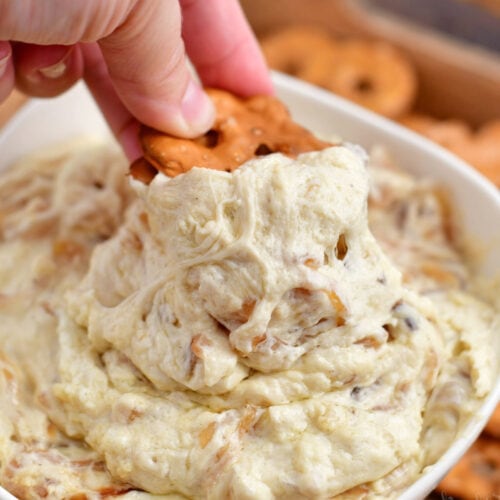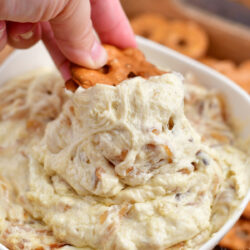 French Onion Dip
French onion dip is a classic party appetizer that is creamy, cheesy, and slightly sweet from the abundance of caramelized onions.
Print
Pin
Save
Saved!
Rate
Ingredients
1

tbs

butter

1

tbsp

canola oil

Salt

1

lb

Vidalia or sweet onion

8

oz

cream cheese

1/4

cup

mayonnaise

1/4

cup

sour cream

1

cup

shredded Mozzarella cheese

2

garlic cloves

2

tsp

Worcestershire sauce

salt

black pepper

1/4-1/2

cup

shredded Mozzarella cheese

for topping
Instructions
Note: you can make the caramelized onions ahead of time and store it in the refrigerator, in an air-tight container. Warm it up slightly before adding to the dip mixture.
For Onions:
Half the onions, cut off the tip, peel the outer skin, and slice onion thinly to the root. Discard the tip and the root.

Heat up a cooking pan over medium heat and add butter and oil. Add sliced onions and season with a little salt. Mix onions to evenly coat them with oil and seasoning.

Cook over medium heat, stirring from time to time, until you notice most of the liquid cook out and onions start to get browned.

Lower the heat to medium-low and cook until onions are caramelized to nice brown color all over. Stir onions every 5-10 minutes white they're cooking. If onions seem a little dry, add about 1/2 tbsp of butter. (Don't try to rush the process or you will end up with sautéed or crispy onions and not caramelized. This process will take 20-30 minutes.)
Dip:
Preheat the oven to 350° and lightly grease a ceramic or glass baking dish.

In a medium bowl, mix all the ingredients except for caramelized onions until smooth.

Fold in caramelized onions and transfer the mixture into an oven-safe dish. Sprinkle with a little extra shredded cheese on top.

Bake for 15-20 minutes, until the edges just start to bubble.
Nutrition
Calories:
519
kcal
|
Carbohydrates:
13
g
|
Protein:
13
g
|
Fat:
47
g
|
Saturated Fat:
21
g
|
Cholesterol:
111
mg
|
Sodium:
566
mg
|
Potassium:
279
mg
|
Fiber:
1
g
|
Sugar:
9
g
|
Vitamin A:
1175
IU
|
Vitamin C:
6
mg
|
Calcium:
277
mg
|
Iron:
1
mg
Tried this recipe?
Mention @willcookforsmiles and tag #willcookforsmiles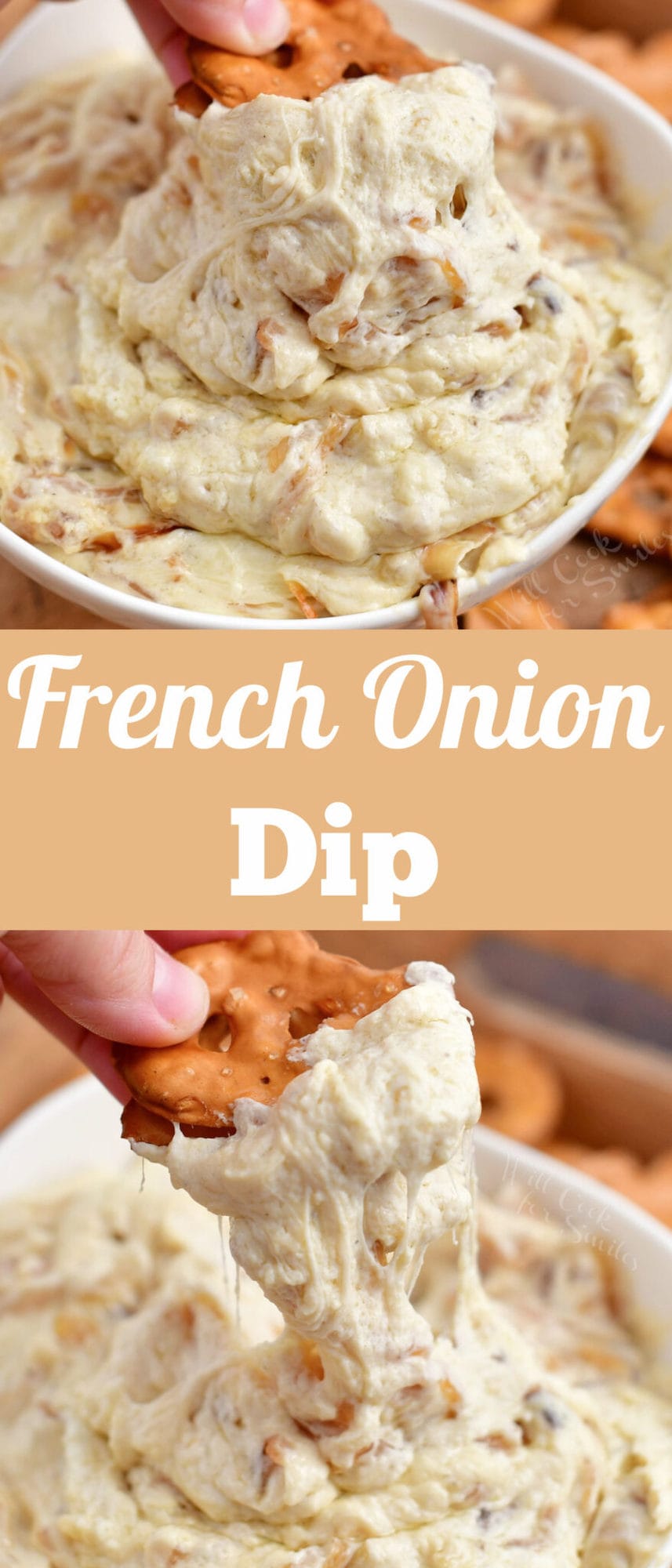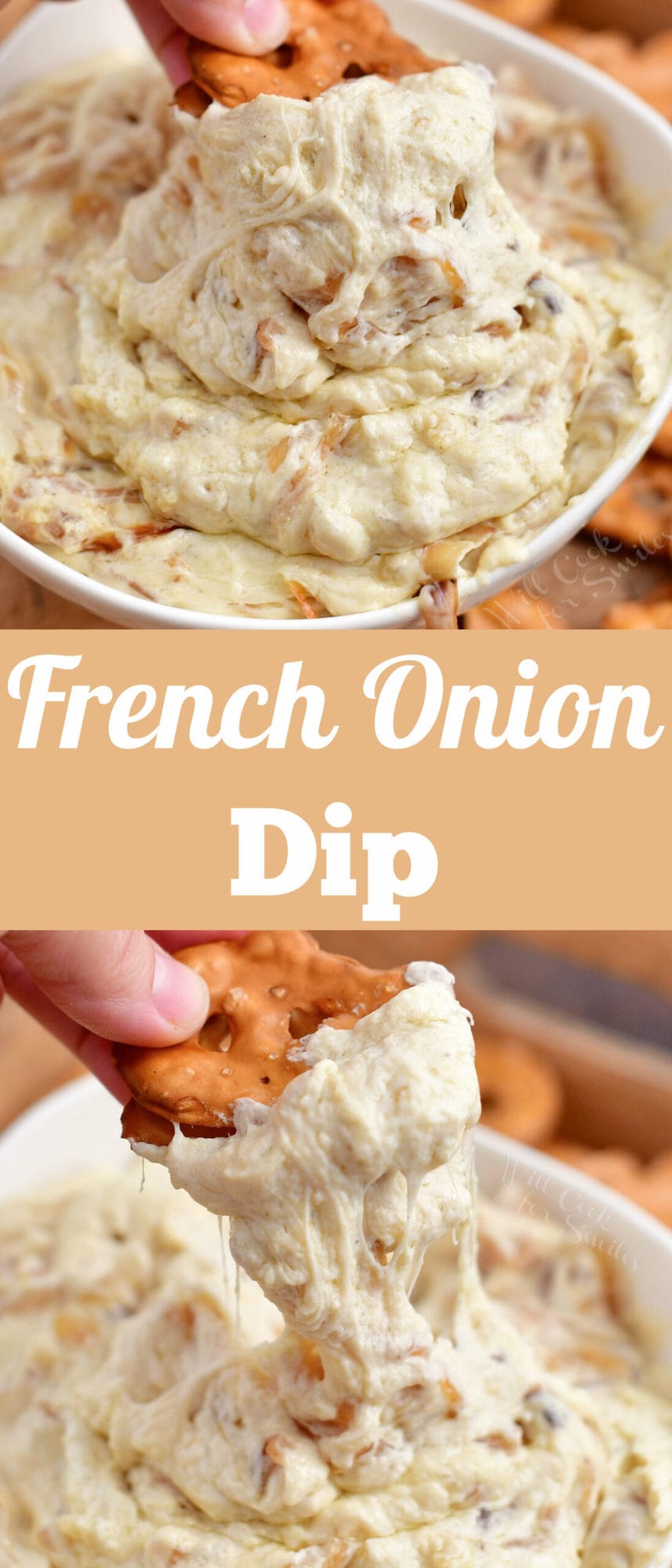 Originally published on Will Cook For Smiles on December 10, 2013. Updated January 22, 2021.