Super Bowl appetizers is why we gather together on that fateful Sunday in early February, isn't it? Well maybe it's the football too, but you have to admit that super bowl food is very important. The party won't be the same without touchdown worthy appetizers like wings, meatballs, dips, and bacon wrapped anything.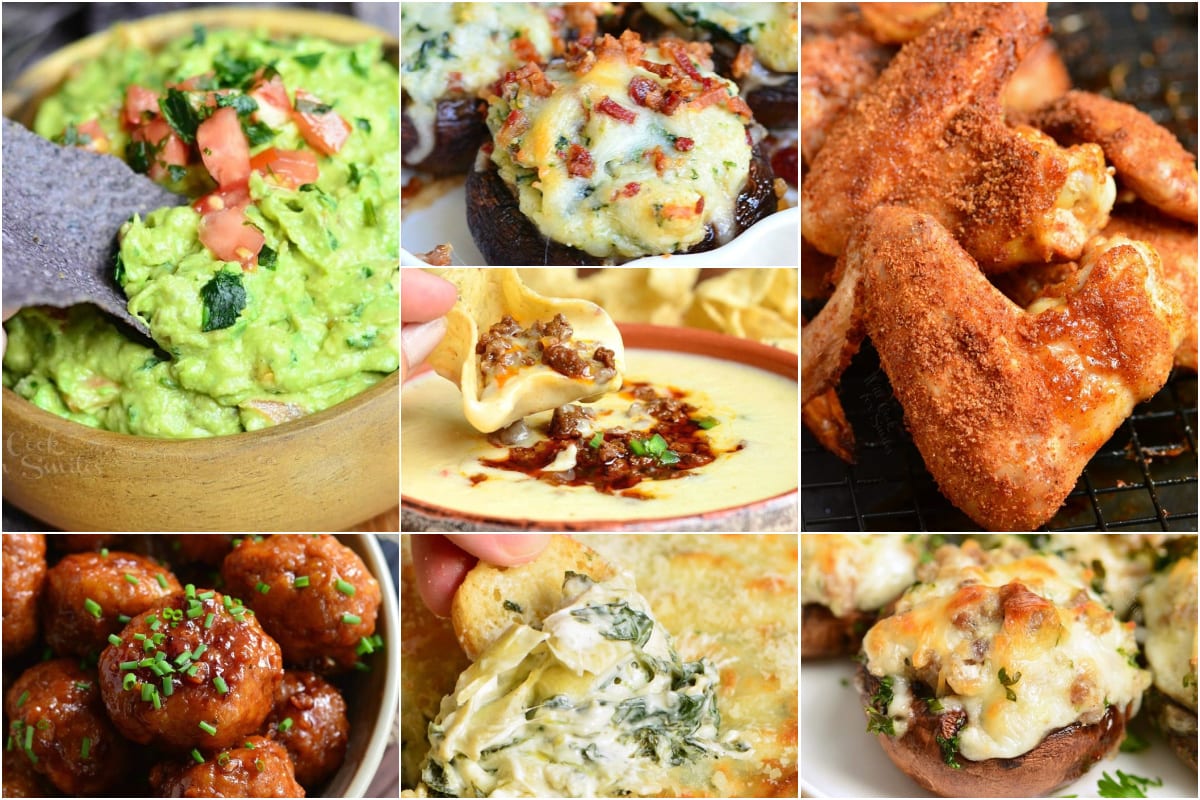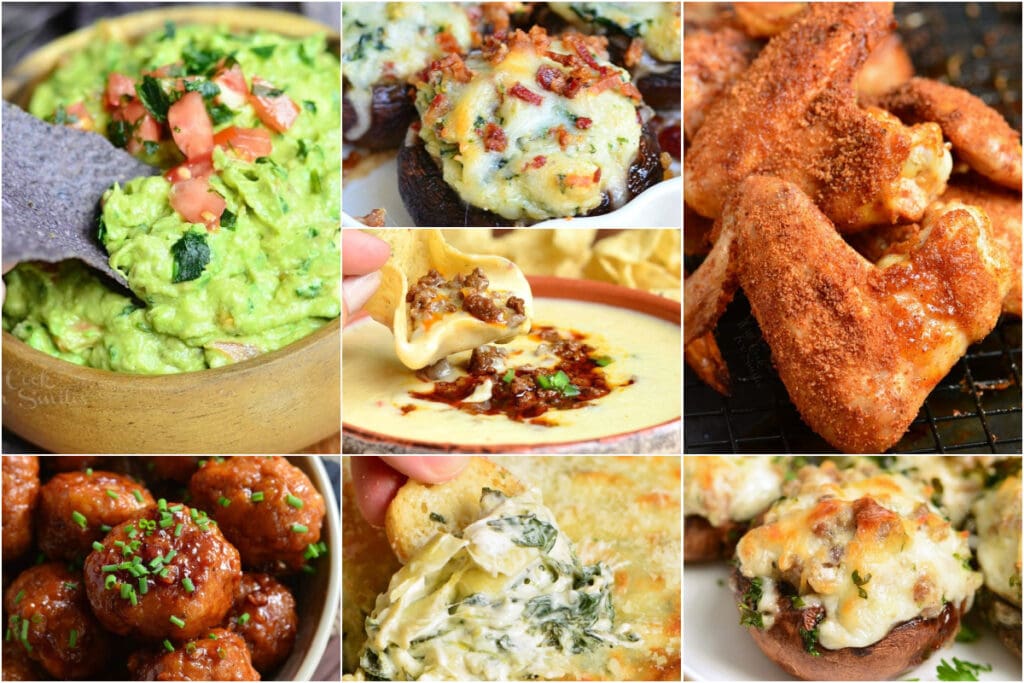 Super Bowl Food Ideas
For most people, February is not associated with hearts and valentines but with football. It's Super Bowl time and it is THE favorite winter holiday for a lot of people. While most of my friends watch every game, hoping their team wins and makes it to the Super Bowl, I wait impatiently to see what commercials they came up with this year. And of course, plan what delicious food to make for the party.
Whether you start planning your biggest party of the year months ahead or just a few days before, you need to look through the best Super Bowl food ideas and I've got a lot of them right here!
What Appetizers To Serve For Super Bowl
So we all know that it's all about the food and the drinks, right?! Sure, sure, the game is important but admit it, if your team didn't make it, you're in it for the food!
Whether you're hosting a huge party or a super bowl party for two, you need to have a good variety of something to nibble on. The best things to serve are somethings you can easily eat with one hand or one-bite appetizers. Think dips, meatballs, wings, sliders, mini sandwiches, cheese balls, and almost anything bacon wrapped and bite-sized.
And remember to get plenty of crackers, chips, vegetables, and pretzels for dipping.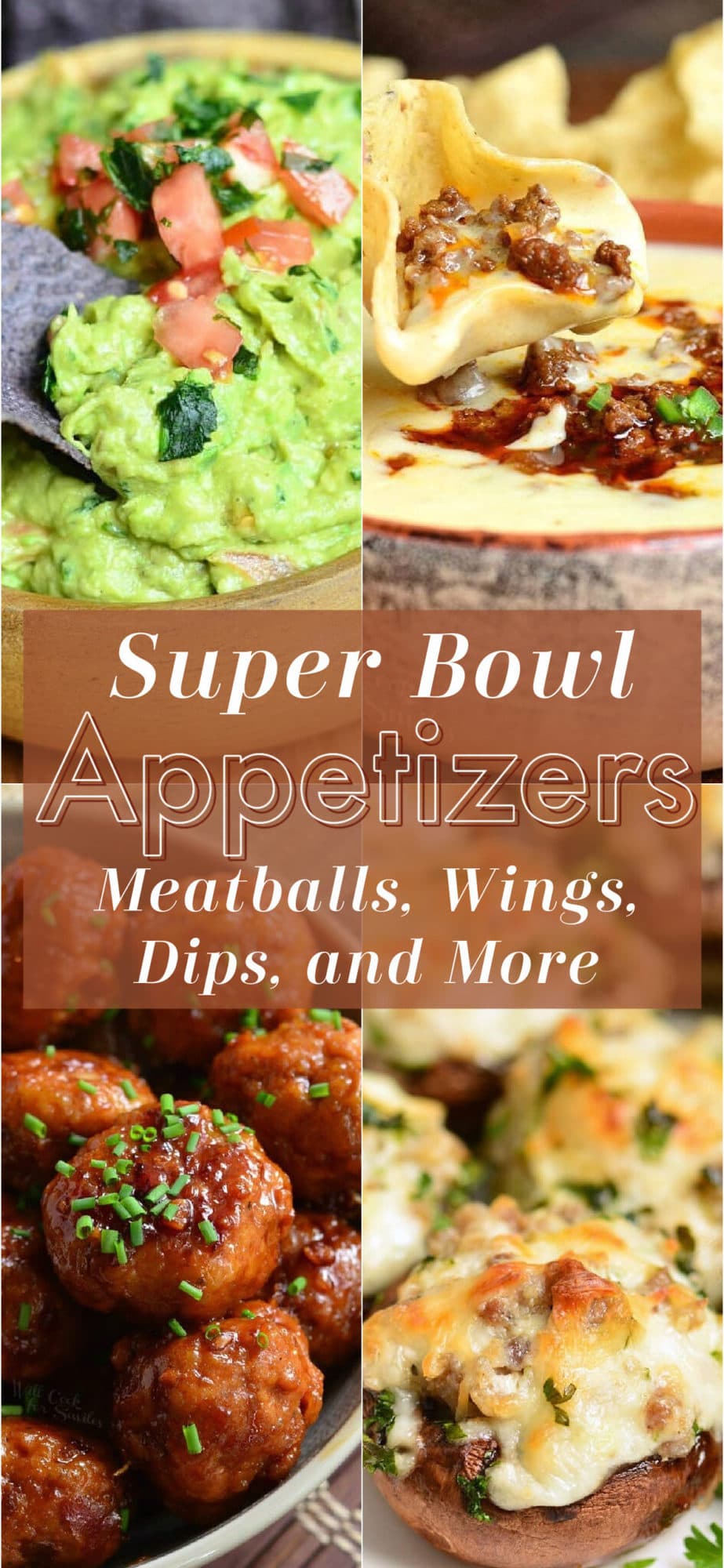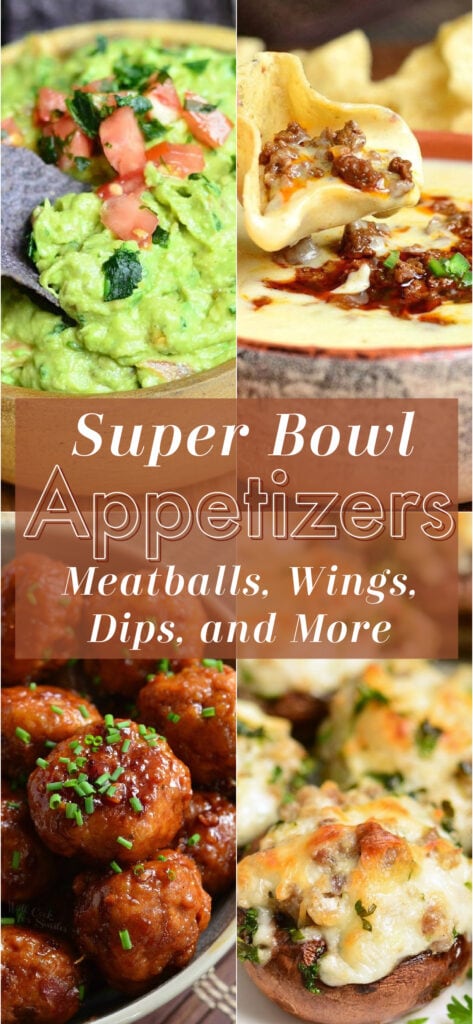 Tips When Planning The Menu
When planning your Super Bowl food menu, you want to have a mix of hot appetizers and cold appetizers.
Having cold and hot appetizers will save you a lot of sanity because you can prepare most of cold appetizers completely ahead of time and partially prep most hot dips. Pop the prepped dips into the oven or a crock pot right before the party.
Run over to the dollar store and get some large trays and servings utensils. You'll save some money and won't have to worry about your good servings dishes.
Don't open and spread out the crackers and pretzels so they stay crispy. Also, don't open all of them but rather refill as the party progresses.
Write down the cook times of all the appetizers you selected and oven temperatures so you can plan your time accordingly. If you're short on oven space, plan on appetizers that need similar oven temperature and cook time.
Tools You Will Need
Plenty of plates, napkins, cups, and serving utensils (think paper and plastic for easy clean up)
Large trays and bowls for dips
Baking pans, casserole dishes, and cooking pans
Crock Pot or two (always a good idea to keep hot appetizers warm)
Cutting boards and knives
Best Super Bowl Appetizers
Hot Crab Dip – This creamy crab dip is made with lump crab meat, cream cheese, Parmesan cheese and baked to perfection.
Spinach Artichoke Dip – Creamy, cheesy dip made with spinach, artichoke hearts, cream cheese, Mozzarella cheese, Parmesan cheese, and a few other flavorful ingredients.
Buffalo Chicken Dip – Always a crowd-pleaser, this dip is made with a combination of tender white chicken meat that's been cooked in buffalo wing sauce mixed with cream cheese, Monterrey Jack cheese, and Blue cheese crumbles results in an amazing dip.
Cajun Shrimp Dip – There is loads of shrimp, bacon, cheese, veggies, and Cajun spices all combined into a spicy hot dip.
Crab Artichoke Dip – This crowd pleasing dip is made with lump crab meat, artichoke hearts, and extra cheese.
French Onion Dip – This French Onion Dip is smooth and creamy, made with caramelized onions and extra cheesy!
Queso Blanco Dip with Chorizo – zesty and smooth Queso Blanco with sauteed chorizo sausage, peppers, and onions. One bowl wont' be enough!
Queso Blanco – It's a spicy, cheesy featuring two kinds of cheese, jalapenos, bell peppers, and green onions. No Valveeta here!
Beer Cheese Dip – This warm Beer Cheese Dip is a gooey, cheesy, flavorful dip that is ready in about 10 minutes. Always a crowd pleaser, especially if you have pretzels.
Ultimate Bean Dip – This fantastic refried bean dip is creamy and has lots of cream cheese, vegetables, Monterrey Jack cheese, sour cream, and spices.
Hot 7 Layer Dip – This is not your ordinary 7 Layer Dip! Make it in a skillet, so it will be nice and hot with lots of beef, veggies, and cheese.
Beef Taco Dip – This beef taco dip features ground beef, veggies, cheese, and some more cheese.
And Even More Cheese Dips
Reuben Dip – It's loaded with corned beef, sauerkraut, Swiss cheese, and Thousand Island dressing. Serve it with some rye bread crackers or toasted slices of rye bread.
Mushroom Leek Cheese Dip – This hot features Gruyere cheese, sautéed mushrooms, leek, and cream cheese. Gooey, cheesy, and all around delicious!
Spicy Ranch Chicken Dip – delicious warm cream cheese dip with juicy chicken, cheese, green onions, cream cheeses, and spicy ranch mix.
Best Cold Appetizers
The Best Guacamole Recipe – This guacamole recipe is packed with fresh avocados mashed and loaded with tomatoes, red onions, lime juice, and jalapenos.
Corn Salsa – It's a little sweet, a little sour, and a little tangy made with sweet corn instead of tomato base but many of the same ingredients.
Cheddar Ranch Cheese Ball – This cheese ball has a rich ranch flavor and lots of delicious sharp cheddar cheese.
Smoked Salmon Dip – This creamy dip has a prominent smoked salmon flavor with compliments of lemon, fresh dill weed, capers, and chives.
Everything Bagel Cheese Ball – Great cheese ball with homemade everything bagel seasoning, cream cheese, white cheddar cheese, and Parmesan cheese.
Deviled Eggs – is a classic appetizer that is simple enough to make for every occasion.
Perfect Meatballs For The Game Day
Grape Jelly Meatballs – The meatballs are tender and juicy with ground beef and ground pork and coated in outstanding sweet and spicy grape jelly sauce.
Roasted Garlic Baked Meatballs– Juicy, tender meatballs featuring beef and pork mixture, roasted garlic and rosemary inside and baked with more garlic and rosemary.
Garlic Parmesan Turkey Meatballs – Juicy Turkey Meatballs with flavors of garlic, Parmesan cheese, and herbs.
Italian Meatballs – classic meatballs are tender, juicy, and made with simple ingredients and marinara sauce.
Buffalo Chicken Meatballs – juicy chicken meatballs with blue cheese crumbles and buffalo wing sauce inside and cooked in some more buffalo wing sauce.
Teriyaki Chicken Meatballs – These juicy Chicken Meatballs are easily made on stove top with homemade Honey Garlic Teriyaki Sauce.
Awesome Game Day Wings
Dry Rub Baked Chicken Wings – Amazing baked chicken wings with the best Dry Rub for chicken. These chicken wings are so easy to make and they will be the biggest hit of the party.
Baked Chicken Wings – You can't have a game day without chicken wings on the table and baked chicken wings are amazing.
Spicy Orange Chicken Wings – Juicy, sticky, awesome wings that will blow your taste buds away!
Lemon Pepper Grilled Chicken Wings – Grilled chicken wings can't get much better than these tasty lemon pepper marinated wings.
Air Fryer Chicken Wings – Air Fryer Chicken Wings are crispy on the outside and so incredibly juicy on the inside.
Honey Garlic Chicken Wings – perfectly sweet and savory and way better than take-out.
Even More Super Bowl Recipes
Classic Stuffed Mushrooms – recipe featuring baby bella mushrooms stuffed with a mixture of cream cheese, herbs, onions and more cheese.
Bacon Wrapped Little Smokies – It will be a crowd-pleasing appetizer and all you need is a package of smoked little sausage, a package of bacon, and maple syrup.
Sausage Stuffed Mushrooms – feature a mixture of Italian sausage, cream cheese, Mozzarella cheese, and some garlic and parsley for more flavor.
Beer Batter Onion Rings – Delicious fried Onion Rings made with Killian's Red Ale beer batter.
Cheese Spinach and Bacon Stuffed Mushrooms – Incredibly delicious stuffed mushrooms with a flavorful mixture of crispy bacon, spinach and Italian cheese mix.
BBQ Little Smokies – These little sausages are to tasty and simple cooked in a homemade BBQ sauce.
Italian Sub Pinwheels – easily pinwheels with ham, salami, pepperoni, herbs, and mozzarella cheese all in a pizza dough and baked to golden perfection.
Mushroom Cheese Puffs – Buttery, cheesy, tasty little cups of mushroom filled pastry.
Bacon Onion Rings – You won't be able to get enough of these crunchy, sinful bacon onion rings and ranch.
Cheeseburger Egg Rolls – crispy wrappers, juicy ground beef, melted cheese, and pickles!
Reuben Egg Rolls – with corned beef, cheese and sauerkraut, fried to golden deliciousness, and served with Thousand Island dressing.
Instant Pot Pulled Pork – unbelievable pulled pork recipe that's made in an Instant Pot and mixed with homemade BBQ sauce.
The Best Chili Recipe – of course it will not disappoint, it has bacon, ground beef, vegetables, beans, and tasty combination of spices to make chili seasoning.
Italian Meatballs Subs – hot delicious sandwich packed with tender Italian meatballs, marinara sauce, and gooey, melted Mozzarella Cheese.
The Best Turkey Burgers – Juicy, tender turkey burgers are the perfect lean alternatives to cook for dinner or throw on the grill.
And Some More Game Day Recipes
White BBQ Chicken Subs – Delicious hot sub sandwich packed with chicken, cheese, and homemade white BBQ sauce.
Blackened Fish Tacos – juicy, flaky blackened fish, crunchy slaw, and sweet mango salsa.
Jalapeno Cheddar Burgers – These mini cheeseburger sliders have lots of jalapeno peppers and cheddar cheese mixed right in.