I finally braved myself and made homemade ice cream! This Hazelnut Ice Cream turned out so delicious, I doubt that I'll be buying much ice cream anymore.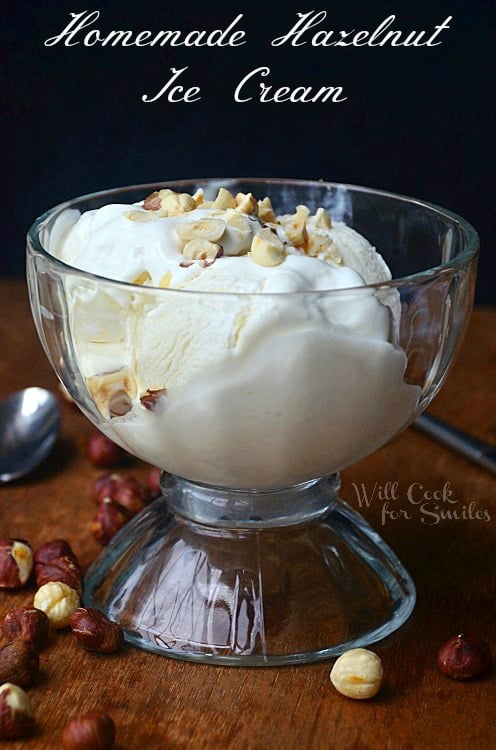 I've been circling the idea of making my own ice cream for the longest time. Not to even mention that my husband and son asks for it all the time. The hints aren't so subtle either…
Hubby would walk up to the freezer, open the door and say: "Hmmm, still no ice cream?"
Me: "No, no ice cream, why don't you buy some if you want it so bad?"
Him: "Nah, can't you make some? You can make anything!"
(Yes, it is his way of sucking up.)
Honestly, I was always under impression that I had to have ice cream machine in order to make ice cream. I thought so until my dear friend Dorothy from Crazy for Crust share a collection of homemade ice cream recipes that didn't require a machine! Now, the ice cream was calling my name!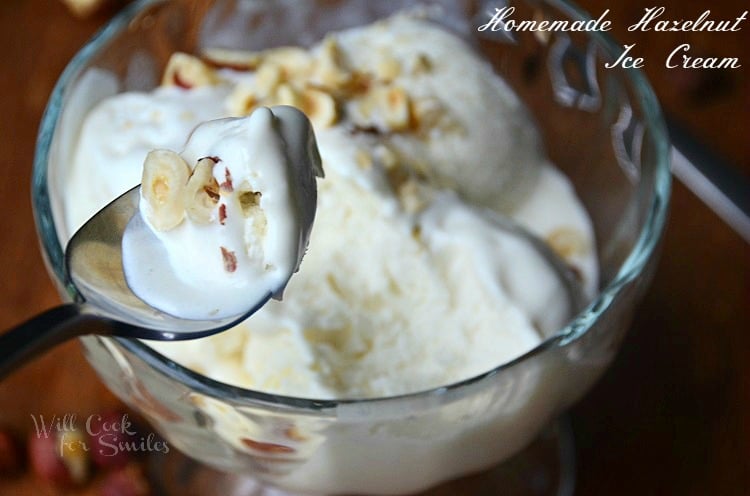 I've read a few recipes for making ice cream and it seems to have the same basic steps and so easy. I had some of my favorite International Delight creamer in the fridge, that I wasn't using fast enough. I happened to get the big bottle and there is only so much I can put in my coffee.
I already shared my idea for using Almond Joy (my absolute favorite) ID when I shared my Almond Joy Cheesecake. Today, I'm sharing the Homemade Hazelnut Ice Cream using Hazelnut ID (my close-second favorite.) You should share your ID at "What's Your ID" website!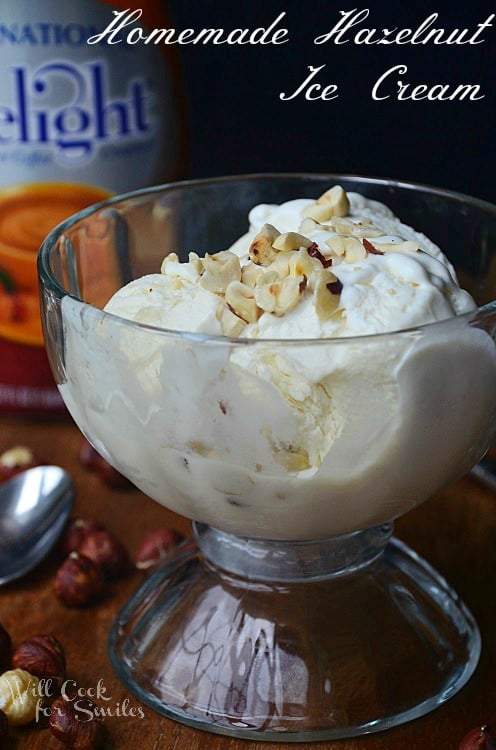 I can't oversell this ice cream, using the rich Hazelnut International Delight creamer, enough! It may have been a sugar free creamer but the flavor was full and rich. The hazelnut clearly stood out and it was so smooth!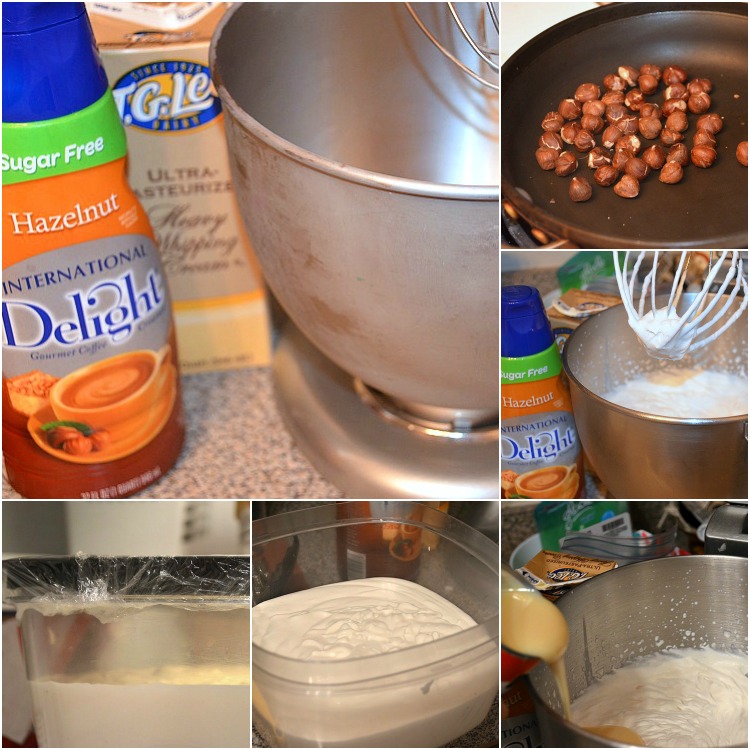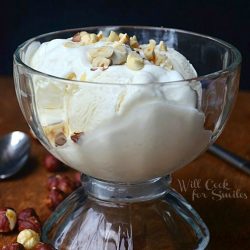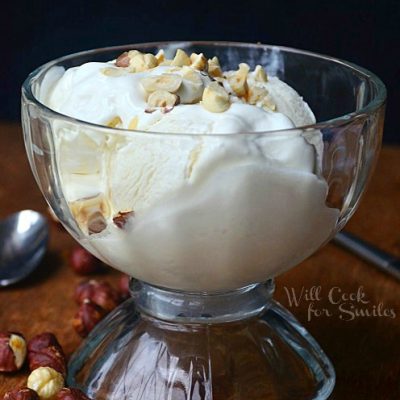 Homemade Hazelnut Ice Cream
This Hazelnut Ice Cream turned out so delicious, I doubt that I'll be buying much ice cream anymore.
Print
Rate
Ingredients
1

cup

of heavy whipping cream

1

cup

of Hazelnut International Delight

12

oz

can of sweetened condensed milk

Toasted

chopped hazelnuts for topping
Instructions
Place your metal bowl from the electric mixer and the whisk attachment (or a regular metal bowl and the beaters) in the freezer for 10-15 minutes.

Make sure that the heavy whipping cream and ID creamer are both cold, straight from the fridge.

Add the heavy whipping cream and hazelnut creamer into the cold mixing bowl. Starting at low speed, start whisking, gradually raise to speed to high. Beat until stiff peaks appear (don't walk away far so you don't over-mix.)

Using a rubber spatula, very slowly pour in the sweetened condensed milk while folding the whipped mixture. Keep folding, carefully, the condensed milk into the whipped mixture, making figure 8, just until there are no more streaks and the mixture is smooth.

Carefully, transfer the mixture into a large, airtight container. (I used a large, airtight tupperware and sealed it with saran wrap, just in case.)

Freeze for at least 5-6 hours, depending on the container.

Top off with some chopped hazelnuts when serving!
Notes
Recipe from Lyuba @ willcookforsmiles.com
Tried this recipe?
Mention @willcookforsmiles and tag #willcookforsmiles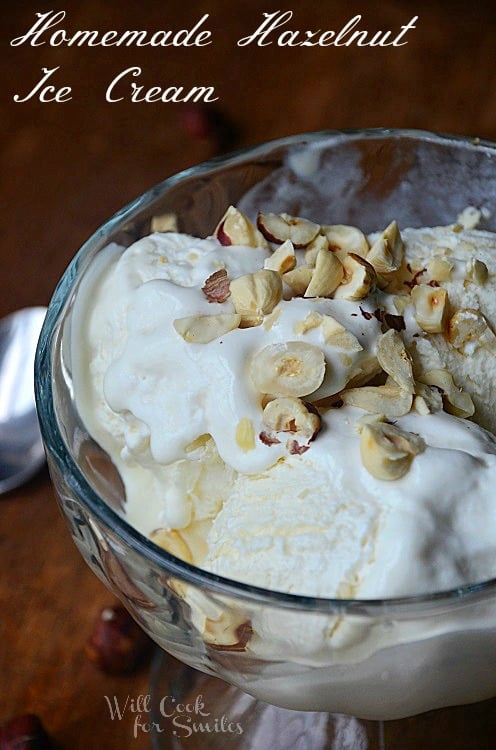 What's Your ID? International Delight is looking for their most passionate flavor fans. Put your ID on the map to enter to win a Magical Trip, play games and discover more unexpected delight. Share your ID flavor at https://whatsyourid.com.
________________________________________
Make sure you follow me through your favorite blog reader (bloglovin or other), or follow me through | Facebook| Twitter| Pinterest|

Don't miss any new posts and recipes from me, subscribe to E-MAIL! Just enter your email in the side bar, you will receive an email for confirmation. Confirm and you are all subscribed! HUGS!
***************
Remember to come back and link up to my party on Saturday night!!