You will never believe what I got to do last weekend! If you follow me on Instagram and Twitter, you already know and probably can't wait to hear all about it. I got to spend a weekend in Atlantic City and it was one amazing weekend!
I can't go on not being able to share it with all of you because I have been talking about it non-stop with everyone around. For you, I will show lots of pictures and tell you all about the amazing food I got to eat while in Atlantic City!
I wish I could give you a complete food tour of AC but it would take me a month or two to eat my way through it. Not that I'm not going to try because there is so much to check out and everything I tried while I was there was amazing. I see myself going back many more times because there is so much more to try and see.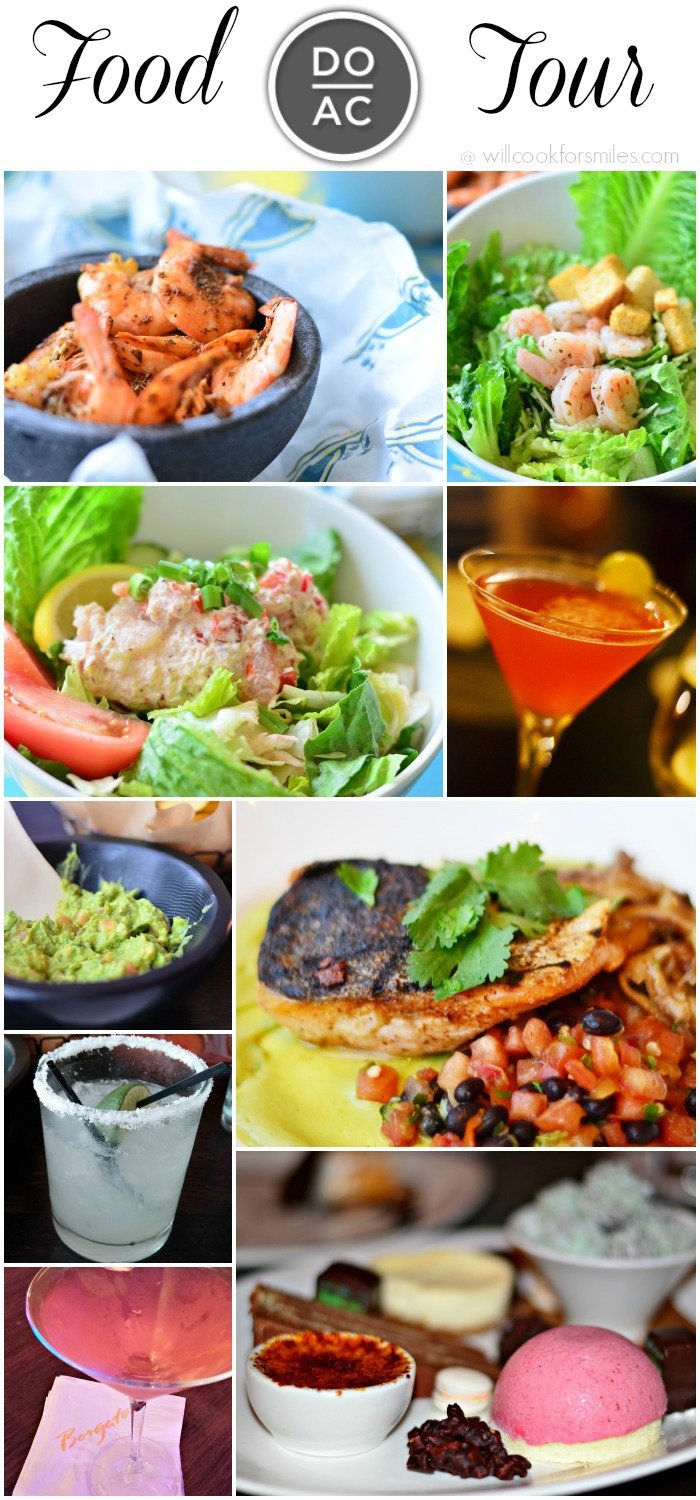 Even as I write this, I don't know where to begin. Everything was such a whirlwind of fun and deliciousness. You know those club scenes in the movies where the lights are flashing and music is playing fast and everyone is just having fun? Well…that was my weekend! (At one point, it was literally my weekend when we went to MurMur night club at the Borgata.) I haven't eaten or danced so much in a long time.
I should probably start at the beginning, and the most important part. The FOOD!
After arriving and checking into the fabulous Borgata Hotel, we were whisked away to a great Mexican restaurant, Dos Caminos at Harrah's Resort. The view was breathtaking as the restaurant is located a few stories up and you get a gorgeous view of the bay. Their signature guacamole is to die for and you can get their spicy version or, if you are a wuss like me when it comes to spicy food, you can get their mild version. Margaritas were excellent and of course, I got salmon for dinner. Everything was fun and delicious but our night was only beginning. We got to see a jaw-dropping burlesque show at the Borgata and listen to a live band at the Gypsy Bar, at the Bortaga as well!
Here I go on saying "we" and I haven't even introduced my partners in my AC adventure. I was spending my weekend with two incredible ladies, Kelly from KellyAugustine.com and Shannon from AGirlsGottaSpa.com. We met that weekend for the first time and instantly became friends!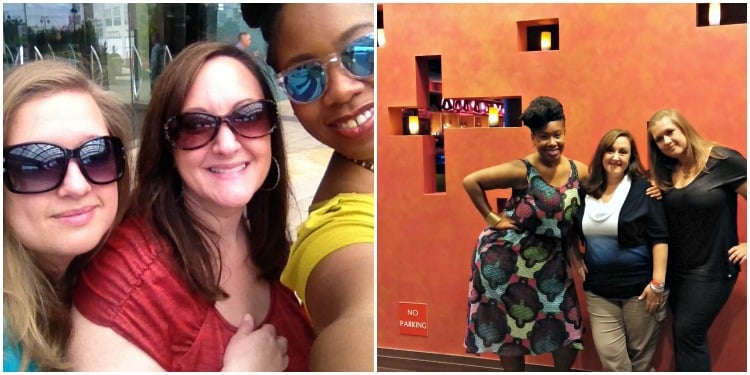 The next day, I had a day filled with food adventures (and fun adventures)! I got to try so much deliciousness that by the end of the day, I could hardly think about food.
In the morning, girls and I spent some time learning how to play Craps at the Resorts Casino Hotel. I gotta say, if anyone wants to take me to a casino, I'm game because I have a hot hand! I rolled about 5-6 easy eights in a row! After an hours of leaning how to play (the most complicated game I've ever encountered) Craps, I'm pretty confident that I at least know how to place a bet properly. Maybe even follow what's happening!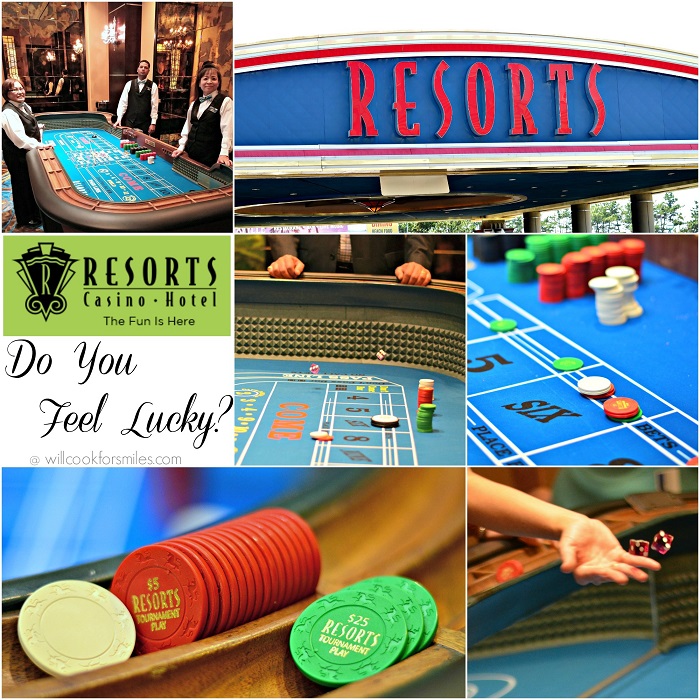 After our lesson, the girls and I decided to check out the famous Boardwalk. I mean common, how can you visit Atlantic City without going to the Boardwalk?
We walked around the beach, checked out the sights and had lunch. It was a great lunch at the LandShark Bar & Grille, which is right on the beach! I also got some salt water taffy, of course!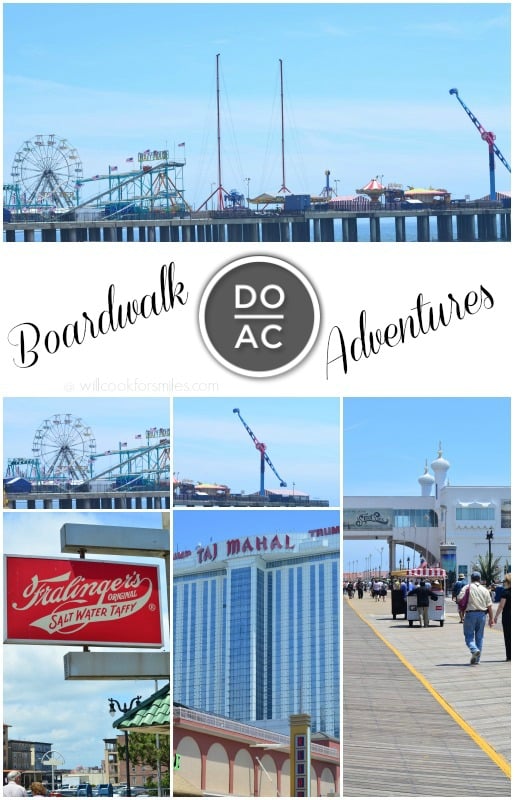 After the Boardwalk, I had some real fun! I got to go to amazing restaurants, got an exclusive tour and tried some unforgettable food. These two restaurants could not be more different from one another but both capture part of Atlantic City that people just don't see.
When you think of Atlantic City, what do you picture? I bet it's casinos and gambling. (Boardwalk Empire fans are probably thinking mob scene!) But AC is so much more than that! It really is a great city to explore!
I'm so glad that the two restaurants I got to review in-depth, were not big casino restaurants. One captures the local charm of the city with unbelievable food and the other captures all of city's rich history as well as great food. Let's start with Tony Boloney's …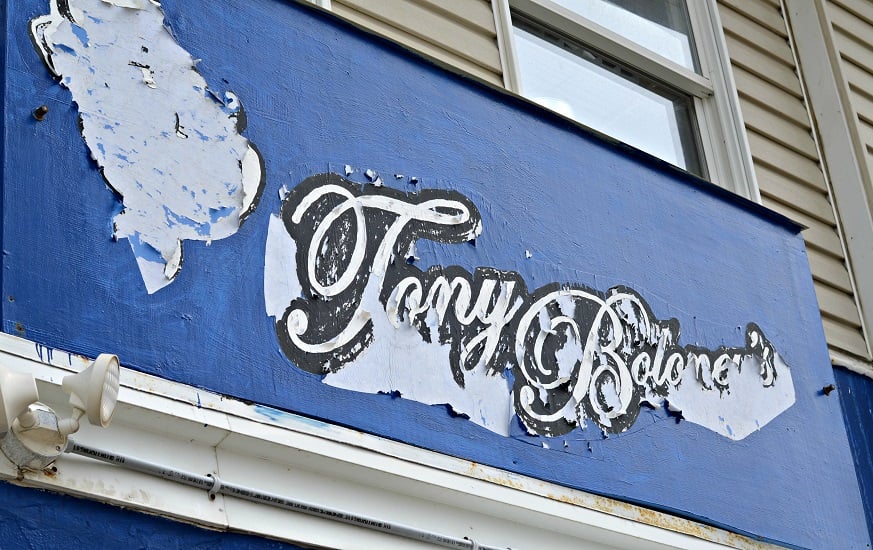 The story behind this restaurant is incredible and I would need a whole separate post in order to tell it all but I will have to settle for a short one here. I will tell you the full story when I post a new recipe that I created inspired by Tony Boloney's.
You probably noticed the shabby sign in a photo above. No, it is not because it's a run down place, this sign is a tribute to the devastation caused by Hurricane Sandy. This is what Sandy did to their sign (and well as the whole building) and even though everything else was repaired and restored, the sign stays as a reminder of what happened and how the city pulled itself back to normal.
Mike is the owner and his story is truly incredible and I promise to tell it but for now, let's focus on the food! I have never been to a restaurant like this one. Most amazing part is the fact that everything you will eat here is completely homemade! They make their own yeast, their own cheese and their own sauces. Everything! He also comes up with such inventive flavor combinations for his pizza and subs. This is not your traditional "slice of pepperoni, please" place. No! Here, you will get a flavor explosion and an experience you will never forget. (Which is bad for me considering I live over a thousand miles away.)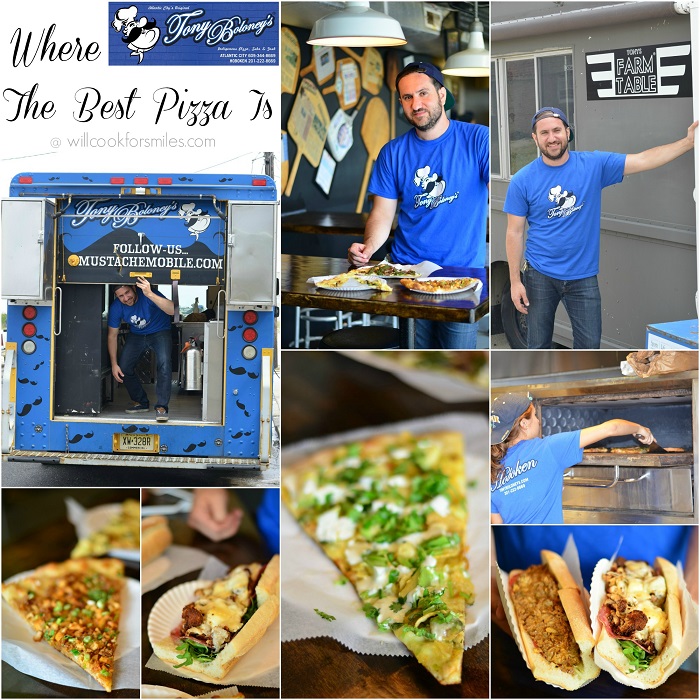 Even though I still think that Mike was trying to kill me with the amount of food he put out for me to try, I am so happy that I got to try such a variety. Pizza flavors were incredible and that crust…oh that crust! "Perfection" is the word I would use to describe it! I fell in love with Pancho Franco (bottom center of the picture above) pizza. Grilled chicken, avocado, cheddar, cilantro, pickled jalapeno creama and potato chips… there are just no words, something you have to try!
His Cheesesteak Ole' Sub is also a sandwich that won Guy Fieri's Cheese Steak Challenge and I can definitely see why!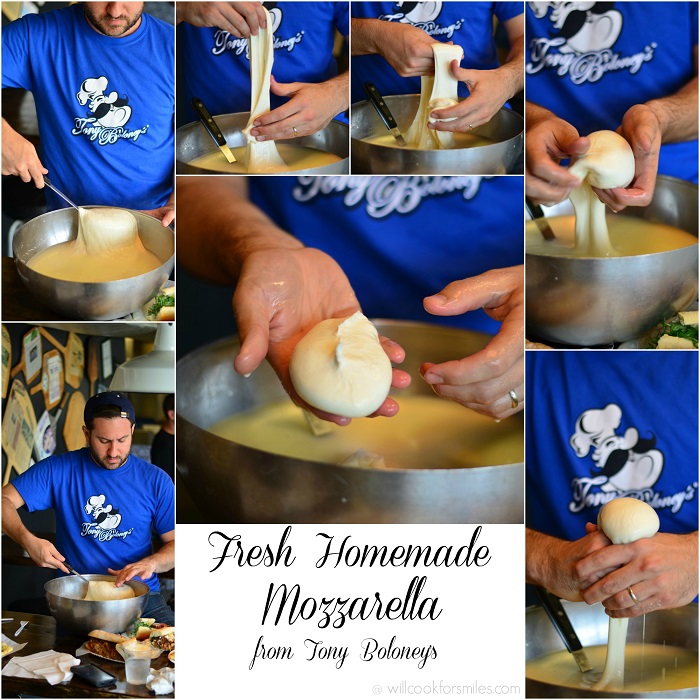 While we were sitting and talking (and eating…so much eating!), Mike was making homemade mozzarella right there! It was amazing how many different variations of this cheese you can make just using different techniques! I really wanted to take some of this cheese home with me, it was so delicious!
I was one happy girl when I left because you know me, I love homemade and I love flavor explosion in my food!
Next stop was The Knife & Fork Inn…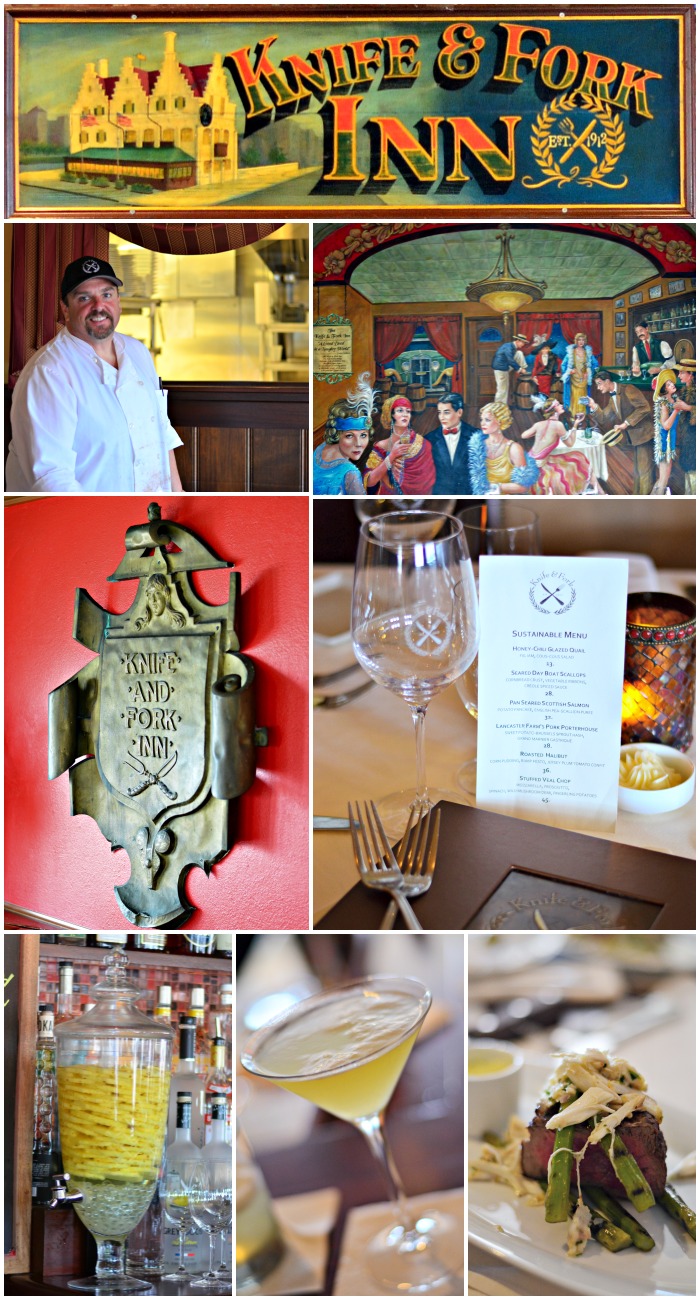 This is Altantic City history in one place! This restaurant was opened by twelve gentlemen in 1912 in a very interesting location. It is located on the intersection of Atlantic, Pacific and Albany Avenues and there is a reason for that. That spot is right in between the local Atlantic City and the tourist/casino Atlantic City. It was meant to bring the two worlds of the city together.
This building is very proud of it's history and you can see it in every inch. All original woodwork and brick. Art and photographs on the walls are all meant for you to get the feel of the 1920s Atlantic City.
Fun fact: This restaurant was a speakeasy during the prohibition. I found it fascination when the restaurant manager showed me the booths upstairs. Notice below how the cushion on the benches moves to reveal wooden planks with numbers written all along the way. There are also doorbells in several spots on the walls. During the prohibition, when someone saw guards coming, guests were to get up and put their drinks in the benches, under their numbers on the wooden boards.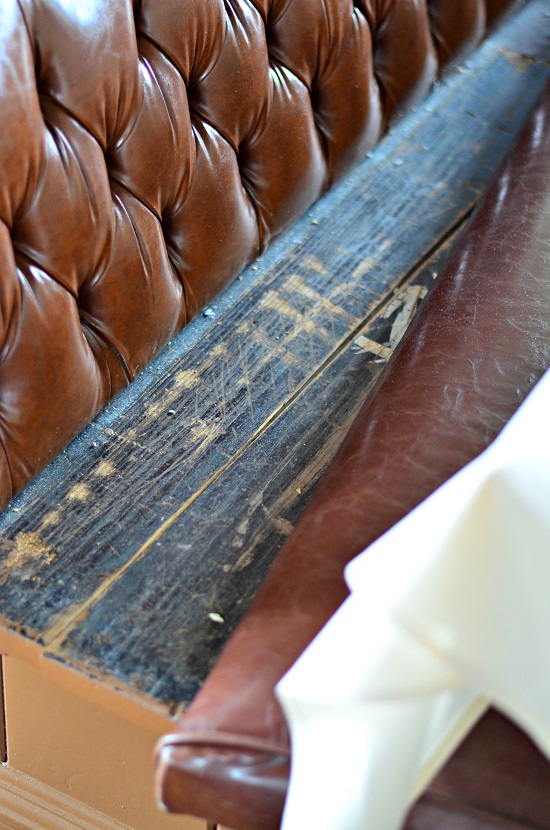 The Knife & Fork Inn is famous for their Lobster Thermidor and classic French and American cuisine inspired menu. I was impressed with their sustainable menu created by their head chef, which incorporates local produce from many local farms.
I also got to try something that caught my eye the second I walked in the door. Pineapple Infused Vodka Martini! In the picture above, you will see a beautiful glass beverage dispenser filled with pineapples and liquid. This is pineapple infused vodka and it's DEElicious! I thought it was a great idea!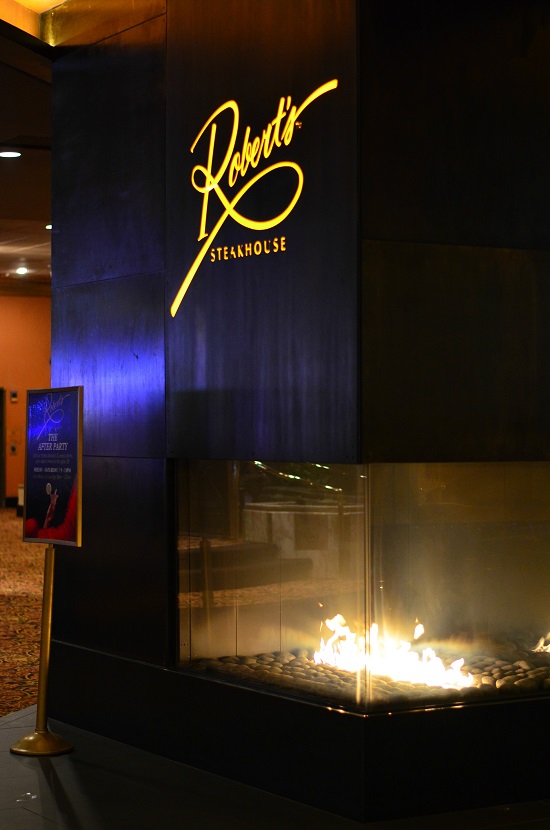 As if this amazing day filled with delicious food wasn't enough, we were taken to dinner at Robert's Steakhouse located inside Taj Mahal! Nope, we didn't fly to India, silly! We were still in AC, in the Trump Taj Mahal. Let me tell you… this place is all about atmosphere! Soothing acoustic guitar, low lighting with candles on the tables. Romantic doesn't even begin to describe it! There were so many courses of food, I've lost count, but I know they were all amazing. From scallops, to salmon, to veggies, to dessert! (Yes, I was the one person to order seafood at a steakhouse but I just don't like steak.) We left full, happy and in a romantic mood!
We ended the night dancing for hours at the MurMur Nightclub inside the Borgata Hotel!

I can't believe that this amazing weekend had to end eventually! I feel like it was one realistic dream that I had to wake up from.
I had to say goodbye to Atlantic City but only "Goodbye for now!"
____________________________