I got a delicious treat for you! It's Caramelized Pear Pastry and it's made with the flaky puff pastry, cream cheese, Greek yogurt and caramelized pears.
I'm also sharing the good and the bad about making substitutions with Greek yogurt.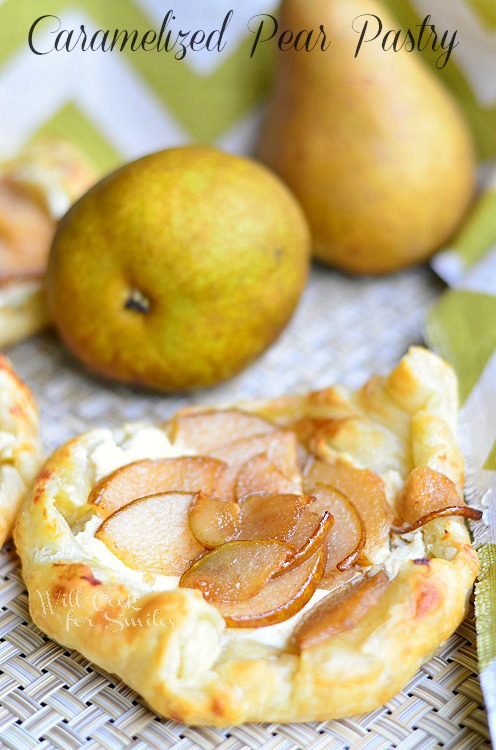 I've been on a quest lately, a cooking quest so to say.
I've been trying to see if it's true what they say about substituting Greek yogurt in cooking and baking. I've been playing around with some Chobani Greek yogurt and I've had a lot of success but also, a few failures.
You guys know me, I always tell you the truth, so I will tell you about my success AND my failures. I don't believe in only sharing my success stories because it's not fair to you and we learn from our mistakes.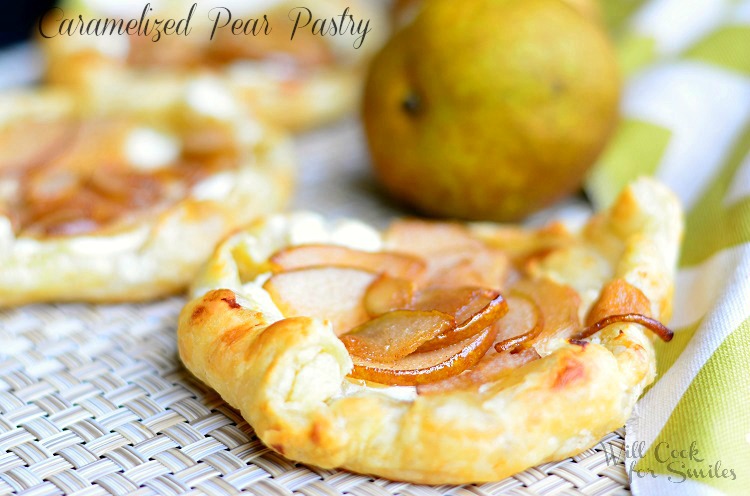 You guys know that cooking is a science and baking is an exact science. There is a reason why you have to measure most ingredients and that there are chemical reactions that happen while baking. Putting certain ingredients together and in different amounts will yield different results. Sometimes, messing with baking and cooking formulas will end in disasters. It happens to all of us and that's how we learn!
So in my latest experiments with substituting Greek yogurt in baking and cooking, I've ran into a couple of problems. Mostly, it's been very successful but not every time.
Success:
** Substituting Greek yogurt for sour cream in baking. Ex. cheesecake.
** Substituting Greek yogurt in cold salads. Ex. chicken salad, pasta salad.
** Using Greek yogurt in salad dressings.
** Substituting Greek yogurt for sour cream as toppings. Ex. tacos and soups.
Failure:
** Substituting Greek yogurt for sour cream in some sauces!
I've tried making several sauces with Greek yogurt instead of sour cream and I ran into a couple of snags. I've made a tomato cream pasta sauce which turned out to be an epic fail. I've also made a lemon pepper creamy sauce for boneless wings and it too, failed. Later, I remade those sauces with sour cream and they turned out pretty well.
My conclusion from this experiment was that acidity works differently with Greek yogurt than sour cream. The acidity in tomatoes and the acidity in lemon made the Greek yogurt curdle instantly. Although, when I used sour cream in the sauce, it did not.
So please be aware that the substitution is not always equal!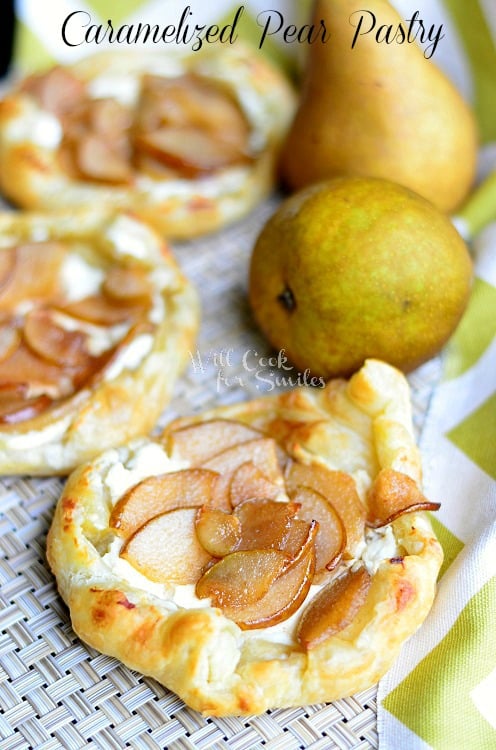 Now, these awesome pear pastries were definitely a great success in my experiment. They are easy to make but your family will think that you ran out to a fancy bakery right before breakfast.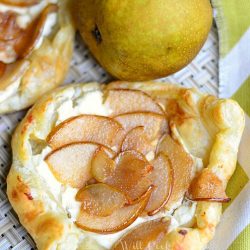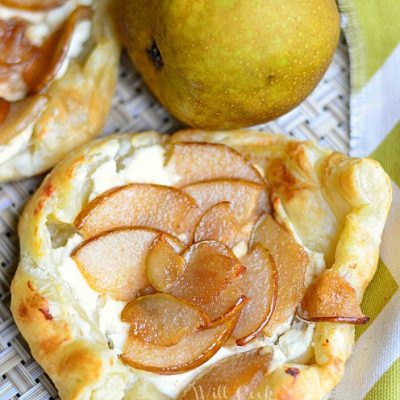 Ingredients
1

sheet of puff pastry

cut in 4 equal squares

2

oz

cream cheese

2

oz

of vanilla Chobani Greek yogurt

1/2

tsp

vanilla

2

tsp

sugar

1

large pear

1 1/2

tbs

butter

1

tbs

light rum

1

tbs

brown sugar

1/2 tbs melted butter for brushing
Instructions
Combine the cream cheese, Greek yogurt, sugar and vanilla. Whisk together well and set aside.

Cut the pear into thin slices.

Preheat a pan on medium-high heat. You will have to work fast here: add the butter and let it brown (it will only take a couple of seconds.) Add the brown sugar and rum. Stir constantly. Add the pear slices and stir until the slices a coated. Cook the pears, stirring often, until caramelized.

Prepheat the oven to 400.

Divide the cream filling between the four pastry squares.

Twist the edges of the pastry up to form circles. (Just the edges.)

Divide the caramelized pears between the pastries as well.

Brush the edges of the pastry with some melted butter.

Bake for 12-15 minutes, until the pastry is raised and golden. (Don't worry, the pastry will puff in the center but it will go down once you take it out of the oven.)
Notes
Recipe from Lyuba @ willcookforsmiles.com
Tried this recipe?
Mention @willcookforsmiles and tag #willcookforsmiles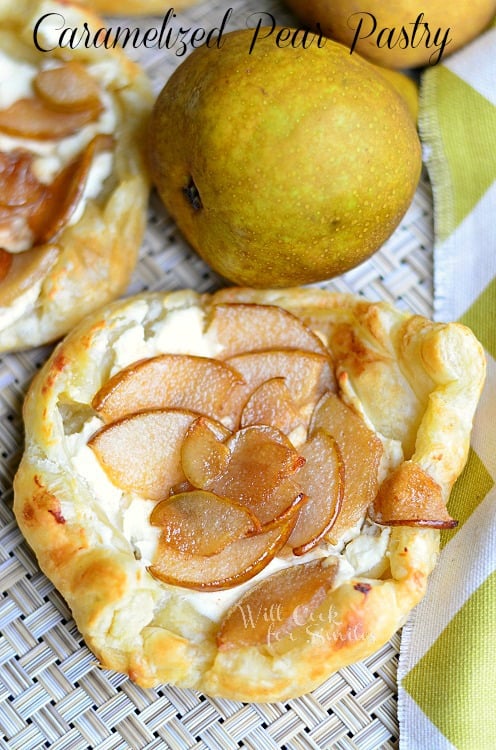 A Couple More Pastry Bites: