Simple grilled potatoes infused with balsamic vinegar, fresh herbs, smoky grilled flavor. Flavor and ease of preparation is what makes these crispy potatoes a delicious side for your grilled meats.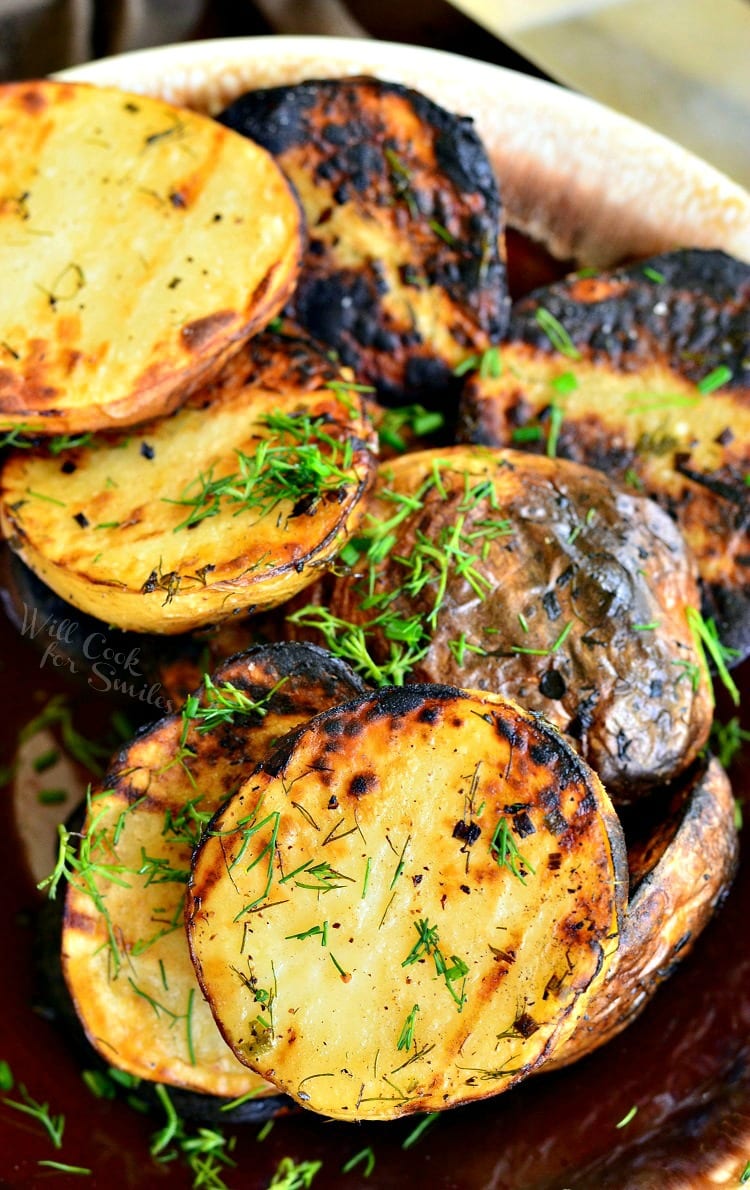 I've been blabbering about the start to the grilling season for a week now, and I've got to warn you, I am not about to stop. I'm over the moon excited that we have a back yard now and a place for our grill to preside over its backyard kingdom.
Hubs surprised me while I was away visiting my family a couple of weeks ago and laid down pavers next to our patio for the grill to have a nice, permanent place to live. Since it's been "living" in a storage garage for about 5 years, I'm sure that it's as happy as we are to have it out and ready to use.
I'm also stoked to be learning more and more about grilling. Until now, it's been just some basic grilling burger and hot dogs in a park. Sometimes, we'd convince my mom to break out the grill and let us use it while we were visiting. So needless to say, there were no BBQ parties in our condo. It's all about to change. The biggest thing hubs is excited for this summer, is throwing BBQ parties. As a matter of fact, we have one coming up in about a week.
Hubs and I have actually been fighting about who will be called the grill master here. He insists that men reign over the BBQ kingdom. (Insert Tim Taylor grunt here.) And my argument is that girls want to have fun too and can be quite the grill masters themselves.
To prove that, I've been secretly getting tips from my dad and reading about grilling. We'll see how the war ends. Maybe one of us will win the backyard kingdom or may be we will just be adults and share the kingdom, or take turns.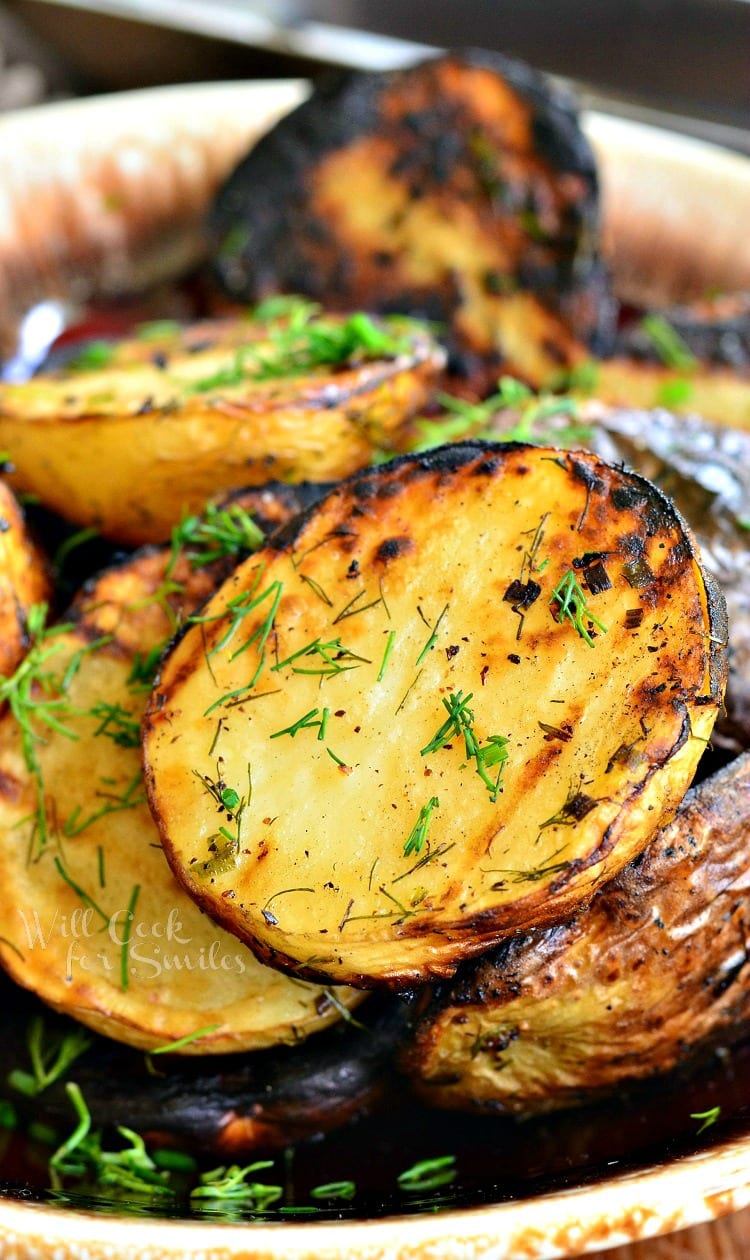 GRILLING TIPS:
Tip #1: Air is a close, personal friend of fire. We've learned it during our basic physics studied at school and we need to remember it when grilling. You can follow the instructions on the Kingsford®​ Charcoals package for how to light your charcoals or use your own trusted method. Just remember the air. Open the vent on the side (towards the bottom) of your grill to let the air in. And there is something I do that I learned from my dad, I use a "fan" to get more air to the charcoals. All I did was to fold one of those soft, thin, flexible cutting boards in half and it created a nice grilling fan for me to vigorously fan the charcoals with right after lighting them. So, fan, fan, fan until they're blazing. Then, after a couple of minutes of fanning, leave them to ash over and they're ready.
Tip #2: Arrangement matters. How you arrange charcoals actually does matter. It all depends on what you're cooking and for how long it needs to stay on the grill. For quick burgers and hot dogs, you can spread the charcoals evenly all over the bottom of the grill. If you will be grilling something thicker and for a loner period of time, arrange your charcoals on one half of the grill, thus creating a hotter side and a cooler side of the grill.
Tip #3: Flies might be a part of nature but they are not friends. I use plastic wraps on all my prepped food while I'm working on heating up the grill. It is great for keeping food outside safe from all the elements in the air (flying or accidental) while preparing the grill. It sticks to almost any surface and seals tight. I use it on metal mixing bowl, plastic mixing bowls, and plates.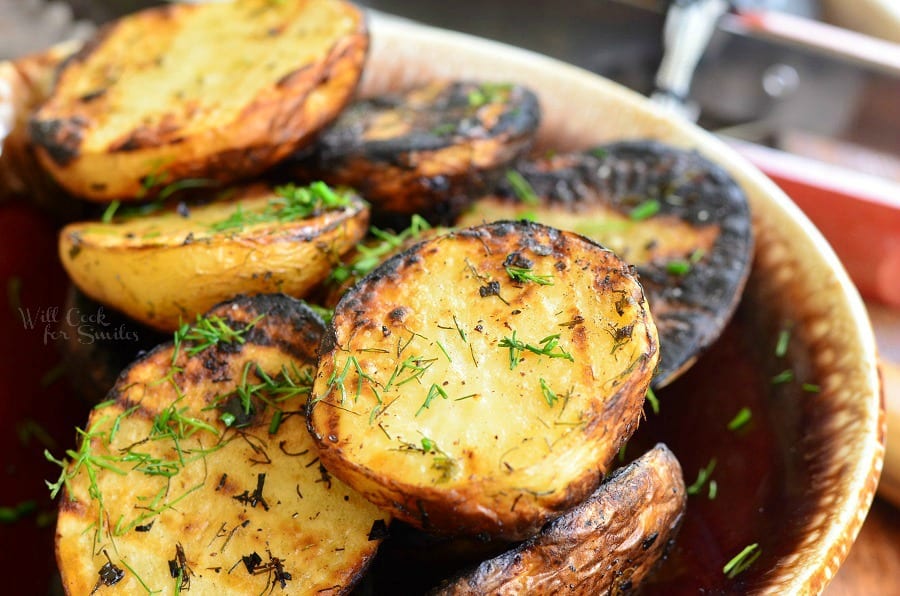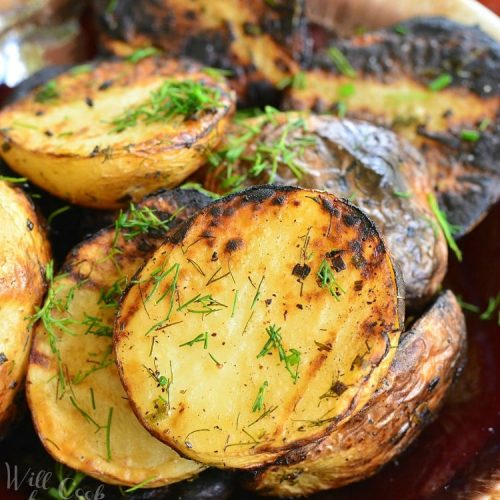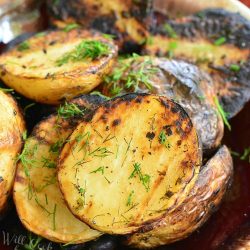 Herbed Grilled Potatoes
Balsamic vinegar, fresh herbs, smoky grilled flavor, all of that makes these crispy potatoes a delicious side for your grilled meats.
Print
Save
Saved!
Rate
Ingredients
1.5

lbs

gold potatoes

1/4

cup

white balsamic vinegar

Juice from 1/2 lemon

3-4

Tbsp

minced fresh dill weed

3-4

Tbsp

minced fresh chives

Salt

Fresh cracked black pepper
Instructions
Cut potatoes in half, widthwise if your potatoes allow that, thus creating longer but thinner potato halves.

Add cut potatoes to a mixing bowl and add balsamic vinegar, lemon juice, dill weed, chives, salt and pepper. Mix well and spread evenly in a bowl. Cover with Glad Press'n Seal wrap and let it marinate for about 20 minutes.

Once the charcoals are ashed over on the outside, arrange them on half of the grill.

Lay potatoes, cut side down, on the cooler half of the grill. You can spoon some of the herbs and vinegar mixture over each potato. Close the lid on the grill and let potatoes cook for about 10 minutes.

Carefully open the lid and flip each potato. Close the lid and let the potatoes cook for another 10 minutes.

Pick the thickest potato and slide a small knife in the center. If it slides in easily, potatoes are done. If not, they might need a few more minutes.

If you like potatoes to have a bigger crisp to them, slide them over to the hot side of the grill and let them crisp up there for a couple of minutes.
Nutrition
Calories:
146
kcal
|
Carbohydrates:
33
g
|
Protein:
4
g
|
Fat:
0.2
g
|
Saturated Fat:
0.05
g
|
Polyunsaturated Fat:
0.1
g
|
Monounsaturated Fat:
0.01
g
|
Sodium:
14
mg
|
Potassium:
743
mg
|
Fiber:
4
g
|
Sugar:
4
g
|
Vitamin A:
125
IU
|
Vitamin C:
35
mg
|
Calcium:
27
mg
|
Iron:
1
mg
Tried this recipe?
Mention @willcookforsmiles and tag #willcookforsmiles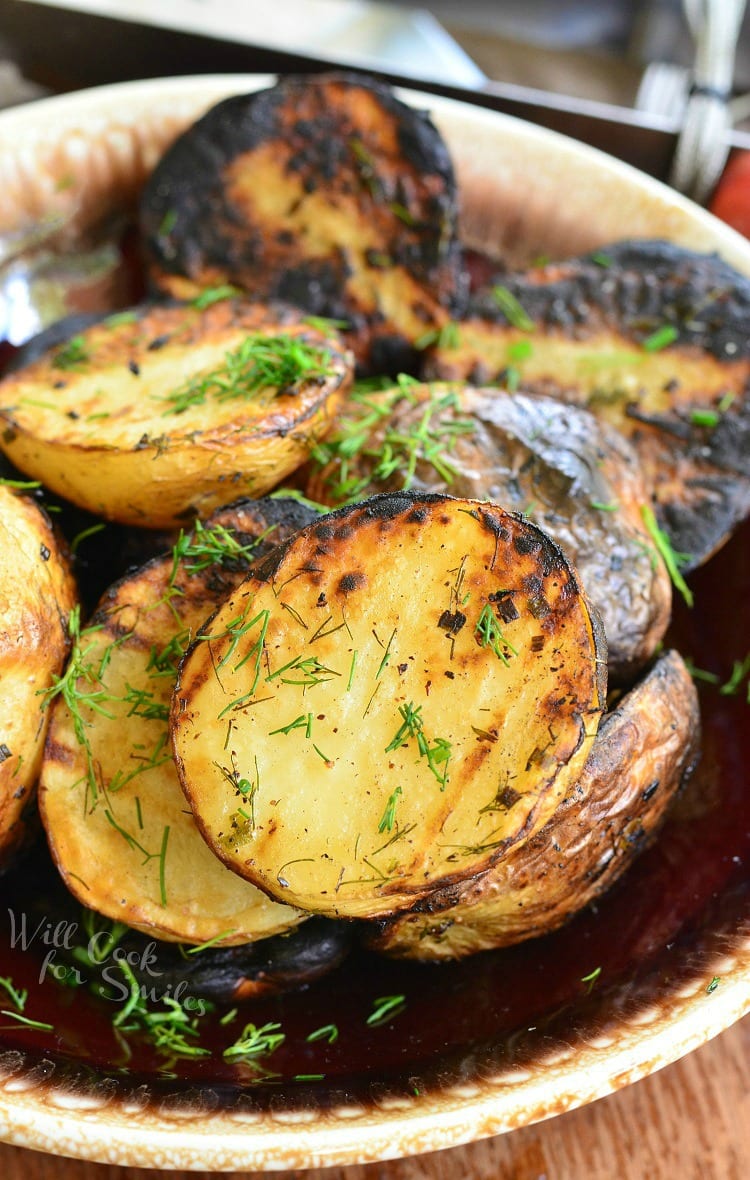 _______________________________________________________
Make sure you follow me through your favorite blog reader (bloglovin or other), subscribe to e-mail or follow me through social media of your choice to keep up with the recipes!

_______________________________________________________

Some More Tasty Recipes From Me: