Happy New Year! Let's start this new year with a great recipe for a soup. This is a homemade Creamy Chicken Enchilada Soup that captures the best enchilada flavors and topped with sour cream and cheese.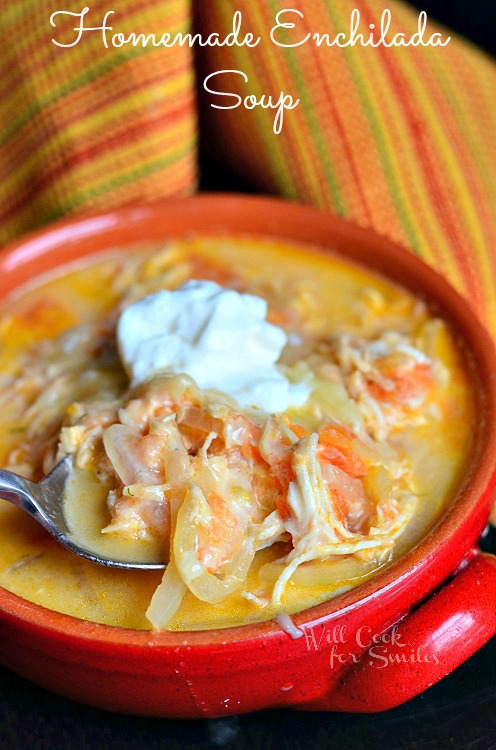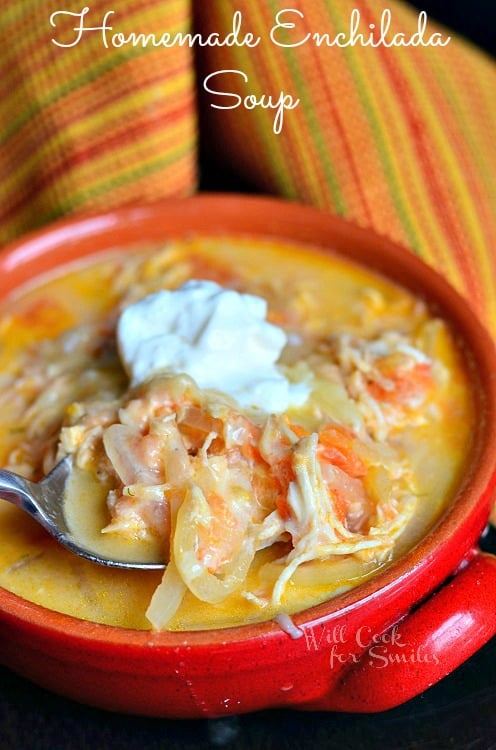 New year has began. We had a great 2013, here on Will Cook For Smiles. Let's hope that 2014 is just as great… actually, let's shoot be BETTER!
I hope that you will like the very first recipe I chose to share with you this year. This soup turned out amazing!
I love making new soups and I could probably write a book on all the soup recipes that I've made through the years. You can find many of them here, just please excuse the old photos. One of my blog goals is to re-shoot my old photos but life had been a little busy. Hoping that after I graduate in April, I will have extra time to beautify the old recipes.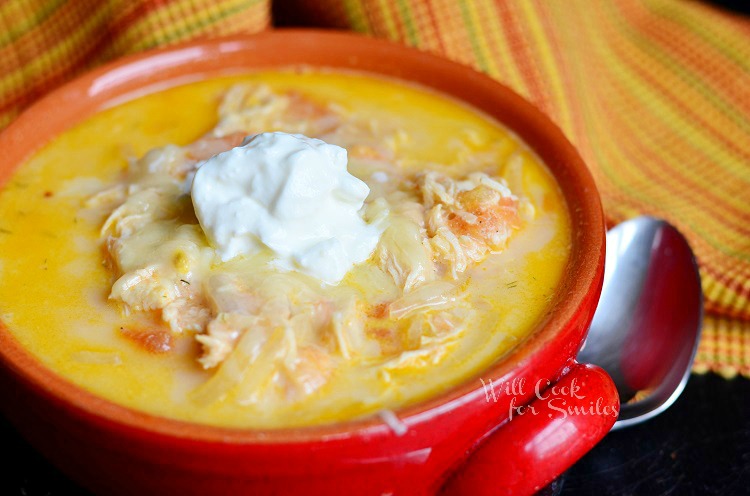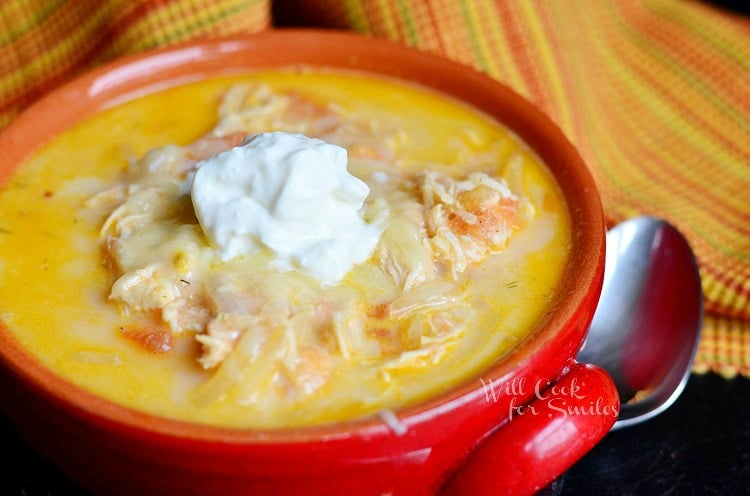 This Chicken Enchilada Soup is completely homemade. When I have a little bit extra time on my hands (or on weekends), I like to make my own stock and I always prefer to use fresh ingredients. This soup is actually very easy, most of the time that goes into it is while the stock is cooking. Few ingredients, minimal effort and unbelievably delicious results!
The best way to make your own stock is to use meat on bone (or even just bone). Bone adds so much flavor and body to the stock, that's why it's preferred that you make stock with it. Sometimes, I use breast if I will be making a soup where I will be using only breast meat. Otherwise, I prefer to use meat on bone. Another thing to remember when making your stock is to add the bay leaf and some vegetables while you are making it, in order to cook in those flavors. Just think ahead of the type of soup you are making and add appropriate veggies and herbs. Here, I only used onion and bay leaf. Well, let's move onto the recipe, we will talk more about stock in another post!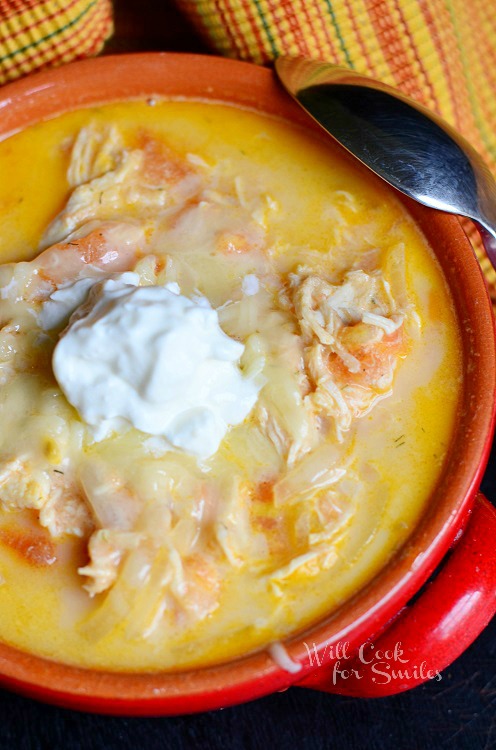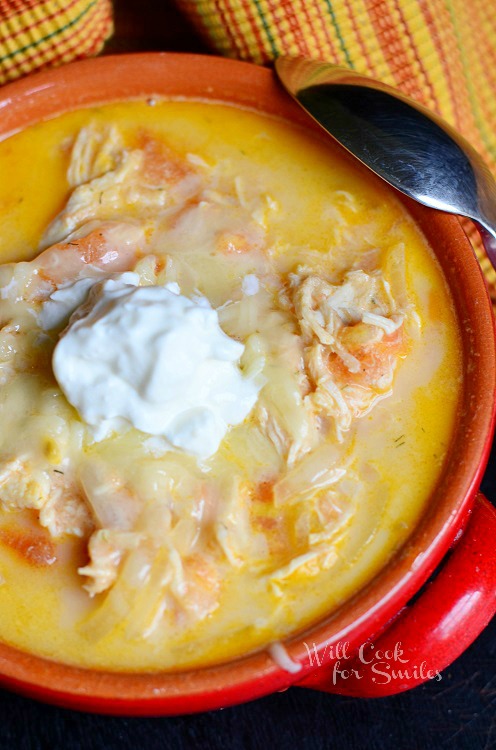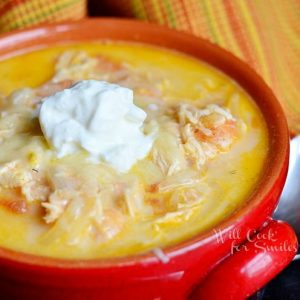 Homemade Creamy Chicken Enchilada Soup
Ingredients
1/2

large yellow onion

1

tbs

veggie oil

2

chicken breasts

5-6

cups

of water

1

whole bay leaf

little bit of salt

_____

3

large tomatoes

skin peeled off

1

tbs

vegetable oil

1/2

large yellow onion

from above, in stock

2

shredded chicken breasts

from above

2 1/2

cups

of stock

from above

1/4

cup

heavy cream

1/4

tsp

red pepper flakes

you can adjust to taste

1/4

tsp

cumin

1

tsp

minced fresh cilantro

Topping: Grated Monterrey Jack cheese

Topping: Sour Cream

optional

Topping: toasted tortilla strips

optional
Instructions
In a large pot, preheat the vegetable oil and add sliced onions. Saute for a couple of minutes, until fragrant. Add water and chicken breasts. Bring to boil and add the bay leaf and salt. Lower the heat to medium-low and cook the stock for about 1 1/2 hours. (White foam-like substance will appear at the top, in the beginning, just take it off with a spoon and discard.)

Take out the chicken breast, shred it using two forks and set aside. Pour the stock into a separate container and set aside for a minute. Discard the bay leaf.

(Couple of easy ways to peel the tomatoes: 1-you can make a criss-cross cut on top of tomatoes and drop them into boiling water for just a couple of minutes and the skin will be easy to peel off. 2 - you can just use a potato peeler of the tomatoes are firm enough.)

Return the pot to the medium heat and add 1 tbs of vegetable oil.

Dice the peeled tomatoes and add them to the pot. Salt the tomatoes a little, so they give out juice faster. Saute for a couple of minutes and add the shredded chicken.

Add the 2 1/2 cups of stock and the onions to the pot and stir well. (You can refrigerate the remaining stock in an air-tight container and use it in cooking or a quick soup. The shelf life is not too long, only a little over a week, so use it pretty quick.)

Add red pepper flakes and cumin. Taste to see if you need to add more salt. Cook on medium heat for about 15 minutes.

Add the heavy cream and freshly minced cilantro. Cook for a couple more minutes and serve.

Top off with some cheese and sour cream before serving.
Recipe Notes
Recipe from Lyuba @ willcookforsmiles.com All images and content are copyright protected. Please do not use my images without prior permission. If you want to share this recipe, please simply link back to this post for the recipe. Thank you.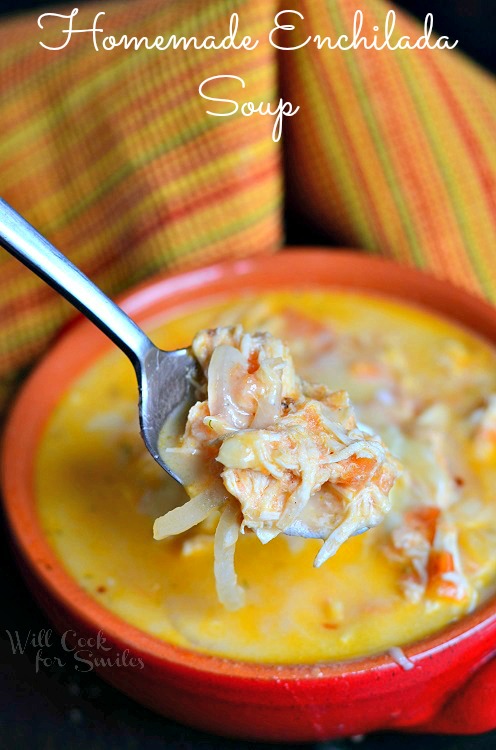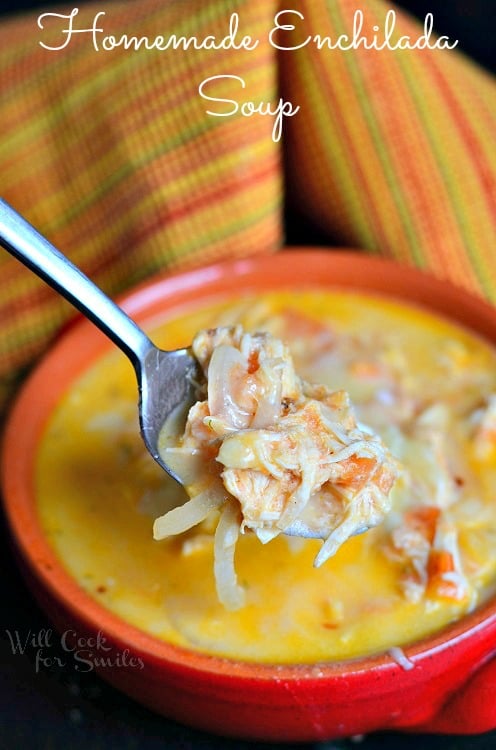 _________________________________________________________
Make sure you follow me through your favorite blog reader (bloglovin or other), subscribe to e-mail or follow me through social media of your choice to keep up with the recipes!
        
I will be sharing this recipe at the wonderful parties in my party tab + Weekend Potluck,  and Rattlebridge Farm.  Swing by and link up your own projects!
_______________________________________________________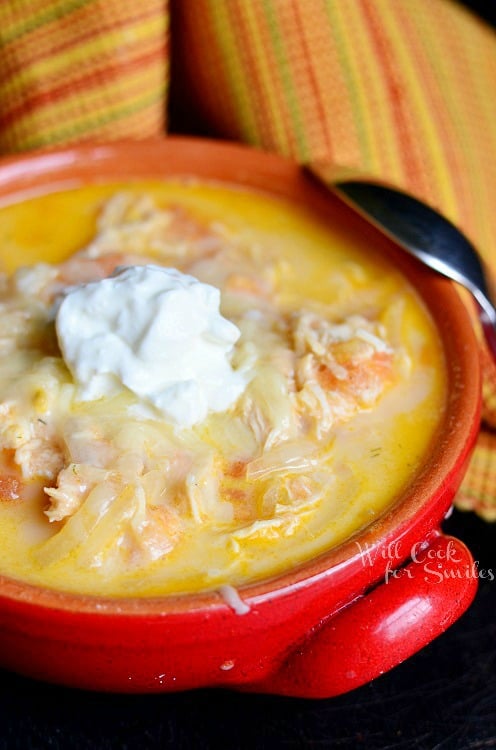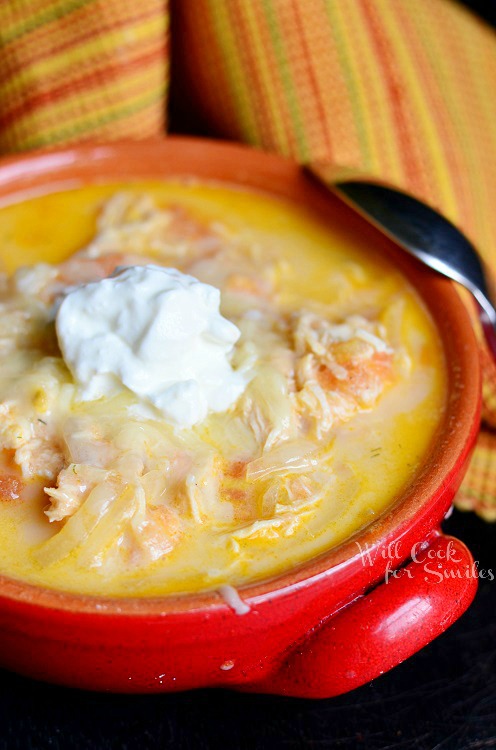 Like I said, I have extensive soup archives and I'm not planning on stopping any time soon!
So check out some soups: