Ratatouille is a delicious French vegetable stew packed with end-of-summer eggplant, zucchini, tomatoes, onions, and bell peppers. My favorite way to prepare ratatouille is to sauté the vegetables in order first and the roast them in the oven. It's a great way to develop a lot of flavor in this classic dish.
If you love eggplant, make sure to try our Eggplant Parmesan. Vegetable Lasagna is another great way to use up end of summer vegetables.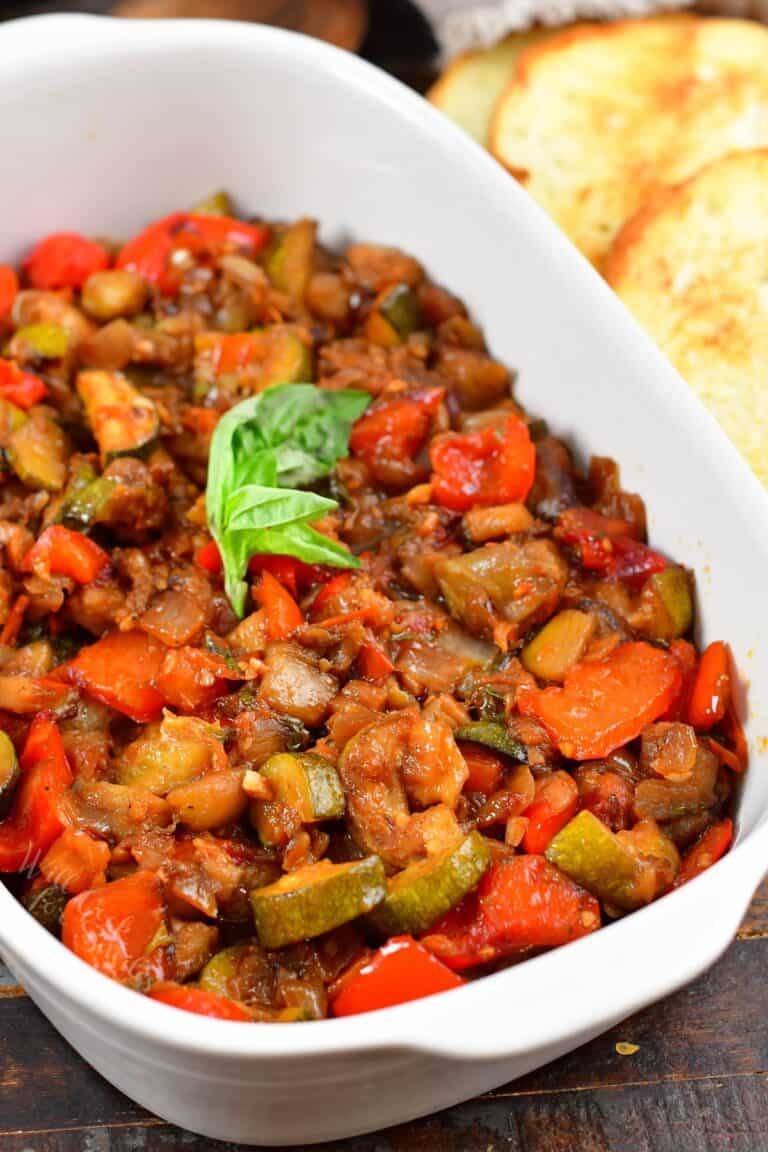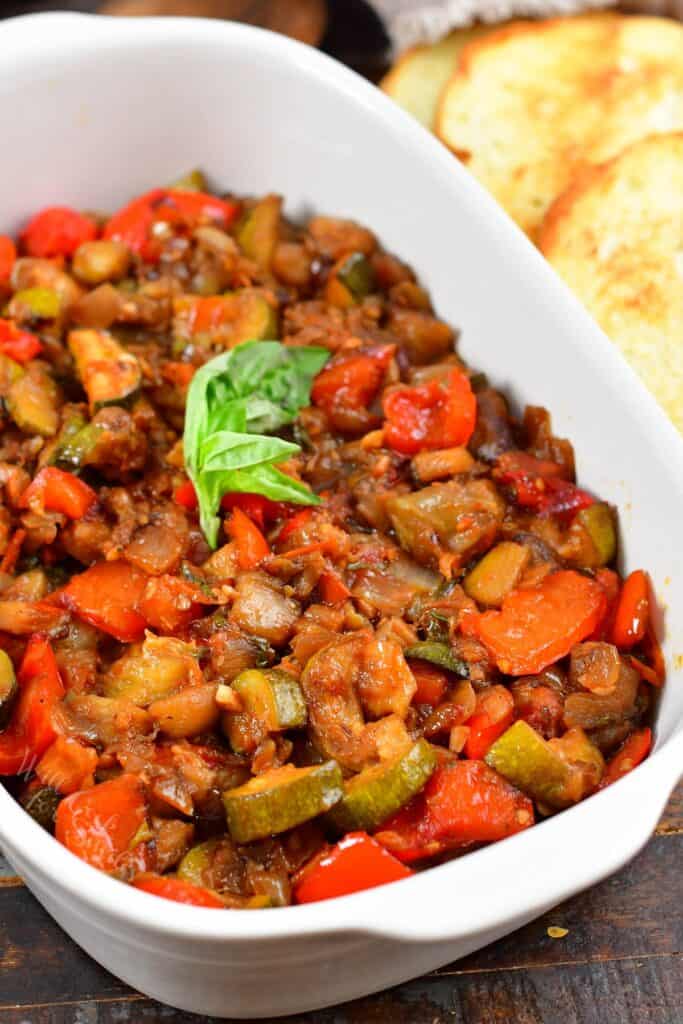 What Is Ratatouille?
You may picture the rat from the popular Pixar movie every time you hear the word "Ratatouille" but I don't want to scare or disappoint you. This classic dish had nothing to do with it.
It is a French vegetable stew that comes from Nice, France, an area originally known for its hard working farmers. According to history, after the end of summer harvest, the farmers and their families would gather to celebrate with a meal made from their crops.
This stew is soft, silky, and full of beautiful natural flavor of vegetables complimented only by olive oil and herbs.
This recipe seems time consuming because you have to prepare the vegetables first, sauté them in a specific order, and then roast them in the oven. I'm not going to lie and say that it is a fast and simple recipe, it will take some tender, love, and care (and a couple hours of your time). But the end result is always worth the effort!
Ratatouille Recipe Ingredients
This recipe is a great use for all of your end-of-summer garden vegetables. The stew is really versatile, so feel free to add other fresh vegetables that you have on hand.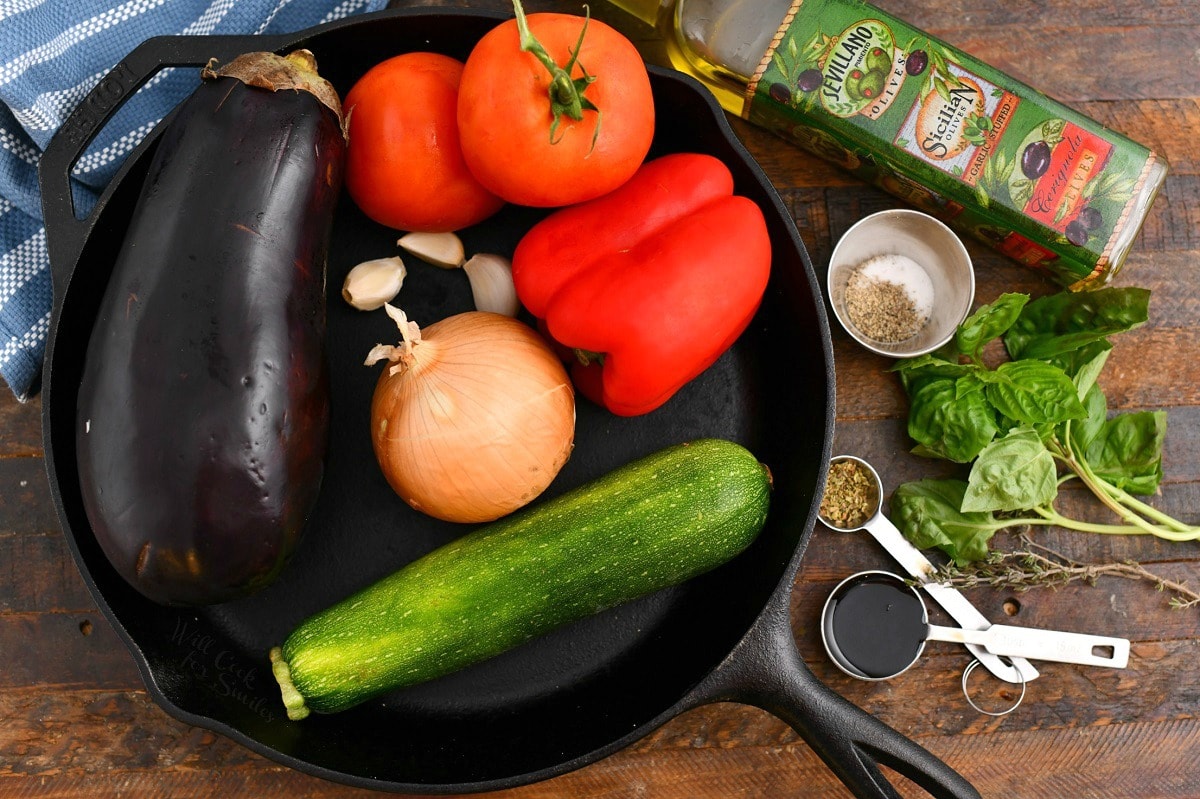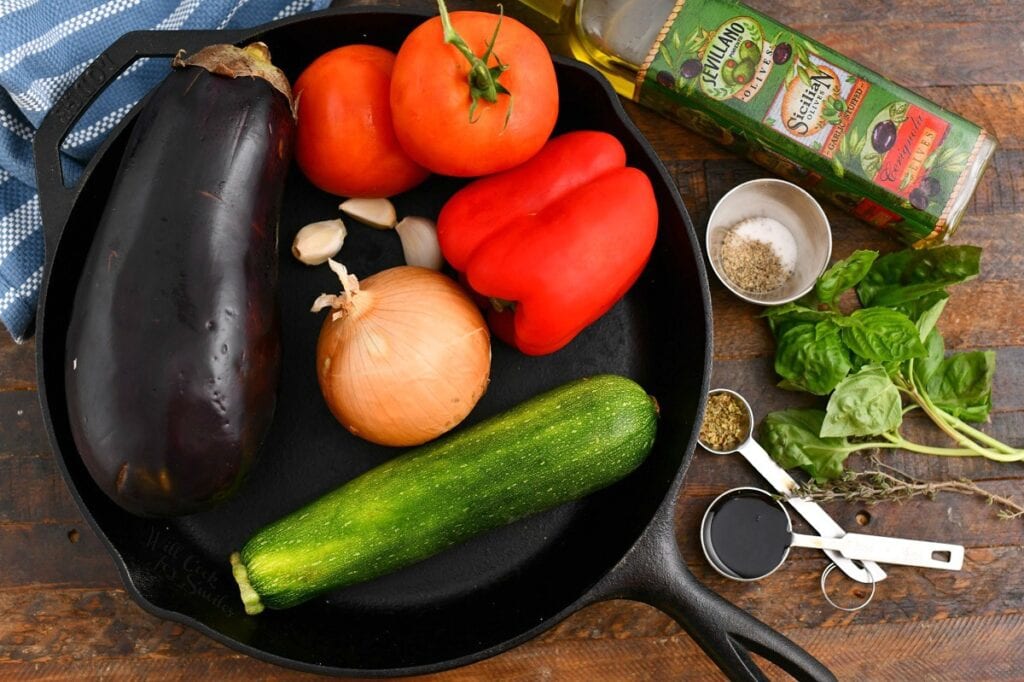 Eggplant – This vegetable is really the only "requirement" for a traditional ratatouille recipe.
Look for eggplants with smooth, shiny skin. They should feel heavy for their size. The smaller they are in size, the sweeter they will be. Also, the smaller sizes have thinner skin and less seeds.
To test for ripeness, lightly press a finger against the skin. If it leaves an imprint, the eggplant is ripe.
Vegetables – The best vegetables you want to include are tomatoes, red bell pepper, zucchini, onion, and garlic. But, as I mentioned earlier, you can use a variety of fresh vegetables that you like like summer squash and mushrooms.
Herbs – For the best flavor, I recommend using fresh basil, thyme, and dried oregano. If you have trouble locating fresh herbs, you can use all dried.
Olive oil – I use extra virgin olive oil with very mild flavor. You don't want an overpowering or bitter tasting oil and don't use too much. Just enough to cook the vegetables comfortably.
Why Do We Sweat Eggplant?
In short, eggplant can taste quite bitter and letting it sit seasoned with salt can draw out some of the bitterness.
If you want to know the long answer, it's actually a quite interesting. Eggplant was historically a bitter vegetable so people had to cut it and let it sit seasoned with salt to draw out the bitterness. Through the years of agricultural changes in the way the eggplant is grown, the bitterness has been bred out. Well, not all the bitterness but most of it.
There are still some eggplants that can be more bitter than others, while some have almost no bitterness at all. So you don't have to sweat the eggplant for hours anymore. About 30 minutes will do the trick and if you happen to forget, it won't be a huge deal.
Equipment you'll need:
Because the dish starts cooking on the stovetop and finishes in the oven, you'll need to use a cast iron skillet, oven-safe skillet, or any other heavy-bottomed pan can can be safely transferred into the oven. A cast iron skillet is ideal.
NOTE: If you don't have an oven-safe pan, you can always transfer the vegetables into a casserole dish for the oven.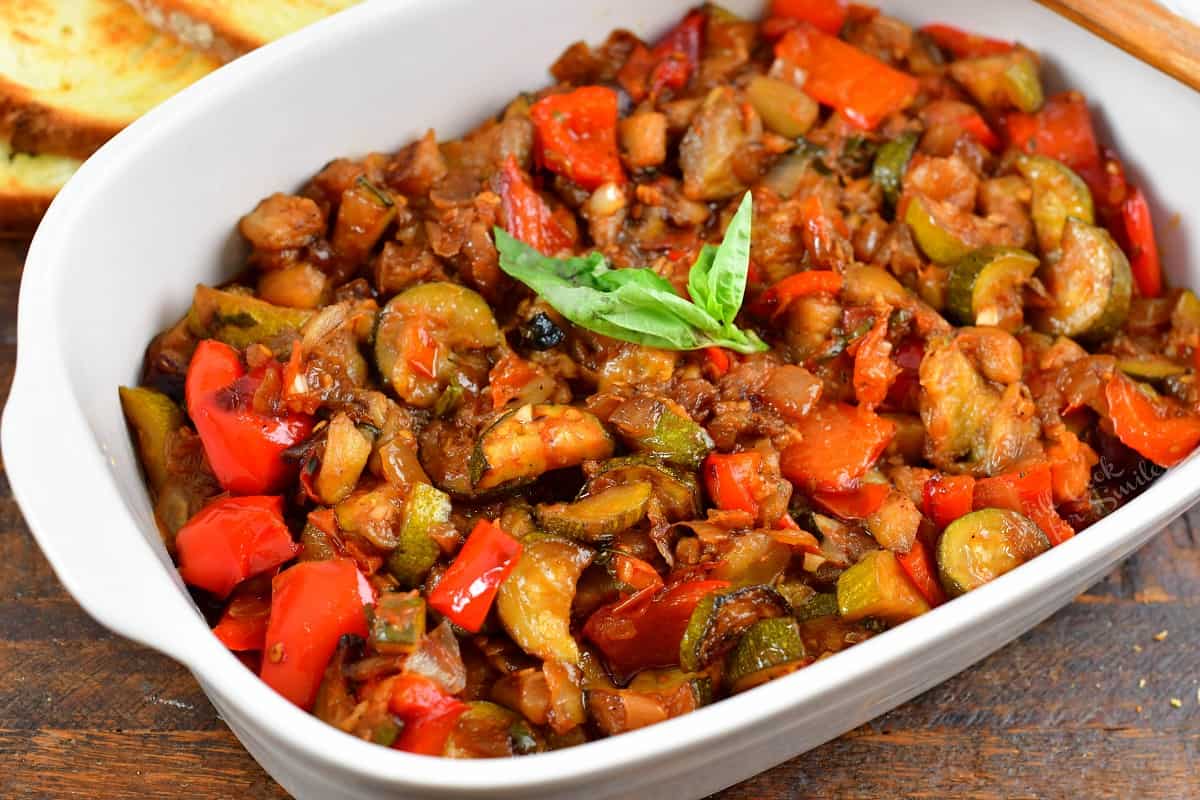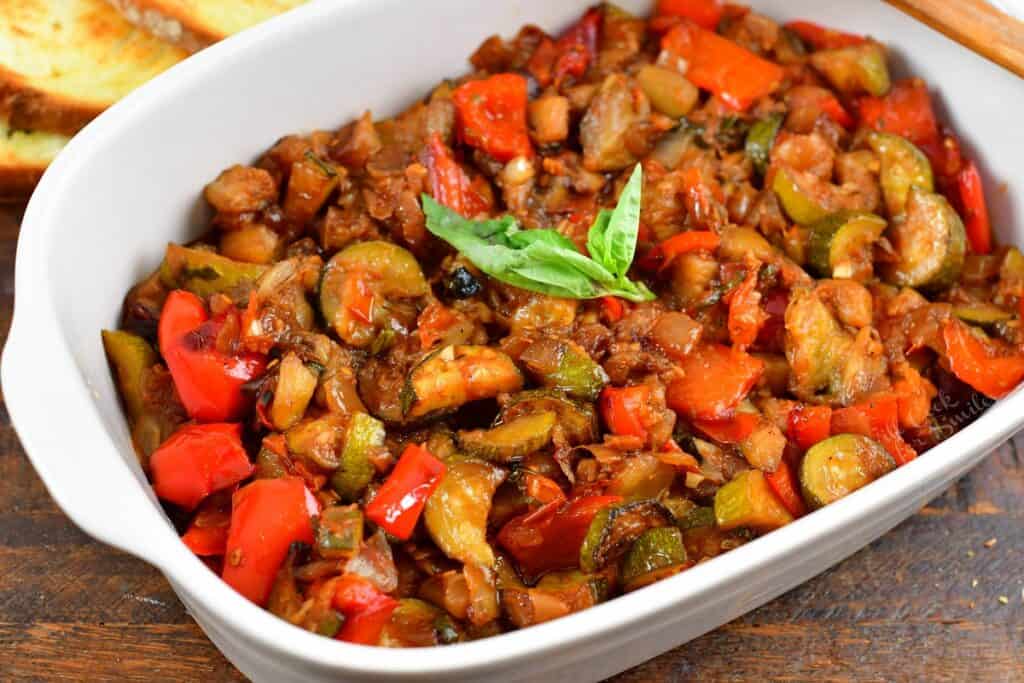 How To Make Ratatouille
Peel and prepare the eggplant for cooking.
Peel and chop the eggplant.
Place it into a colander that's sitting over a large bowl or clean sink.
Generously salt the eggplant, then use your hands to toss and combine everything.
Allow the mixture to sit for at least 30 minutes, then use paper towels to pat the pieces dry.
Meanwhile, wash and chop the other vegetables and preheat the oven.
Try to chop the vegetables into even sized pieces so that everything cooks evenly.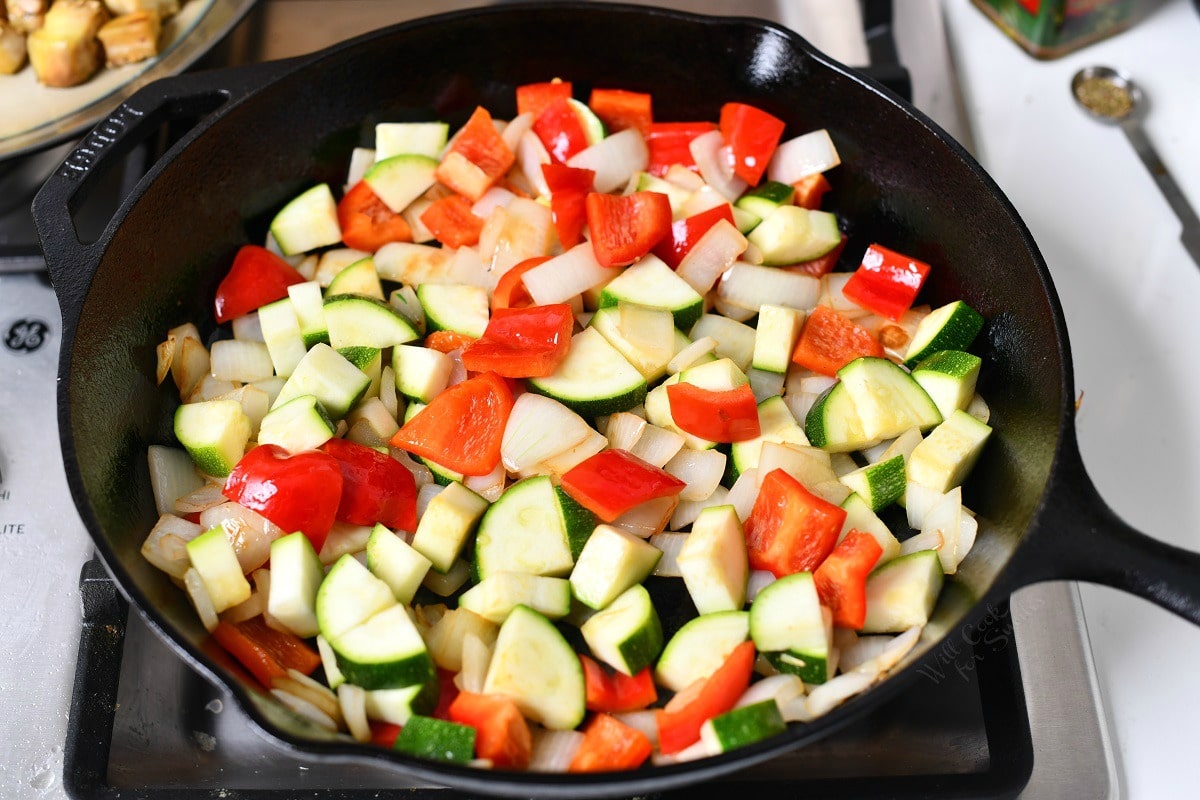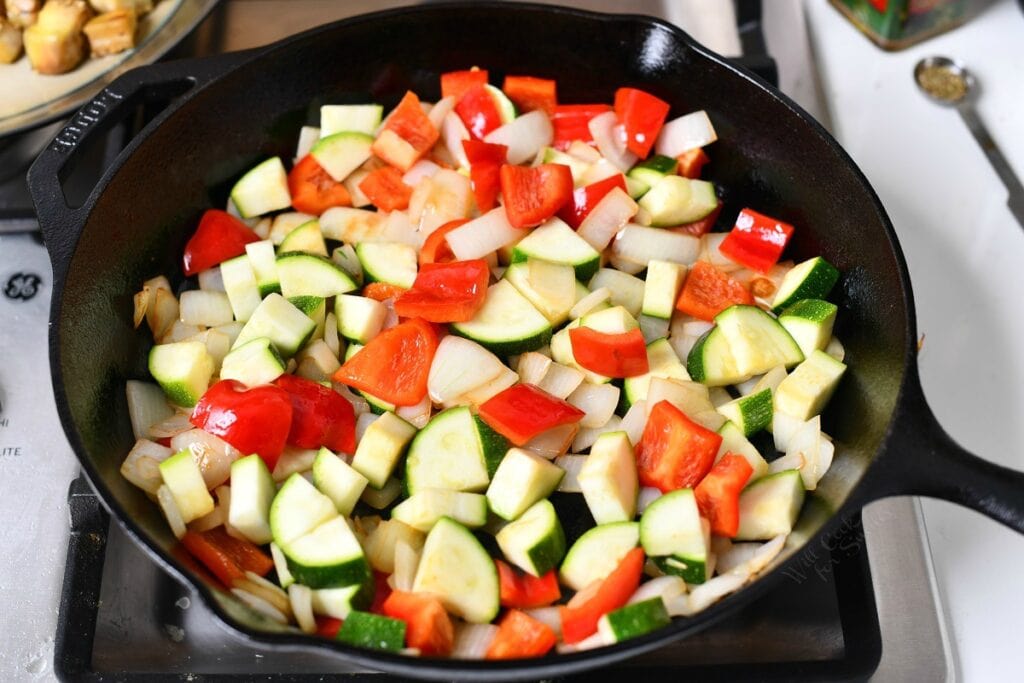 Saute the eggplant, then set it aside.
This step takes just a few minutes. You don't want to cook it all the way through, you just want to give it a nice sear and start to soften. Make sure to use enough oil and you may need to drizzle a little extra.
Eggplant soaks up oil like a sponge and if you try to cook it without enough oil, it will burn instead of sear. If you notice that it's a little dry, drizzle more oil.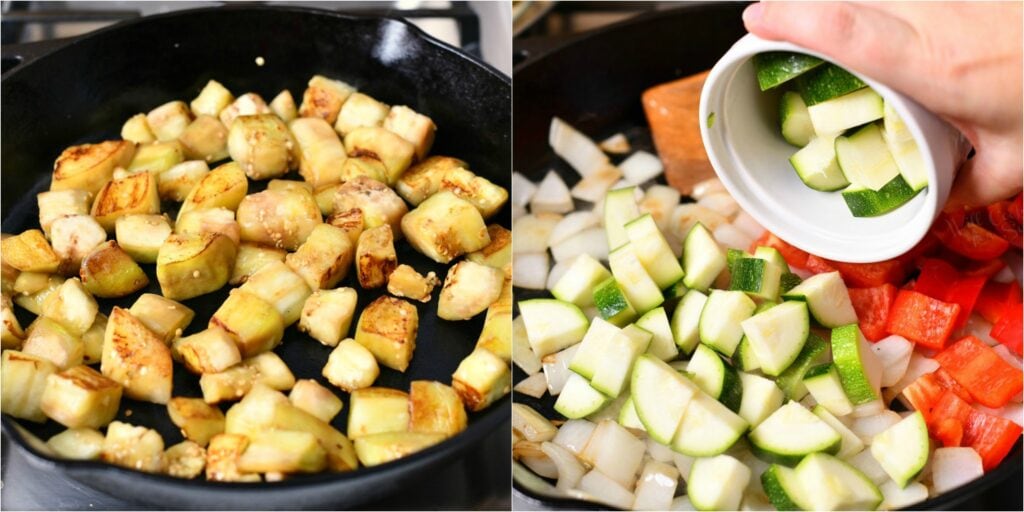 To prevent burning, keep the heat on medium to medium-high. Keep in mind that the eggplant will absorb a lot of oil. Because of this, you'll start with 1/4 cup (4 tablespoons) of oil.
After it's soft and golden, transfer the eggplant from the pan into a bowl and set it aside while you cook the other veggies.
Saute the other vegetables.
If the pan becomes too dry while you're sautéing the veggies, add a little more cooking oil.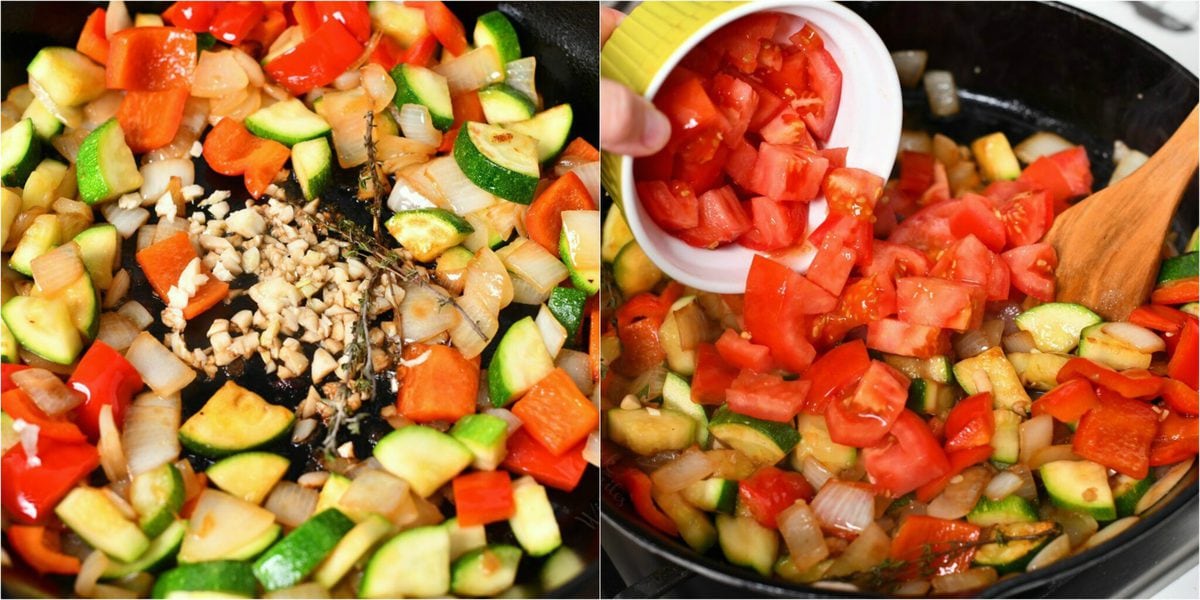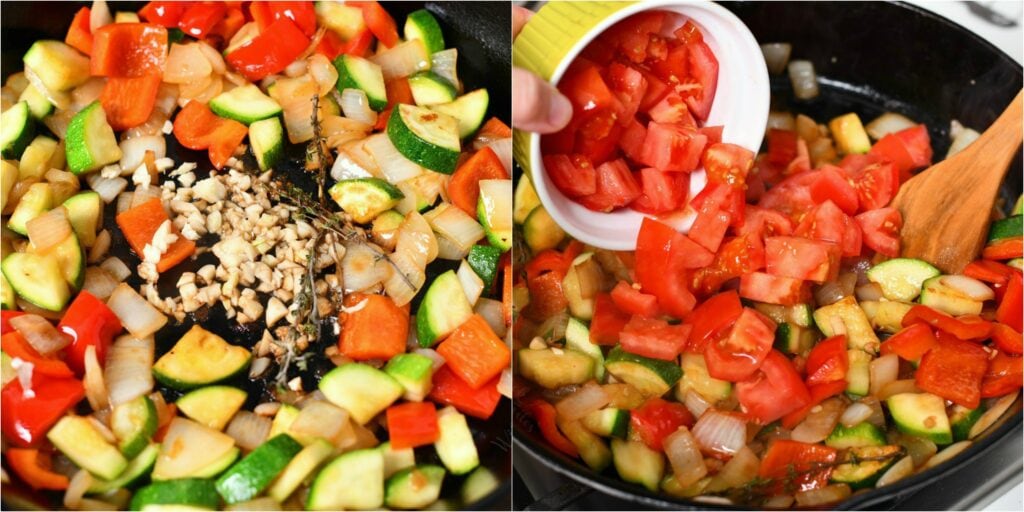 Add the garlic and herbs to the pan.
When you finish cooking the vegetables, make a small well in the center of them. Add garlic and fresh herbs into the well and let it sauté until fragrant.
Pour in balsamic vinegar, let is simmer for a few seconds and them mix everything together.
Add the eggplant back into the pan and stir with the vegetables.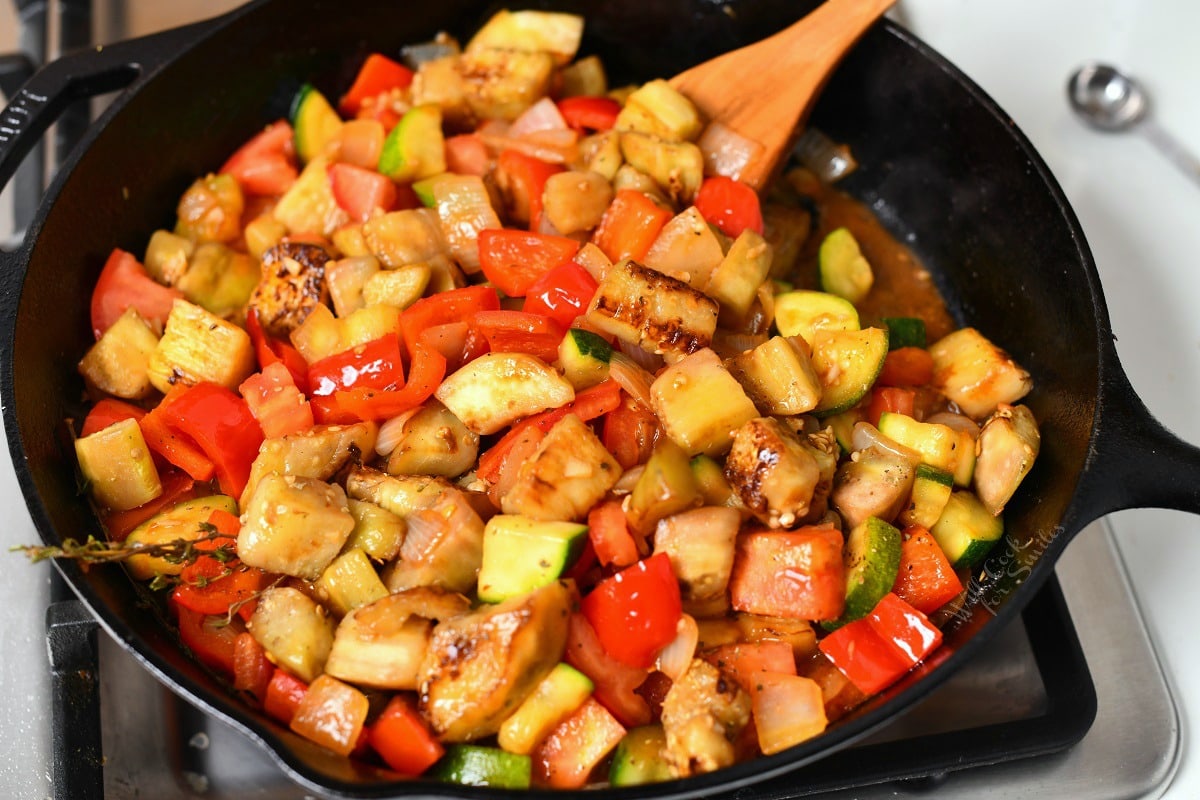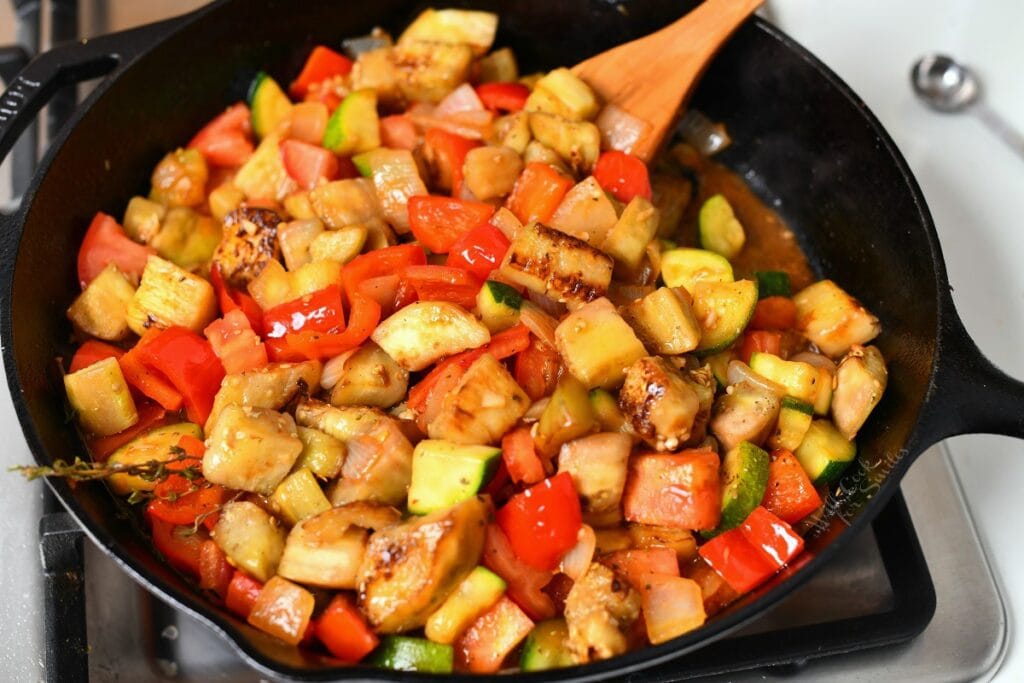 Transfer the pan into preheated oven.
Leave the pan uncovered; this ratatouille recipe needs 20-25 minutes of cooking time in the oven. The vegetables should be golden and roasted.
Remove the pan from the oven and serve!
Serving Suggestions
Ratatouille is delicious as a main dish, and it can be served either hot or cold. Or, serve it as a side dish with grilled steak, chicken, pork loin, or fish.
Mix it in with some pasta or tortellini.
It also makes a fantastic appetizer! Serve it with some crusty French bread for dipping, or serve it like Bruschetta on toasted Baguette slices.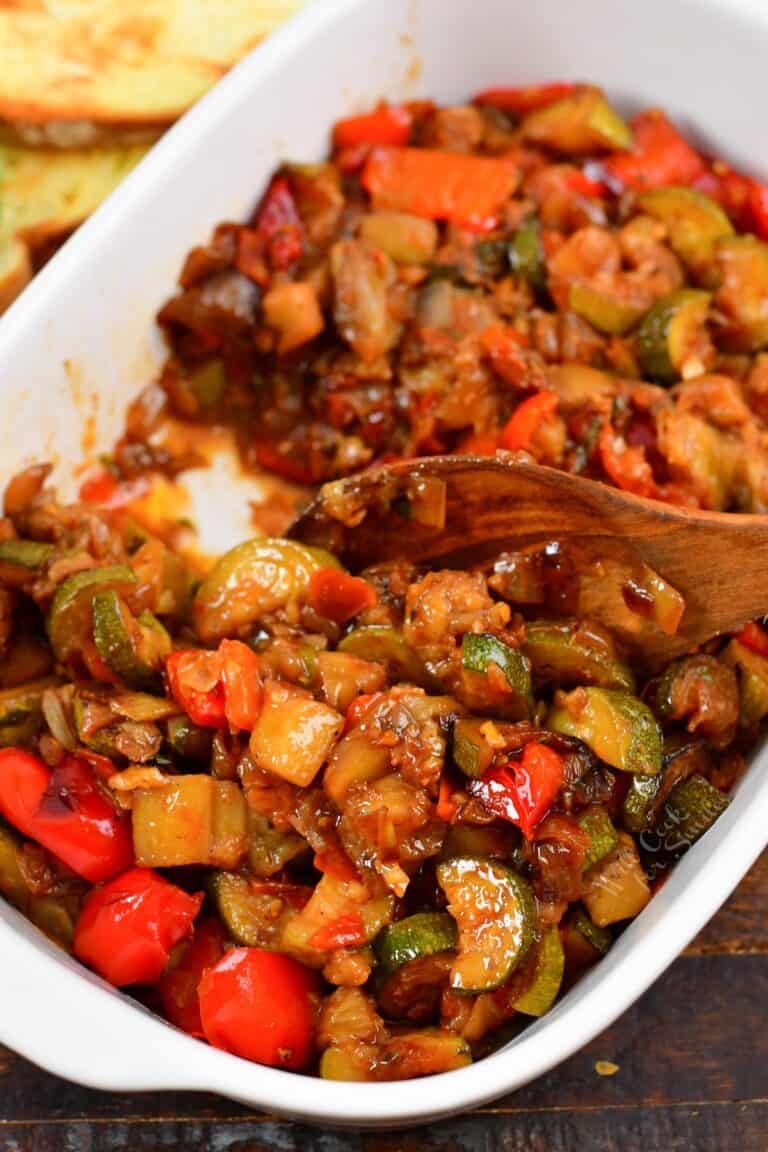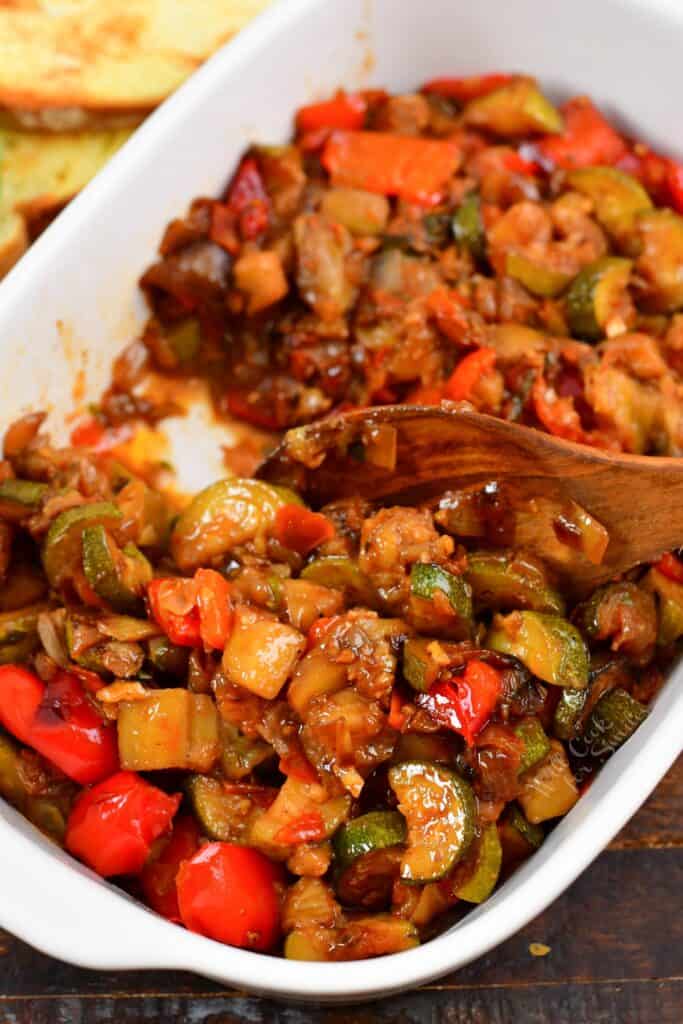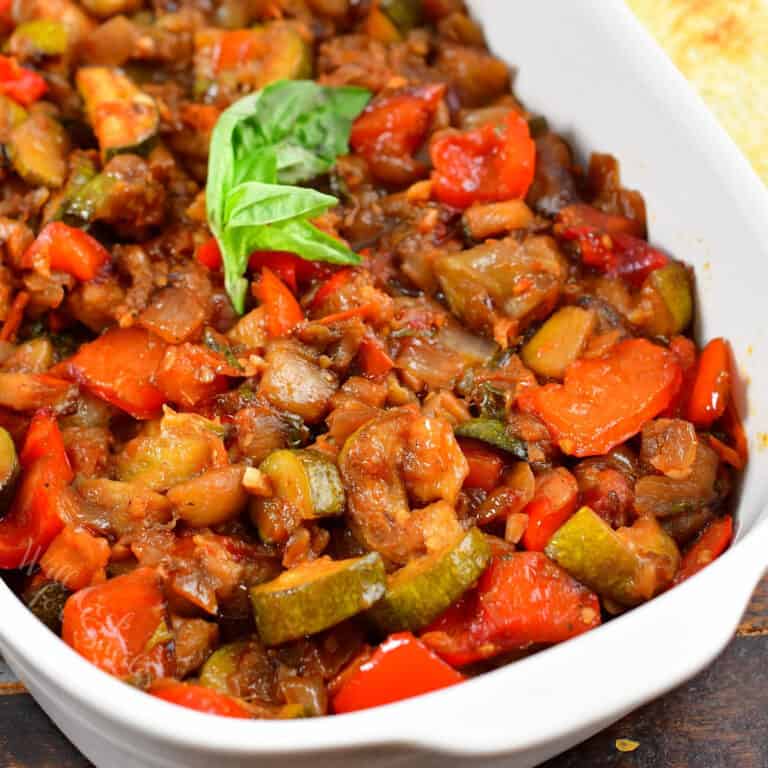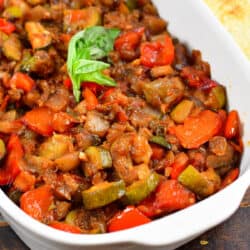 Ratatouille
Ratatouille is a delicious French vegetable stew packed with end-of-summer vegetables like eggplant, zucchini, tomatoes, onions, and bell peppers.
Print
Pin
Save
Saved!
Rate
Ingredients
6-8

tbsp

olive oil

1

lb

eggplant

8-10

oz

zucchini

1 medium

1

onion

1

red bell pepper

3/4

lb

tomatoes

2 medium

3

garlic cloves

1

tbsp

balsamic vinegar

3-4

sprigs of thyme

1/2

tsp

dried oregano

salt

black pepper

5-6

basil leaves
Instructions
Before cooking:
Peel the eggplant and dice it into cubes. Mix with some salt and set it aside in a colander or strainer. Let it sit for about 30-45 minutes.

Chop onions, bell pepper, zucchini, and tomatoes to be close to the same size. Smash and mince garlic. Set aside until ready to use.

Pat the eggplant dry with a paper towel.
Cooking:
Preheat the oven to 400°.

Preheat a 12-inch cast iron skillet or another over-safe pan over medium-high heat.

(If you don't have a pan that can go from the stove-top to the oven, you can always transfer the vegetables into a casserole dish for the baking step.)

When the skillet is preheated, add about 4 tablespoons of olive oil and eggplant. Stir to coat eggplant with oil and let it cook and caramelize until starts to soften and brown.

Take eggplant out of the skillet and set aside.

Add another tablespoon or two of olive oil the the pan and add onions, zucchini, and bell pepper. Sauté these vegetables until starts to soften and brown.

Make a well in the middle of the vegetables and add garlic oregano, and thyme sprigs. Let it sear until fragrant and add balsamic vinegar. Simmer for a few seconds and mix everything well.

Add tomatoes, salt, and pepper. You may need a little more olive oil.

Add eggplant back into the pan and mix everything until evenly incorporated.

Sauté for a few minutes and move the skillet over to the oven. Let it roast for about 20-25 minutes and take it out of the oven.

Serve ratatouille as a side dish, mixed with pasta, or on toasted baguette as an appetizer.
Nutrition
Calories:
178
kcal
|
Carbohydrates:
12
g
|
Protein:
2
g
|
Fat:
14
g
|
Saturated Fat:
2
g
|
Sodium:
10
mg
|
Potassium:
481
mg
|
Fiber:
4
g
|
Sugar:
7
g
|
Vitamin A:
1228
IU
|
Vitamin C:
44
mg
|
Calcium:
27
mg
|
Iron:
1
mg
Tried this recipe?
Mention @willcookforsmiles and tag #willcookforsmiles