Coq au Vin is an iconic French stew that combines tender braised chicken, mirepoix, mushrooms, pearl onions, and fresh herbs in a rich red wine sauce. This classic dish is absolutely fantastic and with addition of bacon flavor in the dish itself and some crispy bits on top, it's an absolute flavor utopia.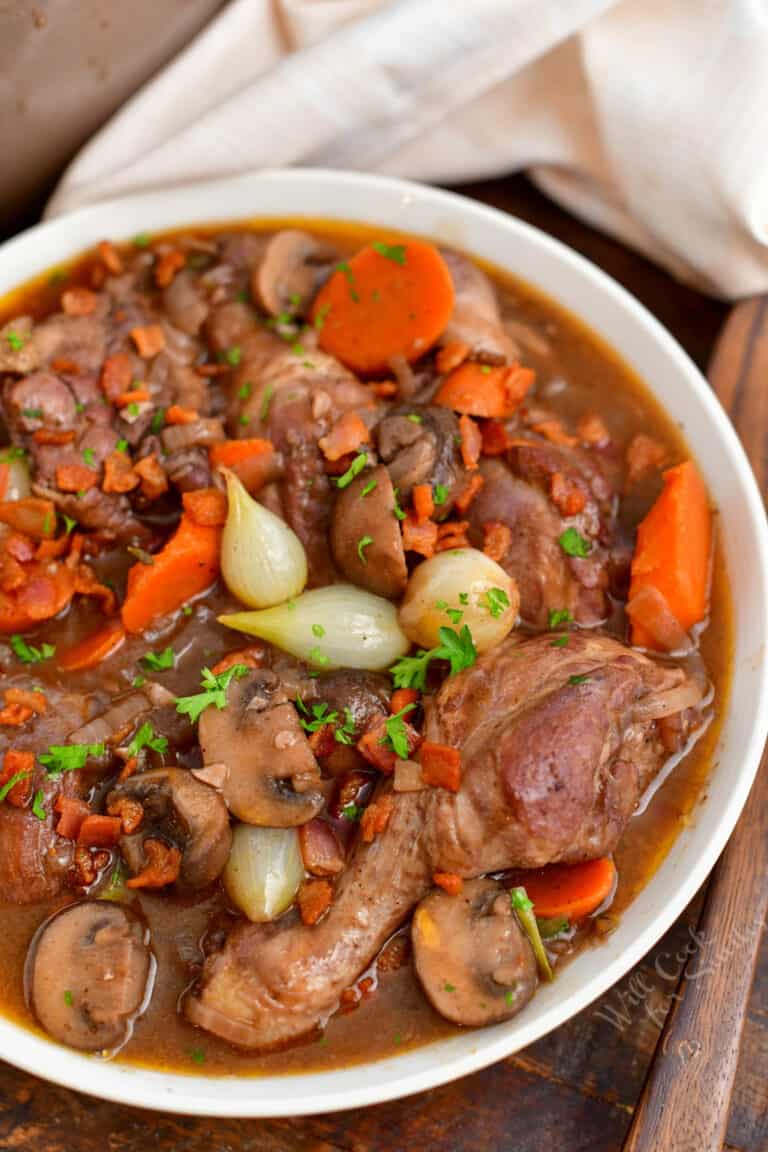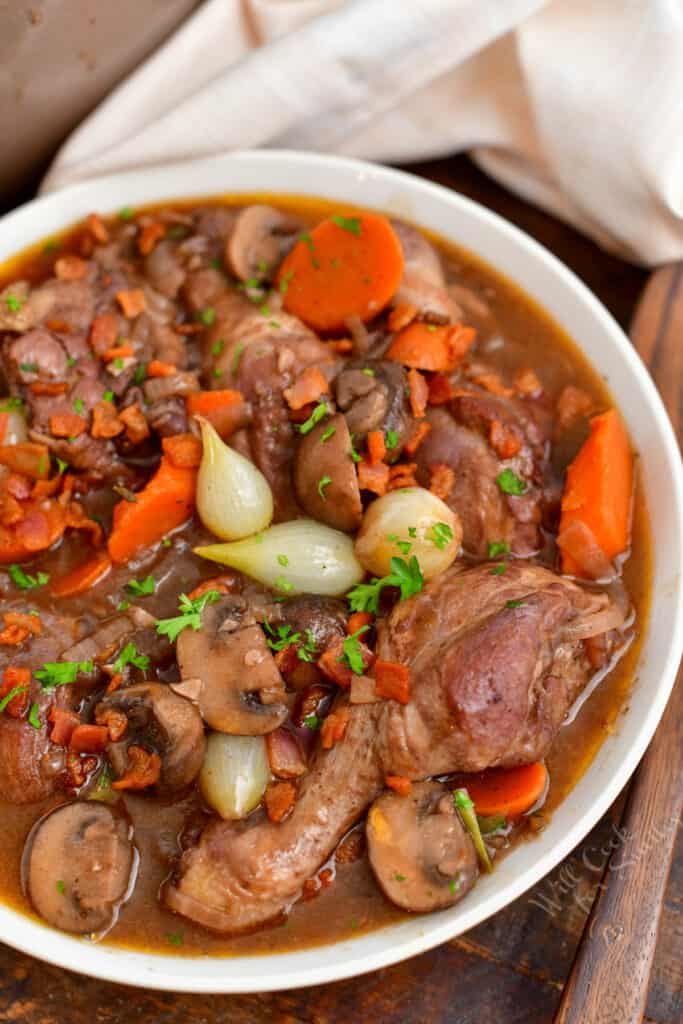 So many flavors come together perfectly for one delicious dish! There are several key points in this dish that will contribute to overall flavor. You don't want to skip those important steps!
Like searing chicken in fat. Classically, chicken would be seared in lard but bacon fat works very well and commonly available. You also don't want to skip the step of marinating the chicken in wine.
When you sauté the vegetables in layers until golden, you create the base for the sauce. Every step will add more and more flavor!
What Is Coq Au Vin?
The literal translation for coq au vin is "rooster in wine." Traditionally, this French chicken recipe was made with rooster meat, which is tougher. This meant it needed more acid to break down the tissue as well as a longer cooking time.
The main components of this classic dish include chicken, lard or bacon fat, rich dry wine, and a mix of vegetables including mushrooms and pearl onions. In the end, it's finished with a beurre manié.
Beurre manié is similar to a roux, but it is made without heat. Instead, the flour and softened butter are mashed in a bowl with a fork. Once the mixture is smooth, you simply stir it into the warm sauce and let it thicken.
Ingredients For Coq au Vin
Chicken – Using a whole chicken is the traditional choice for this recipe. But, I prefer to stick to the dark meat for the flavor, texture, and so the white meat is not overcooked. (If you still want to use whole bird, learn how to break down a whole chicken here.) Otherwise, use a mixture of bone-in chicken thighs and drumsticks.
Wine – Burgundy wines were the most commonly used varieties, and they are still the best choice for this dish. However, your favorite Pinot Noir will make an excellent substitution.
Stock – I love making a big batch of chicken stock to have on hand for dishes like this. There is only a little stock here, to make the wine flavor milder, so feel free to use store-bought if desired.
Vegetables – mirepoix is the classic start to many stews and soups. It's basically a combination of onions, carrots, and celery. I usually skip celery in my coq au vin but you are welcome to add it. Besides mirepoix, the classic vegetables include mushrooms and pearl onions.
Bacon – you have to have an addition of fat in this dish and bacon is a great way to go. Save the crispy bacon bits to use in the end as a garnish.
Cognac – perfect way to elevate the dish with more rich flavor and aroma. You can also use brandy.
Herbs – just a simple fresh thyme and parsley.
Beurre manié – is a mixture of softened butter and flour to thicken the wine sauce in the end.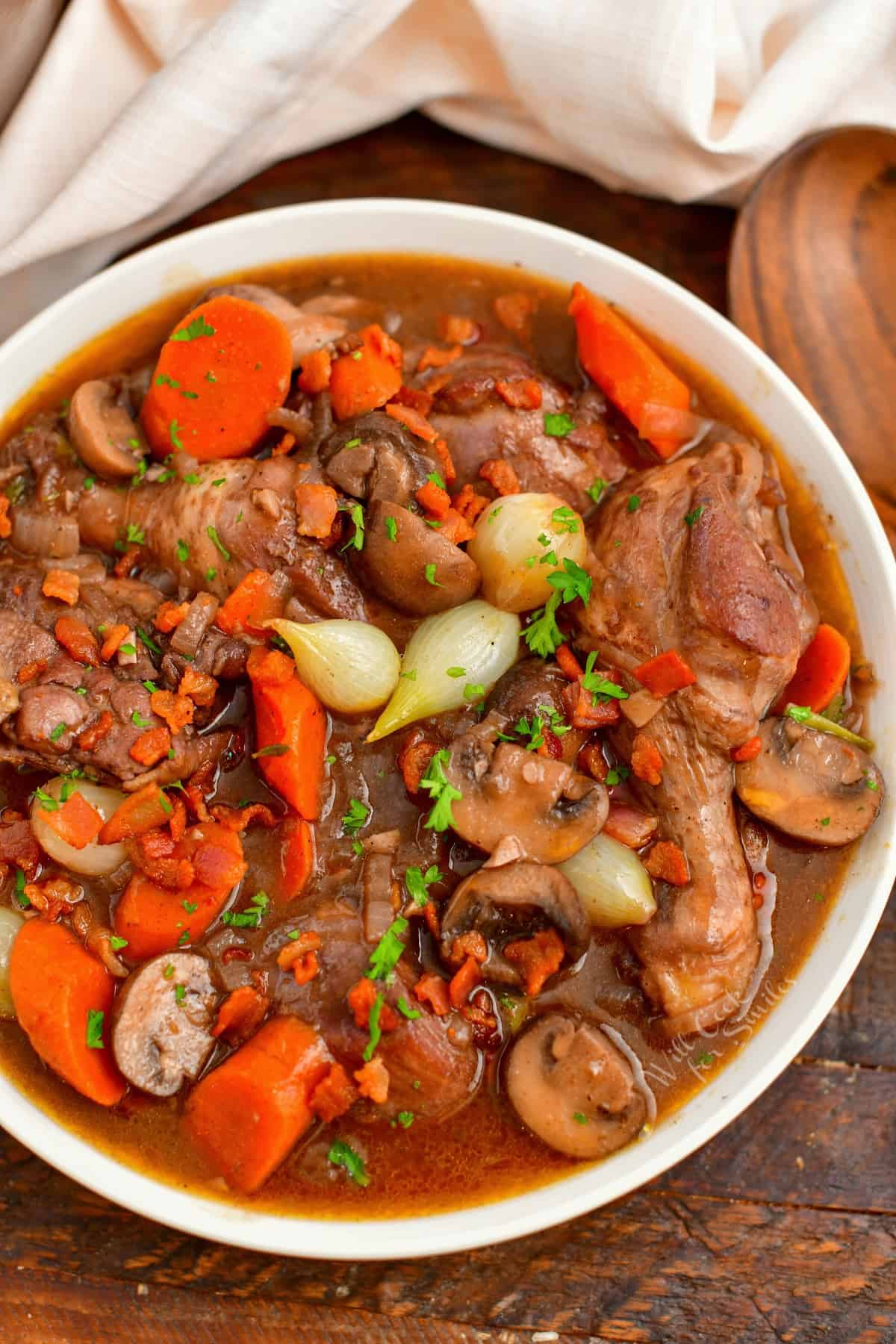 HOW TO MAKE COQ AU VIN
It's a good idea to have all of your ingredients chopped and measured in advance. Since the chicken needs to marinate for at least 30 minutes, start that first before prepping the rest of the ingredients.
Marinate the chicken. In a large bowl, nestle the chicken in red wine and broth mixture so it is mostly covered. After taking the chicken out, reserve the wine mixture for later in the recipe.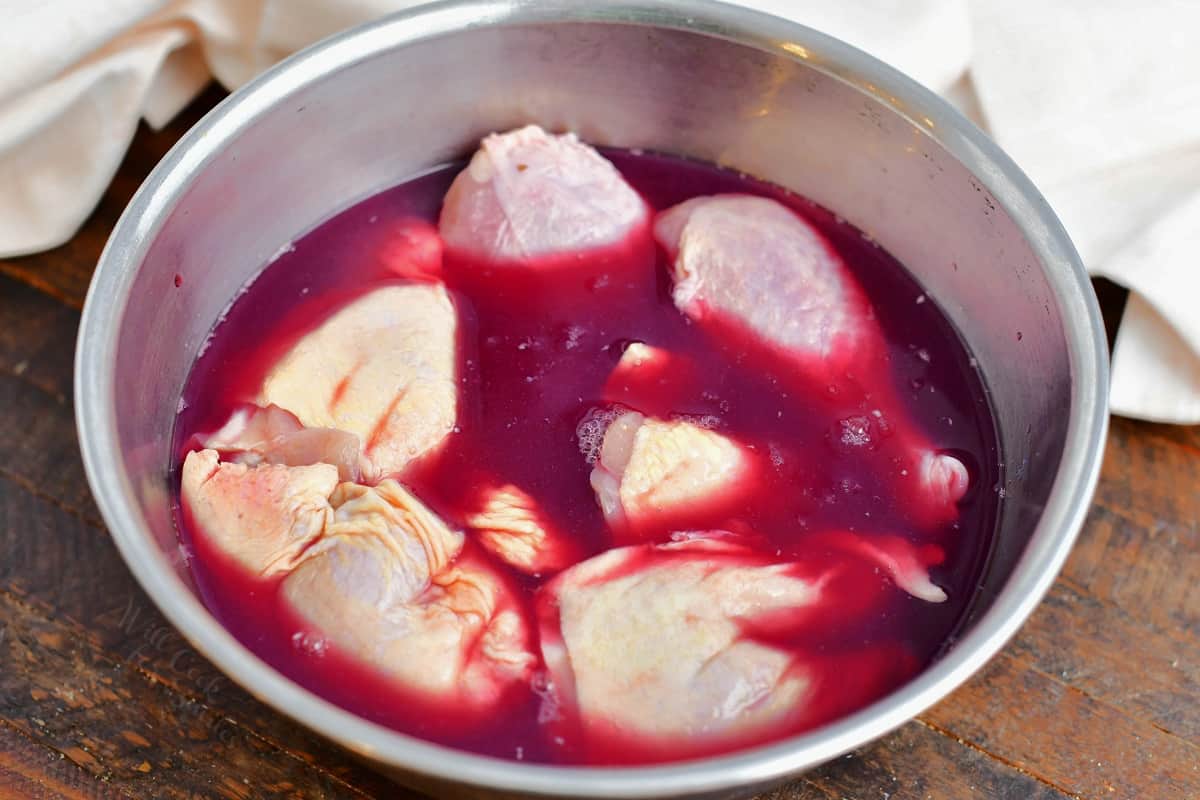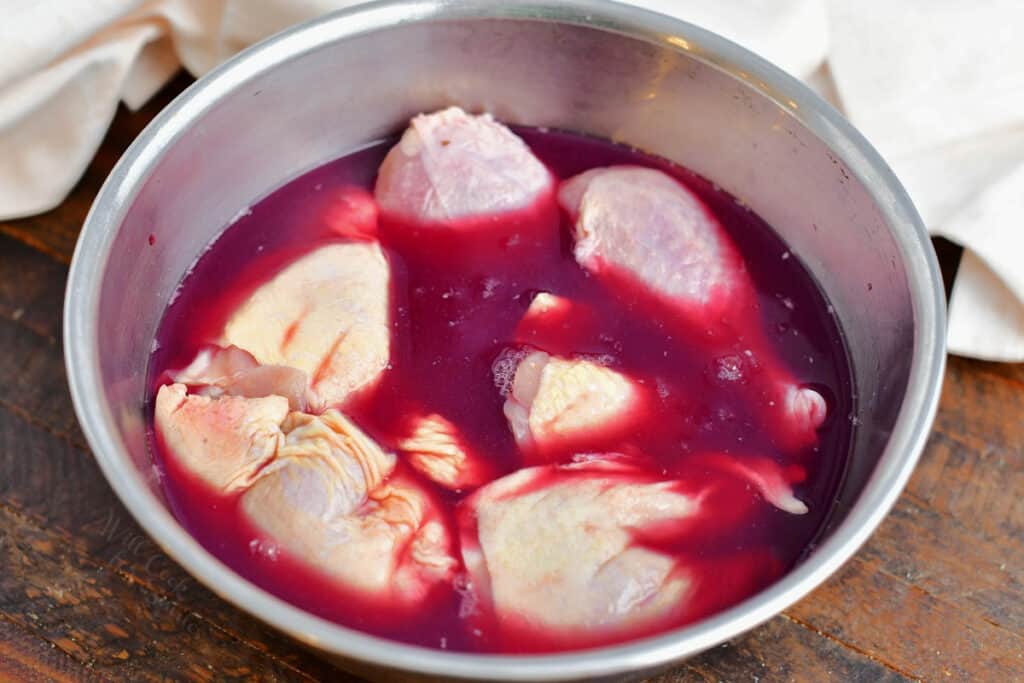 Crisp the bacon in a large Dutch oven. Then, take the crispy bacon bits out of the pot with a slotted spoon but leave the grease in the pot. (Save the bacon bits for a garnish.)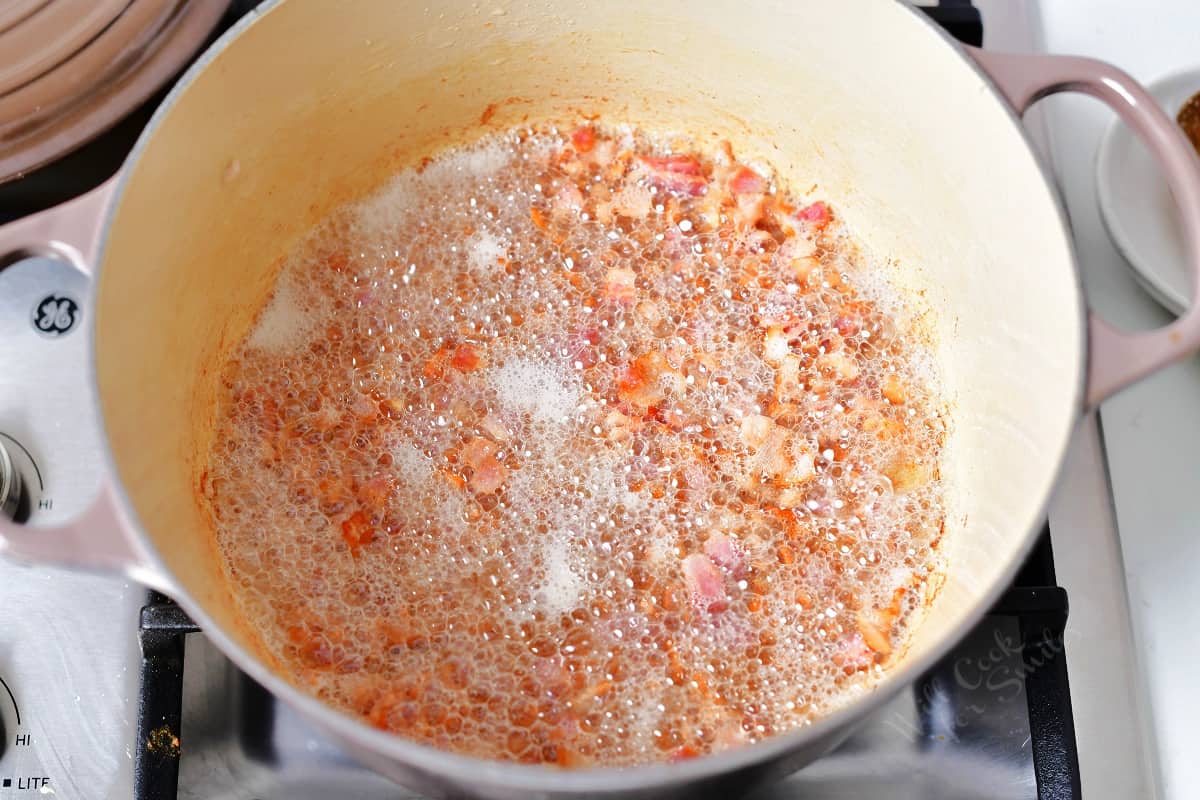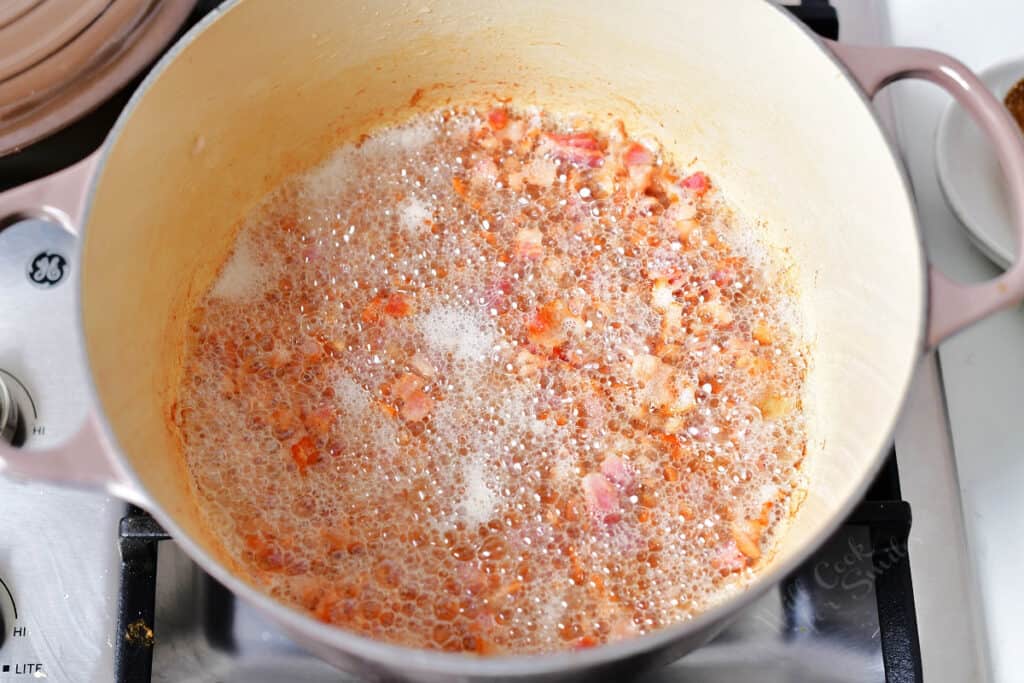 Sear the chicken pieces. Take chicken out of the wine mixture, pat it dry with a paper towel and season with salt and pepper. Work in batches when searing the chicken to avoid overcrowding, then transfer it to a plate.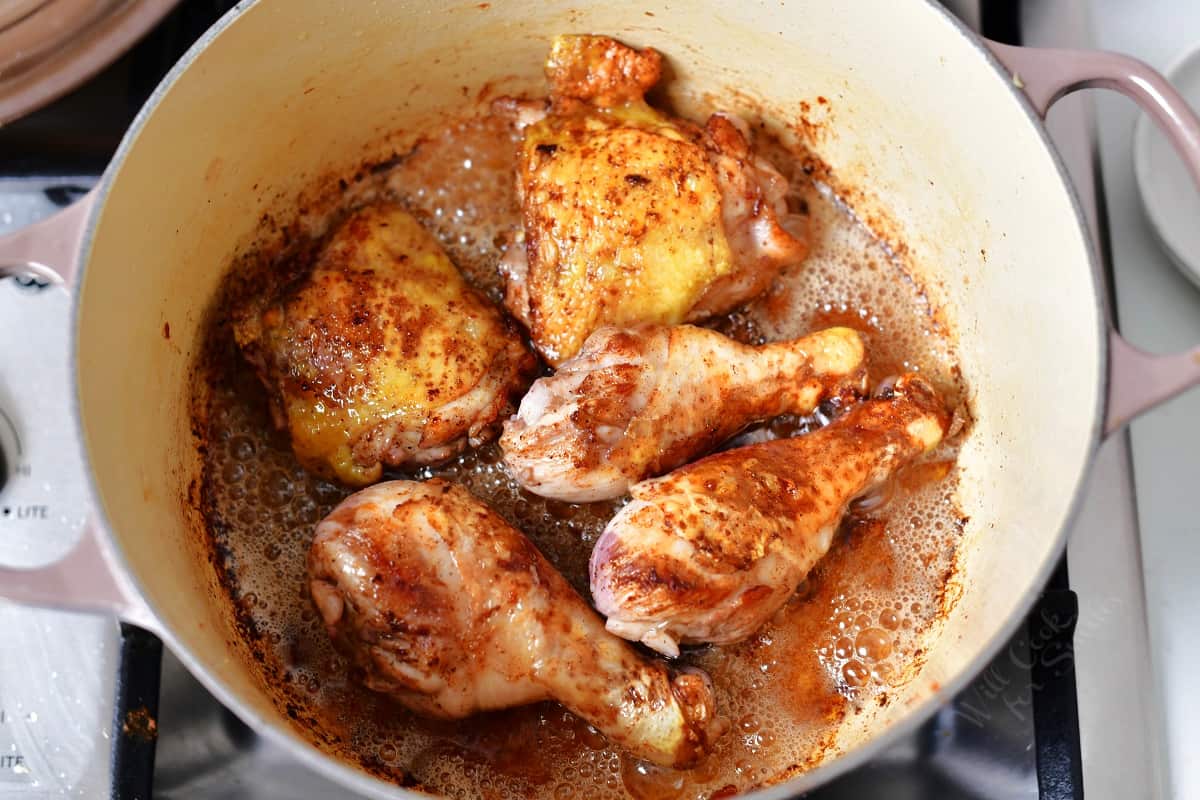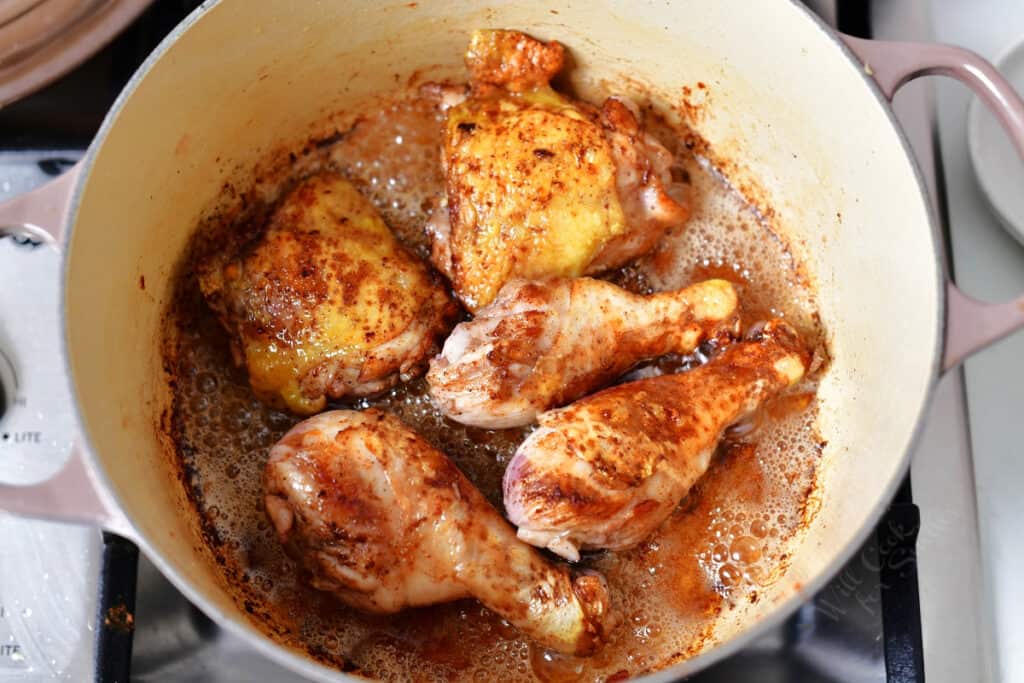 Sauté the vegetables. Cook until tender, and avoid stirring often to get a nice golden color. Add garlic at the end and then deglaze with cognac. Scrape any browned bits from the bottom of the pan since that's where the flavor is!
Return the chicken to the pot. Whisk tomato paste into the wine mixture and pour it in as well. Stir in the pearl onions and fresh thyme, then simmer for 10-15 minutes.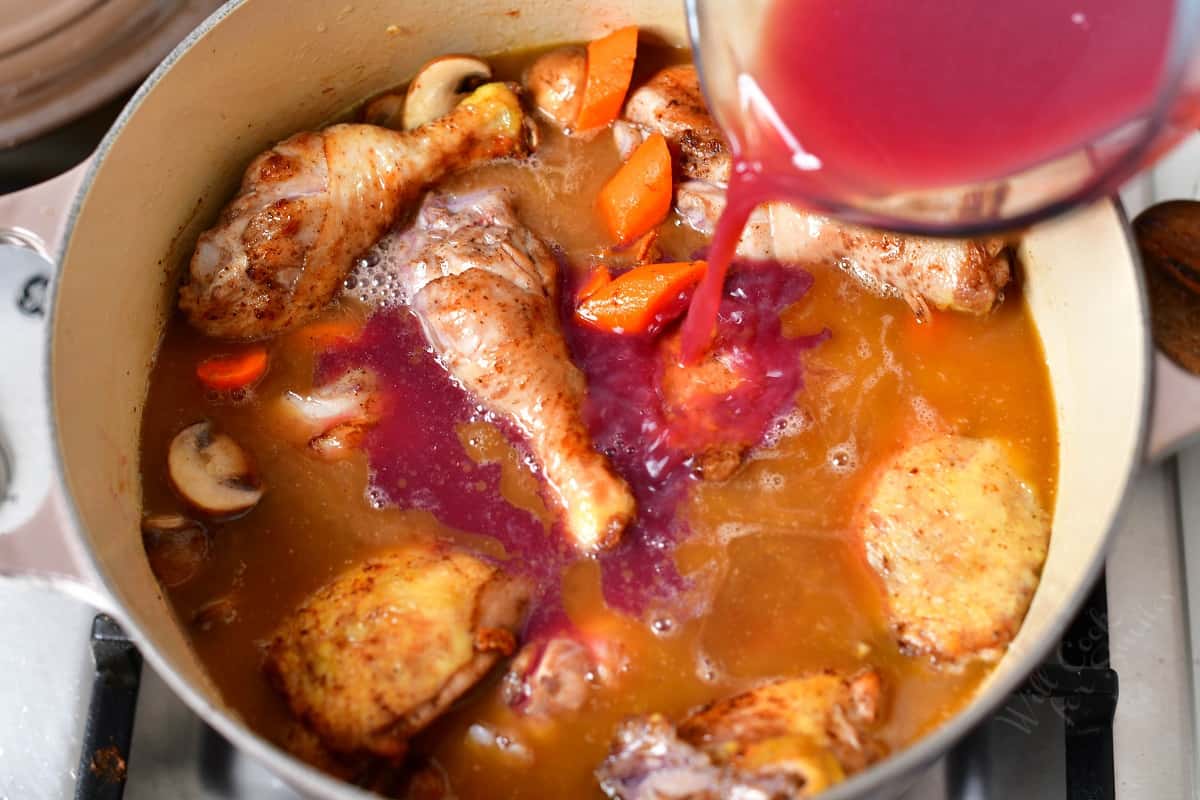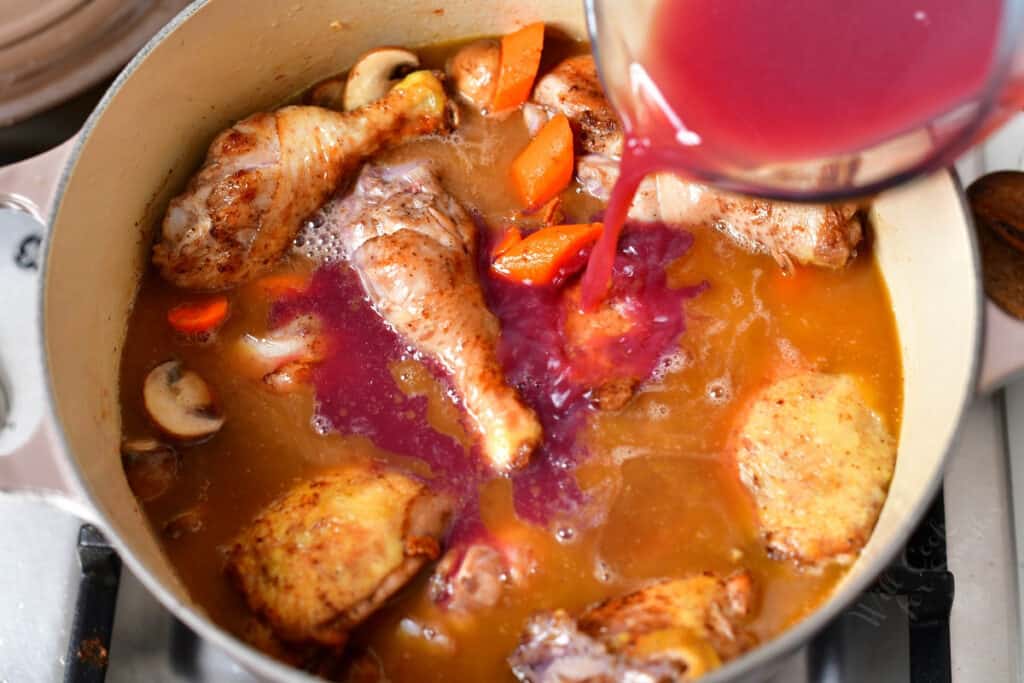 Cook on low. Reduce the heat to low and cover with a lid. Simmer for about an hour, then remove the chicken from the pot and set it aside. Discard the thyme sprigs.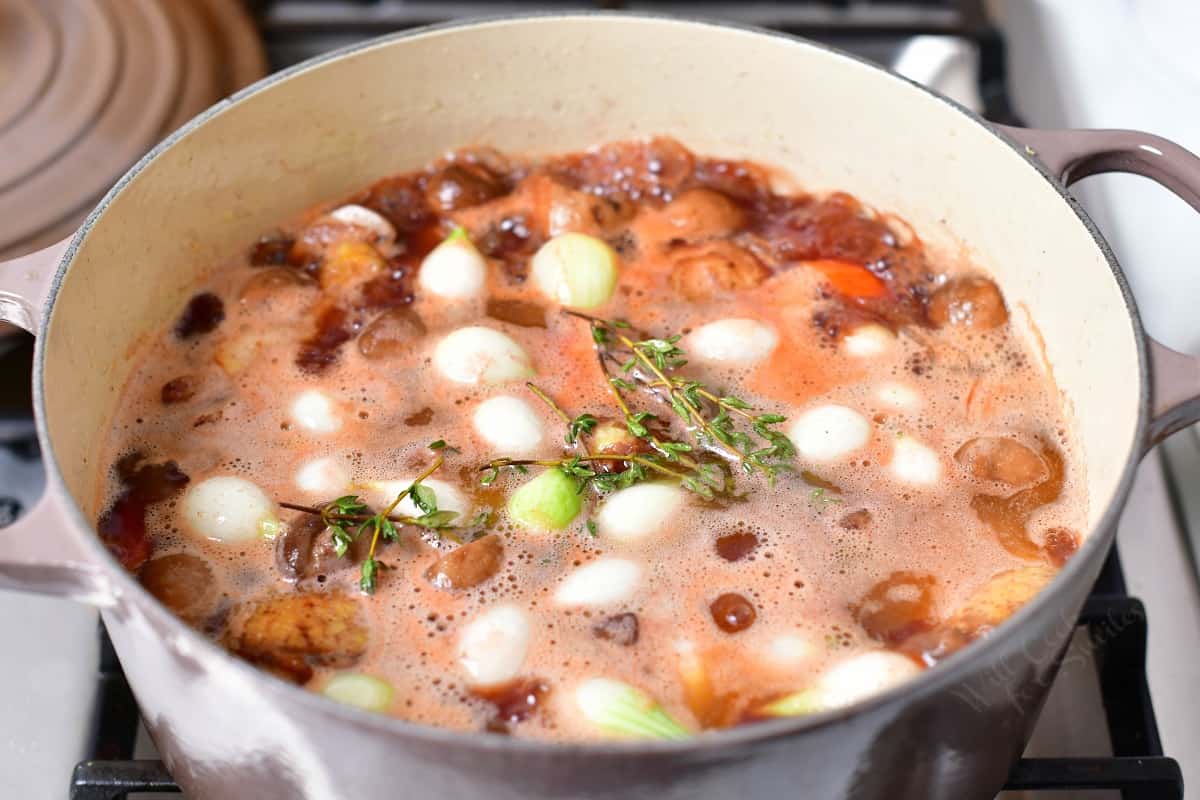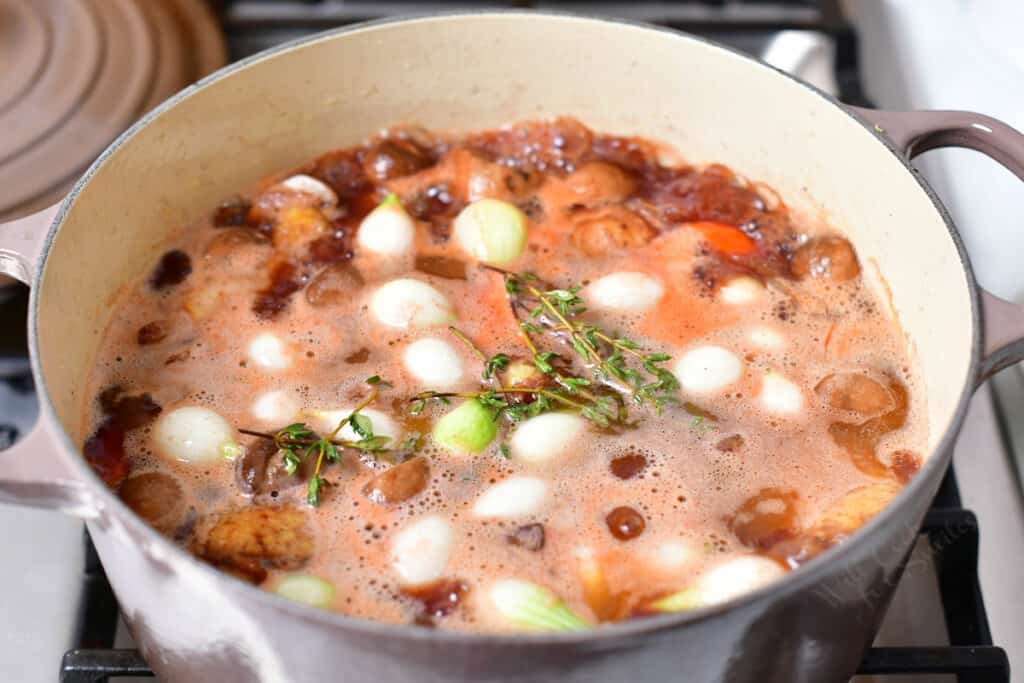 Make the beurre manié. In a small bowl, combine softened butter and flour and work it with a fork completely combined. Raise the heat to medium and stir butter and flour mixture into the pot. Let it simmer a few more minutes until the sauce has thickened.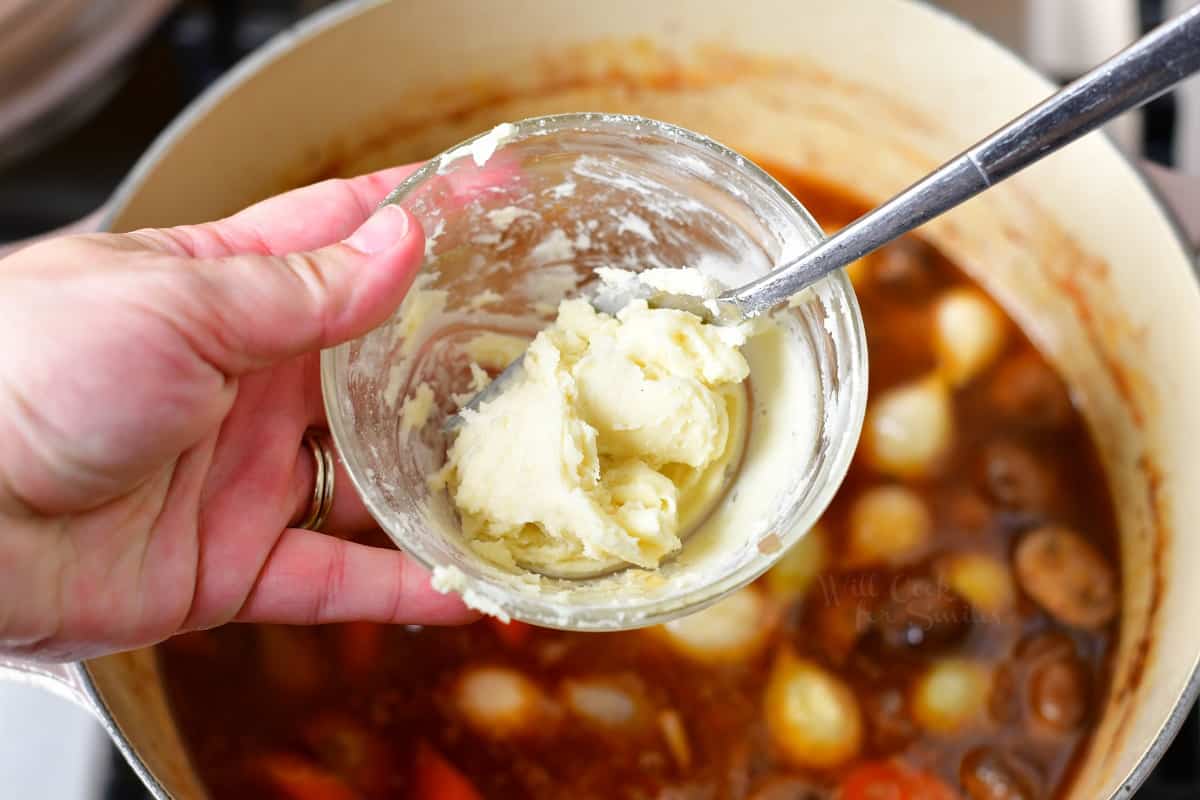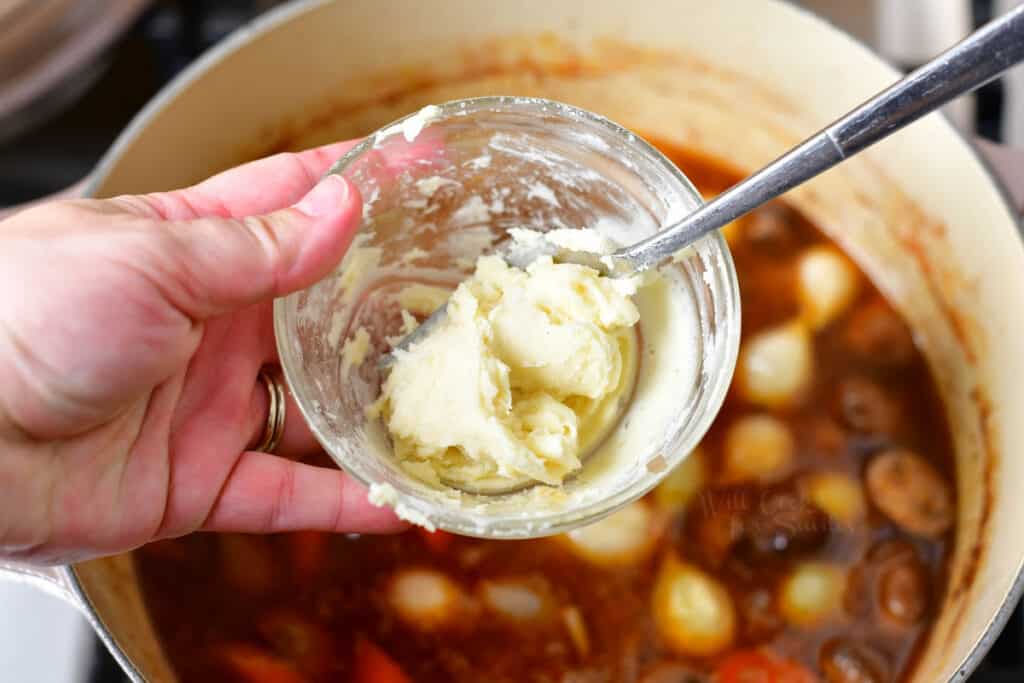 Finish and serve. Return the chicken once more to the pot and let it warm through. Finally, transfer the coq au vin to a serving dish and garnish with bacon bits and parsley.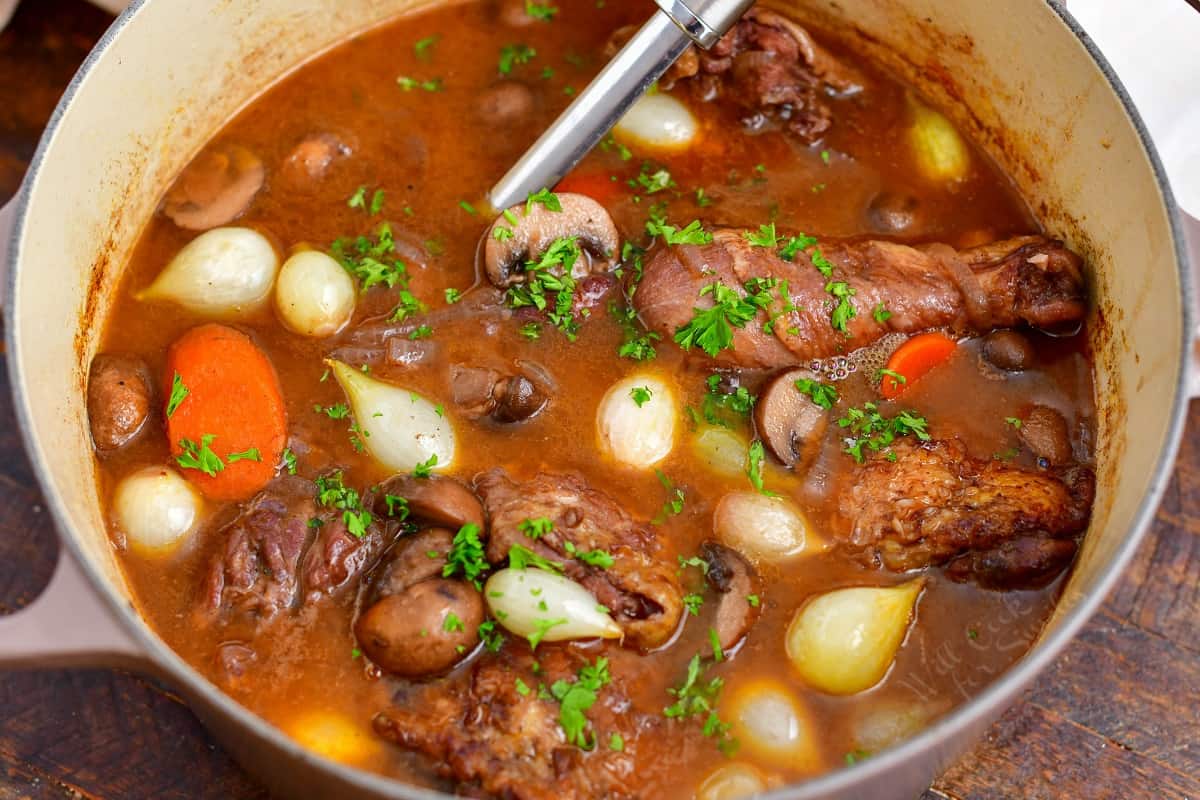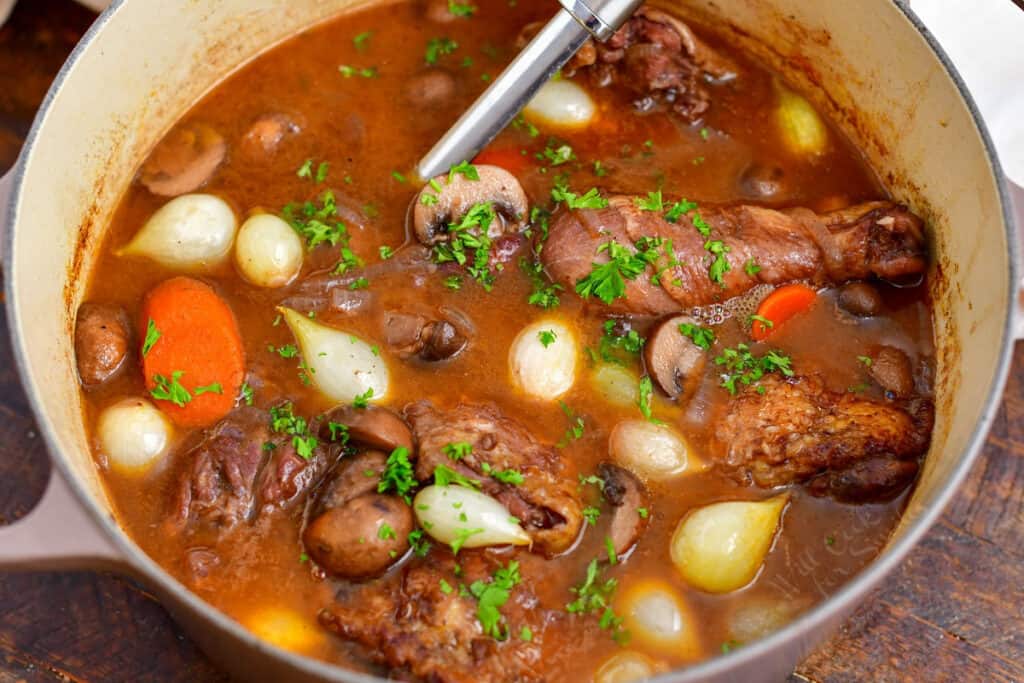 Recipe Tips and Tricks
Want more flavor? Use bone-in dark meat, which is also more tender. White chicken meat is easy to overcook, so if you use the whole chicken, add seared chicken breast during the last 30 minutes of cooking.
Make sure to marinate. Don't skip this step, it will really improve the chicken flavor. Combine the chicken with wine and broth and let it marinate while you prepare other ingredients and sauté bacon. Plan to let it sit for about 30 minutes, but a little bit longer is fine too.
Choose your bowl carefully. Ideally, the material for marinating raw meat and/or wine should be non-reactive such as glass or stainless steel. Other metals can react with the acid in the wine, causing changes to the flavor. Plastic is never something that I recommend using when working with raw meat!
If you wouldn't drink it, don't cook with it! While you should follow this rule for all of your dishes, it's especially important with coq au vin. The flavor of the wine is very pronounced, so a cheap or bad wine will affect the overall flavor of the finished dish.
Save bacon pieces! Save crispy bacon pieces to garnish the coq au vin at the end. It's a very pleasant addition to the dish!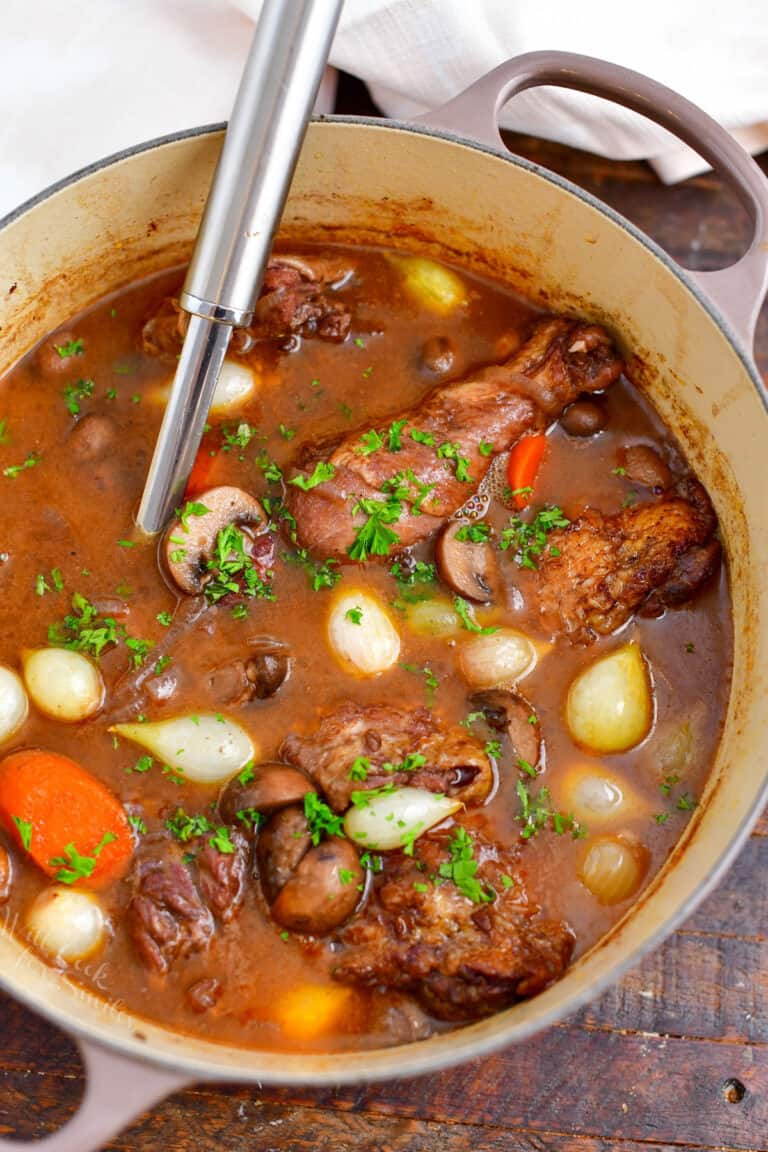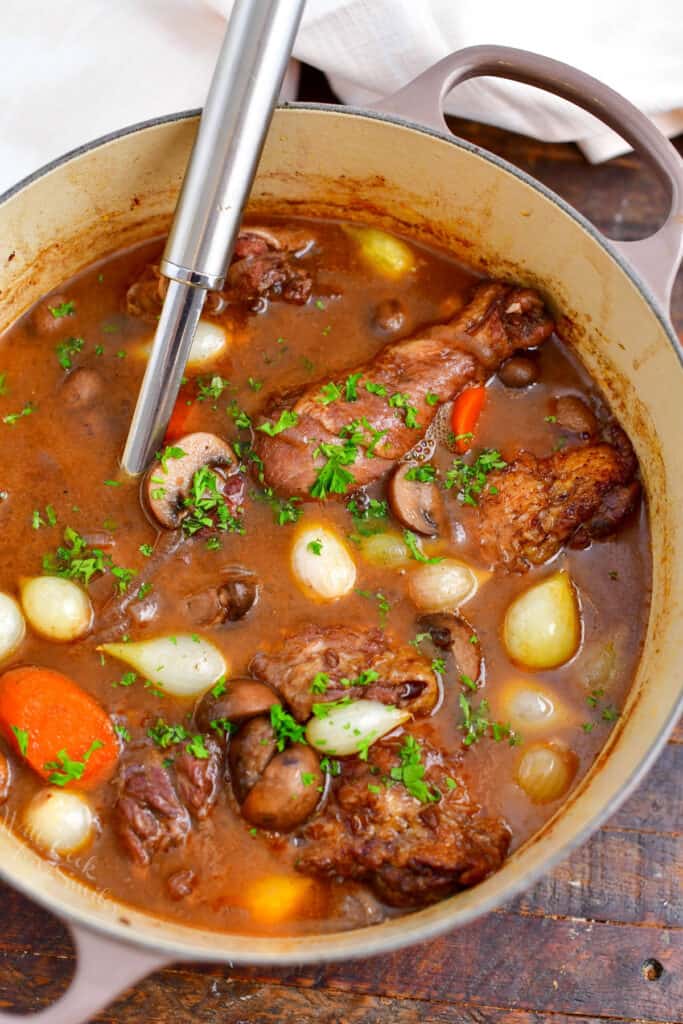 Serving Suggestions
Pair this French chicken recipe with something starchy to soak up all of that delicious sauce. Roasted or mashed potatoes are a popular choice, but grains like rice, quinoa, and farro would taste great as well.
For a healthier option, try roasted or mashed cauliflower instead of potatoes. You could even add a side of roasted mixed vegetables or a simple green salad.
Storage and Reheating
Keep leftovers covered in the refrigerator for 3 to 4 days. In fact, it's even better as leftovers because the flavors have more time to develop.
You can reheat the whole pot on the stove over medium-low heat or individual portions in the microwave.
To freeze, allow the dish to cool before transferring to a sealed freezer storage container. Store for up to 3 months and slow-thaw in the refrigerator overnight before reheating.
SIMILAR RECIPES TO TRY
If you enjoy the flavor of chicken in red wine, you are going to love my Braised Short Ribs recipe. Perfectly tender bites of beef and vegetables create a sophisticated yet comforting meal for the whole family.
For busier weeknights, Chicken Marsala is ready in a fraction of the time. Or, try my Chicken Fricassee, which is another French chicken recipe that is made with a velvety and delicious white wine cream sauce.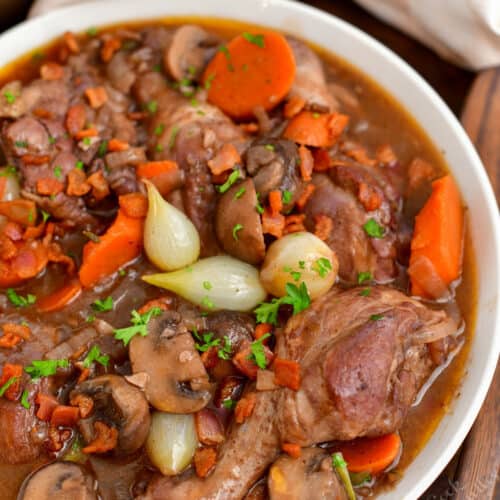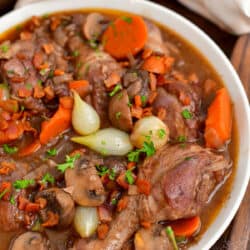 Coq au Vin
Coq au Vin is an iconic French stew that combines tender braised chicken, mirepoix, mushrooms, pearl onions, and fresh herbs in a rich red wine sauce.
Print
Pin
Save
Saved!
Rate
Ingredients
2

tbsp

olive oil

1/2

lb

bacon

uncooked

3

lb

bone-in chicken leg and thigh meat or 4 lb whole chicken

2

cups

Burgundy red wine or Pinot Noir

1

cup

chicken stock

salt

cracked black pepper

1

small yellow onion

sliced

3

medium carrots

chopped

8

oz

baby bella mushrooms

cut in half

3-4

cloves of garlic

minced

1/4

cup

cognac or brandy

1

tbsp

tomato paste

6-8

sprigs of thyme

8-10

oz

pearl onions

peeled

2

tbsp

unsalted butter

softened

2

tbsp

all purpose flour

use gluten free is needed

1/2

tbsp

fresh parsley

to garnish
Instructions
Prepare the chicken:
Break down the whole chicken if using.

Combine red wine and chicken stock in a large mixing bowl (metal or glass) and add chicken. Arrange it so chicken is mostly covered and set aside.

Prepare all the vegetables, dice bacon, and measure remaining ingredients.
Sear bacon and chicken:
Preheat a large Dutch oven over medium-high heat and add oil. Add diced bacon into the pot and cook it until bacon is crispy.

While bacon is cooking, take chicken out of the wine mixture, let all excess wine drip off back into the bowl, and pat the chicken dry with a paper towel. Place chicken on a cutting board and season it with salt and pepper on all sides.

Take out the crispy bacon pieces and set them aside. Leave bacon grease in the pot.

Sear chicken in the pot in batches so it doesn't get overcrowded. Sear it skin side down first for a few minutes and then turn it over and sear on the other side until golden brown.

Take seared chicken out of the pot and set aside.
Sear vegetables:
Add sliced onion and carrots into the pot, mix, and let them sear for a few minutes undisturbed, until start to golden.

Add mushrooms, stir, and sear until all vegetables started to get golden.

Make a little well in the center and add pressed garlic. Sauté for a few seconds, until it's fragrant.

Pour in cognac, let it simmer, and stir everything together.

Add chicken back into the pot.

Whisk in tomato paste into the wine mixture in a measuring bowl and pour the mixture into the pot.

Add pearl onions, some more salt and pepper and thyme sprigs.

Lower the heat to medium and being the mixture to simmer. Simmer for 10-15 minutes.

Lower the heat to low. Cover the pot with a lid but leave a small crack for steam to escape. Cook the chicken for about an hour.

Take chicken out of the pot carefully and set aside.

In a small bowl, mix together softened butter and flour with a fork by mashing it together and mixing until completely combined.

Stir the flour mixture into the pot until completely incorporated and let it simmer for a couple of minutes until thickened.

Return chicken to the pot and cook a couple more minutes for the chicken to heat through.

Take off heat and garnish with some fresh parsley.

You can sprinkle the crispy bacon on top of coq au vin as you serve it.
Nutrition
Calories:
992
kcal
|
Carbohydrates:
24
g
|
Protein:
44
g
|
Fat:
67
g
|
Saturated Fat:
21
g
|
Cholesterol:
233
mg
|
Sodium:
628
mg
|
Potassium:
1139
mg
|
Fiber:
4
g
|
Sugar:
7
g
|
Vitamin A:
8192
IU
|
Vitamin C:
14
mg
|
Calcium:
75
mg
|
Iron:
3
mg
Tried this recipe?
Mention @willcookforsmiles and tag #willcookforsmiles