Eggplant Parmesan is a classic family favorite dish that's simply made in less than 45 minutes. Breaded slices of eggplant sauteed in a pan and then baked with delicious pasta sauce and mozzarella cheese. What makes my Eggplant Parmesan special is the spicy eggplant and veggie hash on top.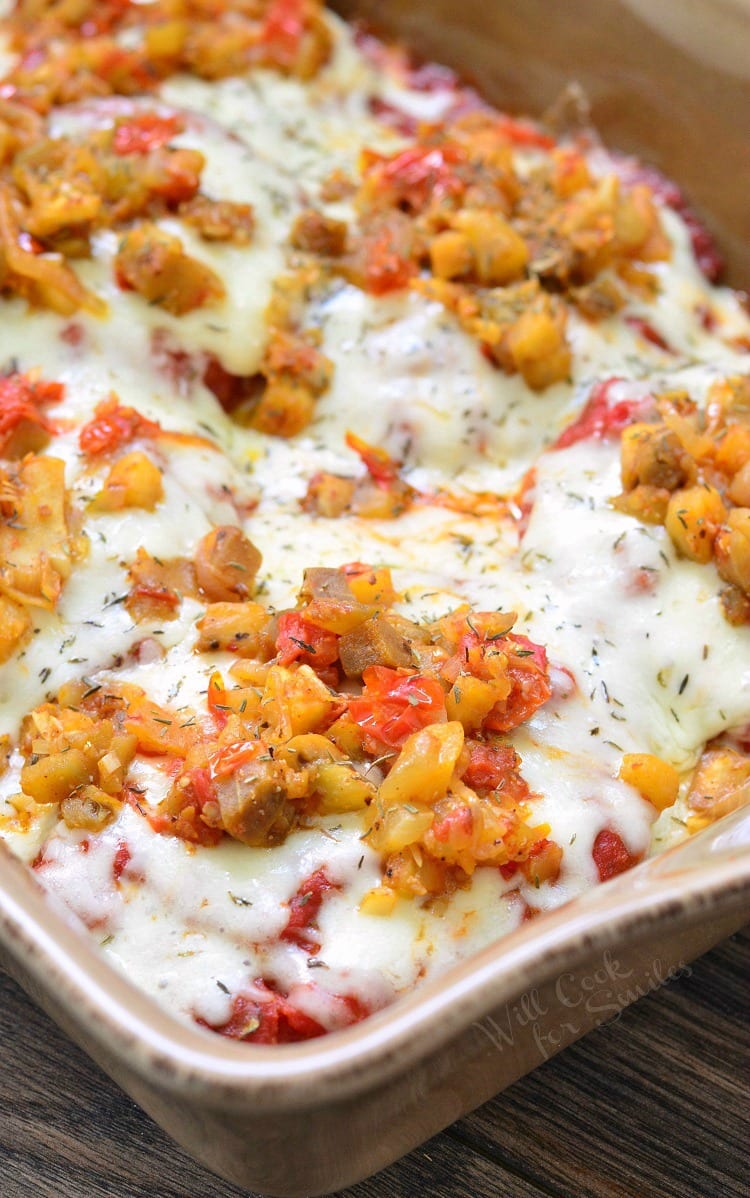 Eggplant Parmesan
Eggplant Parmesan is one of those classic dishes that becomes a staple in your cooking repertoire. It certainly is in mine. I have several go-to dishes that I always turn to when I don't feel like creating something new or don't feel like fussing with dinner all night. Eggplant Parm and Chicken Parm are a couple of those go-to dishes.
Eggplant Parmesan happens to be my mother-in-law's favorite dish, possibly of all time. She always orders it in restaurants and I try to make it for them often. Last week, they came over for a visit and I decided to make us this dish for lunch.
The whole time we were eating, she was asking me if it's on my blog because she really wanted to share the recipe with her friend. I was sure that I've shared the recipe of my Eggplant Parm because it's one of those dishes that I've been making forever.
That evening, I combed my blog through and through and realizes that I never actually shared this classic recipe. I've shared a couple of versions of it but that's all. I guess it's a good thing that I take a few pictures of just about everything I make and this dish looked so good, I made sure to take some pictures.
My original thought was just to update the old photos, but it turns out that I needed to share the whole recipe. Trust me, this needed to be shared because after SO many years of making this dish, I came up with a few little things that makes it extra special.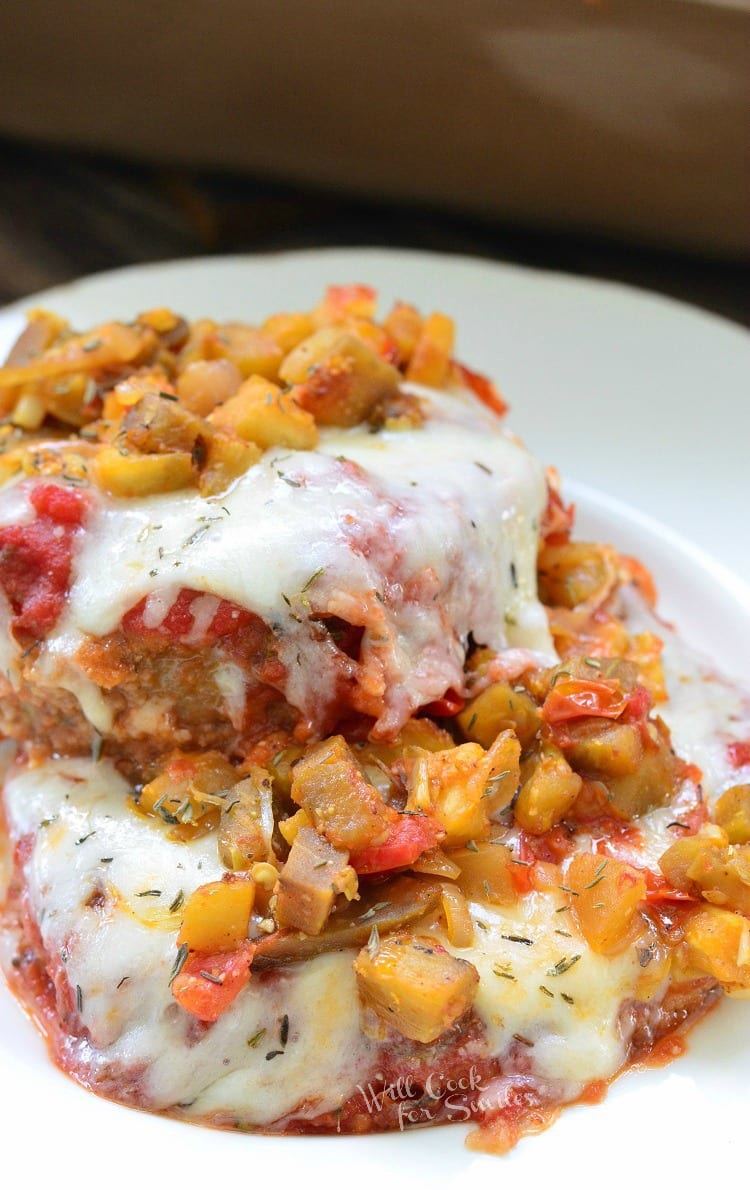 TIPS FOR THE BEST EGGPLANT PARMESAN
As I mentioned above, I've made this dish so many times, I can't even count them all. The best trick that I came up with is for the way to use up the leftover eggplant.
I never double my eggplant because I think the eggplant to sauce, to cheese ratio is best in a single layer. Sometimes, I make a couple of small eggplant rounds to place in the holes between the eggplant.
So there is always some eggplant leftover. I use these extra pieces of eggplant to make a spicy hash to put on top of cooked parm. It creates an extra layer of flavor and a touch of spice. First time I made the hash, it was so good that now, I make sure to get an extra large eggplant or two small ones just so I can make the hash.
A couple more tricks that adds extra delicious flavors are in sauce and in breading. Adding some dry Parmesan cheese to the breading makes for a bigger cheese flavor.
I also dress up store-bought pasta sauce by adding fresh garlic and fresh basil to it. Adding a couple of fresh, flavorful ingredients will brighten any pre-made sauce but I do usually get the four-cheese one.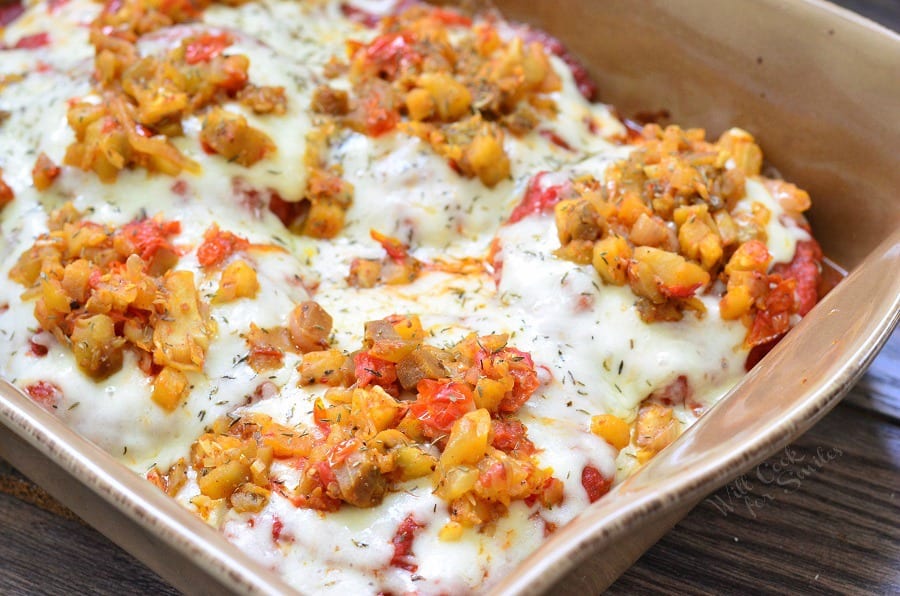 Check out these great eggplant recipes:
Traditional Greek Moussaka from Recipe Tin Eats
Grilled Eggplant with Mustard Vinaigrette from Cooking and Beer
Tomato Zucchini Eggplant Bake from Well Plated
Open Faced Baked Eggplant Parm Sandwich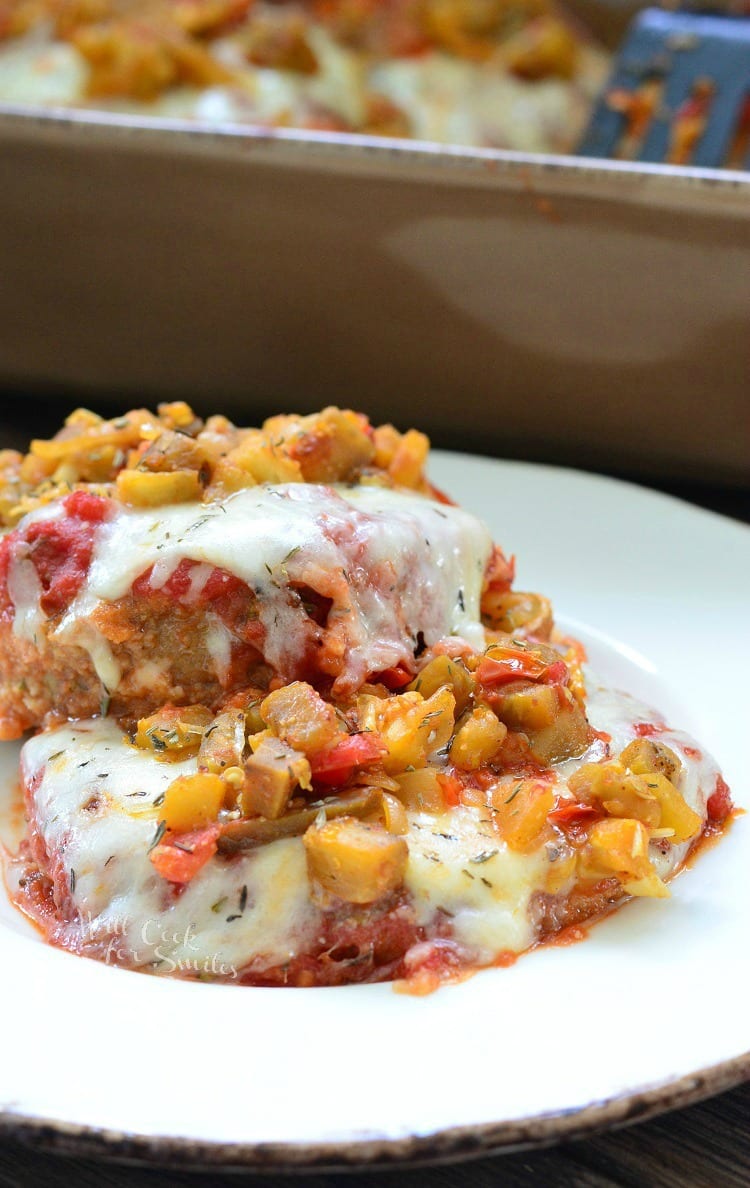 If you made any of my recipes and shared them on Instagram, make sure to tag me @willcookforsmiles and #willcookforsmiles so I can see all the things you tried!
Connect with Will Cook For Smiles!
Be sure to click below and follow me on my social media, so you never miss a recipe.
Don't forget to sign up for email, so you won't miss any new recipes.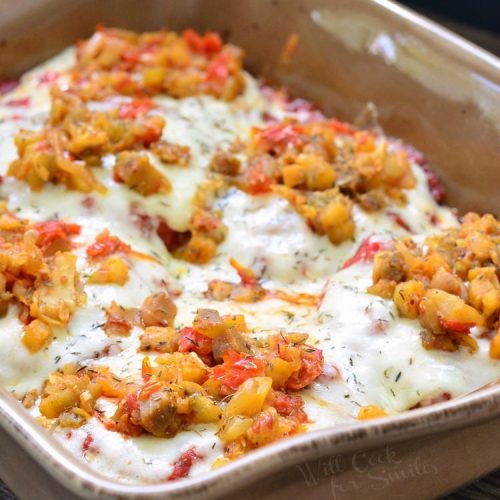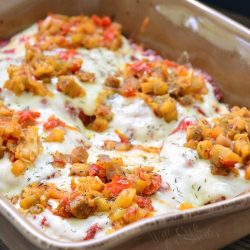 Eggplant Parmesan
Eggplant Parmesan is a classic family favorite dish that's simply made in less than 45 minutes. Breaded slices of eggplant sauteed in a pan and then baked with delicious pasta sauce and mozzarella cheese.
Print
Rate
Ingredients
1

large eggplant

or two small ones

1 1/2

cup

Italian bread crumbs

1/4

cup

dry Parmesan cheese

2

eggs

Salt

Fresh cracked black pepper

Some vegetable oil

for cooking

24

oz

jar pasta sauce

four cheese recommended

3-4

garlic cloves

5-6

large fresh basil leaves

1 1/2

cups

shredded Mozzarella cheese

1/2

cup

fresh grated Parmesan cheese

__

Leftover eggplant

about 1 1/2 cups diced

1

medium tomato

1/2

Vidalia onion

1

medium carrot

1

tsp

thyme

Salt

Pinch

of cayenne pepper

2-3

Tbsp

vegetable stock

water can be substituted
Instructions
Peel eggplant and cut off the tips on both sides. Slice eggplant into about 1/3-inch thick slices. (I like to use the equal, middle eggplant slices and leave the small ends for the hash.) A 9x13 baking dish will fit 6-8 eggplant slices, depending on the size of the slices.

To bread eggplant:

Prepare two wide bowls. In one bowl, combine Italian bread crumbs, dry Parmesan cheese, some salt, and fresh cracked black pepper. Mix it well. In another bowl, whisk eggs with some salt and fresh cracked black pepper.

Press a slice of eggplant in bread crumb mixture on both sides, then dip in egg mixture on both sides, and then back in bread crumb mixture. Press on both sides of the breaded eggplant to set the breading. Repeat with all the slices you are using for the Eggplant Parmesan.

Preheat oven to 350 and preheat a large saute pan over medium-high heat on the stove-top.

Add some oil to the saute pan and place breaded eggplant slices in the pan. (You may have to do this in two batches.) Cook eggplant just until the breading is golden on both sides.

Place browned eggplant slices in a lightly greased 9x13 baking dish and set aside.

Pour pasta sauce into a medium sauce pot and heat it through over medium heat. Add pressed garlic cloves and minced basil leaved to the sauce. Salt to taste. ring to simmer and take off heat. (You can prepare pasta sauce while eggplant is cooking to save time.)

Spoon hot pasta sauce over all the eggplant slices in the baking dish.

Spread Mozzarella cheese evenly over the top. Spread Parmesan cheese evenly over the top as well.

Bake for 20 minutes.

While Eggplant Parmesan is baking, prepare eggplant hash.

Dice eggplant, onion, carrots and tomato.

You can use the same pan where you cooked eggplant. Add some oil to the pan and saute onion and carrots for a few minutes. Add diced tomatoes and eggplant. Mix and cook over medium heat until all golden and softened. Add vegetable stock about half way through. Season with salt, thyme and a pinch of cayenne pepper (however much heat you prefer). Take off heat.

Once Eggplant Parmesan is baked, add some eggplant hash on top of each slice.
Tried this recipe?
Mention @willcookforsmiles and tag #willcookforsmiles