Dutch apple pie is a wonderful variation of a classic American apple pie but uses a sweet crumb topping instead of crust on top. This pie, also known as Apple Crumb Pie, is a combination of flaky pie crust filled with sweet apple filling and topped with buttery, sweet streusel.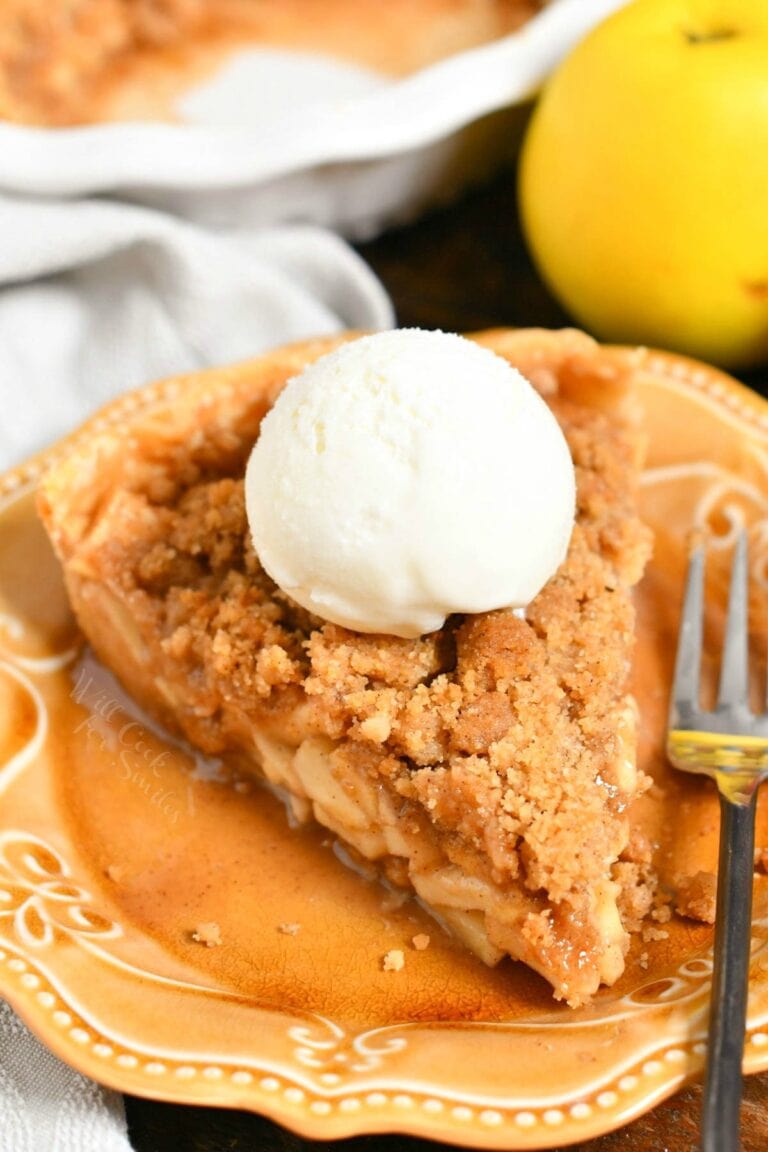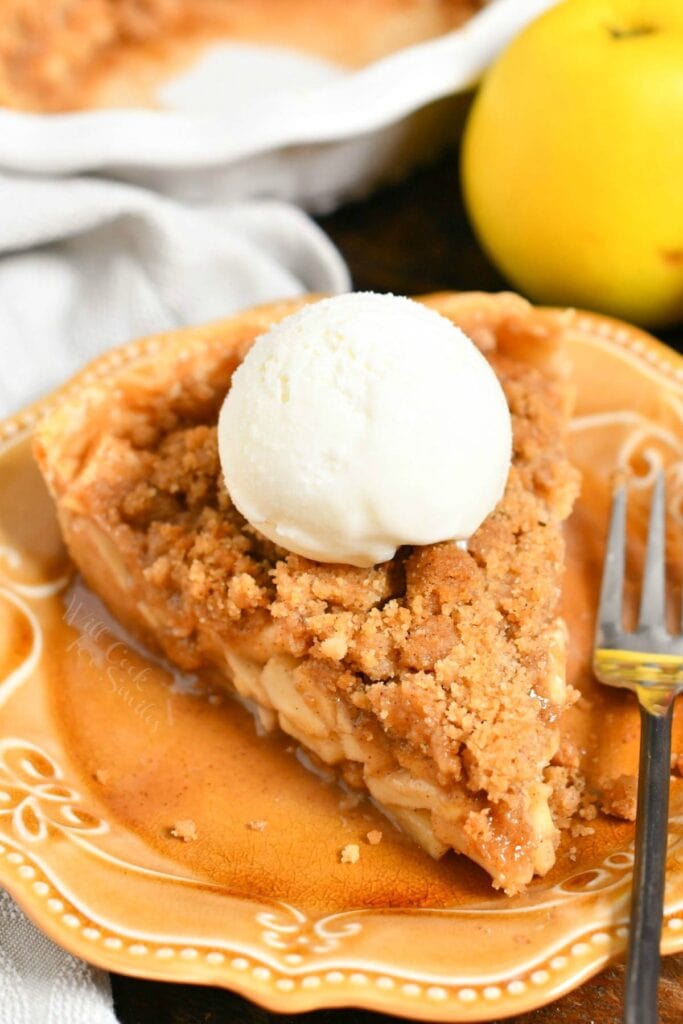 What Is Dutch Apple Pie?
Contrary to the name, Dutch apple pie is not actually a Dutch recipe. The difference between the classic apple pie and Dutch Apple pie is the sweet, crumb topping. While the classic pie recipes call for a top and bottom crust, this dessert only uses a bottom crust. 
On top, this pie has a blanket of sweet, buttery, crumble streusel topping covers the fruit filling. That is why it's also called "apple crumb pie."
Another difference between the two pie is the apples. Classic pie usually uses cooked apple filling but the crumble pie uses raw apples. Using raw apples helps cook the crumble and incorporated it with the sweet apple juices as they cook.
There is just one thing that makes streusel topping for apple pie better, and that is to top it with a scoop of vanilla ice cream!
INGREDIENT NOTES + SUBSTITUTIONS
pie crust – You have a choice of using a prepared 9-inch crust, or using homemade pie crust. If you need a gluten free option, consider making this gluten free pie crust.
golden delicious apples – Feel free to use any firm-fleshed apple of your choice but don't choose crumbly kinds or the filling will be mushy.
light brown sugar – If you happen to be out of brown sugar, it is very easy to make. For every cup of brown sugar called for in the recipe, combine 1 cup of white granulated sugar and 2 teaspoons of molasses.
white granulated sugar – both white and brown sugar have a different job in a recipe. Where one soaks up moisture, another gives out molasses and makes it more soft and chewy. So do use both sugars when a recipe calls for it.
all purpose flour – if you need a gluten free substitute, use all purpose gluten free flour.
apple pie spice – This is a combination of several common baking spices: cinnamon, nutmeg, allspice, ginger, or ground ginger. If you need to substitute it: for 1 teaspoon of apple pie spice, combine 1/2 teaspoon ground cinnamon with 1/4 teaspoon ground nutmeg, 1/8 teaspoon ground allspice, and 1/8 ground cloves or ground ginger.
unsalted butter – For baked goods, the best option is unsalted butter. This is because the amount of salt varies a lot between different brands. In some cases, the dessert ends up being  too salty.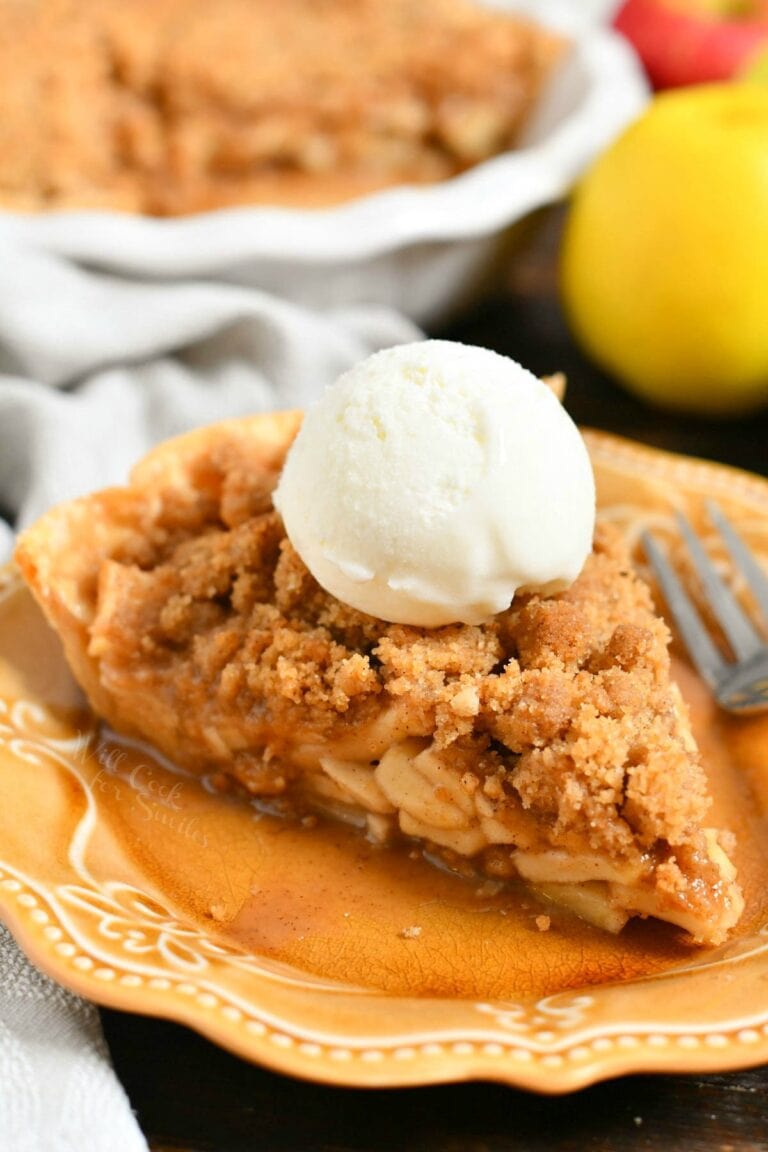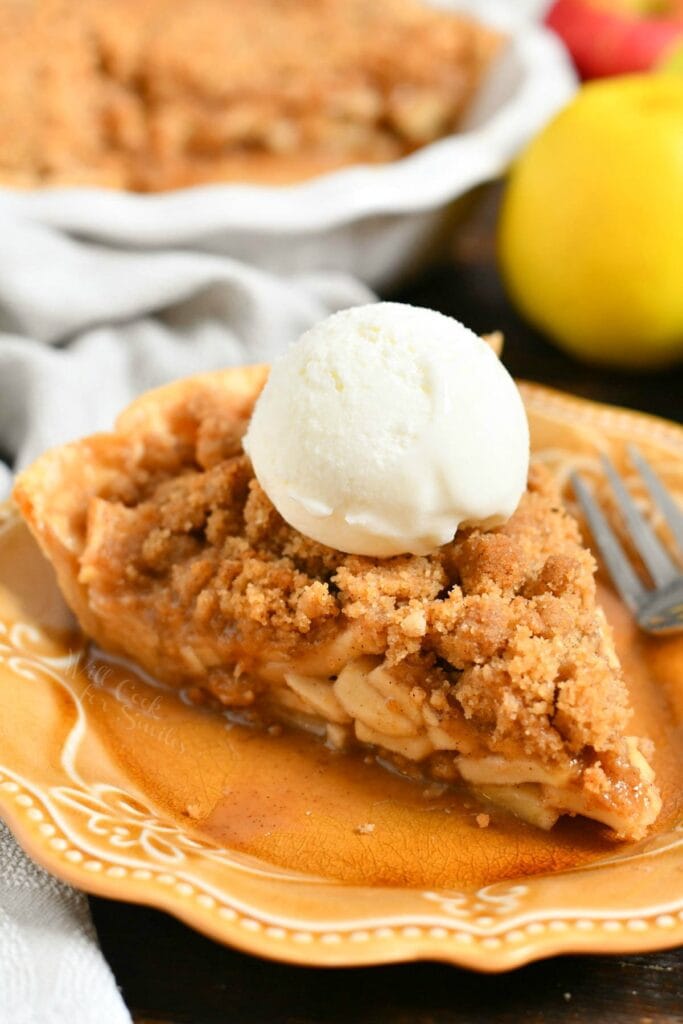 Kitchen Tools You'll Need:
Corer / slicer
Paring knife or swivel vegetable peeler (for peeling the fruit)
9-inch dish
Mixing bowls
Spatulas and fork
HOW TO MAKE DUTCH APPLE PIE
How to make apple pie filling
TIP: To allow the fruit time to naturally release its juice, I recommend making the filling first. The only thing you won't add right away is flour. 
Prepare the apples. Clean, core, and peel the fruit. Then, either slice or dice it into small pieces.
Add all of the filling ingredients except flour to a large, non-reactive mixing bowl. Stir to combine, then, set it aside while you make the remaining components.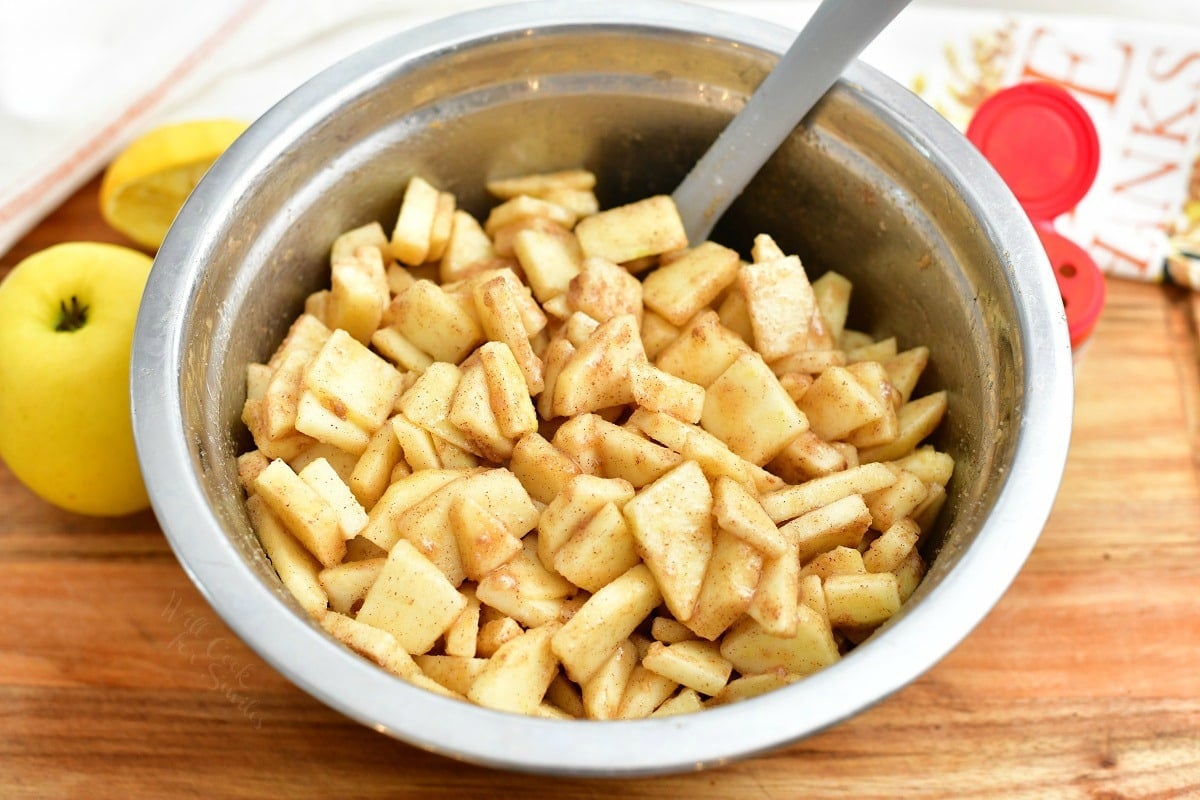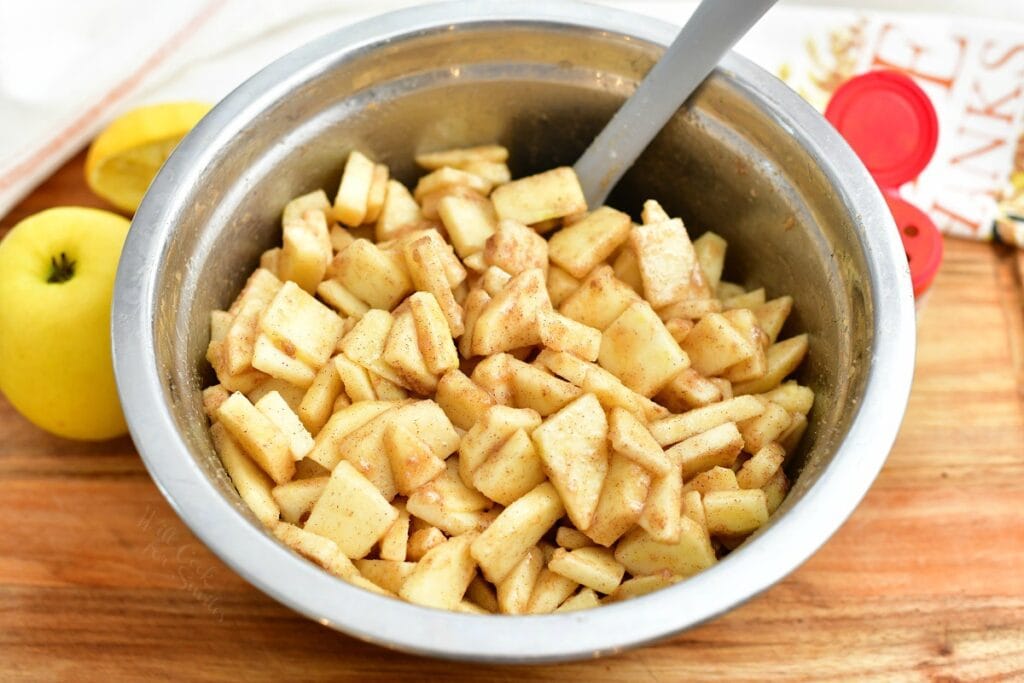 Streusel Topping
Perfect streusel is the best part of a Dutch apple pie! You need the right ratio of dry and wet ingredients, and it's important to combine them correctly.
Combine everything except for the melted butter in a bowl. 
Incorporate the melted butter slowly, and mix by cutting and folding the mixture onto itself. Be careful not to over mix it. Otherwise, it will be pasty rather than crumbly.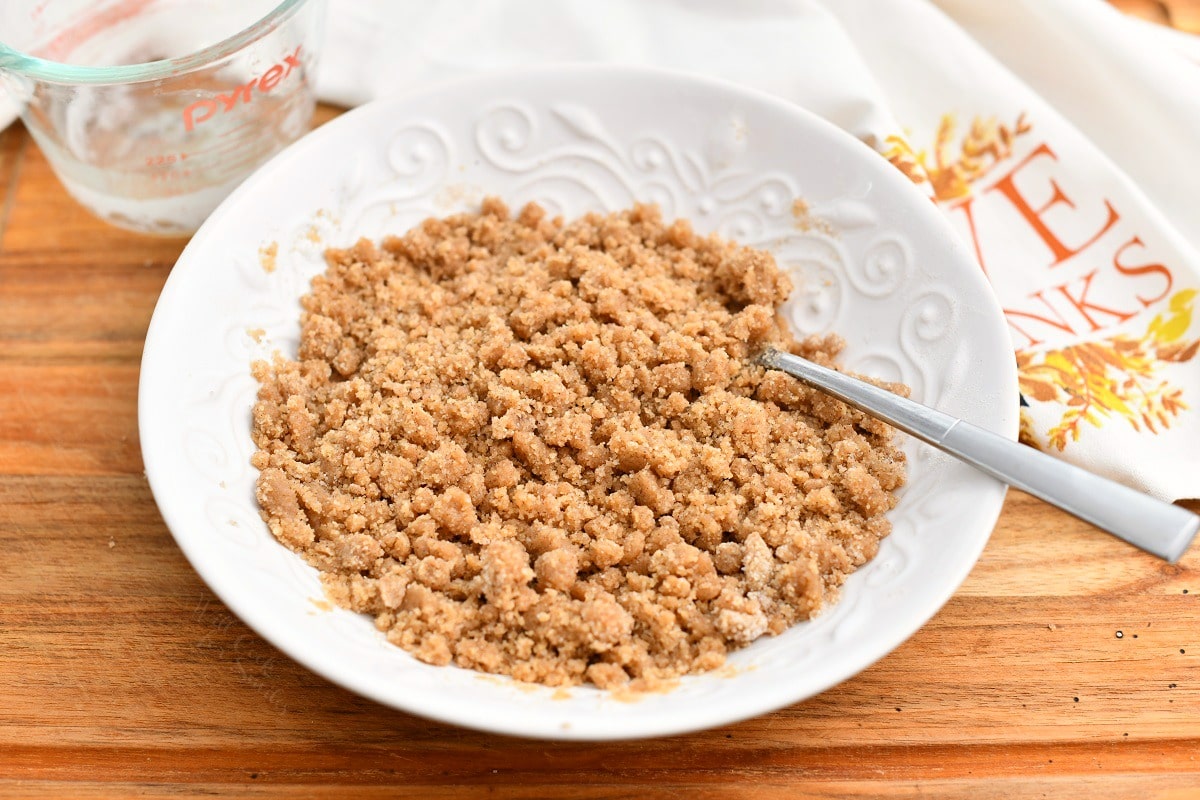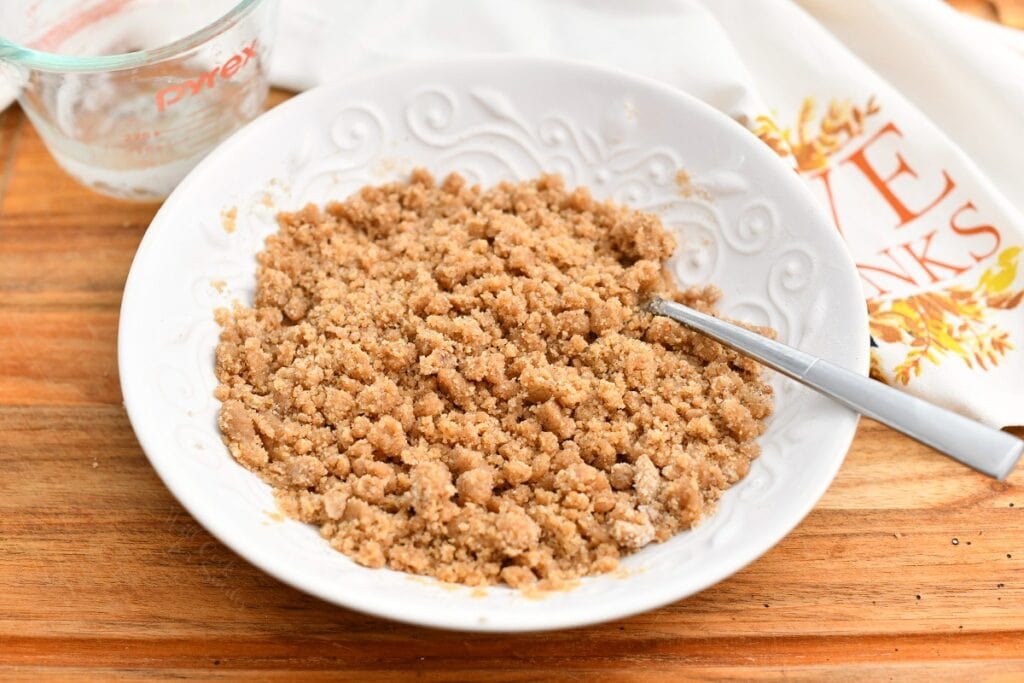 Prepare The Crust
If you're using a prepared crust, the only thing you'll need to do is add the filling and it will be ready for baking.
But, if you use refrigerated or homemade pastry dough, you'll need to roll it out and place it into the baking dish.
Grease the inside of the dish with butter to prevent the crust from sticking.
Assembling Dutch Apple Pie
Drain liquid from the bowl of fruit.
You don't need to keep it for this recipe. However, if you cook it down in a pan on the stovetop, it makes a deliciously sticky, naturally sweet syrup for pancakes or waffles.
Transfer filling to the baking dish.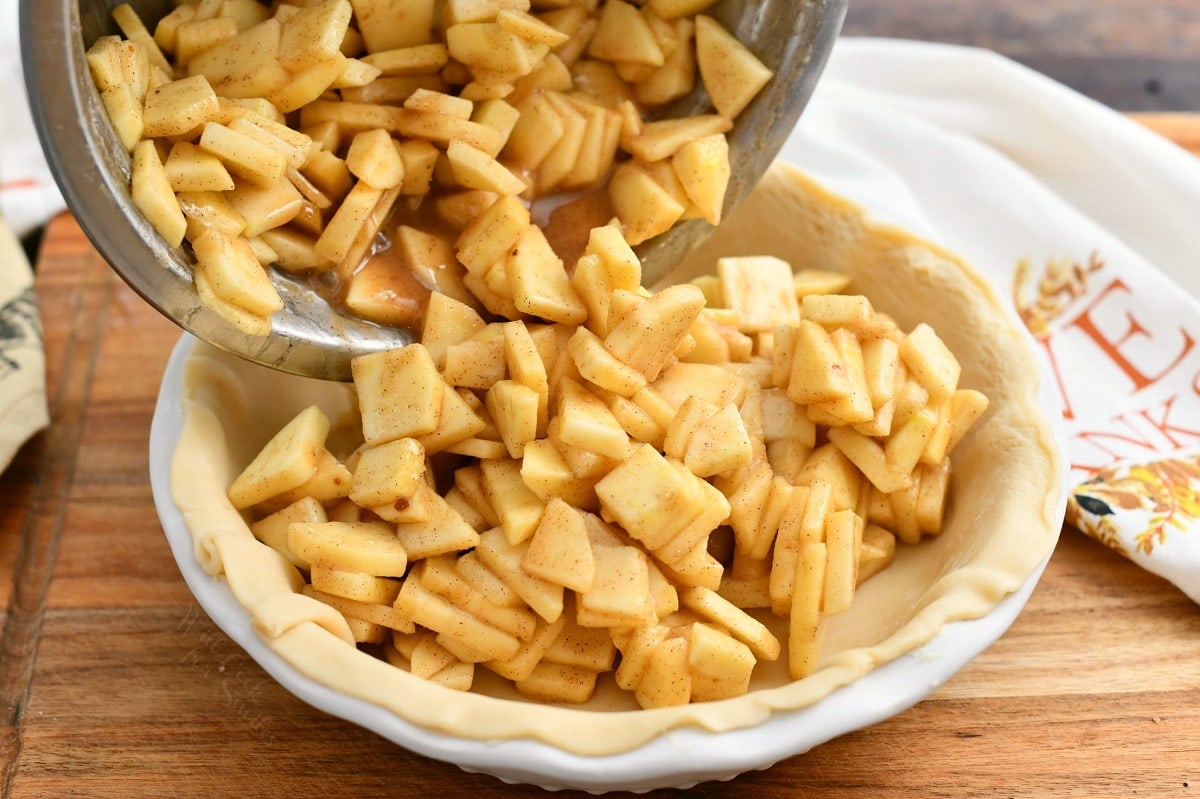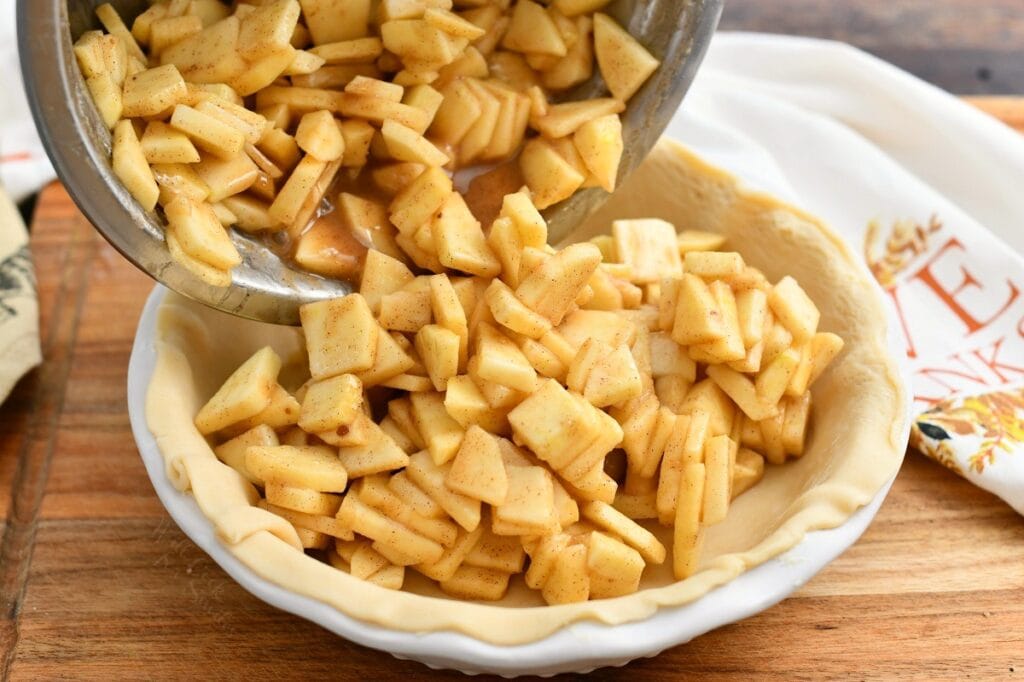 Add streusel in an even layer over the top.
Bake the pie.
The total baking time is 60 minutes. After 30 minutes, it's a good idea to loosely cover the top of the pan with aluminum foil. This prevents the topping from becoming too dark.
When it's ready to come out of the oven, the filling under the streusel should be bubbling hot.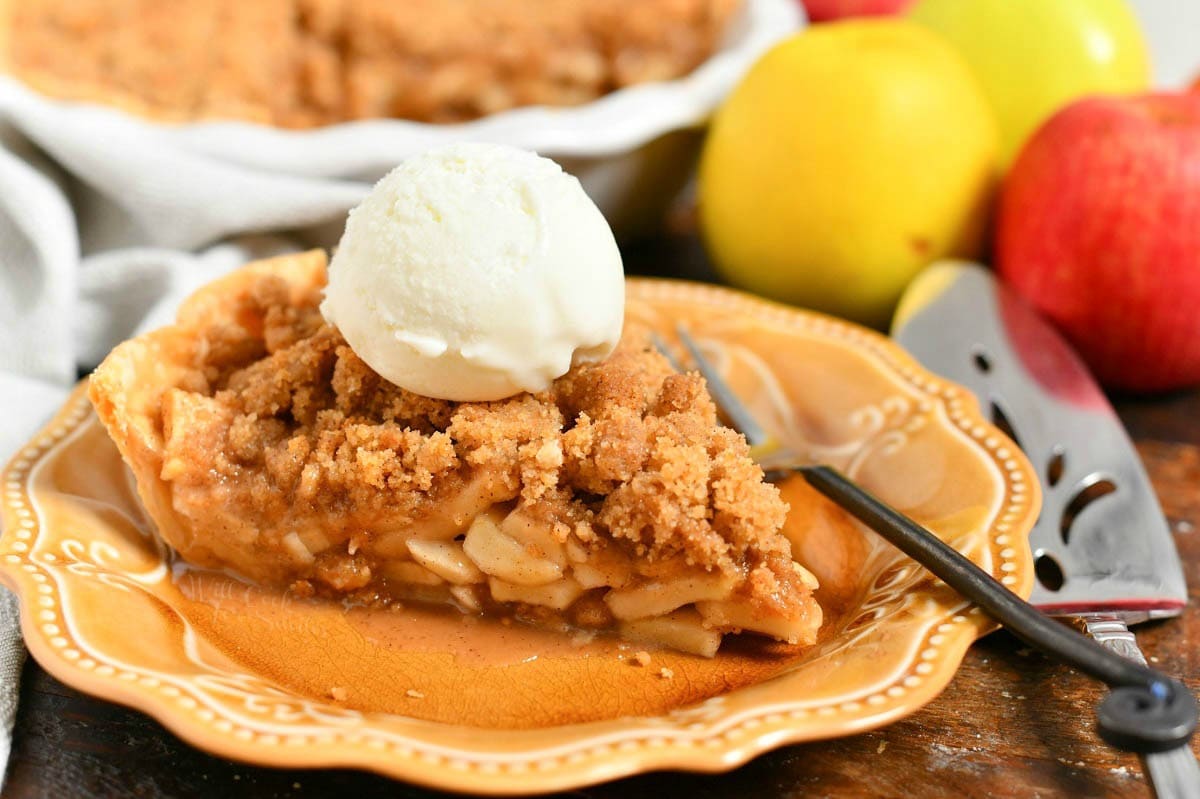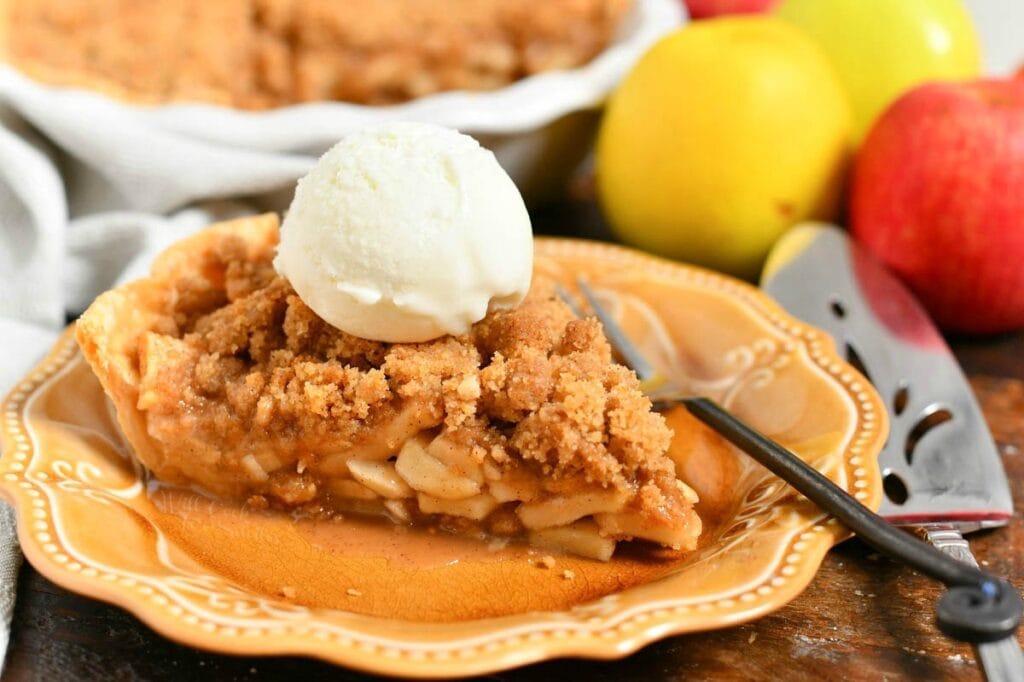 Cool completely before serving.
Resist the temptation to slice into Dutch apple pie before it has a chance to cool completely. Otherwise, the filling will be too loose, causing everything to topple over onto the plate.
This is where patience is necessary, because your kitchen will smell amazing! You need to allow at least 4 hours for it to cool completely and if you have the patience of gold, do it overnight.
This is a great pie to do a day ahead.
STORAGE INSTRUCTIONS
It's perfectly okay to leave the pie at room temperature for up to 2 days. Just be sure to cover it well to prevent it from becoming stale.
To extend it's life, cover it tight and store in the refrigerator for up to 5 days.
BEST APPLE DESSERTS
When you need an easy dessert for any occasion, the perfect solution is to bake something sweet with apples. They pair beautifully with a wide variety of spices, and because there are so many apple varieties, it's easy to find them fresh and in season, all year long.
If you are short on time, make an apple crisp. Full of juicy fruit, warm spices, and a delicious crumble topping, crisps are quick and easy to make.
Another tasty and incredibly easy treat is apple bread pudding. While technically dessert, it isn't unheard of to serve it for a weekend breakfast or brunch.
But the ultimate of all classic desserts is a freshly baked, homemade pie. In the fall, caramel apple pie is a favorite, right along with this Dutch apple pie recipe!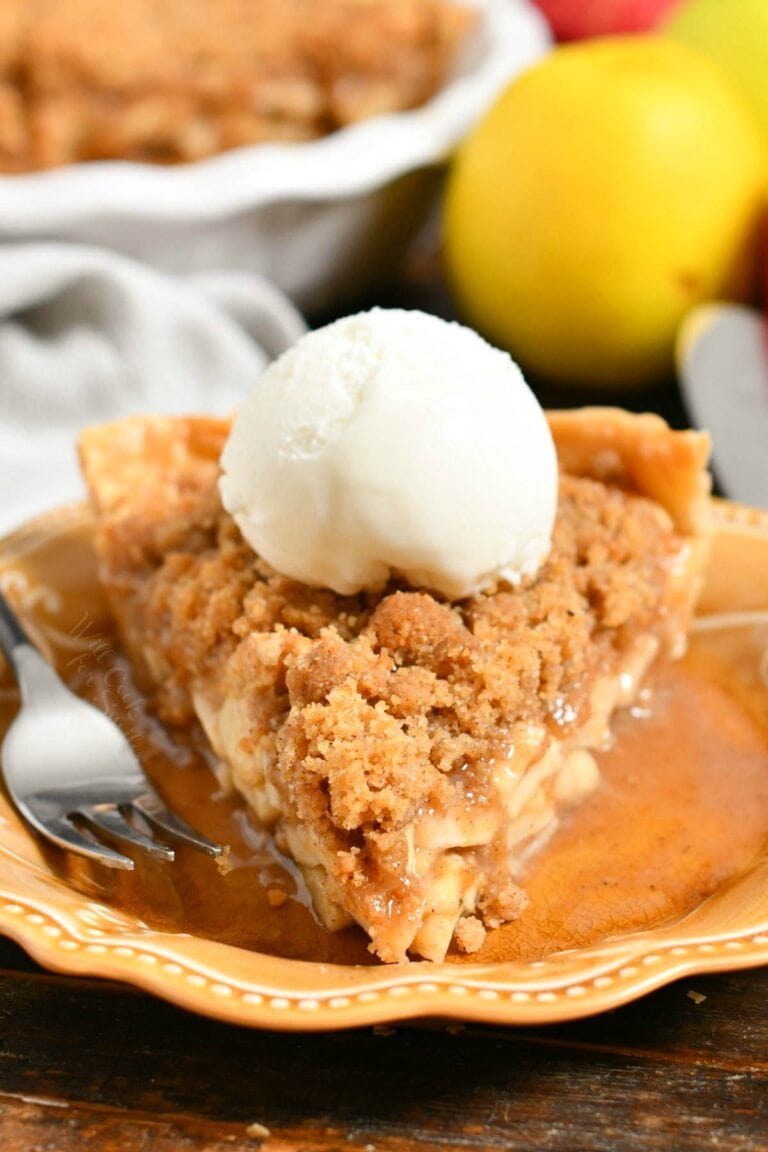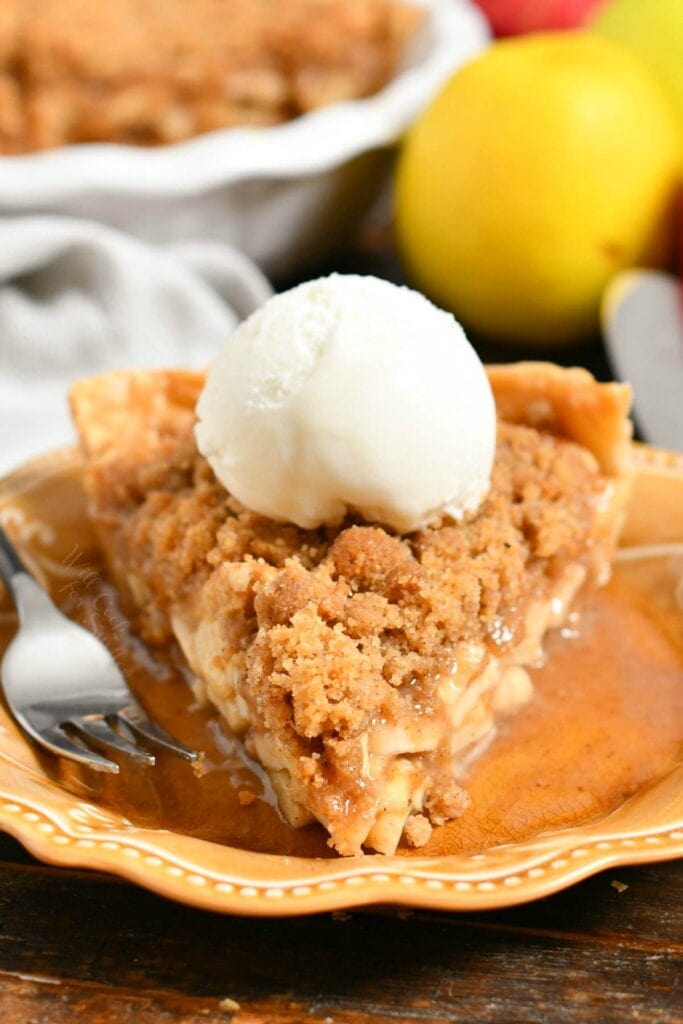 If you made any of my recipes and shared them on Instagram, make sure to tag me @willcookforsmiles and #willcookforsmiles so I can see all the things you tried!
Don't forget to sign up for email, so you won't miss any new recipes.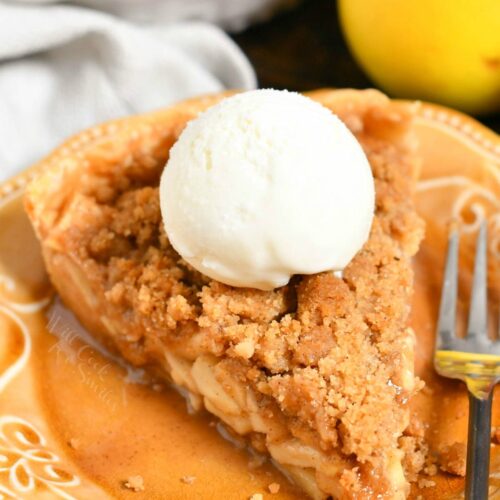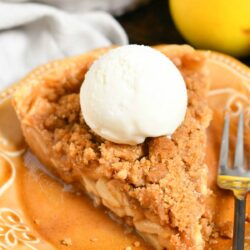 Dutch Apple Pie
This Dutch apple pie recipe creates a fruit dessert of baked apples with streusel topping in flaky crust. Make one to serve for the holidays!
Print
Save
Saved!
Rate
Ingredients
Apple Pie Filling:
2 1/2

lbs.

golden delicious apples

1/2

cup

light brown sugar

1/4

cup

white granulated sugar

1/3

cup

all purpose flour

1

tsp

apple pie spice
Topping:
1/2

cup

light brown sugar

1/2

cup

white granulated sugar

1

tsp

apple pie spice

3/4

cup

all purpose flour

5

tbsp

butter

melted
Instructions
Tip: Mix most of the apple pie filling ingredients first (except flour) and set it aside while working on other parts. This will give time for the apple to release natural juices so you can drain off most of it.
Filling:
Peel and core the apples and then quarter and slice them into thin slices. (If you prefer the look of diced apples, you can dice them instead of slicing.)

Mix sliced apple with sugars and apple pie spice in a bowl and set aside. (Don't mix in flour yet.)
Topping:
In a medium bowl, combine brown sugar, white granulated sugar, apple pie spice, and flour. Mix well until all ingredients are incorporated evenly.

Pour in melted butter over the mixture while carefully folding and cutting it in with a fork. You will want to be careful so you don't over-mix. Streusel should look like large crumbs and not paste.
Crust:
Preheat the oven to 350°. Rub a 9-inch pie dish with butter all over the bottom and sides.

Gently roll out the pie crust on a lightly floured surface to about 12 inch circle.

Place it over the pie dish and gently fit it in. Crimp the edges or simply fold them for a rustic look.
Assembly and baking:
Drain off most of the liquid that was released by the apples and mix in flour into the pie filling.

Spread the filling evenly in the pie crust.

Sprinkle the crumb topping evenly all over the apple filling.

Bake for 60 minutes. Half way though, cover the pie dish loosely with a sheet of aluminum foil to prevent the top from browning too much. Make sure the pie is bubbling before taking it out.

Take the pie out and let it completely cool down before slicing, this can take 2-4 hours.

If not serving right away, cover the pie with plastic wrap or aluminum foil tightly and refrigerate.
Storing:
It's perfectly okay to leave the pie at room temperature for up to 2 days. Just be sure to cover it well to prevent it from becoming stale.

To extend it's life, cover it tight and store in the refrigerator for up to 5 days.
Nutrition
Calories:
475
kcal
|
Carbohydrates:
89
g
|
Protein:
4
g
|
Fat:
13
g
|
Saturated Fat:
6
g
|
Cholesterol:
19
mg
|
Sodium:
160
mg
|
Potassium:
227
mg
|
Fiber:
4
g
|
Sugar:
60
g
|
Vitamin A:
298
IU
|
Vitamin C:
7
mg
|
Calcium:
42
mg
|
Iron:
2
mg
Tried this recipe?
Mention @willcookforsmiles and tag #willcookforsmiles