Simple cold salad that can be easily put together in a few minutes and tastes amazing. It's an ideal warm weather salad that combines shrimp salad and egg salad together and is packed with green onions, dill weed, garlic, and lemon.
Don't forget to sign up for email, so you won't miss any new recipes.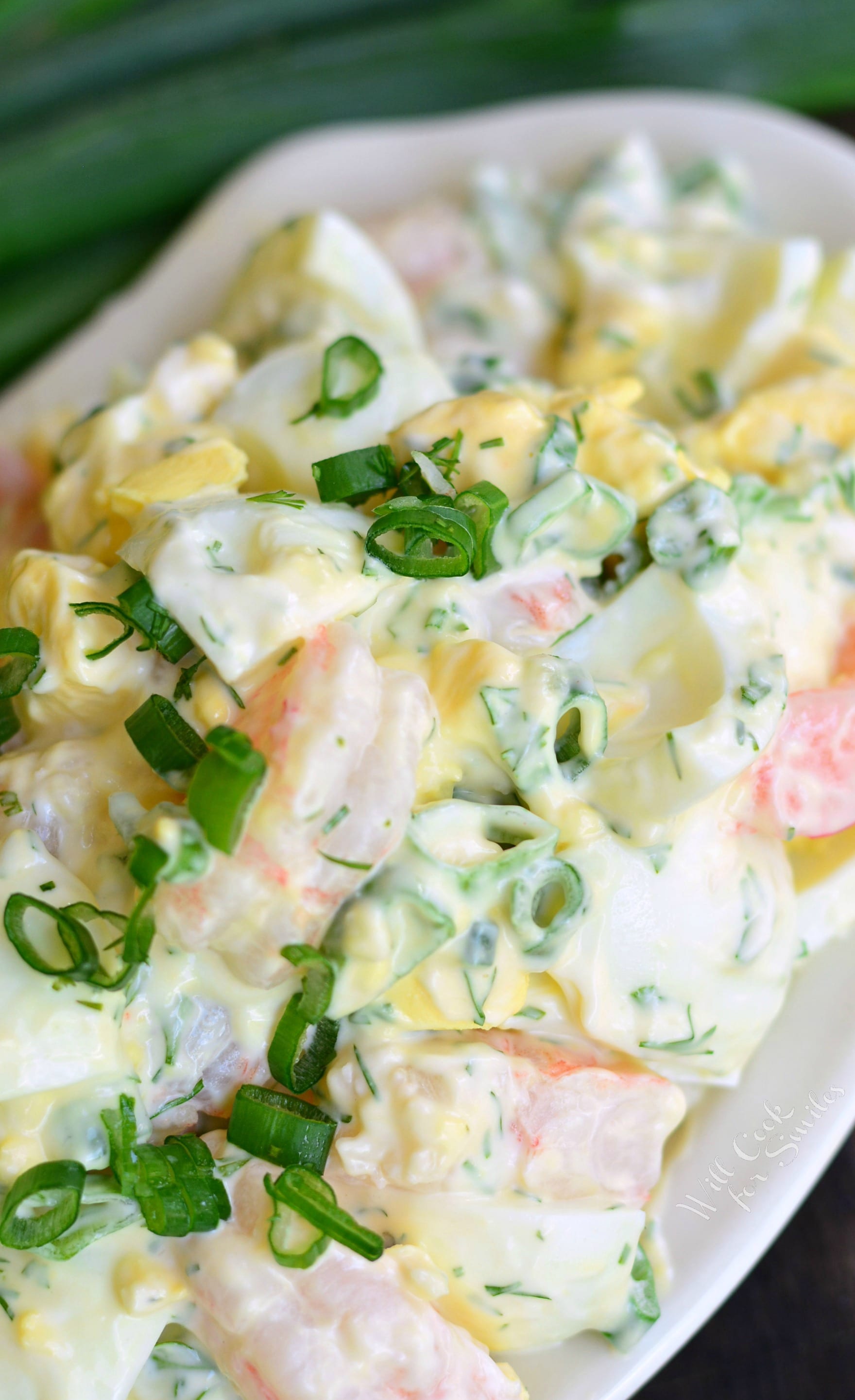 I just had to share another tasty egg salad recipe before this weekend.
It's Easter weekend and I am …. NOT ready! To be honest, I completely forgot that it's the Easter weekend already. I lost track of time and thought I had a couple more weeks. Little man asked for an egg hunt and I've been trying to figure out a way to make it a little more challenging. He is 8 now and a simple collecting of eggs in our little backyard just won't do. I'm sure he would like the easy way out but that's no fun.
So I planned to write some riddles and have him hunt the eggs for clues. Once he has collected all the eggs and clues, he would get his Easter basket. That was the plan until I realized that I only have 3 days to write the riddles. Luckily, Pinterest is always full of wonderful ideas so I'm going to spend a few hours there to find the egg hunt riddles.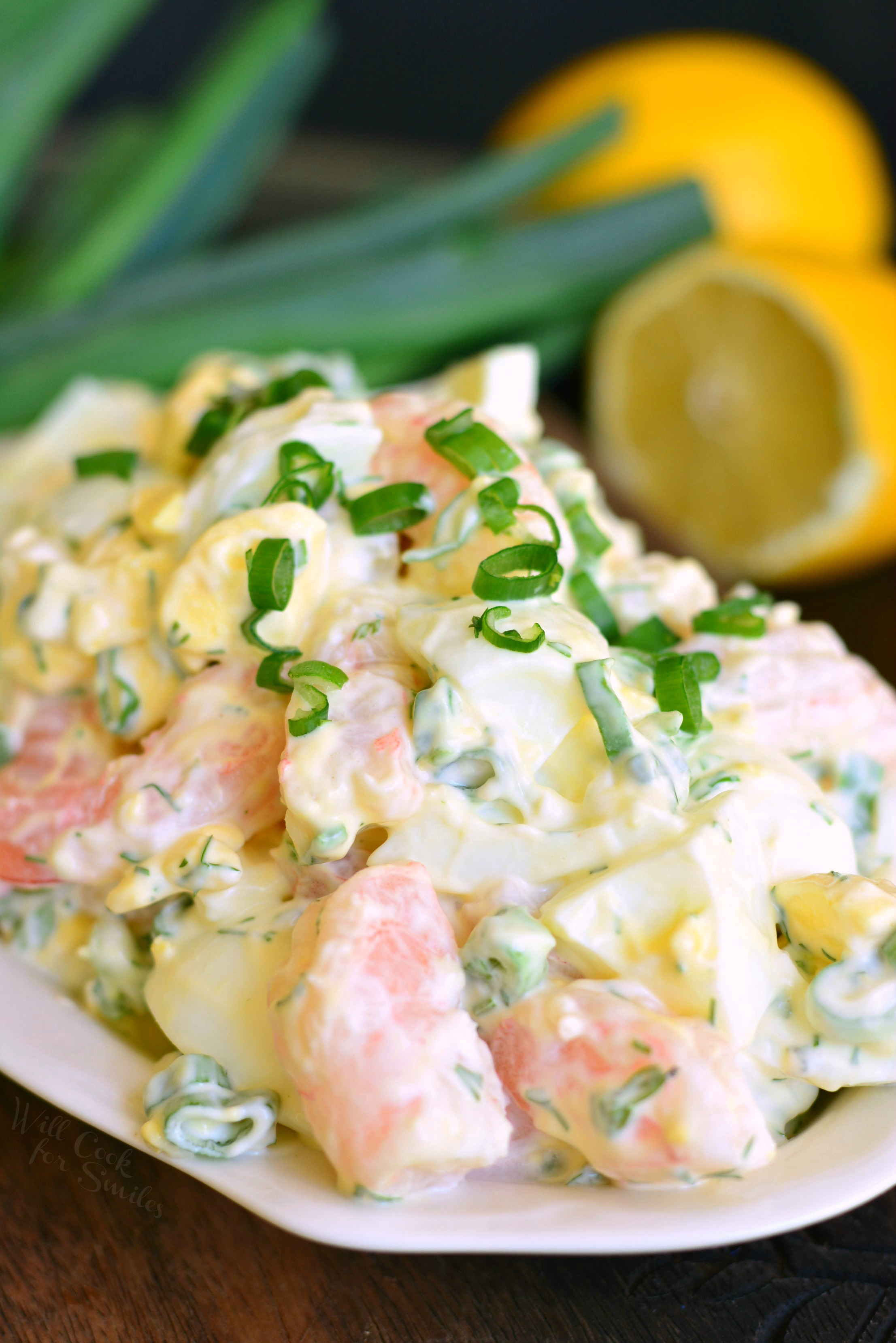 After a few disastrous attempting to take little man to public egg hunt events, which ended in a panic each time, I am now doing private egg hunts for him at home. We invite friends and family and it's much more fun and sane. At the public evens, kids seem to always get lost and that causes kids and parents to panic, some kids start to fight over eggs, lines for games are long and kids loose patience very quickly. At the end of the event, I just sit in the car and wonder if it was worth the 5 eggs filled with a couple of Skittles that he managed to get.
Family event is much more calm and fun. Plus, I can fill the eggs with whatever fun things I want. I also get a chance to break out my grill and hang out outside before the weather gets scorching hot.
I'm planning on keeping it simple this weekend and make a couple of cold salads in addition to grilling some burgers. This Shrimp Egg Salad will be a perfect simple salad. After we are all done dying eggs, it will take me 5 minutes to whip up this salad. It only takes a few minutes to put together all the ingredients, if you prepare shrimp ahead of time or buy already cooked shrimp. You can get the cooked shrimp that are sold for shrimp cocktail. Of course, you can cook the shrimp specially for the salad if you don't wish to buy cooked shrimp.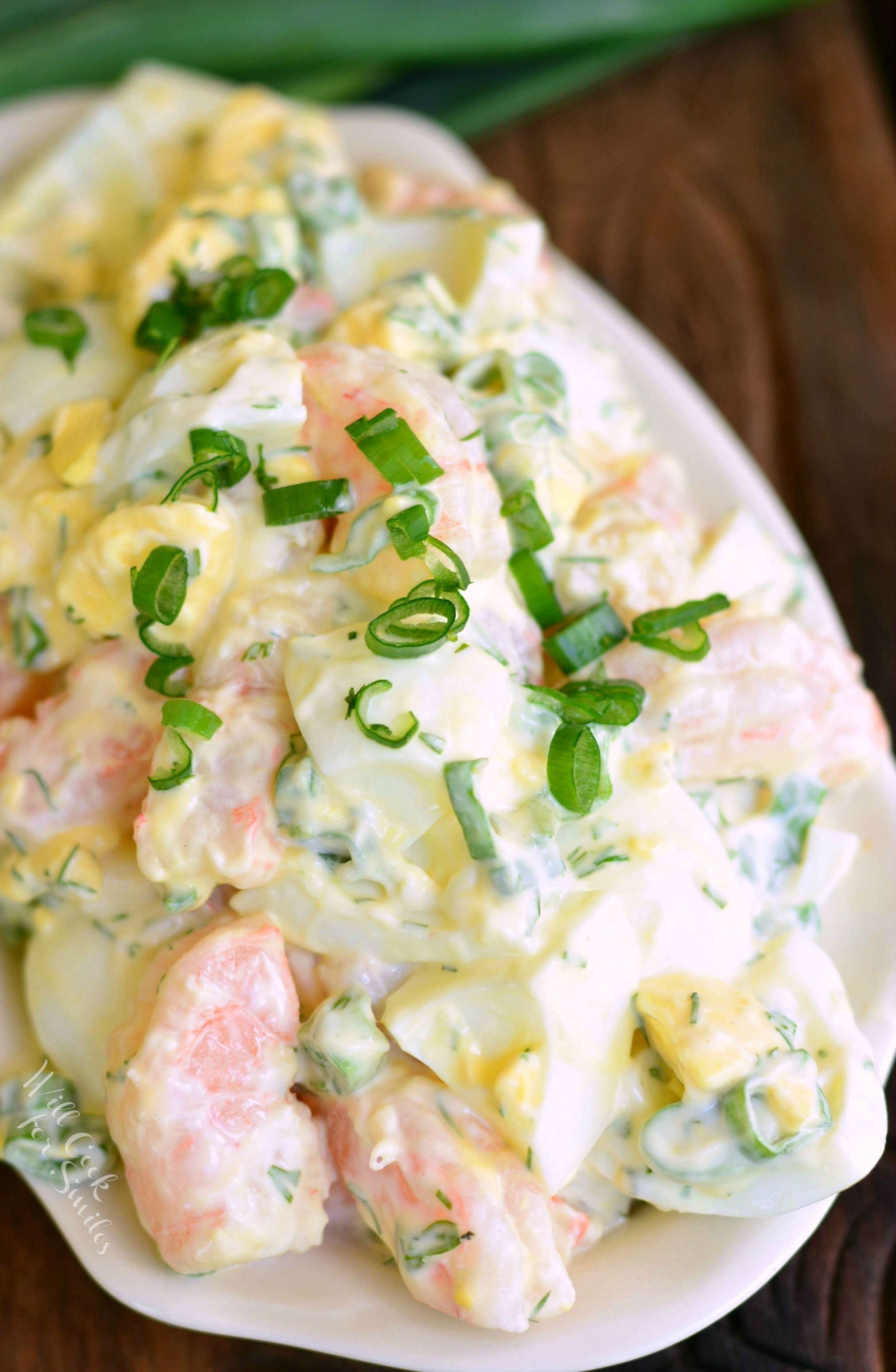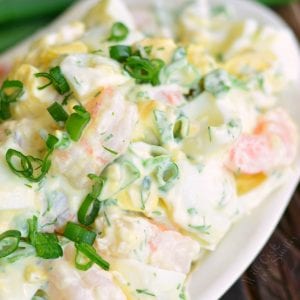 Shrimp Egg Salad
Ingredients
12

hard boiled eggs

3/4

lb

cooked shrimp

1/4

cup

green onions

diced

1

shallot

minced

2

tbsp

fresh dill weed

minced

1

large garlic clove

pressed

1/2

tbsp

lemon juice

1

tsp

lemon zest

1/2

cup

mayo

salt
Instructions
Cut cooked shrimp into 2-3 pieces and add it to the bowl.

Chop hard boiled eggs and add them to the bowl as well.

Add diced green onion, minced shallot, minced dill weed, pressed garlic, lemon juice, lemon zest, and salt.

Gently mix everything until combined.

Add mayo and gently mix until mayo is evenly incorporated.

Refrigerate until ready to serve.
Recipe Notes
If you wish to cook your shrimp for the salad:
Bring water to boil in a small pot. Add salt to water and mix. Add shrimp and turn off the heat. Cook shrimp for 2-3 minutes, depending on shrimp size. Shrimp will turn pink and curl. Take shrimp out of water to cool. Once it's cooled, use it in the salad. 
Nutrition Facts
Shrimp Egg Salad
Amount Per Serving
Calories 516
Calories from Fat 342
% Daily Value*
Total Fat 38g 58%
Cholesterol 785mg 262%
Sodium 1026mg 43%
Potassium 295mg 8%
Total Carbohydrates 3g 1%
Protein 36g 72%
* Percent Daily Values are based on a 2000 calorie diet.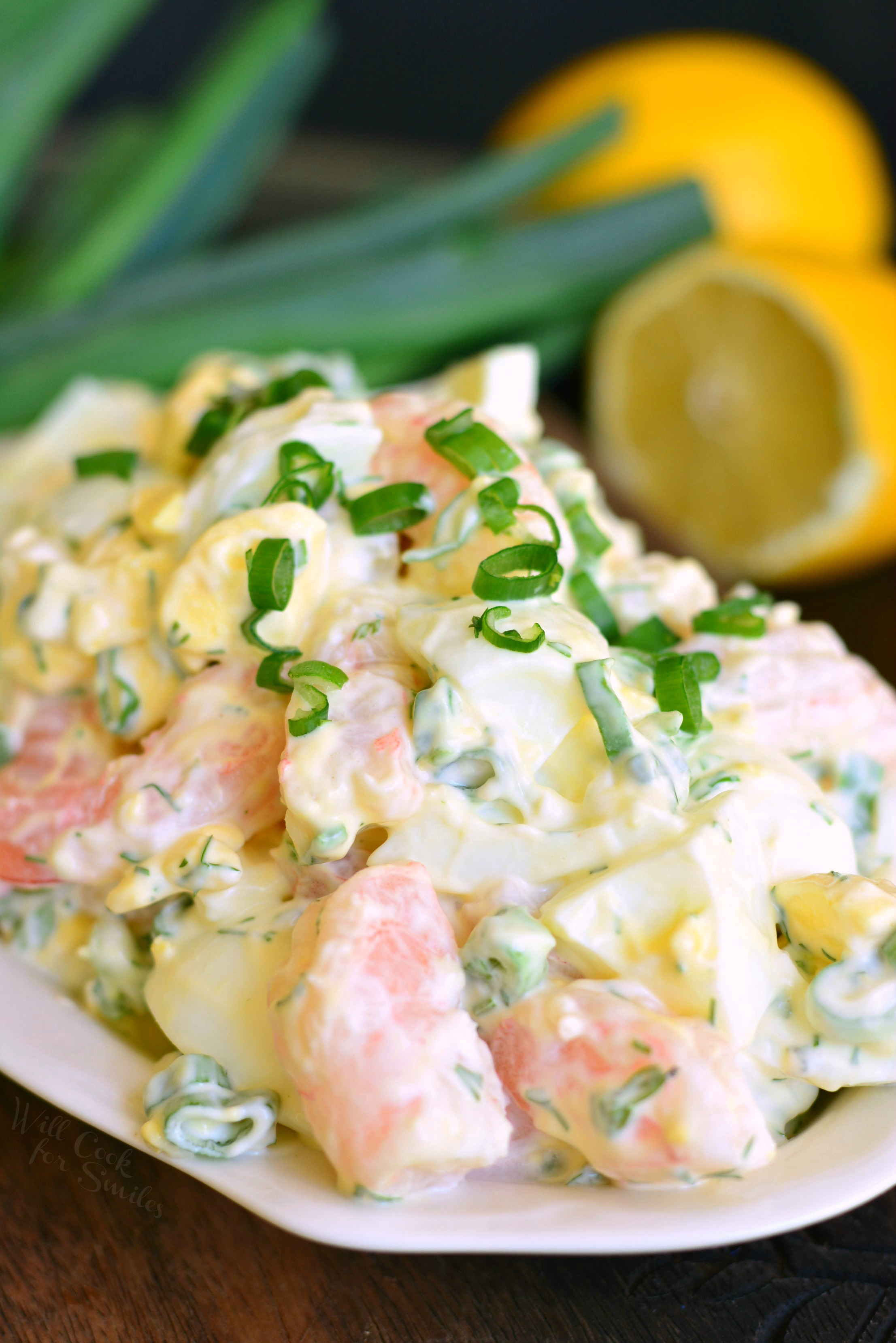 _________________________________________________________
Make sure you follow me through your favorite blog reader (bloglovin or other), subscribe to e-mail or follow me through social media of your choice to keep up with the recipes!
        
_______________________________________________________

Some More Recipes From Me: