When it comes to classic cocktails, it's hard to beat the Amaretto Sour. It has every element a sour cocktail should have – it's slightly sweet, perfectly tart, and has a hint of bitterness. While it certainly has a bite, this classic Amaretto Sour cocktail is refreshing and smooth.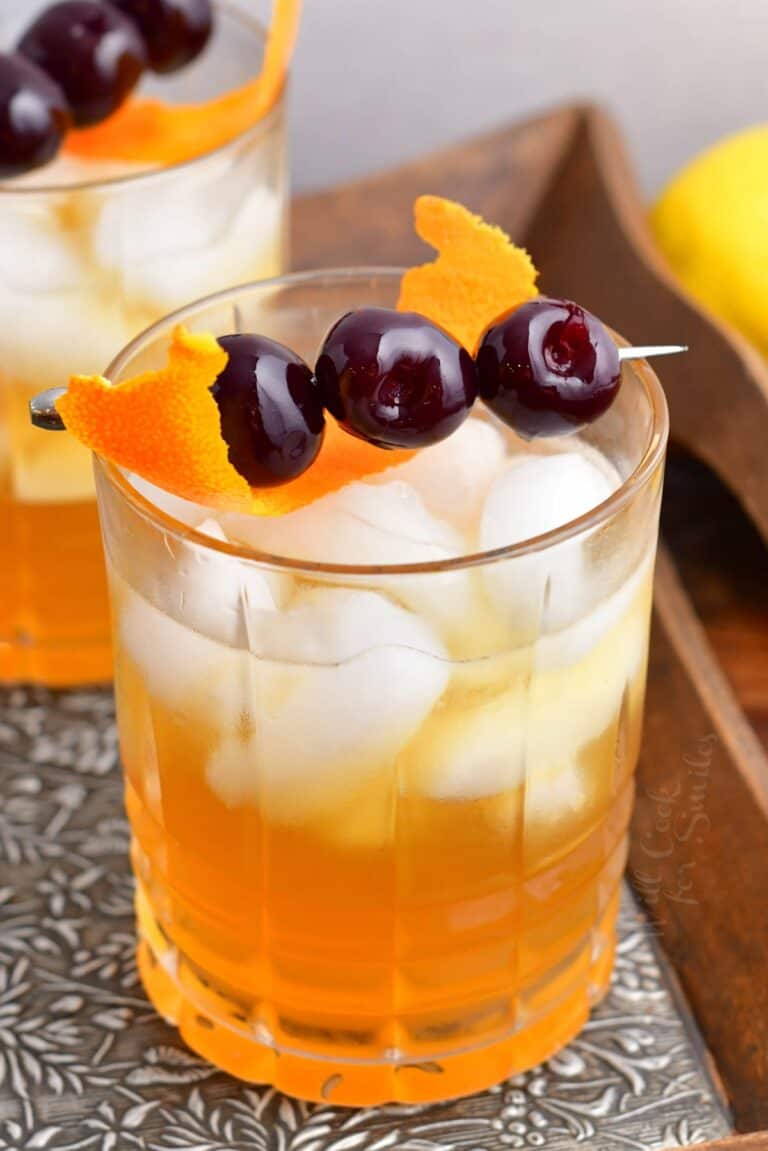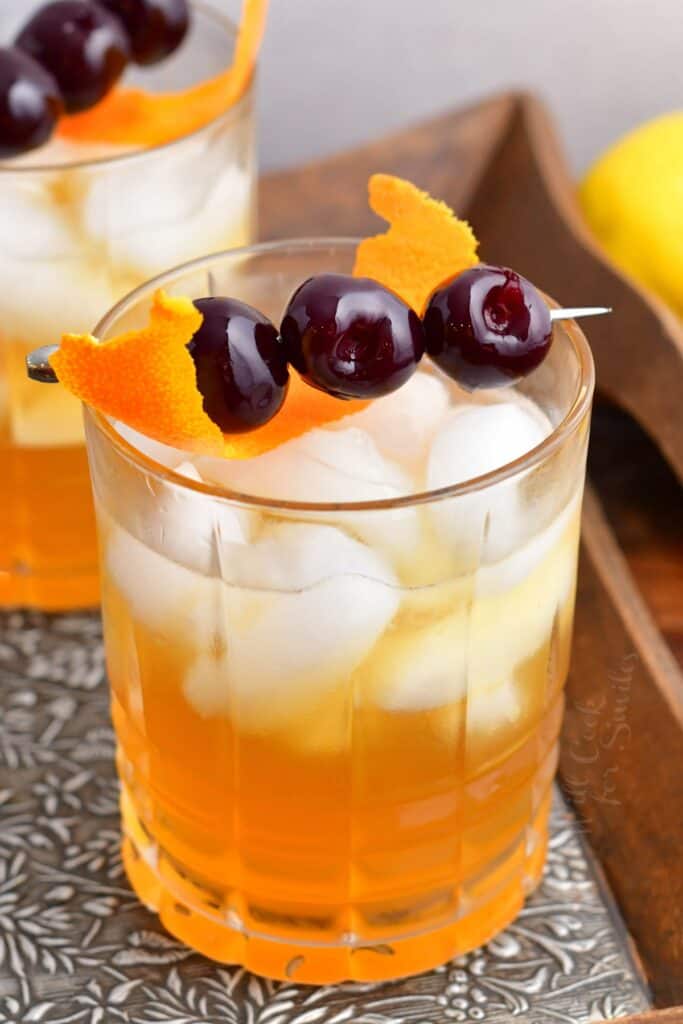 Amaretto Sour Cocktail
Of all the amaretto sours I've enjoyed over the years, this recipe is certainly my favorite! There are elements that separate if from other amaretto sour cocktails that, in my opinion, elevate it.
The inspiration for my Amaretto sour recipe comes from Jeffrey Morgenthaler's version. What this talented bartender from Portland, Oregon did was take the basic amaretto sour recipe and improved it by adding egg white and over-proof bourbon. While I am not a big fan of egg white in the cocktails, I was definitely intrigued by the addition of bourbon.
Normally, the Amaretto Sour can be a very sweet cocktail. However, by reducing the amount of amaretto and adding bourbon, we enhance the flavor and lower the sweetness.
Origins of the Amaretto Sour Cocktail
Although it's generally referred to as a "classic cocktail," the amaretto sour wasn't first whipped up until the 1970's. While that wasn't too long ago, it's popularity in bars across the world have garnered it the title of being a classic.
In America during the 70's, Italian liqueurs (like amaretto) were gaining popularity pretty rapidly. While we don't know who exactly to credit for first concocting this delicious drink, we do know that it was likely someone who was inspired by the sweet, nutty, and new taste of amaretto.
Ingredients for Amaretto Sour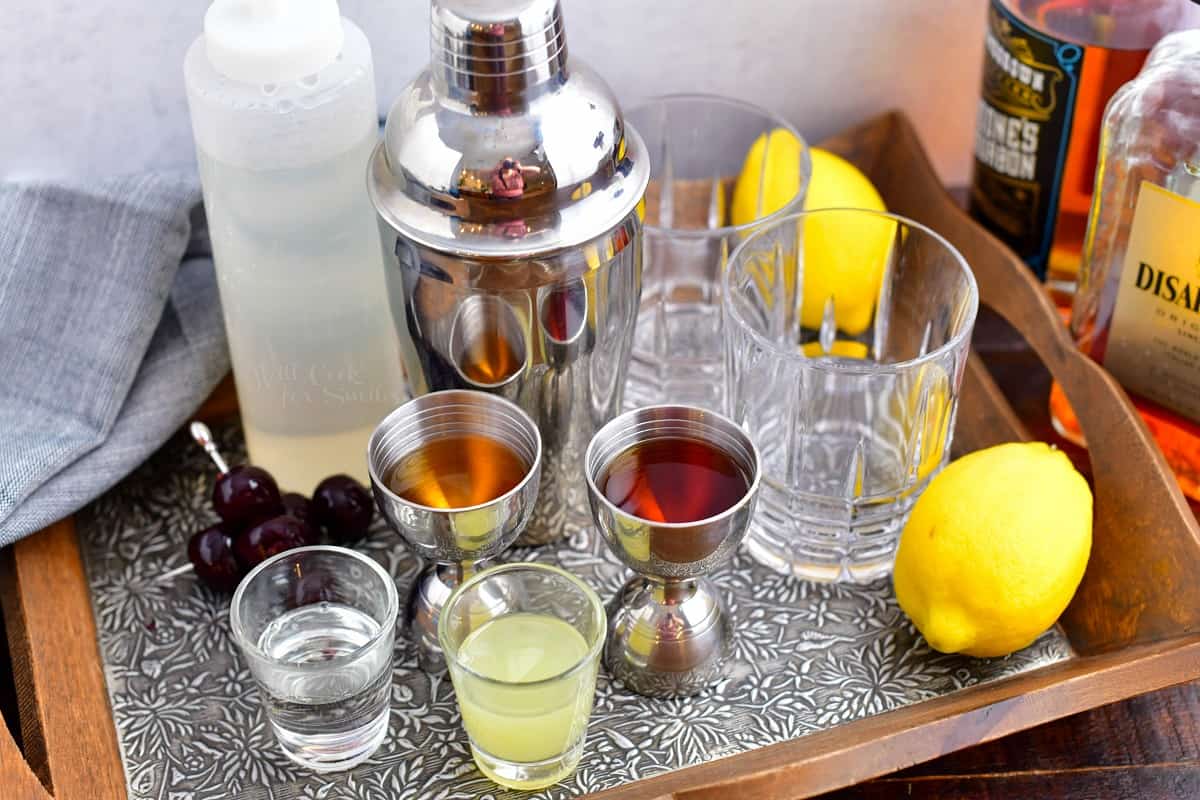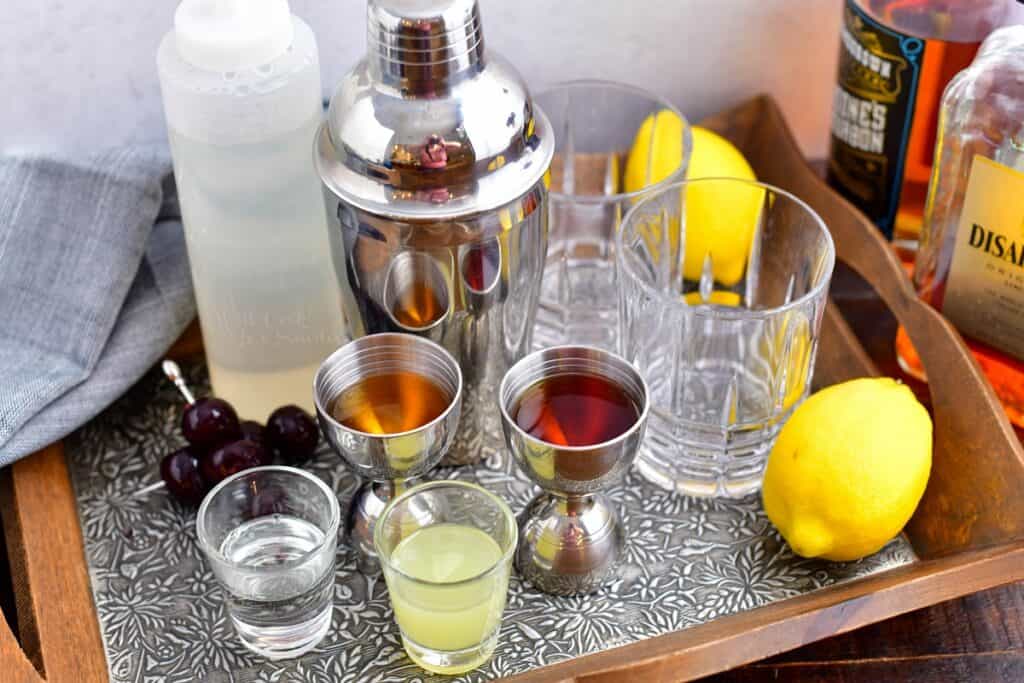 Amaretto – Quality really does matter with Amaretto so be sure you use the brand that you know and love! Cheaper brands tend to taste very different.
Bourbon – Be sure to use your favorite high quality bourbon. Even though Amaretto is still the star of the cocktail, the aromatic bourbon flavor does come through pretty well.
Lemon Juice – The juice from half of a fresh lemon should do the trick. It's very important to use fresh lemon juice. The flavor is so much better and more vibrant than pre-packaged lemon juice from the store.
Simple Syrup – a simple 1:1 ratio of water and sugar. You can make a batch ahead of time by combining a cup of hot water with a cup of white granulated sugar and stir until dissolved. Store it in a glass container with a lid or a squeeze bottle with a lid, in the refrigerator.
Cocktail Cherries – This is a simple garnish that an amaretto sour simply wouldn't be complete without.
Orange Twist – This is another garnish that truly tops off the cocktail beautifully. A sharp paring knife will help you get the cleanest cut of the orange skin.
Note: You can use a homemade sweet and sour mix but make the mix with lemons only, without limes! When making several cocktails, it's a nice time saver.
How to Make an Amaretto Sour
Although this cocktail is picturesque and sophisticated, don't worry. It's incredibly easy to make! You certainly don't need to be a professional bartender to impress people with this delicious sour cocktail.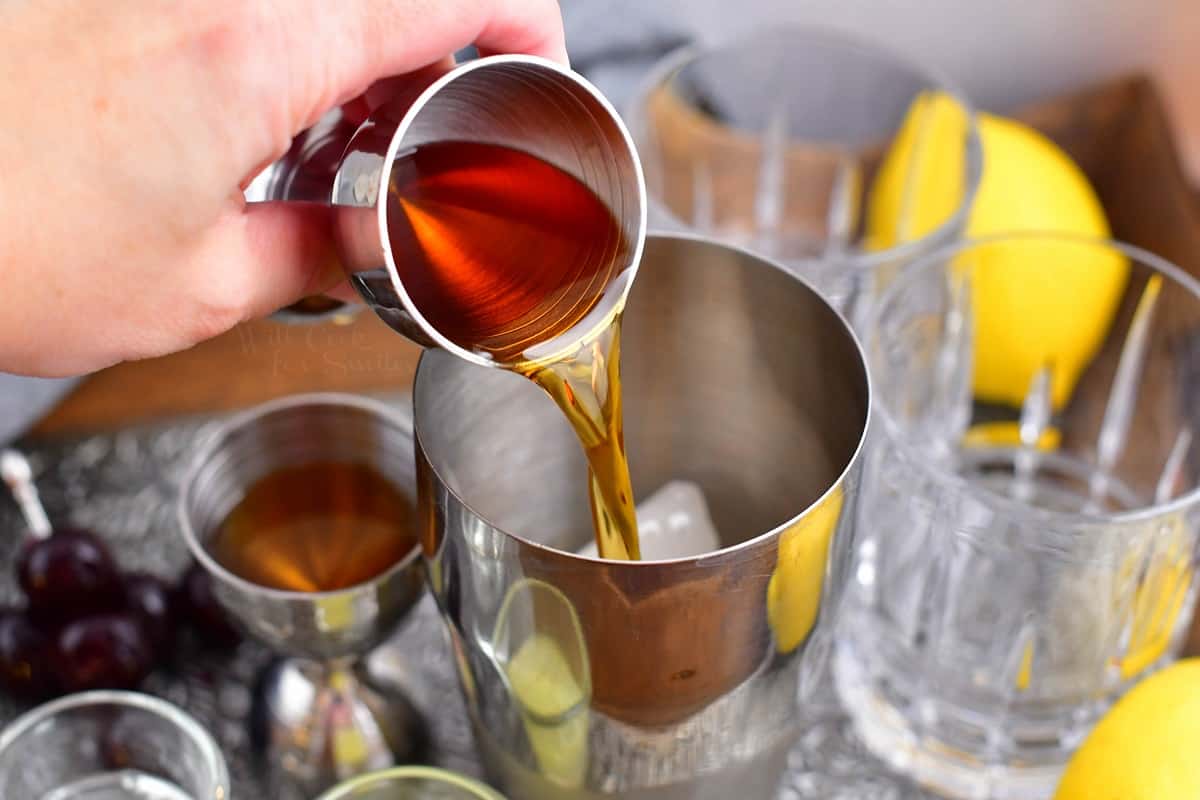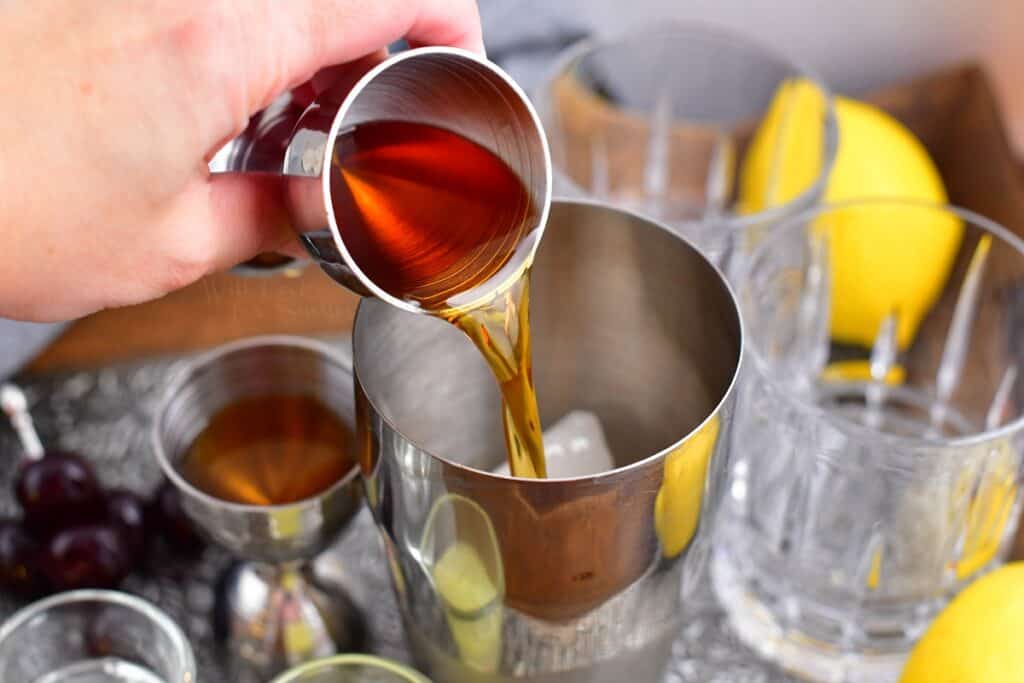 Add the amaretto to a cocktail shaker. Make sure the cocktail shaker is halfway filled with ice, so the drink is cool when served.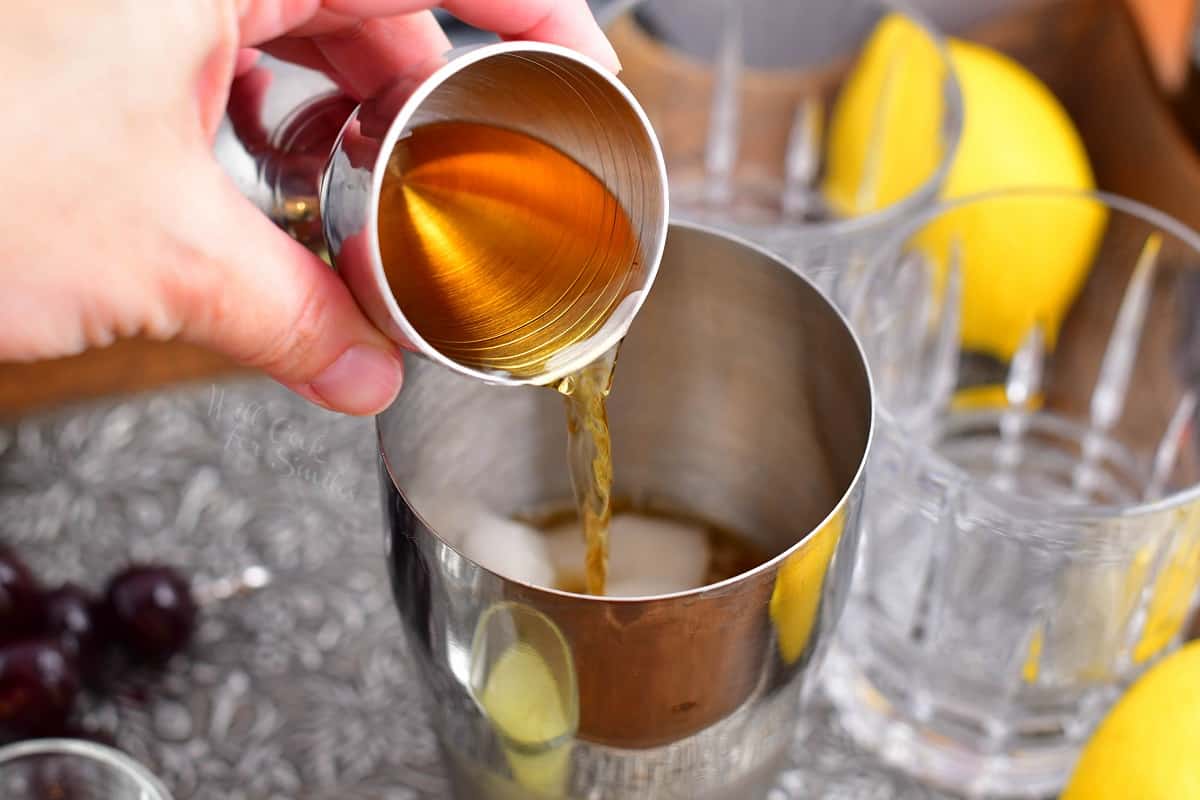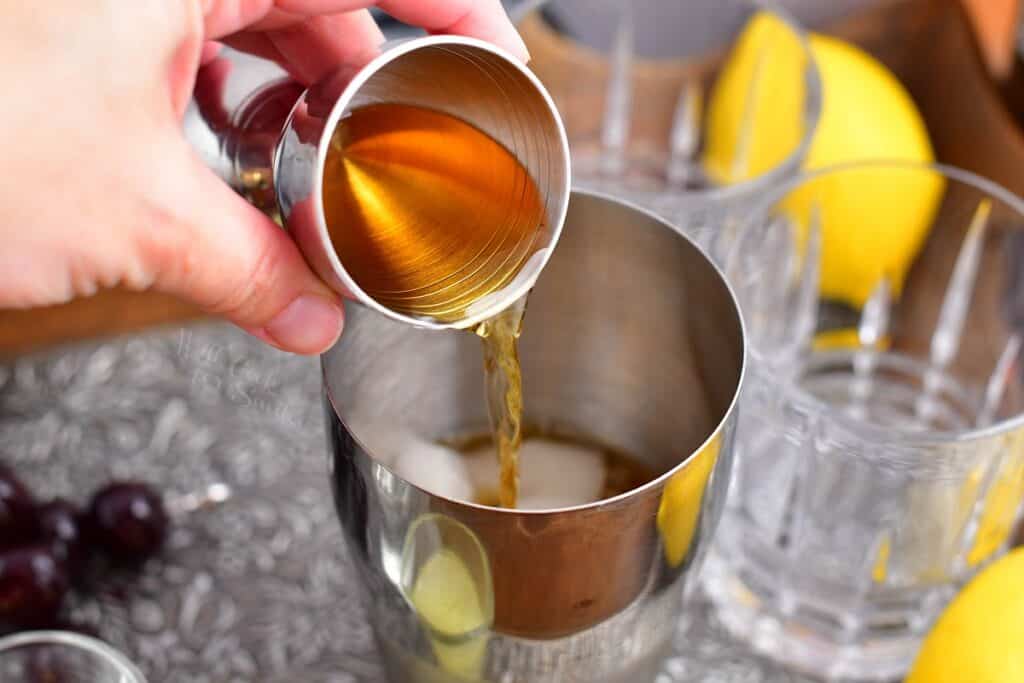 Add the bourbon to the cocktail shaker.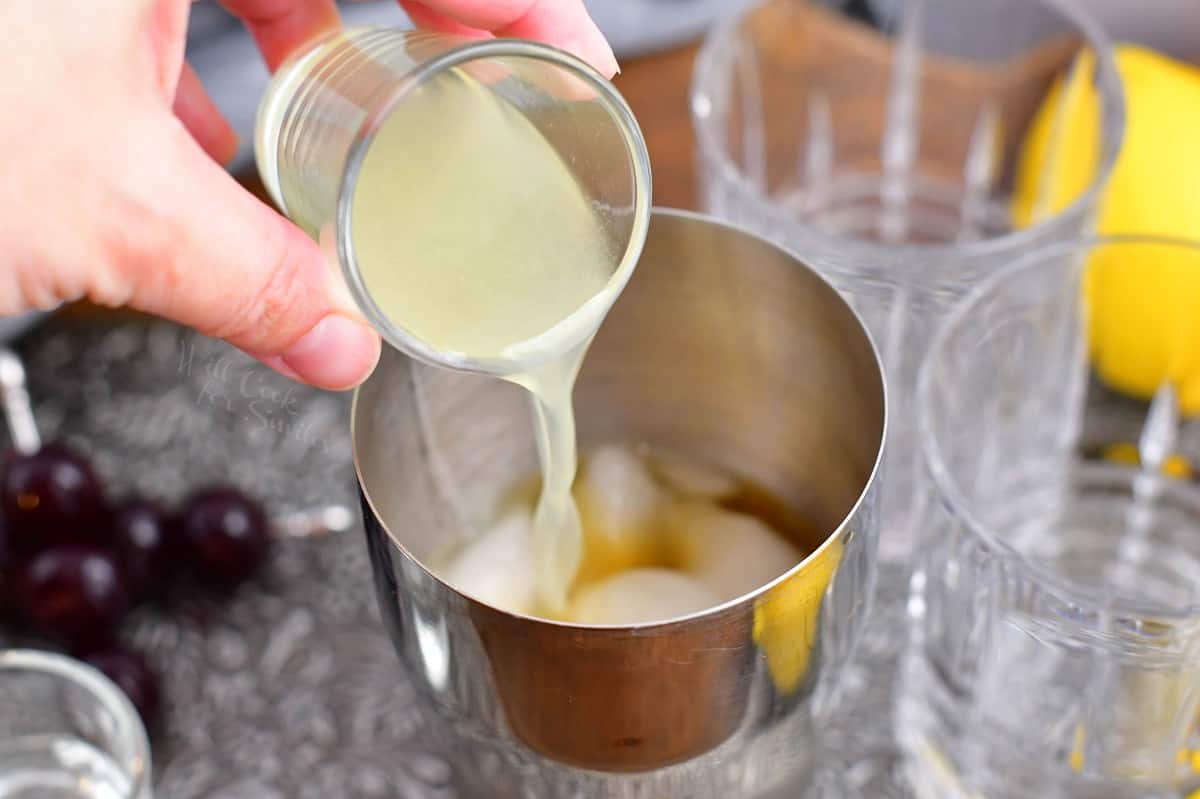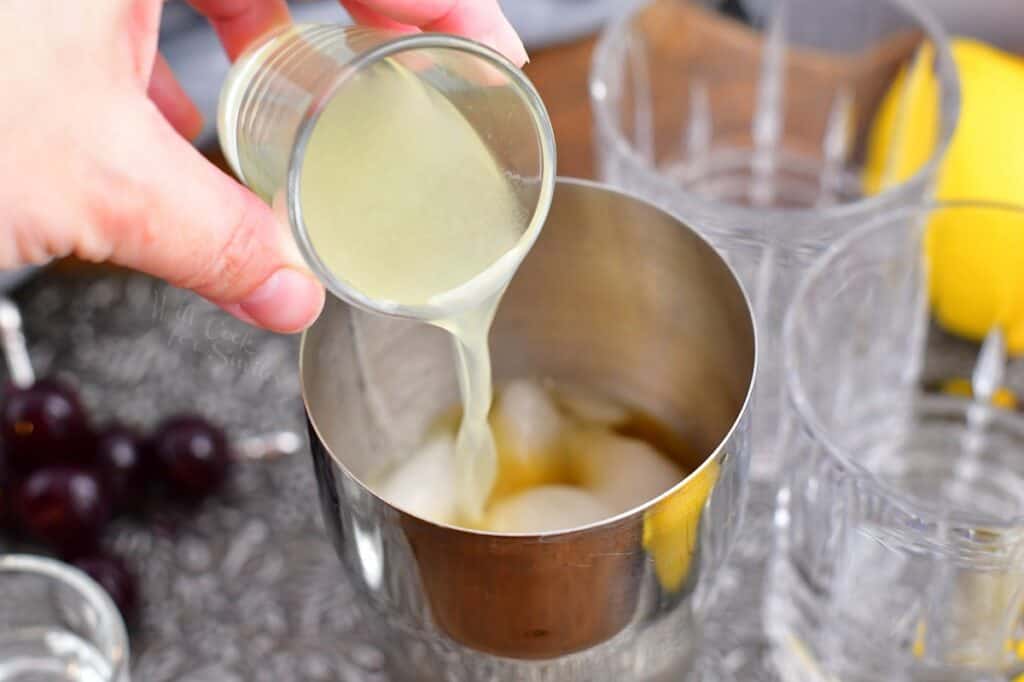 Toss in the freshly squeezed lemon juice. Then, add the simple syrup.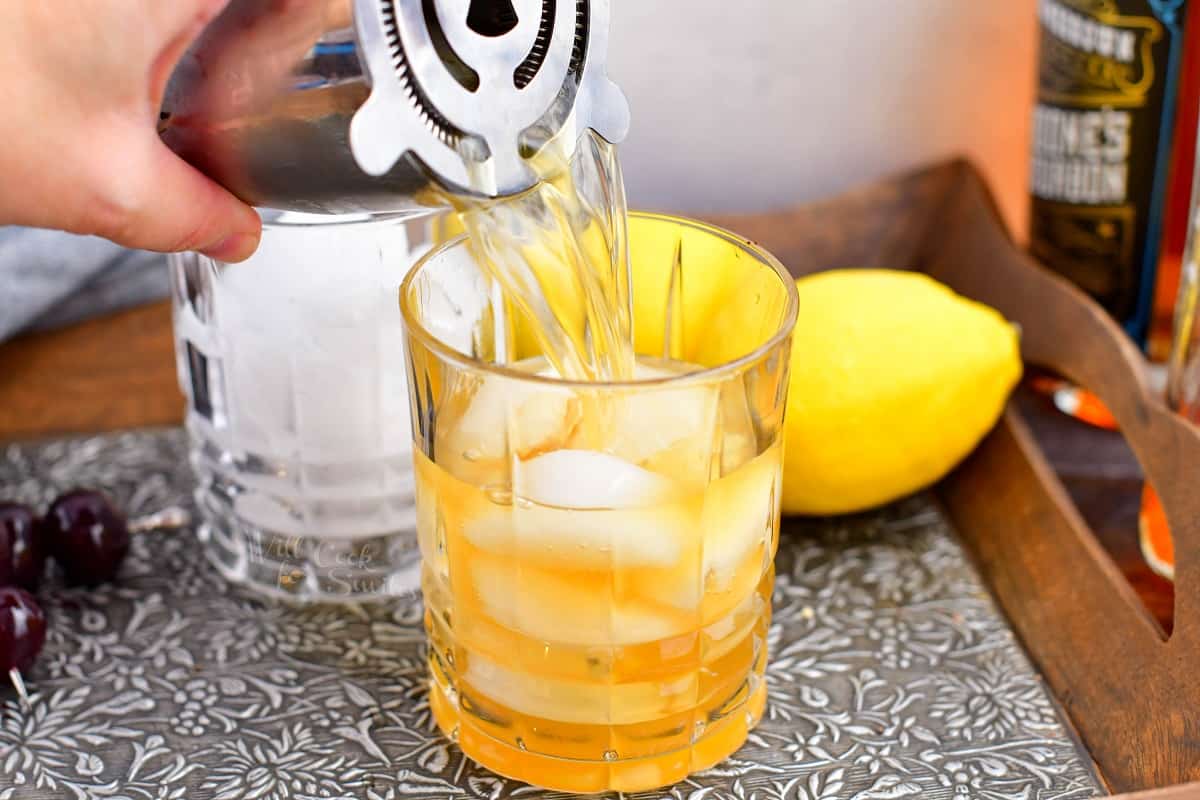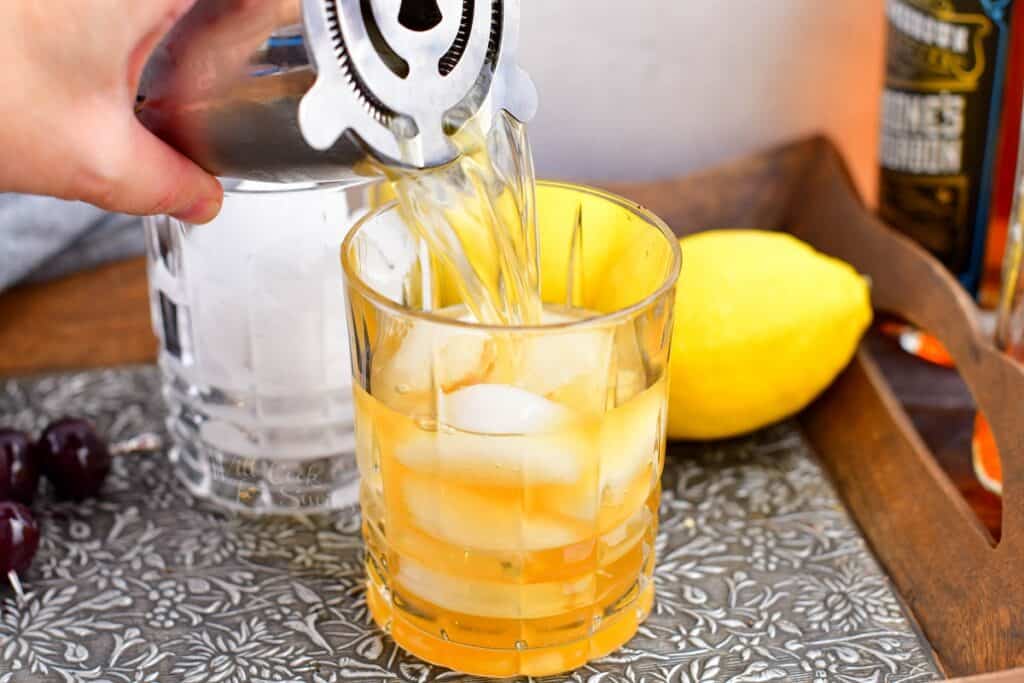 Shake the cocktail shaker vigorously to combine all of the ingredients.
Add a few ice cubes to a glass, then use a strainer to pour the cocktail into it.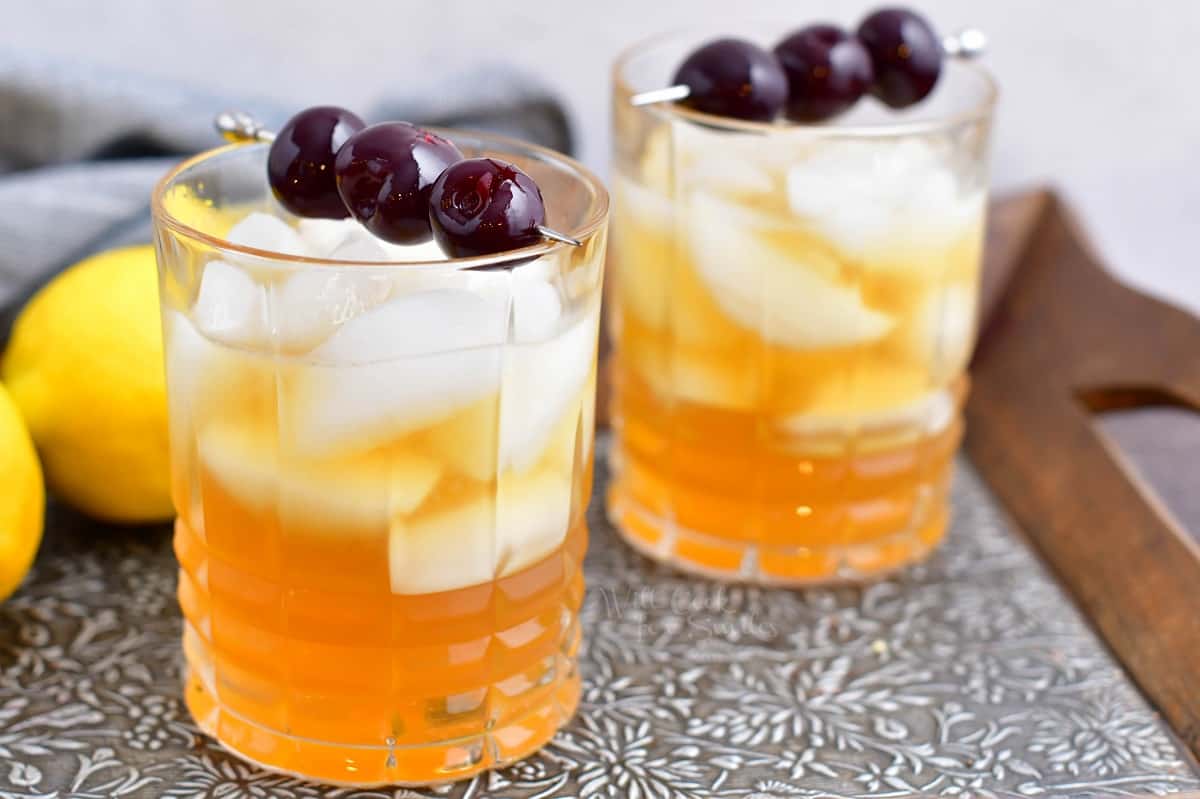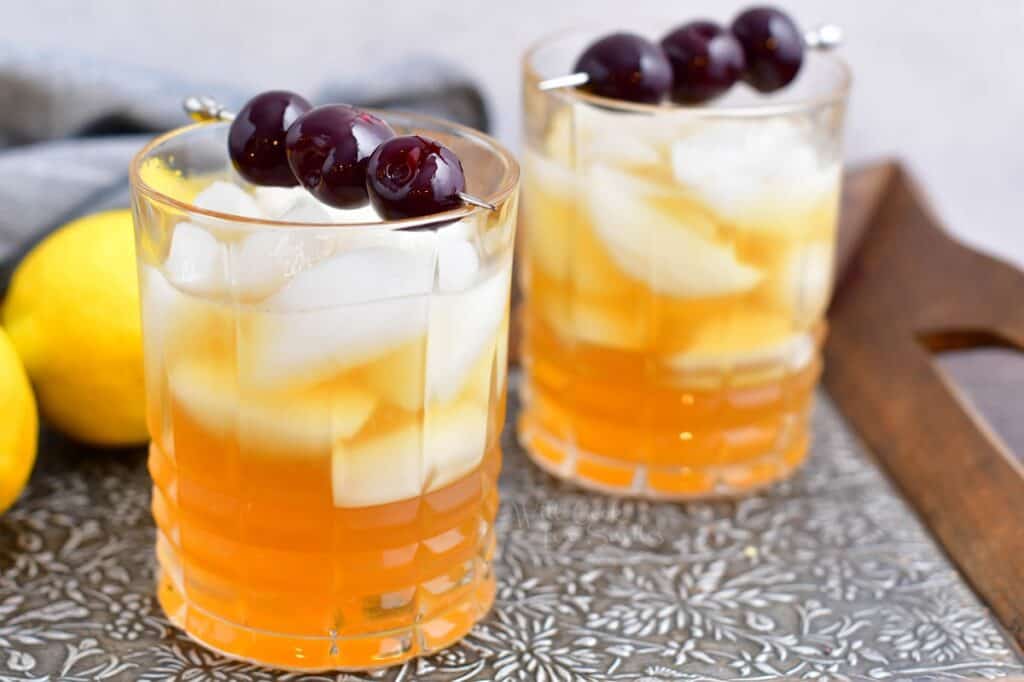 If you wish, add a splash of soda to the ready cocktail and top it off with an orange twist and cocktail cherries.
Serve, and enjoy your beautiful amaretto sour cocktail!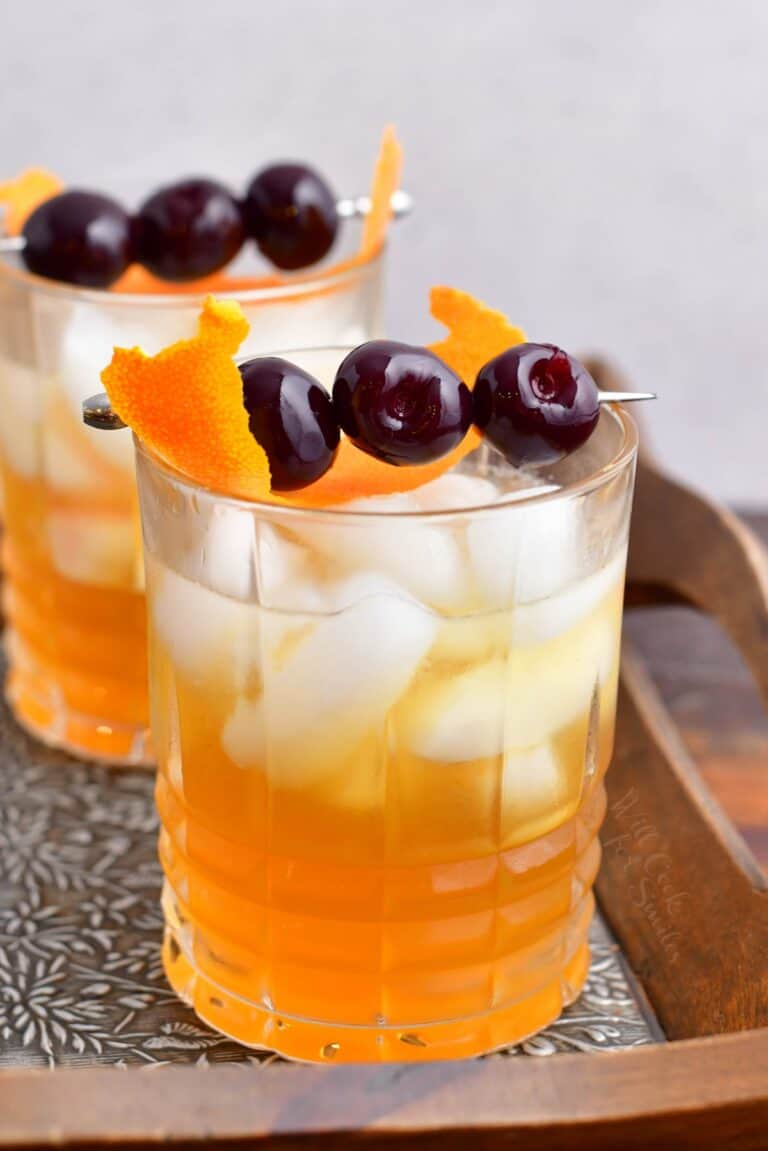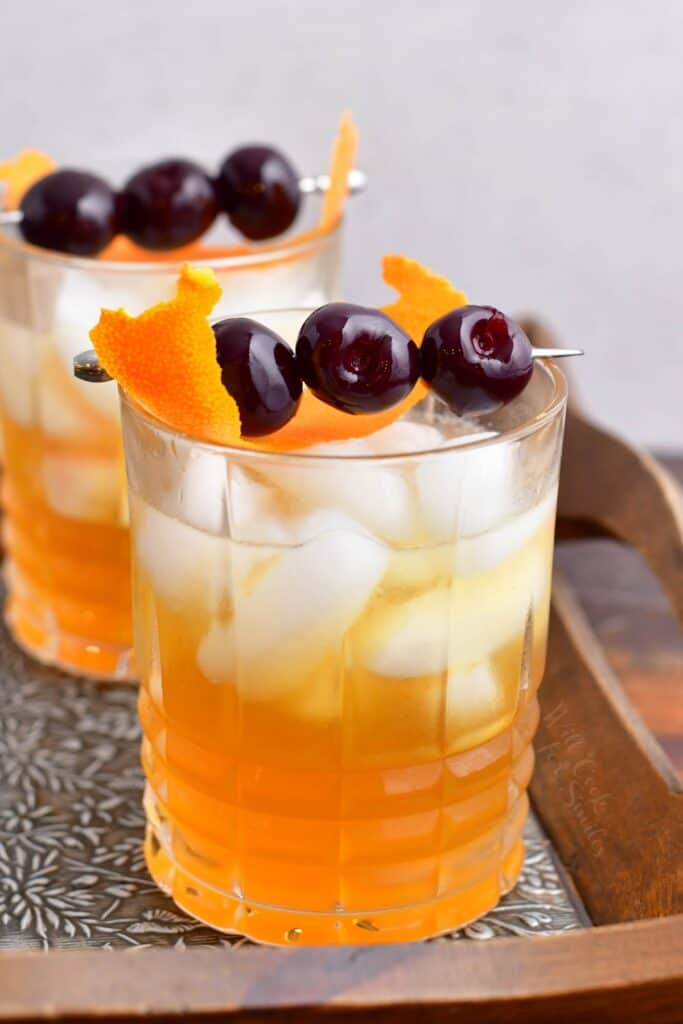 What if I want to add the egg?
You can definitely do that! Add 1/2 oz of egg white to the cocktail shaker with other ingredients and ice and shake vigorously for a few seconds.
*Raw Egg Warning: Consuming raw or under-cooked eggs may increase your risk of food-borne illness.
Dirty Ice vs. Clean Ice
People seems to split on the use of dirty ice in their cocktails.
When I was bartending, I often had people request that I use dirty ice rather than giving them new ice in the glass.
What is dirty ice? Dirty ice is the flavored ice that is left behind in the cocktail shaker after mixing the cocktail. Many people prefer to keep their dirty ice instead of straining the cocktails into the glass with new ice. You can make your own preference, of course. Your cocktail will be delicious either way!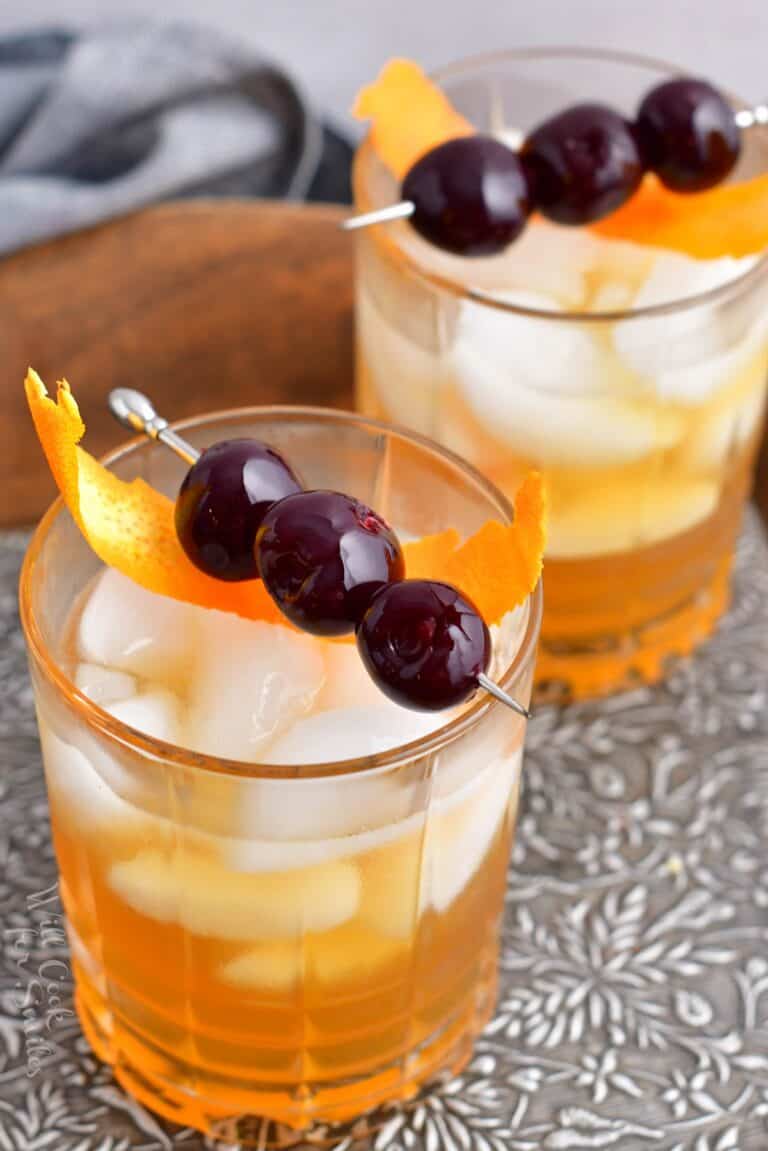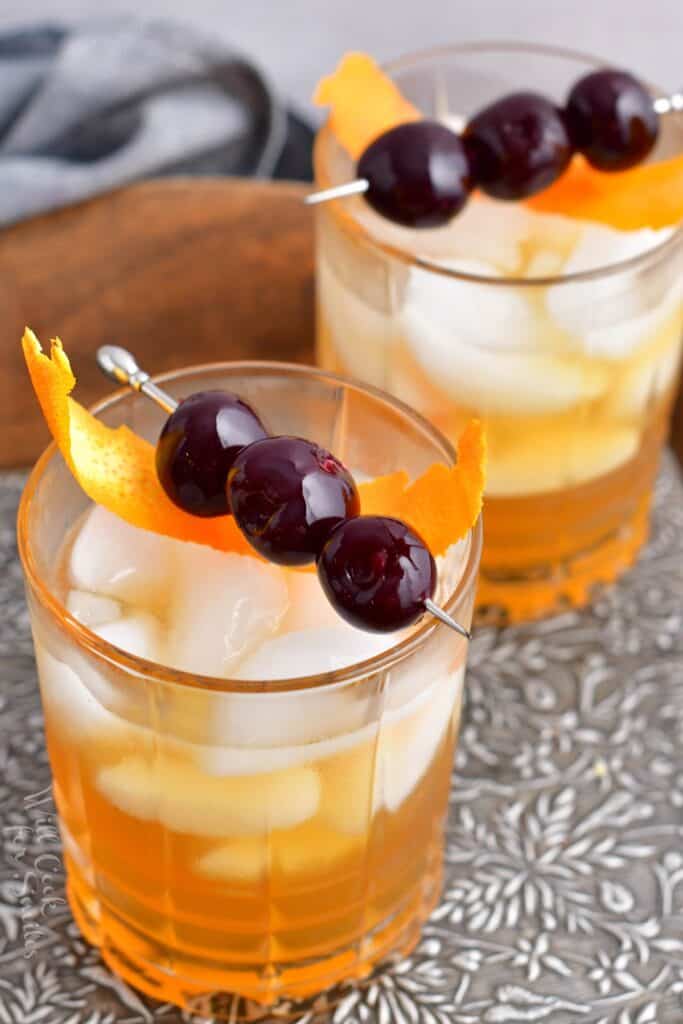 More Sophisticated Cocktail Recipes to Try
Old Fashioned – there are only four ingredients and a garnish, but it still remains as an exquisite favorite for all bourbon and whiskey lovers.
Classic Sidecar Cocktail – a mix of only 4 sweet, sour, and tangy ingredients make this sidecar drink something different but also familiar.
French 75 – a classic champagne cocktail that is refreshing, aromatic, and citrusy.
Manhattan Cocktail – a simple combination of rye whiskey, sweet vermouth, and Angostura bitters in a smooth and aromatic blend of flavors with a touch of sweetness.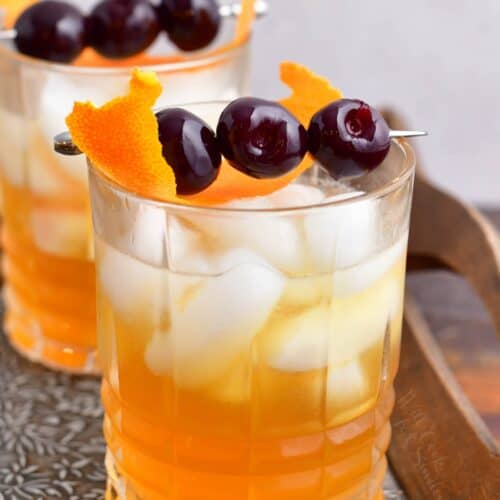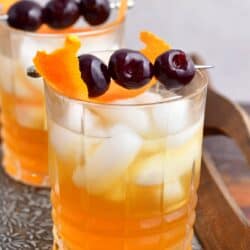 Amaretto Sour
It has every element a sour cocktail should have – it's slightly sweet, perfectly tart, and has a hint of bitterness. It's a perfectly smooth and not too sweet combination of Amaretto, sour mix, and bourbon.
Print
Pin
Save
Saved!
Rate
Ingredients
1 1/2

oz

Amaretto

3/4

oz

Bourbon

1

oz

fresh lemon juice

1

oz

simple syrup

splash of soda water

optional

cocktail cherries

to garnish

orange twist

to garnish
Instructions
Combine fresh squeezed lemon juice, simple syrup, Amaretto, and bourbon in a cocktail shaker. Add a few ice cubes and shake vigorously.

Add some ice into a rocks glass and strain the cocktail into it.

Optional: if you prefer to use "dirty ice" from the cocktail shaker, don't add any ice into the rocks glass and just pour everything into the glass from the cocktail shaker.

If you wish, add a splash of soda water to the cocktail. Garnish with an orange twist and cocktail cherries.
Nutrition
Calories:
263
kcal
|
Carbohydrates:
36
g
|
Protein:
1
g
|
Fat:
1
g
|
Saturated Fat:
1
g
|
Sodium:
20
mg
|
Potassium:
60
mg
|
Fiber:
1
g
|
Sugar:
35
g
|
Vitamin A:
2
IU
|
Vitamin C:
11
mg
|
Calcium:
6
mg
|
Iron:
1
mg
Tried this recipe?
Mention @willcookforsmiles and tag #willcookforsmiles