My sister and I came up with the most fun way to have a meal before heading out for a movie or a fun night. Kids can't say no to Chicken Nugget Cupcakes!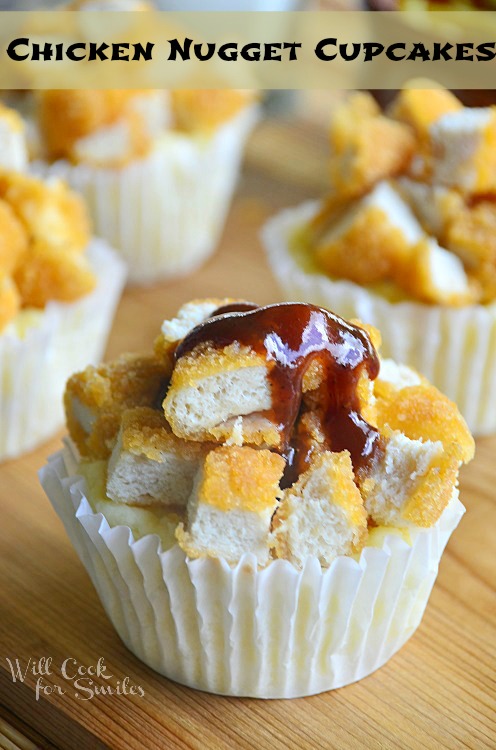 School year is almost over, is everyone ready for the summer? It's bitter-sweet for me. I like that the kids don't have to got to school but I just don't like summers in Florida. I think the reason is pretty self explanatory. Kids being off is a big plus though. I get to see my sister that I barely see most of the year. She is always busy with school and dance and I'm busy with school as well. During the summer, I get to hang out with her more and even take to for a week.
We are starting our hang outs early this year. School is not quite over yet (10 more days, according to her) but it's ok. We both have a pretty free weekend so we are planning on a sister movie outing.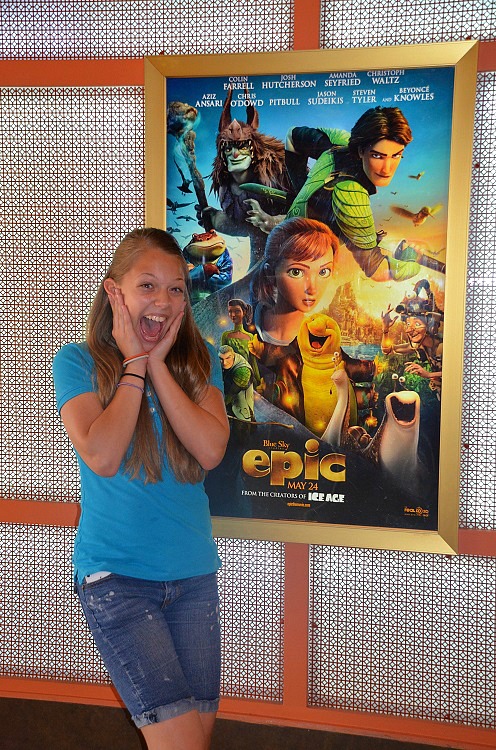 Yes, she is excited to see this movie, EPIC. I've been seeing the trailer for the movie on TV and giggle every single time. It looks like a fun Avatar for teens. I'm pretty excited to see this movie with her. Yes, I do like animated movies. I actually saw RIO before my son and the family saw all Ice Age movies together.
Baby girl loves going to the movies and we can make a fun night out of it. This movie, EPIC, looks really fun. The animation is amazing, good music and the cast is nicely chosen. It's a hero's journey to save the forest and it's full of humor and adventure. EPIC is only in theaters on May 24th, today!
Besides the movie choice, meals and snacks are the second most important thing that would make an outing a success. It may sound easy but it's not easy with a picky eater. A sure things for any picky eater is chicken tenders or chicken nuggets. Ever since baby girl was a kid, we had trouble getting her to eat. Chicken tenders, nuggets and fries, was about all she ate. Veggies are not so easy to sneak in there.
For this reason, I know that she will eat any meal with nuggets. I asked her how we can get fun and creative with chicken nuggets and she decided to mess with me. She giggled and said "cupcakes!" I called her bluff and said that I will make chicken nugget cupcakes. She looked horrified of the thought of sweet cupcakes with chicken. Muahaha…she had no idea!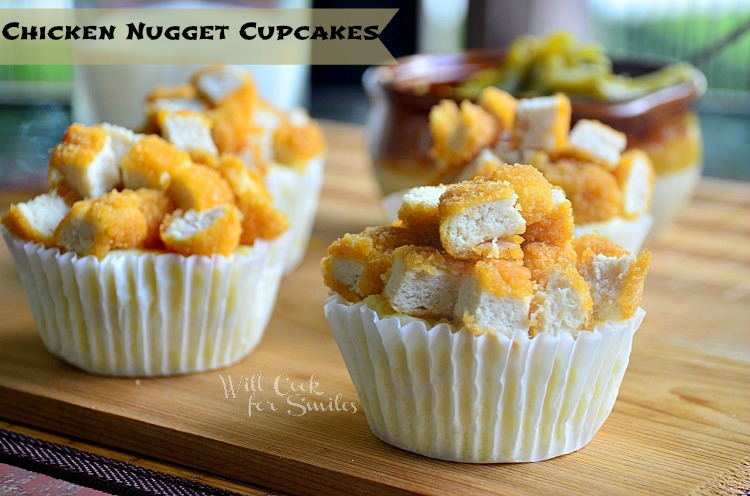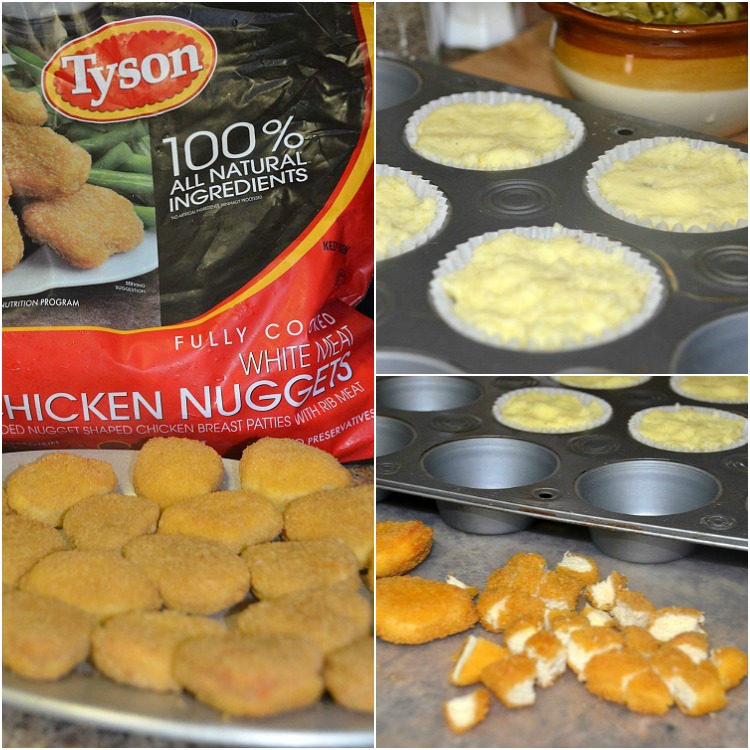 I made these cupcakes for her and called her over. She was so relieved and excited to see what I made! These cupcakes are made with mashed potatoes, topped with Tyson chicken nuggets and can be served with BBQ sauce or ketchup on top. Mashed potatoes are so much healthier than fries and I always trust Tyson chicken nuggets because it's 100% natural and made with white meat chicken.  Making these cupcakes is very simple.
~Place cupcake liners in the muffin pan (just to keep the form while adding mashed potatoes.)
~ Cook the Tyson Chicken Nuggets according to the directions. Chop them in peaces and add to the mashed potato cups, pressing lightly.
~Carefully take the cupcakes out of the pan. I suggest a long fork on one side while gripping the paper edge on the opposite side and pull slowly.
~Add their favorite sauce on top.
As a side dish, I made some Del Monte green beans for her. She loves garlic flavors, so I knew that my best chance with getting her to eat green beans was to cook it with garlic. It was very simple to made and she actually loved it! I just sauteed green beans with half of tablespoon of butter, one small clove of garlic and some salt and pepper.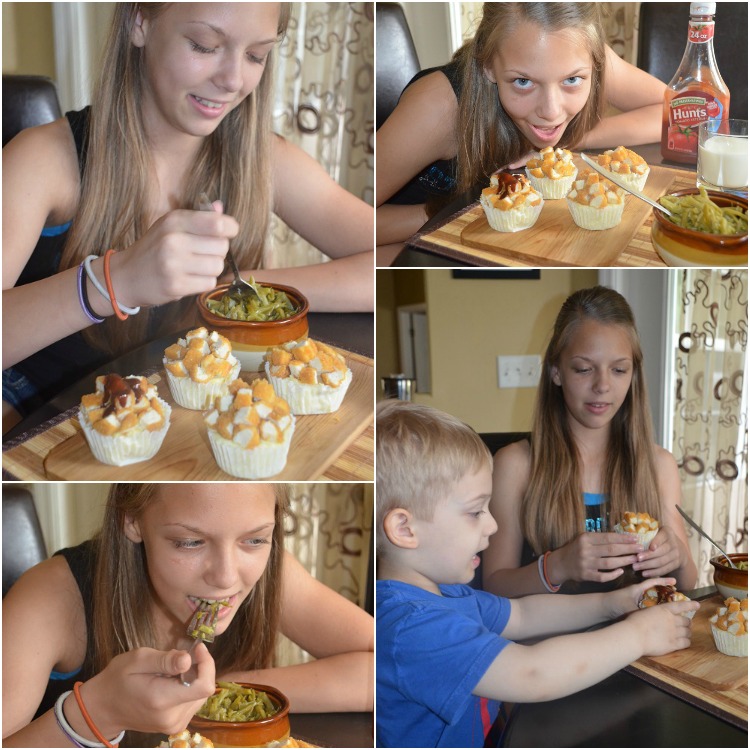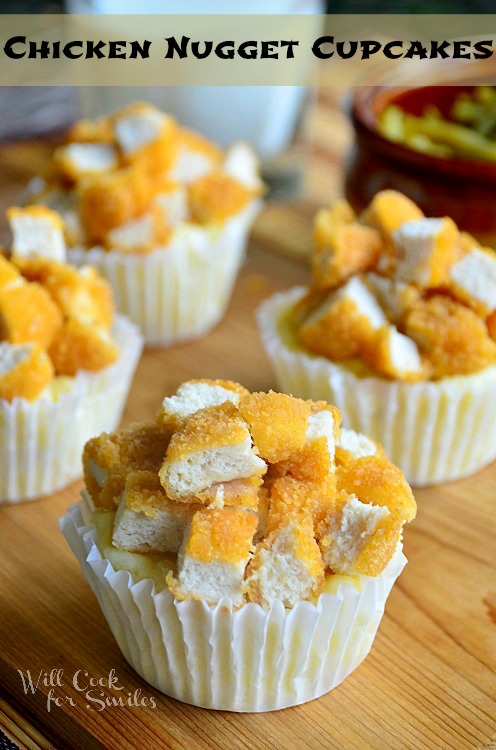 Another fun fact! Tyson just let us know that they just released a contest on their Facebook page for EPIC the movie! Stop by and enter the contest! #MealsTogether
You can check out my Google+ story album too!
Make sure you follow me through your favorite blog reader (bloglovin or other), or follow me through | Facebook| Twitter| Pinterest|

Don't miss any new posts and recipes from me, subscribe to E-MAIL! Just enter your email in the side bar, you will receive an email for confirmation. Confirm and you are all subscribed! HUGS!
Remember to come back and link up to my party on Saturday night!!
I will be sharing this recipe at the wonderful parties in my party tab + Weekend Potluck and Rattlebridge Farm.  Swing by and link up your own projects!