These classic Italian Meatballs are my family's absolute favorite. Juicy, tender, meatballs made with a combination of ground pork and ground beef, parmesan cheese, garlic, herbs, and cooked in a delicious marinara sauce. Serve them over spaghetti, baked in a sub, or with your favorite sides.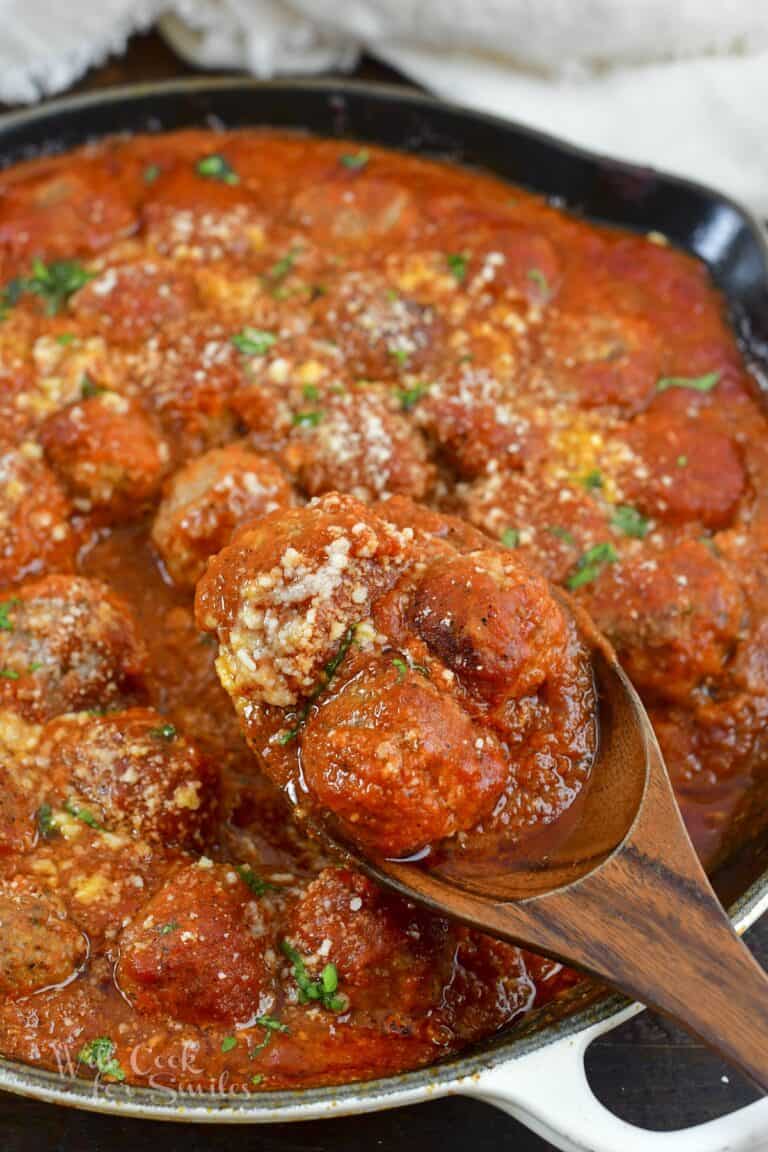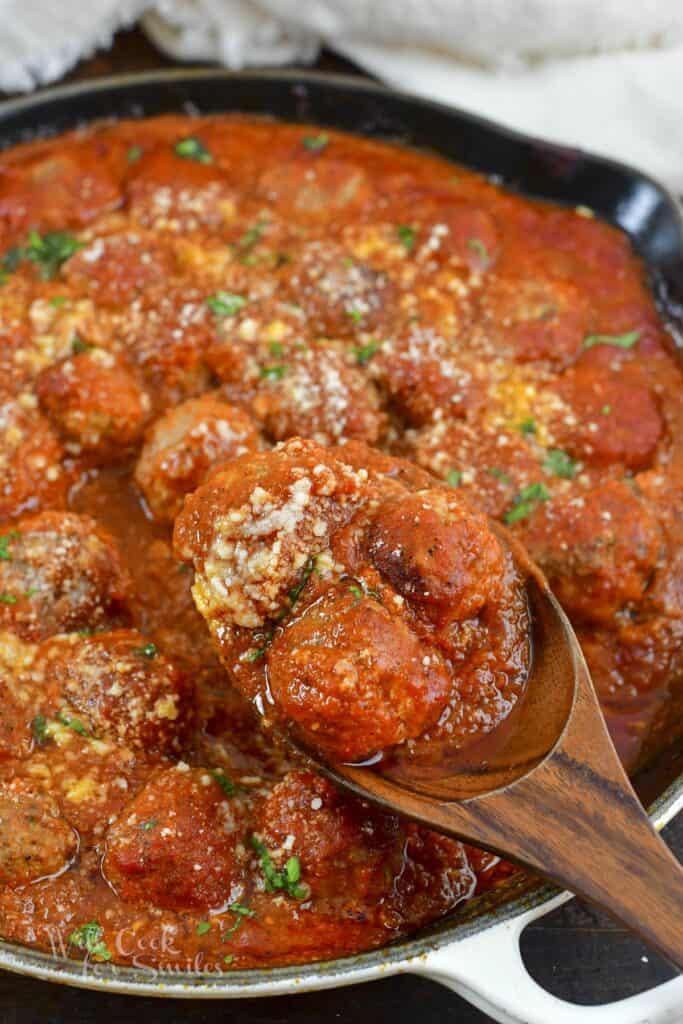 Family Favorite Meatballs
UPDATED: After making these meatballs for many, many years, my recipe has slightly evolved and gotten so much better! It was time that I've updated this recipe for you.
When I say that this is my most famous (and the most asked) recipe, I'm not exaggerating. Just about every one of my co-workers and family member have tried these Italian meatballs and immediately asked how I make them.
Every party that we host, I have to make meatballs no matter what else I make. All of my family and friends fell in love with them at first bite and it's the only recipe they now use.
As a matter of fact, this was one of the first recipes that I posted on this site 11 years ago, when I first started my site. Through the years, I've posted hundreds of recipes and this is still the first one my husband asks for.
I wanted to resurrect this classic dish from the years of newer recipes and share it with all my new readers. It's a dish worth re-sharing over and over again.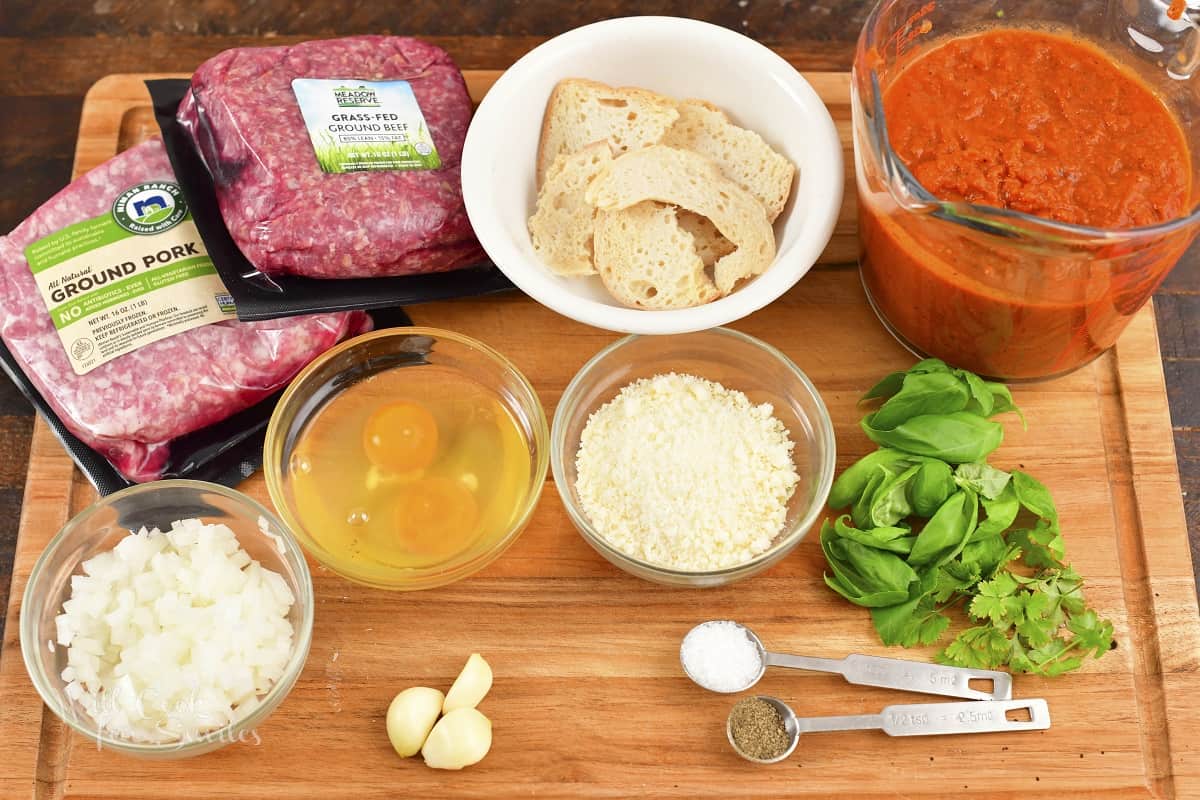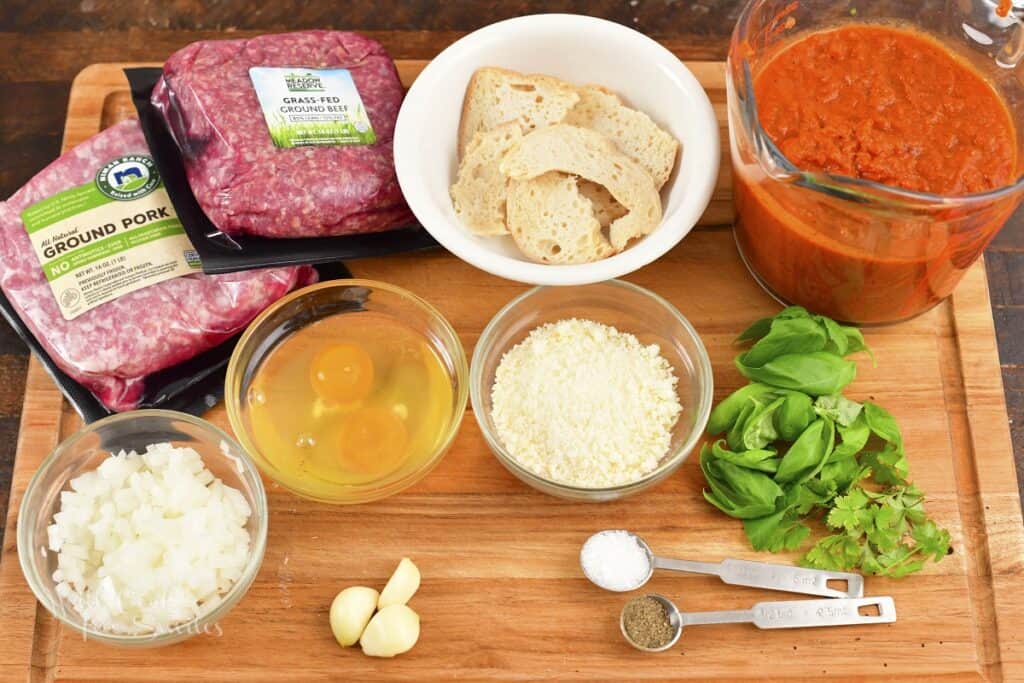 Ingredients You'll Need:
Meat – a combination of ground pork and ground beef. For ground beef, 85%/15% meat to fat preferable.
Bread – use a slice of wheat or white bread. If you need to make it gluten free, use 2 slices of gluten free bread.
Onion – finely dice or mince the onions to spread it evenly through meatball mixture.
Garlic – fresh garlic is always your best option.
Herbs – aromatic combination of fresh basil and fresh parsley.
Grated parmesan cheese – this is for flavor and for the juicier meatballs!
Eggs
Salt and pepper
Marinara sauce – this is, where I believe, is a great chance to make your Italian meatballs shine. Prepare your own, homemade marinara sauce for the best tasting meatballs.
Cooking Instructions: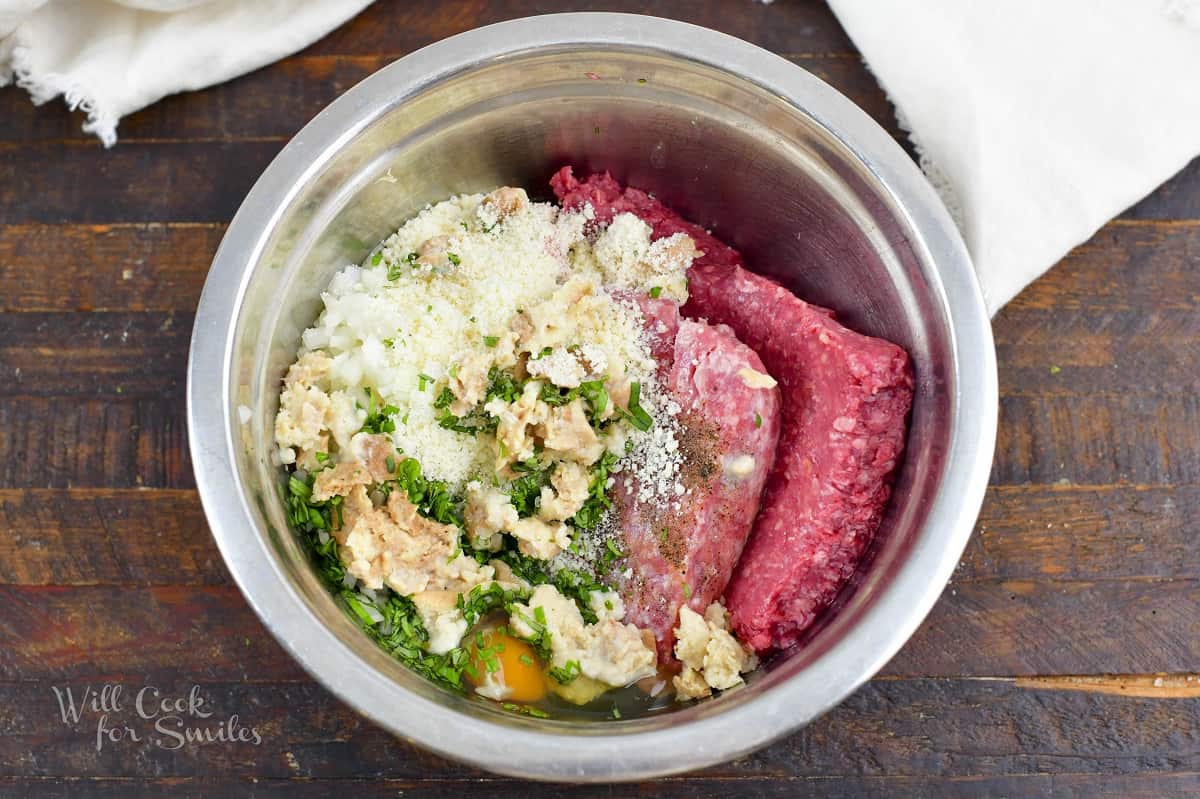 Prepare the meatballs:
Combine all of the ingredients for the meatballs mixture and mix if thorough but fast.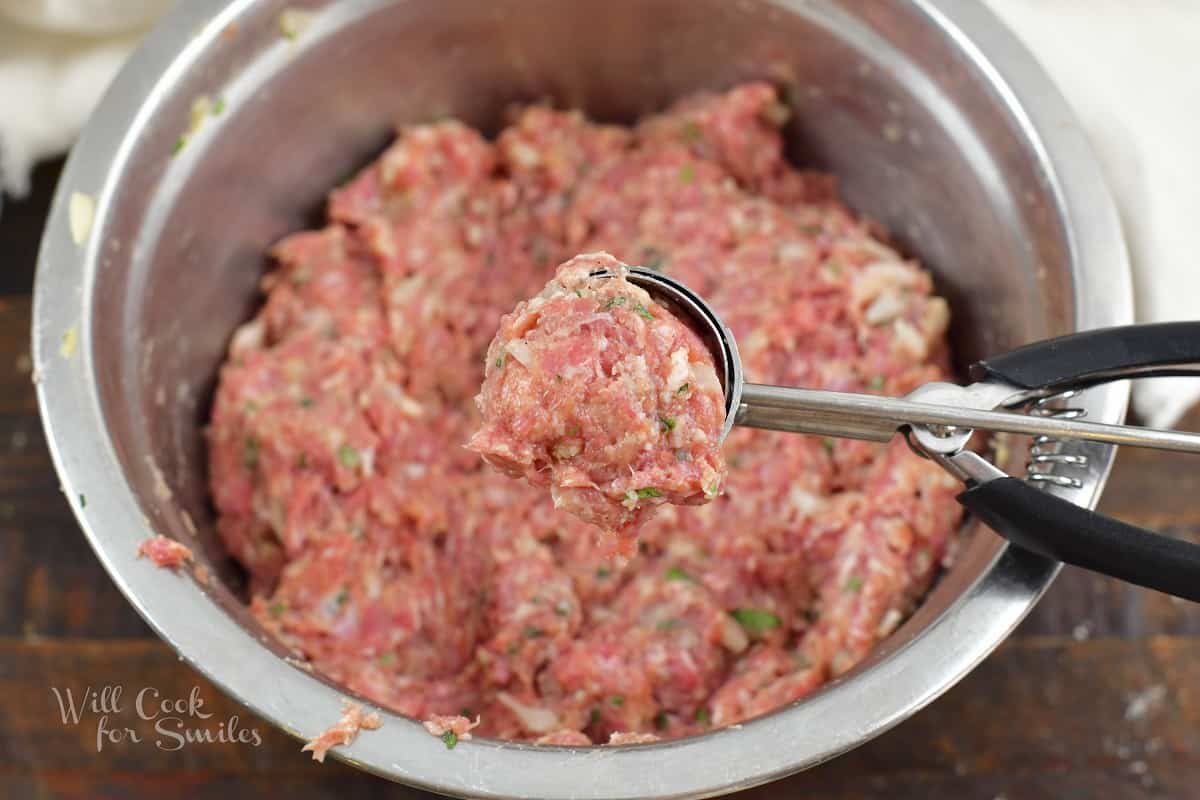 Roll them up:
To keep the even size, I highly recommend that you use a cookies scoop. This will help you get an even amount each time. I usually use #40 scoop but if you want to make them a little bigger, use #30. Roll them all before starting to cook.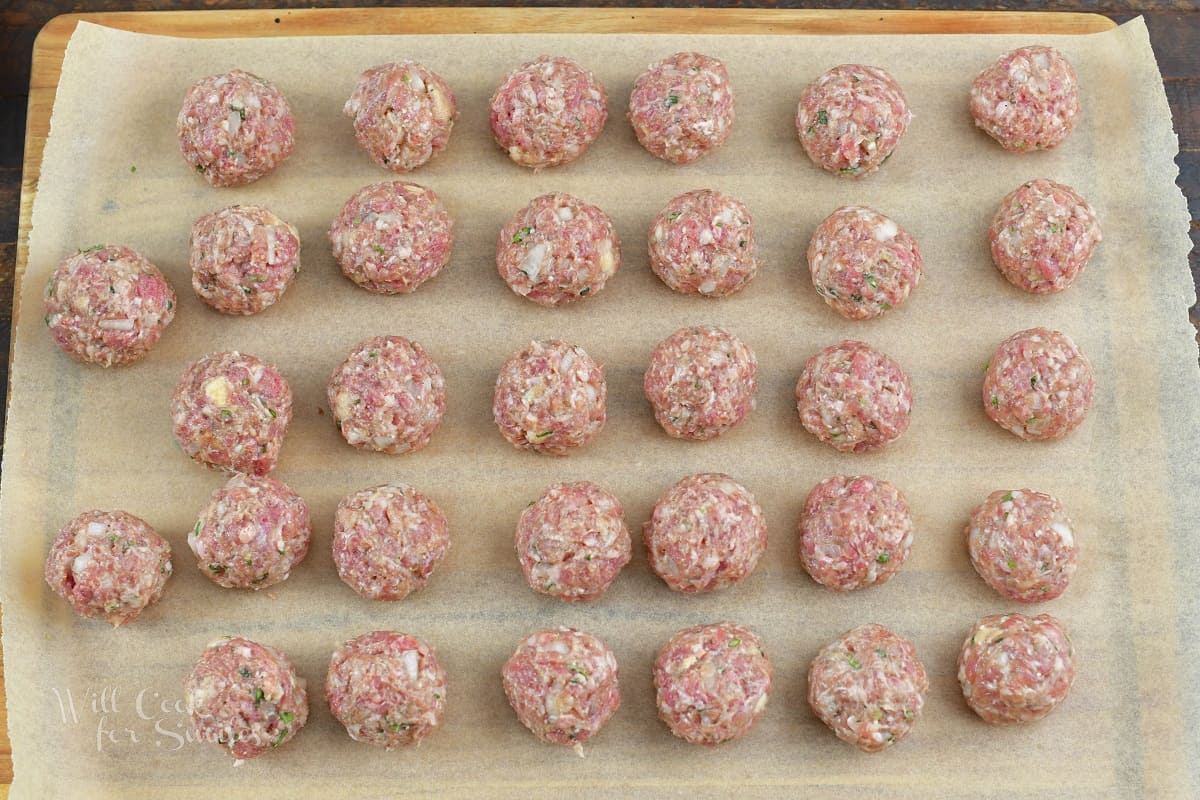 Cooking:
Preheat a large skillet (or another pan that can do stove to oven) over medium -high heat and add olive oil. Sear the meatballs until golden, flip, and add the sauce. Gently shake the pan to spread the sauce and pop it into the preheated oven. Bake at 350° for about 20 minutes.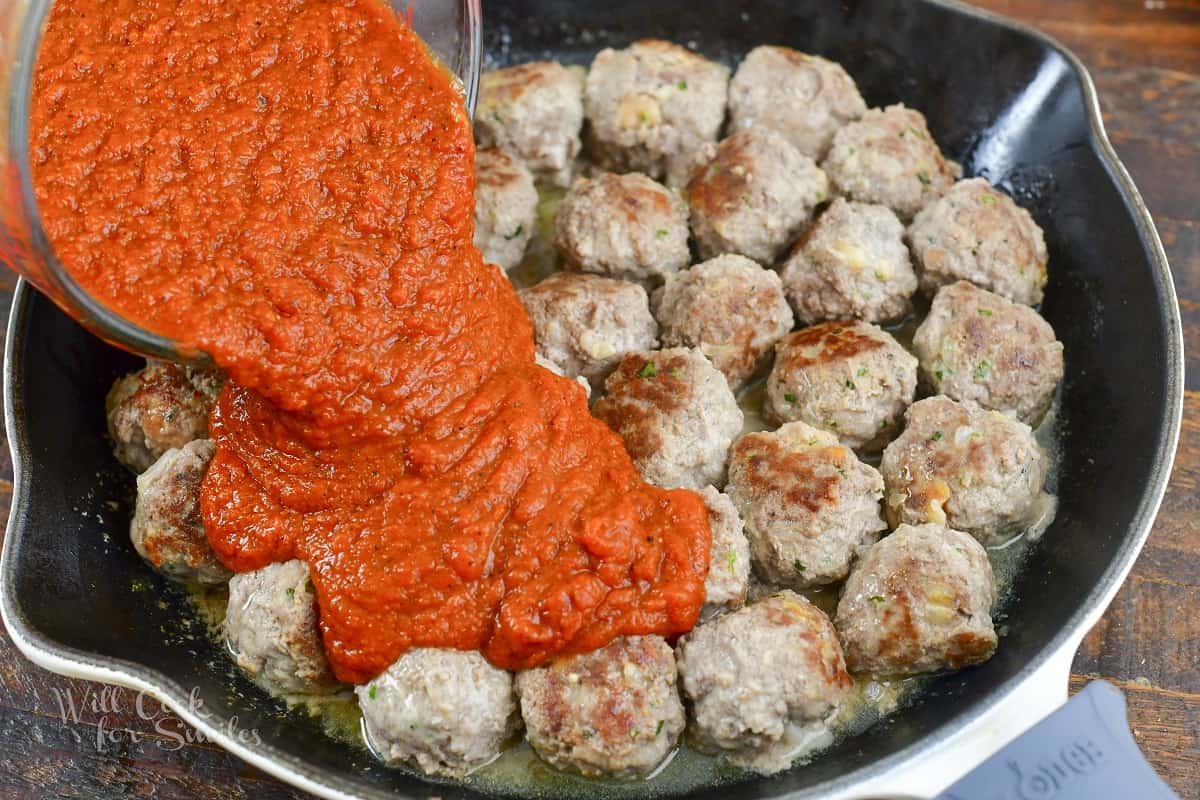 Tips For The Best Results:
For juicy, tender Italian meatballs it's best to combine ground beef and ground pork together. Ground beef on it's own can be tough and dry, adding pork will give you juicier and softer texture.
When choosing ground beef, don't get lean ground beef but get about 85% lean to 15% fat ratio. (It will say the meat to fat ratio right on the package label.)
Either bread crumbs or milk soaked bread can be used. I prefer to use milk soaked bread because there is something about this old traditional way that creates a tastier, more tender meatball.
Finely dice yellow onion and press fresh garlic for the meat mixture to infuse more flavor and again, it will create the best texture over using powder onion and garlic.
Adding fresh herbs will give you more flavor and aroma in the meatball, rather than dried herbs. Fresh ones are more aromatic than dried.
When choosing marinara sauce, use your favorite one. Whether it's homemade or store-bought, your favorite sauce will always taste the best to you.
For the last flavor enhancing step, add sauce when the meatballs are only about half way cooked and then finish cooking them in sauce. Flavor, flavor!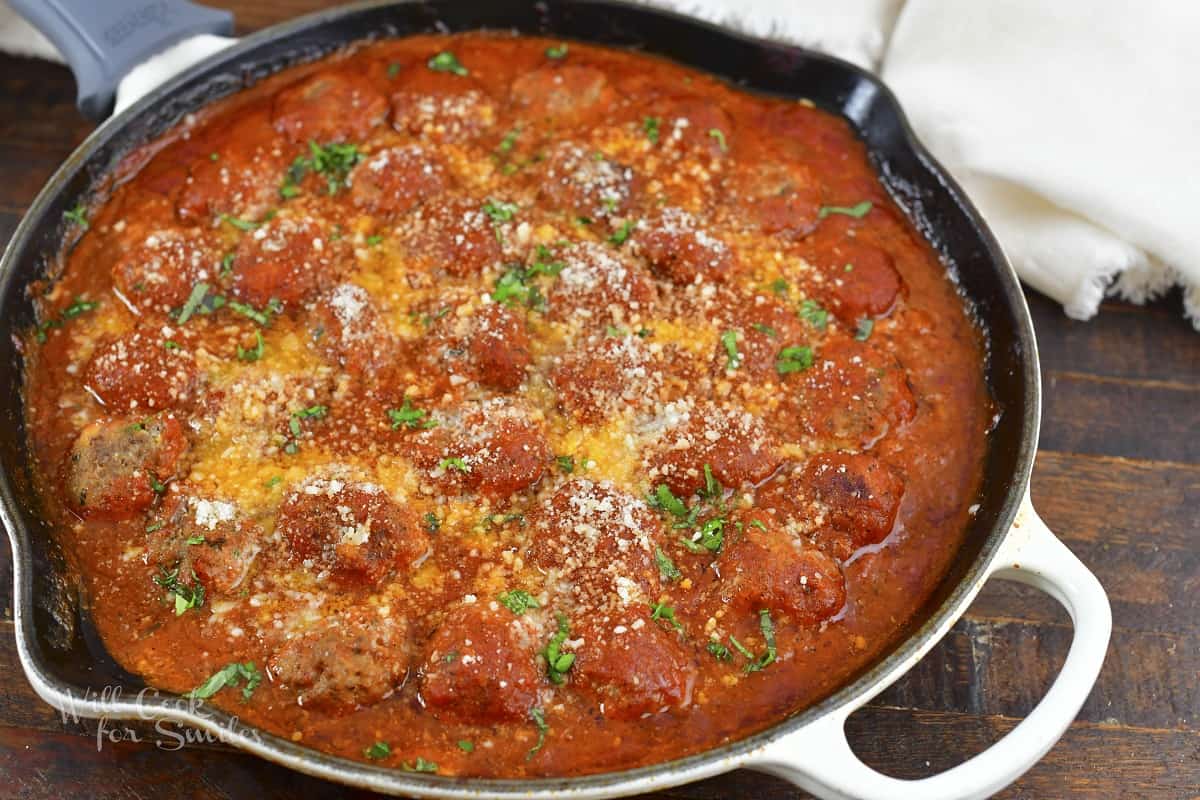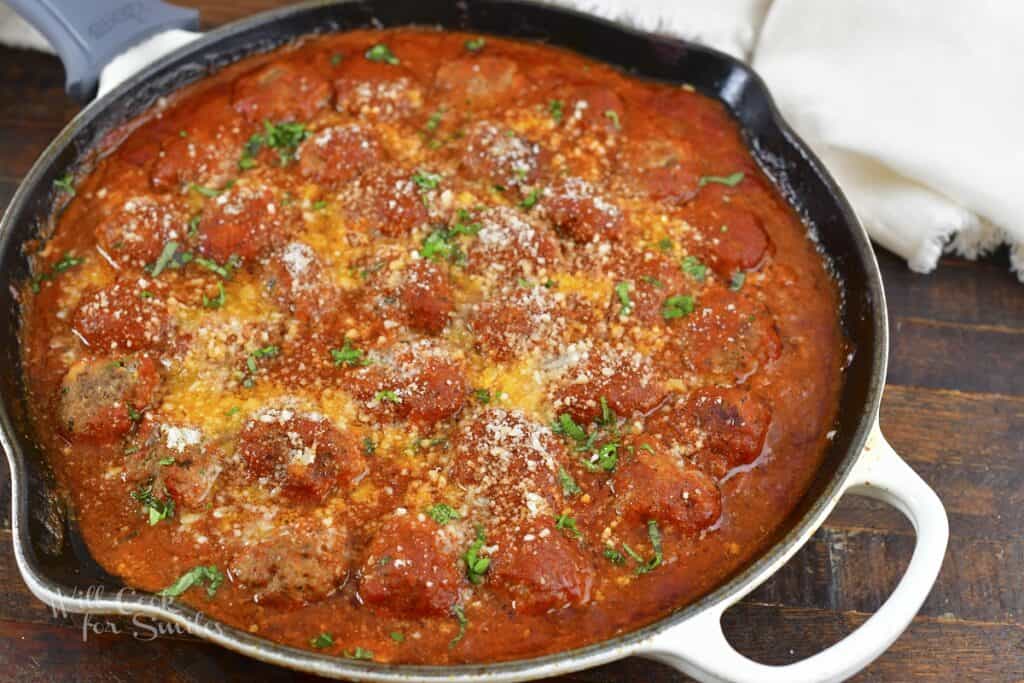 How To Make Gluten Free Meatballs:
This is a very simple swap actually! You can use gluten free bread instead of regular bread. Gluten free bread slices tend to be much smaller than regular bread, so I usually use two slices of gluten free bread. (If you don't plan to use bread, there are lots of gluten free bread crumbs options that you can use.)
Serving Suggestions
The most classic way to serve Italian meatballs is of course, over spaghetti. You can't get more traditional or comforting meal than that.
Second place goes to the Meatball Sub. These meatballs make the absolute best Meatball Subs!
You can always cut the leftover meatballs and make a Cheesy Meatball Dip.
If pasta is not your friend, you can serve meatballs with a side of mashed potatoes, roasted potatoes, or rice pilaf.
For a healthier options, serve them over zoodles, quinoa, mashed cauliflower, roasted cauliflower, or in a lettuce wrap.
Freezing Meatballs
You can find detailed, step-by-step instructions on how to freeze meatballs in a designated posts.
Best way to freeze meatballs is completely cooked and without sauce. You can still free them in this marinara sauce, but it's best to freeze them without.
Cook the meatballs per recipe, starting on stove-top and then finish them off in the oven. Take them meatballs out and let them cool completely. To help them cool, you can transfer the meatballs onto the wire rack. Just make sure to place the wire rack inside a baking sheet to catch any juices running off.
Once the meatballs are cooled, move the wire rack into the freezer for about 2 hours. (Set a timer so you don't forget.) After the meatballs are just frozen, divide them among the freezer bags (or into one large one), close them tight, label and place back in the freezer for up to 3 months.
If you want to freeze them with the marinara sauce, transfer cooled meatballs in sauce into a large freezer zip-top bag or divide them into several portions. You can also use a large freezer container. Make sure to get as much air out as you can, label, and freeze for up to 3 months.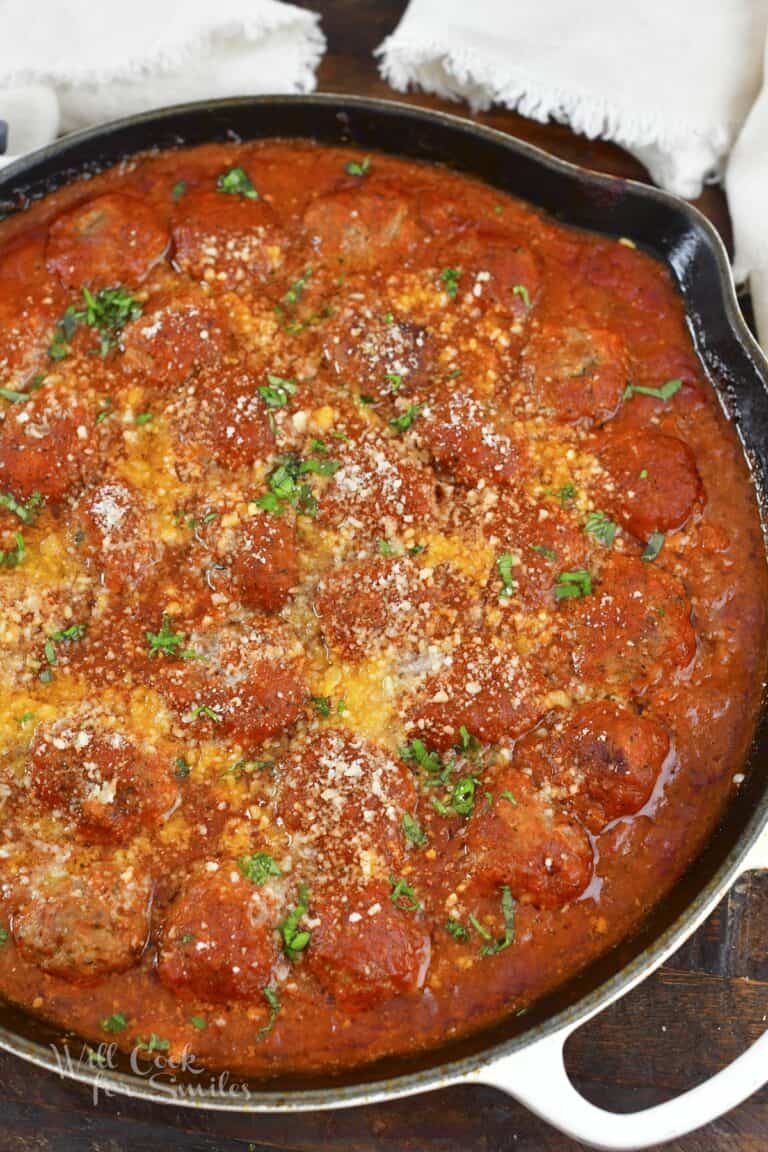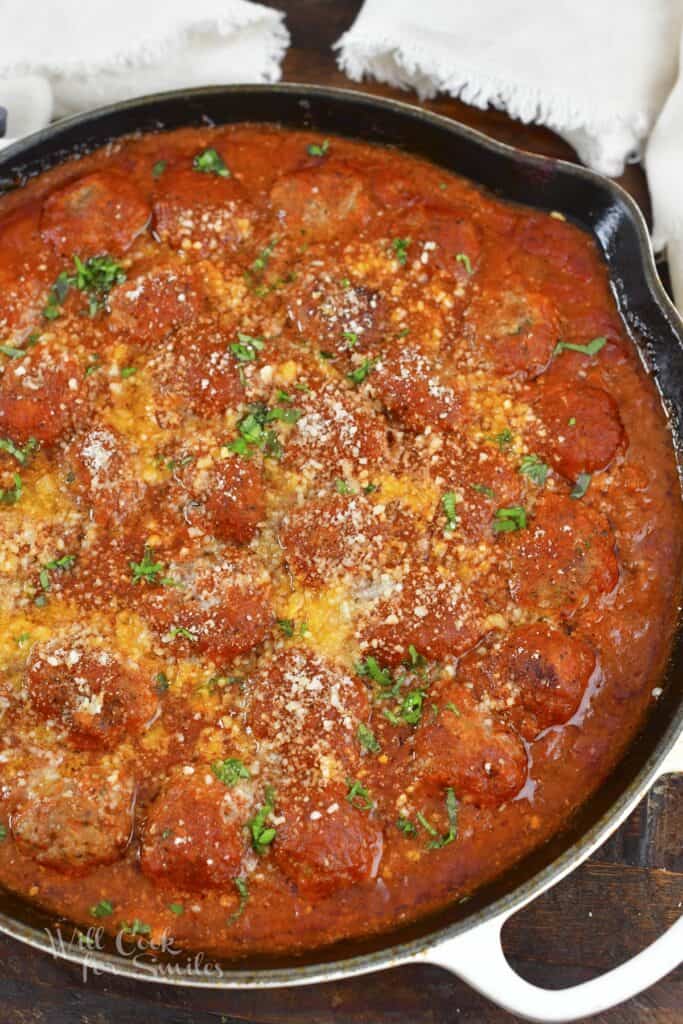 Make This Recipe For Dinner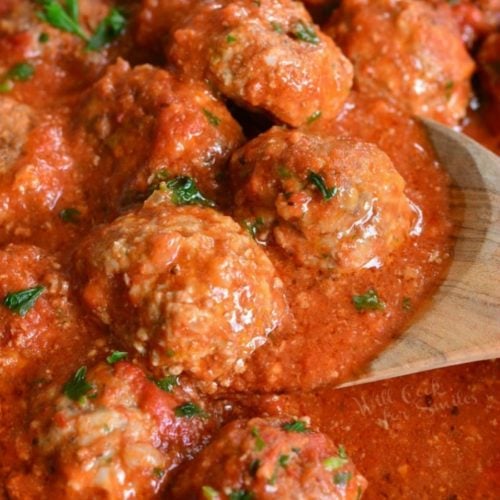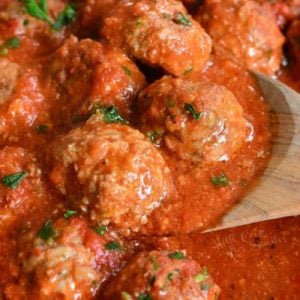 The BEST Italian Meatballs
These meatballs are tender, juicy, and made with simple ingredients for the best flavor. Serve them over spaghetti, baked in a sub, or with some zoodles for a healthier dinner.
Print
Pin
Save
Saved!
Rate
Servings:
10
(Makes about 30-34 meatballs)
Ingredients
1

lb

ground beef*

1

lb

ground pork

1

thick slice of bread soaked in a little milk**

(milk squeezed out)

2

eggs

1/2

cup

yellow onion

minced

3

garlic cloves

pressed

1/2

cup

fresh grated parmesan cheese

2

tbsp

fresh basil

minced

1

tbsp

fresh parsley

minced

3

cups

Marinara sauce***

warmed

2-3

tbsp

olive oil for cooking

1

tsp

kosher coarse or sea salt

to taste

1/4-1/2

tsp

black pepper

to taste
Topping:
2

tbsp

fresh basil

minced to top

2

tbsp

fresh grated parmesan cheese

to top
Instructions
Combine the ground beef, ground pork, eggs, parmesan cheese, minced onion, pressed garlic, herbs, salt, and pepper in large mixing bowl. Squeeze out the slice of bread, break it up, and add it to the bowl. Mix everything very well.

Preheat a large cooking pan that is also oven-safe over medium to medium-high heat. Add a couple of tablespoons of olive oil for cooking meatballs. 

Grease your hands with some cooking spray. Scoop out some meat using a cookie scoop and roll meatballs. (You can make meatballs bigger or smaller according to your own preference. I usually use #40 cookie scoop. If you want them bigger, use #30 scoop.)

Roll all the meatballs before adding them to the pan. Once all the meatballs are rolled, add them to the preheated pan. 

Sear the meatballs for a couple of minutes, then flip. Let them sear on that side for a few seconds and pour in warm marinara sauce.

Gently shake the pan to spread the sauce evenly and transfer the pan into the oven.

Bake meatballs for about 20 minutes.

Garnish cooked meatballs with some minced basil and grated parmesan over the top.
Notes
*For the juiciest meatballs, get 85%-15% meat to fat ratio of ground beef.
**Milk-soaked bread can be substituted with 1/2 cup Italian Bread Crumbs if needed.
***You can click on the link to use our homemade Marinara sauce recipe or use your favorite brand of store-bought. You will need a 24 oz. jar.
Nutrition
Calories:
295
kcal
|
Carbohydrates:
6
g
|
Protein:
17
g
|
Fat:
22
g
|
Saturated Fat:
7
g
|
Cholesterol:
81
mg
|
Sodium:
459
mg
|
Potassium:
524
mg
|
Fiber:
1
g
|
Sugar:
3
g
|
Vitamin A:
430
IU
|
Vitamin C:
7
mg
|
Calcium:
33
mg
|
Iron:
2.2
mg
Tried this recipe?
Mention @willcookforsmiles and tag #willcookforsmiles