Holy, BACON, Batman! This is a breakfast treat that will knock your socks off. Soft, fluffy cream doughnut holes that are made with bacon and brown sugar, filled with cream cheese filling, and coated in powdered sugar.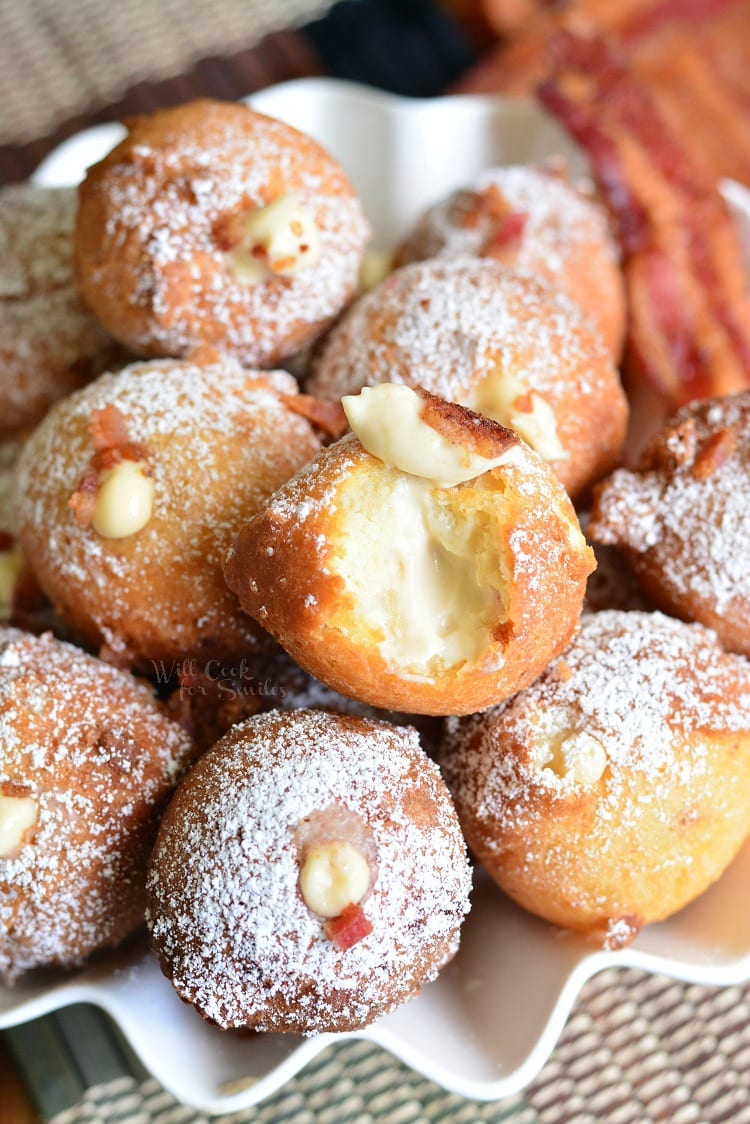 CREAM FILLED DOUGHNUT HOLES
Breakfast just got worth waking up for! No matter how early you need to get up, it will be worth it if you could bite into a warm, cream doughnut, that's made with lot of bacon inside.
Do you have big plans for this Father's Day weekend? I always wonder how dad's prefer to celebrate Father's Day. Moms usually want a day of pampering and a break for cooking. That's why moms get spa days and get taken out to fancy dinners. What about dads? What does your dad or husband wants to spend Father's Day doing?
My husband said he wants to spend the day sitting on the couch watching baseball. That makes sense, I just keep thinking that it's not really different from any other day off from work. It's baseball season after all. Football is not the sport that dominates our house, it's baseball and it a looooong season.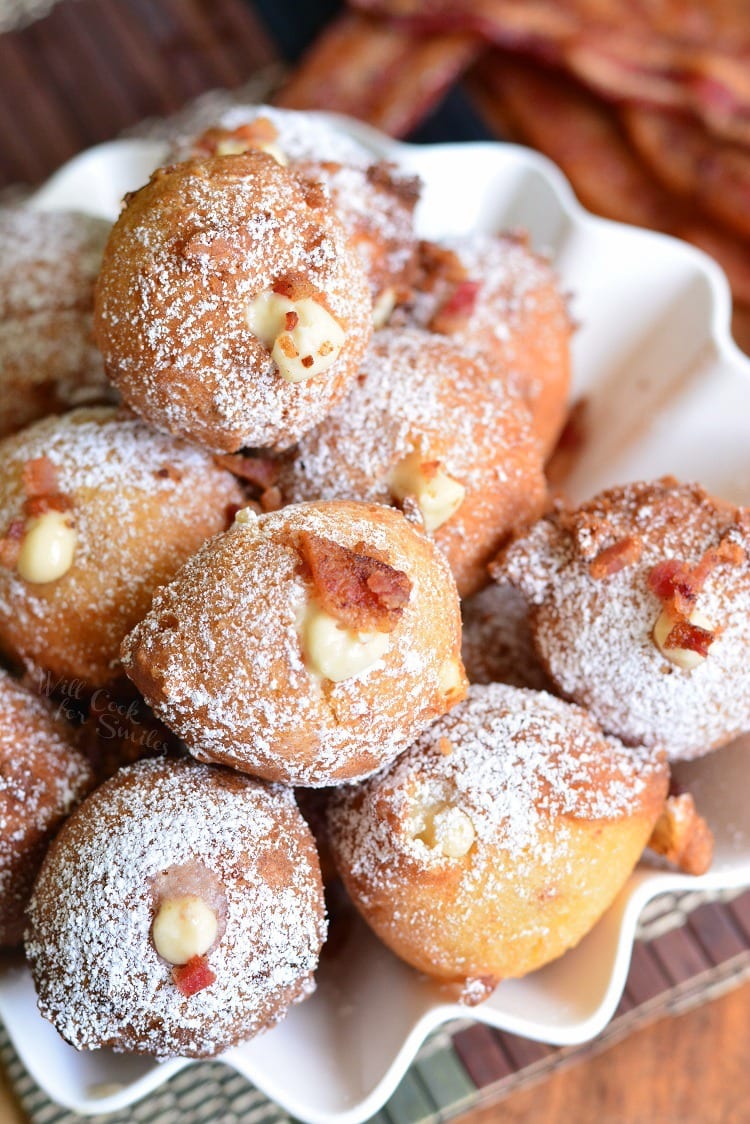 So he wants to spend the day watching the Yankees, with brief intermissions to take our little man to the movies to see Cars 3 and then a dinner reservation at the restaurants that men love most. (I can't say which restaurant because it's a surprise.) So with a day full of baseball, cars, and most likely a nice, big, juicy steak to finish the day, it will be a dream Father's Day. He might just be missing some grill time.
Although, if given a choice between grilling and being served bacon for every meal of the day, he will choose BACON. Dude loves his bacon! That's why I have these scrumdelicious Bacon Brown Sugar Cream Doughnut Holes planned for breakfast, Peppered Bacon and Blue Grilled Cheese for lunch, and I'm sure a bacon wrapped filet mignon for dinner.
Bacon, bacon, bacon and steak will make his Father's Day a pure heaven.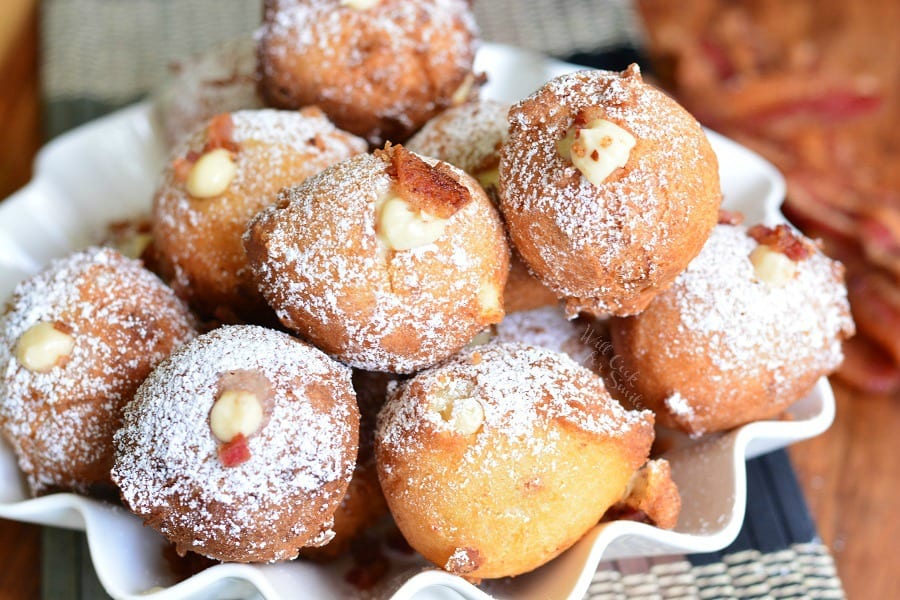 Some More Recipes To Try:
Bacon Stuffed Brioche French Toast Sticks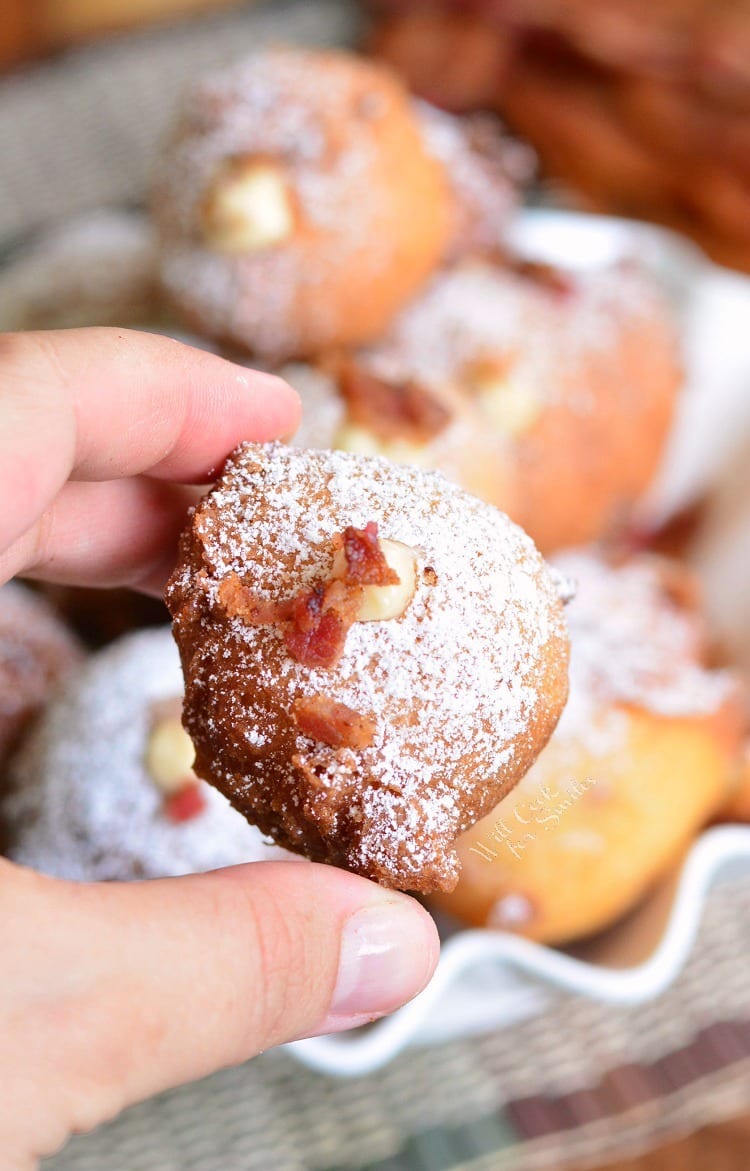 If you made any of my recipes and shared them on Instagram, make sure to tag me @willcookforsmiles and #willcookforsmiles so I can see all the things you tried!
Connect with Will Cook For Smiles!
Be sure to click below and follow me on my social media, so you never miss a recipe.
Don't forget to sign up for email, so you won't miss any new recipes.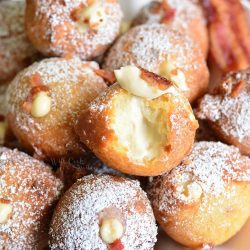 Bacon Brown Sugar Doughnut Holes
Soft, fluffy cream doughnut holes that are made with bacon and brown sugar, filled with cream cheese filling, and coated in powdered sugar.
Print
Save
Saved!
Rate
Ingredients
Doughnut holes:

1

cup

whole milk

1

large egg

¼

cup

bacon grease

melted

2

cups

all-purpose flour

1/3

cup

brown sugar

1½

Tbsp.

baking powder

5-6

crispy

cooked bacon strips, crumbled or minced

Powdered sugar

for topping

5-6

cups

vegetable oil for frying

Filling:

6

oz

cream cheese

1/4

cup

vanilla yogurt

1

tsp

vanilla

1/4

cup

brown sugar

Optional: extra bacon bits on top.
Instructions
Pour oil into a medium pot, a frying pan with high sides, or a large sauce pot. Heat it over medium heat until oil reaches 350 degrees. (I find that heat setting that's just a little bit over medium holds the temperature best.)

Line a large wire rack with paper towels to catch oil.

Filling: Beat ingredients for the creamy filling in a mixing bowl for a couple of minutes. Transfer the filling into a piping bag fitted with a long, filling attachment. Set aside.

Doughnuts:

In a medium mixing bowl, whisk milk and egg until smooth.

Add flour, baking powder, and brown sugar, mix until all combined.

Add melted bacon grease and mix well.

Fold in bacon crumbles until evenly spread throughout.

Using a cookie scoop, scoop out dough and drop it into heated oil in batches of 5-6, depending on how big your pot is. (I dip the cookie scoop into some oil and shake it off before doing each batch, this prevents dough from sticking and created smooth dough drops. I also rinse out the scoop between batches, to wash off any stuck on dough. Again, this is to help create smooth doughnut holes.)

Fry doughnut holes for about 4-5 minutes (until they turn deep golden), turning them over every couple of minutes if they haven't turned themselves. (Remember to use metal tongs or metal slotted spoon to take doughnuts out and turn them.)

Take doughnuts out onto the prepared cooling rack. Repeat frying the dough in batches with remaining batter.

Once the doughnut holes are cooled enough to handle, gently inert the pastry filling tip into the doughnut and squeeze some cream filling inside. Repeat with all doughnut holes.

Sprinkle filled doughnut holes with powdered sugar.

Optional: you can add some more bacon bits on top if you wish.
Nutrition
Calories:
142
kcal
|
Carbohydrates:
18
g
|
Protein:
3
g
|
Fat:
7
g
|
Saturated Fat:
3
g
|
Polyunsaturated Fat:
1
g
|
Monounsaturated Fat:
2
g
|
Trans Fat:
0.001
g
|
Cholesterol:
21
mg
|
Sodium:
44
mg
|
Potassium:
174
mg
|
Fiber:
0.4
g
|
Sugar:
8
g
|
Vitamin A:
147
IU
|
Vitamin C:
0.02
mg
|
Calcium:
85
mg
|
Iron:
1
mg
Tried this recipe?
Mention @willcookforsmiles and tag #willcookforsmiles